From Cancun to Tulum: 4 Best Ways to Get There
The draw of Tulum is undeniable. For years, it has popped from the pages of beautiful magazines, and shown up in Instagram feeds, showing off sugary shores, crystalline water, fabulous hotels, and centuries-old ruins perched on seaside cliffs. Tulum is a magical place, and one of the jewels of the Mexican Caribbean. And it's easy to get to from Cancun.
Roughly 80 miles south of Cancun, Tulum was a backpacker hideaway for decades, and before that, it was a well-kept secret, a former coastal capital for the Mayan empire that extended throughout southern Mexico, Belize, and Guatemala.
Today, the remnants of the Mayan city still exist as one of the top archaeological attractions in the country. The town that has gradually evolved nearby is a boho-chic paradise, and a bucket-list destination for many Mexico-bound travelers.
So how exactly do you get there? Most people who come to this part of Mexico are entering through Cancun, which is roughly two hours north. Reaching Tulum, both the archaeological park and the nearby town and attractions, from Cancun is not difficult, with a variety of different options. Depending on your budget and travel style, there is a transportation option to suit.
1. From Cancun to Tulum by Tour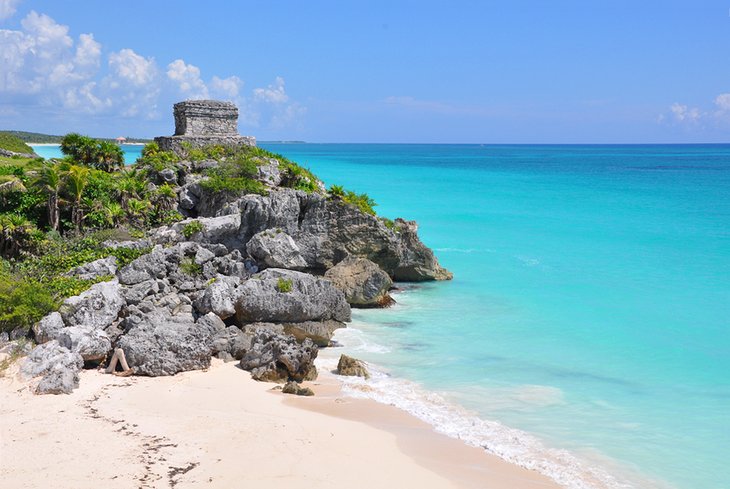 A packaged tour is the most convenient travel option for getting from Cancun to Tulum, especially if there are other things you may want to see along the way. Tours are often preferred by travelers because they take all the guesswork out of the experience. Often, they include round-trip transportation to and from your hotel, a guide, as well as lunch.
We love this Tulum and Cenotes tour because it combines some of the best attractions of the area: both the ruins and the spectacular cenotes. The tour includes a guided visit to the stunning archaeological site, followed by a dip in the refreshing Cenote Chen Ha and Mariposa.
The five- to six-hour tour includes pickup from your hotel or resort in Cancun in an air-conditioned vehicle. The tour is conducted with a multilingual guide, and the price includes a visit to the two cenotes. What is not included is the $15 conservation fee to access the cenote.
Other tours include additional sights along the way, so travelers can really maximize their time away from their hotel. This 3-in-1 Discovery Combo Tour includes not only the Tulum ruins, but also a visit to a cenote, caves, and snorkeling the Mesoamerican Reef.
The tour begins with a visit to Tulum before continuing to a lovely beach for some snorkeling in the crystal-clear waters of the Mexican Caribbean. In the afternoon, visit Cenote Xtun, as well as take a deep dive into the thick jungle to visit an ancient cave that is brimming with history. This tour is approximately eight hours.
2. From Cancun to Tulum by Car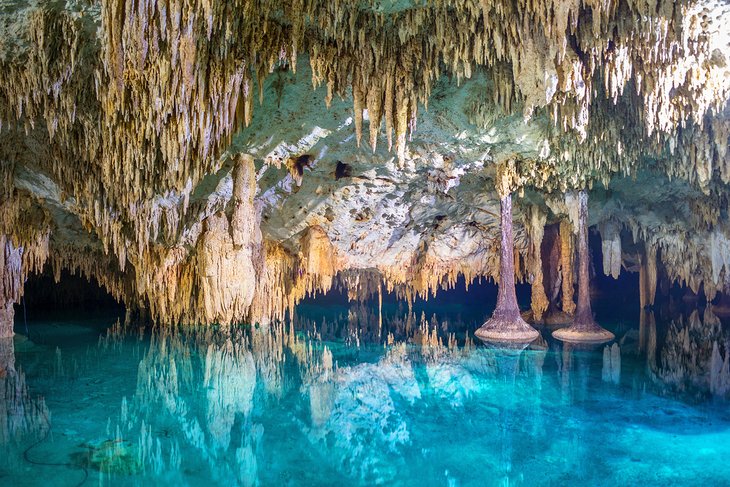 For the most freedom and flexibility there is always the option to rent a car and self-drive. The drive from Cancun to Tulum is roughly two hours, along one highway that is incredibly well-traveled, safe, and in excellent condition.
Along the way, you can take time to stop at other points of interest, like Playa del Carmen; the nearby cenotes (underground rivers and caves); the beaches of Tulum; and even other ruins, like the less-trafficked Coba ruins. Plus, you have the added benefit of doing everything at your own pace and on your own schedule.
Cancun has plenty of rental car agencies, from the airport to locations throughout the city, and even at many of the hotel chains. Always be aware that prices listed on booking sites often list (almost unbelievably) cheap daily rates. Bear in mind that these prices do not factor in the insurance from the rental agencies, which you will be required to purchase in person. Expect to pay anywhere from $30 and up per day, depending on the season.
3. From Cancun to Tulum by Taxi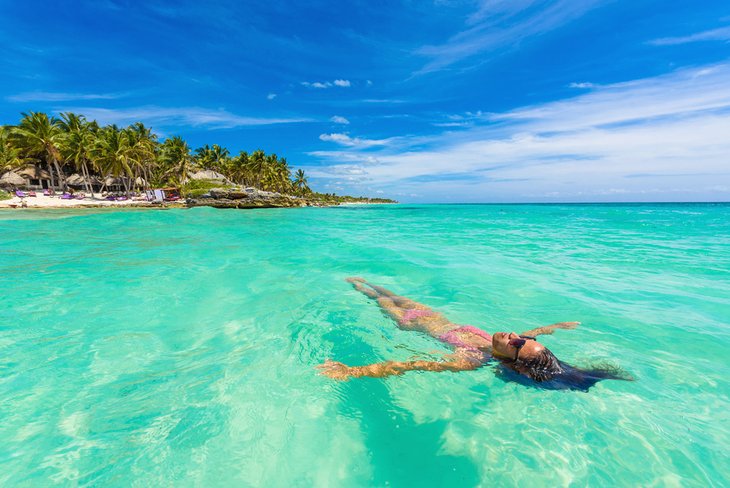 While it is the most expensive option, the most efficient way to get to Tulum from Cancun is by taxi. Taxi services in Cancun are door-to-door and are equipped with air-conditioning. Some even offer the ability to pay with plastic. (Though cash, and particularly pesos, is preferred.)
The drive from Cancun to Tulum is just under two hours, along a single highway: Mexico Highway 307, which is the main tourist corridor that connects Cancun all the way down the coast to the capital city of Chetumal, which sits on the border of Belize.
Rates from the Cancun International Airport are often upwards of $100 one-way. Rates from downtown Cancun will be around $120 or higher. You can arrange for the taxi to wait for you while you visit the ruins, but that will run the rate even higher, so it might be best to take a taxi there and a separate one for the return.
4. From Cancun to Tulum by Bus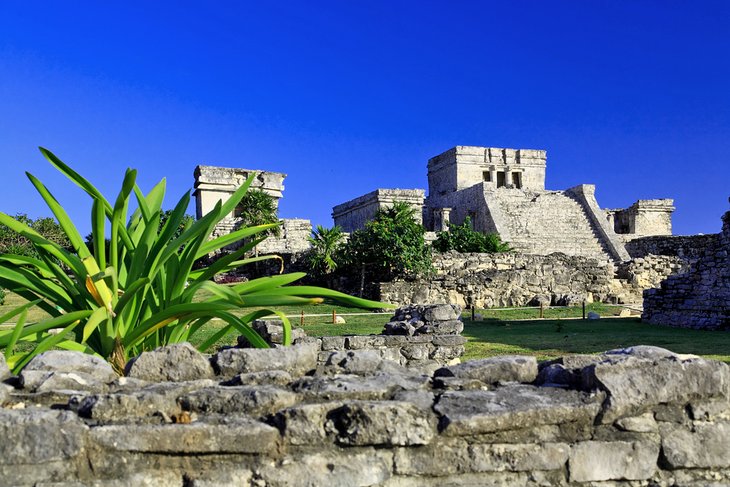 Finally, the cheapest way to get from Cancun to Tulum is via Mexico's incredibly reliable bus system. The ADO bus network is safe, clean, comfortable, reliable, and, most importantly, cheap. There are daily buses between both the Cancun airport and Tulum, as well as between downtown Cancun and Tulum.
Buses depart from downtown Cancun to Tulum, but you must specify if your final destination is Tulum the town, or Tulum the archaeological zone. Buses also leave from Cancun airport's four terminals down to Tulum, as well.
Departure times are somewhat scattered, so if departure times do not line up with your flight arrival, the other option is to take the bus to Playa del Carmen and switch to a Tulum bus. Buses between Playa del Carmen and Tulum are much more frequent. Again, be sure to specify if you are visiting the town or the ruins.
Tickets can be purchased ahead of time online, or at any ADO bus counter. Most agents speak English, and credit cards are accepted. You can reserve your seat ahead of time, as well. The buses are also equipped with luggage storage underneath, so if you're planning to stay in Tulum, you will easily be able to bring your luggage.
If you happen to arrive in Cancun before or after scheduled departure times of the direct buses, not a problem. You can always board an ADO bus to Playa del Carmen and transfer there. The drive from Cancun to Playa del Carmen is about 45 minutes. From the ADO terminal in Playa del Carmen, you can purchase an additional ticket onward to Tulum.