12 Best Beaches in Playa del Carmen
Mexico is known for its many thousands of miles of oceanfront. In fact, the country has nearly 6,000 miles of it. But one thing is certain: some of the best beaches in Mexico are found in and around the Caribbean town of Playa del Carmen.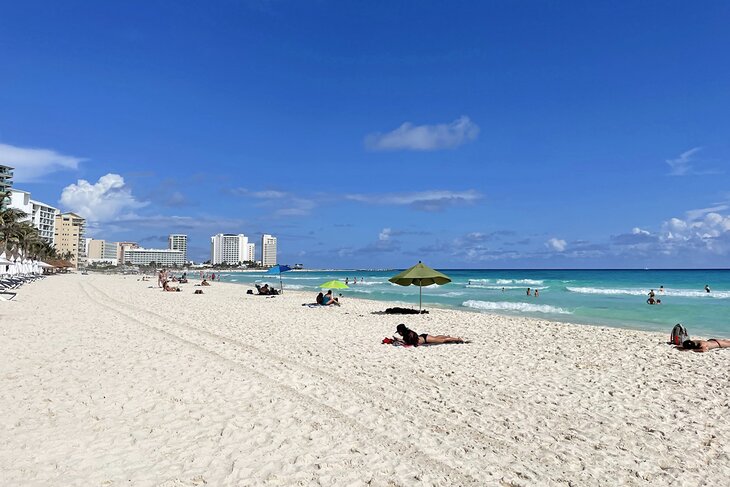 Playa del Carmen sits roughly 40 minutes south of Cancun and is considered to be the gateway to the Riviera Maya. This stretch of Mexican coastline is famed for its turquoise water, sun-bleached beaches, thick palm groves, and laid-back living. It's among the most-visited destinations in not only the country of Mexico, but in the world.
The Riviera Maya has dozens of beautiful beaches, many of which are in Playa del Carmen. We've rounded up a selection of the ones to keep at the top of your list. Whether the beaches are directly in town, within walking distance of the restaurants and hotels, or the more remote beaches that require a little legwork to get to, you'll find an idyllic beach to fit your fancy.
So pack your swimsuit and sandals and check out our list of the best beaches in Playa del Carmen.
1. Playa Mamitas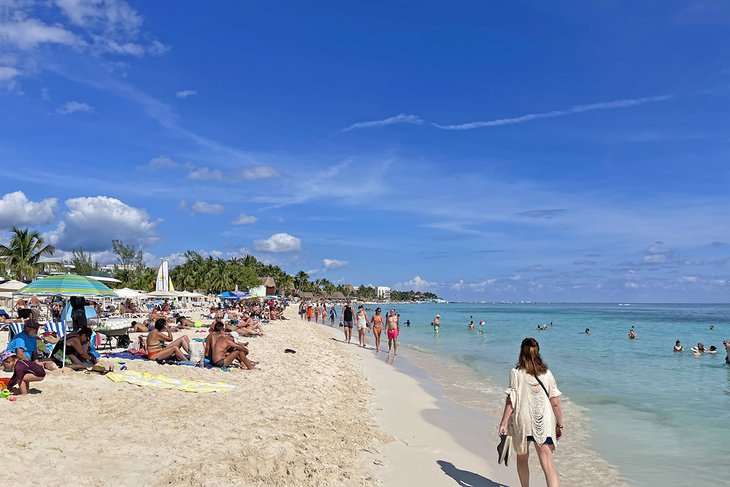 Ask anyone in town what the best beaches are, and you will certainly hear the name "Mamitas." This fan-favorite beach is the most popular in town because of its location near downtown's hotels, restaurants, and things to do.
The beach is free for everyone, but you'll find many locals and residents paying for beach chairs and oceanfront service from one of the several beach clubs along the shore. The beach also shares space with the Grand Hyatt Playa del Carmen, as well.
It's easy to see why this beach is at the center of the action. The electric blue water and powdery, soft white sand are undeniable selling points. Plus you can walk five minutes in any direction and land at one of the best restaurants in town.
2. Playa Punta Esmeralda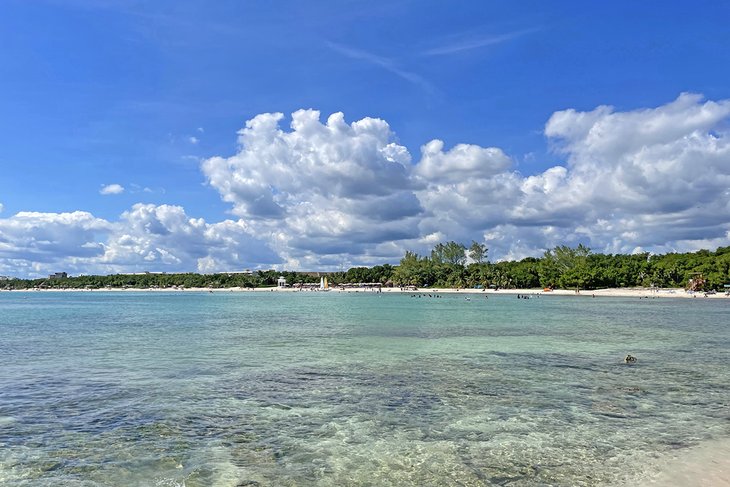 It may not be the closest beach to downtown, but Playa Punta Esmeralda is one of the nicest beaches in all of Playa del Carmen. Located north of the city, the beach actually has a cenote that flows right into the sea. It also has a gorgeous strip of white sand and a wide, gentle curve that means that there is plenty of towel space for all.
The best way to get to the beach is to take a taxi or a car and head up to Calle 1100 Norte, not far from the Paradisus Playa del Carmen. To put it in perspective, most of the activity in Playa del Carmen is around Calle 10, so it really is a bit of a journey to get there.
Still, those who make the trek are rewarded with one of the best local secrets. Vendors are often wandering the beach selling snacks and food because you won't find any beach clubs here. Instead, you'll find plenty of sun; a whole lot of space; and a shallow, crystal-clear spot for swimming.
3. Playacar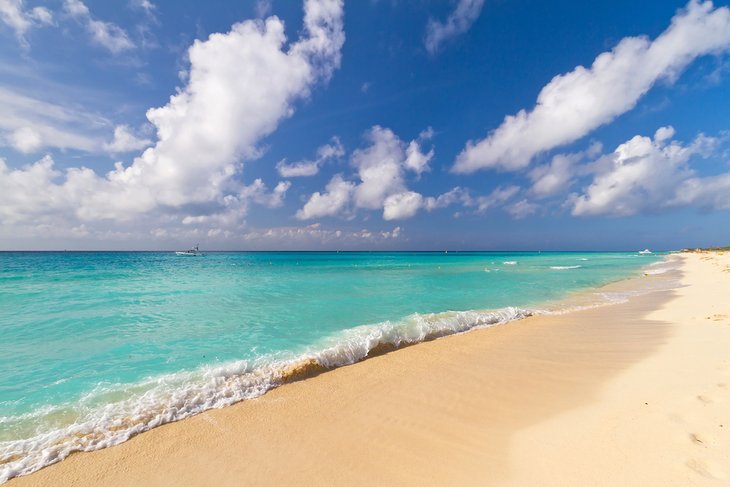 Playacar is more than just a beach — it's an entire gated community south of downtown Playa del Carmen. Behind the security gates, you'll find some of the city's most expensive homes, as well as several hotels. But the main draw to Playacar is the stark-white stretch of sand that is arguably the beach.
Good news for those on foot: It's perfectly acceptable to walk into Playacar to use the beach. If you have a car, you won't be permitted to drive in without a reservation somewhere. So our recommendation is to book a resort within Playacar, or be close enough to walk in.
You'll be glad you did. This unbelievably wide beach is absolutely picture perfect, with sugary sand and bright, turquoise water. If you are not staying at a hotel within the complex, you will need to bring everything in with you that you need. No public beach restaurants or clubs here.
The beach is a very quick walk south from the Cozumel ferry terminal. Once the busyness of Playa del Carmen starts to fade into the background, you'll know you have arrived.
4. Playa Publica 88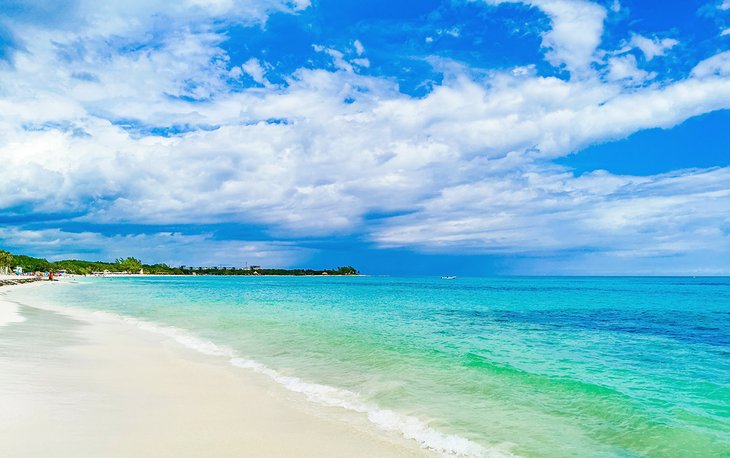 Playa del Carmen's Playa 88 is one of three Blue Flag beaches in Playa del Carmen. It is located just south of Punta Esmeralda, so you can expect a mix of locals and tourists, but not as many people as you may find at Playa Mamitas.
This beach is all about the "wow" factor with its soft, white sand and gentle, warm water. Being a Blue Flag beach means that quality can be expected, from the cleanliness of the water and sand to the amenities like showers and public toilets.
The best way to get to Playa 88 is either by taxi or on a bicycle, as it is definitely a bit far from downtown. But the distance means you won't find vendors here hawking their wares on the shore. That also means you'll likely have to bring everything you need for the day along with you.
5. Mayakoba Beach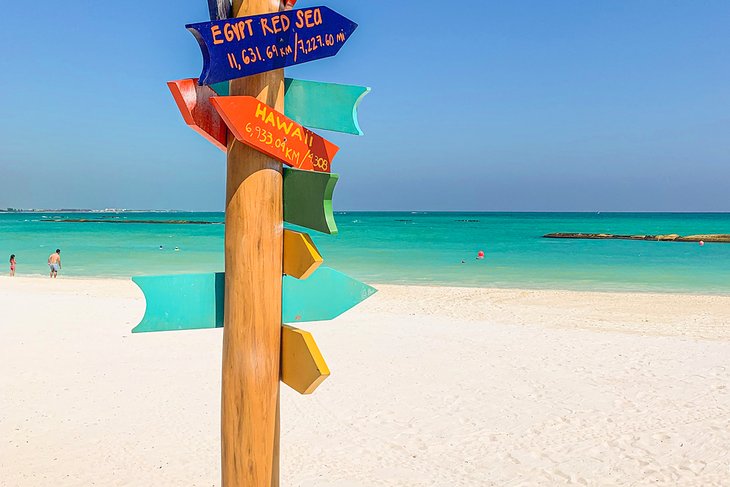 If you have yet to experience Mexico's world of Mayakoba, add that to your bucket list immediately. This collection of four luxury resorts all lives in the same master-planned community on one of the most beautiful beaches in Mexico.
Mayakoba Beach shares the space with Rosewood Mayakoba, Banyan Tree Mayakoba, Andaz Mayakoba, and Fairmont Mayakoba. The long, impossibly white beach is absolutely stunning when contrasted with the electric blue colors of the Caribbean Sea.
You'll find high-end guests here lounging on daybeds, scooting across the water on Jet Skis, snorkeling, or dining at one of the many impeccable beachfront restaurants that are part of any of the four resorts.
While all beaches in Mexico are technically public, it would be very difficult to get to this beach without being a guest at one of the four resorts. So if perfection on a beach is what drives your vacation style, you may want to consider booking a stay at Mayakoba.
6. Playa Maroma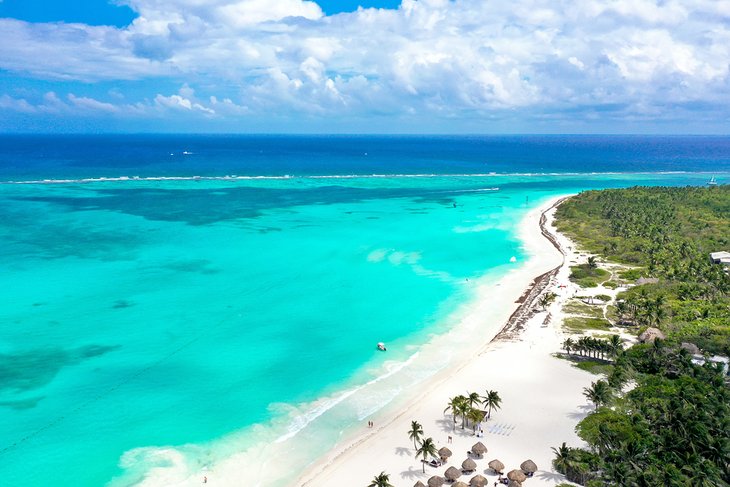 Playa Maroma is yet another idyllic, picture-perfect beach near Playa del Carmen. Today the beach is dominated by two luxury hotels — Secrets Maroma Beach and El Dorado Maroma — so you may find it easier to access this beach if you're a guest. Still, all beaches in Mexico are open to the public, so this beach is accessible for all.
What you'll find is a bay of soft, fine white sand and gorgeous shades of blue water. El Dorado has several overwater bungalows, so if you use your imagination, you may forget you're in Mexico and think you've drifted off to Bora Bora.
A wreath of palm trees back the stark white sand, making for a beautiful sea-forward color palette. And the warm, gentle water is absolutely perfect for taking a dip.
7. Xpu-Ha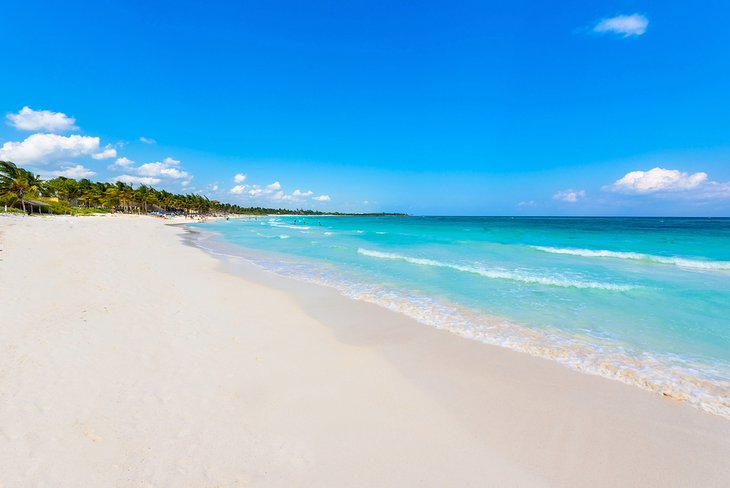 If you want to see Playa del Carmen's beaches like a local, then a visit to Xpu-Ha is a must. Just 20 minutes south of Playa del Carmen, near Puerto Aventuras, Xpu-Ha beach looks like it leaped right off a postcard and into reality.
You'll quickly fall in love with the cool, calm aquamarine waters; the powdery sand; and the small beachside restaurants that allow that barefoot, idyllic island experience. Locals love Xpu-Ha, so you'll be seeing Playa del Carmen from the local perspective here. The calm water means it's a great spot for kayaking and fishing, as well as swimming and snorkeling. On land, you may even catch a pick-up game of beach volleyball or an early morning yoga session.
Xpu-Ha is south of Puerto Aventuras and just north of UNICO 20°87° Hotel Riviera Maya along Highway 307.
8. Playa Akumal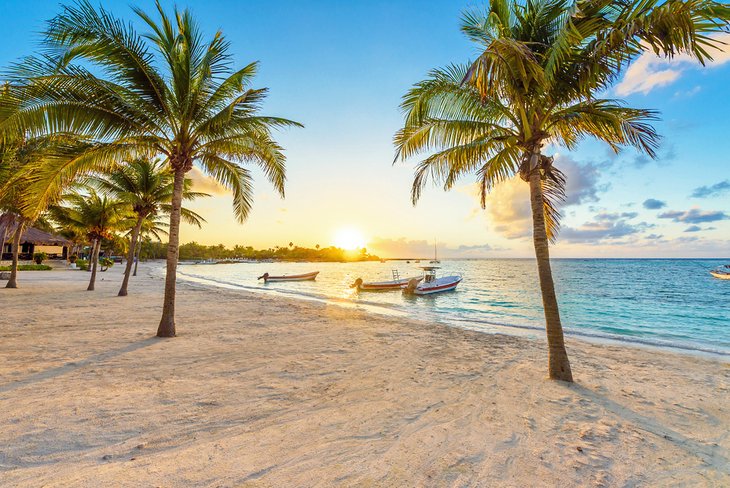 Up until a few years ago, Akumal was one of the better-kept secrets along the Mexican Caribbean coast. But, as with most places in Mexico, the secret is out. Playa Akumal is now easily one of the best beaches in Playa del Carmen, and for very good reason.
First and foremost, this is the best beach for swimming with sea turtles. Sea turtles chose this swath of beach centuries ago as a nesting area and each year thousands of turtles hatch from its shores. In fact, Akumal means "land of the turtles" in Mayan.
Akumal is actually a series of several beaches — five of them to be exact, and each one is as picture-perfect as the last. Akumal is a thriving pueblo, and the beach is positively packed with restaurants and beach clubs where you can rent snorkeling equipment, a lounge chair for the day, or simply enjoy a fresh meal. Dive shops and other shopping are on the beach, as well as farther up the road in town.
While Akumal has gotten wildly popular over the years, the different beaches mean that it never feels overcrowded.
9. Sian Ka'an Biosphere Reserve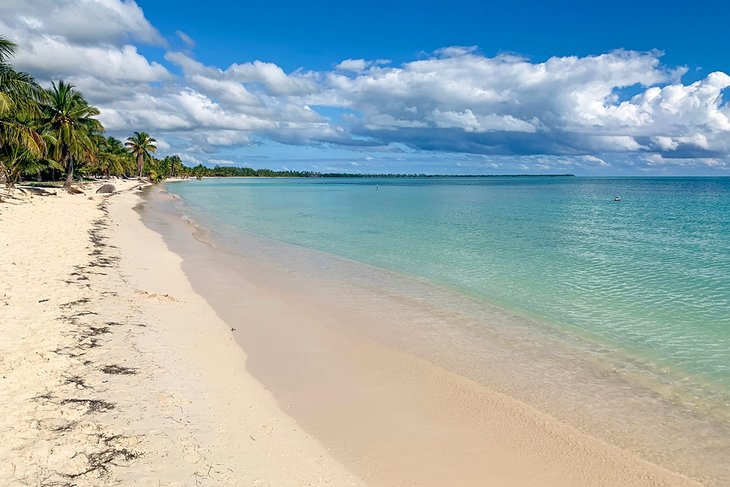 If you're willing to take a little road trip from Playa del Carmen, the beaches of the Sian Ka'an Biosphere Reserve are positively breathtaking. Technically these beaches are closer to Tulum, but you cannot mention Playa del Carmen without mentioning the beauty of Sian Ka'an.
The protected ecosystem gets at the very core of what made this part of Mexico so special. A visit to these beaches is truly like stepping back in time and seeing what the entire Quintana Roo coast looked like during the time of the Maya. The beaches here are unspoiled, raw, and almost painfully beautiful.
Some beaches are accessible by car, while others are found by simply venturing off into the jungle and searching for an opening. You'll have to bring absolutely everything in for the day with you because you will not find any vendors or facilities here.
What you will find, however, is miles upon miles of undeveloped coastline, as well as the true definition of peace and quiet — a rarity these days in Quintana Roo!
10. Playa Chac Mool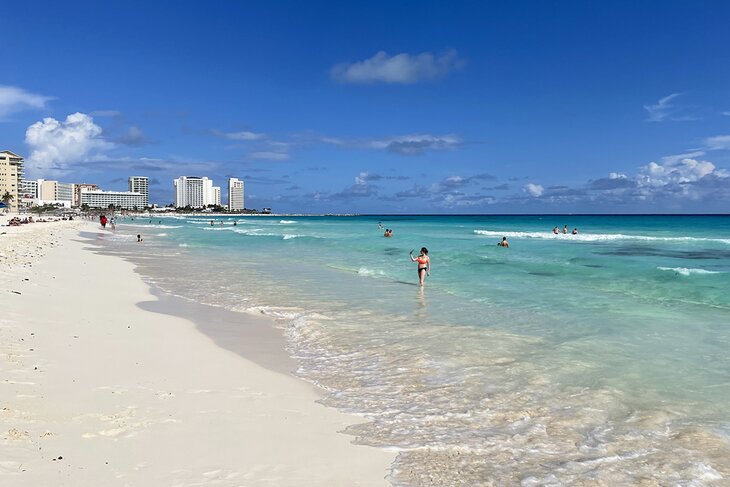 In the opposite direction, closer to Cancun, is Playa Chac Mool. When you think of bone-white sand and rolling, turquoise-colored waves, this is the beach you're thinking about. Of course, it is thoroughly backed by a slew of all-inclusive resorts, so leave your dreams of solitude and quiet behind. That said, it's a very centrally located beach within the Cancun Hotel Zone, which makes it super convenient whether you're traveling by car or by bus.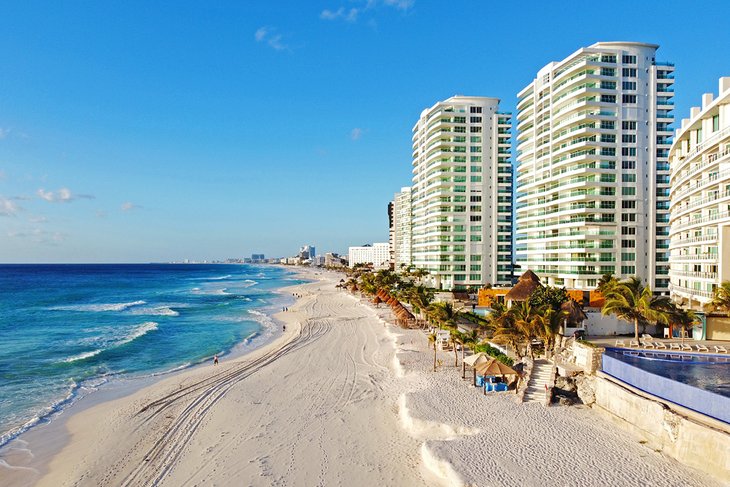 You'll find ample facilities at Playa Chac Mool, from bathrooms and restaurants to beach loungers you can rent for the day. Parking is a bit of a challenge, but if you are arriving by bus, you can easily find the public access entrance. If you happen to be staying at one of the resorts at Chac Mool, well, that's even better.
11. Playa Paraiso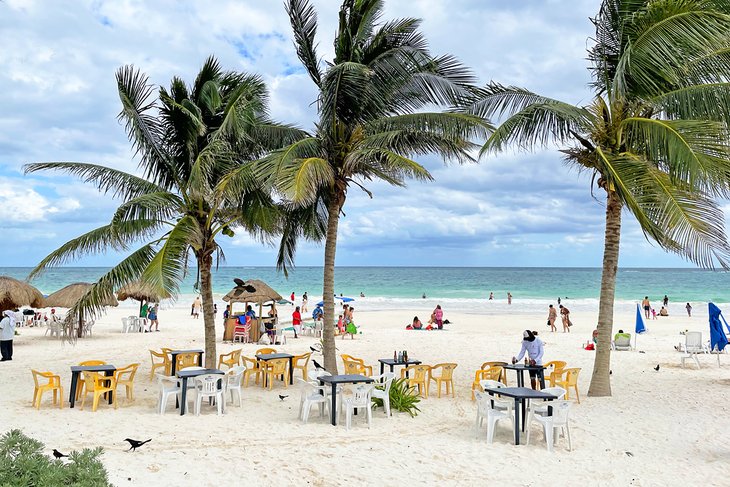 The drive from Playa del Carmen to Tulum is not exactly pretty. But it is pretty fast and, fortunately, when you arrive, you will be rewarded with one of the best beaches in Mexico. Playa Paraiso is one of the first beaches you reach when you hit Tulum proper, and it happens to be one of its best.
This long, white stretch of sand is what Caribbean dreams are made of. With views of the iconic Tulum ruins on one side, palm trees behind you, and nothing but blue out in front, it's easy to see why Playa Paraiso is truly paradise on Earth. It's also easy to see why hundreds of thousands of tourists from all over the world come to see what makes Tulum special.
The answer always starts with Playa Paraiso.
As you wander down the beach, you'll run into more of Tulum's beautiful beaches, which can be found along the same strip. But if you want to sit in one place and soak up what put Tulum on the map, then spend the day at Playa Paraiso. It will be a day to remember for sure.
12. Playa Paamul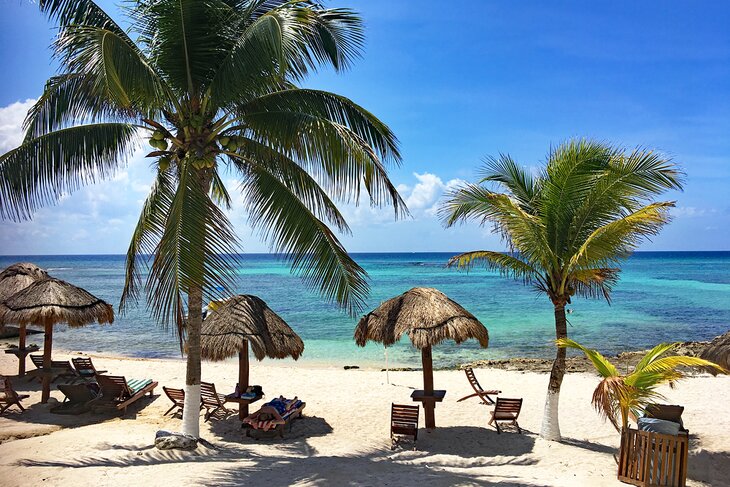 Cushioned between Playa del Carmen and Tulum is the sleepy, idyllic, almost off-the-radar beach called Paamul. We say "off-the-radar," which it may be to tourists, but in reality, Paamul has been an area of legend among the Mayan people dating back centuries. It is said that Paamul's bay was once used as a trading point between the local Mayan people and other cities.
Today, while the Mayan trade route may have dried up, the beach remains one of the most beautiful in Playa del Carmen. You're visiting Paamul if you want to skip the crowds of Playa and Tulum and escape to an unspoiled beach that is still close enough to nearby creature comforts.
The dazzling white sand, exceptionally clear water, snorkeling, and even an area for camping keep this area rustic and seemingly remote. You'll find some of the best snorkeling at Paamul, as well.
Keep in mind that the water just off the coast can be quite rocky, so you'll want to bring water shoes if you have them. If you have an underwater camera, even better. Its marine life is absolutely dizzying. Keep your eyes peeled for turtles and other treasures that can be found along the Mesoamerican reef.