From Cancun to Playa del Carmen: 5 Best Ways to Get There
Cancun may have long held the title as one of the top beach destinations in Mexico, and certainly the top beach destination on the Caribbean coast. But just 40 miles (an hour's drive) to the south is another beach destination that has exploded in the last decade or so.
Playa del Carmen was once a sleepy fishing village, shrouded in mangrove jungle, with a sugary stretch of shoreline. In the beginning, it grew as a small travel destination for backpacking hippies and adventurous European, Argentinian, and Israeli travelers – many of whom showed up and decided to stay. Today, Playa del Carmen is a cultural capital in its own right, with a thriving shopping, culinary, and entertainment scene, and palpable influence from all over the world.
This is a wonderful place to visit in Mexico, whether it's for a day trip from Cancun, or as a standalone vacation. Depending on your travel style and budget, it is easy to find a convenient and comfortable way to get between Cancun and Playa del Carmen, whether it's a scheduled coach bus, a private transfer, a taxi, or via renting a car.
If you're traveling to Playa del Carmen, whether from Cancun proper or from the Cancun International airport, here are four of the best ways to get there.
1. From Cancun to Playa del Carmen by Taxi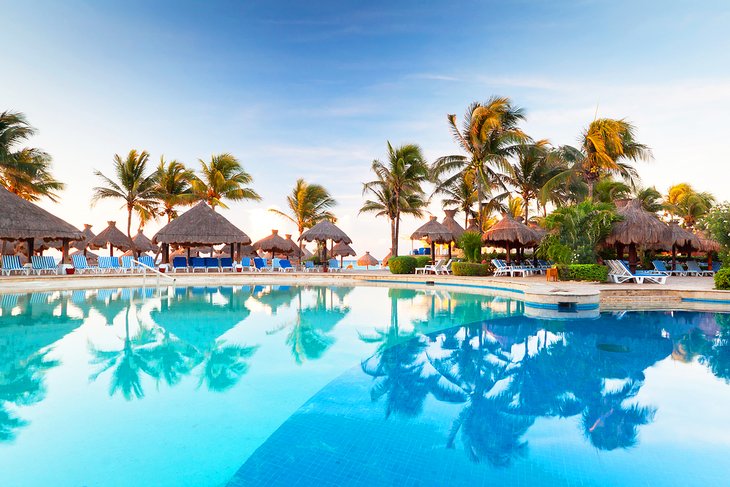 The drive from Cancun to Playa del Carmen is a straight shot down Mexico's Highway 307, the popular tourism highway that hugs the Caribbean coastline all the way down to Quintana Roo's capital, Chetumal, which sits on the border with Belize. It's a well-trafficked route and one that taxis take on a daily basis. A taxi trip between Cancun and Playa del Carmen will be approximately an hour. It is safe, comfortable, and convenient.
The ride will cost roughly $50 from the Hotel Zone. If coming from the airport, prices will be upwards of $75, but if you require round-trip transportation it's possible to negotiate a lower rate.
Be sure to stop at the taxi counters inside the airport. Private taxi lines are not allowed at the Cancun airport, so you will have to book it with a taxi company inside, after baggage claim. You can book your private taxi ride ahead of time online, as well, which sometimes has lower rates than if you book it upon arrival.
There is no Uber in Cancun. Travelers and residents rely on the local taxi cab companies. Your hotel can easily help you arrange for one. Some accept plastic, but it is always better to have cash on you, preferably in pesos to get the best rate.
You are not expected to tip 20 percent, but tipping a few extra pesos is always appreciated.
2. From Cancun to Playa del Carmen by Bus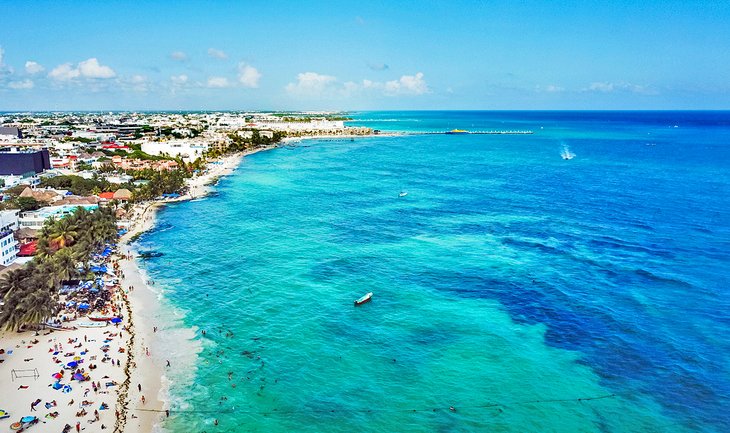 The cheapest way to get to Playa del Carmen from Cancun is by bus. The coach bus system in Mexico is wonderful - it is reliable, safe, comfortable, clean, and, most importantly, cheap.
Buses allow you to pre-select your seats, and have air-conditioning and plenty of space underneath to store luggage. Whether you're coming from Cancun city or the Cancun International Airport, buses travel down frequently to Playa del Carmen every day of the week.
From the Cancun International Airport: After passing through customs and baggage claim, travelers will find the ADO bus counter – ADO is the name of the bus company in this part of Mexico. ADO booths can be found in all of the terminals.
Buses from the airport depart every half hour or so. The trip between the airport and Playa del Carmen is direct and drops passengers off at the ADO bus station near Fifth Avenue in Playa del Carmen. Tickets are typically less than $10.
From Cancun: From the main ADO bus terminal in Cancun (near Puerto Cancun), travelers can grab the bus to Playa del Carmen. Buses run every hour and drop passengers at the Fifth Avenue terminal. Tickets are typically less than $3.
Passengers can purchase tickets online or at any ADO bus counter.
3. From Cancun to Playa del Carmen by Private Transfer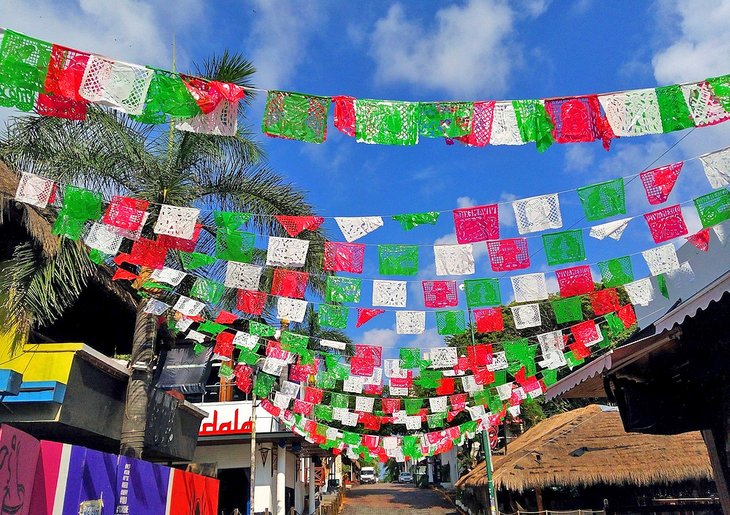 Another option from the airport is to set up a private transfer ahead of time. Travelers like this because it can all be arranged before you land in Cancun, and they enjoy the security of knowing that a trusted representative will be waiting to meet them and take them directly to their destination in Playa del Carmen.
Coming2 is one of the top shuttle transfer companies from the Cancun Airport to Playa del Carmen. It's affordable and includes hotel pickup and drop-off (at selected hotels) in air-conditioned vehicles.
Once you have arrived at the airport, exit baggage claim and find the Coming2 employee who will have a sign with your name on it. Coming2 employees wear blue pants and white and green shirts, as well as a green and red vest. They will contact your driver and bring you directly to the vehicle.
It is possible to book your return transfer, as well. You can book your transfer online before you leave your departure city and a confirmation will be sent to you.
If you are staying at a resort in Playa del Carmen, many work with their own preferred private transfer companies, as well. It is possible to book transportation through your hotel, and they will send you the details for which company to look for. Private transfers, as well as group transfers are available. Private transfers tend to be more expensive, but you won't have to wait for other passengers.
4. From Cancun to Playa del Carmen by Car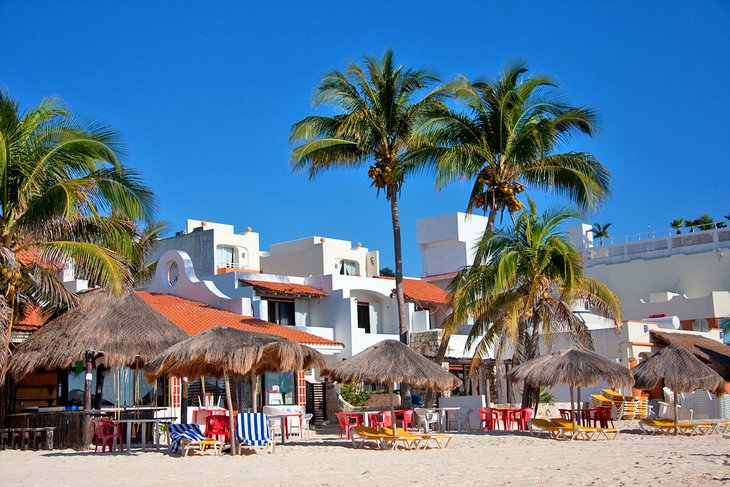 Travelers who want the ultimate in schedule flexibility can choose to rent a car and drive themselves from Cancun to Playa del Carmen, as well.
As mentioned before, the road from Cancun to Playa del Carmen is direct, in excellent condition, and very safe. The total drive time is roughly an hour, and Cancun has several rental car options within the city, at the airport, and even through many hotels.
Keep in mind that rental companies will often post fares online that appear to be incredibly cheap - some for even as low as $1 per day. But these online travel sites do not factor in the insurance costs that rental companies will require you to purchase. Plan to spend anywhere from $30 and upwards per day on a rental car, depending on the season. It's never a bad idea to spring for the most protection, either.
5. From Cancun to Playa del Carmen by Colectivo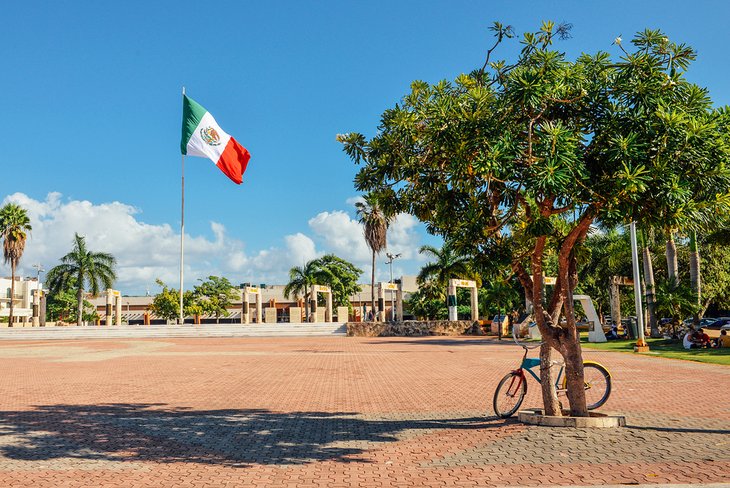 Of course, one of the most cost-effective ways to get to Playa del Carmen from Cancun is to travel by colectivo. Colectivos are shared minivans that are a popular way for locals to travel all around Mexico. Prices are typically far cheaper than even a bus ride, and you can have more flexibility in where you hop off, as colectivos will make more stops in between that buses usually do not.
To get from Cancun to Playa del Carmen by colectivo, visitors will want to take the Playa Express vans, which sit in front of the ADO Cancun bus station and will drop you off in the heart of Playa del Carmen. Prices are usually around US$2.
Playa Del Carmen - Climate Chart
Average minimum and maximum temperatures for Playa Del Carmen, Mexico in °C
J
F
M
A
M
J
J
A
S
O
N
D

27

20

27

20

28

21

29

22

31

23

29

24

31

24

31

24

31

24

28

23

27

22

27

21

PlanetWare.com
Average minimum and maximum temperatures for Playa Del Carmen, Mexico in °F
J
F
M
A
M
J
J
A
S
O
N
D

80

68

81

68

82

69

84

71

87

74

85

75

88

75

87

75

87

75

83

73

81

71

80

70

PlanetWare.com