10 Best Mayan Ruins in Belize
Scattered deep within the jungles, atop steep hills and within historic caves are some of Belize's top attractions: Mayan ruins. The archeological sites have stood in these very places since the Maya civilization's dominance over much of Mesoamerica, between 2,000 and 3,000 years ago. The preserved attractions are the closest you can get to traveling back in time to the ancient world.
Mayan ruins can be found throughout Central America, including Mexico, Guatemala, and Honduras. But Belize tops the other countries when it comes to both the number and variety of Mayan ruins. This beloved destination has more than 600 Mayan sites (and counting!). Tourists can see a variety of rich sites, like sacred temples, ceremonial pyramids, and ancient water reservoirs, that give insight into the mysterious Maya empire – all while feeling like Indiana Jones.
Ready to see why archeologists are perpetually fascinated by this region of Central America? Check out our list of the best Mayan ruins in Belize.
1. Caracol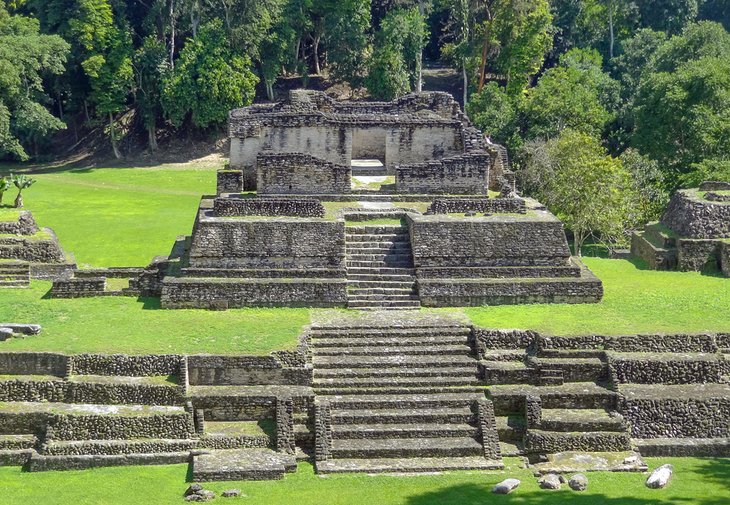 Tucked inside the Chiquibul Forest is one of the most important Mayan ruins in Belize: Caracol. The impressive city was once home to more than 140,000 people and stretched more than 70 square miles – encompassing an area larger than modern-day Belize City.
Abandoned by the Mayans around the year 900, Caracol has since had some of its structures blanketed by the jungle and lost to time, shrinking its footprint. But it still covers around 25,000 acres, giving tourists endless opportunities for exploration.
A scale model of the city at Caracol's visitor center gives tourists perspective on the size and complexity of these Mayan ruins. Of the complex's more than 35,000 known structures, the Canna ("Sky Palace") is the biggest draw for most visitors. The pyramid, which is the tallest man-made building in Belize, ascends 143 feet into the clouds and houses four distinct palaces and three temples. It also has advanced acoustics, which allowed masses of people in the plaza below to hear announcements from priests and rulers without any amplification.
After exploring the Sky Palace, tourists should make a point to check out some of Caracol's other amazing highlights, including the ball courts, astronomic observatory, alters, reservoirs, and hieroglyphics. The sheer size of these well-preserved Mayan ruins makes it challenging to see everything – but no matter what your exploration entails, you'll leave with a deeper sense of wonder about this ancient civilization.
Pro tip: While you can wander around Caracol on your own, guided tours can add a lot more color and background to your experience. Make arrangements with operators and hotels in the Cayo District.
2. Lamanai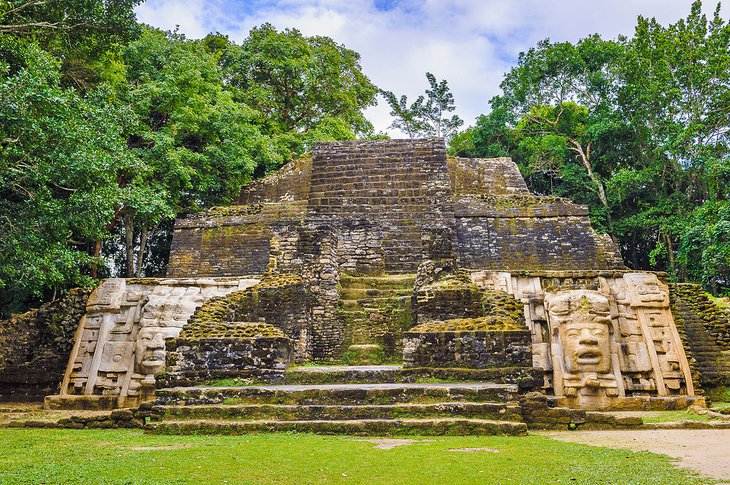 Half the fun of visiting Lamanai, an area with Mayan ruins that were inhabited for more than 3,000 years, is getting here. Tourists will need to first make their way to Orange Walk Town, about two hours northwest of Belize City by bus. Then, you'll hop on a boat for a 26-mile ride up the winding New River. The trip affords tourists excellent opportunities to see wildlife, including iguanas, lily trotters, snail kites, and crocodiles. Keep your eyes peeled.
Finally, you'll reach the Lamanai Archeological Reserve, one of the largest Mayan sites in Belize. The lagoon out front not only sets this site apart from most of the others around the country, it's also filled with the sharp-toothed creatures that serve as the namesake for "Lamanai," meaning "submerged crocodile."
Here, tourists can see a range of beautifully preserved Mayan ceremonial buildings. Make your way up the 108-foot staircase of the aptly named High Temple for an incredible view of the jungle and New River Lagoon. Then, check out the Jaguar Temple, a stepped pyramid building with a boxy jaguar head that juts out from the front.
Save the best for last: the Mask Temple. The ceremonial center features a pair of striking 13-foot-tall limestone masks adorned with crocodile headdresses. It looks like a scene from an adventure film.
Ancient temples aren't the only historical attraction in Lamanai. The site also has the remnants of two Spanish churches that date back to the 1500s. Interestingly, the Maya still lived in this area when the Spanish were colonizing parts of Central America, and would stash sacred objects inside the churches for safe keeping.
You can also see the industrial scraps of an old sugar mill nearby. Built in the 1860s, the now abandoned structure has been nearly taken over by massive tree roots.
3. Altun Ha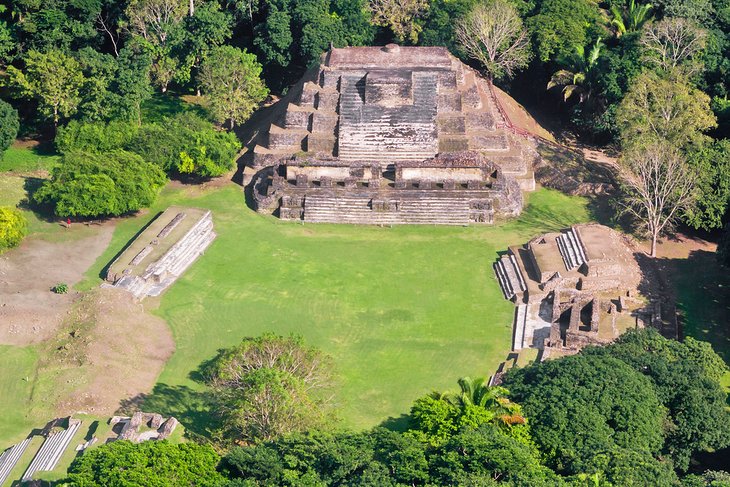 Not only is Altun Ha one of Belize's best excavated archeological sites, it's also the easiest of the Mayan ruins to visit. It's about an hour's drive north of Belize City – the perfect day trip for tourists on short weekend getaways.
While smaller than other sites, Altun Ha has a number of interesting attractions to explore. The site, which was excavated in the 1960s, consists of two main plazas surrounded by more than a dozen Mayan temples, pyramids, and residential structures. Hundreds of other buildings are still covered by jungle foliage, awaiting excavation.
The site also displays a replica of the most significant artifact found at Altun Ha: a jade carving of "Kinich Ahau," the Mayan sun god. Six inches long and 10 pounds in weight, the artifact is the largest carved jade item that has been discovered at Mayan ruins in the region. Open up your wallet, and you'll even see the treasured artifact emblazoned on the top left corner of Belizean bank notes.
Birders, don't forget your binoculars: Altun Ha and its surrounding natural landscape are home to more than 200 species of birds. Look out for armadillos, foxes, white-tailed deer, agouti, and other exotic creatures, as well.
4. Xunantunich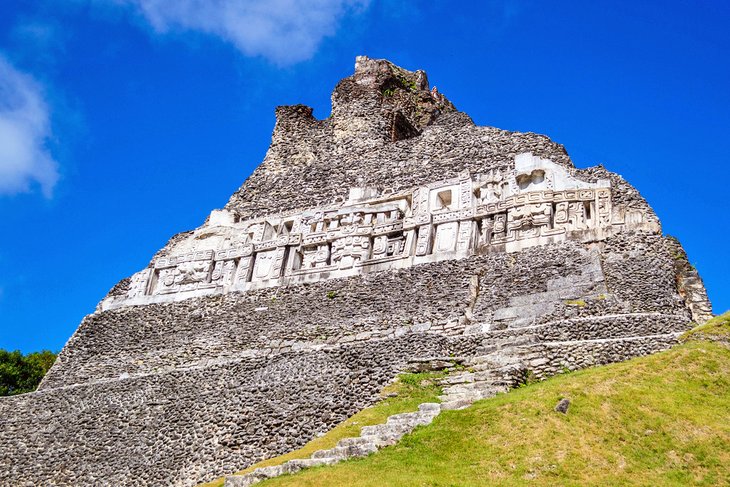 Hop aboard a free hand-cranked cable ferry from San José Succotz over the Mopan River – aside from on the back of a horse, it's the only way to reach the Mayan ruins of Xunantunich. Many of the large structures on view at this site were built starting in the 7th century, but Xunantunich is estimated to be much older. Some experts believe people were living here as far back as 3,000 years ago.
El Castillo ("The Castle") dominates the excavated site of these Mayan ruins. Some archeologists believe that the Mayans used the pyramid as an ancestral shrine for the ruling family, evident in the friezes depicting gods of creation and the tree of life that cover the structure.
About 130 feet from top to bottom, El Castillo is the second largest building in Belize, just behind the Sky Palace at Caracol. Climb to the top for a breathtaking 360-degree view as far away as Caracol and Guatemala on a clear day, and listen for the distinct call of the howler monkeys that live in the area.
5. Cahal Pech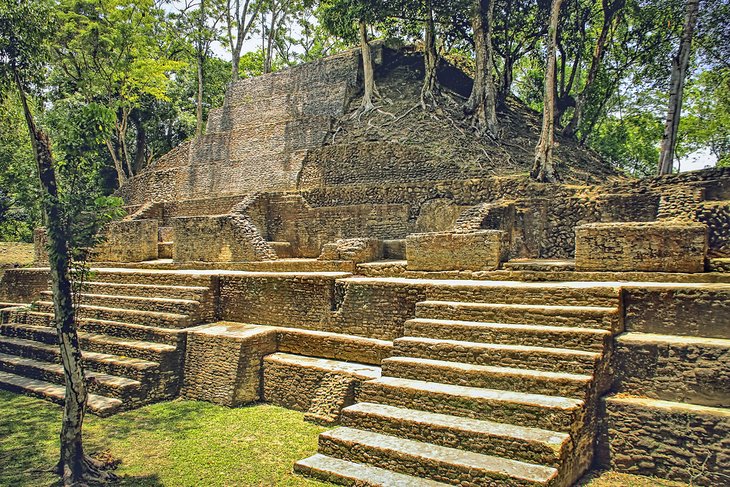 Often overshadowed by the more popular Mayan ruins at Xunantunich and Caracol, Cahal Pech is the perfect choice for tourists who want to get off the beaten path and have a more independent archeological experience. No need to wait for the crowds to go by to snap that perfect photo of these Mayan marvels.
The oldest-known ruins in the Belize River Valley, Cahal Pech has served as a valuable source of information on what life was like for Mayans in this region during the Preclassic period. The tourist attraction has a quaint visitor center that offers explanations of the origins of Cahal Pech. It's worth taking a peek around before heading into the ruins themselves.
Then, spend a couple of hours exploring the hilltop site. It features two ball courts and around 34 structures, all linked together via a series of interconnected plazas. These Mayan ruins serve as a great example of the ancient civilization's complex residential architecture, giving tourists a sense of just how sophisticated these early humans were.
Bonus: The hilltop location of Cahal Pech gives tourists panoramic vistas of San Ignacio and the Belize River Valley.
6. Lubaantun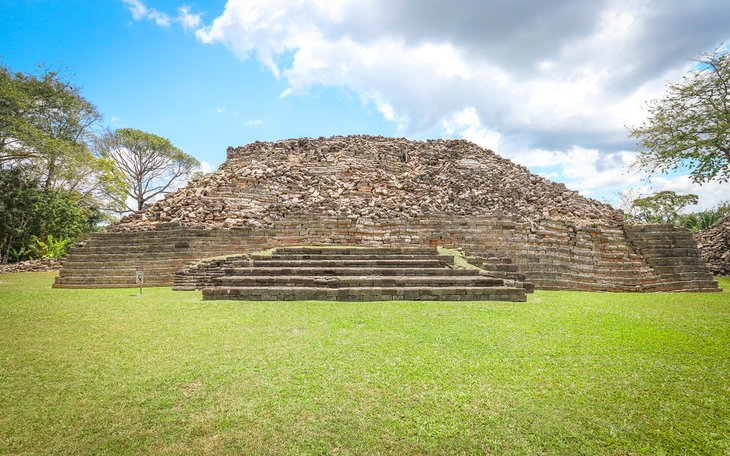 Just a couple of miles northwest of the Maya village of San Pedro Columbia in southern Belize sits another astounding set of Mayan ruins: Lubaantun. The ancient city thrived as an administrative hub and ceremonial center for about 150 years, starting around the year AD 700. It served as an ideal location for early settlers – the nearby Columbia River gave residents access to water and trade, while the fertile soil gave people the means to grow lucrative crops, like cacao, that they exchanged for jade, obsidian, and other valuable materials.
Tourists can now see the remnants of this once-flourishing city, including five main plazas, two ball courts, and 14 major structures. What's really interesting about these structures are how they were constructed – they're among the only Mayan temples in Belize that were built without any mortar. Each stone was precisely measured and trimmed like block-shaped puzzle pieces to nestle next to one another. This mesmerizing technique made for strong structures that have stood the test of time.
After your excursion, take a 20-minute drive to the village of Big Falls, where tourists can participate in authentic cultural activities at the Living Maya Experience. The attraction recreates what a Maya home was like 50 years ago. It also gives guests the chance to cook a traditional meal over an open fire hearth and learn about medicinal plants used in Mayan cuisine. Afterward, enjoy the fruits of your labor by digging into the flavorful Mayan lunch.
7. El Pilar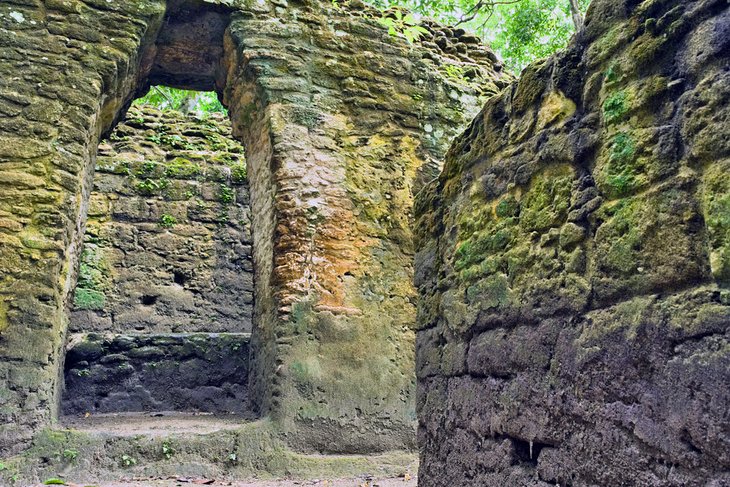 Want to see some Mayan ruins in Belize that haven't found their way onto the radar of most tourists yet? Head to El Pilar in the Cayo District. The archeological site is still in the early stages of excavation, but believed to be three times the size of Xunantunich. In fact, recent digs have already uncovered 25 plazas. The attraction may one day draw the same level of attention as Caracol and Guatemala's Tikal. For now, tourists can enjoy having the place to themselves.
This Mesoamerican city was once home to more than 180,000 people in the Late Classic period. In addition to more than a dozen courtyards and a sophisticated design, El Pilar also has temples as tall as trees, intricate palaces, pyramids, a ball court, and water reservoirs. While other Mayan ruins showcase temples and spectacular architecture, El Pilar aims to give tourists a glimpse at more common homes and gardens. It gives you a deep sense of how everyday Mayans may have lived thousands of years ago.
While El Pilar is first and foremost an archeological site, it's also developing as a nature preservation area through efforts to conserve the surrounding forest environment. Slip on your hiking shoes and explore the attraction's nature trails to round out your experience.
8. Cerros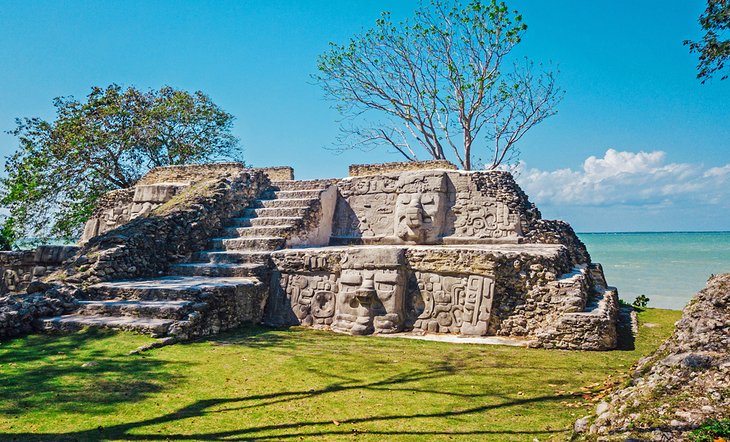 The only Mayan ruins in Belize located along the coast, Cerros is a different experience from other archeological sites you might visit on your trip to Central America. Rather than hiding in a twisted jungle, the decaying structures stand out against the turquoise sea and bright blue sky. Bring your camera.
Rising sea levels have submerged several of the structures at Cerros. However, there are still a few fascinating remains of this long-inhabited beachfront city on dry land. You can reach the attraction by taking a short boat ride from the seaside town of Corozal, or hiring a car from Orange Walk, Belize City, or Belmopan.
Once you arrive, climb the 72-foot-tall funerary building to get a bird's-eye view of the Bay of Chetumal and the town of Corozal. From the top, you can also see the river that takes you to Lamanai. You can explore parts of Cerros's extensive canal system – an impressive feature for a city this historic – along with stucco-facade buildings and several plazas.
One famous temple (designated Str. 5C2nd) at Cerros has stucco masks that represent the sunrise, sunset, morning star, and evening star. Legend has it that the ruler of Cerros would stand at the center of the temple during rituals as a symbol of his role as the nucleus of the cosmos and holder of the world's power.
Pro tip: If there was ever a time to use bug spray, it would be on an excursion to Cerros. Apply your insect repellant generously and frequently to avoid bites, especially during the rainy months.
9. Santa Rita
In addition to Cerros, another remarkable Mayan ruin to visit from Corozal Town is Santa Rita. Experts believe that this archeological site, which is estimated to date back to 2000 BCE, is all that remains of the important city of Chactemal. Its location made it a strategic place to maintain control of trade routes from the ocean to the Hondo and New rivers.
At the site, you'll discover a large temple–the only building that's been excavated at Santa Rita so far. The ceremonial structure features a series of interconnected passageways that lead to a couple of burial chambers, which is where a warlord and an elderly woman surrounded by jewelry were laid to rest around 500 CE.
Don't be surprised if you stumble upon a local wedding when you visit this attraction. The Belize government named it an official "Wedding Garden" in 2012, and it draws brides and grooms throughout the year. Plus, every December, you may also see a reenactment of the royal nuptials between Mayan princess Tzail-Ha and Spanish conquistador Gonzalo Guerrero. The performance, put on by local college students, helps bring Maya culture to life.
10. Nim Li Punit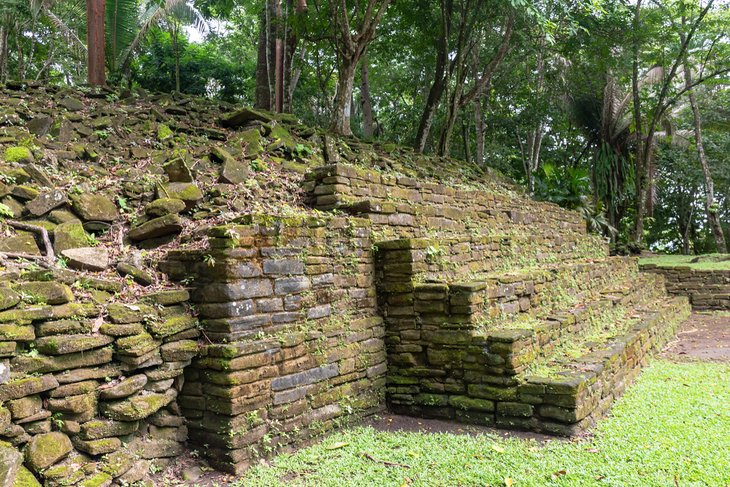 If you're in the Toledo District, it's worth making a trip to the village of Indian Creek to see the Mayan ruins of Nim Li Punit. While smaller than other Maya sites in Belize, it sets itself apart from others by having a large number of stelae, or stone slabs. Carvings on these slabs, some of which are on display at the museum near the entrance of the ruins, offer clues about the social lives and politics of the community that once lived here.
Fun fact: Nim Li Punit's name, which means "Big Hat," is derived from the carving of a figure wearing a super-size headdress on a stelae found here. Standing 30 feet tall, it's considered to be the longest stelae ever discovered in Belize.
The top thing to do at Nim Li Punit is visit the stelae plaza, but you can also see a ball court, several palaces, and a long terrace (Structure One).
After your visit, drive north on the Southern Highway for about five minutes to reach the Belize Spice Farm & Botanical Gardens, a worthwhile attraction that offers culinary experiences, spice farm tours, and bird-watching.
Map of Mayan Ruins in Belize