14 Best Beaches on Lake Erie
Lake Erie is perhaps the best of all the Great Lakes to hit the beach. The simple reason is that the lake is shallow and warms up nicely. Unlike its neighbors to the east and north, your lips won't turn blue when you take a dip.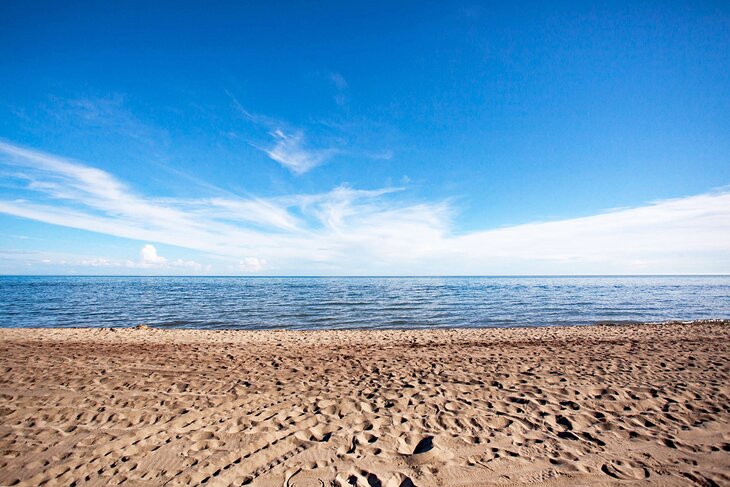 Lake Erie has wonderful beaches that line its shore in Canada and the United States. Owing to its proximity to major population centers, the towns along the lake tend to be well-developed and are fun places to hang out in the summer.
In both countries, the beaches are located in provincial and state parks and occasionally are within town limits. Many of the beaches in the provincial and state parks have campgrounds located nearby, so if you've got the time and equipment, plan a multiday trip to maximize your beach enjoyment. Even if you are only day-tripping, pack a picnic — most beaches have picnic tables and BBQs set just back from the sand.
Most of the beaches are monitored for water quality. If it's been raining prior to your planned visit, check online to ensure all is well. Whether a beach has a lifeguard is hit or miss; it really depends on the beach, the day of the week, and staffing availability.
Plan your day of fun with our list of best beaches on Lake Erie.
Best Beaches on Lake Erie, Canada
1. Port Dover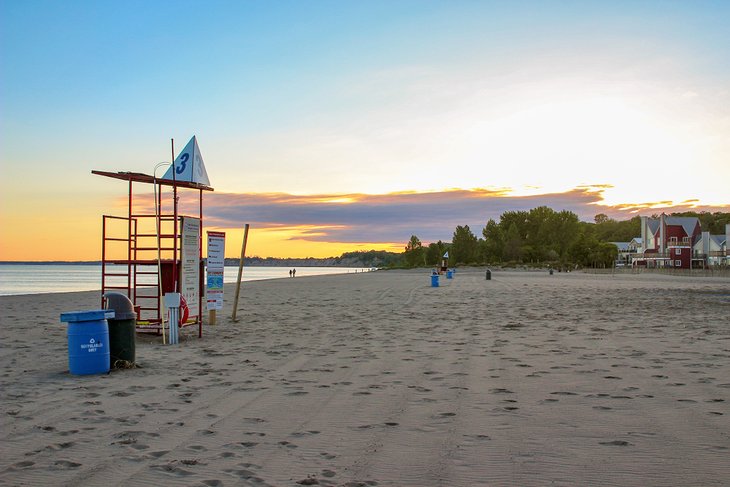 A palm-fringed beach in Canada? Yes, it's hard to believe, but it really does exist at Port Dover. Their presence adds a Caribbean flair to this pleasant stretch of beach located just south of Hamilton. How is it possible to have palm trees in such a frigid environment? Every year, the trees are dug up and placed in a warm enclosure that allows them to survive the winter.
The sand here is soft and on windy days, the surf can be decent for boogie boarding, but you'll be hard-pressed to surf. The town behind is a typical summer town, with beach gear stores, ice-cream shops, and fast food joints.
Unlike other beach towns in Ontario, Port Dover never gets overwhelmed with young weekenders. The crowd here is more family-centric and low-key. For a nice view back over the beach with the palm trees in behind, walk out on the breakwater at the far end of the beach.
2. Long Point Provincial Park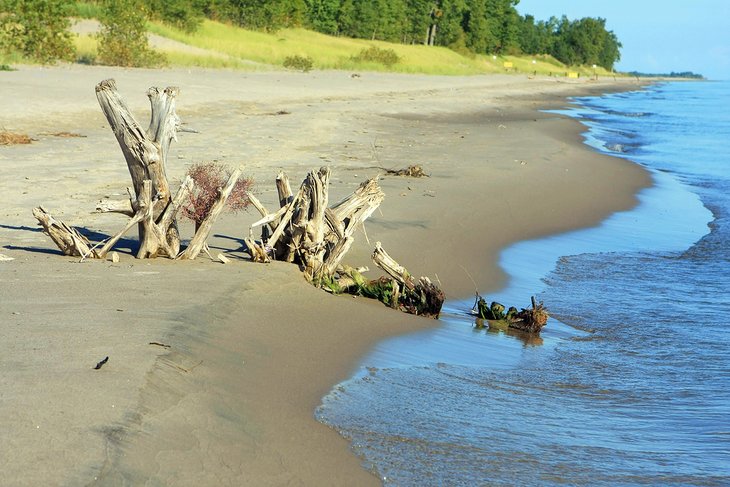 Just down the road from Turkey Point Provincial Park beach is the 1.5-kilometer Long Point Provincial Park beach. This quiet beach is one of the most beautiful on the lake and is complete with small sand dunes. You'll find the beach has shallow water and is perfect for families with small children. Unlike other beaches on Lake Erie, the beach here occasionally has an undertow, so swimmers should take note.
The park and beach are special places, so unique in fact that they are in a World Biosphere Reserve. As you lie on the sand or play in the water, you'll likely be joined by your new avian friends. Long Point, as the name suggests, juts into Lake Erie and is a major stop for 300 species of birds migrating north and south.
If you love camping, this is one of the best places on the Lake to set up. Some of the campsites are literally a stone's throw from the water's edge.
3. Crystal Beach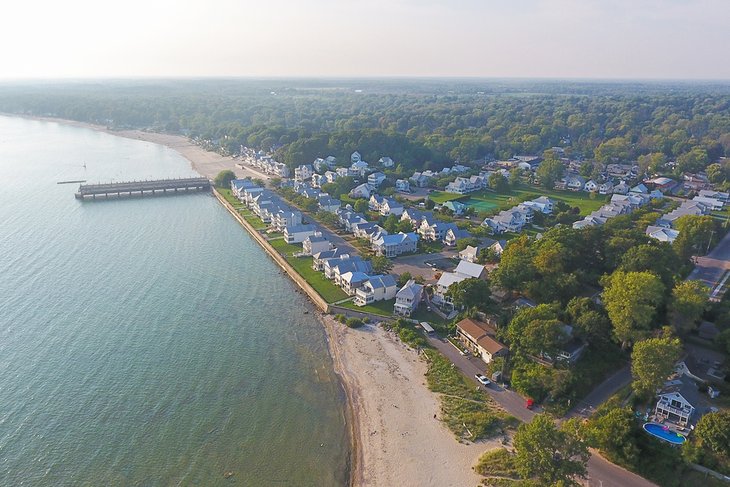 Crystal Beach has been significantly upgraded over the past few years and not without some controversy. The beach is now fenced, and an admission fee is charged to everyone over the age of 10 years. A bag check is also in place, as alcohol is prohibited. However, with the new fees come additional services, including a full-time beach patrol, new washrooms and changerooms, and a children's playground.
The beach is wide and deep with a gentle ramp for access, so it's easy to haul all your beach gear to your preferred spot. Note that a fee is charged for parking, and finding a spot can be a challenge here on busy weekends and hot summer days.
4. Rock Point Provincial Park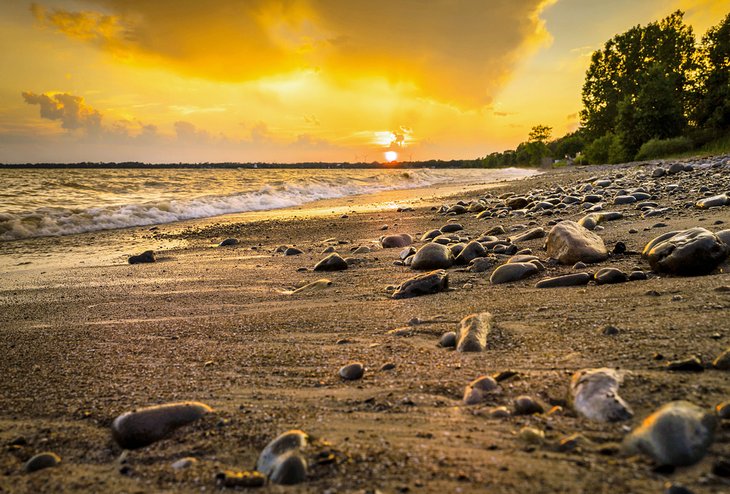 If Crystal Beach is too busy or expensive, just down the road to the east is Rock Point Provincial Park. Here, you'll find one of the most unique beaches on Lake Erie. Not only does the beach have a mix of sand and pebbles, it also has an exposed coral reef over 350 million years old.
Set up under your umbrella and settle in with a good book, or gaze out over the waters of the lake and get lost in thought. If, after a while, you need some amusement, stroll the one-kilometer of beach and take some time to check out the fossils in the ancient reef. This wide-open area of flat rocks is a wonderful place for kids of all ages to bring out their inner paleontologists.
Back from the beach is a large open grassy area perfect for games or a large picnic. Four campgrounds are set in among the trees and are a mix of non-electrical and unserviced sites.
5. Turkey Point Provincial Park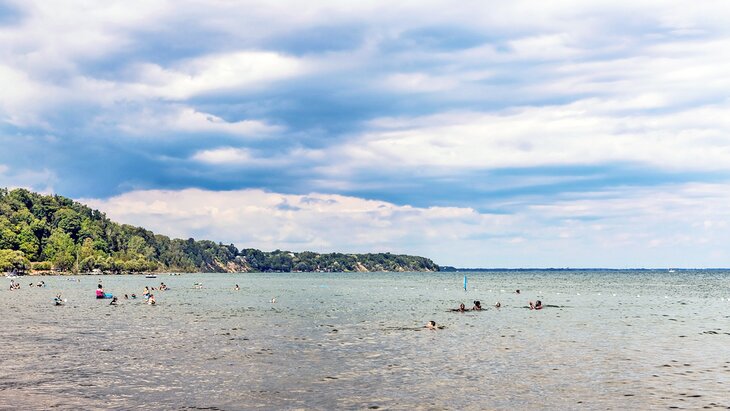 A two-kilometer-long stretch of golden sand backed by large trees makes the day-use beach at Turkey Point Provincial Park one of the best on Lake Erie. Rarely if ever crowded, this beach is beloved by generations of park visitors who have been coming here for years.
Popular with families, the beach has a shallow approach, and the water becomes bathtub warm as the summer progresses. The large trees in behind the beach provide pleasant shade for those looking for a break from the hot summer sun. Parking here is plentiful and close to the beach, so it's easy to bring all your gear to your favorite sandy spot.
Pack a picnic or, if you prefer, buy something locally. Just a few steps back from the day-use beach you'll find local restaurants serving up typical beach fare, including hot dogs, hamburgers, and cold drinks.
Back in the hardwood forest to the northeast of the day-use area is a popular campground with 235 sites, a mix of electric (15/30 amp service), and non-electric sites. Be aware that the campsites are a fair distance back from the beach.
6. Port Burwell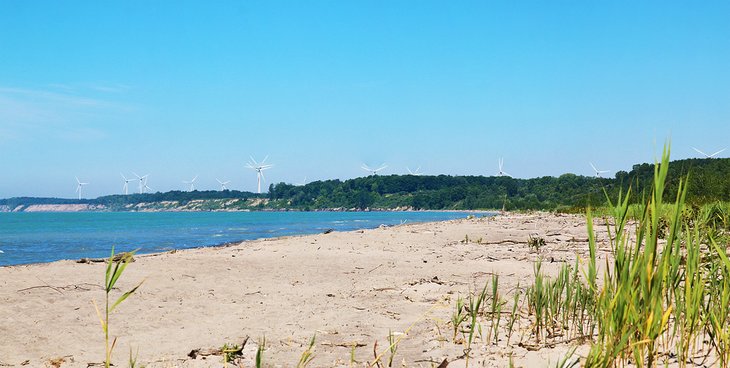 A bit farther west from Long Point Provincial Park lies another great beach located in Port Burwell Provincial Park. This 2.5-kilometer-long swath of sand is backed by low scrub and is wide-open; just perfect for a game of sand soccer or Frisbee. The beach is quite exposed and can be windy at times; the upside of this is the large rollers that are perfect for boogie boarding and body surfing.
This may actually be Fido's most preferred beach on the Lake. A separate, dedicated dog beach allows you and your four-legged friend to frolic leash-free in the water. Back from the beach is a small campground with well-treed and very private sites.
7. Rondeau Provincial Park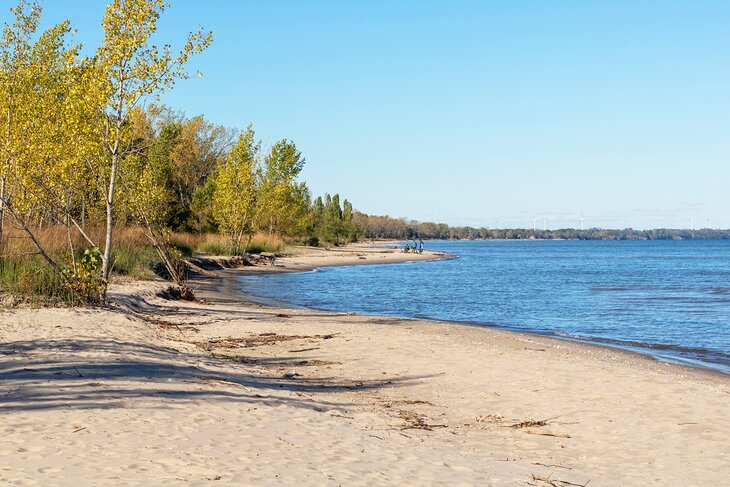 If 11 kilometers of beach, much of it wild and uninhabited, sounds interesting, then Rondeau Beach in Rondeau Provincial Park is the place for you. This massive beach extends southwesterly into the lake, just drive along the appropriately named Lakeshore Drive, park, then walk down to the water to find your perfect patch of sand.
The beach is a popular spot for beach walkers, kiteboarders, and kayakers. At the northern end of the beach is a pleasant campground set under the canopy of a Carolinian forest. If your four-legged furry friend is with you, they will be pleased to know that a beach here is dedicated just to them where they can run and frolic in the water.
Off-beach activities here include cycling along lightly traveled roads or exploring the 200-year-old forest on one of six hiking trails.
8. Erieau Beach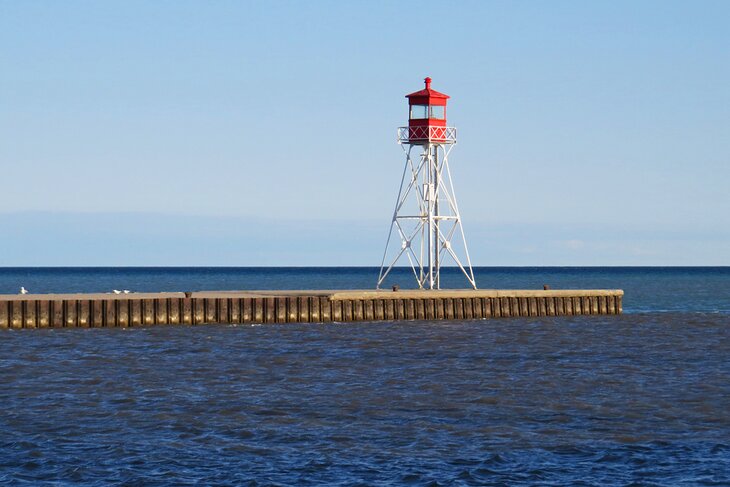 Unknown to many beach seekers, Erieau Beach is a hidden gem waiting to be discovered. It's well worth seeking out this place at the end of Highway 12 for its smooth sands and low-key atmosphere. Other beaches may be packed on a hot summer weekend, but those in the know will come here, where access is easy and parking is free.
The beach runs for about 1.5 kilometers and has a large breakwater at the southern end. Setting up for your beach day is easy here; the roadway is a short walk from the street. If, after you've settled in for a while and are looking for something to do, take a wander out to the end of the breakwater and see the Erieau Lighthouse.
The town of Erieau Beach is your typical summer beach town with ice-cream shops, beach gear stores, and restaurant patios filled with sun-kissed bodies.
9. Port Stanley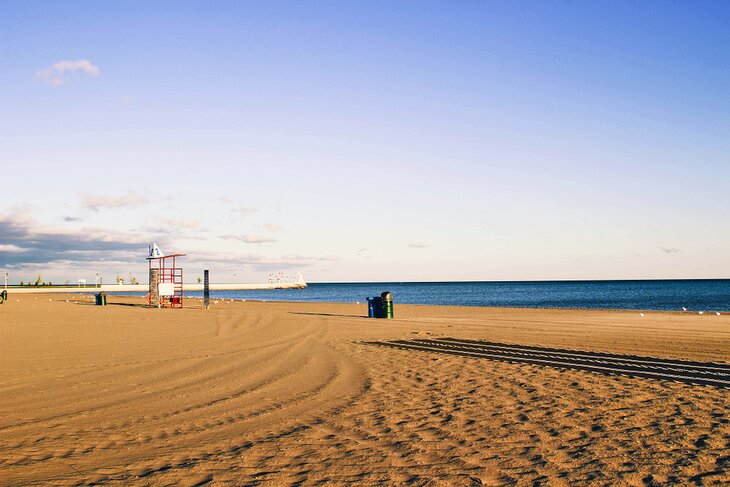 The delightful town of Port Stanley boasts one of the best beaches along Lake Erie's north shore. Known by two names, Main Beach and Long Beach, the golden stretch of sand out front is a favorite of both locals and visitors from further afield.
Port Stanley beaches have been awarded the coveted Blue Flag status for the clean water and safety.
Access for day trippers is good, with large parking lots mere steps from the sand, so bring all your water toys, umbrellas, coolers, and beach chairs. To really soak up the scene, head to one of the beach restaurants, home to some of the best summer patios in southern Ontario.
If the scene here (and it can get pretty busy!) is too much for you, drive a short distance to Little Beach for a more family-oriented environment.
Best Beaches on Lake Erie, USA
1. Cedar Point Beach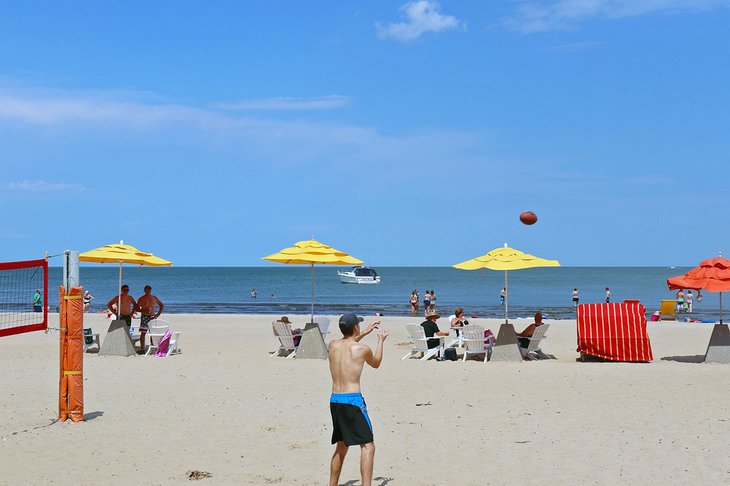 Non-stop summer fun is what you'll get when you visit Cedar Point Beach. Offering a good time for all who come for over 150 years, this classic American summer fun town and beach is what youthful memories are made of.
Set off on its own at the end of a peninsula, the wide beach, with it's golden sands, stretches for a mile and is packed with summer merry-makers on hot summer days. Back from the beach are hotels, restaurants, and a huge amusement park.
Here, you'll find the Blue Streak, GateKeeper, Gemini, Magnum XL-200, Maverick, Raptor, Rougarou, and Millennium Force roller coasters; the Cedar Creek Mine Ride; the Corkscrew; and the Power Tower; along with many other scream-inducing rides.
If roller coaster rides aren't your thing, and you've had enough of the beach but still want to play in the water, stroll back from the lake to Cedar Point Shores and take in the incredible water-themed rides.
You'll need to pay admission to gain access to the beach, but as a bonus, your fee includes access to the rides as well. Many people choose to stay overnight at the hotel and if you do, access to the beach is included with your room rate.
2. Headlands Beach State Park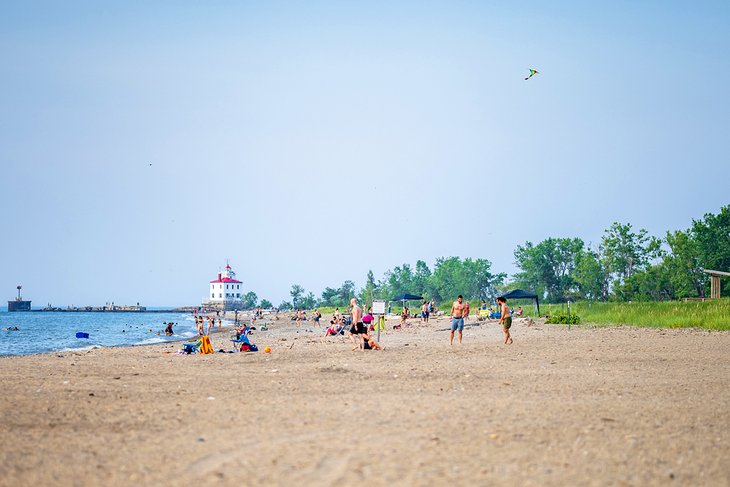 One of the most popular beaches in Ohio is located near Mentor in Headlands Beach State Park. Well over one million people enjoy swimming and sunbathing here each year. The beach here is an amazing 35 acres in size, and finding a spot is never an issue. The beach area is wide open with little shade, so be sure to bring an umbrella to get a bit of relief from the hot summer sun.
The beach is a mix of sand and small pebbles and extends along the Lake Erie shoreline for approximately one mile. Take a stroll and do a bit of people-watching along the way while keeping an eye out for beautiful examples of sea glass along the shoreline.
The beach has the usual facilities, including changerooms, restrooms, a playground for kids, and a concessionaire selling snacks and cold drinks. Picnic tables and picnic shelters along with BBQ grills are available for use as well. You'll find ample parking in one of the 19 lots just back from the sand.
3. Edgewater Beach Park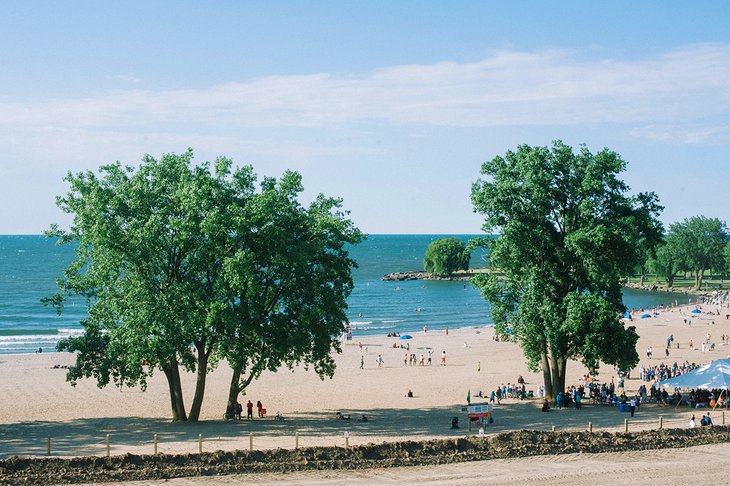 Located right in the heart of Cleveland, Edgewater Beach Park is one of the best urban beaches on Lake Erie. This beach has a lively scene with tons of people packing the wide, deep sandy shoreline playing volleyball, tossing Frisbees, and generally having a good time. The beach is 2,400 feet long with 1,000 feet of designated swimming area.
The park has lifeguards on duty throughout the summer, which is a bonus for those with young children. Back from the beach is a concession stand selling ice cream, cold drinks, and typical beach food like hot dogs and hamburgers.
The best part of the park? It's free!
4. East Harbor State Park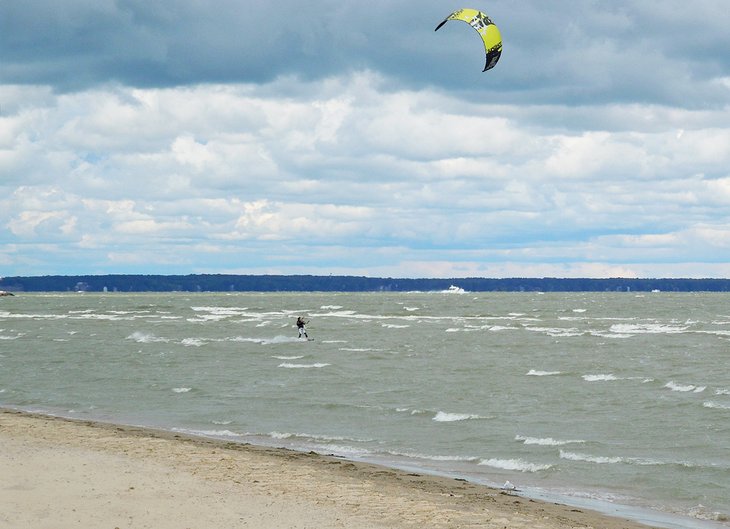 Just across the water from Cedar Point Beach in Marblehead is East Harbor State Park. This pleasant state park features two beaches: North Beach and South Beach. Together they total 1,500 feet of sandy shoreline just perfect for swimming. One strange rule here by the anti-fun police is that no flotation devices are permitted, so you'll have to leave all your inner tubes and other floaties at home.
The facilities here include restrooms, changerooms, and outdoor showers. Just back from the beach are picnic tables and grills set under shady trees. East Harbor State Park is a popular place to camp, with a large campground set back in the trees.
5. Nickel Plate
Located in the town of Huron and not far from Cedar Point is Nickel Plate beach. This 12-acre beach is unlike many others along Lake Erie because it's quite wide. This ensures you'll always be able to find your perfect patch of sand even on the busiest of days.
Nickel Plate beach has a fun vibe with lots to see and do. Most summer weekends, you'll find a game or two of beach volleyball on the go, along with games of ping-pong on the nearby permanent outdoor tables. The ever-popular cornhole boards are also available. Bring your own equipment for all games. If you'd prefer to be more sloth-like, that's fine, too, just set up under your umbrella and soak up the views of the lake with the Huron Pier and Lighthouse just offshore.
If you'd like to get out on the water, bring your stand up paddleboards, kayaks, or other floaties. If you don't have your own, rent something from the Paddle Shack, open from Memorial Day through Labor Day.
Nickel Plate beach is free to use, but a daily parking fee is charged.
Map of Beaches on Lake Erie