Florida in Pictures: 15 Beautiful Places to Photograph
With hundreds of miles of beaches and coastline on the Atlantic Ocean and Gulf of Mexico; the largest subtropical wilderness in the US, the Everglades; and glittering cities like Miami, known for their striking architecture; Florida is prime real estate when it comes to beautiful places to photograph. From searching for seashells on Sanibel Island to standing at the southernmost point of Florida in Key West, here are the most gorgeous spots to snap a picture in the Sunshine State.
1. South Beach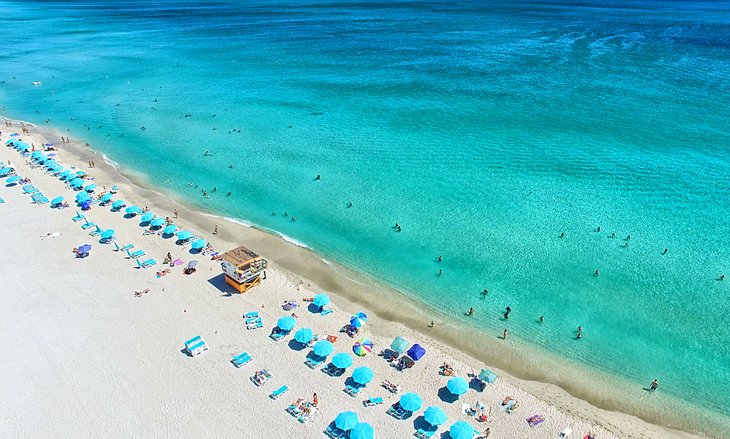 Miami's South Beach is the trendiest section of sand in all of Florida. At the southern end of Miami Beach, it is a favorite celebrity hangout and famous for its white sand meets crystal clear turquoise sea. The neighborhood behind the beach is filled with hip restaurants, hotels, and boutique shops.
2. Bahia Honda State Park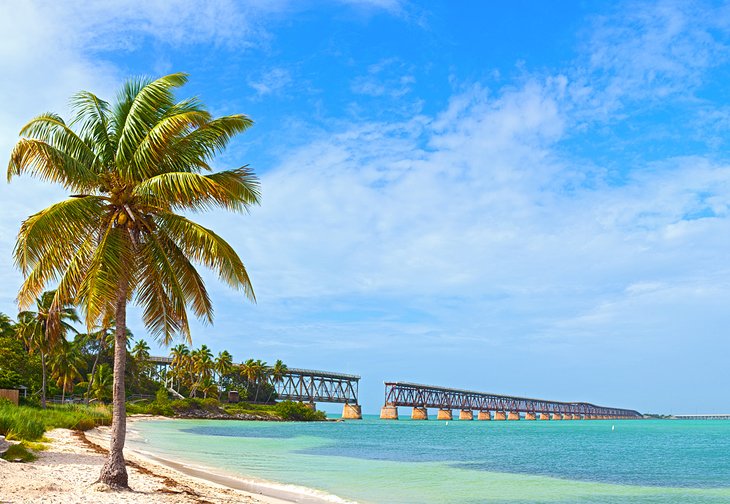 With varying shades of clear turquoise water set against a brilliant white-sand beach, Bahia Honda State Park is home to some of Florida's most beautiful beaches. And thanks to its state park designation, the beaches here are also pristine.
3. Fort DeSoto State Park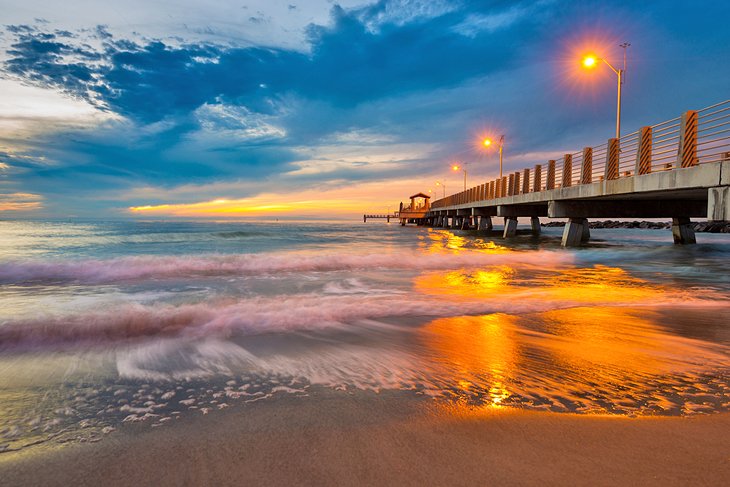 The beach at Fort DeSoto State Park has been called one of America's most beautiful for good reason. The park covers five islands off the coast from Tampa Bay that are accessible by bridge. The most beautiful beach here is North Beach, and it is especially popular with families-the water is calm enough for kids to swim in and there are some awesome colored shells and giant sand dollars to search for. Watch the sunset from the fishing pier (pictured above).
4. Naples Beach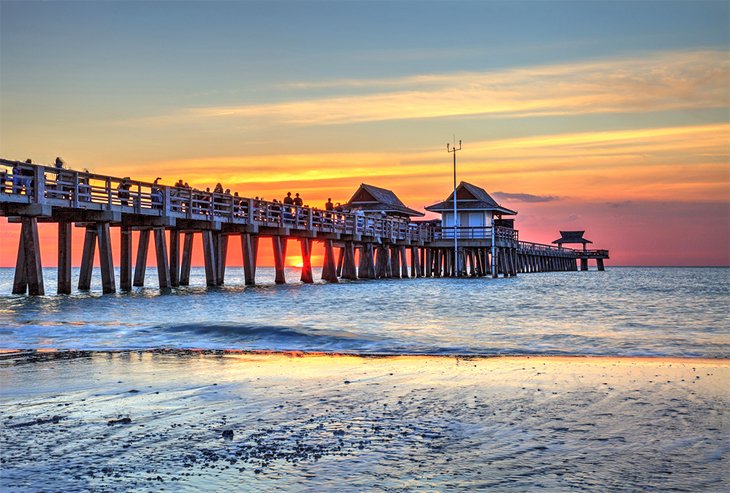 On Florida's appropriately named Paradise Coast, Naples Beach features seven miles of white sand and turquoise sea. Head to the Naples Pier when the sun is setting to witness a color show like the one pictured above. The town of Naples is equally compelling and filled with upmarket boutiques, excellent restaurants, and luxe lodging.
Accommodation: Top-Rated Resorts in Naples, Florida
5. Key West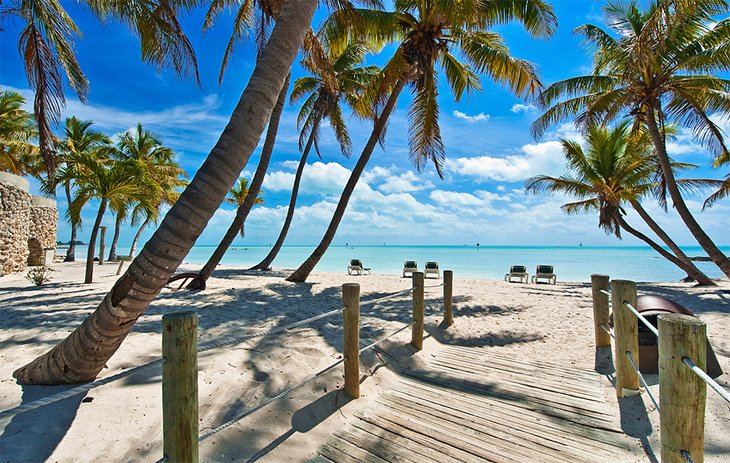 Just 90 miles from Cuba, Key West is Florida's southernmost point and one if the state's top destinations. Besides serene beaches like the one pictured here, Key West is known for its lively Bohemian vibe and history of hosting famous writers like Ernest Hemingway.
Accommodation: Top-Rated Resorts in Key West
Read More:
6. Fort Walton Beach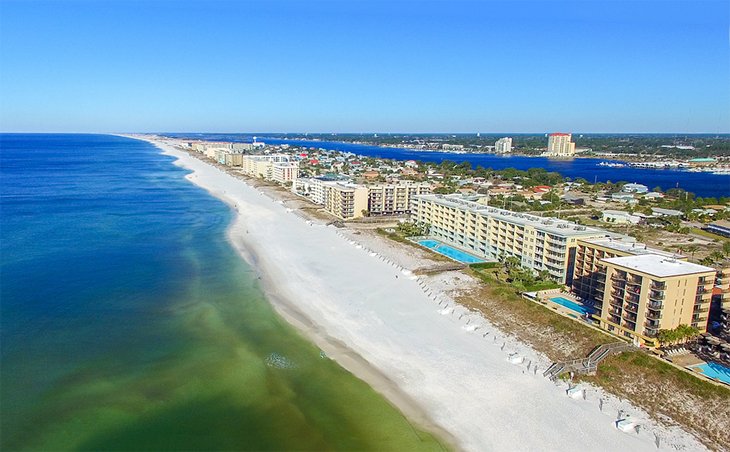 On the Florida Panhandle between Pensacola and Panama City, Fort Walton Beach is another beautiful powdery, white-sand beach backed by a sparkling emerald sea. A popular vacation destination, the town is home to numerous shops, restaurants, and hotels.
8. Miami Beach's Art Deco Historic District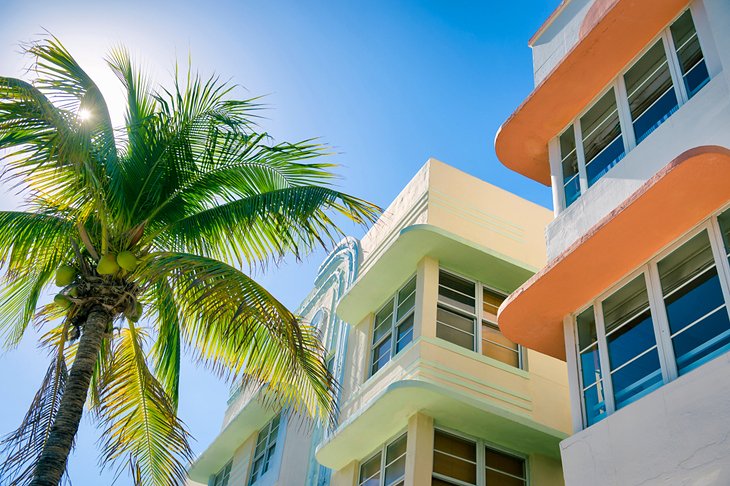 The neighborhood behind South Beach is preserved as the Art Deco Historic District. It is filled with buildings from the 1930s and early 1940s, built in unique and colorful Art Deco style, including the ones pictured above lining trendy Ocean Boulevard.
Read More:
9. Boneyard Beach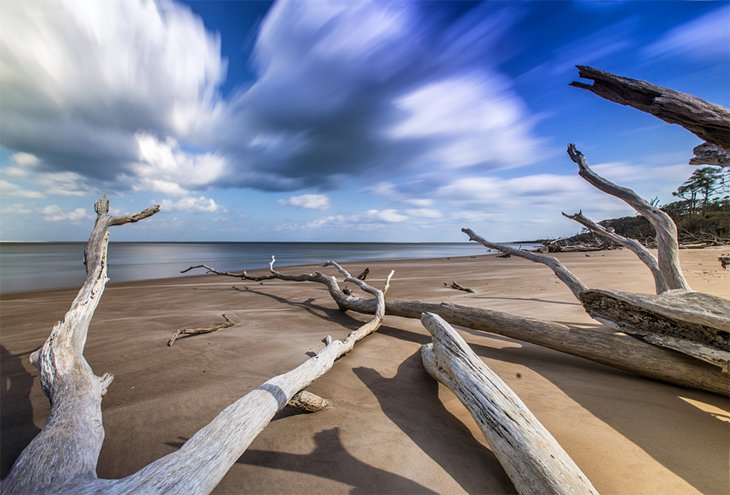 Named for the giant driftwood trees scattered along it, Boneyard Beach in Big Talbot Island State Park is a one-of-a-kind phenomenon. Take a stroll along the white-sand beach backed by 30-foot-high bluffs and pause to contemplate life from one of the scattered tree trucks.
10. Dry Tortugas National Park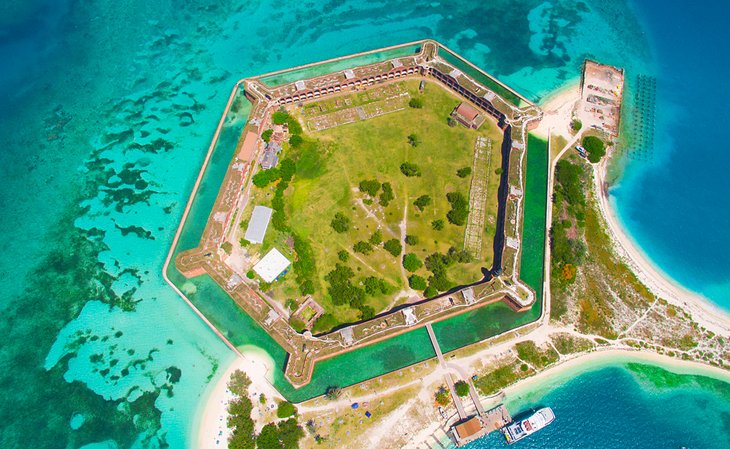 Remote and beautiful, Dry Tortugas National Park consists of seven islands surrounded by protected coral reefs in the Gulf of Mexico. It is about a two-hour boat ride west of Key West and can only be visited on a day trip.
11. Key Biscayne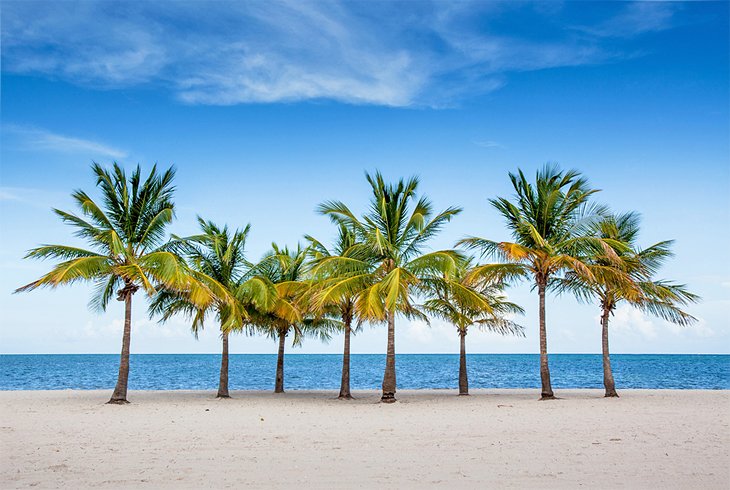 This barrier island connected to the coastline by Miami via the Rickenbacker Causeway provides a lovely escape from big city life. Relax under the shade of a palm tree on the sheltered sandy beach or take a swim in the clear turquoise sea. You may get lucky and see one of the resident loggerhead turtles.
12. Everglades National Park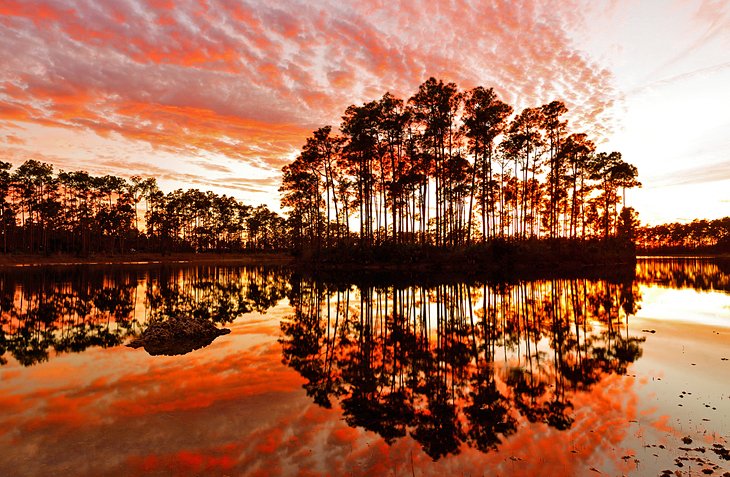 Watching the sunset over Long Pine Key Lake in the Everglades National Park is a serene color show. The USA's largest subtropical wilderness, the Everglades are home to all kinds of endangered species, including manatees and panthers.
13. Clearwater Beach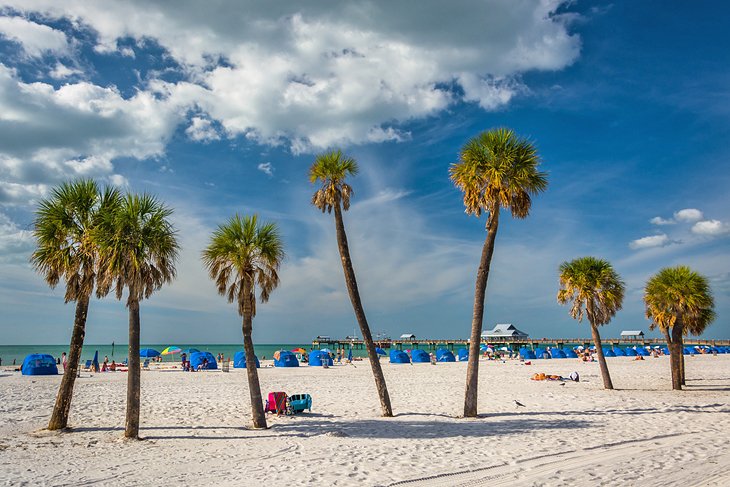 On the Gulf Coast, Clearwater Beach is beautiful on a sunny day. The beach is wide, and the water here is clear and calm. Take a stroll along the beachfront promenade that's also home to plenty of shops and restaurants. Or head into the sea for a day of water sports with everything from parasailing to Jet Skis and stand up paddleboards on offer here.
Accommodation: Best Resorts in Clearwater
14. Islamorada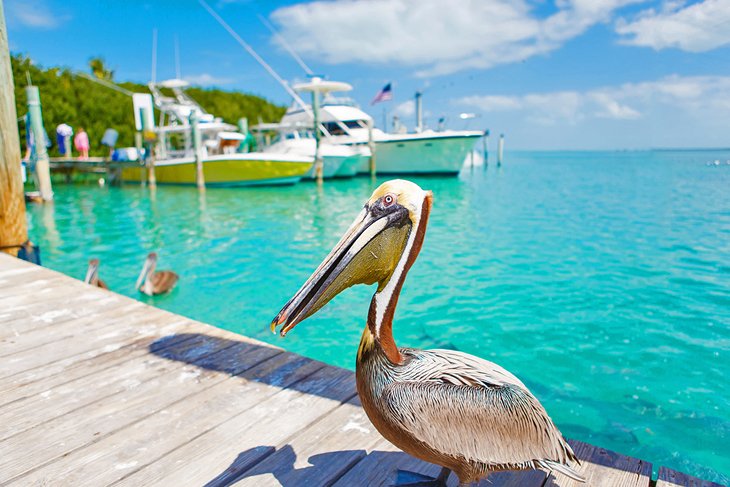 With green blue water and big brown pelicans lounging on fishing piers, Islamorada is easy on the eyes. The village of Islamorada actually covers six of the Middle Keys and is known for good snorkeling and diving in the coral reefs just offshore.
Accommodation: Top-Rated Florida Keys Resorts for Families
15. Venice Beach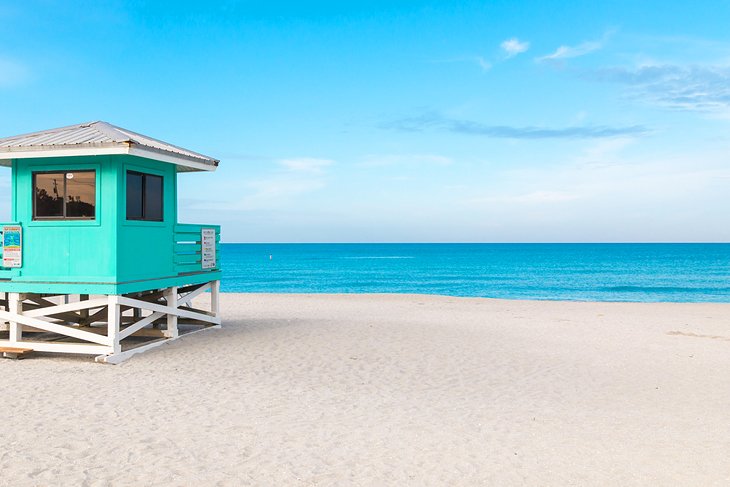 A favorite family beach, Venice is best-known for the small prehistoric shark teeth you can find while combing the sand-many tourists come specifically to look for these teeth. Beyond the teeth of ancient sharks, dolphins and turtles are known to frolic off the shores here. There is also a boardwalk with shops and restaurants.