12 Best Things to Do in the Whitsunday Islands
If you're looking for a quintessential tropical island escape in Australia, look no further than the idyllic Whitsunday Islands. These 74 sun-soaked beauties, with pearly beaches and popular resorts, sit along one of the planet's natural wonders: the World Heritage-listed Great Barrier Reef.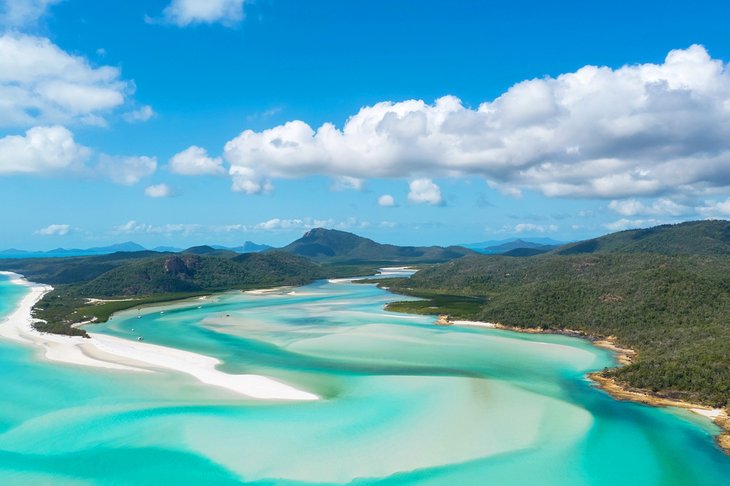 Lying off the coast of central Queensland, the Whitsundays are the peaks of drowned hills jutting above the turquoise Coral Sea. Six national parks protect their fragile ecosystems, making this a perfect place to visit for nature lovers.
If you love water sports, you'll be in heaven here. Popular things to do in the Whitsunday Islands include sailing, snorkeling, scuba diving, and fishing. Prefer to relax? Take your pick of sublime beaches for prime sunbathing.
You'll find accommodation here to suit a range of budgets, from exclusive boutique resorts, luxury eco-lodges, and back-to-nature bungalows to beachside campsites. You can also stay on the mainland at Airlie Beach, the main launching point for Whitsunday attractions and activities. From here, you can explore the Whitsunday Islands by helicopter, seaplane, ferry, and luxury yacht.
The best time to visit the Great Barrier Reef is the dry season, between May and October, when humidity is low and visibility is better. Whenever you plan to experience these natural beauties, discover the best places to visit with our list of the top things to do in the Whitsunday Islands.
1. Experience the Great Barrier Reef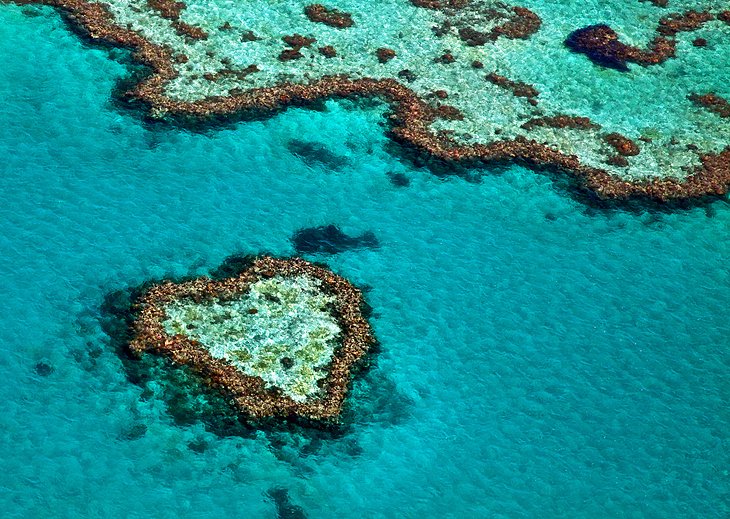 No matter how you experience the World Heritage-listed Great Barrier Reef, you can't help but be awestruck by its sheer size and beauty. Shimmering beneath the clear Coral Sea, it is the only living structure visible from space. To the Whitsunday Islands, it acts as a comforting coral embrace, shielding the waters from large ocean swells and creating ideal conditions for sailing, cruising, snorkeling, and scuba diving.
One of the world's richest ecosystems, the reef hosts an astounding diversity of marine life. In addition to more than 1,625 species of fish and 1,400 types of coral, the reef is home to sea snakes, dugongs, giant clams, turtles, whales, dolphins, sharks, and rays. Snorkeling and diving the Great Barrier Reef are the best ways to appreciate this diverse marine life.
Prefer to appreciate the reef without getting wet? Consider a glass-bottom boat tour or a scenic flight. Seeing the reef from the air, gives you a sense of its enormous size. And if you're wondering about things to do in the Whitsundays for couples, book a private helicopter flight over the famous Heart Reef. Naturally formed, this heart-shaped splotch of coral is also fitting symbol for how travelers feel when they first lay eyes on one of Mother Nature's most awe-inspiring masterpieces.
2. Bask on Whitehaven Beach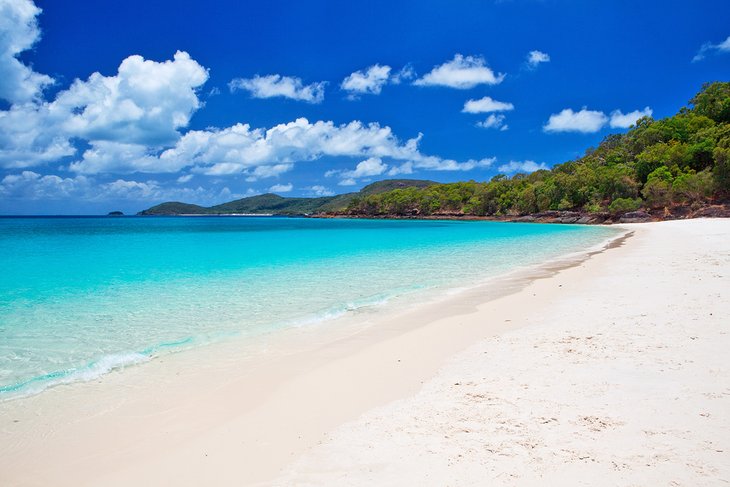 One of the most beautiful beaches in Australia, Whitehaven is a sublime seven-kilometer slice of white silica sand and turquoise sea. This squeaky clean beach lies on Whitsunday Island, the largest island in the chain and a popular spot for day trips and picnics. Once you get here, exploring this exquisite beach is one of the best free things to do in the Whitsundays.
To get the most out of your visit here, head out on the walking trails. A highlight is Hill Inlet, a pretty cove at the northern end of the beach where shifting tides swirl the bright white sand and aqua sea into a marbled mass of color. From the air, it looks like an abstract watercolor painting.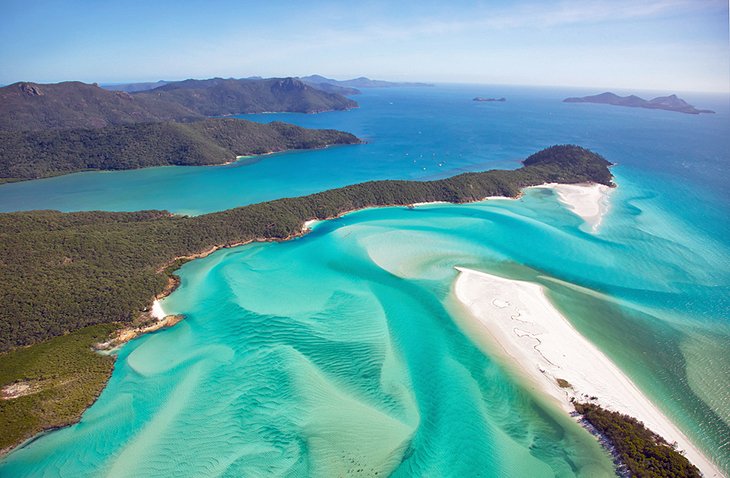 A lookout at Tongue Point provides an impressive perspective, and you can also enjoy a bird's-eye view of the island from a seaplane or helicopter. Tongue Bay is a popular anchorage for bareboats.
If you want to stay on the island, camping is permitted on the southern end of the beach, but most visitors come here aboard luxury yachts, ferries, and powerboats on day trips. One of the most popular excursions is the Ocean Rafting Tour to Whitehaven Beach. This seven-hour tour by motor raft gives you time for snorkeling in secret spots, basking on the beach, and hiking to a panoramic lookout in Whitsunday Islands National Park.
3. Book a Sailing Trip or Cruise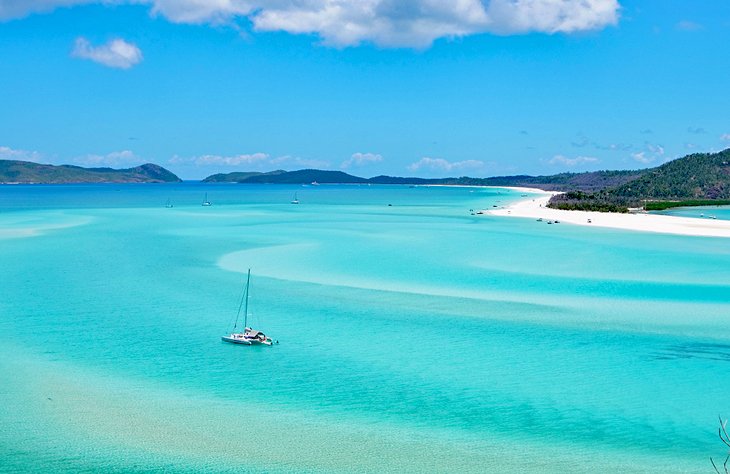 Sailing trips and high-speed cruises are among the best ways to appreciate the beauty of the Whitsunday Islands. This enables you to see more than one island in a day. Many tours also include stops to snorkel on the reef, hike the trails in Whitsunday National Park, and enjoy the facilities of the resorts.
On the Whitehaven Beach and Hamilton Island Cruise, you can cruise to the beach in a high-speed catamaran. This nine-hour tour explores the highlights of this dazzling beach, and then heads to Hamilton Island, where you can hike the trails, browse the boutiques, and enjoy close-up experiences with Aussie animals at WILD LIFE Hamilton Island.
If you really want to feel the wind in your hair and the salt spray on your face, the Whitsunday Islands Sailing Adventure is a great way to tour the islands. This 10-hour tour takes you to stunning Whitehaven Beach, with a guided hiking tour to Hill Inlet lookout. Along the way, you'll learn about the Whitsunday traditional owners, the Ngaro people, and end your island adventure with a snorkel stop on the reef.
Cruise Whitsundays also offers unique island cruises with an overnight in a Reefsuite, Australia's first underwater accommodation.
4. Visit Hamilton Island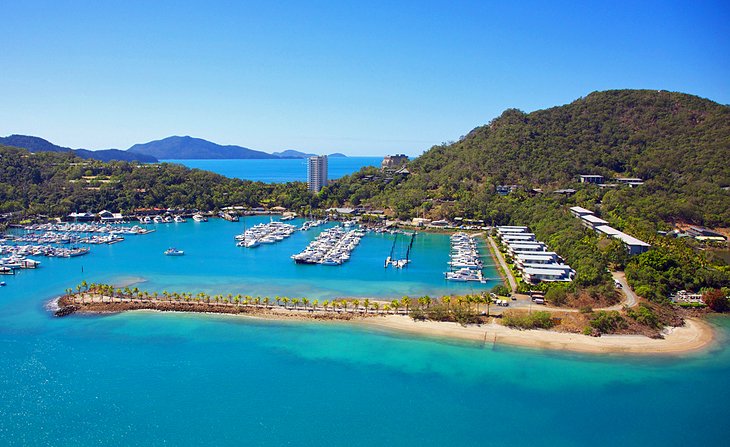 Hamilton Island hums with happy tourists. Brimming with attractions, resorts, and activities, it offers something for every kind of traveler, and it's the only Whitsunday Island with a commercial airport.
Like all the islands, water sports are the main diversion. Trips to the Great Barrier Reef and stunning Whitehaven Beach are highlights, and the island has plenty of its own attractions.
You can play golf and tennis, hike the many trails, explore the island in a rented golf buggy, or browse the shops and relax at one of the restaurants in the marina. Wild cockatoos and rainbow lorikeets often join diners here for lunch.
If you're looking for things to do in the Whitsundays for families, Hamilton has you covered. Kids can mingle with Aussie animals at WILD LIFE Hamilton Island, go bowling, speed around the go-kart track, or play a few rounds of mini-golf.
Accommodation is just as varied as the activities. You'll find everything from the luxury Qualia Resort on Hamilton's northern tip to palm-shaded bungalows, family-friendly apartments, and yacht club villas.
Hamilton Island is easily accessible by air and sea. Direct flights operate from major Australian cities, and regular ferries provide transfers from Airlie Beach on the mainland; the crossing takes about 30 minutes.
Official site: http://www.hamiltonisland.com.au/
5. Hide Away on Hayman Island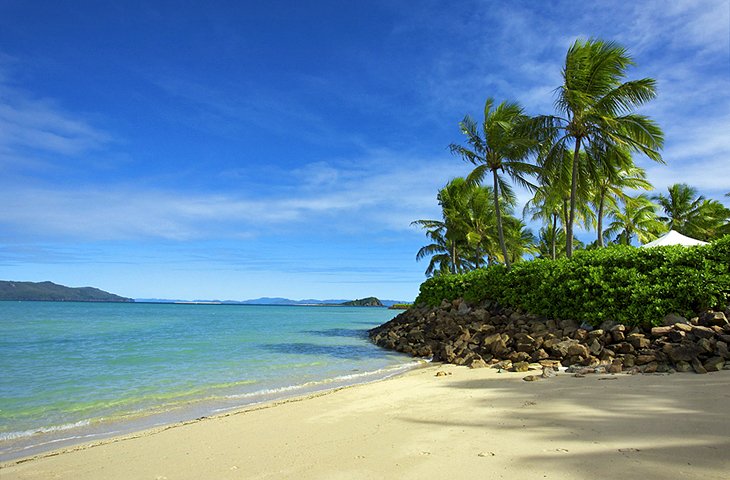 Sublime Hayman Island is for lovers of luxury. This ravishing private island is the northernmost of the inhabited islands in the Whitsunday group, and it's also home to the five-star InterContinental Hayman Island Resort. Guests travel to this tiny treasure in style by seaplane, helicopter, or luxury yacht.
One of the first islands on the reef to be developed for tourism, Hayman Island offers plenty of tropical eye candy, with rainforests, rocky coves, mangroves, and powder-soft palm-fringed beaches.
Beyond these beautiful shores, guests can hop aboard a helicopter to Whitehaven Beach or take a trip to the outer reef for some of the world's best diving and snorkeling. Kayaking, swimming, sailing, golfing on the driving range, and hiking the walking trails to scenic lookouts are other popular things to do. If that's too much effort, the luxury spa awaits.
6. Long Island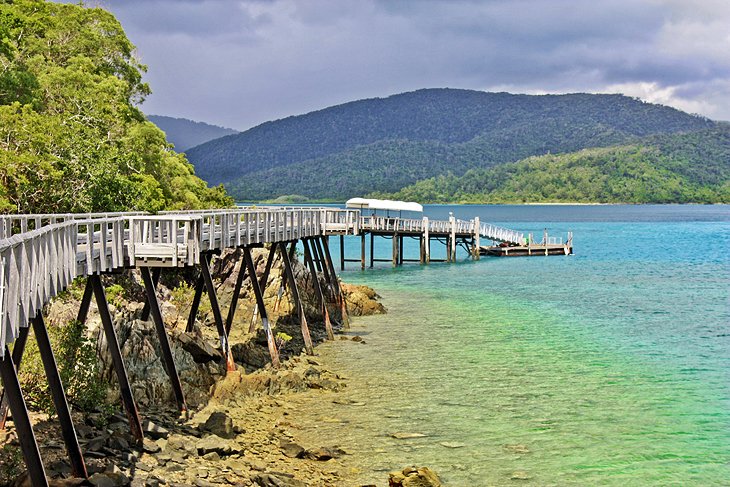 Sleek and slender Long Island provides the perfect back-to-nature getaway. Most of the island is pristine national park. Fringing reefs lie less than 150 meters offshore, more than 13 kilometers of walking tracks weave through the bushland, and secluded coves provide safe anchorage for boats. Best of all, the island is easy to access. It's only 20 minutes by ferry from Shute Harbour.
Long Island hosts two beautiful boutique resorts. Opened in 2019, the luxury adults-only eco-resort Elysian Retreat is the first solar-powered resort in the Whitsundays, with a maximum of only 20 lucky guests.
Sprinkled around a peaceful pocket of sand and sea, Palm Bay Resort Whitsundays is a more affordable boutique resort, with Balinese-style villas, suites, and houses. This resort offers rare self-catering accommodation, so you can cook your own meals.
Besides all the usual water sports, hiking through the national parks is one of the most popular things to do here. But if relaxation is top on your agenda, you can also collapse in a palm-shaded hammock and gaze out at the turquoise sea.
7. Camp on Hook Island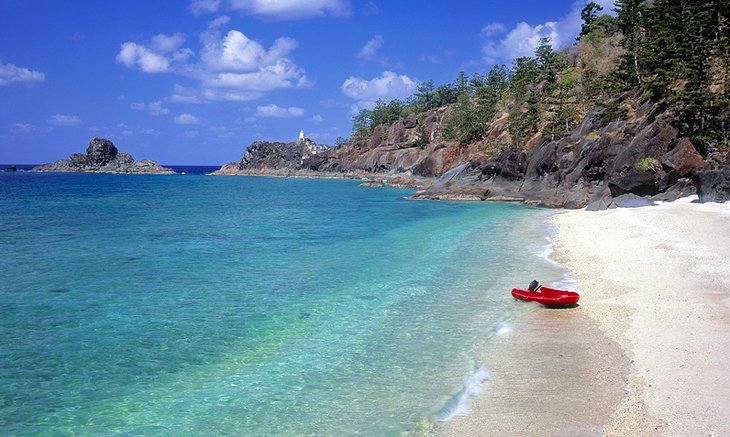 Rocky and rugged, Hook Island offers some of the best snorkeling and scuba diving in the Whitsundays. Many tour boats stop at the reefs along here on day trips (Luncheon Bay, Butterfly Bay, and Manta Ray Bay are all favorites). But pitching a tent at one of the picturesque beachside campsites is the best way to make the most of a visit here.
Hook Island is all about nature. A large part of the island is national park, with walking trails to rainforests, coral-strewn beaches, and viewpoints on rocky headlands. On the south coast, long, fjord-like Nara Inlet shelters many yachts, with its lush slopes plunging to the sea. From here, you can hike to ancient Aboriginal cave shelters and a beautiful waterfall.
Campsites are basic, but the views are beautiful. Choose from Maureen's Cove, Steen's Beach, Crayfish Beach, and secluded Curlew Beach.
8. Explore Whitsunday Islands National Park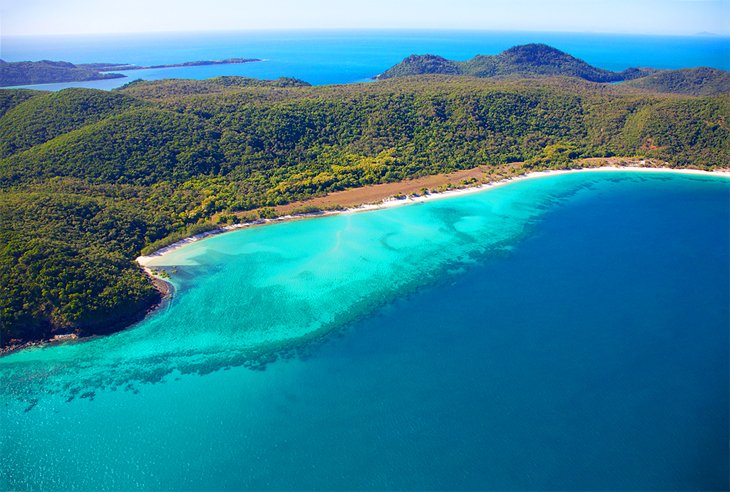 Whitsunday Islands National Park is arguably one of the world's most beautiful national parks. It encompasses 32 idyllic tropical islands and some of Australia's best beaches. Nature lovers will be in heaven exploring both on land and in the surrounding reef-dappled waters.
The Ngaro Aboriginal people first inhabited this area and are one of Australia's earliest recorded Indigenous groups, first sighted by Captain Cook in 1770. You can view some of their rock art at Nara Inlet on Hook Island. Other popular places to visit include sublime Whitehaven Beach on the uninhabited Whitsunday Island and the scenic hike to scenic Hill Inlet from here.
Favorite things to do in this multi-island park cover land and sea. You can dive and snorkel along the vibrant reefs; cast a fishing line; and hike the many trails, especially on Whitsunday Island, Hook Island, Border Island, and Langford Island.
Wildlife viewing is also popular. On land, look for goannas, unadorned rock-wallabies, flying foxes, and many species of birds. In the water, you might spot dugongs, rays, humpback whales, sharks, sea turtles, and many species of vibrantly colored reef fish.
The best way to experience the park is to camp on one of the islands. Dugong Beach, Naris Beach, and Joes Beach offer sheltered sites on Whitsunday Island. You can also set up camp at smaller sites on Hook Island at Crayfish, Steens, and Curlew Beaches or Maureen's Cove, which offer fantastic snorkeling from shore.
Camping permits must be obtained in advance, and all campers should bring their own water supplies for drinking and cooking.
Official site: https://parks.des.qld.gov.au/parks/whitsunday-islands/
9. See the Living Reef at Daydream Island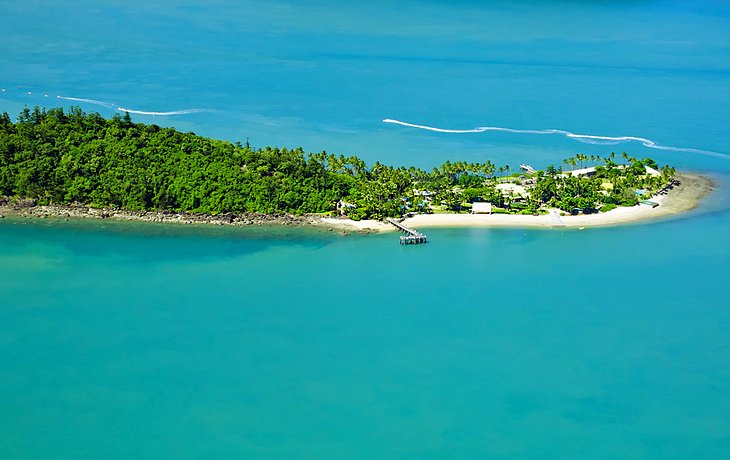 A family favorite, Daydream Island is the smallest of the Whitsunday group and one of the closest to the mainland. Popular with day trippers, almost the entire island is devoted to the Daydream Island Resort, which reopened in 2019 after an extensive facelift.
Despite its petite size, this attractive resort is packed with facilities, including a spa, sparkling lagoon-style pools, and a kids' club. Water sports abound along three pretty strands of beach, and sightseeing options include rainforest walks, reef fishing, and coral-viewing trips.
One of the top attractions of this resort is the Living Reef. This curving coral lagoon coils around the resort and provides sanctuary to more than 100 species of fish; 80 species of coral; and other fascinating marine life, including sharks and rays. You can even view these creatures in an underwater observatory.
10. Soak Up the Vibe at Airlie Beach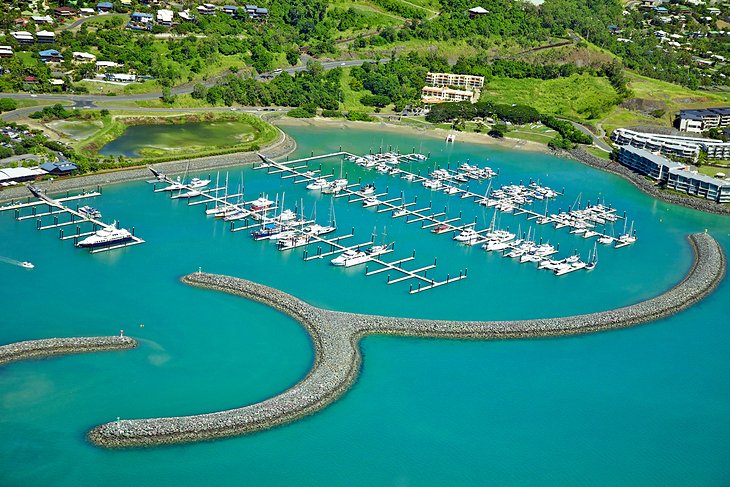 A hub for globetrotting backpackers and island day-trippers, the mainland's Airlie Beach buzzes day and night. Tourism is the mainstay of this Whitsunday gateway, where marina and resort developments continue to sprout along the seafront, and alfresco cafés and restaurants line the streets.
With such a strong tourism focus, this is a great base for organizing island adventures, many of which depart from Coral Sea Marina. Travelers will find a wide range of accommodation, from youth hostels to luxury hotels.
A great way to get a feel for the area, and one of the best free things to do in Airlie Beach is to stroll along the four-kilometer Bicentennial Walkway. This takes you along the waterfront and past Coral Sea Marina, and you can stop for a snack or drink along the way at one of the many cafés or restaurants.
Feel like a cool dip? Head to the inviting lagoon-style pool on the Esplanade. The beach is not great for swimming due to the possible presence of marine stingers.
Every Saturday from 7am to 1pm, tourists and locals alike flock to the Lions Airlie Beach Markets on the foreshore to browse the stalls for fresh produce, souvenirs, crafts, and gifts.
For a unique outdoor adventure, hike or bike Conway Circuit. This 28-kilometer one-way hiking or mountain biking trail takes you along the mountain ridges in Conway National Park, through rainforests and along rugged cliffs. It's a rewarding way to experience the lush, tropical wilderness and see spectacular views of the Whitsunday Passage. The trail takes about three days of walking and camping out under the stars, or four to five hours on a mountain bike.
11. Choose Your Adventure at Shute Harbour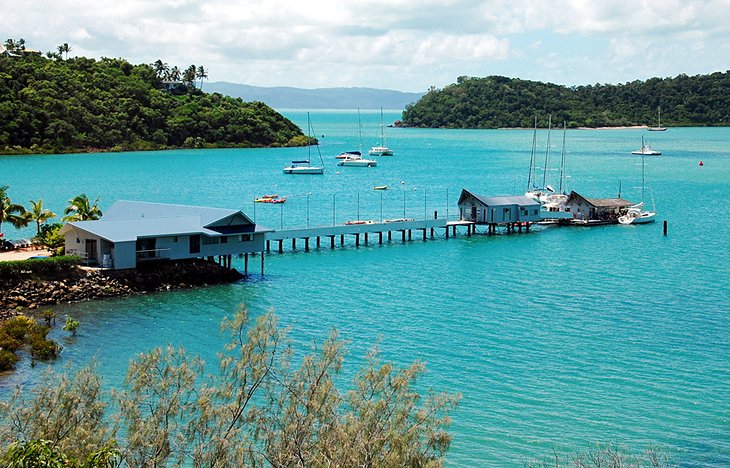 About 10 kilometers southeast of Airlie Beach, peaceful Shute Harbour is a launching point for all kinds of Whitsunday Island adventures. In December, 2021, the Shute Harbour Marine Terminal reopened after a $63.5 million restoration project and now it's ground zero for Whitsunday cruises and tours.
Rent a kayak and paddle around the turquoise waters, head out on a fishing trip, book an island tour or ocean rafting adventure, or catch a ferry to Hamilton Island. Planning an island camping trip? Whitsunday Island Camping Connection also operates out of the marina here.
You can also launch a boat from the boat ramp. Don't have a boat? Charter a yacht and plan your own sailing adventure.
Away from the marine terminal, you can get out into nature. Hike or drive to the top of Coral Point for panoramic views of the ocean, islands, and harbor. And if you want to explore the area further, you can hike some of the scenic walks in the surrounding national parks. The 7.2-kilometer Mount Rooper Circuit and Swamp Bay track is one of the most popular.
12. Go Bareboating around the Whitsunday Islands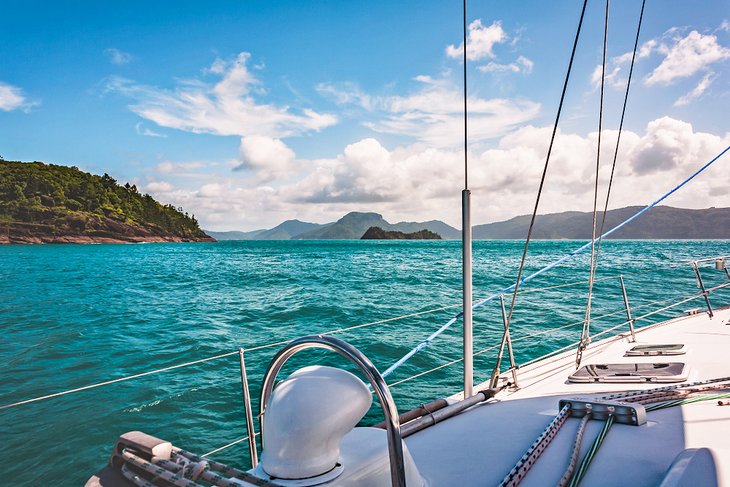 Be your own captain and go bareboating around the Whitsundays. It's an excellent way to visit as many different islands as you want on your own time schedule. Best of all, you can escape the tour crowds and discover some of the Whitsundays' hidden gems.
Don't have much sailing experience? No problem. Every charter includes a detailed briefing, so as long as you have basic boating skills, you can be on your way in no time.
Still don't feel confident? You can hike a skipper to help you out. Alternatively, consider hiring a powerboat or catamaran to motor around the islands. More than 40 anchorages pepper the islands, so you'll have plenty of places to linger.
Bareboats come with everything you need for your island sailing adventure. All you need to provide is the food.
Airlie Beach and Shute Harbour are the main launching points for bareboating adventures, and you'll find plenty of companies offering every kind of boat you might want for your trip. Whitsunday Rent A Yacht, Sunsail: Whitsundays, and Whitsunday Escape Bareboat Holidays are popular options.
Map of Things to Do in the Whitsunday Islands
More Related Articles on PlanetWare.com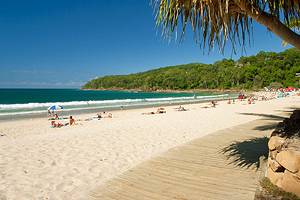 Quintessential Queensland: Queensland is all about tropical beauty and adventure. While you're in the Whitsunday's you'll be able to explore the fish-rich reefs of the World Heritage-listed Great Barrier Reef. Head south from here, and you can four-wheel drive on Fraser Island, the world's largest sand island, or surf some fantastic breaks at Noosa Heads and the Sunshine Coast.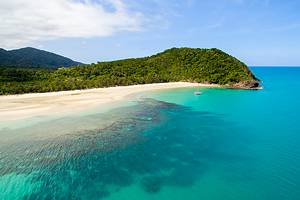 Queensland's Tropical Towns: About a three-hour drive north of Airlie Beach, you'll find plenty of things to do in Townsville. Stroll along the palm-lined seafront promenade called The Strand, dive a famous wreck, and see wild koalas on Magnetic Island. Drive north from here, and you'll hit the tourist hot spot of Cairns, another great base for Great Barrier Reef trips. Even farther north, are picturesque Port Douglas and Cape Tribulation, where the rainforest meets the reef.