Diving in the Red Sea: 10 Best Dive Sites
Diving is top of most travelers' things to do list on a Red Sea trip, and Egypt is home to the best of the Red Sea's dive sites.
The underwater tourist attractions of Ras Mohammed National Park and the eerie wreck of the Thistlegorm are world-renowned and remain among the best places to visit for keen divers, but there are many more underwater highlights off Egypt's Red Sea coastline.
Whether you want to add a day or two of diving into your Egypt sightseeing or are gearing up for a dive-dedicated vacation, check out the top areas and where to base yourself with our list of the best dive sites in the Red Sea.
Sharm el-Sheikh: For Dive & Beach Combo Vacations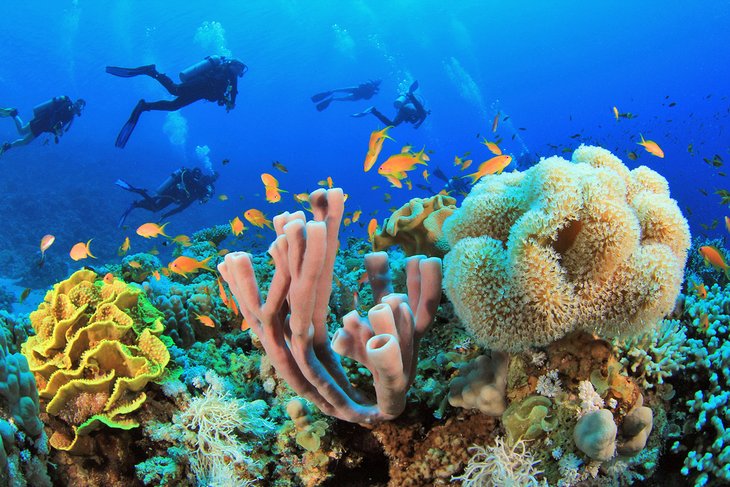 Although today Sharm el-Sheikh, in Egypt's South Sinai, is just as well-known as a beach resort, it is still the main base for diving the sites of both Ras Mohammed National Park and the Straits of Tiran.
Ras Mohammed and the Straits of Tiran are two of the Red Sea's most famous dive destinations, and some of the dive sites contained in these two areas are rated among the top dives in the world.
Access to all the best dive sites around Sharm el-Sheikh is by boat, as well as day trips, and there are plenty of liveaboard options operating out of Sharm for tourists looking for a dedicated dive holiday.
One of the most popular shorter liveaboard options – which can easily be tagged onto a hotel stay – is the overnight dive trip to the Thistlegorm wreck in the Straits of Gubal, off the Sinai Peninsula's western shore.
Sharm el-Sheikh makes an excellent base if you are interested in a relaxing sun-and-sea break and simply want to add a day or two of diving into that plan.
The beach resorts here are fully set up for family-friendly vacations, and most have dive companies on-site, so you don't have to stroll far from your sun lounger to set up a dive.
Read More: Top things to do in Sharm el-Sheikh.
Dahab: For Learner Divers & Longer Dive Stays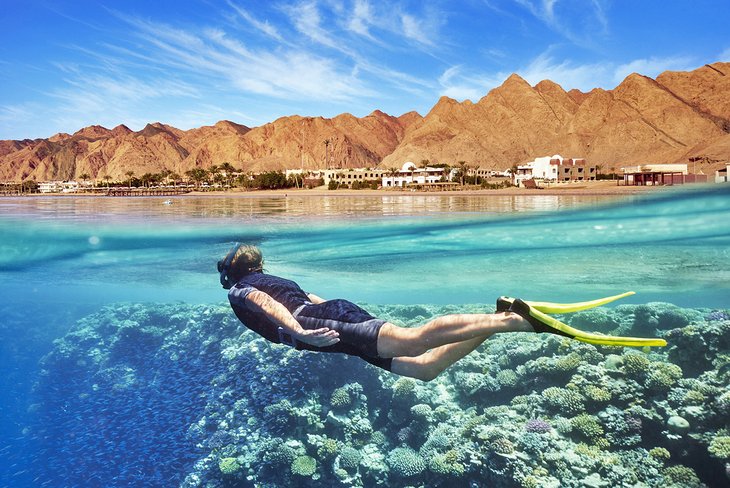 Dahab is a small beachside resort which has remained dedicated to diving.
It is the Sinai's budget traveler hub, mostly eschewing the glitzy resort style of Sharm el-Sheikh to instead focus on an activity-led, laid-back style of tourism.
It's renowned for its good-value diving packages and is also home to Egypt's free-diver community.
Dahab is also one of the best places to learn to dive in the Red Sea. This is due both to the fact that many of Dahab's dive sites can be accessed from the shore and the lower price of accommodation here, which makes the cost of long-stays for completing various PADI qualifications more affordable.
As well as diving, Dahab is a great base for visitors interested in exploring the Sinai with plenty of well-priced things to do in the desert such as camel treks and ATV (quad-bike) safaris.
This is the nearest base to Egypt's infamous Blue Hole dive site, which is just north up the coast from town.
Hurghada & El Gouna: For Diving within Easy Reach of Luxor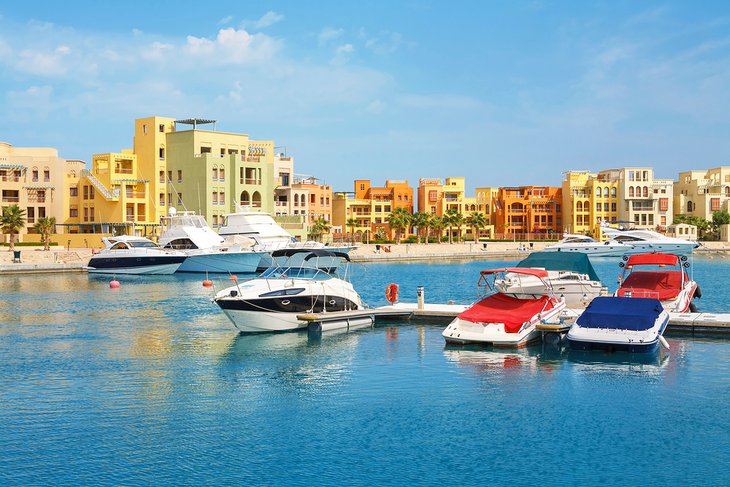 The coast around Hurghada was Egypt's original Red Sea diving destination, and its popularity, as well as over-development, has caused much damage to dive sites over the decades.
This isn't to say divers should now completely steer clear, as this is the nearest base to the multitude of sites in the Red Sea's Straits of Gubal.
Experienced divers, though, are better off booking a liveaboard holiday starting from here rather than staying at a resort and taking dive trips to the nearer reefs, which tend to be both the most damaged and the most crowded.
Hurghada is known for its luxury hotels and all-inclusive resorts, as well as offering good-value, family-friendly vacations.
Hurghada's beaches and other attractions draw flocks of northern Europeans here through the winter months.
For divers that want a trip that combines both a few days of diving and some time exploring Luxor's glut of historic sites, the resorts of Hurghada and El Gouna remain the closest and easiest option, with Luxor within day-tripping tour distance for sightseeing.
Marsa Alam: For Diving the Deep South Sites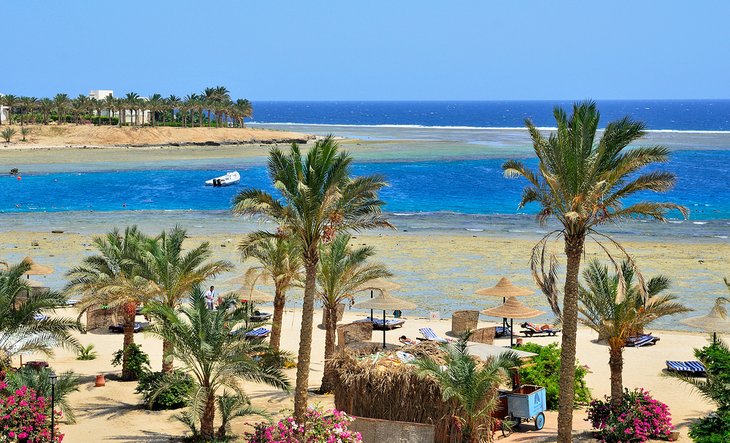 Marsa Alam has long been known among experienced divers as one of the Red Sea's best dive bases, thanks to being the closest town to the dive sites of Egypt's "deep south," such as the Fury Shoals.
Over the last decade, the coast around Marsa Alam has been developed into a beach resort area and now is home to a number of large five-star resorts, as well as the simpler dive-centric beach camps it was known for.
The best dive sites here are more suitable for advanced divers, so if you're a beginner diver looking for a beach resort and dive vacation, you're still better off checking out Sharm el-Sheikh or El Gouna.
If you're an experienced diver though, Marsa Alam could just be your next favorite Red Sea SCUBA diving destination.
Top Red Sea Dive Sites
1. The Thistlegorm Wreck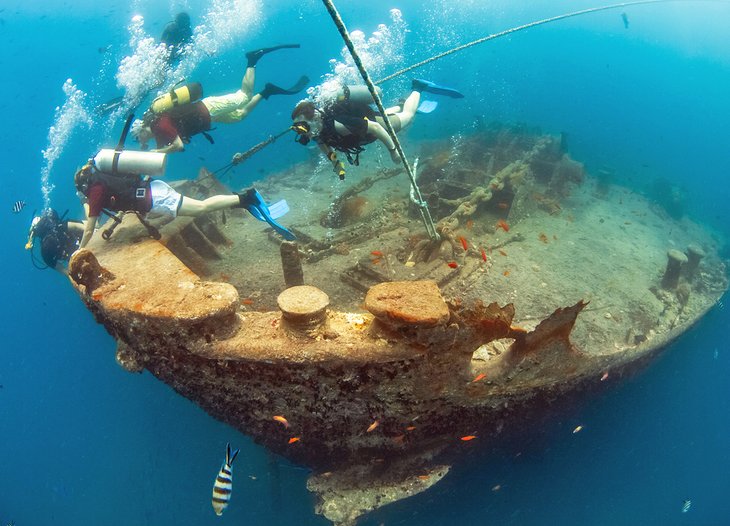 The Thistlegorm is the Red Sea's most famous wreck dive and one of the top places to visit for divers.
This WWII cargo ship, which had been bringing supplies for the Allied troops in North Africa, was sunk by German fighter planes in the Straits of Gubal in October 1941.
The attack killed nine of the ship's crew, and the ship itself was split in two, sinking quickly to the seabed.
The wreck of the Thistlegorm was discovered by Jacques Cousteau in 1956, but its location was kept secret until the mid-1990s.
Diving here, amid the ship and its cargo, is exploring a WWII underwater museum. The Thistlegorm's cache of gun carriers, trucks, and motorbikes are still in the hold, and the railway carriages the ship had been carrying sit on the seabed beside the wreck.
Wreck diving here is an overnight trip by liveaboard boat which can be booked from either Sharm el-Sheikh or Hurghada. Most trips include at least two dives of the wreck and often a dive at another nearby site along the way.
Due to the popularity of Thistlegorm dives, nearly every dive operator offers this trip.
2. Shark and Jolanda Reefs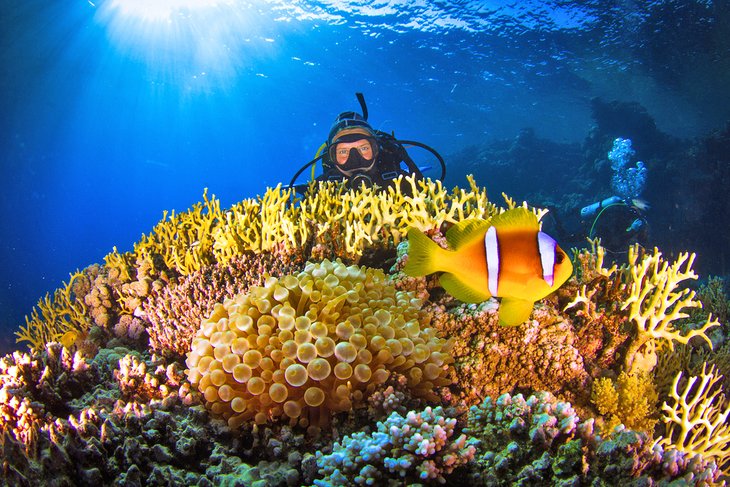 Most divers heading to Sharm el-Sheikh for the first time are here to dive these two reefs, which are rated among the world's top 10 dive sites.
Shark and Jolanda Reefs sit inside the protected Red Sea area of Ras Mohammed National Park, just off the southern point of Ras Mohammed's peninsula, easily accessed by day boat from Sharm.
Due to the currents, this is a major drift dive destination – heading through Shark Reef and ending at Jolanda Reef – which offers the best of both sea life and the Red Sea's renowned soft coral underwater vistas, as well as the wreck of the Cypriot cargo ship Jolanda.
Sea life spotting here is abundant, with large schools of a variety of small, colorful reef fish species along with barracuda, snapper and tuna, turtles, giant moray eels, manta rays, and sharks.
The coral variety here is just as impressive as the sea life, with colorful coral pinnacles and walls covered in bright coral gardens.
Normally the dive ends with an exploration of the Jolanda wreck, which had been carrying a cargo of porcelain bathroom equipment, now spilt across the sea floor when it grounded on the reef and sunk in 1980.
3. The Fury Shoals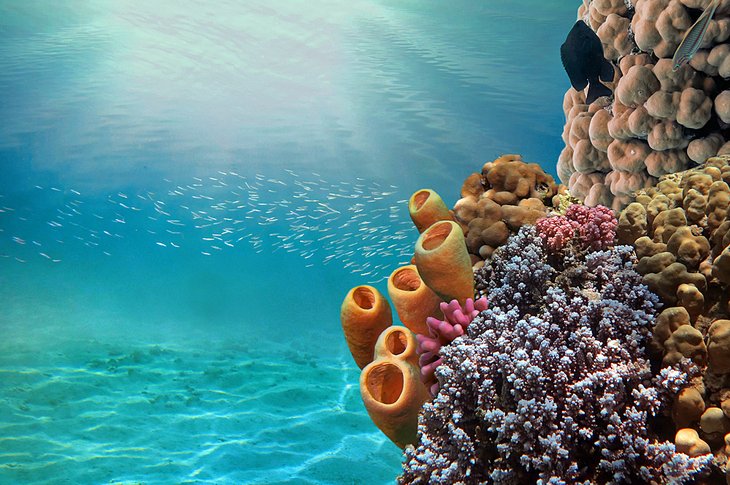 The Fury Shoals is a group of several reefs stretching south from Marsa Alam to Berenice in the deep south of Egypt's Red Sea.
The coral gardens here are notable for being among the most pristine in the Red Sea and, with diver numbers much more limited in this area, it's a great dive site for spotting sea life.
White-tip sharks and manta rays are regularly seen, as well as turtles, spinner dolphins, and numerous octopus, barracuda, various reef fish, and nudibranchs.
These deep south dive sites also offer one of the best chances for a rare sighting of the Red Sea's dugong.
The dive sites contained within the Fury Shoals offer a hugely interesting variety of diving, from steep-walled underwater cliffs encrusted in corals and tunnel swim-throughs, to exploring small wrecks.
The Fury Shoals can be accessed by boat on dive trips from Marsa Alam. Liveaboard operators also offer multi-day dive tours to the Fury Shoals leaving from Marsa Alam and Hurghada.
4. Jackson Reef and the Lara Wreck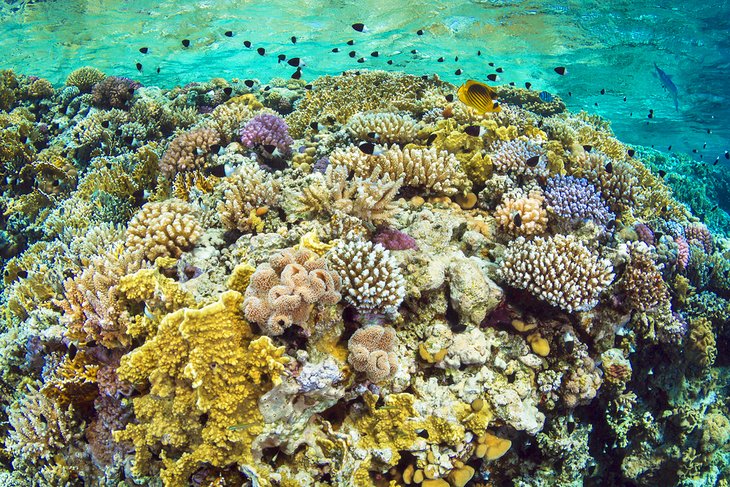 Jackson Reef is the most northern reef of the Straits of Tiran. Due to strong currents, this is a site for experienced divers.
The Straits of Tiran lie north of Sharm el-Sheikh, and Jackson Reef is normally accessed as a boat day trip from Sharm.
For advanced divers, a trip here during a Sharm el-Sheikh stay is a must due to the reef being home to some of the most vibrant hard and soft corals in the area. The gorgonians and fire coral are particular highlights.
Teeming reef fish flit around the coral gardens here, while larger marine life regularly seen includes hammerheads, grey reef sharks, white-tip sharks, large moray eels, octopus, barracuda, and schools of tuna.
The wreck of the Cypriot Lara freighter, sunk in 1981, can also be explored by advanced divers on the reef's northern edge.
5. Elphinstone Reef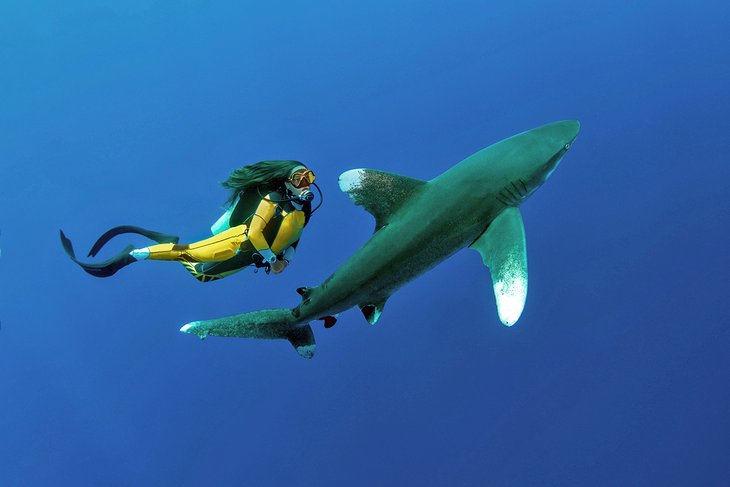 Just north of Marsa Alam, Elphinstone Reef is one of the great attractions of a Marsa Alam dive vacation, known for both its marine life and the abundance and variety of soft corals carpeting the reef's deep plateaus.
With its often fast currents, Elphinstone is a brilliant drift dive destination.
The reef descends to 42 meters, with vertical cliffs, caves, and coral pinnacles, which can all be explored at the lesser depths.
The site is famous among the diving community for its shark sightings. Oceanic white-tips and hammerhead sharks along with grey reef sharks and black-tips are all regularly spotted here.
Due to the currents and depths, Elphinstone should not be dived by beginner or inexperienced divers.
This is the most popular Red Sea dive site in Egypt's deep south due to the easy day boat access from Marsa Alam.
6. Big Brother and Little Brother Island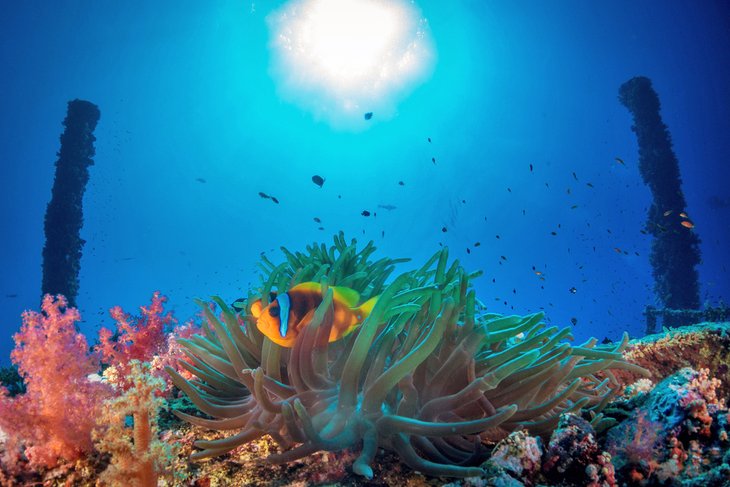 The isolated Brothers Islands (about halfway between Hurghada and Marsa Alam) are part of Egypt's protected marine park islands and have restrictions on divers permitted to dive here.
The good news is that the dive operator is the one who deals with the paperwork to get the permits. You just need to be able to prove your diving experience to be granted the entry. Most of the dive sites here are advanced level only.
Accessed by liveaboard trips (departing from Hurghada or Marsa Alam), the Brothers Islands get only a handful of divers compared to other Red Sea sites.
The seven dive sites in the area are known for their shark sightings, with oceanic white-tips and hammerheads particularly common. There is a wealth of other smaller reef fish and huge schools of larger fish to see as well.
Off Big Brother Island, the fringing reef, carpeted with colorful different soft corals, is a particular highlight, while there are two wrecks nearby here also to explore.
Due to the need for permits, trips to this dive site area should be organized in advance, before you arrive in Egypt.
7. Thomas Reef and Gordon Reef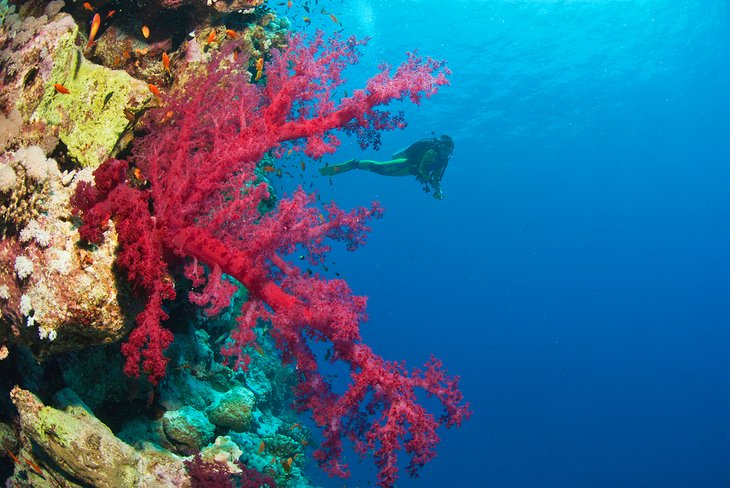 These two reefs sit in the Straits of Tiran and are usually accessed by day boat from Sharm el-Sheikh, though if you're based in Dahab, there are liveaboard trips to the Straits of Tiran dive sites that you could add on to your Dahab stay.
There are four Straits of Tiran reefs. These two sit at the most southern end of the reef system, so are often dived together on a day trip.
The reef walls here feature steep drop-offs leading down to yawning coral garden plateaus. Thomas Reef is the smaller of the two and the most popular dive due to its variety of colorful hard and soft corals, including whip corals, black corals, and huge gorgonians.
Both these reefs are known for their multitude of teeming reef fish plus regular shark and turtle sightings, with hammerheads, tiger sharks, and grey reef sharks regularly spotted.
The currents are strong here, so this is a dive site for experienced divers.
8. Shaab Samadai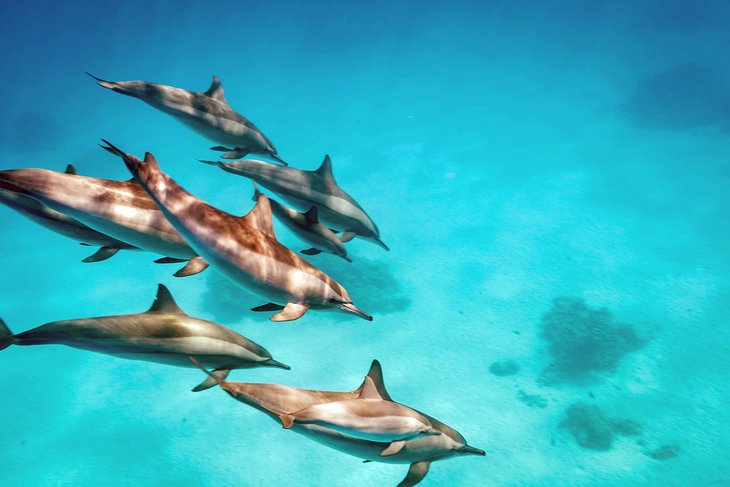 This horseshoe-shaped reef south of Marsa Alam is a protected area, and there's a cap on daily visitor numbers due to the pod of spinner dolphins, which are regular visitors here.
Whether the dolphins turn up or not though, Shaab Samadai is a dive site with plenty of variety to offer divers, known for its multitude of coral pinnacles, as well as a canyon swim-through for more experienced divers.
Those who don't want to dive but would like the chance to see Shaab Samadai's dolphins can usually join one of the dive boats as a snorkeler.
The dive site is accessed by day boat trip from Marsa Alam or by liveaboard tours from Marsa Alam and Hurghada.
9. Dunraven Wreck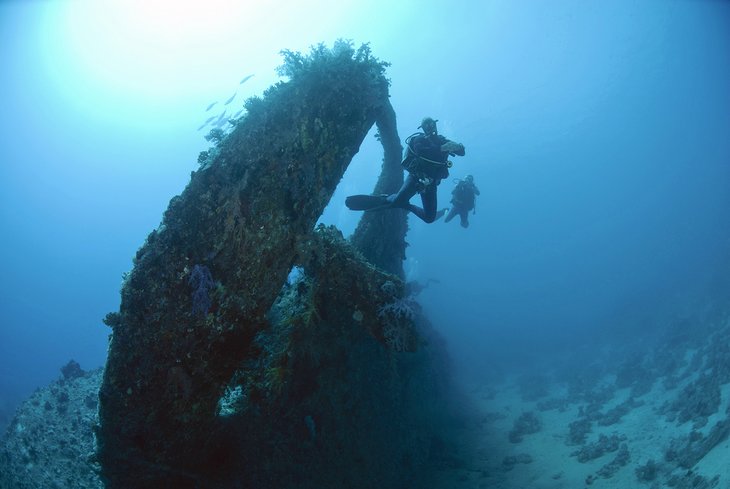 Situated off the southwest tip of the Sinai Peninsula, the Dunraven wreck is an 80 meter-long steamship that hit the reef here on its journey back to the UK from India and sunk (with all crew saved by local fishermen) in 1876.
Abundant fish have made their home here, and divers interested in macro sea life will be particularly happy, as there are plentiful nudibranchs to be seen. Reef fish that inhabit the wreck include scorpionfish, pipefish, and Napoleon wrasse.
If you're on a liveaboard trip from Hurghada or Sharm El Sheikh to the Thistlegorm wreck, the Dunraven dive is usually included in the trip. It can also be accessed by day boat from Sharm.
10. The Blue Hole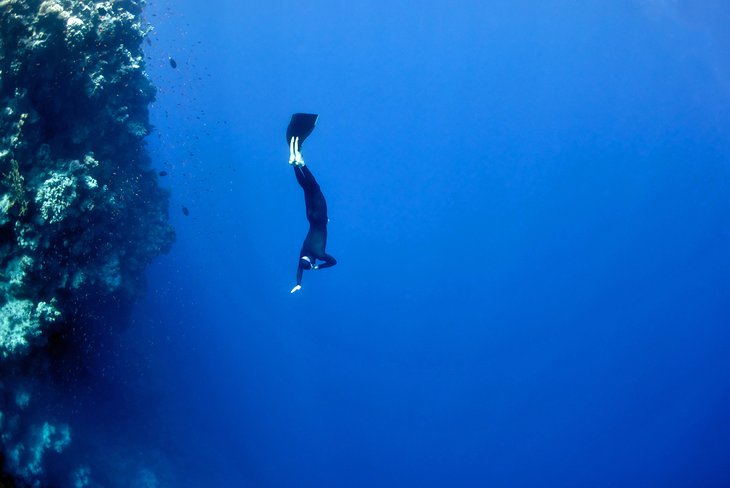 Just north of Dahab, this sinkhole, vertically dropping to around 120 meters, is Egypt's most notorious dive site due to the amount of lives it has claimed.
Despite its reputation, though, as long as you dive safely within normal recreational diving depth limits, diving here is just as safe as other sites.
Only highly advanced, technical divers, with specialized equipment to counteract the effects of nitrogen narcosis and oxygen poisoning, should attempt venturing deeper than this, and even then, should be highly prepared and trained beforehand. All of the Blue Hole's deaths have occurred outside of the normal recreational diving depth limits.
On a normal recreational dive here, there are numerous different corals and small fish life to observe, including plenty of flitting clownfish. Accessed from the shore, the lip of the sinkhole is also a popular Red Sea snorkeling destination because of the rich variety of fish life.
Map of Diving in the Red Sea: Best Dive Sites