13 Top-Rated Tourist Attractions in Hurghada
We may earn a commission from affiliate links ()
Hurghada is Egypt's oldest and most famous resort. Offshore is the colorful and bizarre Red Sea world of coral and fish life that first brought Hurghada to worldwide attention, while back on solid ground, the once tiny fishing settlement has mushroomed into a resort city catering directly to tourism.
For northern Europeans (who make up most of Hurghada's tourism influx) this is a prime winter-escape destination, with sandy white beaches and blue skies in abundance throughout the year. But while Hurghada's main attraction tends to be flopping on the beach, there's plenty more, both in the water and on dry land, for travelers who want a taste of adventure. For ideas, see our list of the top tourist attractions and things to do in Hurghada.
See also: Where to Stay in Hurghada
Note: Some businesses may be temporarily closed due to recent global health and safety issues.
1. Giftun Islands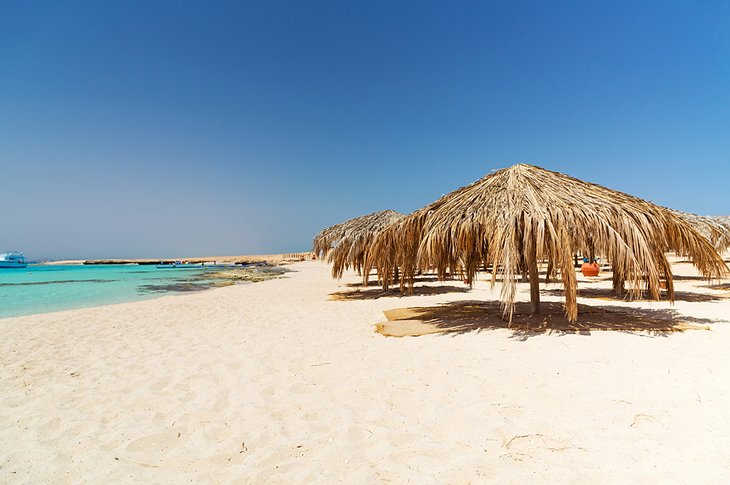 The Giftun Islands are one of Hurghada's most popular boat excursions, with prime swaths of white sand to soak up the rays, and snorkeling opportunities galore on offer. For those who aren't scuba diving enthusiasts, the easily accessed coral reefs surrounding the island shore are an excellent taster of the Red Sea's beauty. Snorkeling or even just paddling close to shore, you can spot plenty of fish life flitting through the clear water. Those not interested in underwater exploits can simply claim a palm-frond shelter on the beach, sit back, and enjoy the sun.
2. Hurghada Marina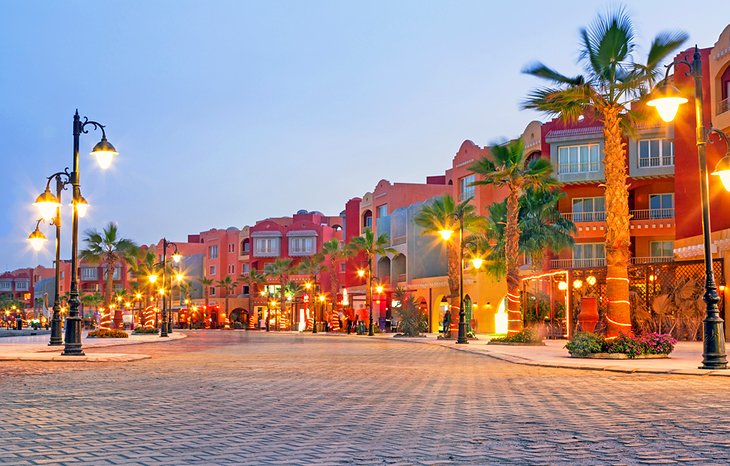 Hurghada Marina is a rather swish and modern addition to the central district of Sigala and the town's major dining destination. At sunset, this is the place to promenade while soaking up the last of the evening light before heading to one of the many cafés or restaurants for a meal. Dining with views over the bobbing yachts and the Red Sea stretching to the horizon can't be beaten.
Address: Hurghada Marina Promenade, Sigala
3. Straits of Gubal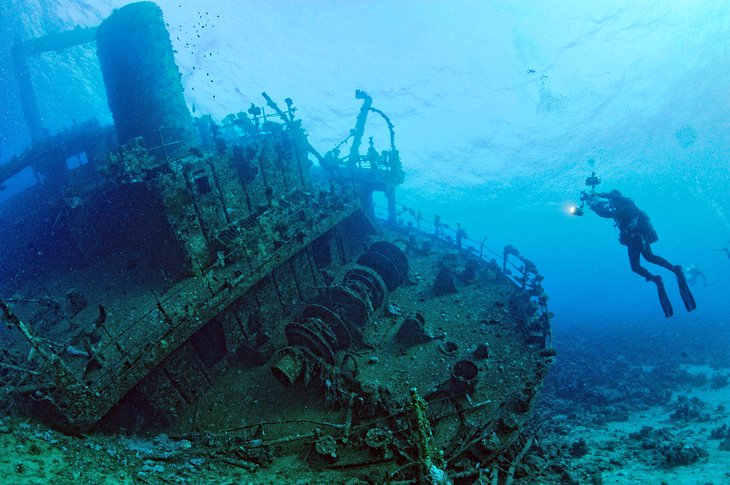 Egypt's Straits of Gubal, a narrow strip of water squeezed between the Red Sea Coast and the Western shore of the Sinai Peninsula, is one of the country's major diving destinations and is easily accessed from Hurghada. This strait's vast coral pinnacles have proved a tricky customer for seafarers trying to navigate through here across the centuries, and today, it is renowned for its wreck diving. Egypt's most famous wreck, The Thistlegorm (a WWII cargo ship that French diver Jacques Cousteau discovered while exploring the area in the 1950s) is among the strait's many dive sites.
4. Beaches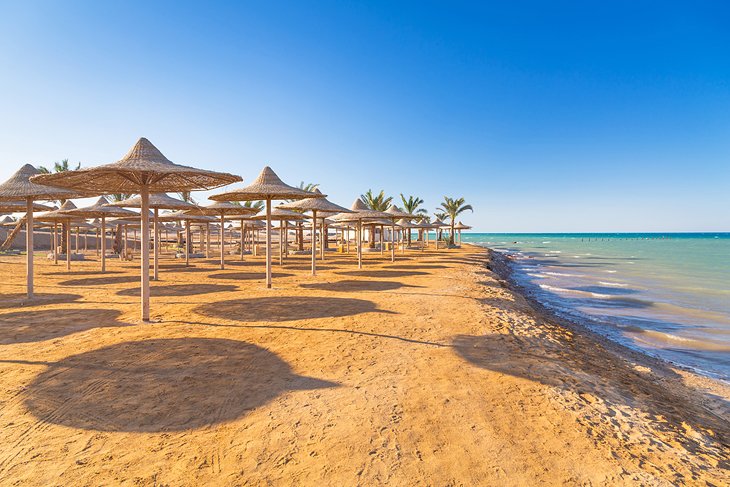 Hurghada's best patches of sand have all been claimed by the shore-side resorts that stretch along the coast on both sides of town. Even if you're not staying in one of the hotels, nearly all of the resorts offer day access to non-guests. To really sample Hurghada's beach life though, you should book yourself in for a few nights of resort living.
The best beaches lie south of the main town area (called Sigala) in the unimaginatively named "Resort Strip." Travel a bit farther south, and you get to the area known as Sahl Hasheesh, which is home to some of the Red Sea coastline's prime pieces of white-sand beach and best hotels.
5. Sindbad Submarine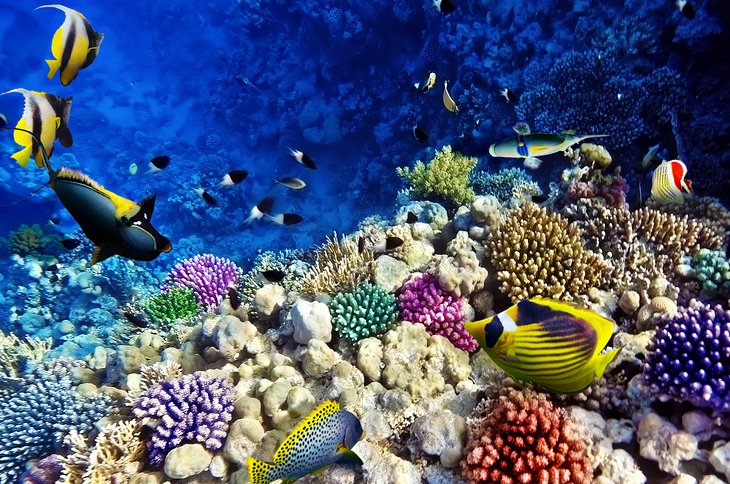 If you don't want to get your feet wet, this tourist submarine — the only one operating on the Red Sea — takes passengers down to a depth of 22 meters under the water for a peek at the Red Sea's abundant coral and fish life, all without even putting a toe in the sea. Trips take about one hour, and although they don't go very far offshore where the better coral can be viewed, for non-swimmers, it provides an opportunity to see the magical world below the surface.
6. Desert Jeep Expeditions & Quad Biking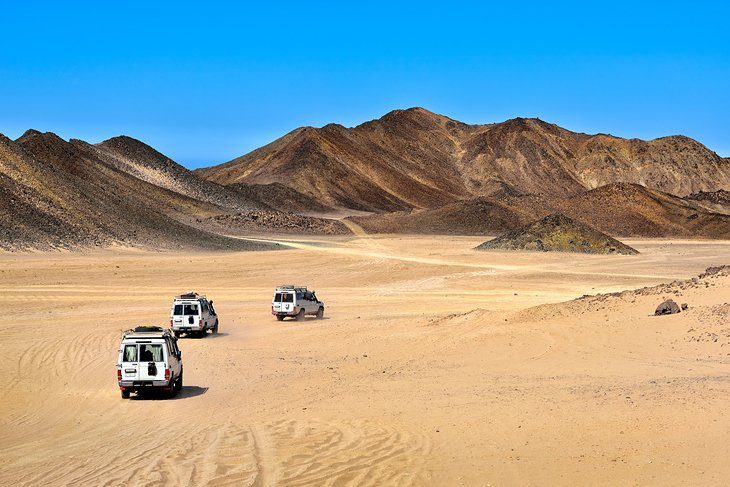 With so much action happening in the water, some travelers forget that back onshore there's an entire desert world to explore. Among Hurghada's most popular on-the-ground things to do are quad biking, jeep expeditions, and dune buggy trips into the sand dune hinterland. You don't have to travel very far off-road from the resort town to discover the acacia tree studded wadis (valleys), sandwiched in by red-tinged mountains, that make up most of the landscape of the Eastern Desert.
A popular way to experience this desert hinterland is on the five-hour quad bike safari in Hurghada, which includes a break at a Bedouin village and a camel ride.
7. Camel Rides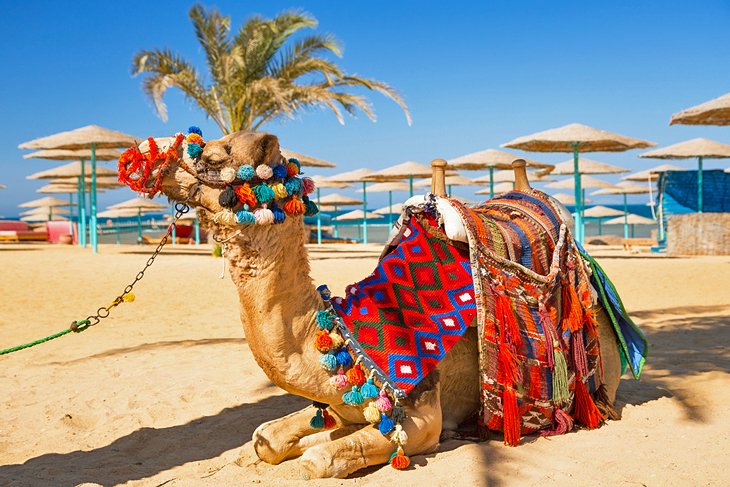 Whether you want to go for a short stroll along the beach (great for the kids) or are looking for a longer one- or two-hour ride into the desert, all of Hurghada's resorts offer a chance to sample camel riding. Longer trips usually head out to one of the Bedouin settlements not far from town and offer a chance to see the desert landscape from the high saddle. All are guided by Bedouin camel-men, so you don't have to stress about skittish camels suddenly shooting off into a gallop, and you can simply sit back and enjoy the views.
8. Astronomical Nights
Hurghada's twinkling city lights may scupper any plans of sky-watching while inside the town itself, but one of the most popular nighttime attractions for visitors here are the astronomical night tours, where your nighttime focus is entirely on the star-studded desert sky of your dreams.
Trips journey out of the city after dusk and into the lonely desert, where you'll spend an evening looking up into the wonders of the night sky with a telescope on hand for closer inspection. With the incredible clear skies in this part of the world, it's one of the best chances most people have of witnessing the full beauty of the stars.
9. Bedouin Dinner Tours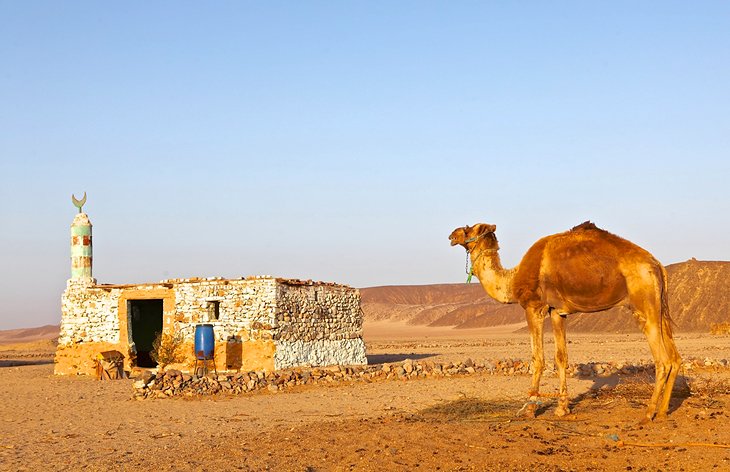 Another extremely popular evening tourist attraction in the Hurghada area are the Bedouin dinner tours offered by many of the resorts. For foodie travelers this is a must-do for the chance to sample the wholesome Egyptian dishes that never make it onto restaurant menus. Tours head out to nearby Bedouin settlements to feast on flavorful local cooking while reclining on colorful cushions in a traditional Bedouin tent setting. It's an atmospheric way to be introduced to Egypt's wonderful array of home-style cooking.
10. Abu Nuhas Shipwreck Sites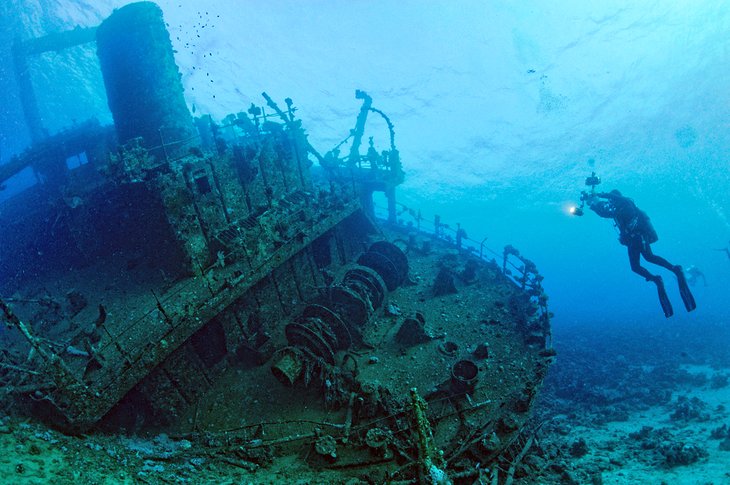 This diving area, just north of Shadwan Island, about 65 kilometers southeast of Hurghada, is a fantastic site to submerge into the sea with five shipwrecks to explore. The main attraction is the wreck of the Carnatic, a UK cargo ship sunk in 1869, which is still in incredibly good condition with its skeletal remains home to flourishing coral and abundant fish life. The Greek ship Chrisoula K (sunk in 1981) and the German Kimon M (sunk in 1978) are two more popular wreck dives in this area with plenty of opportunities to spot lionfish, triggerfish, and pipefish among the wreckage.
11. Gota Abu Ramada Dive Site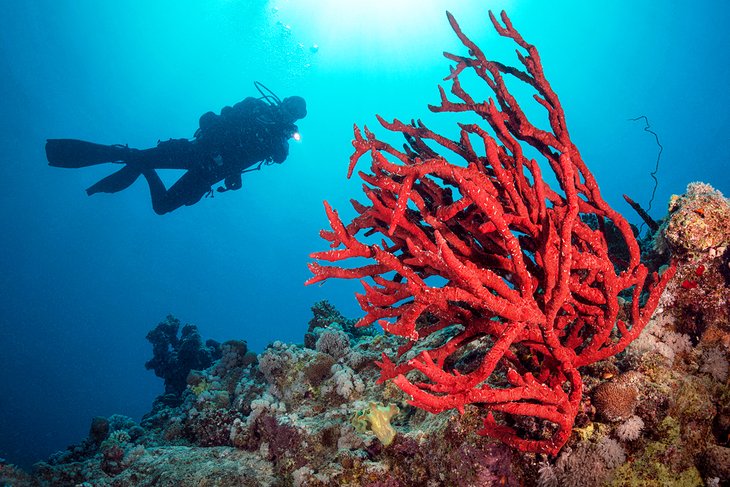 Known also as "The Aquarium," Gota Abu Ramada is a wall dive site with huge amounts of marine life. One of the most popular dive sites near Hurghada, it is used by many dive operators as a try-dive site for novice divers, but more advanced and experienced divers will also enjoy the huge variety of sea life. Triggerfish, lionfish, and clownfish are always whizzing through the ethereal blue waters here, and many divers also manage to glimpse the resident eagle rays.
12. Hurghada Aquarium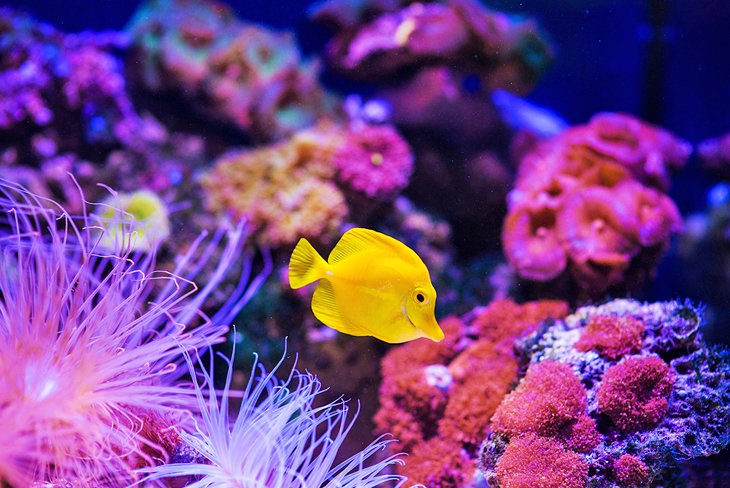 If you've been out snorkeling or diving and want to identify what you've seen, then Hurghada Aquarium in the northern part of town (known as Ad-Dahar) can help you. These days, the aquarium is showing its age and could do with an update, but it still has the only decent display of Red Sea marine life in Hurghada. For non-swimmers, it's also a good chance to see the Red Sea's abundant fish life up close.
13. Snorkeling in Hurghada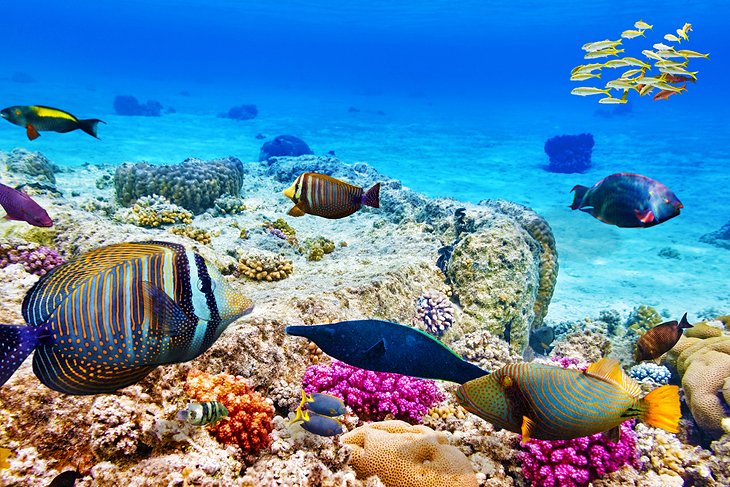 Hurghada has some magical sites to explore underwater. Obviously one of the top things to do here is diving, but diving isn't for everyone, and many people are more comfortable snorkeling. You can experience many of the same underwater attractions on a snorkeling trip.
A good option is the Red Sea snorkeling trip, which includes pickup and drop-off from your Hurghada hotel and a full-day boat trip, with lunch, stopping off at three of the coast's prime snorkeling stops, with plenty of time for relaxation on board as well.
Where to Stay in Hurghada for Sightseeing
Luxury Hotels: South of town, the Baron Palace Sahl

Hasheesh

is a luxury beachfront resort with a sprawling pool and multiple restaurants. For families, the animation team and kids' club make this a good choice.
Mid-Range Hotels: The SUNRISE Garden Beach

Resort

is an all-inclusive resort with a good strip of beachfront and plenty of things to do for those who want to do more than soak up the sun. Amenities and activities include a water park, wonderful spa, and tennis courts, plus horseback riding and archery. The affordable, all-inclusive Jaz Makadi Saraya

Resort

is another good choice for a range of activities, with its own aqua park, tennis court, spa treatments, and dive center.
Budget Hotels: In El Gouna, north of Hurghada, Cook's Club Lambi

Kos

has a great location on the central lagoon, comfortable rooms, an inviting pool, and a strip of private beach.
More Related Articles on PlanetWare.com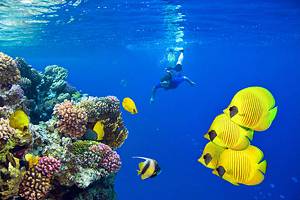 Red Sea: Hurghada is the main center of the Red Sea Region, but there's plenty more to explore, including St. Anthony's Monastery and the resort of El Gouna.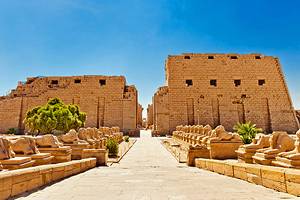 Nile Day Trips: From Hurghada, you can easily do a day trip to the famous temples and tombs of the Upper Nile in and around Luxor. The two most popular sights to include are the Temples of Karnak on Luxor's east bank and the Valley of the Kings, home to the colorful tombs of the pharaohs, including the boy-king Tutankhamun.