12 Top-Rated Resorts in Egypt
We may earn a commission from affiliate links ()
Whether you're in Egypt to visit the temples and tombs of the Pharaonic era, the rippling dunes of the country's vast desert regions, or to check out the Red Sea's diving, Egypt's resorts provide the softest landing in the country.
Some resorts are historic sights themselves. Some of the feted hotels of Egypt's first tourism boom, which once played host to famous archaeologists, writers, and travelers, have now been transformed into luxury heritage hotel resorts.
Other resorts are thoroughly modern affairs, built to fit the needs of traveling families looking for a stress-free Egypt trip. While some, located in the desert oases, are smaller, simpler, but still comfortable, hotels catering to adventurous travelers who want to explore Egypt's vast desert landscapes. Research the best options with our list of the best resorts in Egypt.
Note: Some businesses may be temporarily closed due to recent global health and safety issues.
1. Sofitel Legend Old Cataract Aswan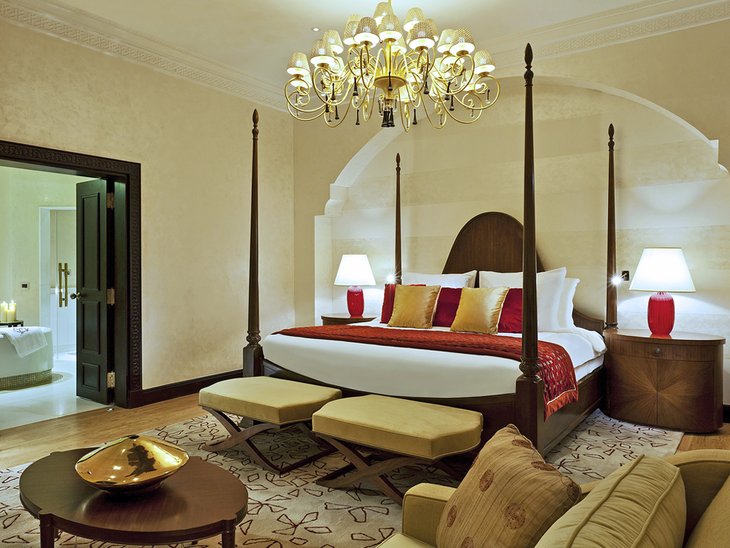 Probably Egypt's most famous hotel, the Old Cataract in Aswan is an opulent hideaway overlooking the Nile. Opened in 1902, Agatha Christie is said to have written part of Death on the Nile here, and the hotel has hosted many other literary legends and famous travelers.
In 2011, Sofitel took over the resort, and it went through a major renovation that has thoroughly restored the rooms and grounds to a grandness that befits its historic status while revamping the facilities for 21st-century luxury needs.
With three restaurants, including the famous 1902 Restaurant serving French haute cuisine, this is the most stylish dining scene in Upper Egypt. High-tea, taken on the hotel terrace, with its views over to Elephantine Island, is a must-do while staying here.
The So Spa offers guests high-class pampering after a day of sailing around the islands that speckle the Nile, with a hammam (Turkish bath) and grand pillar-rimmed indoor pool.
The resort grounds spread out along the Nile bank, with the infinity pool overlooking riverine life, while inside the decoration effortlessly blends fine, classic French design and palatial Arabic style.
Address: Abtal El Tahrir Street, Aswan
Accommodation: Sofitel Legend Old Cataract Aswan
2. Marriott Mena House, Cairo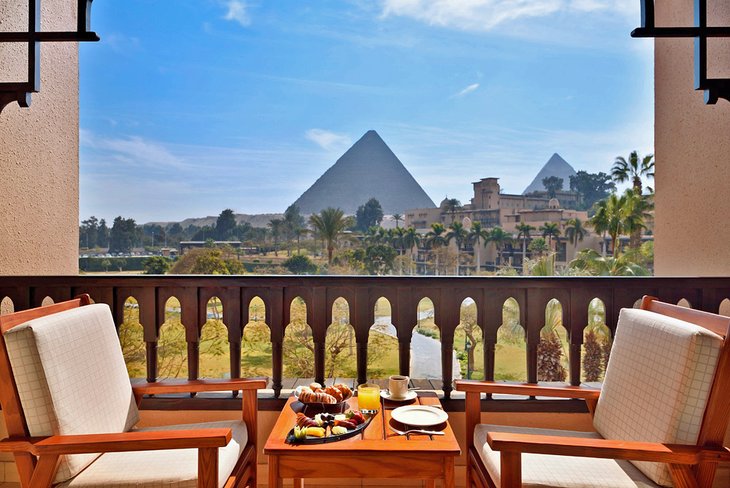 You can't get any nearer to the Giza Pyramids than this. The Marriott Mena House Hotel sits right next door to the main entrance to the pyramid plateau, with many rooms boasting direct views out to the pyramids themselves.
Another one of Egypt's surviving grand dame hotels, Mena House's rambling lush gardens and interior of ornate chandeliers, arches, and wood paneling immediately transports you to days-gone-by grandeur.
It is, by far, Cairo's most relaxing resort option. For your stay, choose from either the historic wing, where traditional Arabic design continues into the rooms, or the modern wing, with rooms decked out in a classic French style. All have balconies either looking over the palm tree grounds or the pyramids.
For the ultimate experience, it is well worth upgrading to a pyramid-view room because it's not often in life you get to throw your curtains open in the morning and feast your eyes on one of the Seven Wonders of the Ancient World.
The swimming pool is a great cooling off option after a dusty day exploring the pyramids, while for dinner, you can either feast on Indian classics within the regal confines of the Moghul Room, Italian at Alfredo Restaurant, or Middle Eastern cuisine at 139 Restaurant.
Address: 6 Pyramids Road, Giza, Cairo
Accommodation: Marriott Mena House Hotel
3. Savoy Sharm el-Sheikh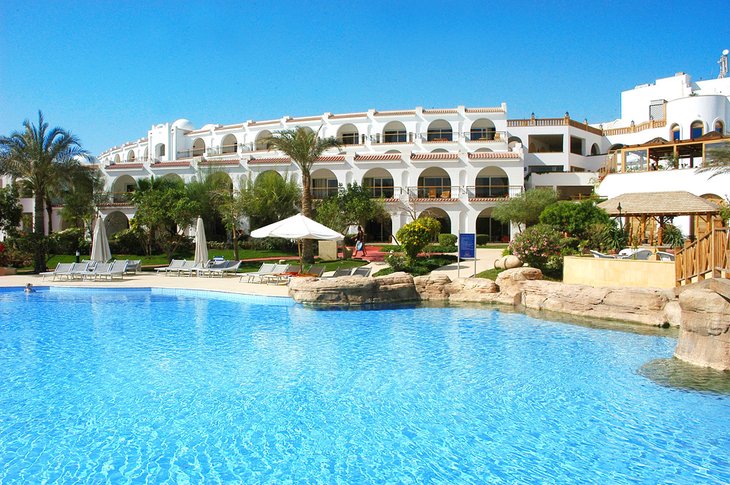 The Savoy Sharm el-Sheikh, on Soho Square, 13 kilometers northwest of central Sharm el-Sheikh, is in a prime spot on South Sinai's sought after coastline. Whether you want to sloth on the beach all day or head below the surface to explore the Red Sea's renowned coral reefs, this 414-room resort caters for all types of beachgoer.
With a private slice of groomed golden-sand beach plus five swimming pools, there's a sun-lounger for everyone, while tennis courts and a dive operator keep active guests busy.
During the evening, diners have an excellent choice of dinner options with six restaurants within the resort. Families are well looked after with a kids-stay-free policy, kids' club, dedicated children's swimming pool, and play area plus babysitting facilities.
All rooms are classically styled and come with balconies overlooking the pool, gardens, or beach. For those looking for a more exclusive experience, the Royal Savoy Hotel & Villas complex inside the main resort offers their own private beach, terrace, and swimming pool and contemporary-styled suite rooms and villas.
Address: Soho Square, Sharm el-Sheikh, Sinai Peninsula
Accommodation: Savoy Sharm el-Sheikh
4. Al Moudira Hotel Luxor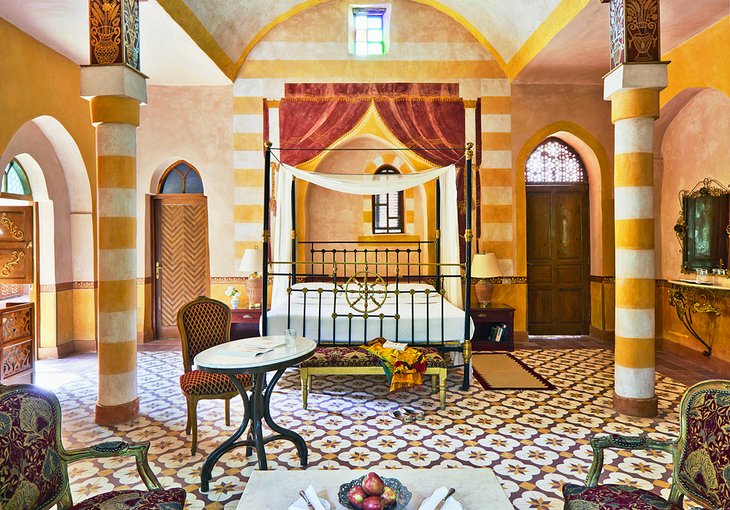 This boutique resort on Luxor's west bank is the most tranquil place to base yourself while exploring Egypt's most famous Pharaonic ruins. With only 54 rooms, this is a much more intimate resort option than most in Egypt.
Rooms are lavishly outfitted with traditional Arabic design accents - many come with domes, arches, tile-work, stained-glass feature windows, and four-poster beds.
The outdoor swimming pool is perfect for a dip after a long day amid the temples and tombs of the West Bank and Al Moudira Restaurant offers up excellent Mediterranean dishes either amid the pillars, arches, and mashrabiya screens of the traditional dining room or outside in the courtyard, shaded by palms.
Address: West Bank, Luxor
Accommodation: Al Moudira Hotel Luxor
5. Hilton Luxor Resort & Spa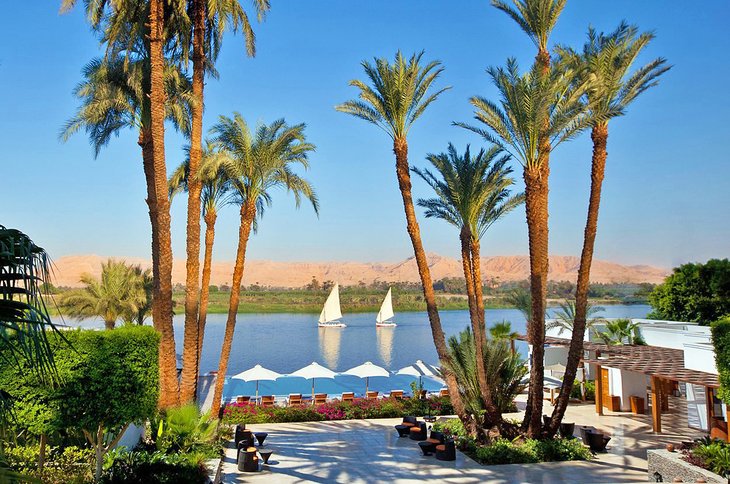 This is the most luxurious place to stay in Luxor. The Hilton Luxor Resort & Spa sits beside the Nile, near the Temples of Karnak, on the East Bank. The large grounds trail along the waterfront, cosseted within manicured gardens that provide a cocoon of comfort from Luxor's bustle.
Inside, guests can lounge beside the large swimming pool that overlooks the river and out to the rust-toned hills of the West Bank beyond.
The 236 rooms are decked out in European style, and all have balconies. It's worth upgrading, so you can wake up in the morning to Nile views.
After your sightseeing is finished for the day, the Hilton Spa here offers a range of soothing treatments and massages that are a relaxing way to unwind after a day in the dust and heat.
Dining options are excellent, with three restaurants. The Silk Road Restaurant here specializes in pan-Asian cuisine and is one of Luxor's top dining destinations.
Address: New Karnak, Luxor
Accommodation: Hilton Luxor Resort & Spa
6. Rixos Sharm el-Sheikh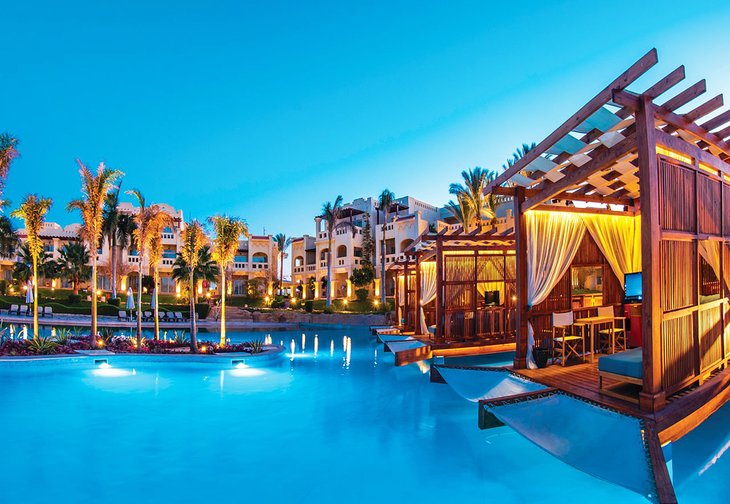 This mega-resort of 695 rooms at Nabq Bay (20 kilometers northwest from Sharm el-Sheikh's central Naama Bay) is one of South Sinai's top spots for a sun-soaked holiday. It's all about facilities here, with the resort fringed by a long swoop of beach and several swimming pools amid the manicured gardens.
Families are well catered for with a separate pool area containing waterslides and play areas plus a kids-stay-free policy, while diners are unlikely to get bored with a selection of restaurants that offers a globe-trotting variety of cuisines that bounces from Turkish classics and Japanese cooking to Brazilian specialties.
Water sports fans will be pleased, as windsurfing lessons and diving trips are easily organized within the resort, while those seeking a few hours of pure relaxation can head to the spa, which offers a bundle of facial and body treatments and massages, as well as a hammam (Turkish bath) experience.
Address: Nabq Bay, Sharm el-Sheikh, Sinai Peninsula
Accommodation: Rixos Sharm el-Sheikh
7. Sofitel Winter Palace Luxor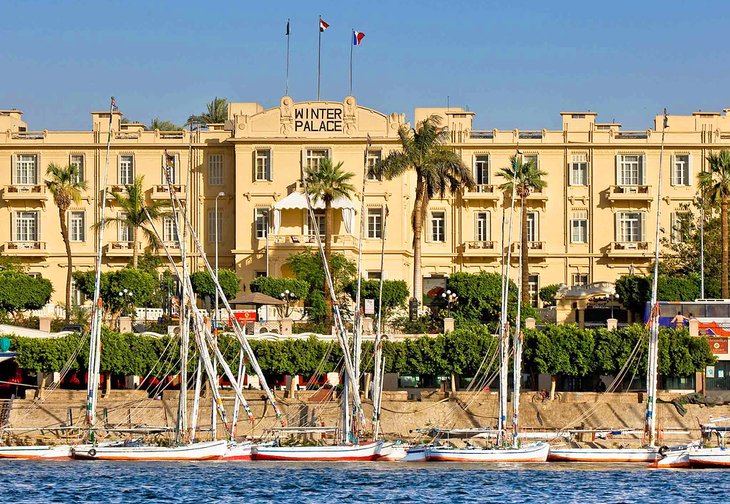 One of Egypt's best known heritage hotels, the Sofitel Winter Palace sits in a prime central location in Luxor, overlooking the Nile. In business since 1886, this hotel has hosted royalty and all the big names of Egypt's travel over its long years.
If you can, bag yourself a suite in the heritage wing, where the décor drips with late-19th-century French style. If ornate grandeur isn't your thing, though, the modern wing offers spacious rooms in a more classic-modern European style.
There's a swimming pool amid the tranquil palm-lined garden, and the fine-dining 1886 Restaurant specializes in French-Mediterranean cuisine.
Address: Corniche El Nile, Luxor
Accommodation: Sofitel Winter Palace Luxor
8. Al Tarfa Desert Sanctuary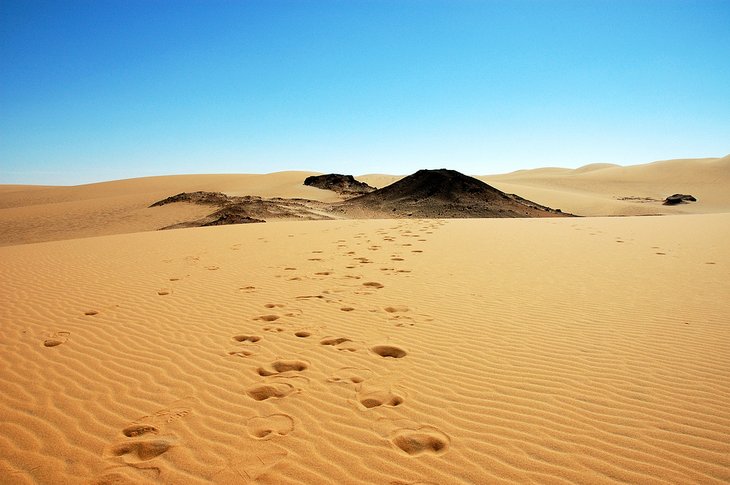 Backed by rippling sand dunes, this eco-lodge in Dakhla Oasis offers up a desert experience in total comfort. It's a great spot to base yourself while you explore Egypt's beautiful western desert, with the fascinating landscape of White Desert National Park and the maze-like mudbrick old town of Al-Qasr, both easily reached from the resort on day trips.
The resort, utilizing Egypt's traditional desert architecture techniques of mudbrick and palm thatch, is beautifully conceived to blend into the surrounding landscape. Rooms are simple but still comfortable.
There's a very welcome swimming pool for cooling off after a day in the desert, and the restaurant serves up wholesome Egyptian cooking.
Address: Al Mansoura, Dakhla Oasis
Accommodation: Al Tarfa Desert Sanctuary
9. Taziry Ecolodge Siwa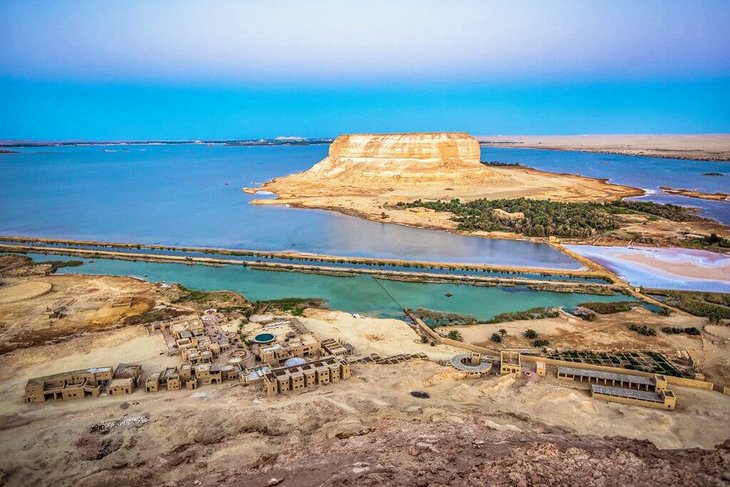 Famed since ancient times as home to the Oracle of Amun, Siwa oasis is a desert daydream of a place. For those who want to explore the ruins, hot springs, and surrounding desert dunes of this area, Taziry Eco-lodge is an excellent base.
This small resort, sitting in splendid isolation right beside Siwa Lake is one of Siwa's only eco-lodges. It uses stone, traditional mudbrick, and palm thatch in its architecture - and no electricity.
Thoroughly romantic, at night the resort is lit only by candles and oil-lamps. There's no Wi-Fi, so this is the perfect opportunity to log off for a day or two and instead take in the magnificent desert scenery.
There's a swimming pool for cooling off at the end of the day and a restaurant dishing up good Egyptian cookery. Whether you want to head out into the Western Desert's dunes on a 4WD trip or camel trek, or head out and explore the historical sites of the oasis, the resort can arrange a variety of activities.
Address: 16km west of Shali, Siwa Oasis
Accommodation: Taziry Ecolodge Siwa
10. Hilton Marsa Alam Nubian Resort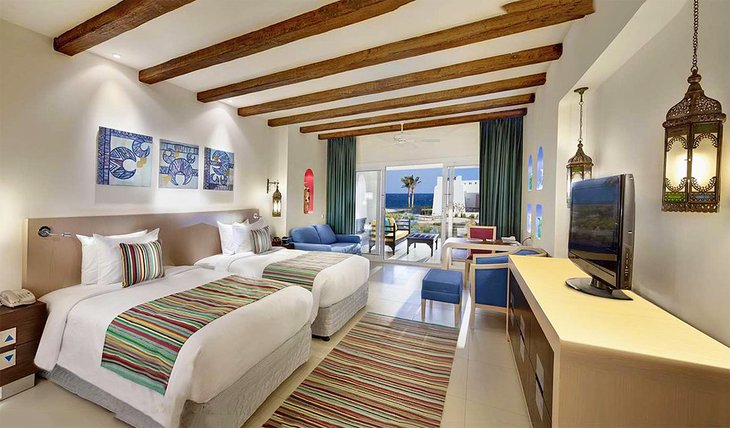 If you want to explore the diving sites of the Red Sea's deep south, the Hilton Marsa Alam Nubian Resort is a great base. An excellent dive operator is on site for all your dive trip needs, while those happy to stay on the surface have fantastic snorkeling, with plenty of fish life right off the resort's long golden-sand beach.
Rooms are decorated in a modern style, focused on clean lines and soft neutrals, and all have balconies with views over either the sea or palm tree speckled gardens.
Off the beach, diners have a good range of restaurant options that offer guests a choice of cuisines, from classic European to Middle Eastern menus, and there are four swimming pools to choose from, including one specifically adults-only and one focused on children.
Address: Kilometer 97, Marsa Alam Road, Abo Dabab Bay, Marsa Alam
Accommodation: Hilton Marsa Alam Nubian Resort
11. Sofitel Cairo Nile El Gezirah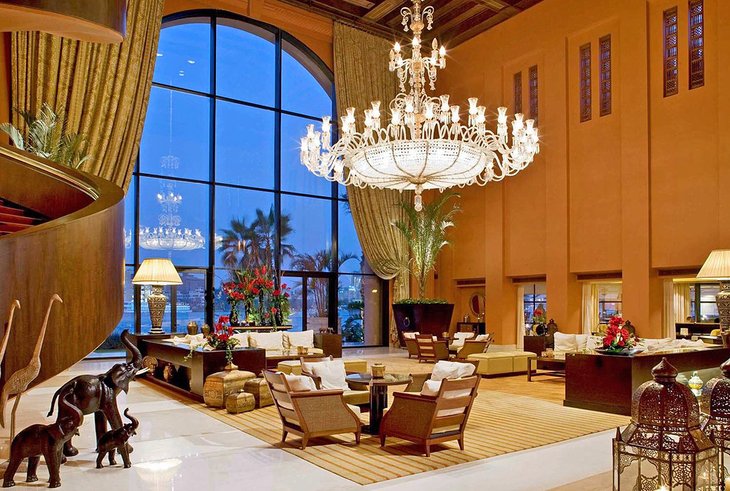 Have the best of both worlds in Cairo. The Sofitel Cairo Nile El Gezirah is slap in the center of the city, but as it is secluded amid lush gardens on the western end of El Gezirah Island (also known as Zamalek) on the Nile, it's a tranquil hideaway from the city's noise and bustle.
The Nile views are this resort's ace-card. Both the swimming pool and beautiful pontoon terrace offer close-up river views while the contemporary styled rooms all boast vistas of the Nile. Bag a room on the higher floors to wake up to the best river view in the city.
There are three restaurants on-site, including Manupuri, one of the city's most lauded Indian cuisine restaurants.
After a long day amid the souqs, exploring Cairo's museums, or heading out to the Giza Plateau to see the famed pyramids, the Sofitel Spa here offers up a relaxing respite, with pampering facial treatments and soothing massages.
Address: 3 Al Thawra Council Street, Zamalek, Cairo
Accommodation: Sofitel Cairo Nile El Gezirah
12. Steigenberger Nile Palace Luxor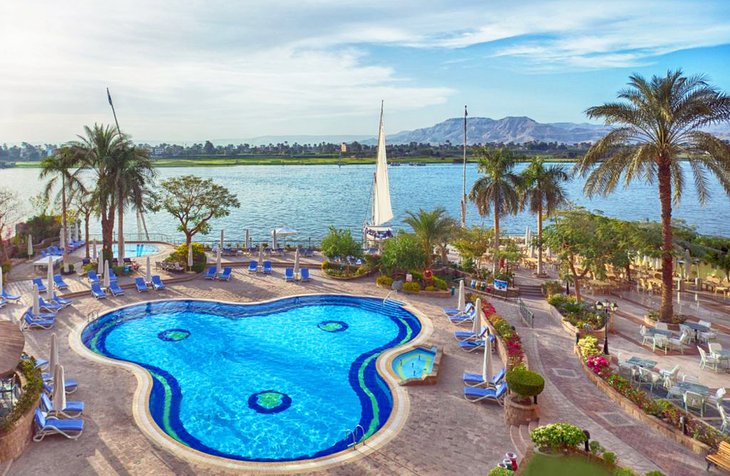 This large resort on Luxor's east bank, is a popular base for visitors exploring the remnants of Ancient Thebes. It's a good-value resort choice for traveling families seeking an easygoing Luxor stay.
Nearly all the modern, comfortable rooms come with balconies overlooking the city or the Nile. It's well worthwhile to upgrade to a river-view room.
Free bike-hire for guests is a major plus of a stay here for active guests, while the large swimming pool provides cooling respite after the dust and heat of a day out amid the tombs and temples of the West Bank.
There is an excellent choice of dining on-site, with restaurants specializing in world cuisines that range from Lebanese specialties to Italian classics.
If you do want to dine out, this hotel's location is great. It's a very easy walk to Luxor's most popular restaurants from here.
Address: Khalid bin Al Walid Street, Luxor
Accommodation: Steigenberger Nile Palace Luxor