Cruising the Nile in Egypt: The Complete Guide
Cruising the Nile is one of Egypt's iconic experiences. Without the Nile, Egypt's grand Pharaonic civilization would never have survived and thrived across the centuries, dominating so much of what we know about the eastern Mediterranean's ancient world.
Today the Nile still controls modern Egypt, with around 95 percent of the population living along its banks and in the river's delta region before it spills into the Mediterranean.
A cruise along this river is a journey into Egypt's epic human history; the river banks scattered with Egypt's most famous vast temples and painted tomb sites.
It's also a taste of Egypt at its most lush and tranquil, and an up-close experience of the country's rural riverine scenery.
Before you head to Egypt, use our complete guide to cruising the Nile to help plan your trip.
Nile Cruisers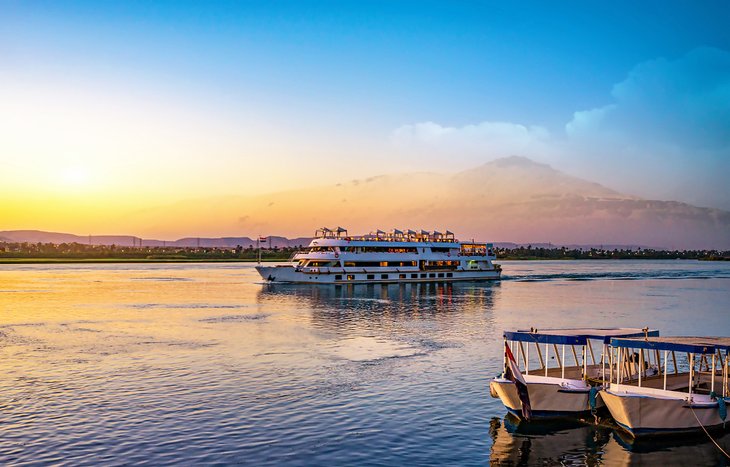 The most popular way to take a Nile cruise is on one of the big Nile cruiser boats.
Think of a Nile cruiser as a floating hotel. Normal onboard amenities include a sundeck (or sundecks) complete with a pool and restaurant.
Just like with hotels there is a huge amount of Nile cruiser choice, and boats differ hugely in price and the range of facilities.
Some of the top deluxe boats (often run by, or in conjunction with, five-star international hotel brands) dish up a luxury cruise experience, complete with onboard spa facilities, opulently styled cabins, and gourmet food.
On mid-range boats, you can still expect excellent staff service, but décor will be much less grand (and cabin space will usually be much smaller), and there won't be as many onboard facilities.
Some of the very cheapest Nile cruisers can be rather run down and are best avoided if you want a comfortable cruise experience.
One Nile Cruiser, the M/S Sudan, offers a special heritage cruise stay and the unique chance of cruising onboard one of the original Nile tourist steamships, now refitted for modern comforts but still brimming with 19th-century character.
In general, Nile cruisers carry between around 50 and 100 passengers. Note that this means you will always be visiting the tourist attractions on your included excursions in a large group. If large group tours really aren't for you, think carefully before signing up for a Nile cruise.
Life Onboard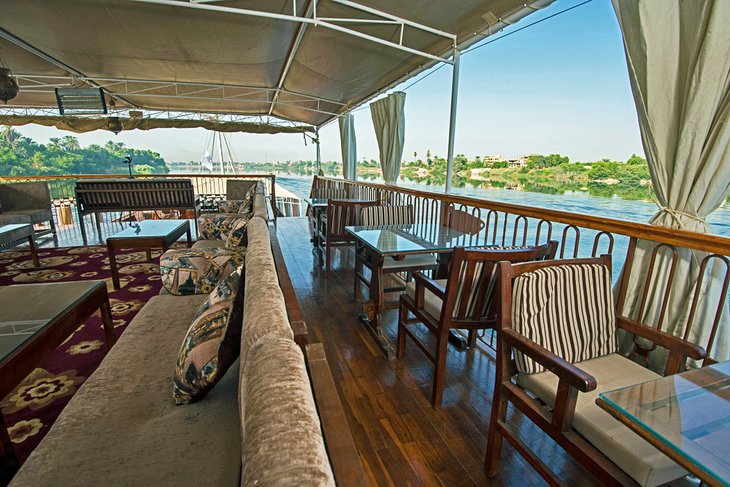 Nile cruiser packages usually include all meals and a range of included onshore excursions.
For example, on the most popular Luxor-Aswan cruise route, tours of Edfu Temple and Kom Ombo Temple are included, as well as a tour of Luxor's major West Bank sites.
During the evenings, a range of optional entertainment is included onboard. This can range from musical entertainment to Egyptology lectures depending on the cruise.
As with all cruises, onboard schedules are regimented, as they're corralling a large group. All good Nile cruisers advertise their schedules, so you can check if you're happy with the itinerary before booking.
Cabin accommodation style ranges wildly. More deluxe-style boats offer cabins with big picture windows, which make the most of the Nile views.
Typically, lower deck cabins are the cheapest cruise option. This is because your view will be impeded. If cabin views are important to you, it is worthwhile paying the extra for an upper deck cabin.
Nile Cruiser Routes and Itineraries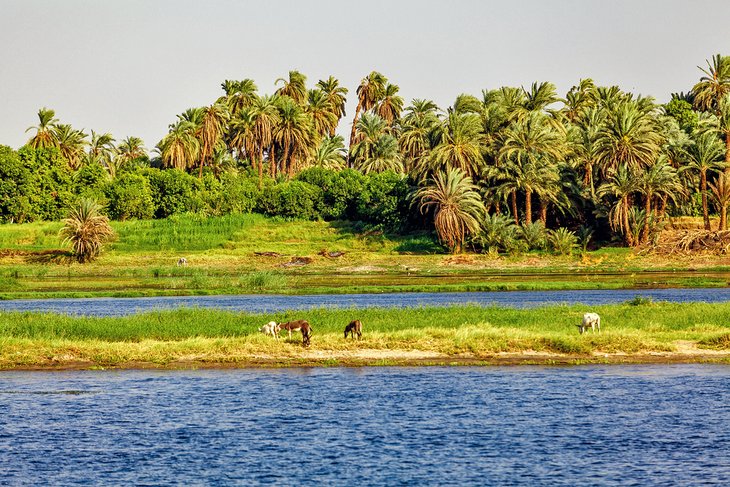 The most typical Nile cruiser route is between Luxor and Aswan, with cruises starting from either end.
This route is usually three or four nights, though you will be spending two of those nights at port onboard in your start and end point.
Note that more time than you think will be spent at dock. Actual cruising time upon the river is limited.
On a Luxor to Aswan or Aswan to Luxor cruise, typical itineraries include a guided tour of the highlight tourist attractions of the Valley of the Kings and Hatshepsut's Temple in Luxor's west bank and the Temple of Karnak on Luxor's east bank; stops while cruising along the river at Edfu and Kom Ombo for guided tours of the Temple of Horus and the Temple of Kom Ombo; and a guided tour of Philae Temple at Aswan.
While docked in Aswan, optional excursions to the Temples of Abu Simbel are normally offered, and hot-air ballooning is usually available as an optional extra at Luxor.
Some Nile cruisers offer longer cruises along this route - for example, a seven-night Luxor to Aswan cruise package.
It's important to note that on these longer cruises, the included guided tours and stops mostly stay the same, though a stop in Esna for a guided tour of the Temple of Khnum is usually thrown in.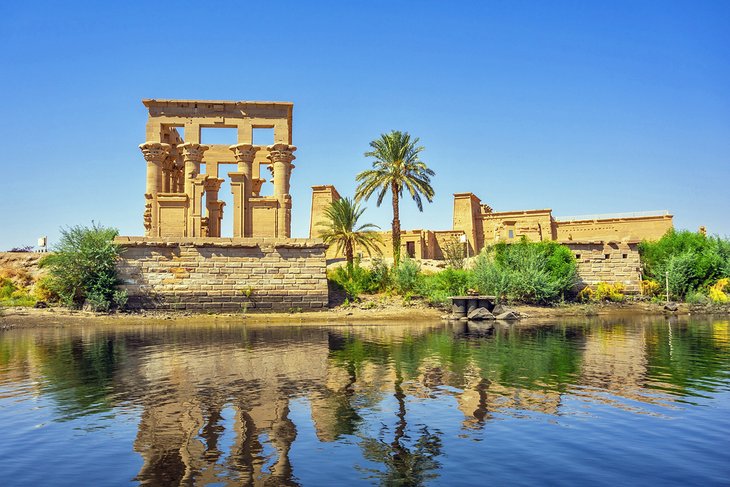 What these longer tours offer is a less rushed Nile cruise experience with an itinerary that travels from Luxor to Aswan and then returns to Luxor (or vice versa), so that there is more time spent cruising the river, and the offshore guided tours of the temples are more spaced out along the route.
If you're looking for this longer Nile cruise option, though, the Cairo to Luxor or Luxor to Cairo route is a much more interesting route.
This itinerary usually takes between nine and 11 nights. This route usually continues on to Aswan, so you can opt to add in that section as well.
Compared to the amount of boats heading up and down the Nile between Luxor and Aswan, only a handful of Nile cruisers ply the full river route, and there are much fewer sailings through the year.
This itinerary is something of a dream trip for historically minded travelers, heading to all the major Ancient Egypt tourist attractions along the Nile between Cairo and Luxor.
Typical stops along the route (heading north to south) are Beni Suef, to visit the Pyramids of Maydom and Hawara; Minya, to visit the archaeological sites of Tell Al-Amarna, Tuna Al-Gebel, and Beni Hasan; Sohag to visit Abydos and its Temple of Seti I; and Qena to visit Dendara.
As with the Luxor to Aswan cruises, sightseeing tours at your embarkation and disembarking points are also normally included. In Cairo, this is usually a guided tour of the Giza Pyramids and the Egyptian Museum.
Dahabiyas: A More Intimate and Personalized Nile Cruise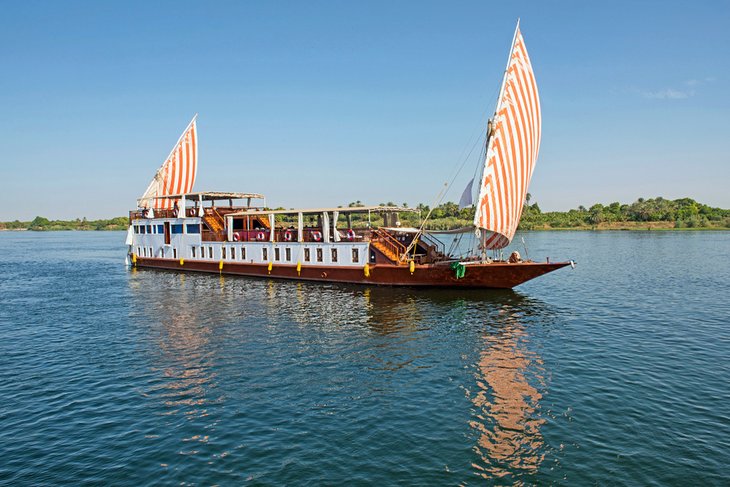 The most exclusive way to cruise the Nile is on a dahabiya. These sailing boats brim with character and hark back to the early days of Nile tourism, before steamboats began plying the river; all the famous 19th-century Nile tourists, including Gustave Flaubert and Florence Nightingale made their journeys on dahabiyas.
The boats generally only take between 10 and 20 passengers.
What you lose in facilities (you won't find a restaurant or swimming pool onboard), you make up for with personal service, itinerary flexibility, and a lack of crowds.
If you are looking for a more intimate Nile cruise experience but still want the comfort of a cabin, dahabiyas are an excellent alternative to the big Nile cruisers.
Instead of docking for the night amid a crowded Nile cruiser dock, dahabiyas usually anchor at Nile islands for the night, so passengers can have a taster of the Nile at its most tranquil.
Note that there is much less choice of boats and sailings than with Nile cruisers, so it's best to organize and book as far in advance as you can.
Due to the small size of dahabiyas, if you are traveling in a group, you can also book a completely private dahabiya cruise.
As with Nile cruisers, all meals (served communally on a dahabiya) are included in the cruise price, but the inclusion of guided tours and entry fees to tourist attractions depends on the individual cruise operator. Always check and compare schedules and inclusions.
Dahabiya Routes & Itineraries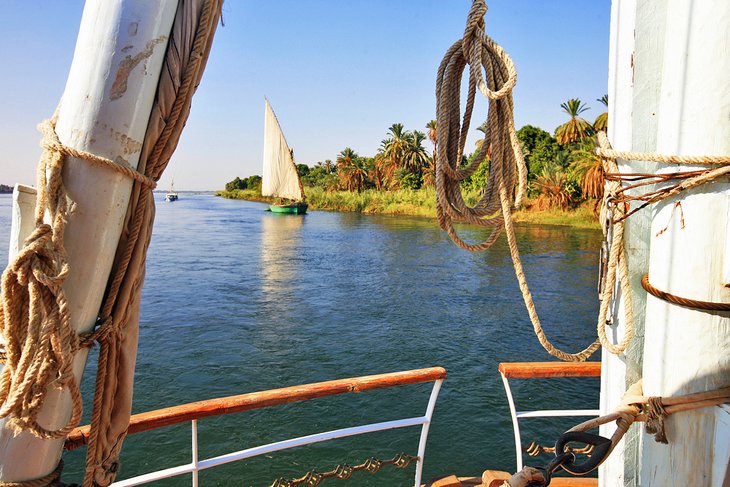 Dahabiyas most typically sail a route between Esna (58 kilometers south of Luxor) and Aswan (with departures available from either end) with a three-night or four-night itinerary. Transfers from Luxor to Esna are included in the cruise price.
The small size of these sailing boats mean they can dock at places along the river that the large Nile cruisers can't, so itineraries take in interesting monuments and places that the Nile cruisers miss.
A typical three-night itinerary on a dahabiya, with guided tour excursions included could encompass tours at Edfu's Temple of Horus and Kom Ombo Temple, as well as stops at local riverside villages, the ancient quarry and monuments of Gebel El-Silsila, and the village of Daraw with its camel market.
Feluccas: The Adventure Travel Alternative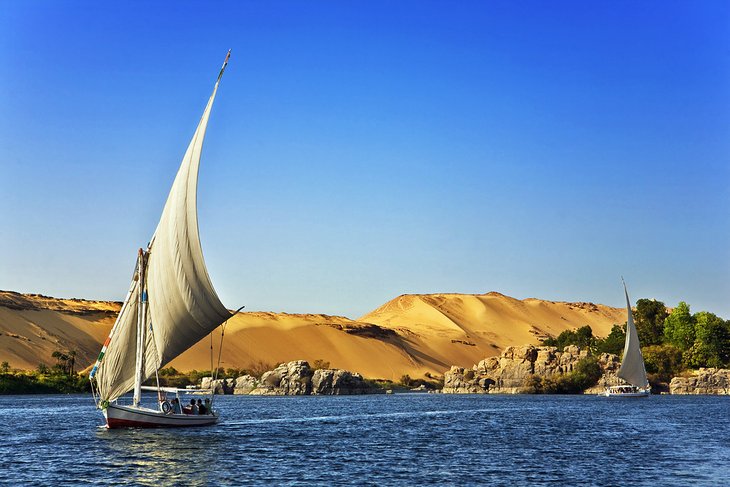 Feluccas are the traditional single lateen-sail boats of the Nile. This is a Nile cruise for the more adventurous. What you lose in facilities, you gain in scenery, tranquil star-filled nights, more time spent on the river, and a close-up experience of river life.
Feluccas generally take up to eight passengers and have a two- to three-person crew that do the sailing and cooking during the trip.
There are generally no bathroom facilities onboard. Passengers don't expect to shower until they have disembarked, and the felucca anchors at a Nile island or bank when passengers ask for a toilet break.
Passengers sleep on the cushioned deck at night. It's a good idea to bring a sleeping bag although feluccas usually provide plenty of blankets if needed.
Meals are simple but tasty Egyptian home-style cooking, often kept vegetarian due to the only refrigeration being the onboard icebox.
Time spent on a felucca is life reduced to the basics, so don't expect Wi-Fi onboard or electricity. At night, the felucca is lit by candle lanterns, while daytime cruising activity is basically lazing about on deck admiring the scenery, or reading, with plenty of time for swim stops as well.
Guided tours and monument fees are not included in a felucca cruise price. Felucca cruises are priced in the budget price-point, and the cost usually covers the felucca transport, meals, and copious cups of tea.
Unlike Nile cruisers and dahabiyas, felucca cruises are often arranged and booked on-site in Aswan.
Always check out the boat before agreeing, and discuss what amenities will be available - for example some feluccas will stock their boat with soft drinks and water to sell to passengers, while others will expect the passengers to bring these extra supplies with them.
Felucca Routes & Itineraries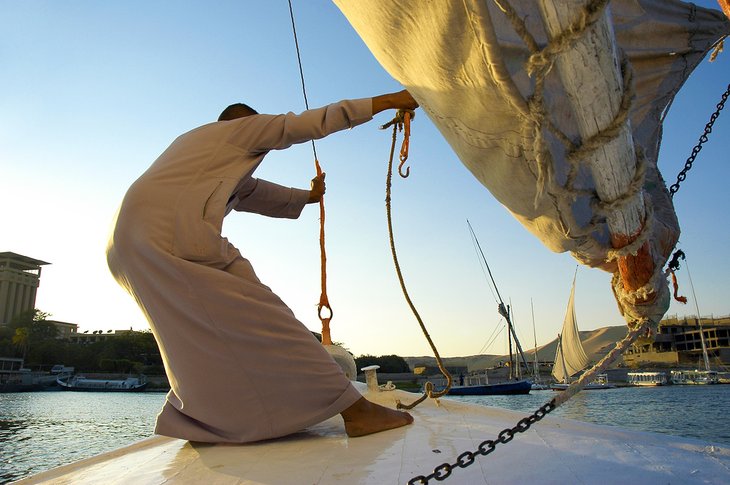 Feluccas start from Aswan to follow the flow of the river. Journey itineraries are generally sold as one-night, two-night, or three-night cruises.
Itineraries are very relaxed (sailing speed depends completely on the wind and weather conditions) and can be customized completely, with stops at local villages and lesser-visited sites along the river such as Gebel El-Silsisa.
The one-night option includes almost two full days on the river, so it's a great choice if you really want to experience Nile life up close but are not sure if you can handle more time without creature comforts.
One night felucca cruises finish at Kom Ombo Temple. The most popular felucca cruise option is the two-night cruise, which stops along the way at Kom Ombo and finishes at Edfu for the Temple of Horus. Three-night cruises disembark at Esna.
Transfers to Luxor (or back to Aswan) at the end of the journey can be included in the cruise price, but as feluccas are all individually operated, all inclusion details need to be agreed on before sailing.
Short Felucca Tours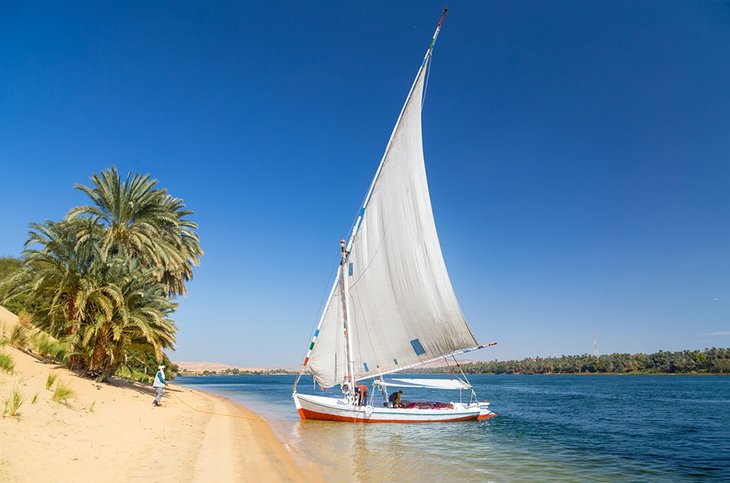 If you love the idea of felucca travel but don't think you would be comfortable on a felucca overnight tour, fear not - you can experience cruising the Nile in this traditional style on a day trip.
Both Luxor and Aswan are prime destinations for short felucca trips, which are usually priced by the hour.
Some Nile cruiser itineraries offer a short felucca ride around Aswan's islands as one of their included excursions while at dock there.
Short Aswan felucca tours loop around the islands, usually making stops at Kitchener's Island and on the west bank near the Monastery of St. Simeon. For a longer felucca tour, head south to Seheyl Island.
For the best photography options, time your trip for just before sunset.