From Cairo to Luxor: 6 Best Ways to Get There
Home to some of the country's most famous sights including the colorful tombs of the Valley of The Kings, the Temple of Hatshepsut, and the colossal Temples of Karnak, Luxor is top of most people's hit list when it comes to Egypt travel itineraries.
It's no surprise then that many visitors head straight to this world-famous historic site, once the power-center of the Middle Kingdom pharaohs, after their time spent exploring Cairo.
Fortunately several options for getting from Cairo to Luxor are available for travelers.
1. From Cairo to Luxor by Train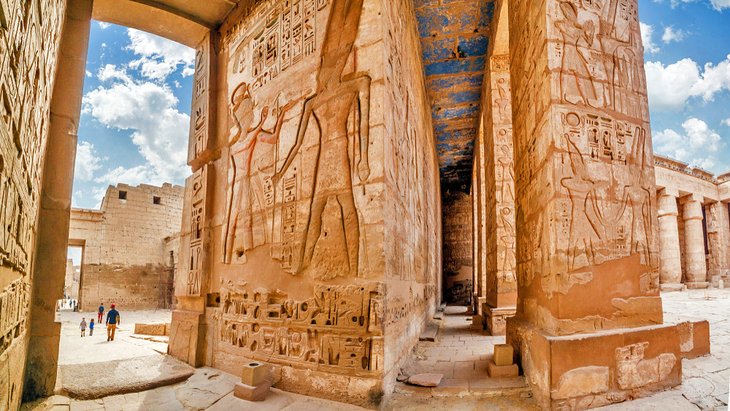 Several trains run daily between Cairo's Ramses Train Station and Luxor Railway Station from 8am to 11pm. If you're staying at a hotel in Giza, you can also board all the same services to Luxor at Giza Railway Station.
There are two train types: The "Special" class trains (five services daily) have newer rolling stock and more comfortable carriages.
The "Spanish" class trains (four services daily) are cheaper and older.
All trains offer a drink and food trolley service that rattles through the carriages intermittently throughout the journey, but it's a good idea to bring along snacks and a picnic meal.
The first class carriages in both come with roomier seats and better bathroom facilities, so are well worth shelling out for. First class tickets range from 151EGP (US$9.60) to 255EGP (US$16.30) depending on the train.
Travel time between Cairo and Luxor is supposed to be around 10.5 hours but is more typically around 12.
You definitely want to try and bag a window seat, as one of the great joys of train travel along this route is watching the lush Nile-side countryside of green fields and date palms passing by. Take one of the two morning trains to make the most of the view.
If you're planning to travel on one of the overnight services, note that both types of trains are seater only. There are no sleeper carriages.
This is the most popular method of public transport to Luxor for Egyptians, as well as foreign visitors, so try to book train tickets at least a few days in advance.
The major downside of train travel along this route is that unfortunately, some staff at both Ramses Train Station and Luxor Railway Station will attempt to refuse foreign travelers tickets on these trains and will tell you that you are only allowed to use the (much more expensive) sleeper service. This dates from a previous official travel restriction, which has since been revoked by the government.
If you are having trouble booking a train ticket, most hotels can send someone to the station to do it for you for a small fee. You can also now book online tickets on the Egyptian National Railways website.
2. From Cairo to Luxor by Sleeper Train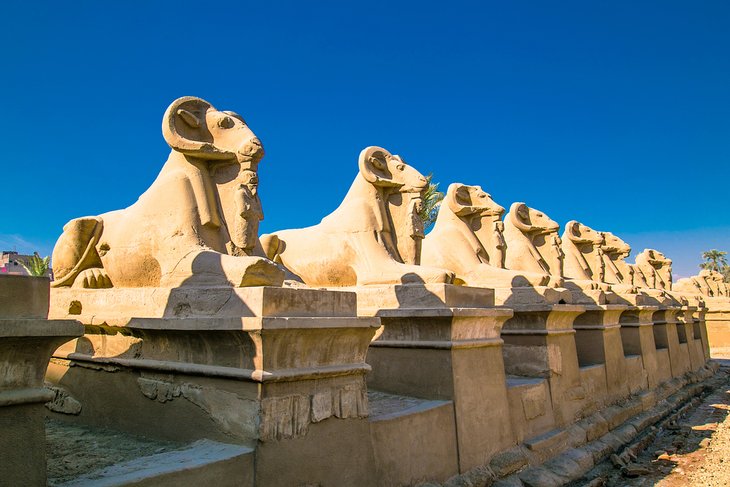 The Watania Sleeper Train is a slice of old-fashioned rail travel.
It departs every evening from Ramses Train Station in Cairo at 7.45pm (and 20 minutes later at Giza Station) and travels overnight to arrive in Luxor at 6.15am.
Tickets can be purchased from the Watania Sleeper Train office at Ramses Train Station, or you can book online.
It's best to book a few days in advance. It costs US$84 for a bed in a two-bed cabin or, if you're a solo traveler and don't want to share a compartment, US$126 for a single cabin. There is also a seater-only carriage with good-sized seats that can recline. A seater-only ticket costs US$42.
All tickets can only be booked using credit cards, US dollars or Euro. The ticket price includes both dinner (with a choice of chicken, beef, fish, or vegetarian) and breakfast.
The sleeper compartments are compact but tidy with a small washbasin and bunks that fold out from the wall. Bedding is provided, and the included meals are brought to you in-room.
Although tickets are rather expensive for the facilities provided, nothing can beat falling asleep on your bunk to the steady sway of the train tracks and waking up in the morning to the green fields of the Nile.
3. From Cairo to Luxor by Nile Cruise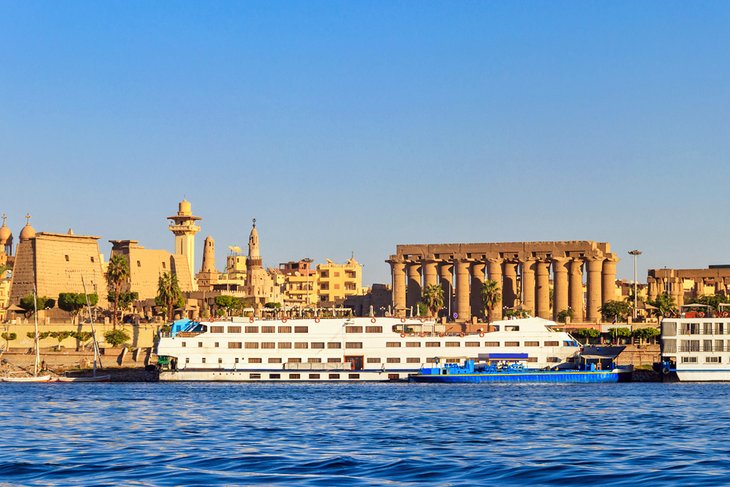 The most luxurious way to travel from Cairo to Luxor is by Nile Cruiser.
Harking back to the early days of Egypt tourism, when European travelers first explored the country by boat, this slow cruise up the Nile River usually takes 12 days (including sightseeing days in both Cairo and Luxor while onboard).
This is a no-hassle and stylish sightseeing and transport all-in-one, stopping at all the important historic sites, such as Tell El Amarna and Abydos, along the way.
Only a few of the bigger Nile cruise operators, such as Mövenpick, operate this route, with sailings departing from Cairo once a month from February to June and September to November.
Prices, which include all meals and sightseeing tours as well as a range of on-board evening events, start from around US$700.
4. From Cairo to Luxor by Airplane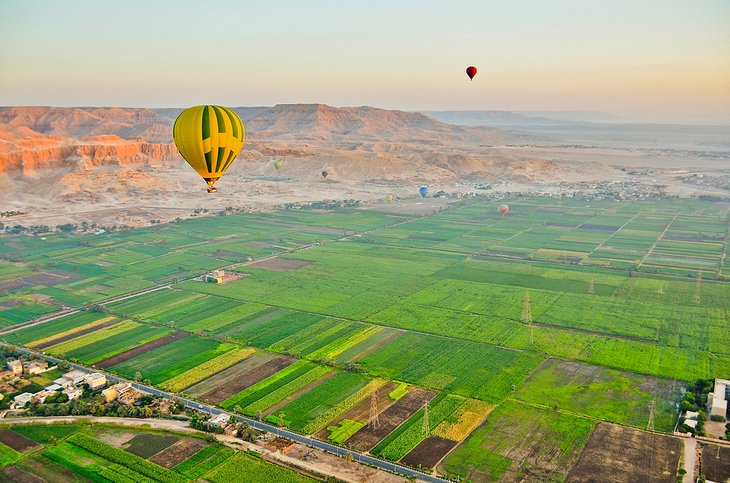 Egypt Air flies four times daily direct to Luxor International Airport from Cairo International Airport.
Flights take one hour, and ticket prices start at around US$145 in the high season from December to February. If you're traveling in low season, flight prices usually drop to around US$75.
Luxor flights depart from Cairo Airport's Terminal Three.
In minimal traffic conditions (before 7am and late at night) a taxi to Cairo Airport from the central city only takes around 30 minutes. At any other time of day, make sure to add in an hour for taxi transport time.
Luxor Airport is seven kilometers from central Luxor. There is no public transport into the center, so you need to either use one of the airport taxis or book a private transfer with your Luxor hotel.
5. From Cairo to Luxor by Flight Day Tour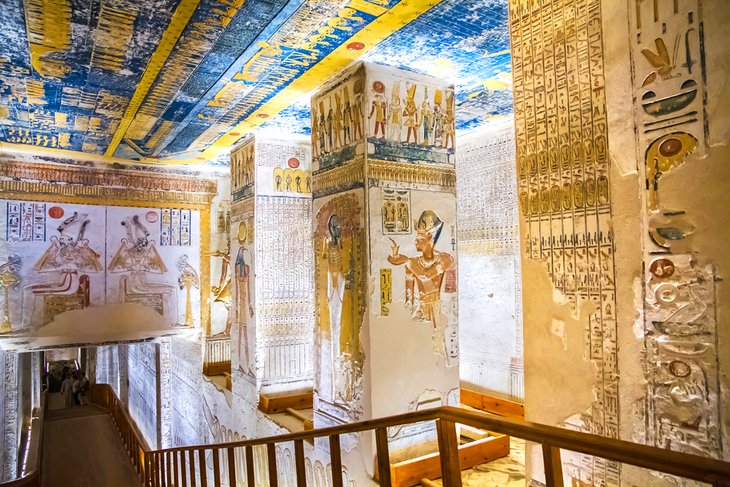 If you really have very little time up your sleeve, it is possible to take a day tour to Luxor from Cairo by flying there and back in one day.
If you want to do this, prepare for a very long day of between 12 and 15 hours door to door, and an early start. Most tours pick up from your Cairo hotel between 4am and 5am, and the return time to Cairo is around 7pm.
Also realize there is only so much you will be able to see of Luxor with just one day, so your sightseeing will be limited to the big-hitter sites: usually the Valley of the Kings, Hatshepsut Temple, and maybe Medinat Habu Temple on Luxor's west bank and Karnak Temple and/or Luxor Temple on the east bank.
These tours normally include a private driver, who transfers you to and from the airport in Cairo, and a professional Egyptologist guide and driver in Luxor, who accompanies you from Luxor Airport for the day.
The Private Day Tour of Luxor by Air offers a solid itinerary for this style of tour. The tour includes pickup and drop-off from your Cairo hotel to Cairo Airport, return flight costs to Luxor, the services of an Egyptologist guide and driver for the entire time you're in Luxor, and lunch. The tour visits the Valley of the Kings and Hatshepsut Temple for guided tours and includes a stop at the Statues of Memnon on the west bank, and guided tours of both Karnak and Luxor Temples on the east bank.
6. From Cairo to Luxor by Bus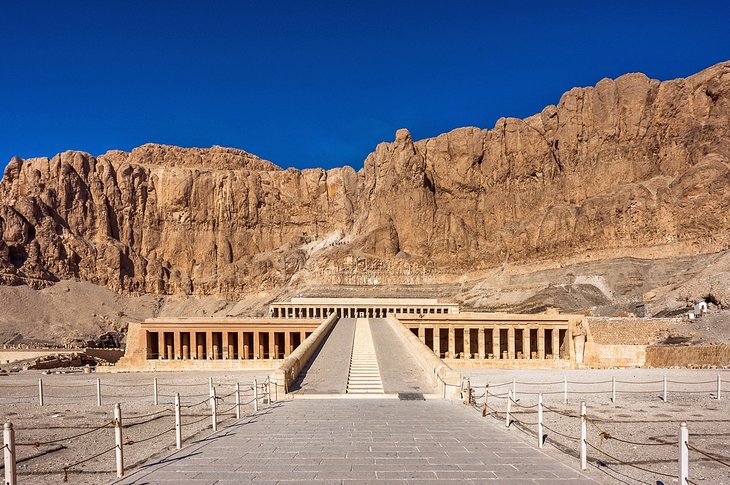 Several bus companies run bus services between Cairo and Luxor.
The vast amount of services are overnight. Go Bus, Super Jet, and Upper Egypt Travel are the main companies operating this route.
Go Bus departs Cairo from their conveniently located office, just off Tahrir Square in the central city. Super Jet and Upper Egypt Travel buses leave from Cairo Gateway Bus Station, also in the central city.
All the bus companies arrive in Luxor at their individual offices, which are handily located in Luxor center, near the train station. Travel time is around 11 hours, and tickets cost between 195 EGP (US$12.45) and 430 EGP (US$27.45).
Buses stop every three hours or so for breaks at rather ramshackle highway service stations with bathrooms and restaurants. It's a good idea to bring plenty of snacks, though.
Note that even if you take a day service, you won't get many views on this route, as buses take the desert highway rather than following the Nile.