From Cairo to Alexandria: 4 Best Ways To Get There
This legendary Mediterranean city sits 220 kilometers northwest from Cairo. One of Egypt's most romanticized destinations, Alexandria was home to Egypt's last pharaoh, Queen Cleopatra, and was one of the ancient world's great centers of learning.
After Napoleon's invasion of Egypt in 1798, Alexandria blossomed into one of the Mediterranean's most cosmopolitan and multicultural cities, and in the early 20th century was feted in literary works by writers including Laurence Durrell and the poet Cavafy.
Today, its mix of museums, ancient ruins, the beautiful Bibliotheca Alexandrina (a contemporary reimagining of the ancient Library of Alexandria), and decrepit seafront architecture – where you can still catch a wisp of Belle Epoque atmosphere – make it a great destination for a short trip from the capital.
There are plentiful ways to get from Cairo to Alexandria, from do-it-yourself public transport to guided tours.
Note: Some businesses may be temporarily closed due to recent global health and safety issues.
1. From Cairo to Alexandria by Train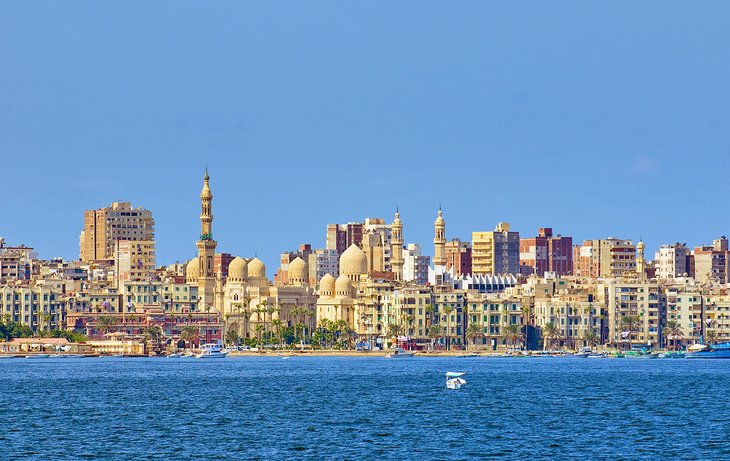 The train is by far the best option for traveling to Alexandria using public transport. Between Cairo and Alexandria, there are several trains daily, between 6am and 10.30pm, with two different classes of service to choose from.
The "Special" services have newer rolling stock and are faster, as there are less stops along the route. These trains take approximately 2.5 hours from Ramses Train Station in central Cairo to Misr Train Station in central Alexandria. The slower "Spanish" trains usually take 3.5 hours for the same journey due to stops along the line.
Both train services offer a choice of First and Second Class seating. First Class is preferable as the seats are more comfortable, there is plenty more space, the air-conditioning always works and the onboard bathrooms are kept in good shape.
First-class ticket prices range from 53EGP (US$3.40) on the "Spanish" services up to 104EGP (US$7) on some of the "Special" service trains. One of the issues of train travel on this route is the chaotic ticket buying process at Ramses Station in Cairo and (to a much lesser extent) at Alexandria's Misr Station. It's best to buy your ticket a day before travel to avoid stress on departure.
From Alexandria's Misr Station, it is a short stroll to the Kom Al Dikka archaeological site, and an easy walk through the city's core to both the seafront and the Alexandria National Museum.
Train travelers should note that Alexandria has two main train stations. All trains from Cairo stop first at Sidi Gaber Train Station in the east of the city and then continue on to Misr Train Station in the central city.
2. From Cairo to Alexandria by Private Tour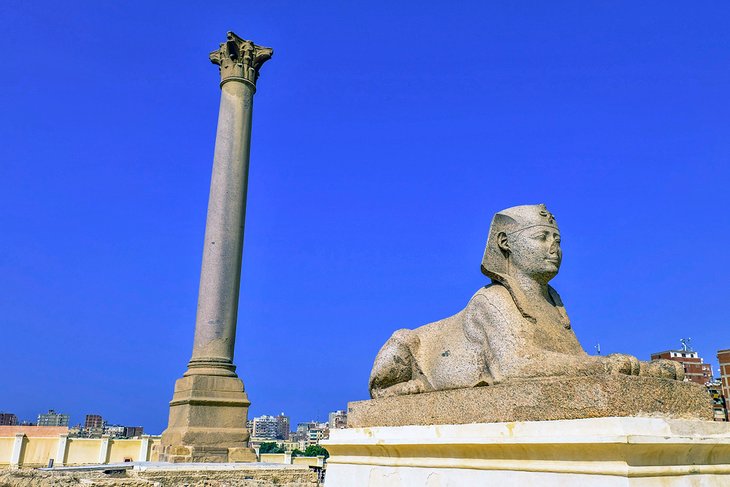 The easiest transport option if you want to head to Alexandria as a day tour from Cairo is by booking a private tour. All tour companies, and many of the hotels, in Cairo can arrange this for you. Most people opt to have both a guide and driver for the day, but if you're happy to visit Alexandria's historic sites independently, you can opt to have just a driver, which will lower the cost of the tour.
A private tour is the no-stress way to visit Alexandria, with transport (either air-conditioned minibus or car) picking you up from your Cairo hotel, taking you directly to Alexandria's major sights, and dropping you back at your Cairo hotel when finished.
Tours can be custom-built, but the usual stops for a day trip in Alexandria will be the Bibliotheca Alexandrina, with its Antiquities Museum and Manuscript Museum in the east of the city, the Catacombs of Kom Ash Shuqqafa and Pompey's Pillar and the Temple of Serapeum in the western suburb of Carmous, Fort Qaitbey at the tip of Alexandria's eastern bay (where the Pharos lighthouse, one of the ancient world's seven wonders, once stood), and the archaeological site of Kom Al Dikka in the central city.
Time for lunch at one of Alexandria's famed fish restaurants is factored into the tour, though typically not included in the tour price.
3. From Cairo to Alexandria by Bus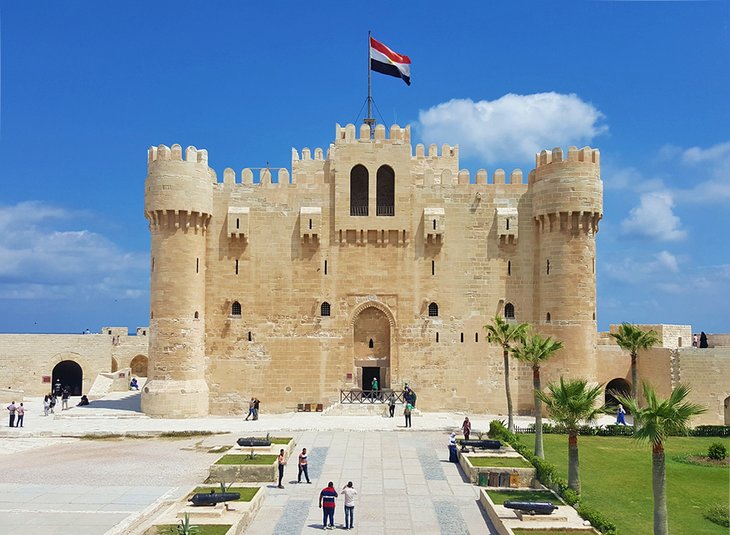 A variety of bus companies offer services between Cairo and Alexandria. With services at least hourly between 5am and 11pm, this option is convenient for time choice but comes with the caveat that the bus stations in Alexandria aren't centrally located.
From Cairo, companies including SuperJet, and West & Mid Delta run buses from Cairo Gateway Bus Station in central Cairo. In Alexandria, these services arrive and depart from Al Moaf Al Gedid Bus Station in the suburb of Moharam Bey, which is around sevven kilometers inland from the seafront city center.
The other main bus company running between Cairo and Alexandria is Go Bus. Their buses depart and arrive Cairo from their very central office just off Tahrir Square (opposite the Egyptian Museum) and arrive and depart from Alexandria at either their office in Moharam Bey (close to the main bus station) or their office in the suburb of Sidi Gaber, roughly six kilometers east of the Bibliotheca Alexandrina.
Bus ticket prices range from 90EGP (US$6) to 165EGP (US$10.50), and travel time is roughly 3.5 hours.
4. From Cairo to Alexandria by Minibus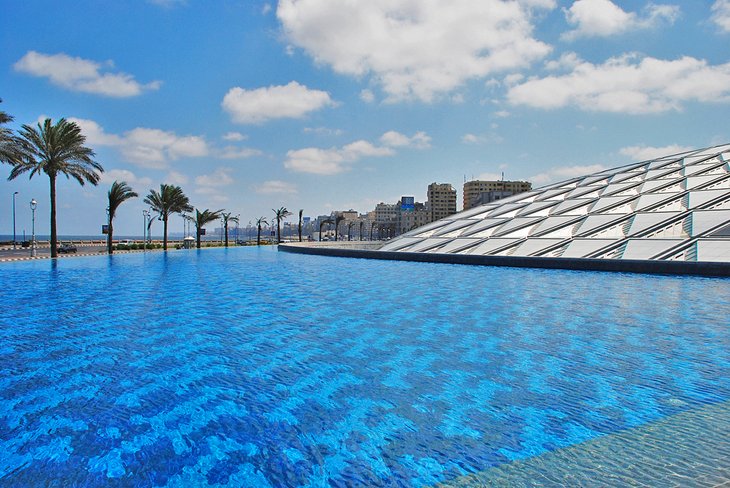 One of the quickest methods of public transport between Cairo and Alexandria are the minibuses (known as microbuses in Egypt), which zip between the cities throughout the day and night. Unfortunately, due to the reckless driving of many microbus drivers – hence why they're so fast – and the cramped conditions of passengers, this isn't a particularly recommended form of transport for short-term visitors.
Microbuses (usually taking 16 passengers) to Alexandria leave from a stand opposite the entrance to Ramses Train Station in central Cairo. They depart when full. Due to the route's popularity, you rarely wait longer than 20 minutes for the microbus to fill up. Drive time is typically around 2.5 hours but depends on how heavy the traffic is when entering and exiting the cities.
In Alexandria, microbuses arrive and depart from just outside Misr Train Station in the central city, from where you can easily walk to the city's sights and the seafront. Ticket prices are around 50EGP (US$3.50) and are paid directly to the driver.
If you're using the microbuses, don't expect normal safety precautions such as available seatbelts or the driver continuously using the vehicle's headlights when traveling during the evening.