12 Top-Rated Tourist Attractions in the Red Sea Region
The Red Sea is one of the world's top diving destinations, and for decades dive enthusiasts have headed here specifically for a holiday spent mostly underwater. Today, this coastline has become a major sun-and-sea holiday destination favored as much by families looking for an easygoing beach break at a full-service resort hotel as divers here for the coral and fish life.
Away from the sand though, there's more to explore. The Eastern Desert stretches across this region, scattered with remnants of Egypt's Roman and early Christian eras. These ruins are a great opportunity to get off the beach for a day and discover some of Egypt's history. Learn more about the best places to visit with our list of the top attractions in the Red Sea region.
1. St. Anthony's Monastery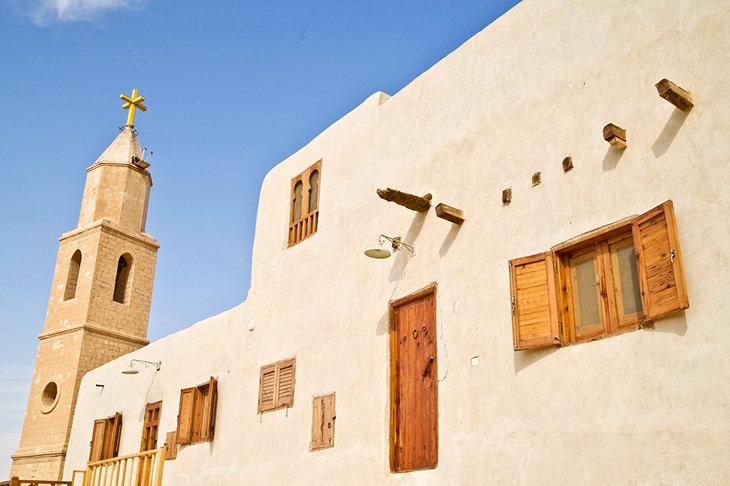 Founded by devotees of St. Anthony, the father of monasticism, it's claimed that St. Anthony's Monastery is the oldest monastery in the world. It sits on a site just below the cave where St. Anthony retreated to follow an ascetic life of prayer and solitude. Probably starting off life as a small clutch of humble dwellings, the monastery today is surrounded by thick fortified walls erected in the 10th century when monks found themselves frequently under attack from Bedouin raiders. Inside, vast palm-tree-shaded gardens spread out between caramel-toned mud-brick buildings, where the monastery's monks still live.
The real highlights of a visit here, though, are the wall paintings inside the 6th-century Church of St. Anthony. The interior is covered with vibrantly colored and incredibly well-preserved frescoes of Coptic saints, which are renowned for being among the finest examples of Egyptian Coptic Christian artistry.
For those on a religious pilgrimage, St. Anthony's Cave sits 270 meters up the cliff side above the monastery. This is where the saint spent the last 20 years of his life. Today, the cave is accessed via a steep staircase that winds up the cliff with glorious panoramas of the monastery and desert setting below.
Location: 254 kilometers north of Hurghada
2. St. Paul's Monastery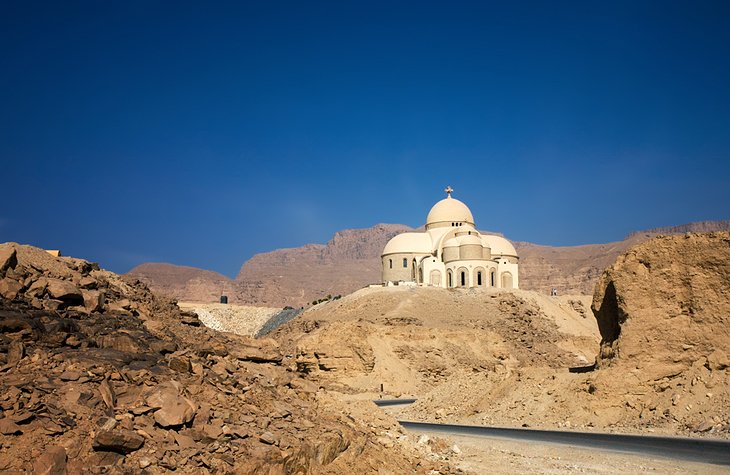 St. Paul's Monastery is much smaller than St. Anthony's and honors St. Paul the Hermit, who is thought to be the first monk to take up the hermetic life. The monastery has been functioning since at least the 6th century, when devotees of St. Paul began to flock here on pilgrimages. Inside the thick medieval fortress walls, neat mud-brick buildings imbue the monastery with a sense of serenity. Three churches are the main points of interest for visitors here: St. Paul's Church is thought to have been built exactly over the spot where St. Paul led his ascetic life of solitude.
Location: 241 kilometers north of Hurghada
3. Al-Quseir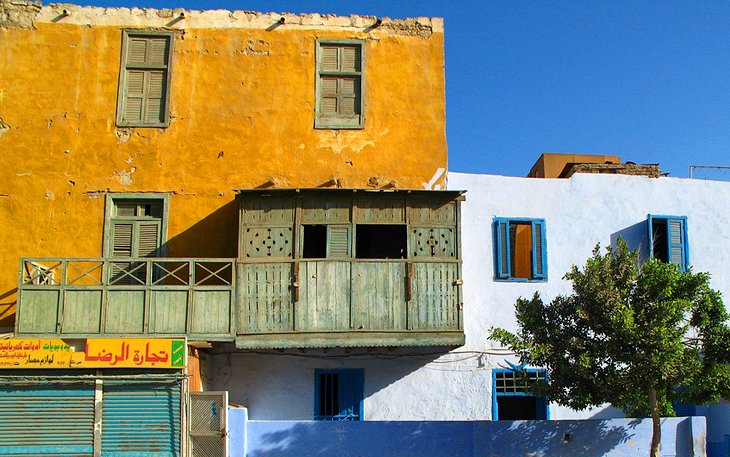 Al-Quseir is a place apart from the resort-centered towns that dominate the Red Sea region. Once an important port town in the medieval period, Al-Quseir has managed to preserve its unique coral-block architecture with narrow squiggles of lanes rimmed by colorful crumbling buildings boasting mashrabiya (lattice) windows and painted doors.
A fort sits just behind the old town area, but the real joy of a visit here is simply meandering through the alleyways; checking out the creaky, dilapidated architecture; and enjoying the charming sense that time somehow forgot this jewel of a place.
Location: 146 kilometers south of Hurghada
4. Hurghada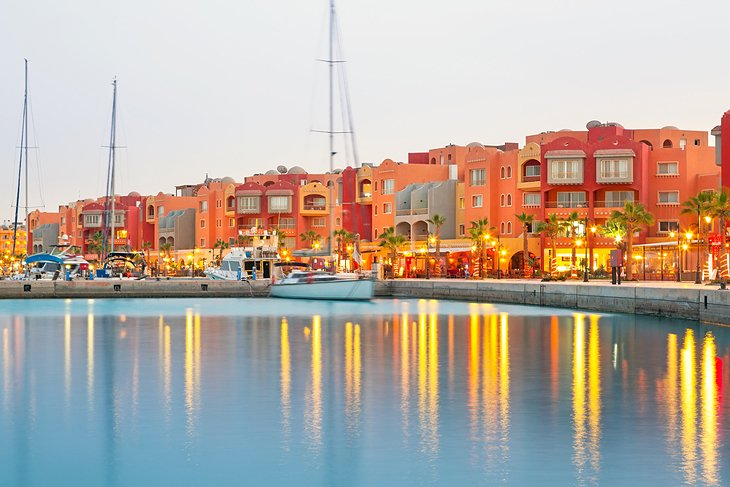 Egypt's oldest resort center, Hurghada rose to fame for its proximity to the fantastic dive sites just offshore, and what had been a tiny Bedouin settlement has long ago morphed into a bustling city that sprawls across the Red Sea coastline. Although diving is still central to Hurghada's prominence, this is also Egypt's major package-holiday destination, and thousands of European tourists decamp here to escape winter by soaking up the sun on one- and two-week cheap package deals.
5. El-Gouna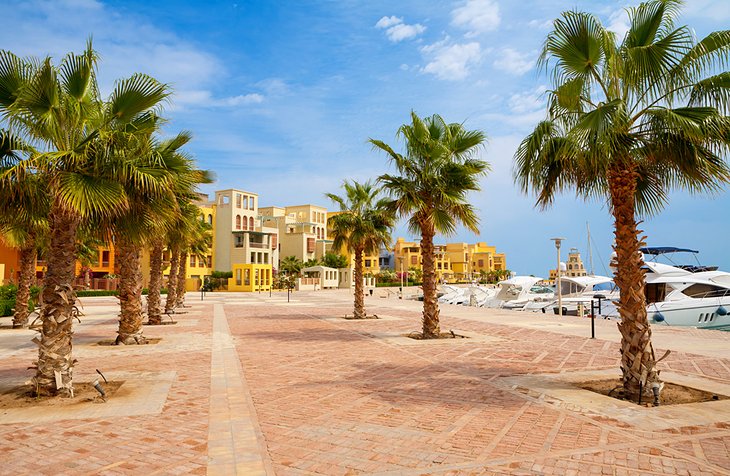 Just north of Hurghada, El-Gouna plays the role of swish little sister to its aging sibling down the road. El-Gouna is a completely planned modern resort town focused on luxury resort living and holiday villa complexes. There's a golf course, two marinas, and a dozen high-end and mid-range hotels that are fully kitted out to offer water sports and sun-soaked relaxation galore.
El-Gouna is also home to Egypt's only outdoor cinema (which screens movies for free) and the Culturama, which is twinned with Alexandria's Bibliotheca Alexandrina, and offers a multimedia display of Egyptian history, as well as access to the library's vast wealth of ancient manuscripts via the internet.
Location: 30 kilometers north of Hurghada
6. Samadai Reef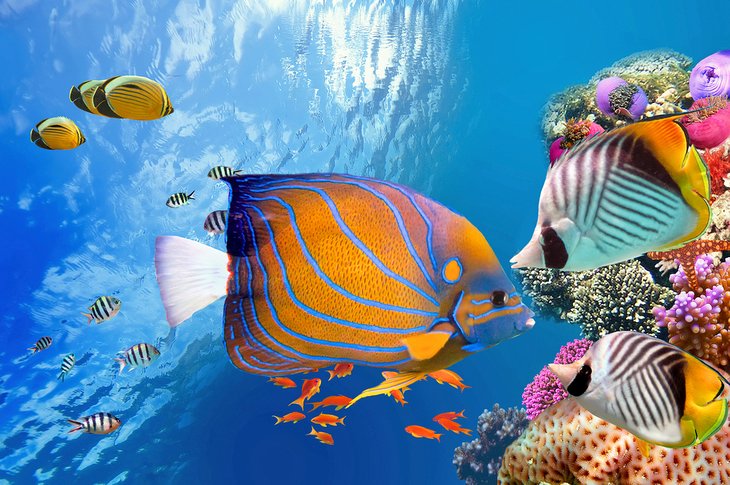 In a region renowned for its diving, Samadai claimed its fame by not only having a superb coral wall for divers and snorkelers to explore, but also being home to a pod of spinner dolphins that are often happy to accompany divers and snorkelers in the water. The pod numbers around 500 and are sighted in the horseshoe-shaped reef on about 70 percent of trips here. Even when they're not in residence though, this reef is full of colorful coral and home to excellent fish life.
7. Wadi al-Gimel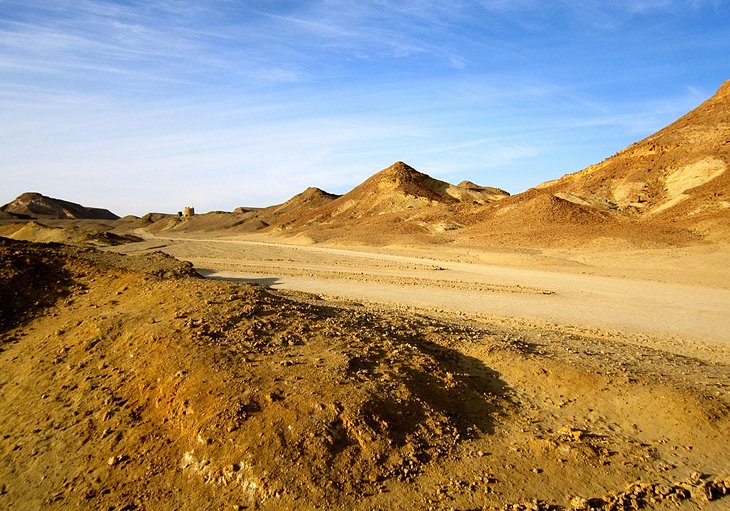 Deep in the southern reaches of the Red Sea's Eastern Desert, the Wadi al-Gimel Protectorate is a starkly beautiful landscape that hides the remains of Rome's emerald mines. The main archaeological site here is Sikait, which was the settlement for the miners sent to extract the precious green stone from the arid mountains. A small temple dedicated to the goddess Isis sits carved into the rock face surrounded by the crumbling remains of simple stone houses.
Nearby are the ruins of Nugrus, where the actual mine was located, while another two small settlement remains (named Apollonia and Gelil) lie just a couple of kilometers away and once acted as trading stations. For those not so interested in the history here, the landscapes are phenomenally beautiful, and a trip into this barren desert of scattered acacia trees and looming, jagged mountains is just as worthwhile for the views as for the archaeological remnants.
Location: 336 kilometers south of Hurghada
8. Marsa Alam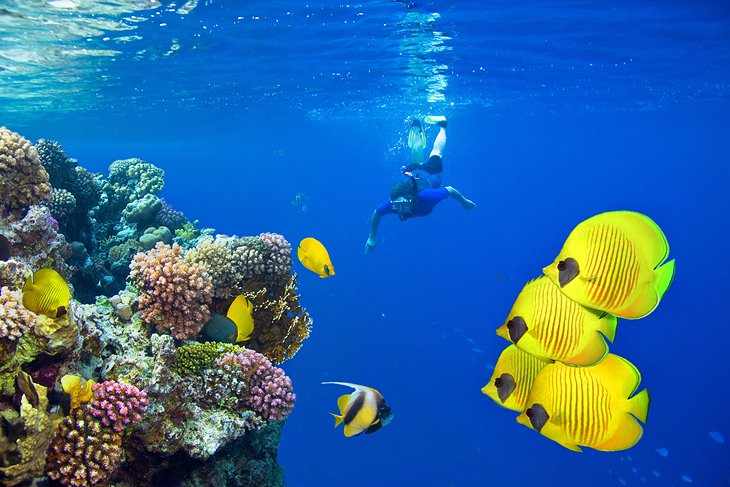 The Marsa Alam area is Egypt's most southerly resort destination, stretching down into the isolated south of the country. The coast here is scattered with luxury all-inclusive resorts, interspersed with the odd campsite for those on more of a budget. For travelers looking to holiday here, it's all about peace, tranquility, and diving, for this is the nearest resort to Egypt's famed Fury Shoals dive sites, which are rated by experienced divers as some of the top dives in the world.
Location: 284 kilometers south of Hurghada
9. Mons Porphyrites
This ancient Roman porphyry mine is an easy day trip from Hurghada and contains remnants of the mining town where the quarry workers lived while they extracted the purple-hued stone from the rugged mountains of the Eastern Desert. Greatly-prized by the Romans, porphyry mined here was used in building works throughout Rome's Mediterranean empire. Although there isn't much left of the once bustling mining town, you can still make out the miners' living quarters, their workshops, and the temples they built amid the scattered ruins.
Location: 60 kilometers northeast of Hurghada
10. Mons Claudianus
Mons Claudianus is another Roman mining archaeological site, signifying the Eastern Desert's importance to the Roman Empire. Here, miners quarried granite out of the mountainside, which was then used throughout the Roman world. The workers here were all prisoners, and the harsh conditions they lived under can still be imagined in the ruins of their living quarters. Mons Claudianus also functioned as a fortress guarding the surrounding desert. The ruins, though dilapidated are quite substantial.
Location: 65 kilometers southeast of Hurghada
11. Barrameya & Wadi Hammamat
Visiting the rock inscriptions of Egypt's Eastern Desert provides some inkling of the deep and ancient history of this area. This rugged landscape has been crisscrossed by trade routes throughout history. Wadi Hammamat, along the Qift to Quseir route, and Barrameya are both littered with the evidence of this human history and are great Red Sea excursions for travelers looking to delve into the past. The rock faces here have been used as a canvas by passing travelers from the Pharaonic era right through to the early 20th centuries, with everything from hieroglyphics to animal scenes depicted in abundance.
12. The Desert Breath
This bizarre but beautiful art installation was created in 1997 by the art group D.A.S.T. Arteam and is a triumph of engineering, as well as artistry. Covering nearly 100,000 square meters, the protruding and incised cones of the project make up a spiral that suggests the desert's infinity. As the natural erosion of the desert occurs, the artwork will slowly disintegrate, although nearly 20 years after the project's completion, it is still clearly visible today. This attraction is best viewed as a whole from above, but ground visits to this weird and wacky sculptural work (easily arranged in Hurghada or El-Gouna) are also awe-inspiring.
Tips and Tours for a Red Sea Holiday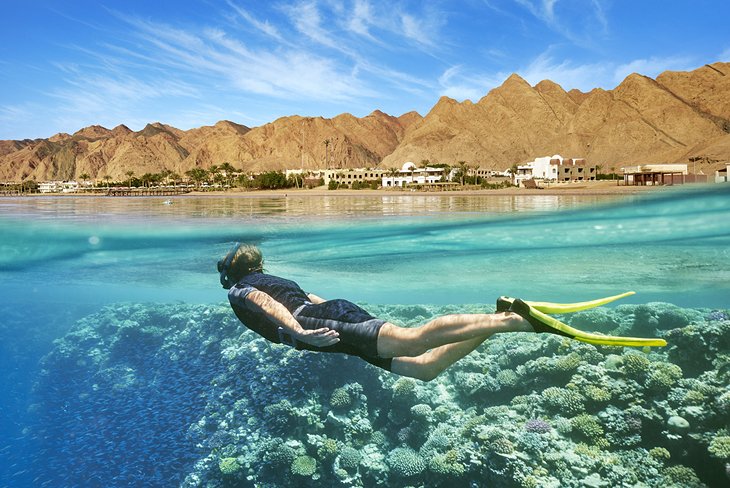 Snorkeling Tour: It's not just divers who can experience the coral and fish life of the Red Sea. There's plenty to see by snorkeling as well. This full-day Red Sea snorkeling tour takes you by boat to three prime snorkeling locations off the coast with lunch included on board. Many resorts offer day trips to the historic tombs and temples of Luxor, so you can easily squeeze some sightseeing into your sun-bathing itinerary.
Where to Stay: The Hurghada area is large, with resorts spanning the coast south from the actual town. El Gouna is much more compact.
Activities: Water sports such as kitesurfing and windsurfing are offered at many resorts. El Gouna's resorts are generally better equipped for these activities.
More Related Articles on PlanetWare.com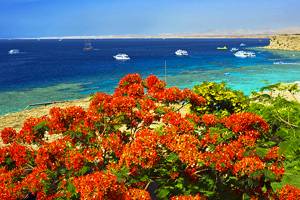 Beach Time: See our article on the Red Sea coast's major town Hurghada for more information on this area and to learn about what to see and things to do. Or, check out our article on Sharm el-Sheikh if you're thinking of spending your beach time in the Sinai Peninsula.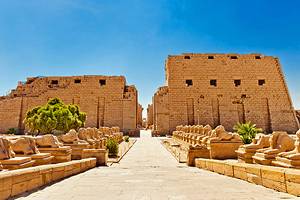 History Day Trip: The Upper Nile's glut of tombs and temples are within day-tripping distance from the Red Sea coast. Take a look at our articles on some of Egypt's most impressive sites, including Luxor, Karnak, and the Valley of the Kings for day trip inspiration.
More on Egypt