11 Top-Rated Attractions & Things to Do in Port Douglas
Picturesque and peaceful, Port Douglas makes a fantastic base for exploring Far North Queensland's two big-hitter tropical attractions: the rainforest and reef. Once a sleepy fishing village, this convivial town is much smaller and a little more upscale than Cairns about an hour's drive south, and it's the closest mainland town to the Great Barrier Reef.
In Port Douglas proper, one of the top tourist attractions is post-card perfect Four Mile Beach. Here, coconut palms lean languidly towards the luminous Coral Sea, and the powder-soft shore, backed by lush hills, is ideal for a scenic stroll. Back in town, you can browse the shops, galleries, and cafés along Macrossan Street under the lazy shade of coconut palms and mango trees.
A short drive north of Port Douglas, two of the world's richest ecosystems - the Daintree rainforest and Great Barrier Reef - merge in a magnificent mingling of greens and blues along Cape Tribulation. It makes a spectacular setting for some of Australia's top outdoor adventures, both on land and in the sea. Port Douglas was traditionally home to the Kuku Yalanji people, and Indigenous experiences provide an important perspective of the area's ecology, history, and culture.
Discover more places to visit in and around this tropical paradise with our list of the top things to do in Port Douglas.
1. Snorkel or Dive on the Great Barrier Reef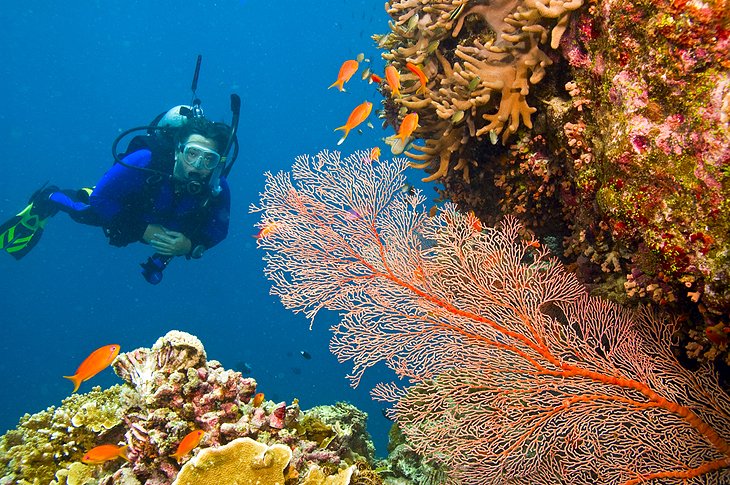 Port Douglas is one of Australia's best bases for reef adventures - the Great Barrier Reef lies only about 72 kilometers northeast off the coast.
The most popular tours are aboard high-speed catamarans, which provide a more stable ride to the outer reef. Quicksilver Outer Great Barrier Reef Snorkel Cruise from Port Douglas is a great option. This full-day tour whisks you out to a platform at Agincourt Reef in about 90 minutes. Once you arrive, you can SCUBA dive (introductory courses are available), snorkel over the reefs, or sign up for an Ocean Walker helmet dive. If you prefer to stay dry, you can gaze out at the kaleidoscopic coral from the underwater viewing platform and observatory, or take a ride in a semi-submersible. Helicopter flights are also available for a unique bird's-eye view of the reef.
Various other tour operators offer small-group snorkeling and diving adventures to the reef, depending on your interests. Half-day or full-day tours to the Low Isles are also popular. Lying about 15 kilometers off the coast of Port Douglas, the Low Isles are comprised of a small coral island called Woody Island and a sandy cay called Low Island. Here, you can snorkel right off the beach to see colorful coral, tropical fish, and turtles. This is a great option for families with young children or anyone who wants to stay close to land.
2. Stroll along Four Mile Beach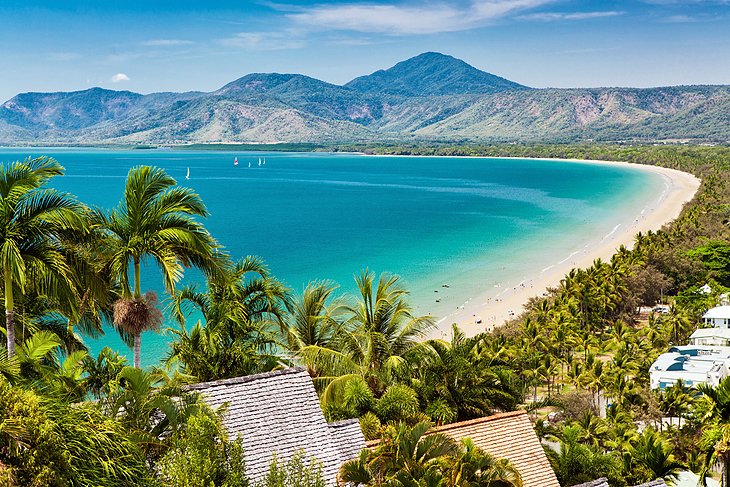 A five-minute walk from town, Four Mile Beach is a tropical beauty. Coconut palms fringe this seductive curve of creamy sand and turquoise sea, and development has been tightly controlled along the shore, so the beach still feels wild and natural. Backed by lush tropical foliage, it's a beautiful beach for a stroll, and it's one of the top things to do in Port Douglas for free.
Feel like a dip? You can swim in the shallows here, but you need to stick to the netted area of the beach during marine stinger season, from October through May. When conditions are right, kitesurfing is a popular sport.
Kids love to play with the crabs scuttling along the shore or explore the rock pools at the northern end of the beach.
You won't find big hotels fronting the shore, but the adults-only Peninsula Boutique Hotel is about as close as you can get, with palm-framed views of the beach.
The best place to photograph Four Mile Beach is from the Trinity Bay Lookout on Flagstaff Hill, which provides a sweeping view over the entire coast. The lookout is a hot, steep hike or bike ride up the hill from town, but you can also drive up.
3. Explore Cape Tribulation & the Daintree Rainforest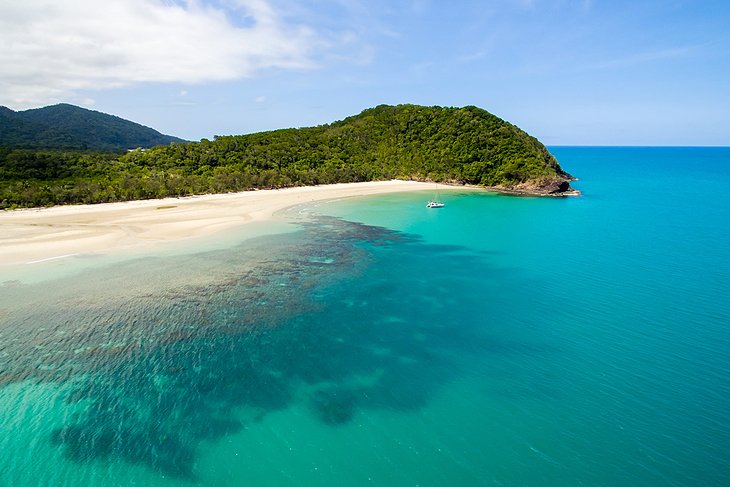 Cape Tribulation is one of the only places on the planet where two World Heritage-listed sites merge: the Great Barrier Reef and Daintree Rainforest. This spectacular sweep of reef-mottled turquoise sea and green jungle is a popular playground for nature lovers and photographers. The drive from Port Douglas to Cape Tribulation takes about 45 minutes, and the journey is almost as scenic as the destination.
Drenched in primeval beauty, the Daintree is the oldest living rainforest on Earth. Tours take you on land and water through this spectacular wilderness area, and you can add on all kinds of fun adventures such as ziplining ("jungle surfing"), bush walking, snorkeling, diving, horseback riding, bungee jumping, and kayaking. Some tours also include tropical fruit tastings and cultural experiences with expert Aboriginal guides.
Perfect for nature lovers, the Cape Tribulation, Mossman Gorge, and Daintree Rainforest Day Trip from Cairns or Port Douglas includes visits to all these stunning wilderness areas, as well as an optional cruise on the Daintree River.
Beware of marine stingers along the beaches in season, and avoid swimming near muddy rivers or mangroves, as saltwater crocodiles are sometimes found in these areas.
Accommodation in the region consists predominantly of eco-resorts like the luxury Daintree EcoLodge & Spa.
4. Meet Local Critters at Wildlife Habitat Port Douglas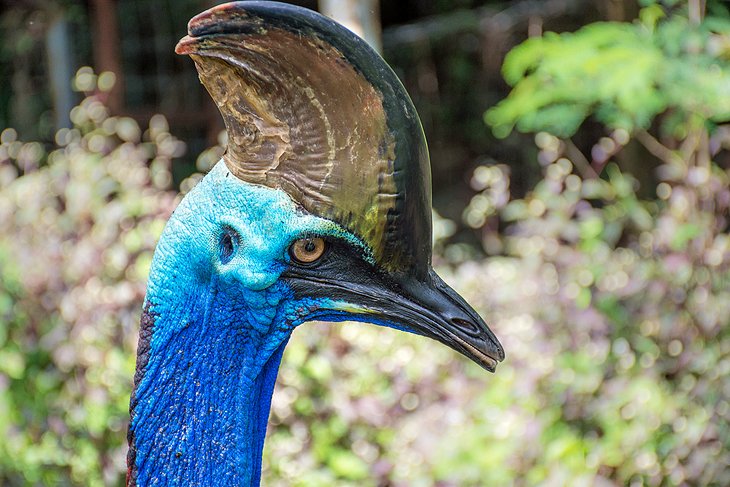 At the Wildlife Habitat of Port Douglas, you can get up close to some of Far North Queensland's charismatic wildlife. Cuddle a koala, hand-feed wallabies, and hang out with your favorite feathered friends.
Explore different habitats at this family-friendly attraction: wetlands, woodlands, rainforest, savannah, and nocturnal. Besides the ever-popular kangaroos and koalas, other favorites here include crocodiles; pythons; emus; the endangered Lumholtz's tree kangaroos; and even the elusive southern cassowary, the large flightless birds that live in the rainforests here.
Top off your visit with an interactive animal experience. Breakfast with the Birds or Lunch with the Lorikeets are two of the most unique things to do in Port Douglas. Dine on delicious Aussie food while colorful native parrots fly all around you. On the nocturnal tour, you can mingle with kangaroos and wallabies at dusk and see nighttime creatures such as gliders, possums, quolls, and owls by flashlight.
In 2021, a new "Swim with the Salties" experience will offer daredevils the chance to dive in a pool and swim just inches away from a massive "saltie," saltwater crocodile, (behind a perspex window, of course).
Looking for something a little more low-key? Opt for a feature creature photo with your favorite animal instead. Children love the Junior Keepers program, where they can experience life as a wildlife keeper.
Address: Port Douglas Road, Port Douglas, Queensland
Official site: http://www.wildlifehabitat.com.au/
5. Wander along Macrossan Street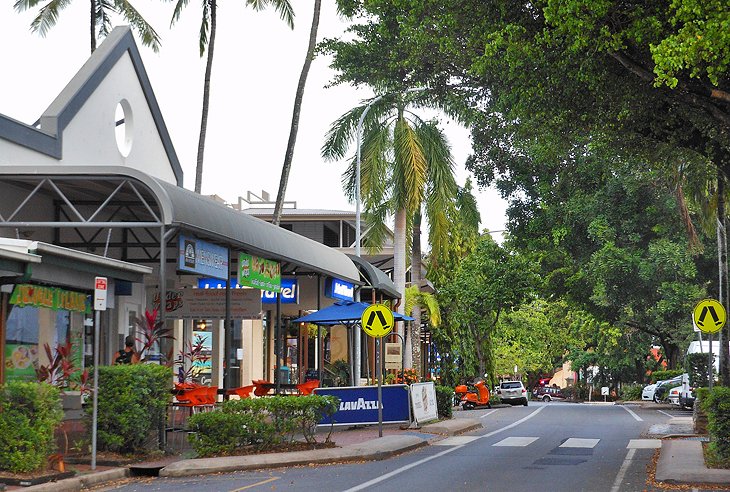 Strolling along Macrossan Street is a great way to soak up the scene in downtown Port Douglas. Boutiques, souvenir shops, art galleries, restaurants, and cafés line both sides of this main street, which runs through the center of town to the waterfront. Linger long enough, and you might find some Port Douglas hidden gems. Coconut palms and mango trees shade the streets and lend a laid-back air to this tiny downtown strip.
Looking for some souvenirs or beachy chic outfits? Shopping highlights include Ginni Boutique, Tahitian Lime, Aloha Lucy, and Martinique Island Style. If gallery gazing is more your style, pop into Ngarru Gallery to admire or buy Indigenous fine artworks, including paintings, sculpture, and weavings.
Wondering where to go for Port Douglas nightlife? Macrossan street has you covered, with all kinds of lively entertainment venues, and you'll also find a diversity of Port Douglas restaurants along here.
West of Macrossan Street you'll find Dickson Inlet and The Reef Marina, the gateway for Great Barrier Reef tours, where pleasure boats and superyachts bob side by side in the berths.
6. Take a Cool Dip at Mossman Gorge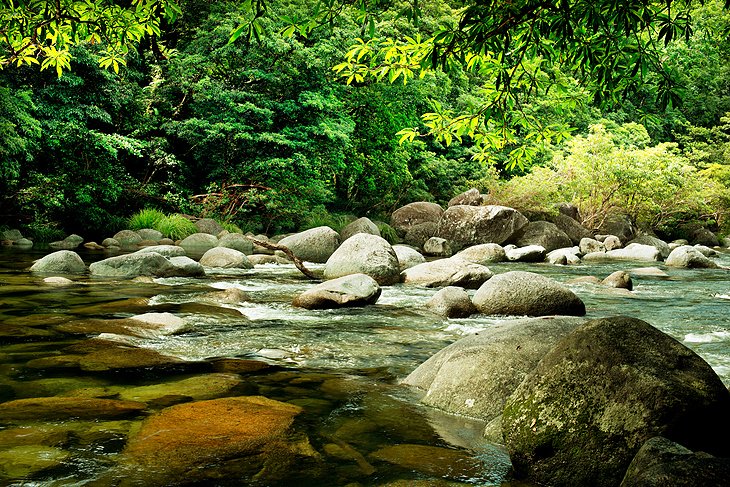 Part of World Heritage-listed Daintree National Park, Mossman Gorge is a popular half-day trip from Port Douglas. This picturesque area lies where the Mossman River cascades over big granite boulders into several pools of cool, clear water. It's a perfect spot for swimming on a hot day.
Bring your camera. Colorful butterflies flit through the rainforest, and this is a lovely spot for a picnic, with dedicated areas to spread out your lunch. After a refreshing dip in the swimming holes, you can explore the two-kilometer rainforest loop trail or the new aerial walkway through the forest.
Guided Dreamtime walks from the traditional Aboriginal landowners, the Kuku Yalanji people, are also available, and include fascinating insight into their culture, including traditional ceremonies, bush tucker demonstrations, and ochre painting.
Before you head to the gorge, stop by the Mossman Gorge Centre. Here, you can grab a snack at the café, browse the Indigenous art gallery and gift shop, and learn more about the area and its inhabitants. The drive from Port Douglas to Mossman Gorge Centre takes about 20 minutes. From here, you can hop on a shuttle bus to the gorge.
Official site: https://www.mossmangorge.com.au/the-centre/the-centre
7. Shop at the Sunday Market Port Douglas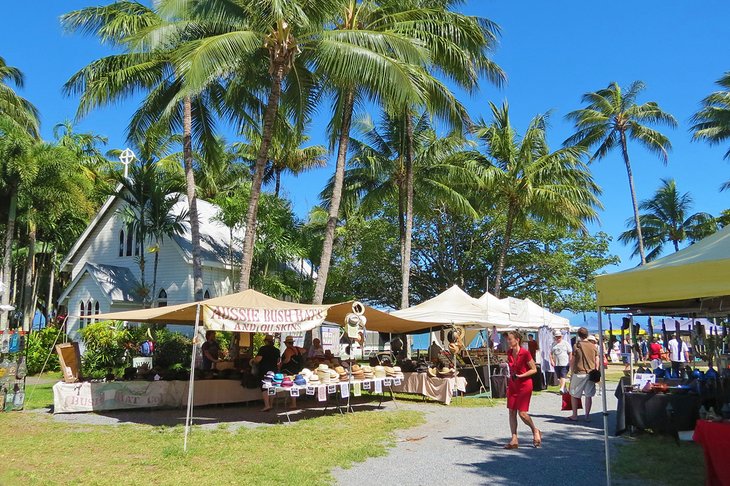 In Market Park on Wharf Street, a short stroll from St. Mary's by the Sea chapel, the popular Port Douglas Sunday Market is a must-do for shoppers. Vendors must grow, produce, or create the goods they sell, so all the wares here are handmade and local.
You can find everything from fresh produce and tropical plants to arts and crafts, souvenirs, clothing, and jewelry. Feeling peckish? Fill up on some fresh seafood, buy a burger, or snack on some crepes. Then wash it all down with a fresh-squeezed tropical juice.
If you can't make the Sunday markets, Port Douglas Crystalbrook Marina hosts smaller markets every Wednesday from 11am to 5pm. You won't find any food at this one, but you can usually buys tropical clothing, art, beauty products, jewelry, and home decor among other goodies. Best of all, you'll have beautiful views of the boats bobbing in the marina while you shop.
8. St. Mary's by the Sea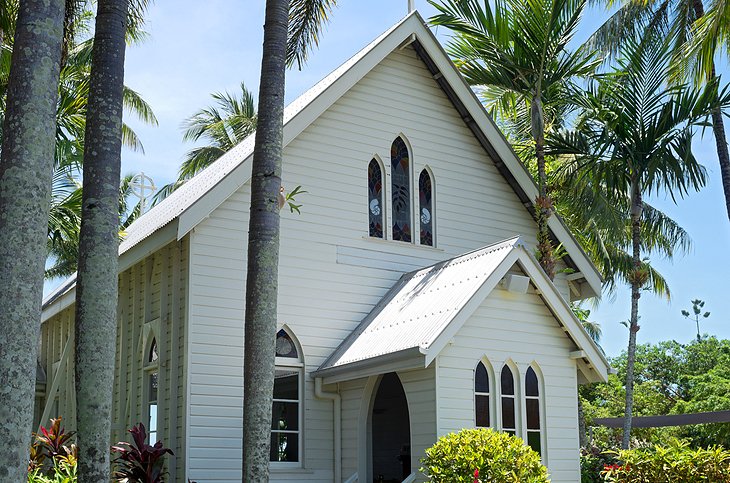 Nestled among a grove of palm trees along the waterfront in town, St. Mary's by the Sea is a cute little non-denominational chapel. The chapel was built in 1880 on the hill in Port Douglas and was moved to its current waterfront site in 1988. After an extensive restoration, the chapel celebrated its reopening the following year.
Save time to wander inside and admire the beautiful stained-glass windows. Your gaze will also be drawn to the dreamy views of the Coral Sea from the large picture window behind the altar. Not surprisingly, this is a favorite spot for weddings.
9. Ride the Kuranda Skyrail Rainforest Cableway & Scenic Railway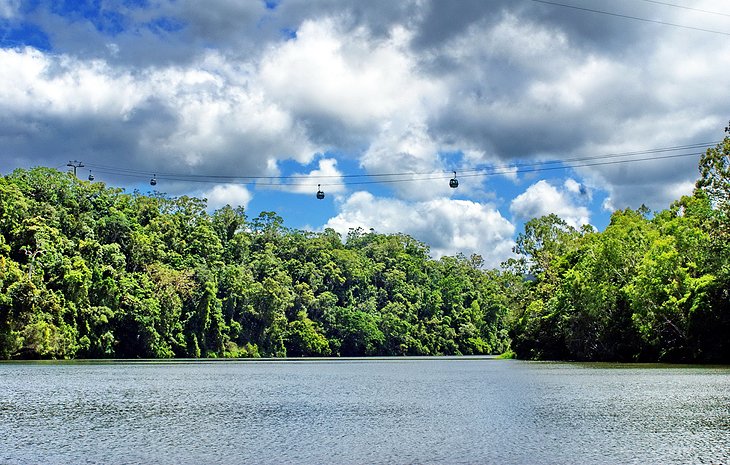 One of the most popular day trips from Port Douglas is a visit to Kuranda. This quaint little rainforest village sits on the mist-cloaked plateau of the Atherton Tablelands, and the journey is as fun as the destination.
To access Kuranda, you can either soar over World Heritage-listed rainforest on the Kuranda Skyrail, or ride the Scenic Railway up the mountain. Along the way, you can enjoy beautiful scenery as you gaze out at rugged canyons and tumbling cascades. Both options depart from just outside Cairns, about a 50-minute drive south of Port Douglas. If you have your own car, you can enjoy all the rainforest scenery on the self-drive route.
Once you arrive, popular things to do in Kuranda include visiting one of the wildlife parks and nature reserves, shopping at the markets, browsing the local galleries, and photographing beautiful Barron Falls. You can also grab a bite to eat at one of the cute cafés.
Many visitors like to take the Skyrail in one direction and the Kuranda Scenic Railway in the other so they can enjoy two different perspectives of the lush, tropical scenery.
Official site: https://www.skyrail.com.au/cairnstours
10. Go White Water Rafting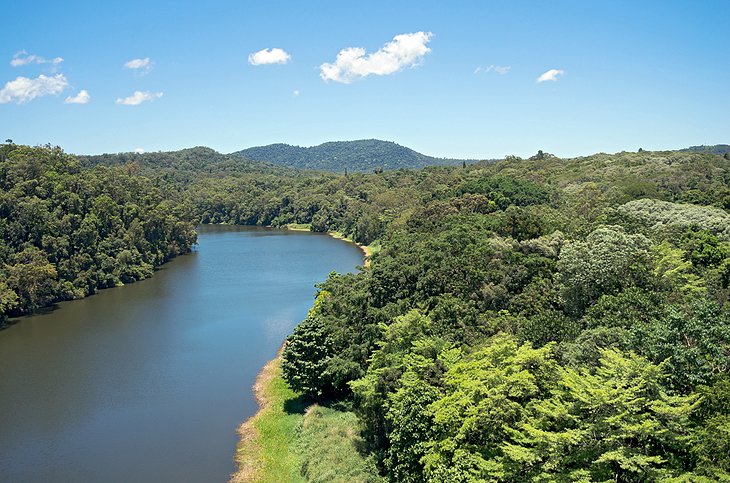 About 40 minutes' drive from Port Douglas, the beautiful Barron River carves through Barron Gorge National Park before flowing out into the Coral Sea. Outdoor adventure lovers head here to raft the rapids.
This rainforest river rafting adventure usually includes about two hours on the water, with a scenic float trip over the calmer stretches and sections of white water rapids up to grade 3. The Barron River is perfect for first-timers and children aged six and older.
Raging Thunder Adventures, Foaming Fury, and RnR White Water Rafting all offer half-day rafting tours from Port Douglas.
If you're seeking a little more white-water action, the Tully River is one of Australia's top rafting adventures, with grade 3 and 4 rapids, but it's about three hours south of Port Douglas.
11. Book a Flames of the Forest Aboriginal Culture and Rainforest Dining Experience
Flames of the Forest is an evocative dining experience set in the candlelit rainforest at night. This is a fantastic choice for a special evening out. Sample gourmet food incorporating local produce and native ingredients, and watch an Aboriginal cultural show at the same time.
The menu features four courses, and the Aboriginal Cultural Experience includes storytelling and traditional didgeridoo music and singing.
If you prefer a more romantic evening, you can also opt for the dinner-only package and reserve a candlelit table for two. A giant marquee protects diners from inclement weather, and the thrumming tropical rain only adds to the mystical atmosphere.
Official site: http://www.flamesoftheforest.com.au/
Map of Attractions & Things to Do in Port Douglas