9 Top-Rated Tourist Attractions in Kuranda
Nestled in lush rainforest on the misty plateau of the Atherton Tablelands, the pretty little rainforest village of Kuranda makes a fun day trip from Cairns. The cooler climate and luxuriant scenery have long lured artisans and tourists here, and offers a respite from the sweltering humidity along the coast. Not only is the destination a treat, but the journey can be just as much fun.
To reach Kuranda, you can choose between soaring over World Heritage-listed rainforest on the Kuranda Skyrail, or chugging up the mountains on the Scenic Railway, passing rugged ravines and rushing waterfalls. Both options depart from just outside the tourist hub of Cairns. If you have your own car, you can enjoy the rainforest scenery on the self-drive sightseeing route.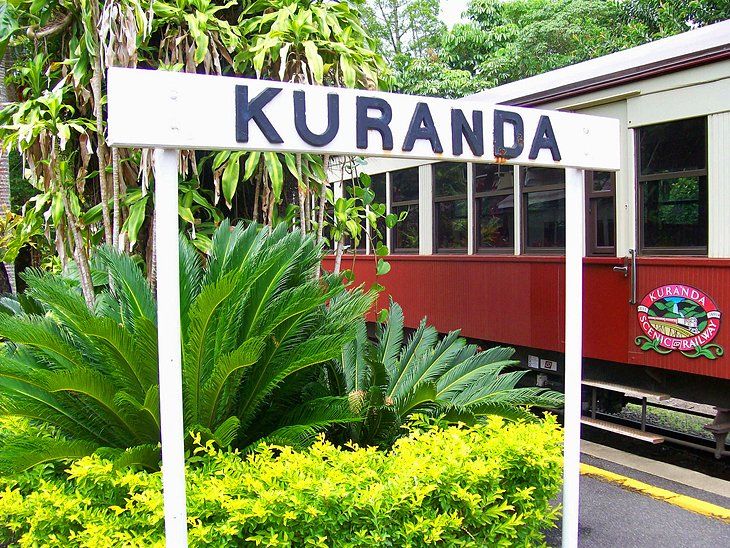 Once you arrive, popular things to do in Kuranda include strolling through the local markets, dining at cute cafés, marveling at magnificent Barron Falls, or visiting one of the wildlife parks and nature reserves. And if you're wondering what to do in Kuranda for free, you can soak up the hippy vibe of the village and browse the impressive art galleries.
Want to linger awhile? Kuranda accommodation is just as charming as the village itself. You can stay in a bed-and-breakfast, hide away in a historic hotel, choose a large resort, or stake a spot in a campground.
Find out more about the best places to visit in this alluring mountain village with our list of the top attractions in Kuranda.
1. Soar Over the Treetops on the Skyrail Rainforest Cableway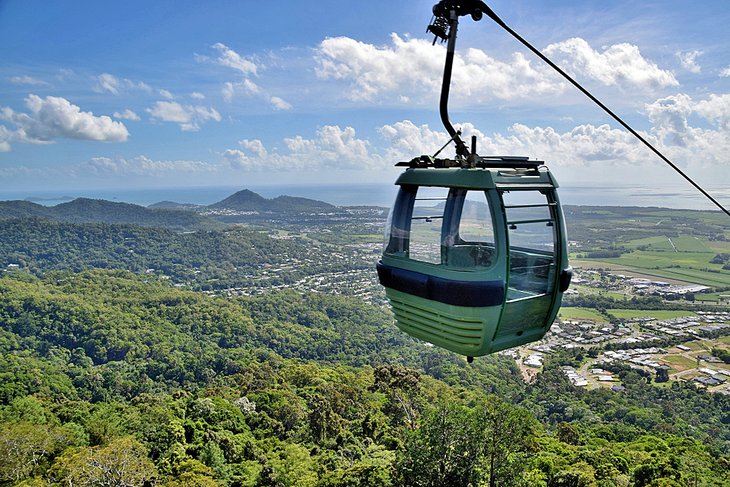 Soaring over breathtaking Barron Gorge National Park on the Skyrail Rainforest Cableway is an unforgettable Aussie experience. World Heritage-listed rainforests, rugged ravines, and stunning waterfalls beckon far below, and the azure Coral Sea sparkles in the distance.
After flying over the canopy, the Skyrail plunges into the heart of the rainforest, where you can admire the views and snap photos from a scenic lookout and boardwalk, or learn more about wet tropics ecosystems at the Rainforest Interpretation Centre.
The journey from Cairns to Kuranda takes about 1.5 hours and runs in both directions.
Insider's tip: For different perspectives of the scenery, take the Skyrail in one direction and the Kuranda Scenic Railway in the other.
Address: Corner of Captain Cook Highway and Cairns Western Arterial Road, Smithfield, Queensland
Official site: http://www.skyrail.com.au/
2. Enjoy the View on the Kuranda Scenic Railway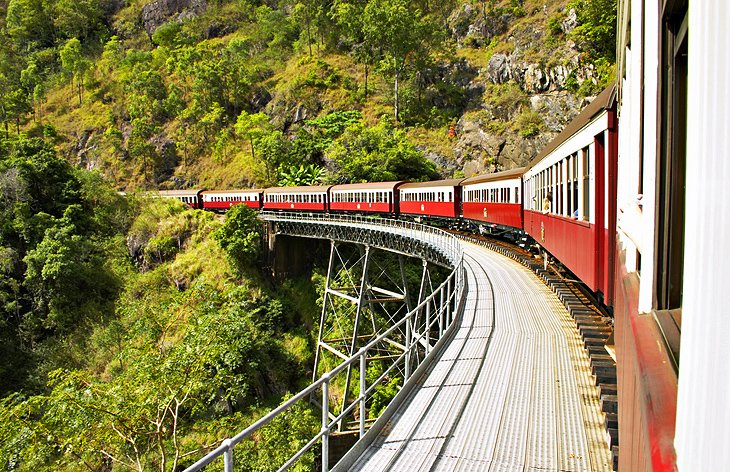 The historic Kuranda Scenic Railway has been gliding along rainforest-cloaked ridges since the early 19th century. The trip between Cairns and Kuranda takes about 2.5 hours. Beautiful Barron Gorge National Park, with its waterfalls and World Heritage-listed rainforests, provides the stunning scenery.
Conveniently, the railway station lies adjacent to the Skyrail station, so you can choose your mode of travel in each direction and see the park from different perspectives.
Address: Bunda Street, Cairns, Queensland
Official site: http://www.ksr.com.au/Pages/Default.aspx
3. Browse the Stalls at Kuranda Markets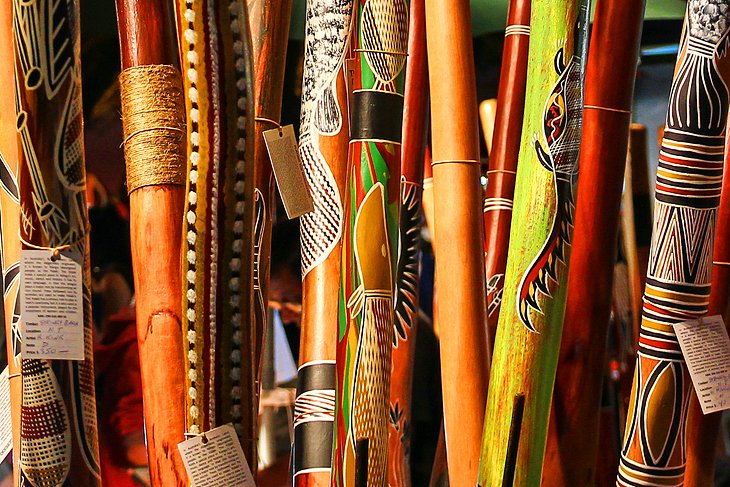 One of the top tourist draws in town, the Kuranda village markets have been tempting shoppers for decades. Both the Original Markets and the Heritage Markets are open daily, their stalls crammed with handmade leather items, aboriginal arts and crafts, woodcarvings, jewelry, souvenirs, and scrumptious snacks.
Street performers add to the lively ambience, and a free coach operates from the Skyrail and Kuranda Scenic Railway station.
Within the market boundaries are three wildlife attractions: Birdworld, Koala Gardens, and the Australian Butterfly Sanctuary.
Address: 2/4 Rob Veivers Drive, Kuranda, Queensland
4. Visit the Australian Butterfly Sanctuary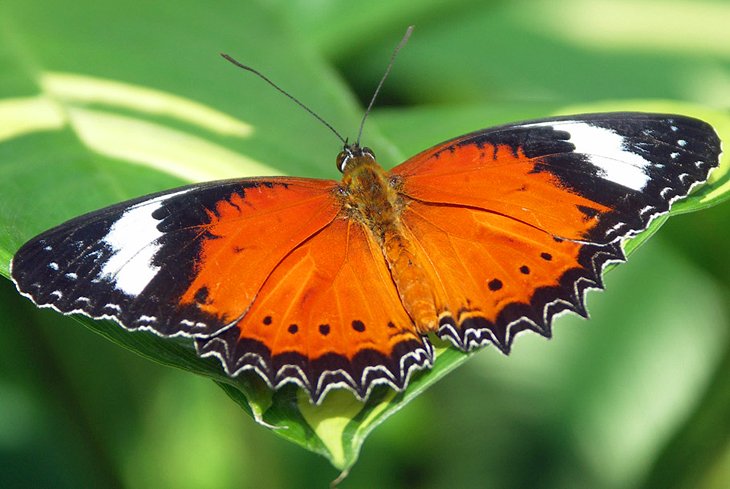 At the Australian Butterfly Sanctuary, the largest such aviary in the country, more than 1,500 tropical butterflies flit through rainforest gardens. You can watch these winged beauties up close, snapping photos and learning about their life cycle. Children love feeling the soft flutter of butterfly wings as they float by.
To get the most out of a visit to the sanctuary, allow at least an hour; the free, guided tours are highly recommended. After wandering through the aviary, you can browse the museum exhibits.
Insider's tip: If you want to act as a landing pad for these delicate creatures, wear bright colors (especially red).
Address: Kuranda Heritage Markets, 8 Rob Veivers Drive, Kuranda, Queensland
Official site: http://australianbutterflies.com/
5. Feed the Parrots at Birdworld Kuranda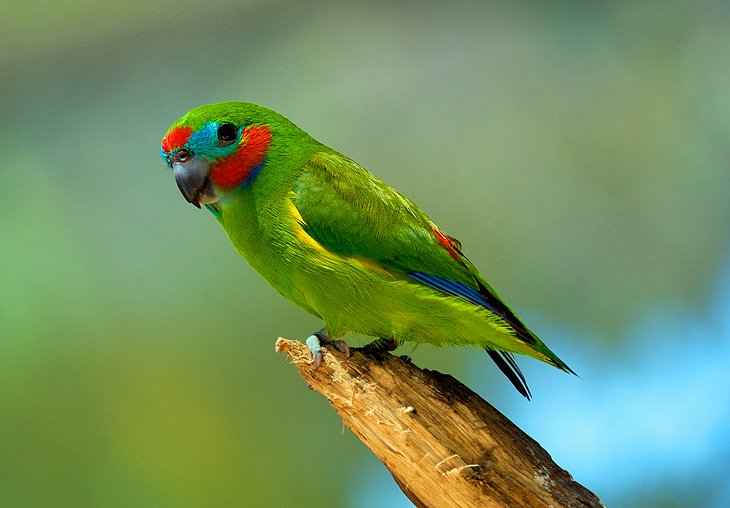 Scarlet macaws, Amazon parrots, cassowaries, and cockatoos are just some of the feathered friends you can meet at Birdworld Kuranda. One of the wildlife attractions within Kuranda Heritage Markets, Birdworld is the largest collection of free-flying birds in Australia.
Photographers will be clicking away on their cameras here, as the birds fly through a recreated rainforest replete with lush plants, cascades, and ponds. Some of the residents even land on unsuspecting onlookers. If you want to feed the birds try to visit early, before they eat their quota for the day.
Address: Kuranda Heritage Markets, Rob Veivers Drive, Kuranda, Queensland
Official site: http://www.birdworldkuranda.com/
6. Cuddle a Koala at Kuranda Koala Gardens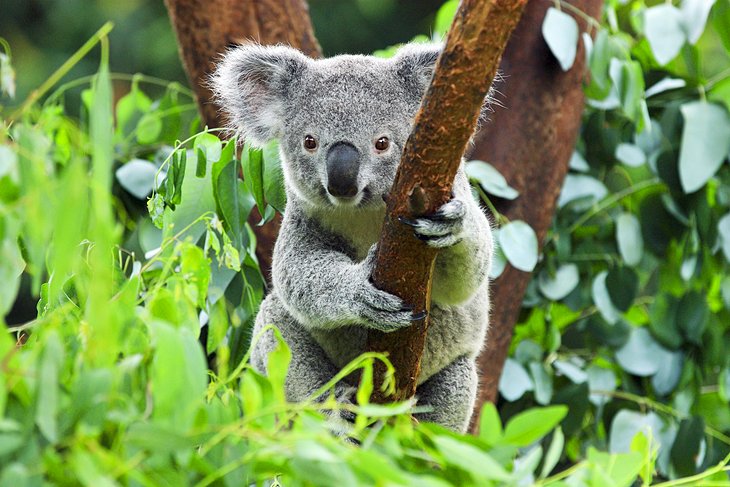 Many animal lovers who visit Australia dream of cuddling a koala, and at Kuranda Koala Gardens, you can tick this off your list. This small zoo within the Kuranda Heritage Markets hosts marsupials, snakes, lizards, and freshwater crocodiles. You can feed the wallabies and kangaroos, watch a wombat show, and (for an extra fee) cuddle a koala or python and score a souvenir photo.
For a more peaceful experience, arrive early in the morning, before the tour buses. The animals are also hungrier in the early morning and more willing to be fed.
Address: Kuranda Heritage Markets, Rob Veivers Drive, Kuranda, Queensland
Official site: http://www.koalagardens.com/
7. Hike to a Waterfall at Barron Gorge National Park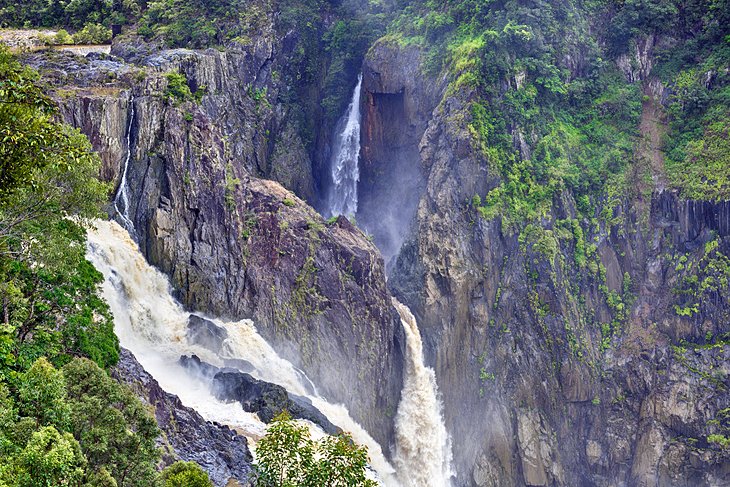 About two kilometers from Kuranda, beautiful Barron Gorge National Park is part of the Wet Tropics World Heritage Area. Historic walking tracks first forged by the Djabugay people who thrived on this land for centuries weave through the dense rainforest. The trails range in difficulty - from short, flat tracks suitable for reasonably fit hikers to ridge walks and challenging trails through vine forests and grasslands.
Keep an eye out for wildlife. Scrub turkeys, musky rat kangaroos, and cassowaries are among the native creatures inhabiting this stunning wilderness area.
One of the park's most striking features is the 260-meter Barron Falls, which roars over the cliff faces during the wet season.
If you want to spend a couple of days exploring this spectacular park, you can access the main features by car. Also consider taking a Barron River Cruise - while you glide down this scenic river, you'll see some of the park's many species of birds, as well as other wildlife such as freshwater crocodiles and turtles. For a scenic overview, hop aboard the Skyrail Rainforest Cableway or the Kuranda Scenic Railway.
Official site: http://www.nprsr.qld.gov.au/parks/barron-gorge/about.html
8. See Aussie Animals at Rainforestation Nature Park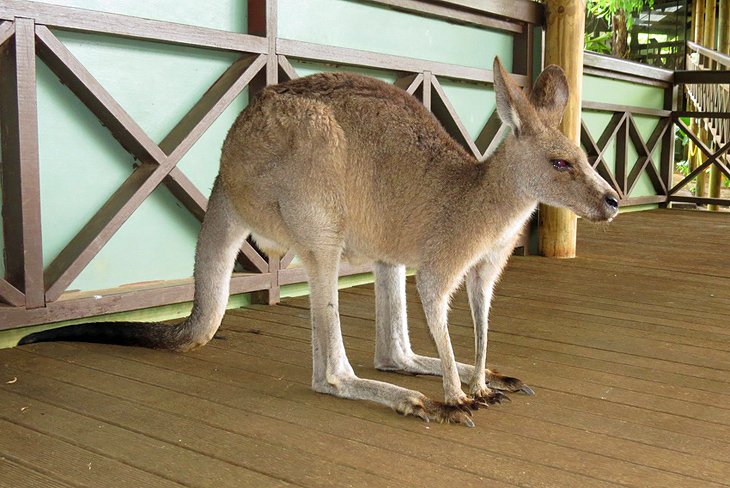 At Rainforestation Nature Park (five minutes from Kuranda), you can view native Australian wildlife, learn about aboriginal culture, and explore the rainforest by both land and sea. An amphibious WWII Army Duck takes you into the rainforest, where guides offer fascinating tidbits about the flora and fauna.
For a dose of culture, you can also enjoy aboriginal dance performances and learn how to fling a boomerang and throw a spear.
Wildlife lovers can visit koalas, kangaroos, dingoes, crocodiles, and cassowaries at the small zoo, and for an extra fee, you can have your photo taken with a koala or croc. Great for those with time constraints, Rainforestation Nature Park is a fun one-stop multifaceted Aussie adventure.
Address: Kennedy Highway, Kuranda, Queensland
Official site: http://www.rainforest.com.au/
9. Explore Kuranda's Art Galleries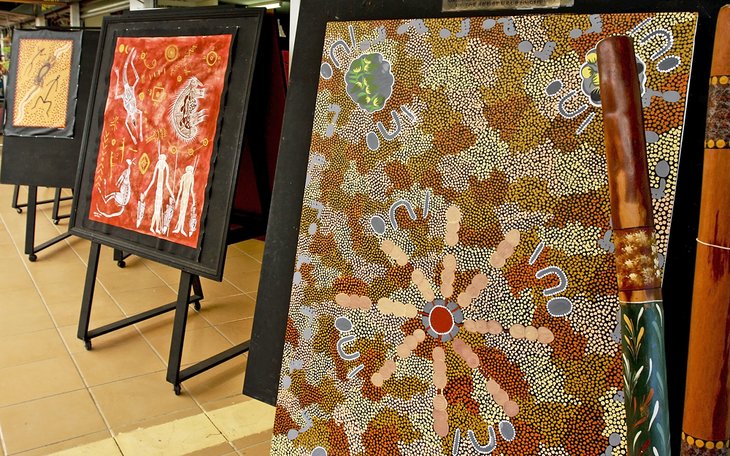 Kuranda has a thriving arts community, and one of the top things to do here is browse the wonderful galleries.
First on your list should be the Peter Jarver Gallery. This talented fine art photographer specializes in Australian landscapes, and it's hard to leave here without purchasing an image to take home. From the tropics to the rainforest and the desert dunes, these images showcase the best of Australia.
Lovers of aboriginal art will find plenty to ogle here, too. Doongal Aboriginal Art Gallery Kuranda features indigenous aboriginal rainforest art, and you can also view works by Central Australian artists. The vast, light-filled gallery space is the perfect place to view vibrant aboriginal paintings and expertly crafted digeridoos, and you can read the story behind each piece here as well. Hoping to purchase a souvenir? You'll be pleased to know the gallery ships purchases domestically and internationally.
Another gallery worth visiting is Terra Nova, specializing in original Australian artworks. You can purchase all kinds of gifts here, including glass jewelry, paintings, pottery, and aboriginal artwork.
Tips and Tactics: How to Make the Most of Your Visit to Kuranda
Purchase a Kuranda Wildlife Experience Pass to visit the three wildlife attractions in the Kuranda Heritage Markets at a discount.
Free Wi-Fi and a café are available at the Kuranda Skyrail station, but you are not allowed to consume food and drink in the gondolas.
Drink plenty of water in Kuranda. The tropical heat saps moisture from the body.
Wear comfortable walking shoes, as well as a hat, sunscreen, and sunglasses for exploring Kuranda village and the nearby rainforest.
Take insect repellent when walking through the rainforest.
Map of Attractions & Things to Do in Kuranda