12 Top-Rated Attractions & Things to Do in Townsville
Down-to-earth Townsville, in the dry tropics of North Queensland, is the largest tropical town in Australia and basks in more than 320 days of sunshine a year. In the town center, high-rises hint at its role as the de facto capital of the region, but it still manages to pull off plenty of touristy charm.
The Strand, a palm-lined promenade skirting Cleveland Bay and its golden-sand beach, is the city's pride and joy. On the pink-tinged headland at one end of this popular walking path, the fascinating outdoor exhibits of Jezzine Barracks trace Townsville's rich military history and Aboriginal heritage.
At the other end of the Strand, Ross Creek is home to the city's port. From here, you can hop aboard a cruise to the World Heritage-listed Great Barrier Reef or take a 20-minute ferry ride to Magnetic Island, with its beautiful bays, bushland hikes, and wild koalas.
Behind the city, 290-meter-high Castle Hill, a pink granite monolith, provides a panoramic lookout for both locals and tourists who love to hike to its peak. Other popular things to do in Townsville include diving one of the world's best wreck dives, exploring marine life at the world-class aquarium, and wandering through the city's beautiful parks and botanical gardens. Start planning your tropical getaway with our list of things to do in Townsville.
1. Stroll along The Strand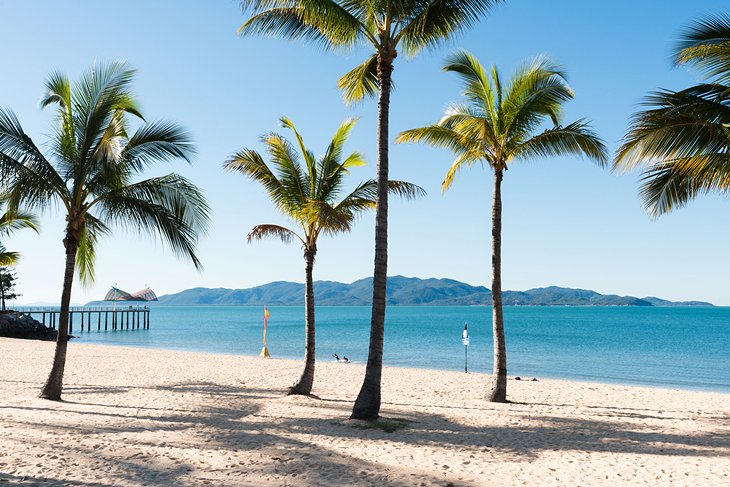 Stretching for 2.5 kilometers along the calm waters of Cleveland Bay, The Strand is a popular beachfront promenade and a magnet for both tourists and locals. This is a great spot to soak up the tropical vibe when you first arrive in town. Coconut palms sway in the breeze, the blue-green waters of the bay beckon beyond the golden-sand beach, and Magnetic Island slouches lazily on the horizon.
Children love the playgrounds and the colorful Strand Water Park, where tipping buckets, mini slides, and sprinklers spritz them on hot days. Adults and kids alike can cool off in the calm lagoon pools or swim in the ocean protected by marine stinger nets.
Biking, jogging, and strolling along the promenade are other popular things to do on The Strand, and you can also fish off the jetty, tone on the outdoor fitness equipment, and kayak or paddleboard in the calm waters. This is also a great spot to enjoy a beach picnic or gelato — plenty of cafés and restaurants are nearby.
Looking for something to do in Townsville at night? The Strand Night Markets take place on the first Friday of the month, from February to December at Strand Park from 5pm to 9.30pm. Come here to buy everything from food and fresh produce to crafts and jewelry.
At the northern end of the Strand, Jezzine Barracks is a popular tourist attraction.
Ferries to Magnetic Island and boat tours to the Great Barrier Reef leave from the marina at the southeastern end of the Strand. You'll also find some appealing options for Townsville accommodation along this prime promenade.
2. Take a Day Trip to Magnetic Island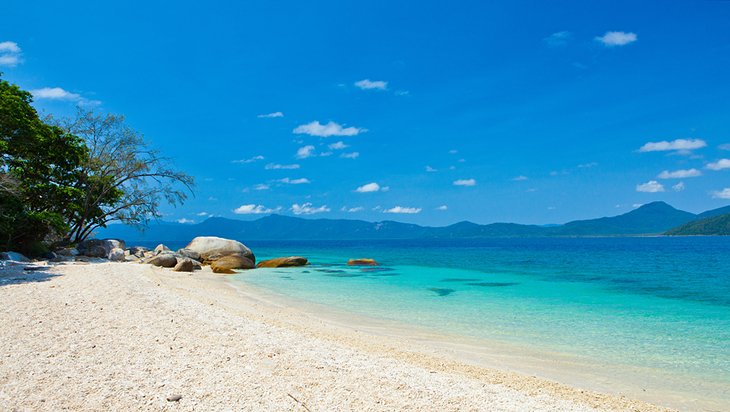 Only eight kilometers off the coast of Townsville, Magnetic Island (affectionately known as "Maggie" by the locals) is technically a suburb of Townsville. True to its name, this rugged and rocky island is one of the top day trips from Townsville, luring many visitors thanks to its beautiful beaches, calm bays, and abundant wilderness areas.
Magnetic Island lies within the Great Barrier Reef World Heritage-listed area, and more than half of the island is national park, with 24 kilometers of scenic walking trails. The Forts Walk is the most famous. Along this 90-minute round-trip hike, you can see intact World War II gun emplacements and a command post, as well as 360-degree ocean views.
Wildlife is a highlight here. Magnetic Island is also one of the best places to visit in Australia to spot koalas in the wild, snoozing in the branches of eucalyptus trees along many of the trails. The island is also home to many other animals and a diversity of birds.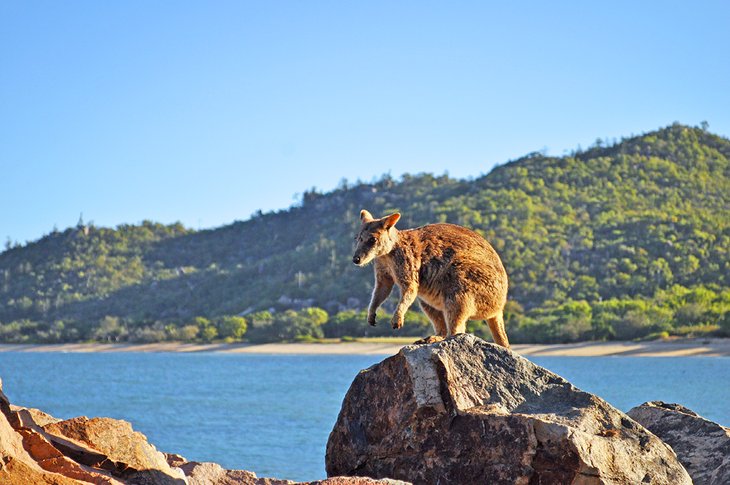 Granite boulders, eucalyptus trees, and towering hoop pines rim the golden beaches, and coral reefs lie just offshore. You can snorkel along a self-guided marked trail at Nelly Bay and Geoffrey Bay, which is also home to a large colony of rock wallabies.
Boat tours to other reefs and beaches are also popular, as many of the bays are inaccessible by land. Other popular things to do on Magnetic Island include horseback riding on the beach, fishing charters, kayaking, and SCUBA diving.
Many travelers stay overnight on the island, so they can spend time exploring all the attractions. Arcadia Village Motel is an affordable choice, steps from the popular swimming area of Alma Bay. Traveling with the kids? Grand Mercure Apartments Magnetic Island offers one-, two-, and three-bedroom units with kitchens, which are ideal for families.
Getting to the island is easy. Ferries from Townsville take about 20 minutes, and once you arrive, taxis as well as car and motor scooter rentals are available. A Magnetic Island round-trip car ferry ticket offers you the convenience of exploring the island in your own vehicle and takes approximately 40 minutes.
3. Climb Castle Hill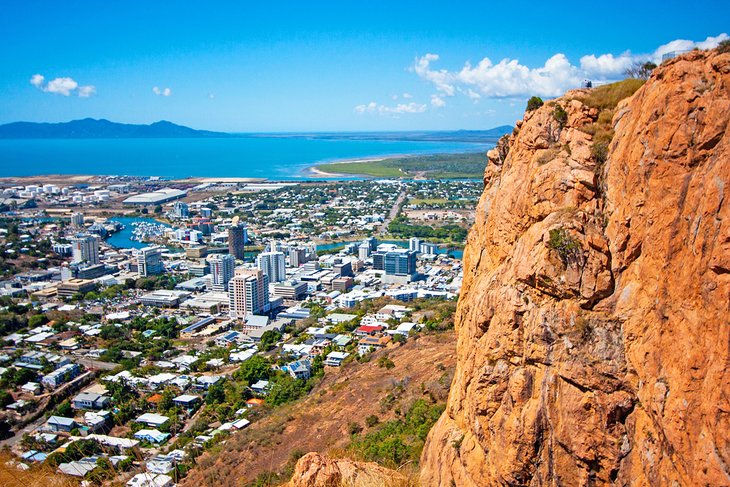 In the center of Townsville, Castle Hill is the city's most prominent landmark. It's a 290-meter-high granite monolith with beautiful 360-degree views from its peak. You can see all the way across the city and beyond the curvaceous coastline to Magnetic Island, or look inland over the patchwork of fields and houses.
Walking tracks lace the hill, and many visitors and locals hike the trails to the top as part of their daily exercise routine. Depending which trail you use, the one-way trip averages about a kilometer, but you can also drive up if you're feeling lazy.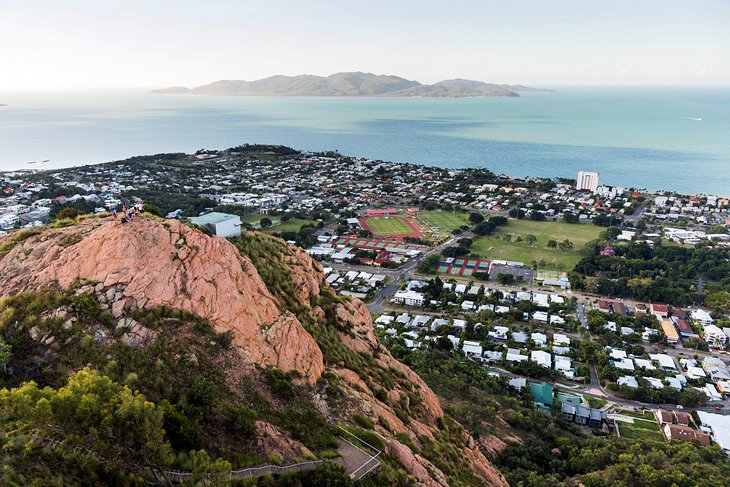 Castle Hill has an interesting history. During World War II, American soldiers used the hill as a lookout point and reputedly offered to destroy it and repurpose the rock to build a bridge to Magnetic Island. Thank goodness this never came about, because today the hill is one of the city's most popular tourist attractions.
For Townsville views from a different perspective, head to Mount Stuart Lookout, about a 30-minute drive towards Charters Towers. It's a nine-kilometer drive or hike to the top. Along the way, keep an eye out for rock wallabies and a colorful panoply of butterflies.
Insider tip: If you're hiking up, it's best to time your outing for the early morning or late afternoon when the temperatures are cooler.
4. Cuddle a Koala at Billabong Sanctuary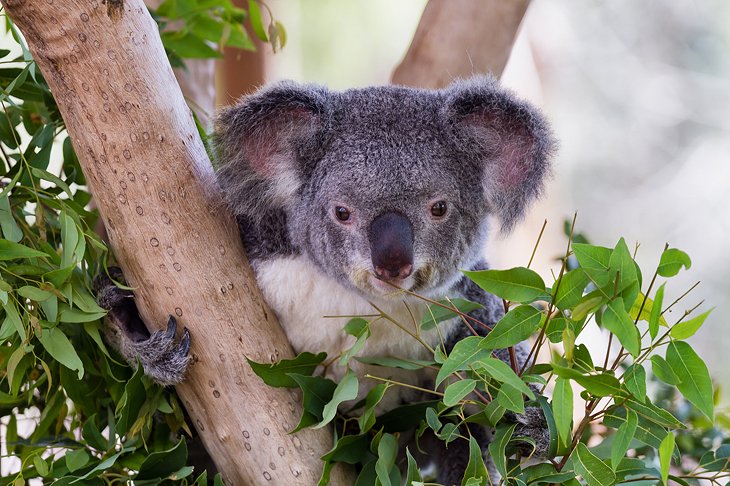 Billabong Sanctuary is home to a lovable cast of native Aussie animals. You'll find koalas, kangaroos, cassowaries, crocs, dingoes, wombats, and more here. Best of all, you can get up close with many of these animals, interact with them, and pose for photos.
Highlights include cuddling koalas and wombats, hand-feeding kangaroos and wallabies, and holding one of the reptiles. Regular shows and keeper talks run throughout the day, including a croc feeding show and free-flight bird show, so you can learn about the animals and see them in action. This is a great day out for the whole family — especially children.
Location: 17 kilometers south of Townsville on the Bruce Highway
Official site: http://www.billabongsanctuary.com.au/
5. Jezzine Barracks & the Army Museum North Queensland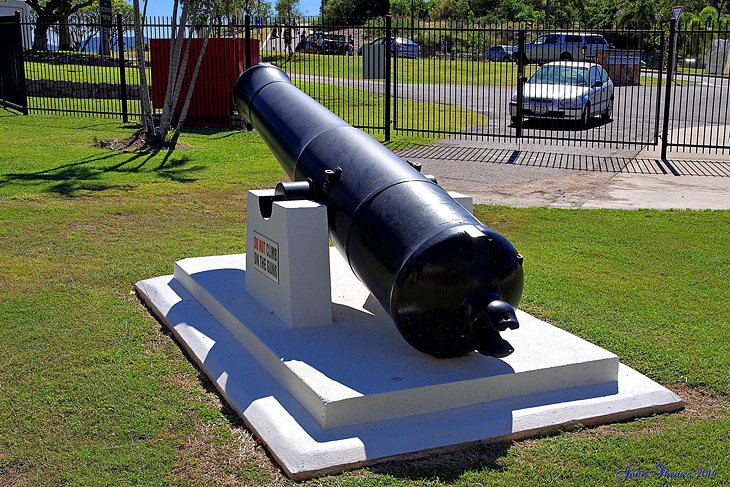 Jezzine Barracks provides an overview of the region's fascinating military history and Aboriginal heritage. Located in a beautiful seafront setting on Kissing Point headland, at the northern end of the Strand, this is a beautiful spot to stroll in the sunshine and soak up some of the stories that helped shape this town.
The centerpiece of this 15-hectare precinct is the restored Kissing Point Fort, which has been in continuous use from 1885 through 2006 and played a key role in Australia's defense. From the observation decks here, you can admire beautiful views over The Strand, the city, and the sea.
The Wulgurukaba and the Bindal people are the traditional owners of the land, which they called Garabarra. Learn about their culture as you stroll the coastal boardwalks with art installations and interpretative signs. The ethnobotanical trail displays traditional Aboriginal plantings, and kids can burn off steam in the playground.
The walking trail can be quite hot in the middle of the day, so it's best to time your visit for earlier in the morning or in the late afternoon.
Also part of the complex is the free Army Museum North Queensland, with excellent exhibits on the history of the Australian Army in North Queensland and related military conflicts, including the Boer War, WWI, WWII, the Vietnam War, and the Korean War. Friendly volunteer docents lead informative tours throughout the three galleries.
Address: Mitchell Street, North Ward, Townsville, Queensland
Official site: https://www.amnq.org.au/
6. Snorkel or Dive on the Great Barrier Reef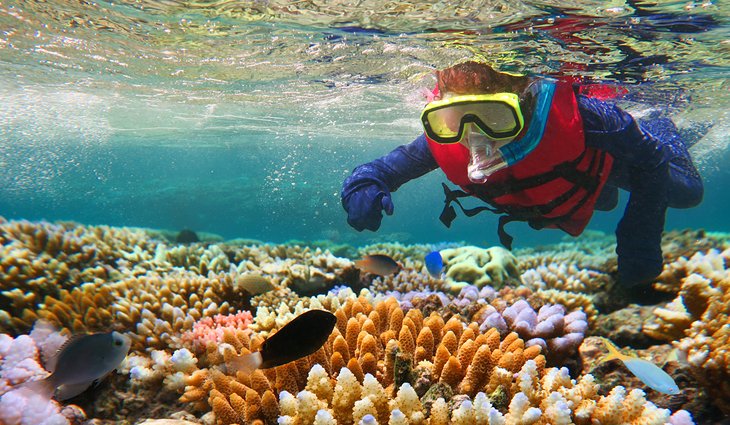 Townsville is a popular jumping-off point for visiting the World Heritage-listed Great Barrier Reef, one of Australia's most precious tourism treasures. Day trips typically include a 2.5-hour boat ride to a nearby reef, where you can snorkel or dive with sea turtles, stingrays, reef sharks, Maori wrasse, and a dazzling diversity of other marine life among the colorful coral reefs.
Adrenalin Snorkel and Dive travel to John Brewer Reef. During peak season, Remote Area Dive offers diving and snorkeling day trips to Pelorus and Orpheus Islands.
Read More: Seven Natural Wonders of the World
7. Spend a Day at Riverway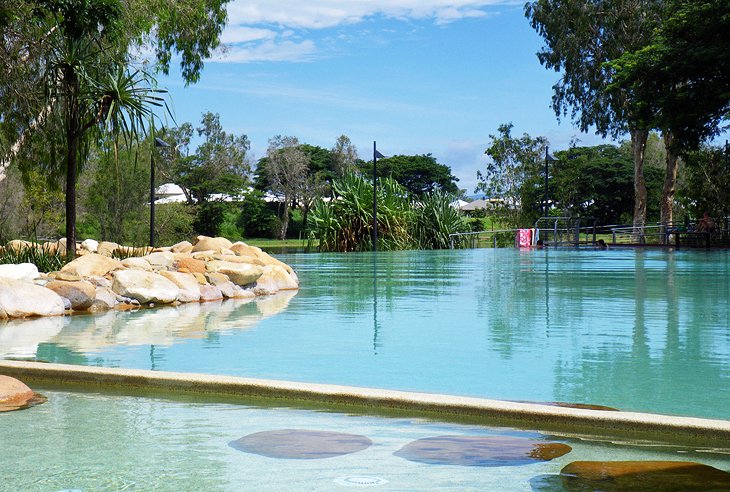 Riverway is a new development on the banks of the Ross River, with plenty of parklands, a shady boardwalk along the river, and cultural and sporting venues. This is a great place to visit with the family for some active fun.
Popular things to do at Riverway include taking a dip in the free lagoon pools; enjoying a barbecue or picnic on the riverfront; and strolling, biking, or jogging along the shady promenade. Kids love looking for turtles and ducks in the river, and you might even spot a wallaby. Markets and free alfresco movie nights add to all the fun.
Want to catch a game? Riverway stadium hosts AFL and cricket matches. Art lovers appreciate the gallery and public art trail, and if you work up an appetite, you can enjoy a meal in the café.
Riverway is also dog-friendly, so you can bring your furry friend along for all the fun, as long as it is on a leash.
8. Museum of Tropical Queensland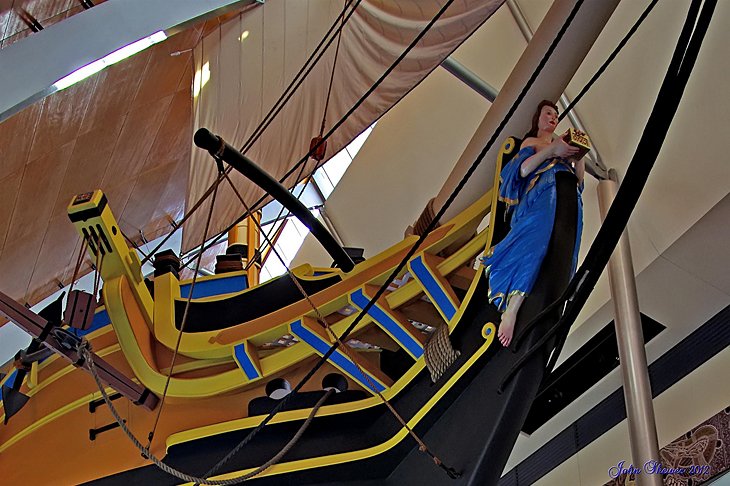 Looking for things to do with the family in Townsville? The excellent Museum of Tropical Queensland is a great option. Packed full of engaging interactive exhibits that keep both kids and adults engaged and entertained, this excellent museum deals with all things related to tropical Queensland, from prehistoric times to today.
A favorite is the HMS Pandora exhibit. It tells the story of this historic ship that was sent to capture the Bounty (of mutiny fame), but sank off the coast of Cape York in 1790. The wreck was discovered again in 1977, and artifacts in this exhibit shed light on the crew and 18th-century maritime life.
Other highlights include exhibits on antique diving equipment and tropical Queensland's diverse ecosystems. Children will love the shipwreck adventure and the Enchanted Rainforest, with fun features like rope bridges and slides, where they can learn about this dense ecosystem and its diverse plants and animals.
The museum also hosts visiting exhibitions on intriguing subjects, from immigrants to dinosaurs.
Address: 70 - 102 Flinders Street, Townsville, Queensland
Official site: http://www.mtq.qm.qld.gov.au/
9. Hop aboard a Whale Watching Tour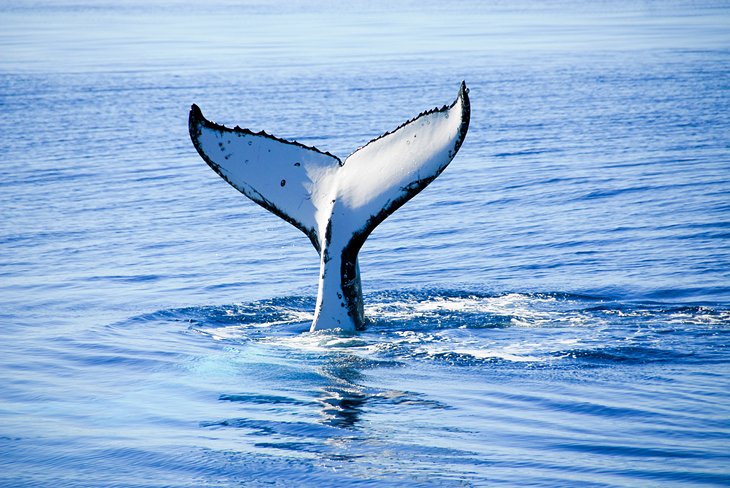 Seeing a humpback whale breach from the water is an unforgettable sight. Sign up for a whale watching cruise near Townsville, and you have a good chance to tick it off your sightseeing list. From July through September, humpback whales swim the warm waters around the Palm Islands, just north of Townsville.
Depending on conditions, tours typically cruise along the waters off Townsville, around Magnetic Island, and in the sheltered bays of the Palm Islands in search of these gentle giants. Most include morning or afternoon tea.
A marine biologist leads tours operated by Townsville Whale Watching, and SeaLink also operates whale watching tours with an expert commentary. No matter which tour you take, you also have the opportunity to spot other wildlife, including turtles, dugongs, different species of dolphins, and seabirds.
10. Wander through the Botanic Gardens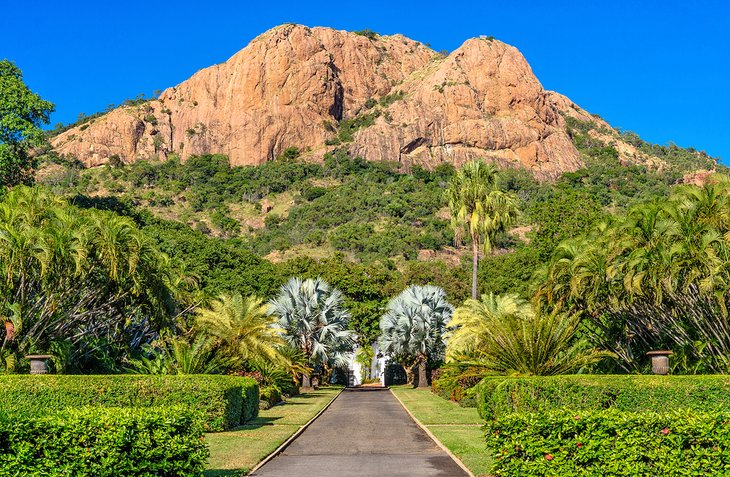 Blessed with plenty of sunshine and tropical rain, it's no surprise that Townsville is home to not just one, but four beautiful gardens.
Near the Ross River, Townsville Palmetum hosts one of the largest public collections of palms in the world. It displays around 300 species of palms, including most of Australia's 60 species, and it's a great spot for bird-watching. Highlights include the rainforest walk and the beautiful lily-topped pond. This is also a popular place to enjoy high tea at Tumbetin Lodge.
At the foot of Castle Hill, heritage-listed Queens Gardens, established in 1870, is Townsville's oldest botanical garden and an excellent example of a tropical colonial garden. Its focus is on ornamental plants, in particular those with eye-catching flowers, foliage, and fruit. Paved walking paths wind through lush palms, frangipani trees, fig trees, cactus, wild ginger, and roses. Kids love the playground.
Anderson Garden is the city's largest garden, with 25 hectares of palms, cycads, an extensive collection of pandanus, and a tropical orchard. This is the only botanic garden in Townsville open to vehicles.
About a 20-minute drive inland, Dan Gleeson Memorial Gardens is not technically a botanic garden but it's a beautiful picnic spot. Come here to stroll or relax among the ponds, perfume gardens, native and exotic plantings, and water features. If you're looking for things to do in Townsville for couples, this is a romantic place to spend an afternoon. Keep an eye out for the colony of fruit bats clinging to the trees.
11. Dive the SS Yongala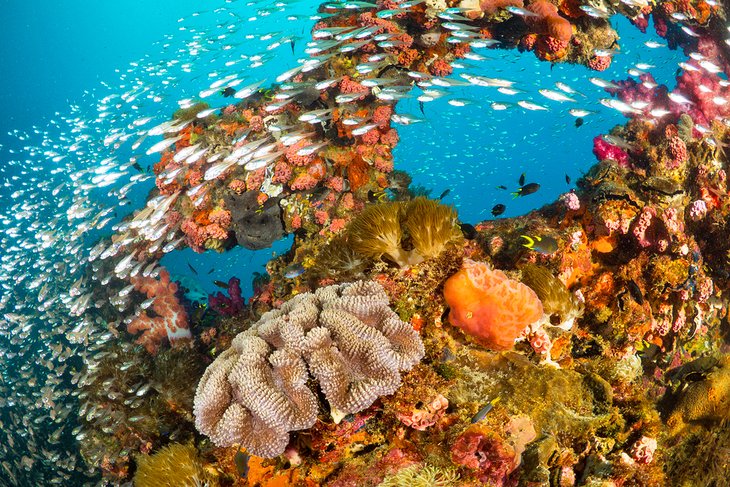 On 23 March 1911, the passenger ship SS Yongala sailed north from Mackay en route to Cairns, but would never reach its intended destination. With no wireless radio on board and only lights to communicate with the mainland, the captain had no knowledge of a cyclone (hurricane) brewing in the region. The storm struck the ship full force and sunk her just south of Townsville, sending all 122 passengers to their death. The ship lay undiscovered for almost 50 years, before divers found it in 1958.
Today, the SS Yongala is one of the world's most famous wreck dives. It's home to a startling density and diversity of sea life, including turtles, rays, sharks, sea snakes, barracuda, grouper, and large schools of trevally.
12. Find Inspiration at the Perc Tucker Regional Gallery
Craving an art fix in the tropics? Head to the Perc Tucker Regional Gallery downtown. Residing in an elegant old heritage building, this impressive gallery focuses on North Queensland artists, including Aboriginal or Torres Strait Islanders, but you can also admire the works of both national and international touring exhibitions. There's always something new to see.
Awards and special exhibitions celebrate talented artists in their fields. In particular, the gallery hosts The Percivals, North Queensland's biennial portrait competition, as well as the North Queensland Ceramic Awards, showcasing both famous and emerging artists.
Wandering around the air-conditioned rooms in this impressive little gallery is a wonderful way to find some inspiration and escape the heat on a hot, sticky day. Add this to your list of the best free things to do in Townsville.
Address: Corner of Denham and Flinders Streets, Townsville, Queensland
Official site: https://www.townsville.qld.gov.au/facilities-and-recreation/theatres-and-galleries/perc-tucker-regional-gallery
Map of Attractions & Things to Do in Townsville
Townsville, Australia - Climate Chart
Average minimum and maximum temperatures for Townsville, Australia in °C
J
F
M
A
M
J
J
A
S
O
N
D

31

24

31

24

31

23

30

21

28

18

25

15

25

14

26

15

28

18

29

21

31

23

31

24

PlanetWare.com
Average monthly precipitation totals for Townsville, Australia in mm.

244

231

175

61

41

20

10

13

10

25

56

147