9 Best Islands in the Whitsundays
Author Karen Hastings and photographer Brian Hastings have island-hopped around the Whitsundays multiple times, including a recent visit in October 2022.
Welcome to Paradise! Rimmed with pure-white, powder-soft sand lapped by turquoise water, the idyllic Whitsunday Islands reside along the World Heritage-listed Great Barrier Reef. These tropical beauties are one of the highlights of visiting Queensland, and are a must-see on your Aussie travel itinerary.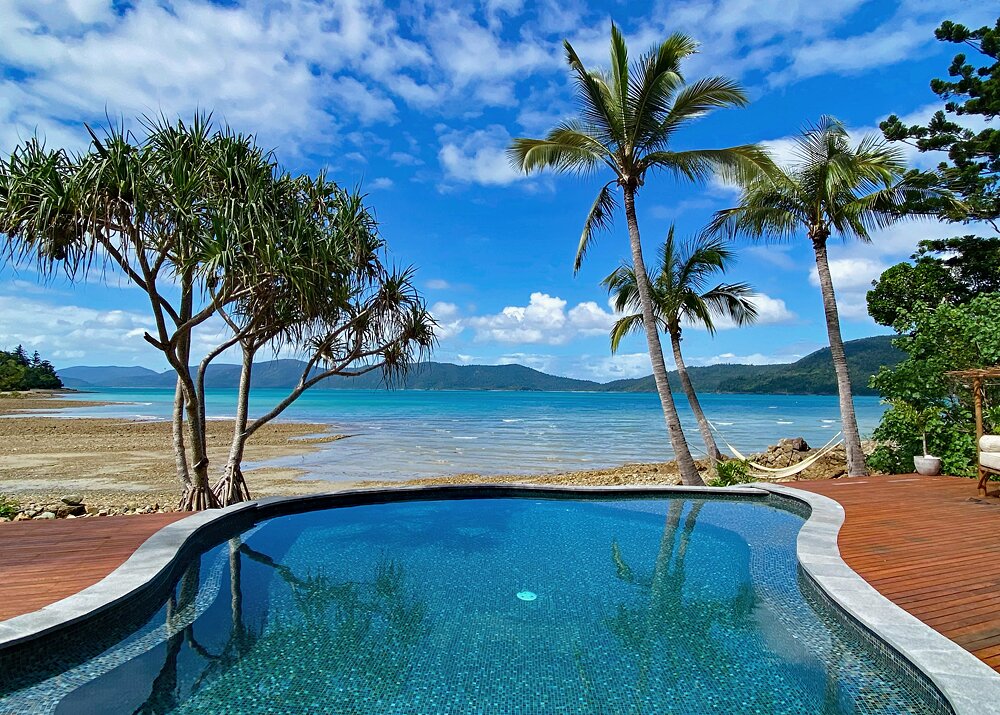 Whitsunday Islands National Park protects about 30 of these 74 lush islands; four are home to popular resorts; and the others look much like they did thousands of years ago, after rising seas drowned this former coastal mountain range.
Lovers of water sports and nature will be in heaven. Top things to do in the Whitsunday Islands include diving and snorkeling the reefs, swimming and basking on bliss-inducing beaches, hiking the nature trails, fishing, and island hopping on a boat.
You can also explore the islands on the Ngaro Sea Trail, a network of hiking trails and seaways through important Indigenous sites of the islands' first inhabitants, the Ngaro people.
The Whitsunday Islands are also among the world's best sailing destinations — Airlie Beach and Shute Harbor are the main launching points for bareboat adventures.
But where should you go first? Read on for the lowdown on the best islands in the Whitsundays.
1. Whitsunday Island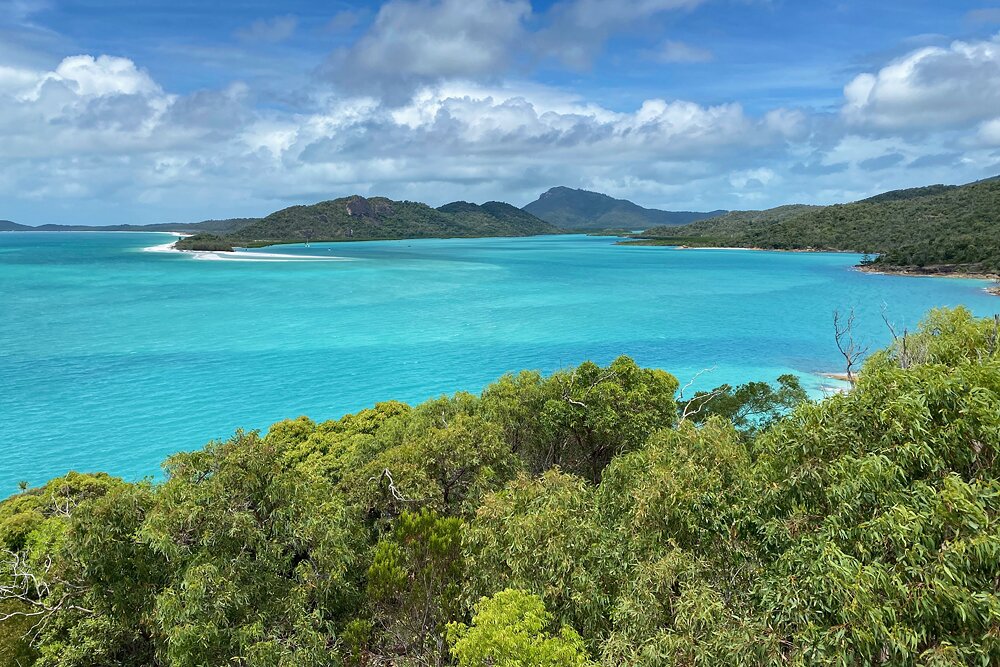 Whitsunday Island tops our list because of its major wow factor: spectacular Whitehaven Beach.
This sublime seven-kilometer mingling of pure white sand and turquoise sea is one of the best beaches in Australia — if not the world. Lay eyes on it from the lookout, slip into the silky sea, and lie on its powder-soft silica sand, and you'll know why.
Elsewhere such a beautiful island might be marred by massive resorts. Not here. In fact, Whitsunday Island is blissfully uninhabited.
Protected by Whitsunday National Park, this is the largest island in the Whitsunday group, but most visitors only experience a small sliver of it. Day trippers come here to hike up to a series of lookouts over Hill Inlet, where shifting tides create a Rorshach-like masterpiece. From above, it looks like an abstract watercolor painting, awash in hues of electric blue marbled with dazzling white.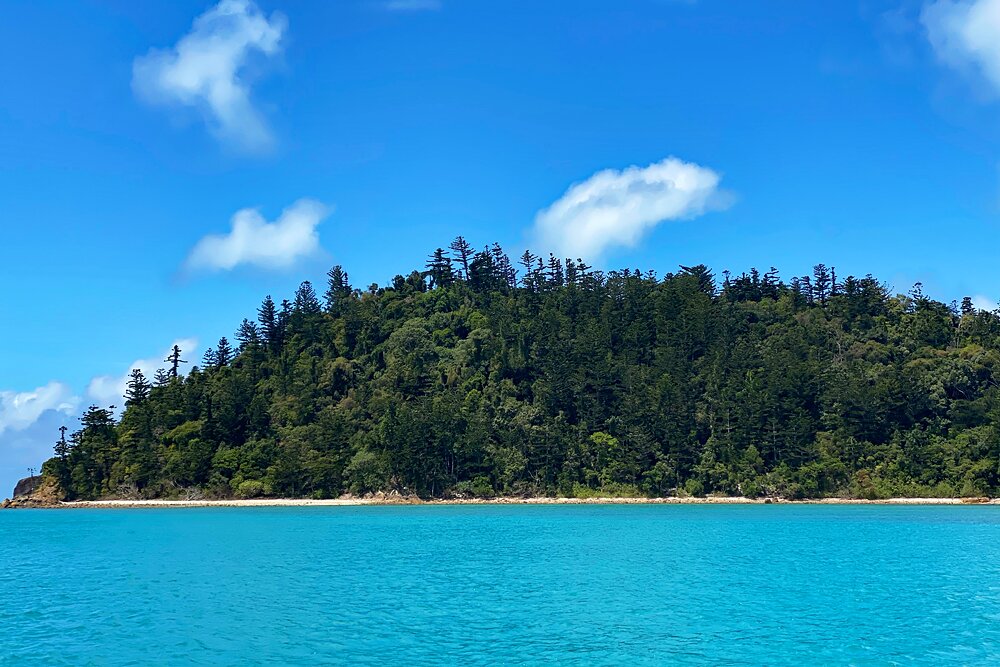 Want to stay a bit longer? You can visit on a boat — public moorings are available in Tongue Bay. Alternatively, you can pitch a tent at several basic campsites on the island.
Whitsunday Island is also part of the Ngaro Sea Trail, a network of hikes and paddling routes around the islands. Visit the national parks website for maps and routes.
But if you only have a day, the Whitehaven Beach and Hill Inlet Lookout Full-Day Snorkeling Cruise is a great way to see the highlights. On this full-day tour, you'll zoom out to the island on a high-speed catamaran, hike up Hill Inlet, spend time on the beach, and snorkel the surrounding reefs.
2. Hamilton Island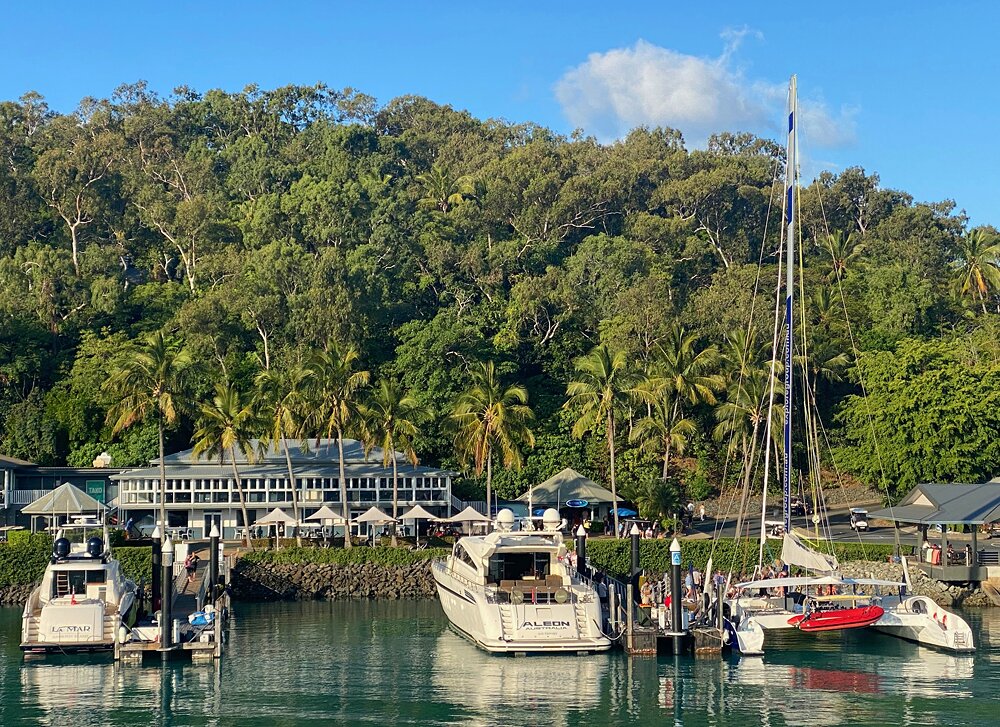 Hamilton Island has something for everyone. As the most developed of the Whitsunday Islands, this favorite Aussie holiday destination offers a diverse range of accommodation and tourist attractions. It's the only Whitsunday Island with a commercial airport, making it easy to start your holiday as soon as you step off the plane.
The top things to do in Hamilton Island cater to all ages. Dine at one of the restaurants in the marina, browse the shops, ogle paintings at Hamilton Island Art Gallery, play golf or tennis, hike the trails, or just bask on beautiful Catseye Beach — not to mention reef trips and all the usual Whitsundays water sports. The best way to explore the island is in a golf cart, the main mode of transport.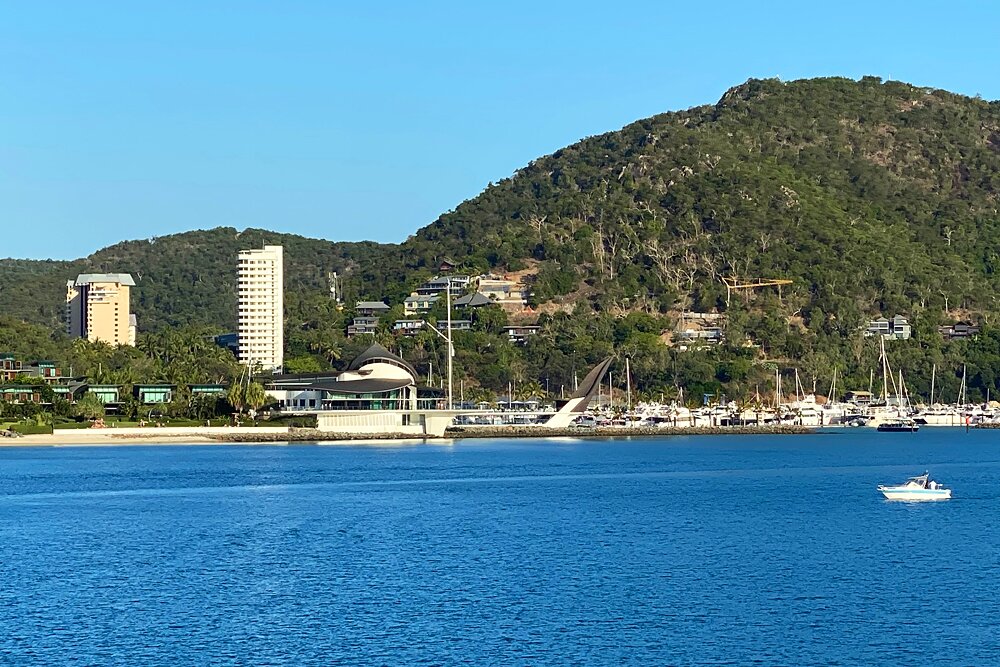 Hamilton Island is also one of the best islands in the Whitsundays for families. Kids can get up close to iconic Aussie critters at Hamilton Island Wildlife, go bowling, and get their speed fix at the go-kart track.
Wondering where to stay? Hamilton Island accommodation suits most budgets, from the luxury Qualia Resort on Hamilton's northern tip to family-friendly apartments, yacht club villas, and palm-shaded bungalows. Wherever you stay, keep a lookout for the island's wild cockatoos and rainbow lorikeets — they often make an appearance on your balcony.
Getting to Hamilton Island is easy. Direct flights operate from major Australian cities, and frequent ferries can whisk you here from Airlie Beach in about 30 minutes.
3. Hayman Island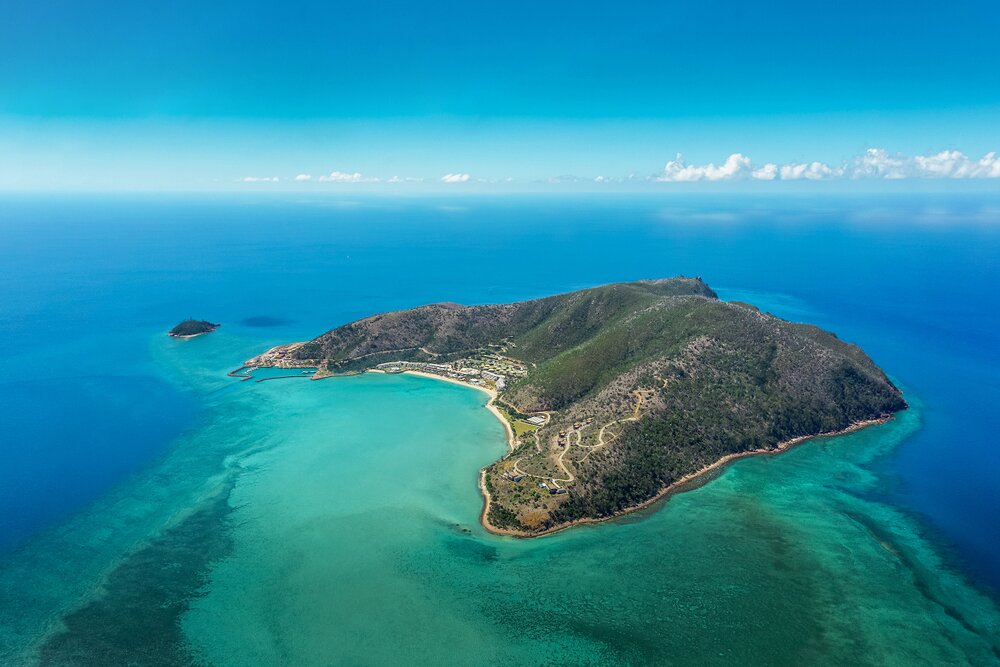 If you're seeking a luxury tropical island hideaway, Hayman Island ticks all the boxes.
The northernmost of the Whitsundays' inhabited islands, Hayman Island is no stranger to hosting guests. It was one of the first islands on the reef developed for tourism in part due to its rich natural beauty. Emerald rainforests, rocky coves, and ravishing palm-lined beaches greet visitors here, as well as one of the best resorts in the Whitsundays.
Hayman Island is home to the sumptuous five-star InterContinental Hayman Island Resort overlooking an idyllic slice of white-sand beach and a huge lagoon-style pool.
When you're not living it up at the resort or taking trips to the reef, you can kayak around the clear waters, swim, sail, hike the trails, or golf on the driving range.
If you're wondering how to get to Hayman Island, lucky guests here usually arrive by seaplane, helicopter, or luxury yacht.
4. Hook Island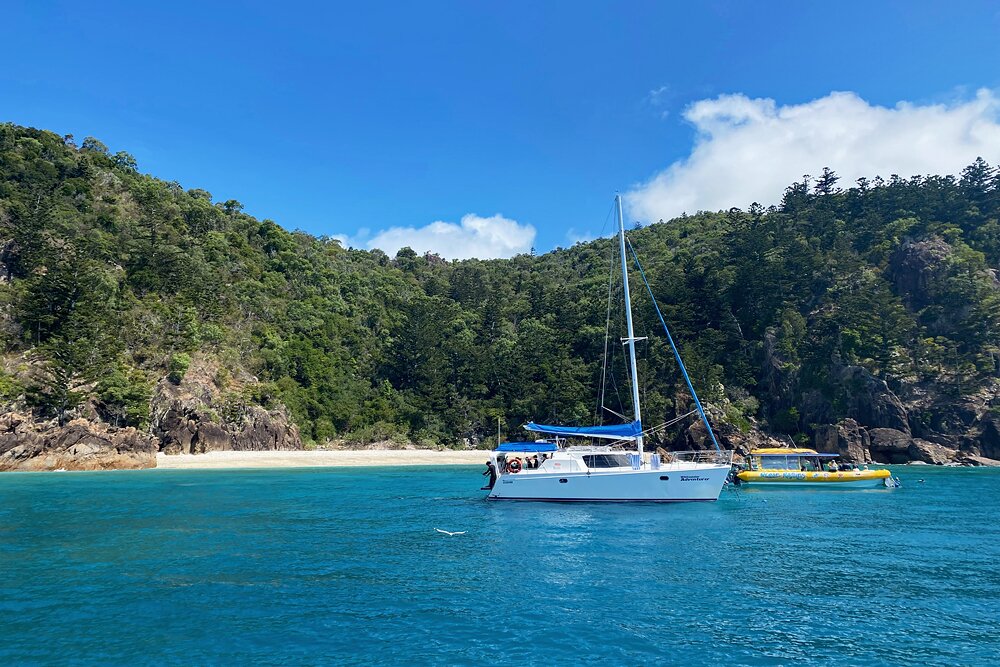 Heavenly Hook Island is a nature-lover's Eden. Ringed by thriving reefs, this rocky, rugged island offers some of the best snorkeling and scuba diving in the Whitsundays. In fact, it's one of the most popular places to visit for snorkeling stops on day trip tours.
Hook Island is also the second largest island in the Whitsundays, and offers some of the best anchorages among all the islands.
If snorkeling and diving are your preferred activities, you'll have plenty of choice here. Manta Ray Bay has a vast array of fish, from giant trevally to Maori wrasse, batfish, and parrotfish. Local tour guides call it "the aquarium."
Cockatoo Point has some of the best coral in the Whitsundays. Here, you can embark on a rewarding drift snorkel over vibrant gardens of staghorn coral, plate coral, and clusters of feathery soft corals. Wrasse Bay, Luncheon Bay, Maureen's Cove, and Butterfly Bay are other popular snorkeling spots and anchorages.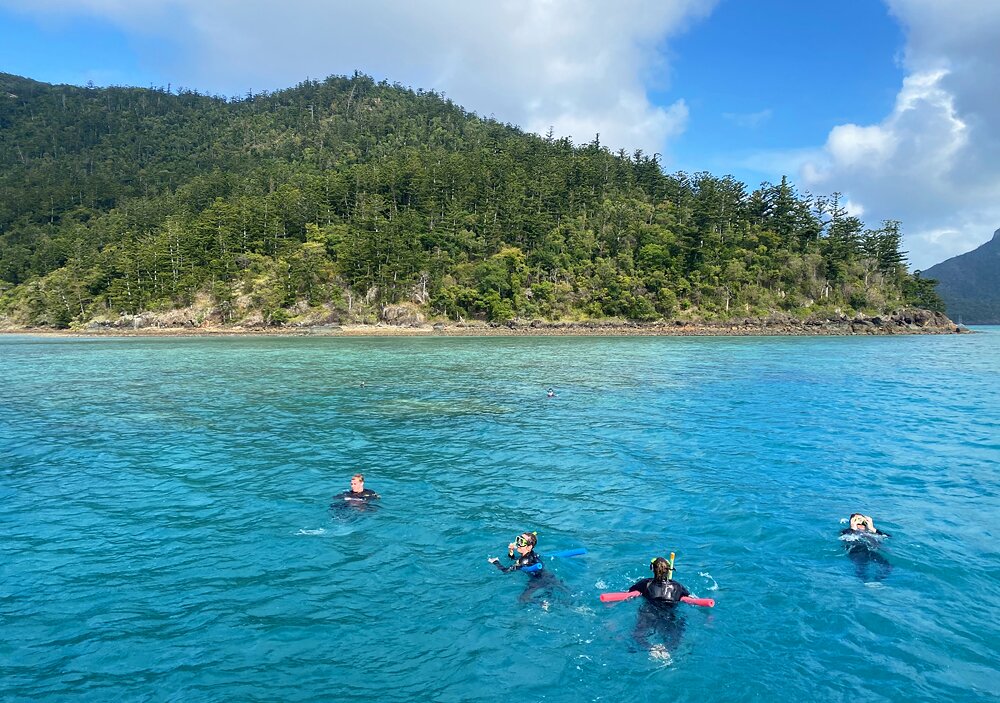 But perhaps the best anchorage spot is Nara Inlet. Located on the south coast, this long, fjord-like inlet offers excellent protection from the elements. It's also home to a unique Whitsunday attraction: From here, you can hike to ancient Aboriginal cave paintings, evidence of the Ngaro people, who were the island's first inhabitants. And, after heavy rains, you can also visit a beautiful waterfall.
Other things to do on Hook Island include hiking the rainforest trails and fossicking on coral-strewn beaches. Hook Island is also part of the Ngaro Sea Trail.
You won't find any resorts here, but camping on Hook Island comes with gorgeous vistas. Maureen's Cove, Steen's Beach, Crayfish Beach, and secluded Curlew Beach all offer basic campsites with picnic tables and composting toilets, but you'll have to bring plenty of fresh water.
5. Long Island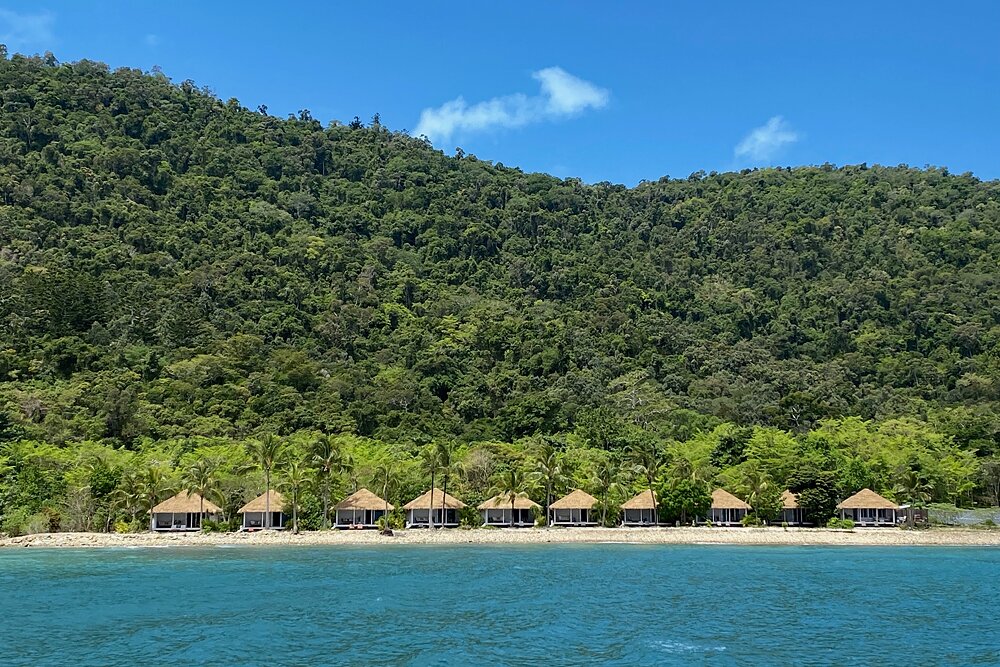 Long Island is one of the best islands in the Whitsundays for couples who love nature. You'll find two intimate resorts here nestled on their own peaceful bays.
Honeymooners love to hide away at the adults-only eco-chic Elysian Retreat. This unique 5-star resort is the first 100 percent solar-powered resort in the Whitsundays, and with a maximum of only 20 guests, it makes the perfect intimate island retreat. Guests here love to kayak around the bay, swim in the magnesium infinity pool, snorkel, and feast on mouthwatering meals prepared by the chef using produce from the resort's organic garden.
The four-star Palm Bay Resort is great for those who want the option to cook their own meals. The Balinese-style villas, suites, and houses here nestle among palm trees on the bay.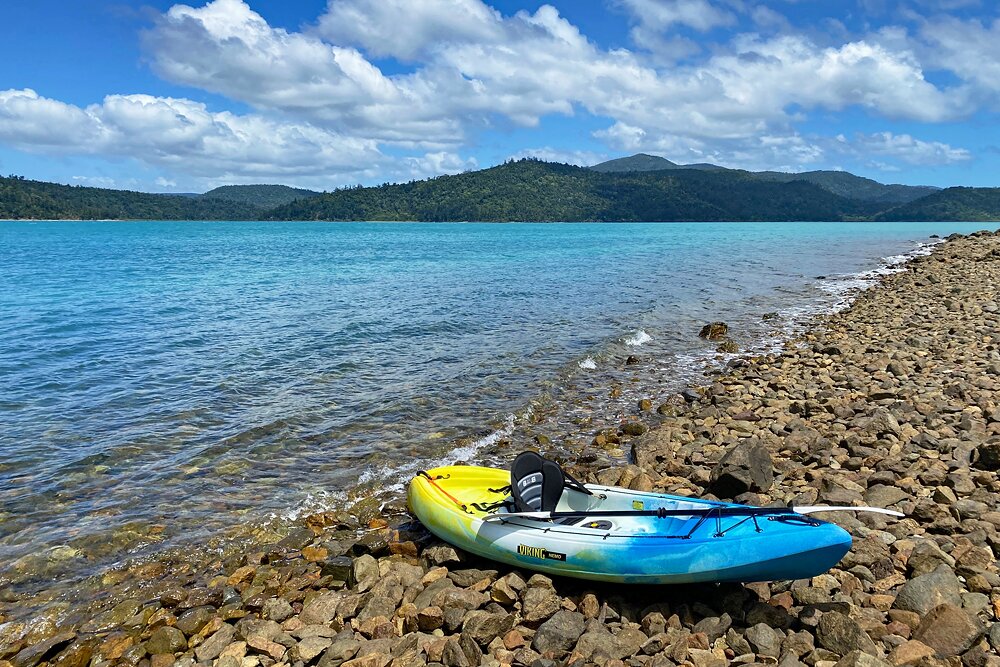 National park protects most of the island, and fringing reefs lie just offshore. Plus you can explore the island on more than 13 kilometers of walking tracks. If you're bringing your own boat, you'll find secluded coves for safe anchorage.
A bonus of Long Island is its easy access. It's the closest island to the mainland at only 20 minutes by boat from Shute Harbour.
6. Daydream Island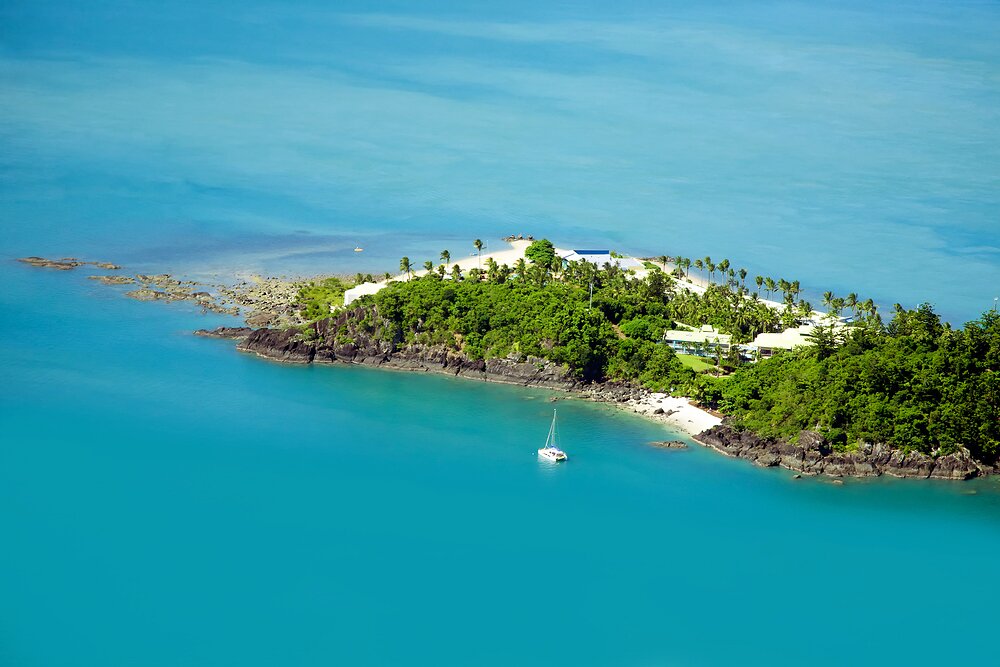 Daydream Island is one of the best islands in the Whitsundays for families. It's the smallest island in the group, but it manages to pack in plenty of attractions despite its size.
You'll only find one resort here, the family-friendly four-star Daydream Island Resort, which takes up most of the island. It's a paradise for kids and adults of all ages.
At center stage is a vast Living Reef coral lagoon, filled with tropical fish, stingrays, starfish, sea cucumbers, and small sharks. Kids can get up-close to all the critters at the touch tanks and the Underwater Observatory and then head out to see them on a Great Barrier Reef trip.
But that's not all. Enticing lagoon-style pools, a luxury spa, marine biologist talks, an action-packed kids' club, an array of water sports, and rainforest walks complete the many things to do at this family-friendly resort. You'll never be bored here.
Luckily Daydream Island is one of the closest to the mainland, so it's only a quick ferry ride from Airlie Beach.
7. South Molle Island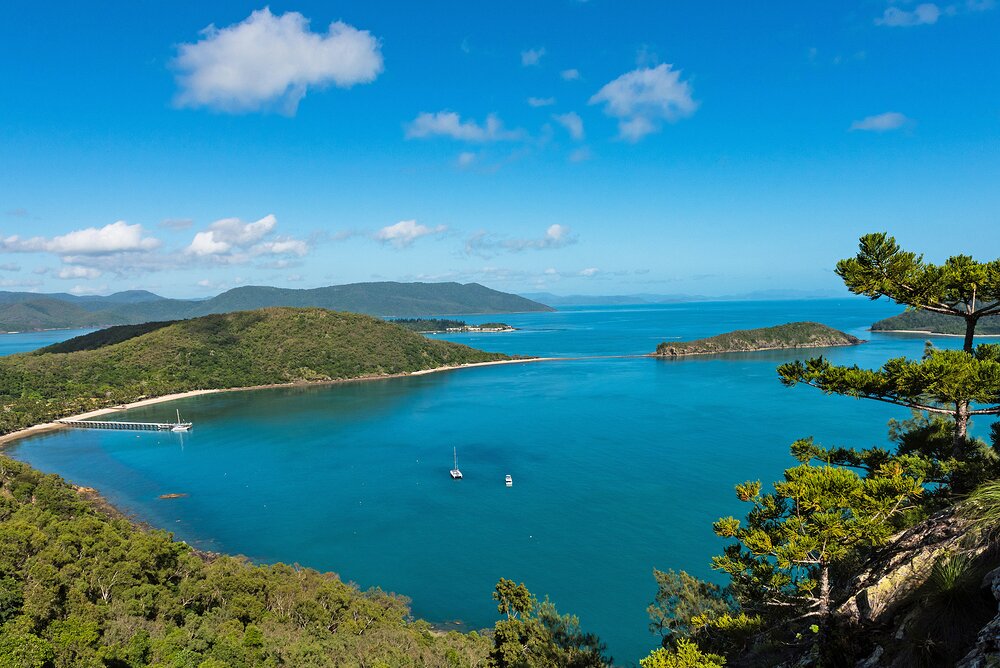 Lovely, undulating South Molle Island lives long in the memories of older Aussies as a favorite holiday destination. Part of the Molle group, it once hosted a popular resort, which was all but destroyed by cyclone Debbie in 2016. Plans are afoot to rebuild it, but even without the resort, you'll still find plenty to love here.
Frolic on the beautiful white-sand beaches, snorkel the fringing reefs, and hike along 14 kilometers of walking trails through rainforests and rocky coves. Birders will enjoy spotting some of the island's many species, from rainbow lorikeets to the quirky bush stone curlews.
South Molle Island is also one of the few Whitsunday islands where you can mountain bike.
But how do you get here? If you don't have your own boat, you can organize a private boat transfer from Airlie Beach or Shute Harbor. It takes about 30 minutes.
Though you can no longer rest your head at the comfortable resort, you can stay overnight at two South Molle campgrounds: Sandy Bay in the south of the island and Paddle Bay.
South Molle Island is also part of the Ngaro Sea Trail.
8. Haslewood Island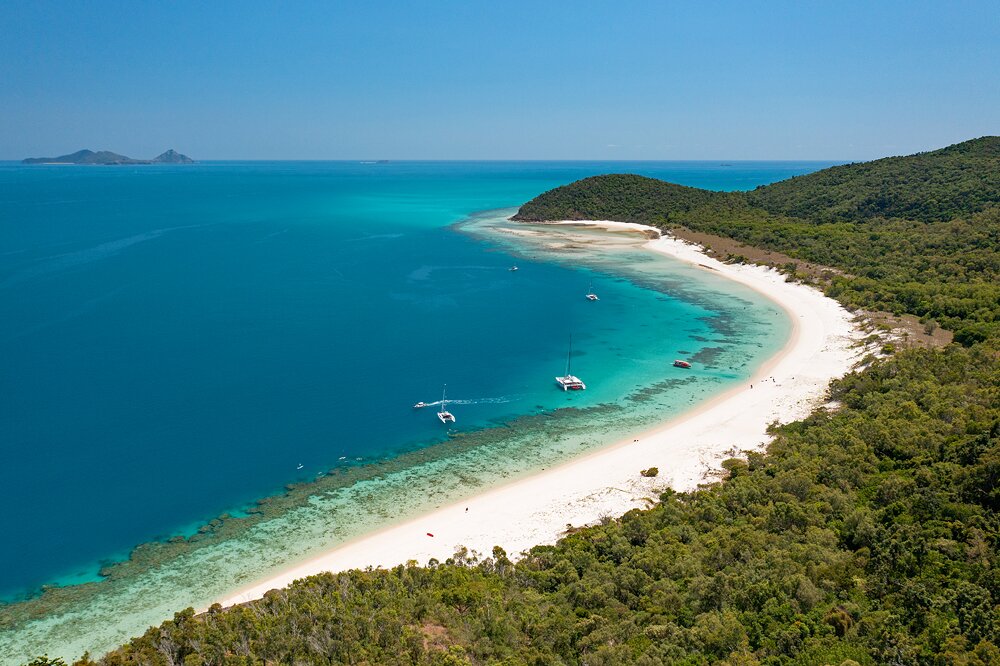 If you've always wanted to find a beach as beautiful as Whitehaven without the crowds, we have a little secret to share.
Haslewood Island, a neighbor of Whitehaven's more popular Whitsunday Island, is home to just that: Chalkies Beach. Here, you'll find the same silky soft silica sand and blissful blue waters without all the swarms of tourists. But Shhhh! Don't tell anyone!
Other things to do here include fishing, swimming, and snorkeling in the clear waters and hiking the 300-meter Haslewood Island Lookout trail for beautiful views over to neighboring Whitehaven Beach. Keep an eye out for green turtles and hawksbill turtles just off the beach.
There's a catch about visiting Haslewood Island, though: You'll need to charter your own boat if you don't have one of your own. Shute Harbor and Airlie Beach can help you with that. Cruise over to Haslewood, find a mooring, and bask at one the Whitsundays' most exquisite slices of sand and sea.
9. Keswick Island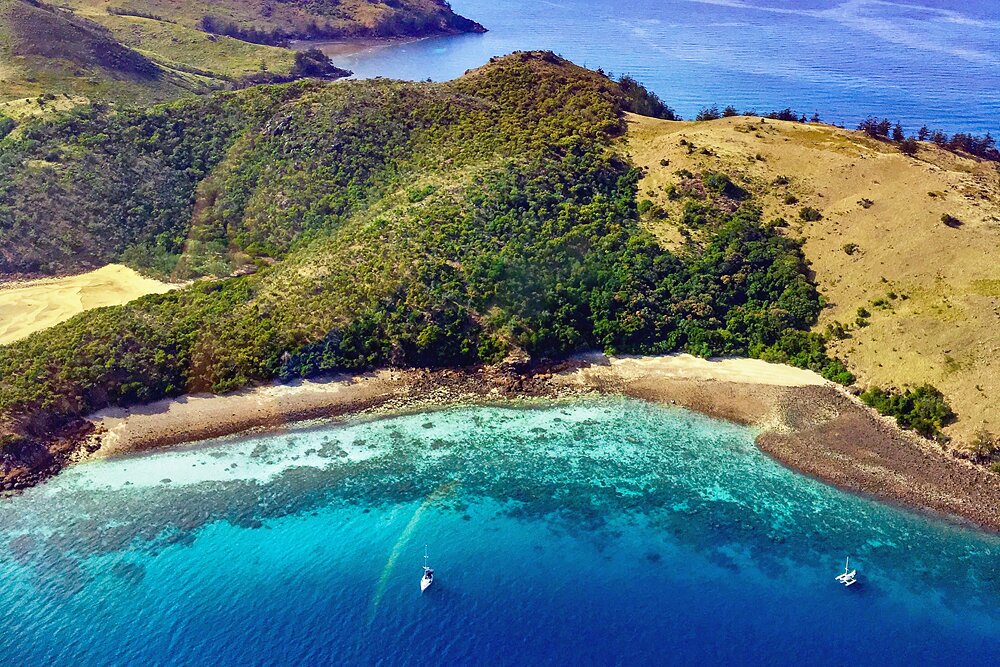 Gorgeously green, Keswick Island is a hidden gem. It lies off Mackay and is one of the southernmost islands in the Whitsundays. Laced with pockets of gleaming white sand and rimmed by coral reefs, this hilly island is also one of the most picturesque.
South Cumberland Islands National Park protects more than 80 percent of the island, and you can explore the subtropical rainforests on hiking trails, or just unwind on the empty beaches.
Water sports are also appealing. Paddle the clear waters in a kayak, cast a fishing line, or immerse yourself in the underwater world. Divers will find plenty of life on the reefs, as well as historic wrecks in the surrounding waters.
From July to September, you also have a chance to see migrating humpback whales offshore.
Wondering where to stay on Keswick Island? Choose from a large, self-contained beach house or a guesthouse. You can also camp at Singapore Bay or Victor Bay, but there are no facilities.
You have several options for getting to Keswick Island. You can book the Keswick Explorer, or charter a boat to Keswick Island from the Mackay Marina. Alternatively, charter a plane or helicopter for the short 12-minute flight.
Keswick Island is also one of the possible destinations on a Wildcat Mackay day tour. The itinerary depends on the weather conditions on the day, but Keswick is a popular stop.
Map of Islands in the Whitsundays