15 Top-Rated Tourist Attractions in Penang
The Malaysian state of Penang consists of an island and a peninsula connected to each other by the two longest bridges in the country. George Town, Penang's capital, has become a major tourist destination in Malaysia. Some of the main attractions are its colonial architecture; its connection to WWII; and its many green spaces, which include everything from formal botanical gardens to tropical jungle.
Sections of George Town have also been designated as UNESCO World Heritage Sites, in part because of their maritime urban settlements known as clan jetties.
If you're looking for ideas on how to spend your time once you get to Malaysia, see our list of top tourist attractions in Penang.
1. The Habitat Penang Hill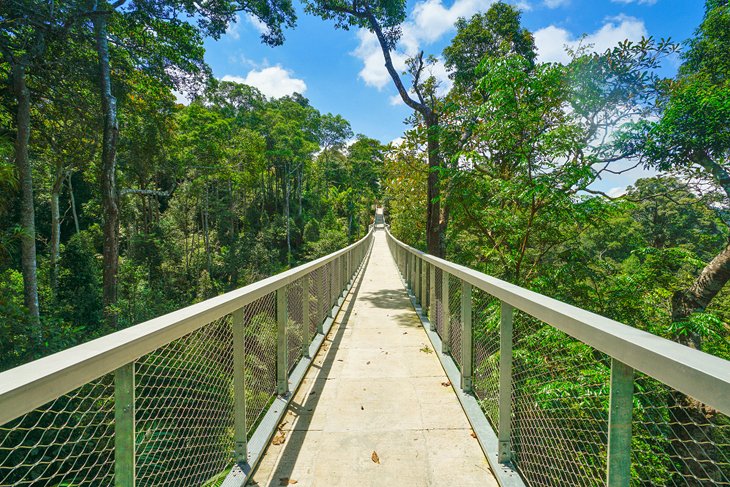 The Habitat Penang Hill is a rainforest experience that takes you into the heart of the jungle and lets you truly feel all the sounds, colors, and smells up close. Your first contact with nature is through the 1.6-kilometer-long nature trail, which cuts through the ancient forest, over rolling hills and far above the Andaman Sea-all of which you can see from several lookout points along the way.
For an even more stunning view of the surroundings, visitors can take the Langur Way Canopy Walk, 15 meters up in the air and 230 meters long, gently curving around and through the trees. Or they can try the ziplines for an up-close experience of the jungle.
For those wanting to catch a glimpse of George Town, as well as the surrounding jungle, nothing beats the Curtis Crest Tree Top Walk, a circular platform with 360-degree views and the highest point on the island. Special tours guided by naturalists take place here as the sun sets, when you can see not only a stunning array of colors on the sky, but also catch a glimpse of giant flying red squirrels, bats, and the Penang gecko.
Official site: https://thehabitat.my
2. Clan Jetties, George Town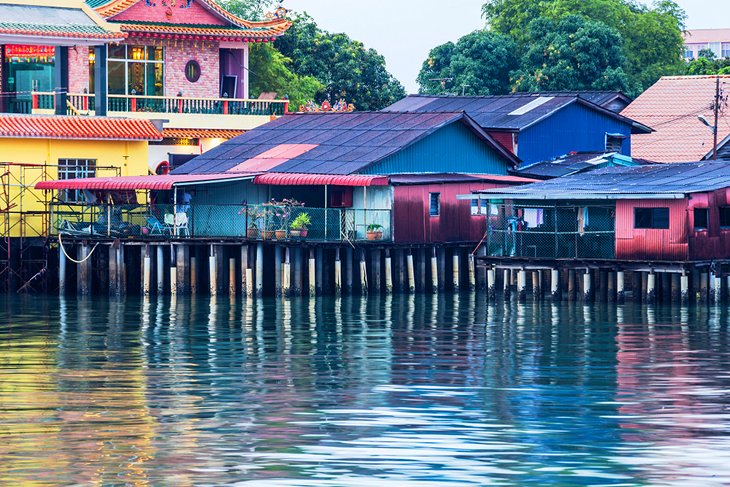 The Clan Jetties are one of the most significant historical areas in Penang-a traditional village consisting of structures and houses built on stilts right over the water.
Clan jetties are a very unique type of water settlement created by Chinese immigrants in the late 19th century. Originally, they consisted of a single structure used as a sort of small warehouse where the loading and unloading of products and materials (including firewood, charcoal, and boat transportation) for a particular trade or industry happened.
Over the years, families (or clans) took over certain industries and unofficially claimed a certain area of the dock, with each clan getting bigger and building more huts along the way.
There are now six jetties on the waterfront-all of them still home to Chinese descendants and considered a historical reminder of the industries that helped shape Penang. While they are technically private property where families live, most of the jetties welcome visitors for a glimpse of their local temple, photos of the sunset over the water, and a nostalgic walk over the walkway surrounding the stilt-houses.
3. Entopia by Penang Butterfly Farm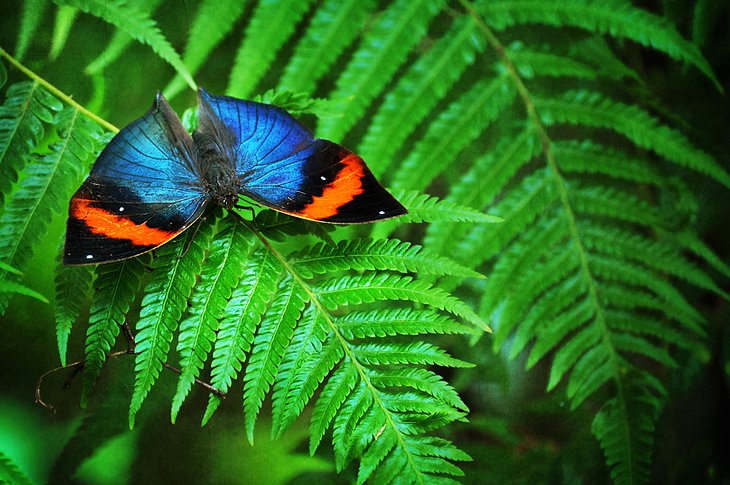 Entopia is Penang's new butterfly farm, a massive glass conservatory where over 15,000 free-flying butterflies live among waterfalls, lush tropical greenery, and re-created natural features.
Trails crisscross through the greenhouse, offering many chances to see butterflies in their natural element, including small caves, a wild garden, a backyard area, and more. Special events throughout the day allow visitors to interact with butterflies up close and learn about unique and rare species.
Entopia is divided into two main sections: Natureland and Cocoon. Natureland is a living garden vivarium that encompasses the main butterfly area, plus ponds and special areas where snapping turtles, frogs, iguanas, and a number of large insects live. Cocoon is Entopia's discovery center, where visitors can learn more about butterflies and participate in hands-on activities.
This two-story center also offers short nature-learning programs for both children and grown-ups.
Official site: http://www.entopia.com/
4. Historical Streets of George Town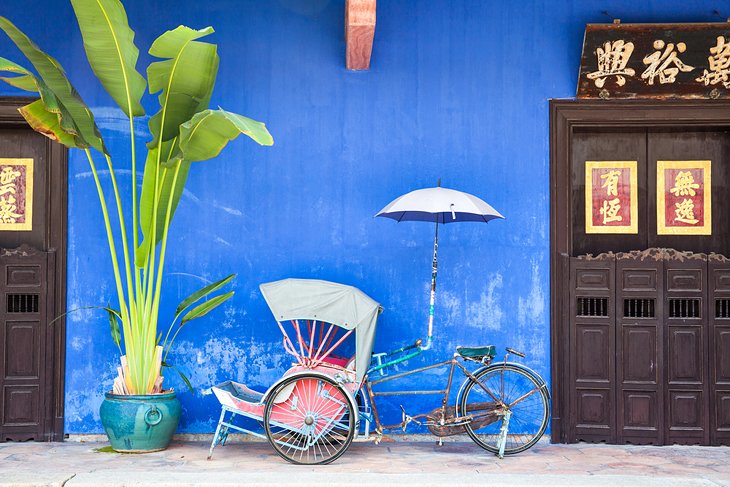 George Town, Panang's capital city, is a stunning mix of European and Asian influences. Over the past five centuries, the city has grown into a vibrant port town and tourist destination, but without losing the unique legacy that caused her to receive UNESCO World Heritage Site status in 2008.
While George Town's architecture is impressive anywhere, the old streets around the Lebuh Acheh historical enclave hold the most significance-from old Chinese shophouses to British colonial mansions and clan houses to a number of temples representing several religions, these historical streets are fascinating to explore.
Among George Town's most significant historical buildings, you'll find the Cheong Fatt Tze Mansion, one of only three mansions outside China built using traditional Feng Shui architectural principles, and an early 19th-century Chinese temple dedicated to the Goddess Kuan Yin. The Penang State Museum & Art Gallery, which explores Penang's past and cultural legacy, is a good stop if you want to better understand the importance of this area.
The best way to explore the historical area of George Town is to just walk around and appreciate the rows of wooden shutters, low shophouses, stucco buildings, and colorful details on the most unexpected structures.
5. Fort Cornwallis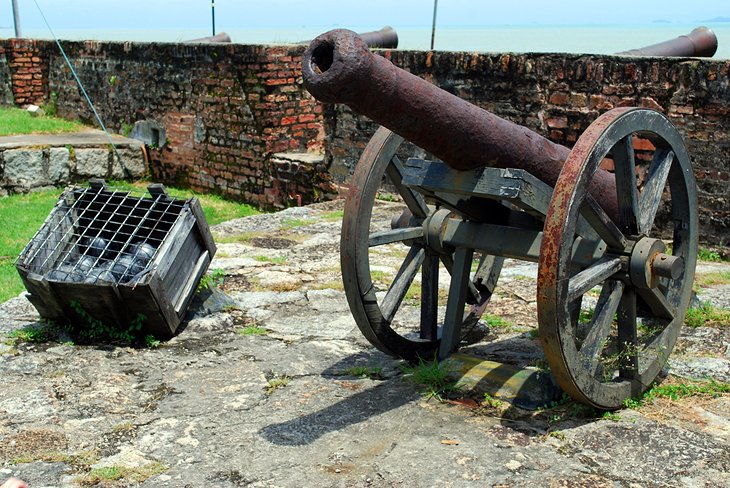 Penang's most famous landmark is also the largest fort in the country. Although only one outer wall with cannons remains from the original 1786 bastion, there are enough structures left behind it to give you an idea of the massive size of the original fort.
Stroll through the well-cared-for green lawn to find the remains of prison cells, a chapel, and a storage area that was once used to keep ammunition. A bronze statue of Captain Francis Light, who originally ordered the building of the fort, welcomes visitors as they enter through the gate.
The fort never saw any actual combat, and it was mostly used as an administrative point. Over the years, additional buildings and statues were added, including a steel lighthouse with a design that resembles a ship's mast. While there are small exhibits throughout the fort that explain some of its history, the space is mostly used by locals as a park to spend a quiet afternoon in the sun.
6. Penang War Museum, Bukit Batu Maung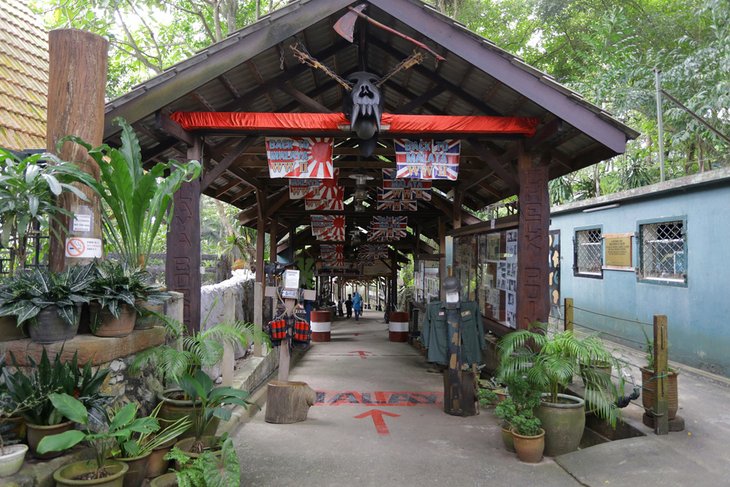 This 20-acre outdoor living war museum in Penang sits on the former site of a 1930s British fort and gun armory. The fort failed to stop the invading Japanese army in WWII and suffered significant damage to its structure. It was later reconstructed and is now home to Southeast Asia's largest war museum and a memorial to the many men who suffered and died under occupation.
The museum's main attractions are all at least partially underground-some as deep as 10 meters under the Earth-and include ammunition bunkers, pillboxes (concrete posts or small fortifications used to hide when firing at the enemy), a communications center, and escape tunnels leading right to where the submarines once stood in wait.
On the surface, cannons, barrack blocks, and a number of photographs and testimonials bring the history of the place back to life. Visitors are welcome to explore the large fort on their own, experiencing the area as they see fit and discovering unexpected corners along the way-including walls riddled with bullet holes, a Japanese suicide vest, and a guillotine stand.
7. Batu Ferringhi Night Market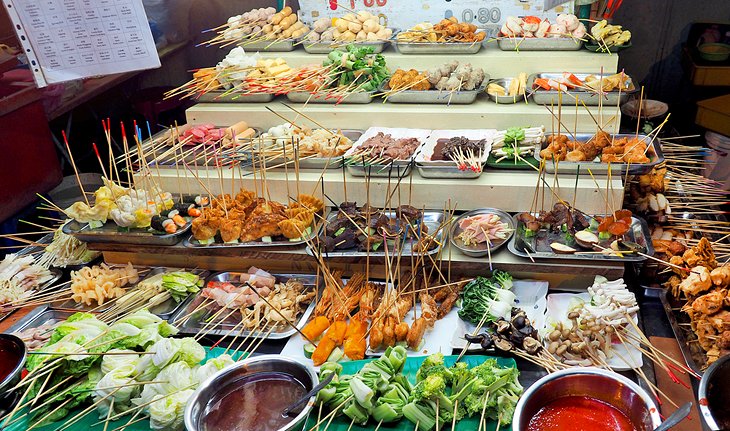 Open until midnight every day, this massive night market with over 100 stalls and tons of character is the perfect place to pick up traditional souvenirs, including batik prints, lacquer plates, and delicate paper lamps. There are also plenty of chances to find copies of famous clothes, watches and purses brands, as well as other small treasures.
Restaurants and food stalls line up the streets here as well, where you have a chance to try a number of delicacies, such as teochew chendol, shaved ice filled with green rice jelly and coconut milk.
8. Kek Lok Si Temple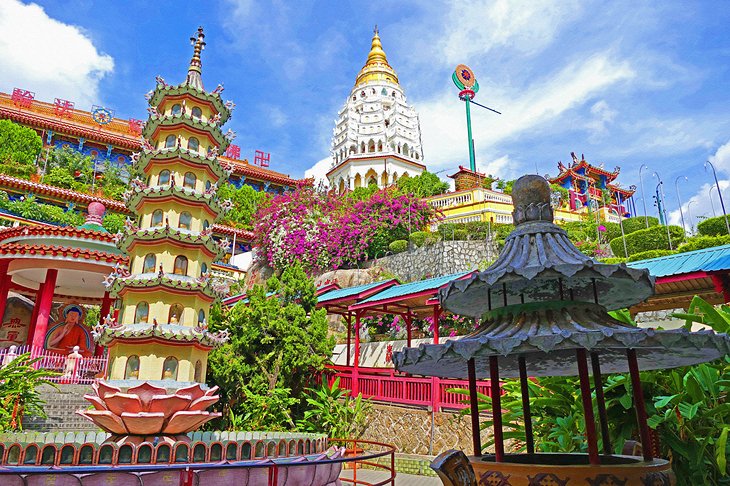 Over a hundred years old and the largest Buddhist temple in Malaysia, Kek Lok Si is home to a seven-tiered pagoda, over 10,000 Buddha statues, and a 37-meter-tall bronze sculpture of Kuan Yin, the Buddhist Goddess of compassion. Around the main statue-the tallest statue of Kuan Yin in the world-there are 100 smaller statues of the Goddess, each two meters tall. The temple is considered a main pilgrimage destination, and it attracts Buddhists from all over Southeast Asia.
The temple covers an area of over 12 hectares, reached after a three-kilometer hike and a steep walk up a stone staircase from the top of Penang Hill. Colorful prayer halls, beautifully manicured gardens, ponds with fish and turtles, and many lanterns line the way-the lights are particularly stunning the month following Chinese New Year, as they stay lit well into the night for four straight weeks.
9. Penang National Park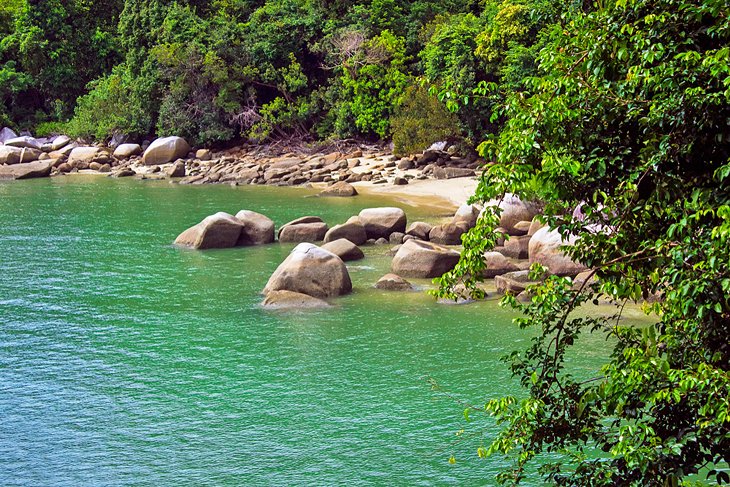 Penang National Park might be one of the smallest in the world at just 23 square kilometers, but it still contains five very distinct habitats with over 400 different plant species. In addition to forests and mangroves, there is also a long stretch of seacoast here with timber trees lining up the white powdery sand and coastal habitat.
The park is famous for its many trails, which zigzag into the jungle and along the coastline towards landmarks such as the Muka Head lighthouse, which can only be reached by a steep trek up a hill at the end of Monkey Beach. All trails in the park have been left in their original condition, except for the addition of concrete steps and ropes in certain areas to help climbers continue on their way when the terrain gets too demanding.
There's also a 250-meter-long canopy walk off one of the trails, which allows visitors to step among the treetops, 15 meters in the air on a rope and wooden platform.
10. Penang Hill Funicular, Bukit Bendera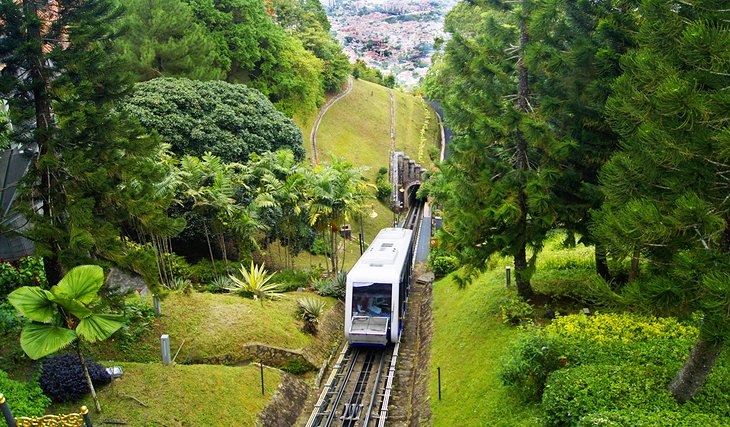 Built in 1923 and completely overhauled in 2010, the Penang Hill Railway-which has the world's steepest tunnel track-climbs Penang Hill and offers beautiful green open views over the city. While the original climb used to take around 30 minutes, it now takes anywhere between five and 25 minutes-the shortest time without stops and the longest if the cable car stops at the midway stations (only on request) on its way to the top.
Long gone are the wooden carriages with first- and second-class seating. Today, passengers can travel up the hill on modern air-conditioned trains that can carry 100 passengers at a time. Once at the top station, visitors can step onto viewing decks, check out a gallery, or enjoy a snack at the café or food court.
Official site: http://www.penanghill.gov.my/index.php/en/
11. Penang Botanic Gardens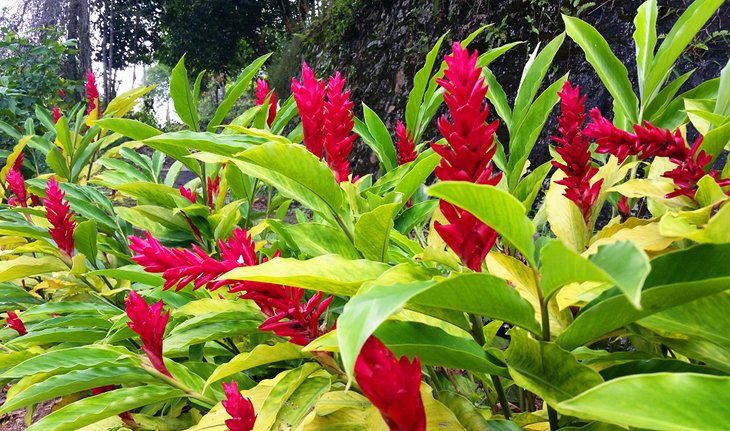 Although the 30-hectare botanical garden is often referred to as "Waterfall Gardens," there's no actual waterfall within the park-the Penang waterfall is nearby but on private property and the only way to visit it is by joining a special monthly tour by a local non-governmental organization.
The park participates in research and conservation programs, but also offers a recreation environment where visitors can take to the trails for jungle trekking or jogging, explore the extensive tropical rainforest, or discover the many rare species of ferns, the herb garden, and the orchidarium housed here. Some of the hiking trails reach all the way up to Penang Hill, over an hour away.
Long-tailed macaques and black giant squirrels, as well as many species of butterflies, call the gardens home.
12. Street Art in George Town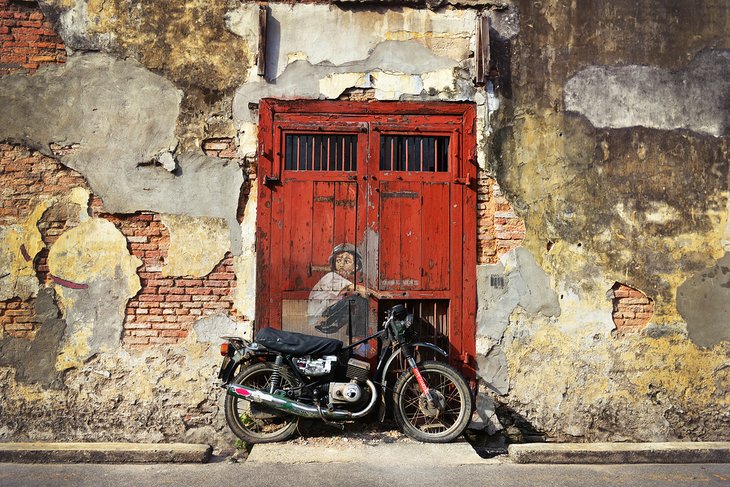 Most visitors don't realize George Town is a synonym with great street art until they start walking around and stumbling upon magnificent wall paintings as they turn an unsuspecting corner. It all started in 2012 with a Lithuanian artist painting six large murals, and things have grown quickly since then. Today, one of the most Instagranmable spots in town is the large "children on a bicycle" mural.
The art offers the perfect excuse to spend an afternoon walking around Old Town. Muntri Street and Ah Quee streets are particularly rich in murals, including the famous 20-foot-high Little Girl In Blue and Boy on a Bike, a mural that combines a stunning image of a boy wearing a helmet and an actual motorcycle set up against the building.
13. Batu Ferringhi Beach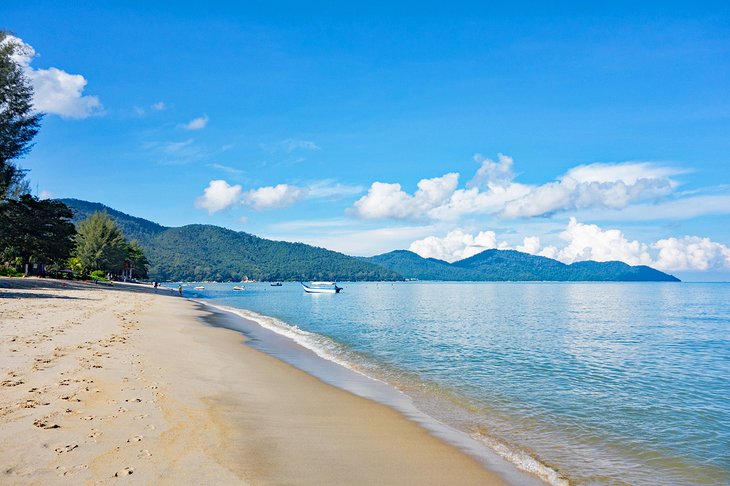 You don't have to go far to enjoy powdery soft sands and turquoise waters in Panang. In fact, Batu Ferringhi beach is just steps from the heart of the city, a perfect place to escape for a few hours if you want to soak in the sun's rays, try parasailing, or rent a kayak to explore the coastline.
Sitting alongside a busy road, the beach is lined with a mix of great accommodations, live music entertainment venues, and plenty of dining options. There's also a big night market here, where you'll find everything from basic souvenirs to handmade local textiles to Malaysian batik.
14. Khoo Kongsi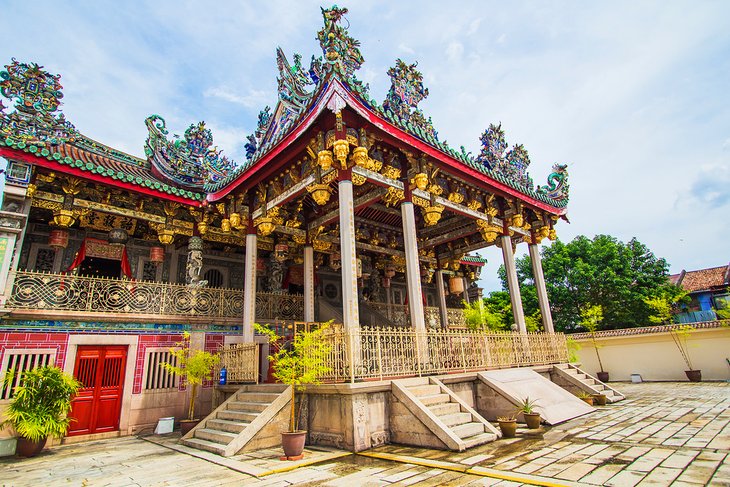 Khoo Kongsi is an ornate Chinese clanhouse. Historically, clanhouses were social organizations or partnerships formed by a group of Chinese immigrants that would collaborate and support their mutual welfare. As the largest clanhouse in Malaysia, Khoo Kongsi serves several purposes, including housing a theater, rowhouses for clan members to live in, and a temple where clan members can worship their ancestors. You could think of it as a miniature clan village.
Highly ornate and richly decorated in reds and golds, Khoo Kongsi is famous for its stunning sculptures of dragons and other beasts adorning the roof. Visitors are welcome, and there's a museum about the Khoo Kongsi Clan on the first floor of the temple. The Central Hall on the second floor, decorated with ink frescoes of legendary heroes, holds special celebrations during the Chinese New Year.
15. Tanjung Bungah Floating Mosque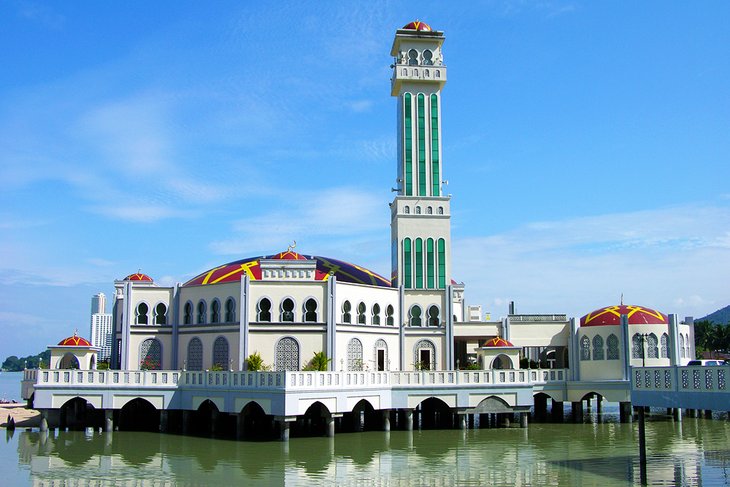 Despite being known as the "floating mosque," the white and blue Tanjung Bungah (which features an impressive towering minaret ) is actually built on pilings and stilts along Tanjung Bungah's beach. A beautiful terrace wrapping around parts of the building gives a 360-degree panoramic view over the open sea and the city of Penang.
If you arrive during high tide, the mosque does appear to float and offers the best photo opportunities. Outside of prayer times, you'll be offered a free tour of the inside.
Map of Tourist Attractions in Penang
Penang, Malaysia - Climate Chart
Average minimum and maximum temperatures for Penang/Bayan Lepas, Malaysia in °C
J
F
M
A
M
J
J
A
S
O
N
D

32

24

32

24

32

24

32

24

31

24

31

24

31

24

31

24

30

23

30

24

31

24

31

24

PlanetWare.com
Average monthly precipitation totals for Penang/Bayan Lepas, Malaysia in mm.

79

91

150

231

249

173

198

249

358

391

249

112
Average minimum and maximum temperatures for Penang/Bayan Lepas, Malaysia in °F
J
F
M
A
M
J
J
A
S
O
N
D

89

75

89

75

89

76

89

76

88

76

88

76

87

75

87

75

86

74

86

75

87

75

88

75

PlanetWare.com
Average monthly precipitation totals for Penang/Bayan Lepas, Malaysia in inches.

3.1

3.6

5.9

9.1

9.8

6.8

7.8

9.8

14

15

9.8

4.4
More Related Articles on PlanetWare.com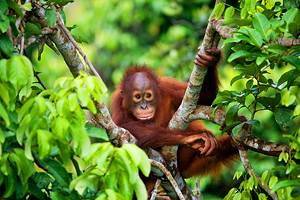 See More of Malaysia: Malaysia is a country of contrasts, a place where nature, history, and religion are part of everything. To learn more about the many things the country has to offer, take a look at our article, Best Places to Visit in Malaysia. If you're in the mood for a relaxing holiday, sand and coastlines await on the best beaches in Malaysia. For more on Malaysia's capital and the many exciting things to see and do, check out our article on the Top Tourist Attractions in Kuala Lumpur.