18 Top-Rated Weekend Getaways from Singapore
We may earn a commission from affiliate links ()
The city-state of Singapore sits on the end of the Malaysian peninsula, a short ferry ride from Indonesia. While Singapore may be filled with lots of things to see, do, buy, and eat, sometimes you need to get away. There are a wide range of getaway destinations near Singapore or at least within a few hours by car, bus, or plane. Families may want to consider a self-contained resort destination like Sentosa Island, while couples might consider an island getaway to a place like Bintan.
Plan your travels with our list of the top weekend getaways from Singapore.
Note: Some businesses may be temporarily closed due to recent global health and safety issues.
1. Desaru Coast, Malaysia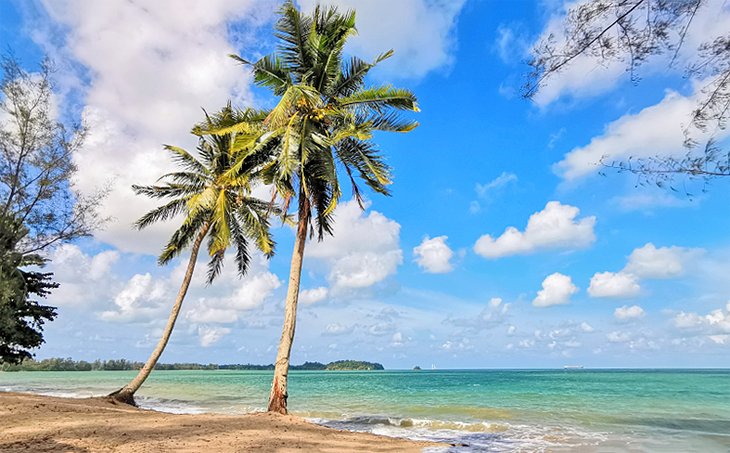 This Malaysian beach resort is home to pristine beaches with clear, warm blue water and it's perfect for quick getaways. The area has four resort hotel options along with excellent shopping and dining.
Getting to the Desaru Coast from Singapore is easy. It takes about two hours by car via the Causeway, about 90 minutes via bus, or an hour if you take the ferry (and then shuttle into the resort area). Once you're there, several complimentary shuttles can take you anywhere you need to go.
Aside from the beautiful beaches, the resort is known for golf with a full 18-hole course (designed by iconic players Ernie Els and Vijay Singh) along with three different nine-hole courses located along the coastline. Each course has its own clubhouse and extensive golf facilities including a golf training academy, driving range, and restaurants.
It's also a popular surfing and snorkeling spot, offering a range of water sports to visitors. For some wet family fun, the area is home to the Desaru Coast Adventure Waterpark.
Accommodation: Where to Stay near Desaru Beach
2. Malacca, Malaysia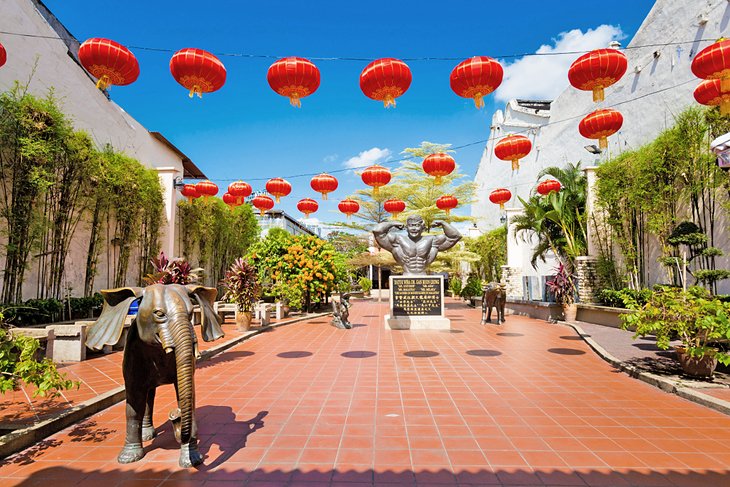 Malacca is a Malaysian beach city about three hours from Singapore by bus or car. It's a former Portuguese, Dutch, then British colony, and this mix contributes to its unique and fascinating history, architecture, culture, and food. It's filled with many museums, historical sites, and tourist attractions like zoos and water parks.
The Dutch and Portuguese history is particularly interesting, and many of the colonial buildings from the occupation by both countries still exist. You can even visit a fortress in Malacca; A Famosa is a Portuguese fort built in the 16th century. On weekend nights, don't miss the Jonker Street Night Market, where all these cultural influences can be tasted in the form of street food.
3. Bintan Island, Indonesia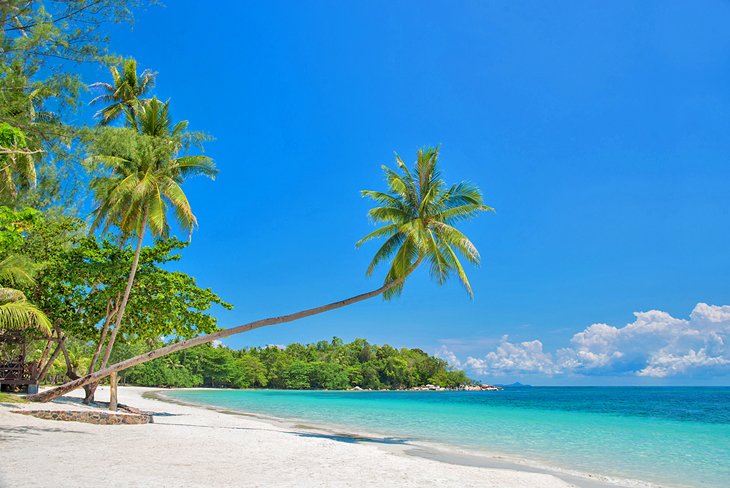 This Indonesian island resort is a great short getaway from Singapore, as it only takes about 50 minutes to get here by ferry. It's one of two twin islands (the other is Batam) that are visible from Singapore. There are many hotels and beach resorts on Bintan, and it's a very popular holiday destination. It's also a popular place for sea turtles, six of the world's seven species of sea turtles are found in Indonesia.
Bintan gives visitors the full range of vacation activities. There are spas and shopping for indoor fun, and there's also great water sports and outdoor adventures to be had. You can explore the island's incredible nature and wildlife or discover its fascinating cultural heritage.
One of the coolest things to do is take a seaplane ride around the island. If you stay at a luxury resort, be sure to also visit one of the traditional fishing villages for a taste of local culture and food. Bintan has also become a popular golf destination with four championship courses.
Accommodation: Where to Stay on Bintan Island
4. Krabi, Thailand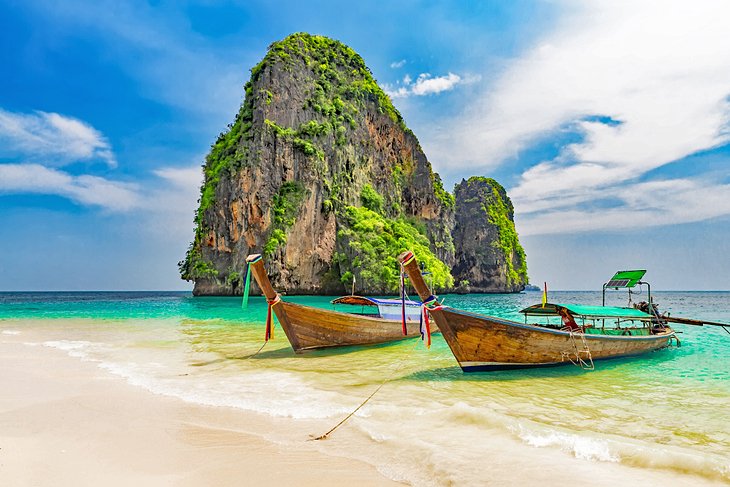 This province on the west coast of Southern Thailand is home to some pristine beaches and island resorts. It's only a two-hour flight from Singapore, so it's perfect for a short vacation. It's on the Andaman Sea, and Phra Nang Beach is the largest resort area.
The Phi Phi Islands are also an amazing bucket-list destination, and tours here from Krabi are one of the popular things to do.
There are also several national parks in the area offering mountain hiking. The clear, calm water also makes it one of the world's best SCUBA diving and snorkeling destinations.
Other destinations in Thailand like Bangkok, Phuket, or Chiang Mai are only a two- or three-hour flight from Changi Airport in Singapore.
5. Bali, Indonesia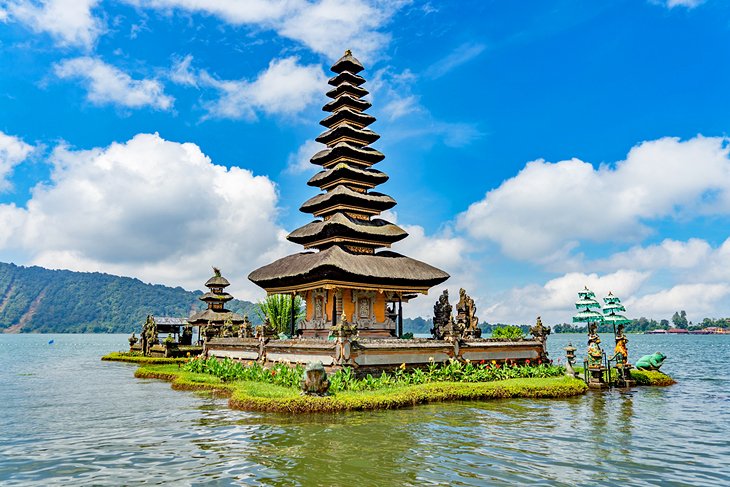 The island paradise of Bali is part of neighboring Indonesia and is just under a three-hour flight from Singapore. It's a popular getaway destination for Singaporeans, so there are frequent (and usually cheap) flights between the two.
Bali is perfect for luxury escapes and romantic getaways. The island combines spectacular scenery, wide beaches, big mountains, and, of course, a long history and fascinating culture.
There is a wide range of accommodations on the island, from cheap hotels to luxury resorts. Big beachfront resorts and luxury villas are mainly found in the western towns of Kuta, Seminyak, and Jimbaran. For a quieter, more intimate experience, places like Sanur, Nusa Dua, and the coastal area of Candidasa are good choices.
6. Sentosa Island, Singapore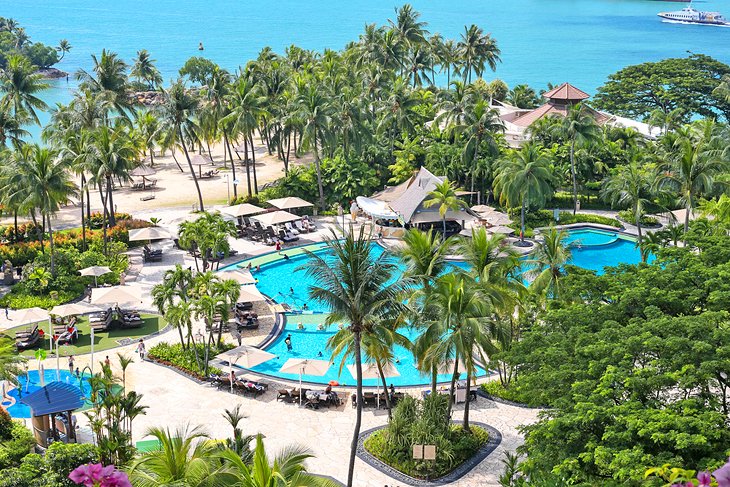 One of the closest beach resorts to Singapore is only a 15-minute monorail (or cable car or Uber) ride away. Sentosa Island has several beach resorts, as well as family hotels and luxury getaway spots.
You can even walk to Sentosa using the Sentosa Boardwalk, some of which is an automated, moving sidewalk. More than just a route, the boardwalk has five lush, indigenous tropical landscapes only found in Singapore. It also gives you beautiful views across the bay, with lots of spots for photos.
It's a great family destination and home to the Universal Studios Singapore theme park, as well as a few other amusement parks and water parks. There are several large beaches and a huge range of things to do, including bungee jumping and indoor skydiving.
There's also a lot of luxury shopping and a mouthwatering array of dining options, including family dining, fine dining, and restaurants from some of the world's top celebrity chefs. Once you're here, there is a complimentary bus service and a beach shuttle to get you around. The Singapore Express monorail can also be used to get from one part of the island to the other.
There are also many free things to do on Sentosa. Aside from enjoying the beach, you can walk on the Fort Siloso Skywalk. The 181-meter (about 600-foot) skywalk is 11 stories above the forest. You get a scenic view of the trees and the harbor. The site is also quite historic, Fort Siloso was built by the British in the 19th century to guard the entrance to Singapore harbor. You can also visit the fort, which is now a museum and educational site.
Accommodation: Where to stay on Sentosa Island
7. Iskander Puteri, Malaysia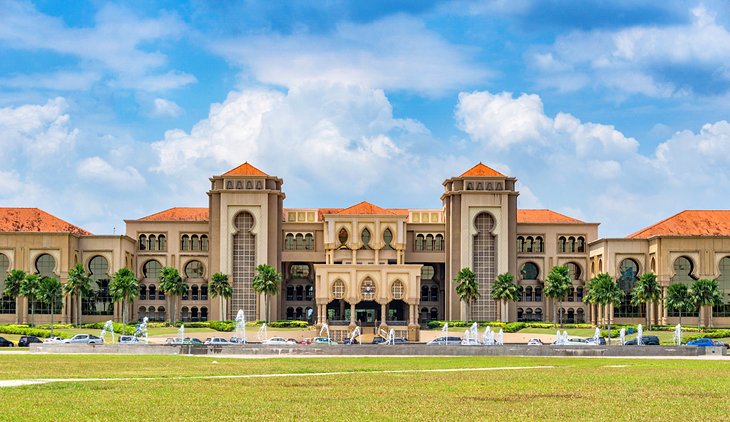 This city in Malaysia, formerly known as Nusajaya, is the perfect place for a short getaway from Singapore for families. It's right across the Causeway, and you can be here in about 20 minutes. The area's main attractions for family travelers are two giant theme parks: Legoland Malaysia and the Hello Kitty Indoor Theme Park.
The area is also home to Asia's only premium outlet mall. It has outlets from many popular luxury brands selling discounted merchandise. When you get tired of the theme park food, head down to Puteri Harbor, where you'll find more than a few excellent restaurants, many featuring freshly caught seafood.
8. Penang, Malaysia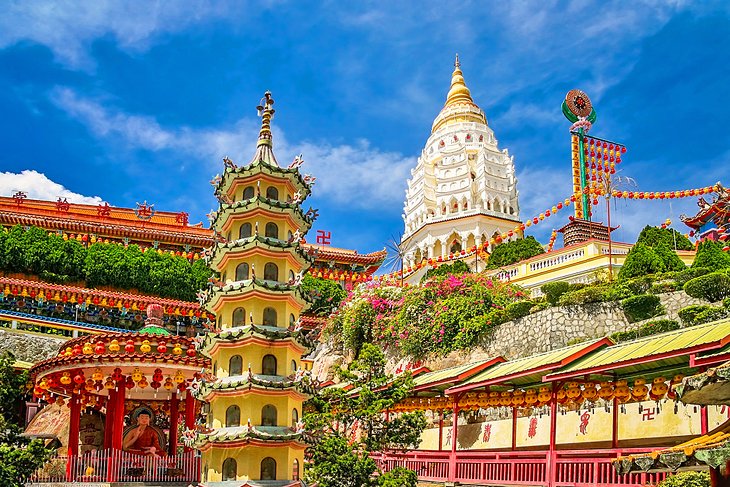 This Malaysian region, the old town of Penang and its capital of George Town, are known for their great hawker (street) food culture and history. It's an excellent place for shopping, with both luxury malls and street vendors. Take the funicular up Penang Hill for some great views of the city and ocean.
For more fresh air, head to Penang National Park for a breathtaking mix of rainforest and beach ecosystems. Instagrammers will love capturing the city's many street murals.
It takes less than 90 minutes to fly to Penang from Singapore's Changi Airport (or about six hours if you go by bus).
Read More: Top-Rated Tourist Attractions in Penang
9. Hoi An, Vietnam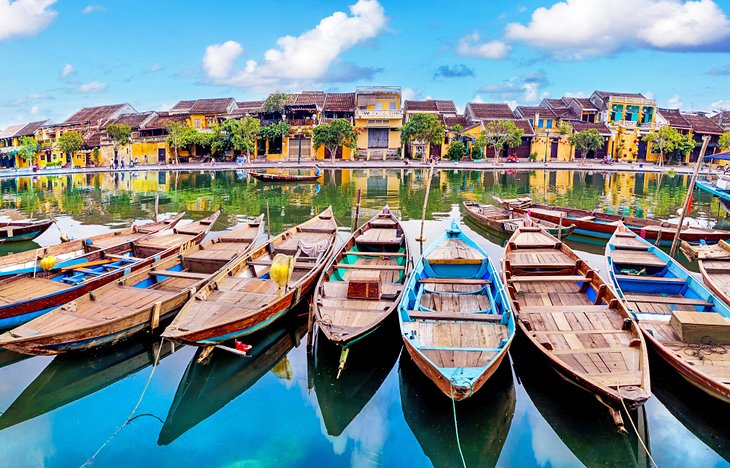 This Vietnamese city is about three hours from Singapore by plane (most people fly into nearby Danang). It has the perfect mix of a wonderfully preserved French colonial old town, lots of lush countryside (best explored by bike), and some seriously beautiful beaches. It also has great Vietnamese cuisine and is a chance to experience yet another Southeast Asian culture on a quick getaway from Singapore.
Halong Bay is another beautiful place to visit in Vietnam, a bit farther than Hoi An at three and a half hours by plane from Singapore's Changi Airport. It's also ideal for weekend trips. Both destinations (and other places in Vietnam) also deliver amazing value for money and low prices for visitors.
10. Yangon, Myanmar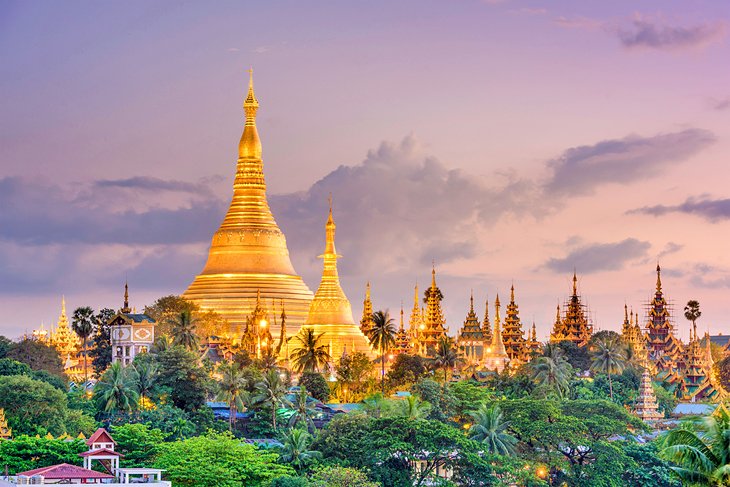 The capital city of Myanmar (formerly known as Burma) is just under a three-hour flight from Singapore. This seriously exotic destination remains relatively undiscovered for Western tourists. The city is filled with temples and pagodas, the most blingy being the Shwedagon Pagoda, Myanmar's version of the Taj Mahal. It was built with more than 4,500 diamonds in its structure, including a 72 carat mega-diamond at the top.
As if to compete with the diamond pagoda, the Sule Pagoda is covered in pure gold. These pagodas are joined by Buddhist temples, interesting British colonial architecture, and a constantly increasing number of modern skyscrapers.
Accommodation: Where to Stay in Yangon
11. Kuala Lumpur, Malaysia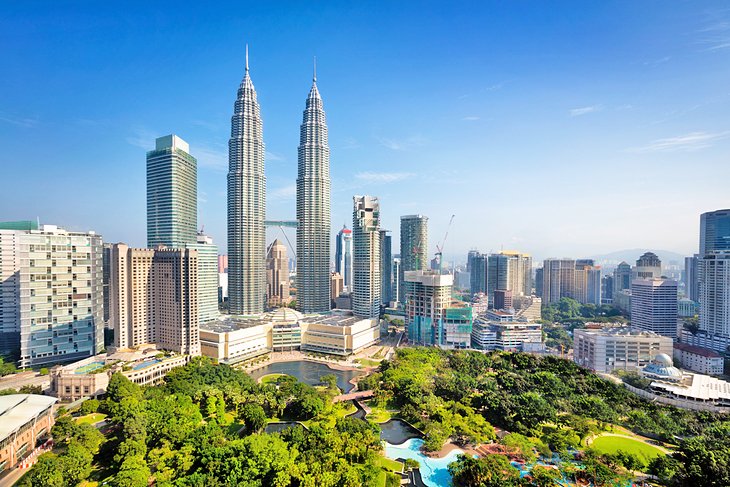 Referred to as "KL" by the locals, this is Malaysia's capital city and it provides the typical wide range of activities (cultural, adventure, food, music, shopping) found in a big city. It's only an hour flight (or five-hour bus ride) from Singapore.
Aside from the great food scene and excellent shopping, be sure to visit two of the city's tallest attractions. The Petronas Twin Towers were the tallest buildings in the world at one time and remain the tallest twin towers in the world. You can go up to the observation area for amazing city views. The KL Tower is the seventh tallest freestanding structure in the world, and houses several observation areas and restaurants.
12. Batam, Indonesia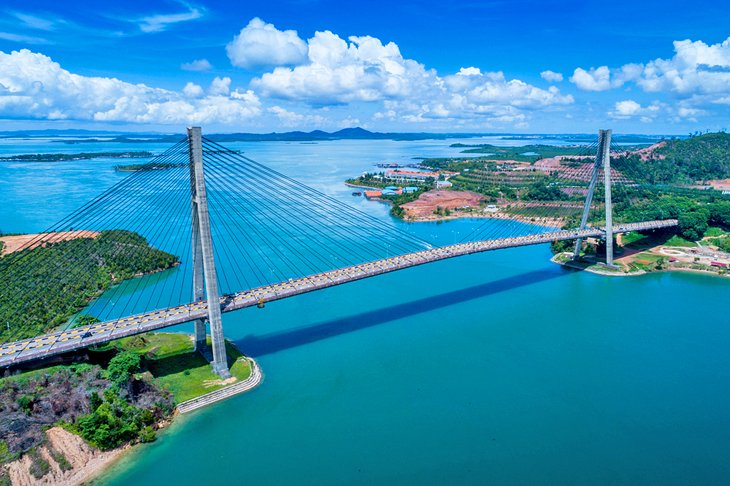 Batam (it's both the name of the city and the island) is an idyllic Indonesian island getaway from Singapore. It's only about an hour away by ferry and has some breathtaking beaches, delicious seafood, and a lot of outdoor activities. You can do all kinds of things on the water, including sailing, surfing, and jet skiing. There's even a water ski park, with multiple cables that pull you through the water (no ski boats needed).
Like its twin island Bintan, it's so close, it's visible from Singapore. Batam is a free-trade zone, so there's some great duty-free shopping, especially in the main city of Nagoya. The beachfront resorts are in the Nongsa area.
13. Johor Bahru, Malaysia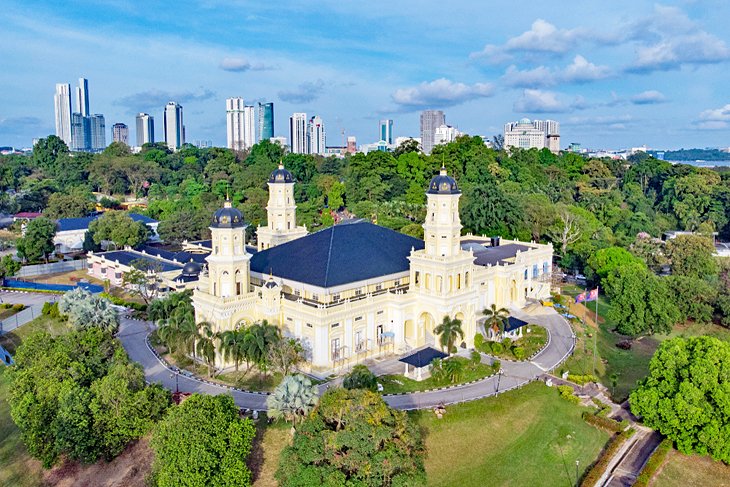 This Malaysian city is one of the best cheap getaways from Singapore, as it's only 45 minutes away via car or bus. Like other Malaysian cities, there's an amazing food scene with a mix of Malay, Chinese, Indian, and Arabic flavors. There are also several museums and mosques that can be visited, including the large Sultan Abu Bakar State Mosque.
The city is also home to the Arulmigu Sri Rajakaliamman Glass Temple, the world's first Hindu temple covered in glass. The entire interior and exterior are covered in pieces of clear, mirrored and colored glass.
Two very popular tourist attractions, Legoland Malaysia and the Sanrio Hello Kitty Town indoor theme park are both in Johor Bahru.
14. Yogyakarta, Indonesia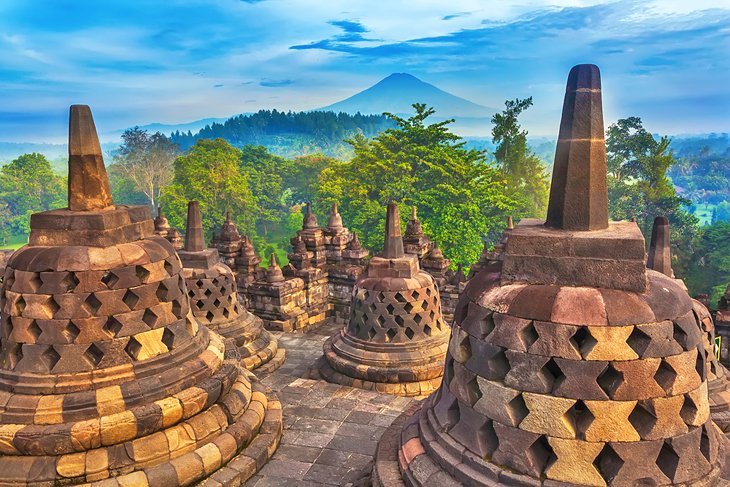 This ancient city is on the Indonesian island of Java, about a two-and-a-half-hour flight from Singapore. Ruled by a sultan, Yogyakarta is the only recognized monarchy in Indonesia. It's a place to learn about and experience traditional Javanese culture, including art, textiles, music, and literature.
The city's history goes back to its founding in the 8th century AD. Borobudur and Prambanan are two significant archeological sites, ancient temple complexes like Cambodia's Angkor Wat. Borobudur is the world's largest Buddhist temple, and Prambanan is a Hindu temple complex built in the 9th century. They're both about an hour outside the city.
15. Langkawi, Malaysia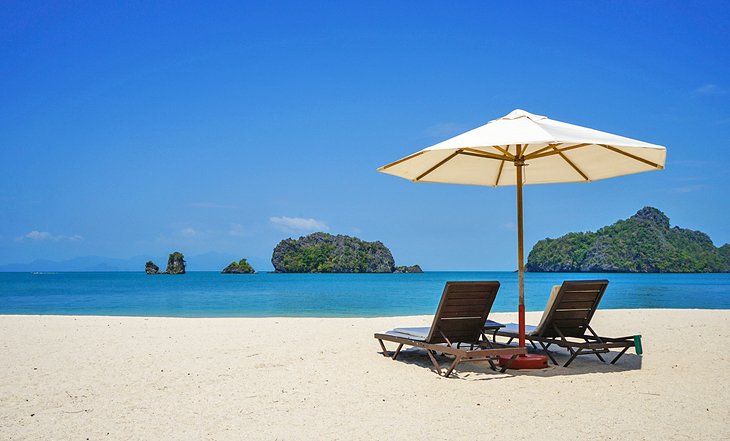 Langkawi is a Malaysian archipelago of 99 islands located near the border with Thailand. This Malaysian beach resort near Singapore is a 90-minute flight from Changi Airport. The main island is Langkawi Island, and it's part of the Southern Islands area, which is popular with tourists. The Northern Islands are mostly deserted and not open to visitors.
The islands are popular with beachgoers, as well as SCUBA divers and snorkelers. Be sure to ride the cable car up Gunung Mat Chinchang mountain, as then you can walk on the Sky Bridge. It's a raised walkway allowing visitors to get a close-up look at the fascinating world of the rainforest canopy.
16. Siem Reap, Cambodia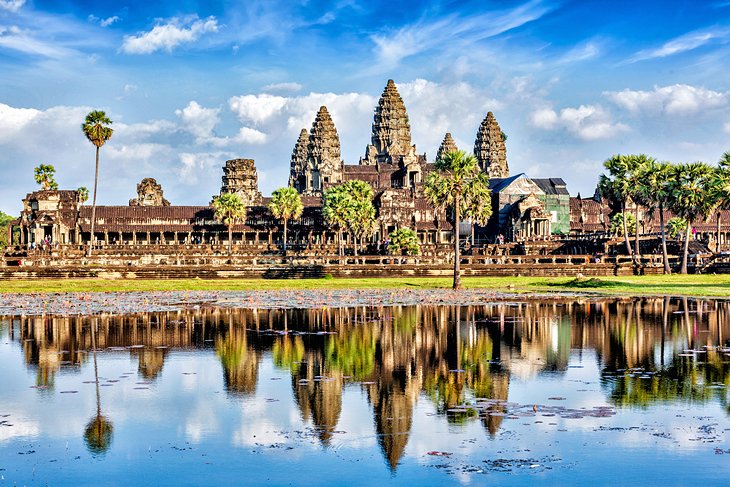 This Cambodian city is just over a two-hour flight from Singapore. The focus in Siem Reap is, of course, on the amazing Angkor temple complex, which is actually several vast archeological sites including Angkor Wat, Angkor Thom, Bayon, Ta Prohm, and Banteay Srei. It's a popular tourist destination, so there are lots of hotels (in all price points) and restaurants in the small town.
An early morning hot air balloon flight is an excellent way to get a drone's-eye view of all the ruin sites. Cambodia's capital city of Phnom Penh is also an hour's flight from Singapore and offers an exciting mix of history, culture, shopping, and food.
Accommodation: Where to Stay in Siem Reap: Best Areas & Hotels
17. Borneo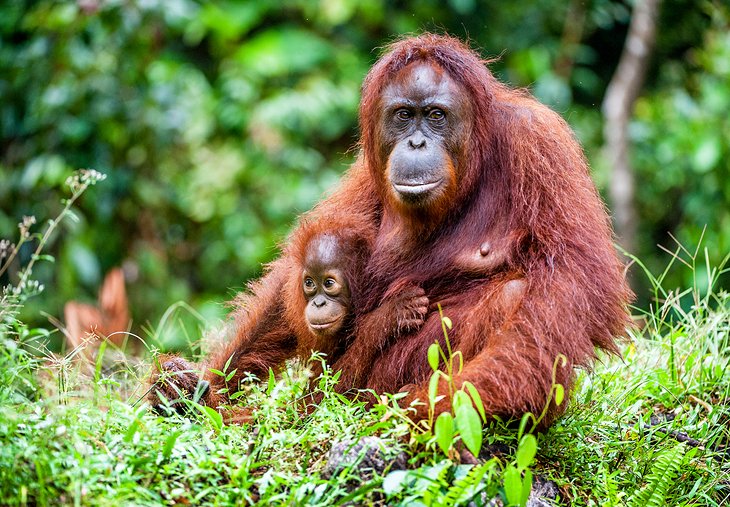 Borneo is Asia's largest island, less than a three-hour flight from Singapore. The island is divided between Indonesia and Malaysia with a small part taken up by the country of Brunei.
It's a very special place ecologically, covered by one of the oldest rainforests in the world. These rainforests are filled with a dizzying array of animals, including the endangered Borneo orangutan. There are several sanctuaries on the island where the great apes can be viewed close-up.
Kota Kinabalu is one of the main cities on the island and a good place to start your Borneo adventures.
18. Brunei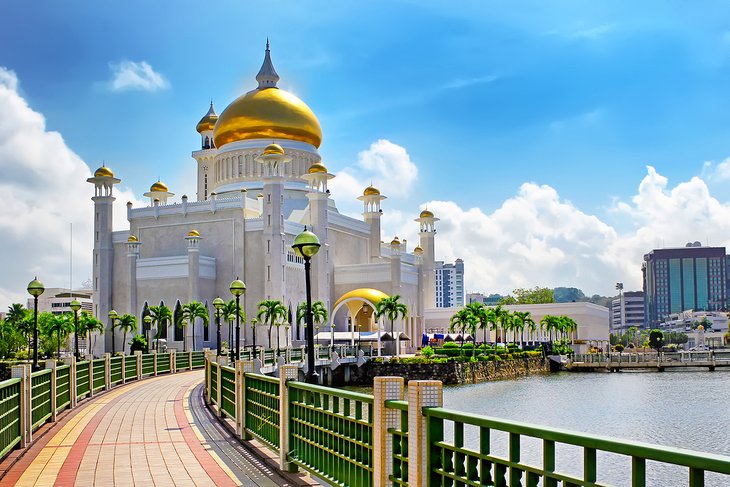 Brunei is a tiny nation, a part of the island of Borneo, sharing the island with both Indonesia and Malaysia. Independent since 1984, the country has great wealth due to oil and natural gas resources. It's a very safe place to visit and is just starting to appear on international travelers' radars. Brunei has also started to really make an effort to appeal to travelers, with English signage and speakers and a good internal transportation infrastructure.
The big appeal here are the rainforests and sheer natural beauty. There are also stunning coastal areas. Both are filled with a variety of indigenous natural flora and fauna. There are a lot of options for outdoor activities and adventure sports, too.
Brunei is also home to some amazing culture and history, going back tens of thousands of years. To promote cultural experiences, the government coordinates homestays where travelers can experience Brunei's culture first-hand.
The best way to get from Singapore to Brunei is to fly; it's about a two-hour flight. You could combine a Borneo and Brunei visit on the same trip.