12 Top-Rated Things to Do in Jakarta
Jakarta, the bustling capital of Indonesia, is a cultural melting pot. A diverse mix of traditions, from Javanese and Malay to Arab, Indian, and Dutch swirl together in this megalopolis. The result is a dynamic, lively city with its own intriguing flavor.
You'll discover that Jakarta has the world's best coffee scene, and most socializing in the city takes place at trendy cafés – not lounges. You'll find yourself craving the fried rice found at Jakarta's countless street food stalls – and develop friendships with the chefs. And you'll end up in the city's glitzy, multipurpose shopping malls for retail therapy, along with entertainment, events, and art.
Jakarta's tourist attractions will also show you a deeper side of this cosmopolitan city. Explore models of traditional homes from all over Indonesia's 17,000-plus islands at Taman Mini Indonesia Indah. Feel the spirit of Indonesian independence at the Monas national monument. See the crumbling architectural from Jakarta's colonial period at the Old Town. Learn about the early humans who lived in Indonesia at the National Museum.
For more ideas on planning your trip to Indonesia, check out our list of the top things to do in Jakarta.
1. Visit the Museum Nasional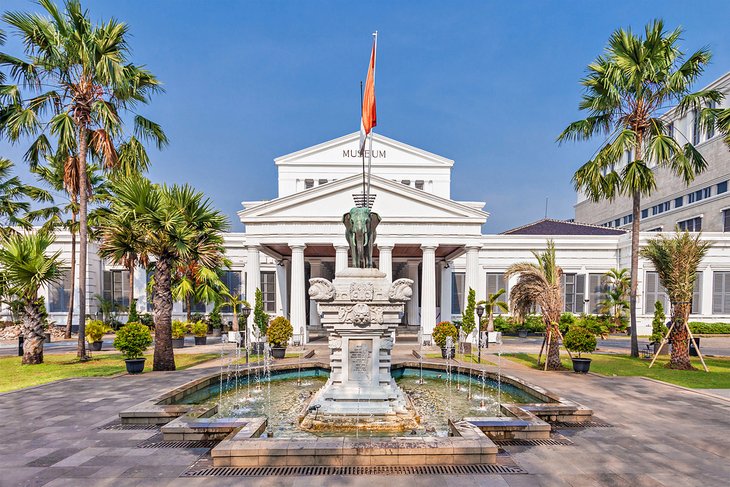 The Museum Nasional (National Museum) is one of the best places to visit in Jakarta. Located on the western edge of Merdeka Square, this archeological and ethnological attraction boasts a rich collection of around 70,000 artifacts. It's considered to be one of Southeast Asia's best museums.
You don't even need to enter the Museum Nasional to start experiencing its many treasures. The courtyard of the more than 150-year-old building features a peaceful fountain topped by a bronze elephant statue, given by Siam monarch Chulalongkorn to Batavia in 1871. The iconic work inspired the main structure's nickname as the "Elephant Building."
The museum is divided into two distinct wings, each of which boasts its own exhibits. The new wing features four floors of exhibits on culture and human origins in Indonesia. Don't miss the collection of priceless gold jewelry and artifacts from Central Java; the exhibit of stunning rare textiles from around Indonesia; and a model of the "Flores Man," the remains of an early human discovered on the island of Flores in 2013.
A glass-walled bridge connects the new wing to the old wing, where you will find Museum Nasional's renowned collection of classical Hindu-Buddhist statues. One of the highlights is the four-meter-tall carving of Adityawarman, king of Malayapura, standing atop a ring of skulls.
The old wing also contains collections of prehistoric ceramics from around Asia, ancient Indonesian ethnographic tools, relics of the Dutch East India Company, and treasure from royal houses across the archipelago.
Hot tip: There are free English tours of the museum throughout the week, hosted by members of the Indonesian Heritage Society. Check the museum's website for current days and times.
Address: Jl. Medan Merdeka Barat No.12, Gambir, Kecamatan Gambir, Kota Jakarta Pusat, Daerah Khusus Ibukota Jakarta 10110
Official site: https://www.museumnasional.or.id/
2. See Kites at Museum Layang-Layang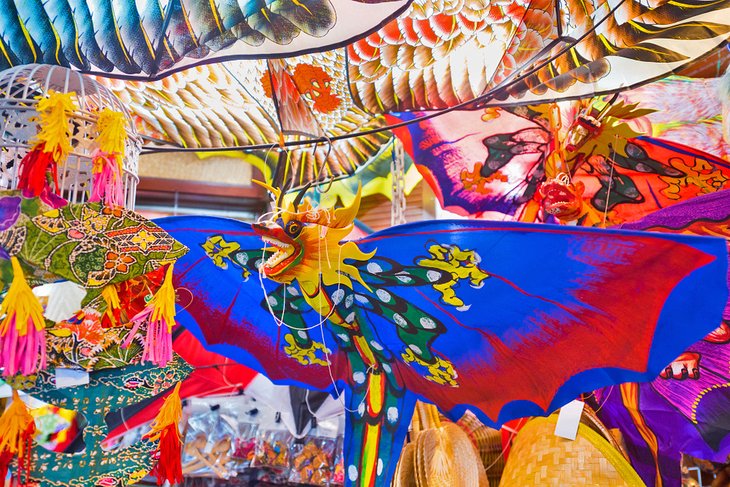 Flying kites has been a tradition in this part of the world for more than 2,000 years, and there's no better place in Jakarta to learn about this heritage than at Museum Layang-Layang, an attraction down a serene alley in Pondok Labu.
A short movie screening in the museum explains the origins of kite flying in Indonesia, as well as the many styles of kites – just the right amount of information tourists need to appreciate the attraction's collection of more than 600 colorful kites.
Look up to see a massive flying horse kite with wings that span the length of the entryway. The museum also displays the head of a fire-breathing dragon kite; a sailing ship that flies; traditional kites made from bamboo and banana leaves; and a wow-worthy 3D kite of a horse-drawn carriage, complete with spinning wheels.
If you're feeling inspired after your tour, you can use materials at the museum to construct your own kite that makes for a one-of-a-kind souvenir.
Address: Jl. H. Kamang No.38, RT.8/RW.10, Pd. Labu, Kec. Cilandak, Kota Jakarta Selatan, Daerah Khusus Ibukota Jakarta 12450
3. Relax at Merdeka Square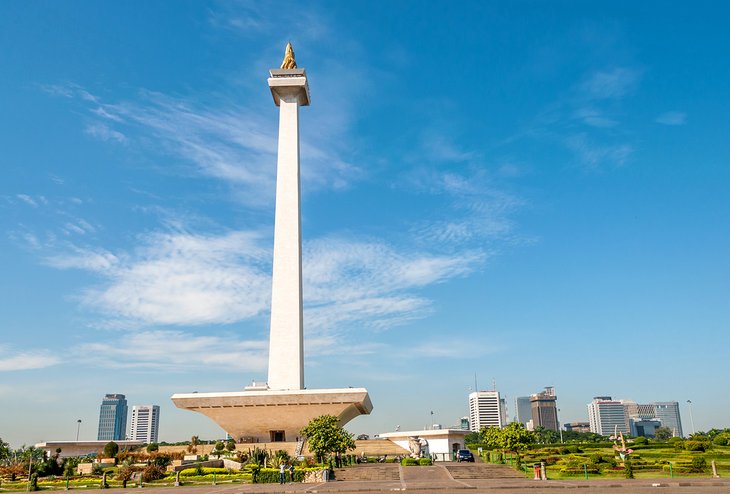 Merdeka Square, a 75-hectare park surrounded by lush greenery in Central Jakarta, is the Indonesian capital's answer to the plazas around European cities. It's considered one of the world's largest public squares.
Jakartans flock to the grand expanse on leisurely weekend days with their friends and families, making Merdeka Square the place to go for a slice of everyday life in this bustling urban area.
Merdeka Square's defining feature is the National Monument. Also known as Monas, the 132-meter-tall tower topped with a gold foil flame symbolizes Indonesia's struggle for independence. The architectural marvel took 14 years to construct and was opened by Suharto, Indonesia's second president, in 1975.
The base of the monument houses the National History Museum, a small attraction with dioramas that depict the history of the Indonesian independence movement. Tourists can also take a lift to the top of Monas every hour – if they can get their hands on one of the limited tickets before they sell out.
Merdeka Square offers the perfect atmosphere for relaxing on a weekend afternoon. Watch pick-up games of soccer, spread out a picnic on one of the grassy lawns, and visit the adorable spotted deer in an enclosed area near the southeastern corner, and see if you don't leave feeling restored.
Adress: Gambir, Central Jakarta City, Jakarta
4. Shop 'Til You Drop at Jakarta's Mega Malls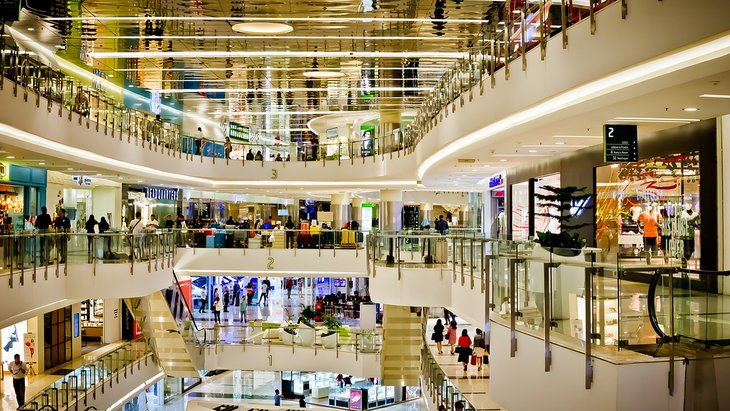 You're never more than a stone's throw away from a mega shopping mall in Jakarta. The city has more than 170 shopping malls spread throughout its neighborhoods. Many of them feature impressive architecture with multiple floors of shops, theaters, restaurants, grocery stores, salons, galleries, and other things to do, making them the ideal place to spend time while you avoid the stifling rush hour traffic in the capital.
Which malls are the best places to visit in Jakarta? The answer depends on what you're looking for. Plaza Indonesia in Central Jakarta brims with international luxury brands, like Bulgari, Rolex, Kate Spade, and Christian Louboutin, as well as locally-made batik textiles. Grand Indonesia Shopping Town, a mall in view of the Selamat Datang Monument, features the largest movie theater in Indonesia, a fountain show, and a video game arcade.
In West Jakarta, shoppers can head to Mal Taman Anggrek (also known as MTA) for more than 500 stores, concerts in the central atrium, one of the country's largest indoor ice-skating rinks, and a massive LED display that stretches around the entire building.
Foodies should make a point to have a meal (or two) at the robust food hall inside of Plaza Senayan in Central Jakarta.
5. Experience Contemporary Art at Museum MACAN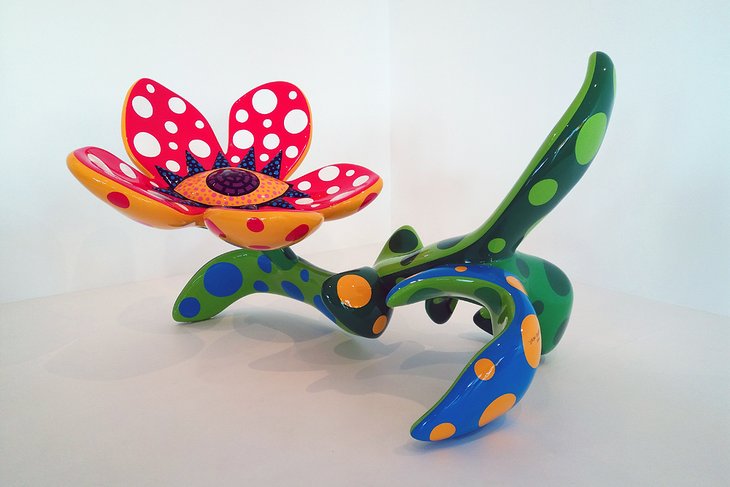 Indonesia made international headlines when the country cut the ribbon on its first contemporary art institution, Museum MACAN, in November 2017. The critically acclaimed attraction has since built a reputation as one of the top places to visit in Jakarta.
The 7,100-square-meter space showcases an important 800-piece collection built over 25 years, primarily by art aficionado and businessman Haryanto Adikoesoemo. Inside the cultural icon, tourists can see whimsical fiberglass creations from Yayoi Kusama, Romantic paintings from beloved Indonesian artist Raden Saleh Sjarif Boestaman, and a unique watercolor map of Bali by Mexican painter Miguel Covarrubias.
Check the museum's website for the most up-to-date list of exhibitions and events during your visit to Jakarta.
Address: AKR Tower Level M, Jalan Panjang No. 5 Kebon Jeruk, Jakarta Barat 11530
Official site: https://www.museummacan.org/
6. Take a Day Trip to the Thousand Islands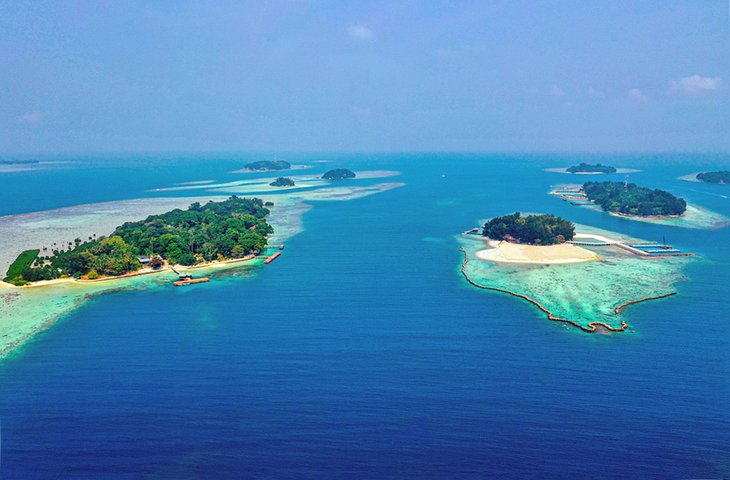 Need a break from Jakarta's concrete jungle? Take a day trip to the Thousand Islands, a cluster of 110 exquisite islands scattered in the Java Sea, just north of the city. Ferries and private shuttles whisk tourists to hot spots within this island chain from Marina Ancol every day.
You can reach one of the closest Thousand Islands, Pulau Bidadari, in just 30 minutes from the ferry port. Highlights of the destination include rare trees, sandy beaches, and a 17th-century fort. You can also spend the night in an overwater bungalow.
Picturesque Pulau Tidung is another favorite spot for a day trip. Tourists spend their time on this island bicycling, snorkeling, and snapping photos along the legendary "Love Bridge," which connects the main island with a smaller piece of land.
You'll feel worlds away from the big city the moment you step foot on Pulau Sepa. Located about 90 minutes away from Jakarta, the island is an adventure lover's paradise. Choose from water sports, like banana boat rides, snorkeling, jet skiing, and diving. If you miss the ferry back to the city, you can sleep in a cottage or camp out under the stars.
7. Learn about Jakarta's History in the Old Town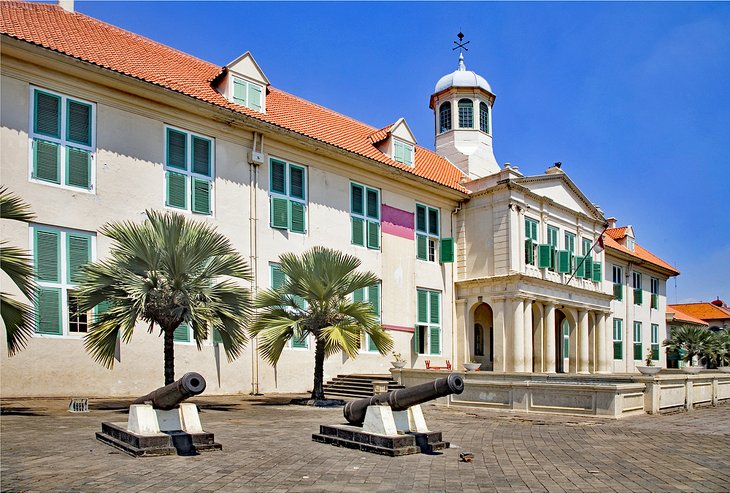 Indonesia's capital may look shiny and modern, but it still retains relics of its charming historical atmosphere in Kota, Jakarta's Old Town. The area served as the Dutch East India Company's headquarters in the 17th century. It's one of the best places to visit on your first day in Jakarta to get a sense of this city's storied past.
Taman Fatahillah is the center of sightseeing in Kota. Dutch colonial buildings surround the cobblestone plaza, creating a stately atmosphere that stands in stark contrast to the glass-and-concrete skyscrapers found elsewhere in Jakarta.
The nearly 400-year-old whitewashed building on the southern edge of the square has been transformed from a town hall to the Jakarta History Museum. Inside, you'll find more than 20,000 historical objects, including antique maps, ceramics, and Betawi-style furniture, along with prison cells that held Indonesian freedom fighters in the 19th century.
Another worthwhile attraction to explore in Kota is Museum Wayang on the western edge of Taman Fatahillah. It takes travelers through the Javanese tradition of wooden puppetry. The cultural institution occasionally hosts free puppet shows.
For more art and culture in Kota, check out the Museum Seni Rupa Dan Keramik (Museum of Fine Arts and Ceramics), just across the square from Museum Wayang. It displays a remarkable collection of ceramics and handicrafts from Indonesia, as well as pieces from Europe and other parts of Asia.
Don't spend all your time indoors, though. Lined with intriguing wooden-shuttered buildings, Kota's side streets are a treasure trove of photographic sites and rich atmosphere. Explore the area by foot, or rent a bike from Fatahillah Square. When you're ready to refuel, the famous Cafe Batavia is the best spot to escape the heat and sip on classic punch mocktails.
Address: Jl. Lada Dalam No.7, RT.7/RW.7, Pinangsia, Kec. Taman Sari, Kota Jakarta Barat, Daerah Khusus Ibukota Jakarta 11110
8. Explore Kemang, Jakarta's Trendiest Neighborhood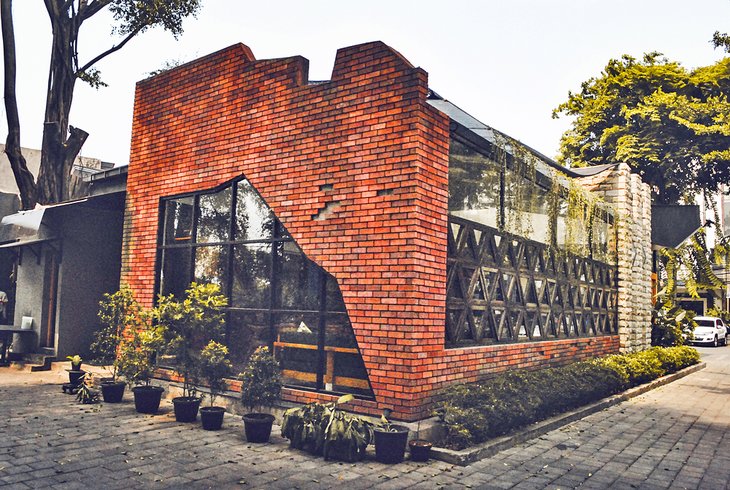 Devote an afternoon of your Jakarta itinerary to exploring Kemang. Widely considered to be Jakarta's trendiest neighborhood, the suburban expat area brims with cafés, shops, and sightseeing opportunities.
There are tons of things to do in Kemang. Sip a strong cup of coffee at Say Something Coffee while watching dogs play at the nearby dog park. Browse shelves of novels in the serene Aksara book store. Check out the latest apparel from up-and-coming Indonesian designers at Kemang's ever-changing roster of boutiques. Catch a flick at the Kinosaurus microcinema.
Get in touch with your creative side by seeing an art exhibit at Kemang Gallery 58. It's also worth indulging in weekend brunch at Kemang's bustling restaurants – if you can score a table. Call ahead to make reservations.
Hot tip: It's tough to get to Kemang on public transportation. Flag a Blue Bird Taxi or hop on the back of an ojek (informal motorcycle taxi) to reach this area.
9. Gaze at Istiqlal Mosque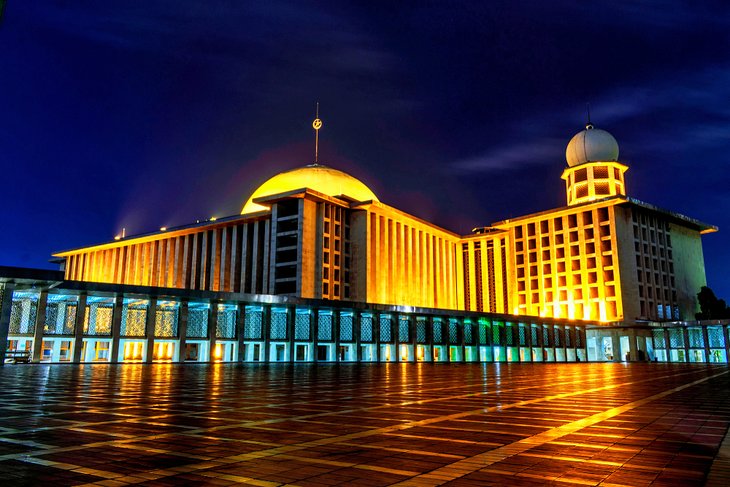 When you're visiting a country with the world's largest Muslim population, you'll want to make a point to experience Islamic culture and attractions firsthand, starting with a visit to Istiqlal Mosque. The largest mosque in Southeast Asia (and one of the world's largest mosques), this religious site in Jakarta has the capacity to hold a whopping 120,000 visitors at any given time. The five-level dome structure, much of which is made from marble from East Java, spans an impressive nine-hectare area near Monas.
Conservatively dressed tourists are welcome to visit the mosque outside of prayer times. But if you don't have time to go inside, simply stand nearby and listen to the call to prayer delivered from the structure's soaring minaret throughout the day.
Address: Jl. Taman Wijaya Kusuma, Ps. Baru, Kecamatan Sawah Besar, Kota Jakarta Pusat, Daerah Khusus Ibukota Jakarta 10710
10. Splash around Ancol Beach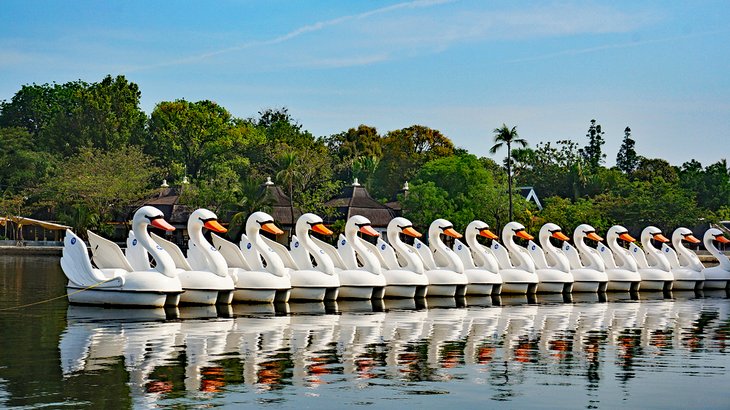 Looking for a way to beat Jakarta's heat and humidity? Head north to the city's popular beach resort of Ancol. The expansive recreation area features a marina, sandy shore, and swimming pools where you can rent a sun lounger and cool off for the day. There's also a lovely promenade and boardwalk, which make great spots to watch the sunset.
Besides the beach, this area is also home to another popular attraction: Ancol Dreamland. The waterfront attraction offers fun for the whole family, including a massive oceanarium, a water park with a maze of twisting slides, a world-class golf course, botanical gardens, a zoo, and a theme park with more than 40 rides. If you're traveling to Jakarta with kids, you'll definitely want to include a day or two in Ancol on your itinerary.
11. Visit the Jakarta Cathedral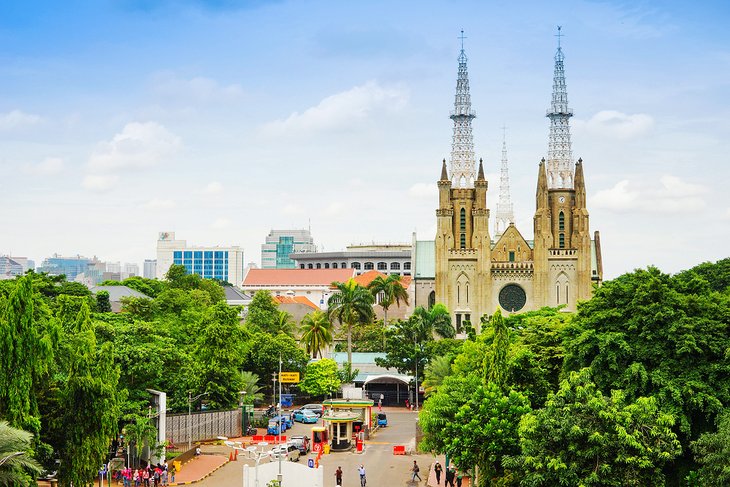 In the shadows of Istiqlal Mosque stands another one of the city's prominent religious sites: St. Mary of the Assumption Cathedral. Better known as the Jakarta Cathedral, the neo-gothic church traces its history back to the mid-19th century. Its proximity to the large mosque is considered a symbol of Indonesia's philosophy of unity and harmony among different faiths.
From a distance, the cathedral appears to be constructed of stone, like European churches. But get up close, and you'll notice that it's actually made of thick bricks coated in plaster that's designed to look like natural stone. Step inside, and you'll see three historic altars, enough pews to accommodate 8,000 worshippers, and a statue of Mary holding Jesus Christ after his crucifixion.
Just next door to the church is the Museum Katedral, a small museum that explains how Catholicism reached Indonesia. It holds the record of Indonesia's first known baptism, which took place in 1808.
Address: Jl. Katedral No.7B, Ps. Baru, Kecamatan Sawah Besar, Kota Jakarta Pusat, Daerah Khusus Ibukota Jakarta 10710
12. Learn about Betawi Culture at Setu Babakan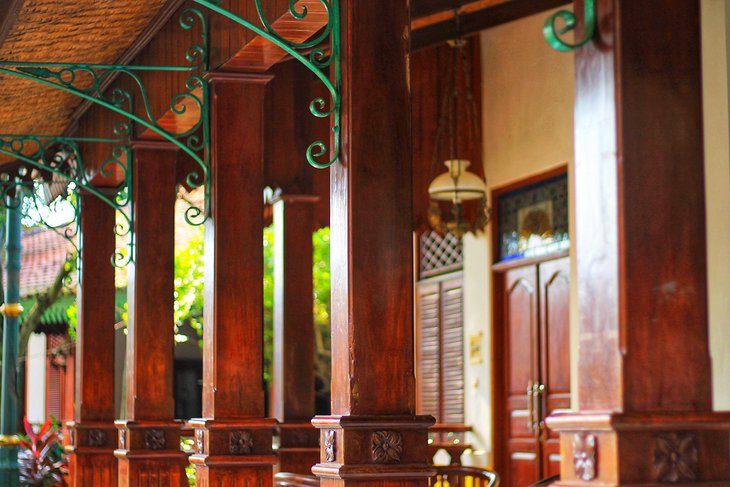 Learn about the original inhabitants of the greater Jakarta area at Setu Babakan, an interactive attraction that aims to preserve and celebrate Indigenous Betawi culture. Start at the two-story Betawi Museum, then make your way outside to see Betawi homes and catch a cultural arts performance at the amphitheater.
When you're feeling hungry, swing by Zone E of the attraction to sample traditional Betawi cuisine (like fried bean sprouts and glutinous rice omelets) from the vendors. The multisensory experience will leave you with a deep appreciation for this ancient culture.
Hot tip: Every July, Setu Babakan hosts its annual Betawi Culture Festival, which gives tourists the chance to see a wedding, traditional ceremonies, and special rituals.
Address: Jl. RM. Kahfi II, RT.13/RW.8, Srengseng Sawah, Jagakarsa, Kota Jakarta Selatan, Daerah Khusus Ibukota Jakarta
Official site: http://www.setubabakanbetawi.com/en/
Map of Things to Do in Jakarta
Jakarta, Indonesia - Climate Chart
Average minimum and maximum temperatures for Jakarta, Indonesia in °C
J
F
M
A
M
J
J
A
S
O
N
D

28

24

29

24

30

24

31

24

31

24

31

24

31

23

31

23

32

24

32

24

31

24

30

24

PlanetWare.com
Average minimum and maximum temperatures for Jakarta, Indonesia in °F
J
F
M
A
M
J
J
A
S
O
N
D

83

75

85

75

86

75

88

76

88

76

88

75

88

74

88

74

89

75

89

76

88

76

86

75

PlanetWare.com
More Related Articles on PlanetWare.com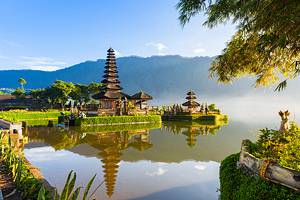 Exploring Indonesia: With so much to see, it's best to take a complete look at the top attractions in Indonesia before finalizing your travel plans. Many people head to Bali for a little rest and relaxation, and to spend some time on the beautiful beaches. If it's beaches you're after, be sure to see our guide to the best beaches in Indonesia.