12 Best Beaches near Sacramento, CA
Sacramento has several beaches near and far, ranging from sandy river beaches to Pacific Ocean getaways approximately 100 miles away. These sandy destinations come in handy for the extended warm season of Sacramento–when everything feels better with a bit of water nearby.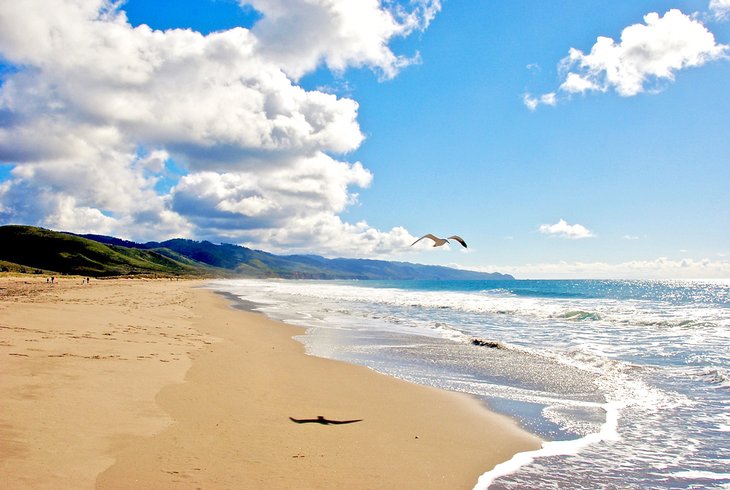 In-town beaches include sandy shorelines on the American and Sacramento Rivers. While it's safe to wade into the water at most river beaches, currents can pose a danger, particularly the farther away from shore. Life vests are always recommended, and swimmers enter the water at their own risk.
Sacramento is also close enough to the ocean for weekend beach getaways. It takes approximately two hours to reach some of California's prettiest coastline from Sacramento. The proximity includes several sites within the Golden Gate National Recreation Area, spanning both sides of the Golden Gate Bridge.
Enjoy some sunny weather in California with our list of top beaches near Sacramento.
1. Robert W. Crown Memorial State Beach, San Francisco Bay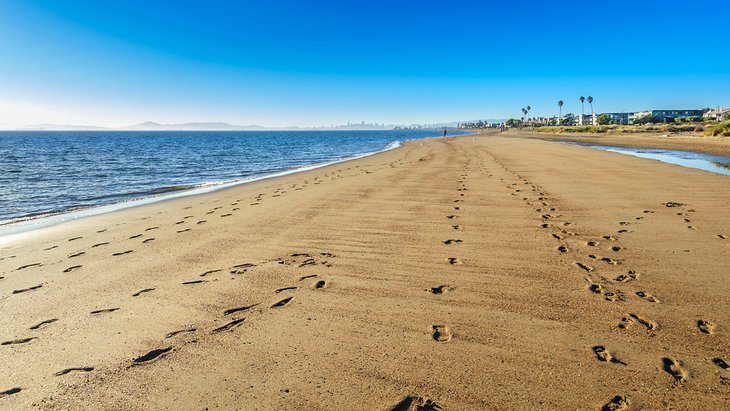 Robert W. Crown Memorial State Beach, also known as Alameda Beach, is just south of Oakland on San Francisco Bay.
It's an approximately 85-mile drive from Sacramento and usually takes an hour-and-a-half of driving. But the beach is worth the commute, comprising 2.5 miles of sandy and relaxing habitat.
The city helps maintain and operate the state beach, which has several amenities to enjoy the day. Visitors find facilities like picnic areas, dog parks, and windsurf rentals near the main entrance.
A long sandy shoreline extends east along the bay, offering plenty of space to spread out some beach equipment.
Getting into the water is popular throughout the summer. No lifeguards are on duty, and swimmers will want to check local conditions before taking a dip.
Other popular activities along the beachfront include sun tanning, lounging under a canopy, and long beach walks.
2. Stinson Beach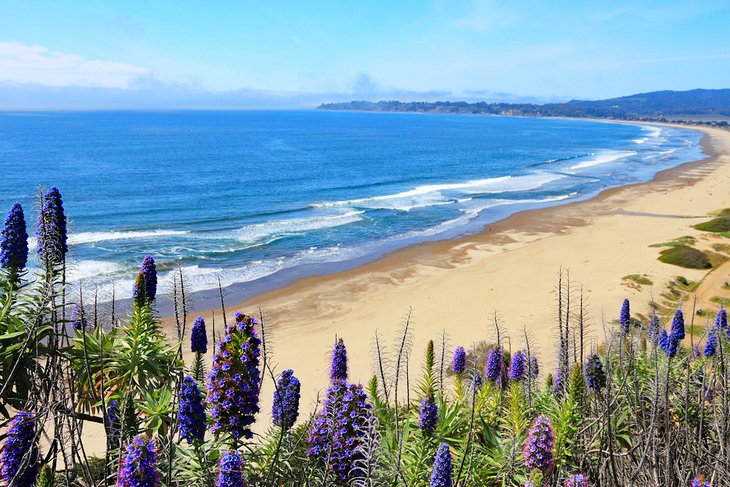 Stinson Beach is a famous piece of Pacific Ocean shoreline just north of San Francisco and the Golden Gate Bridge.
The beach is part of the much larger Golden Gate National Recreation Area, encompassing 37 distinct park units, ranging from Alcatraz Island to Muir Woods.
Stinson Beach is arguably the best swimming beach in Golden Gate National Recreation Area. and is among the most popular beaches in California.
Lifeguards are on duty from late May through September, and a shallow entry makes it easier to access the water. However, the ocean is still dangerous, and swimmers should take caution when entering the water.
It's approximately a 100-mile drive from Sacramento to Stinson Beach, mainly on Interstate 5. The beach's scenic beauty and day-trip distance to San Francisco make it a popular spot throughout the extended summer season. Plan to arrive before 10am to ensure a parking spot.
3. Muir Beach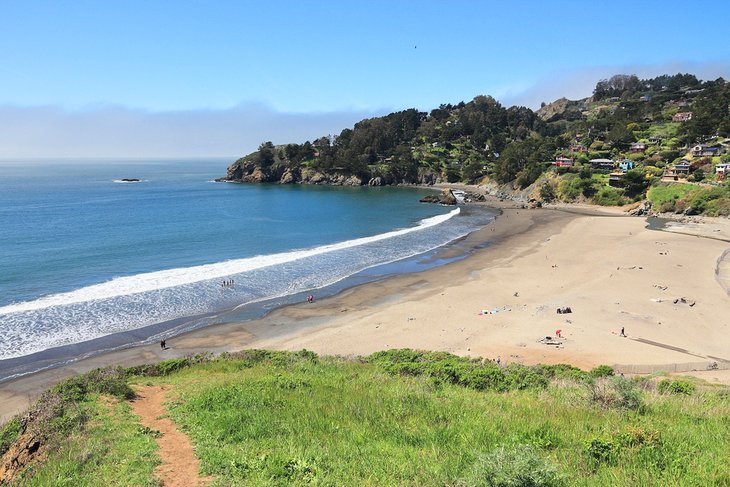 Muir Beach is a beautifully secluded cove in the Marin Headlands north of San Francisco and the Golden Gate Bridge. It's part of the Golden Gate National Recreation Area and is only a few miles west of Muir Woods.
These two sites of the National Recreation Area, one of California's most popular parks, pair nicely for a day trip to see dramatic redwood trees and a beautiful coastline.
Visitors from Sacramento reach Muir Beach with approximately a 100 mile-drive, or about a two-hour drive depending on traffic. Upon reaching the moderate off-street parking area, beachgoers cross a 450-long pedestrian spanning Redwood Creek to reach the postcard sand.
It's a reasonably large cove at Muir Beach, though it can feel crowded on sunny weekends. Swimming is not advisable in the dangerous surf, and no lifeguards are on duty.
When visiting, take some extra time to drive to the Muir Beach Overlook nearby, where a sweeping view of the coast is worth the drive alone.
4. Rodeo Beach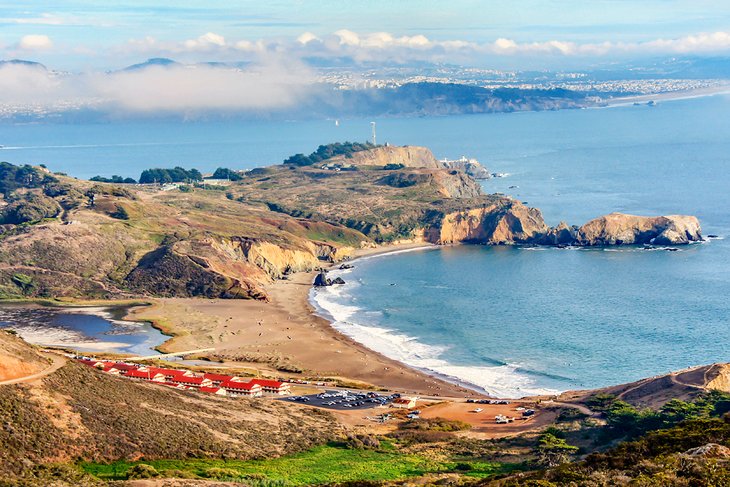 Rodeo Beach is a unique pebbly beach on the west side of Marin Headlands, just north of Point Bonita Lighthouse. It's bounded by the Pacific Ocean and Rodeo Lagoon, offering a sheltered place to explore and spend the day.
The pebbly beach and wild surroundings are more rugged than traditional sandy beaches. This landscape leads to popular activities like beachcombing, hiking, and photography.
Mindful beach walkers may observe the colorful gems and minerals mixing with the beach sand, giving off colors of blue, green, brown, and red.
The water presents dangerous conditions for swimming, but it's not uncommon to see surfboards navigating the waves.
Visitors typically access Rodeo Beach from its northern end and a large off-street parking area. Alternatively, Rodeo Beach is accessible from Fort Barry and the Battery Alexander parking lot.
5. Bodega Bay Beaches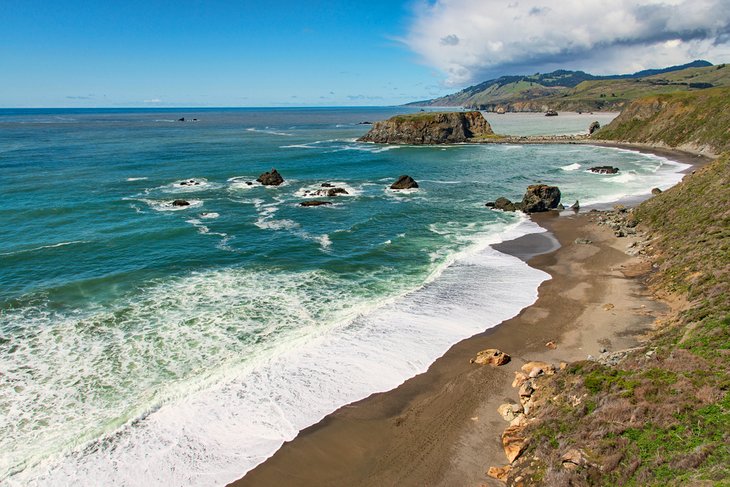 The beautiful beaches of Bodega Bay are just over a two-hour drive from Sacramento.
The town is perhaps best known in pop culture as the filming location and setting for Alfred Hitchcock's 1963 film, The Birds. But, for ocean seekers, Bodega Bay is better known for its illustrious stretch of coast heading north from town.
The 13-mile Sonoma Coast State Park extends north from Bodega Bay, with one postcard beach after the other. The scenic selection includes Wright's Beach, Schoolhouse Beach, and Goat Rock Beach on the far northern end.
Each one of these beachscapes is nothing short of jaw-dropping in nature. They also each have dangerous surf, where swimming is highly discouraged.
And it's not just Sonoma Coast State Park with beaches to explore. Bodega Bay itself has two in-town beaches popular with locals and tourists alike.
Doran Regional Park has a long, protected shoreline alongside hiking trails and campsites. And the impressive Bodega Head also has a pocket beach that adds to the experience of exploring this massive promontory.
6. Montara State Beach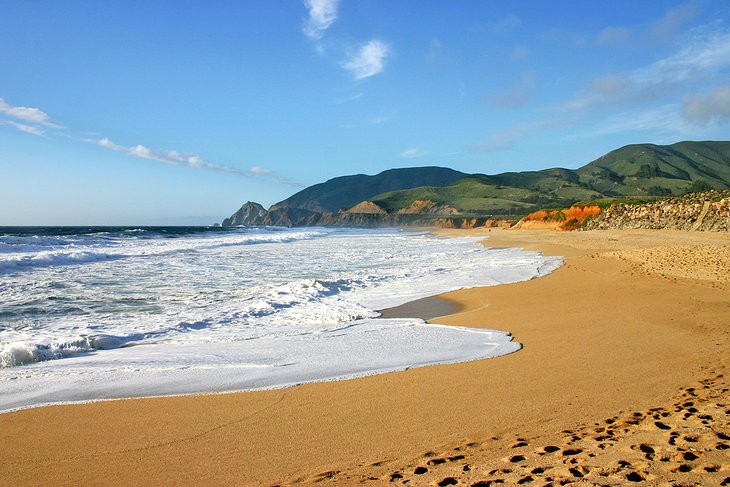 Montara State Beach is on the San Mateo County Coast, south of San Francisco. It's a popular, mile-long stretch of sand that caters to all types of beach activities.
Everyday endeavors include suntanning, surfing, and exploring the rugged environment. However, the water is too cold for swimming.
The beach sits next to the inland McNee Ranch, also operated by the state park. Here, hikers explore the verdant terrain encompassed by Montara Mountain–the northernmost peak of the Santa Cruz range.
Hiking trails lead to the top of Montara Mountain and parallel the Cabrillo Highway, with some paths leading north to Gray Whale Cove State Beach.
It's a two-hour drive through San Francisco to Montara State Beach from Sacramento, depending on traffic conditions. This length of a trip calls for more than a day trip.
Luckily, the San Mateo Coast has plenty of places to stay for a weekend trip. Just a little bit south, the community of Half Moon Bay has several notable hotels next to the sea.
7. Half Moon Bay State Beach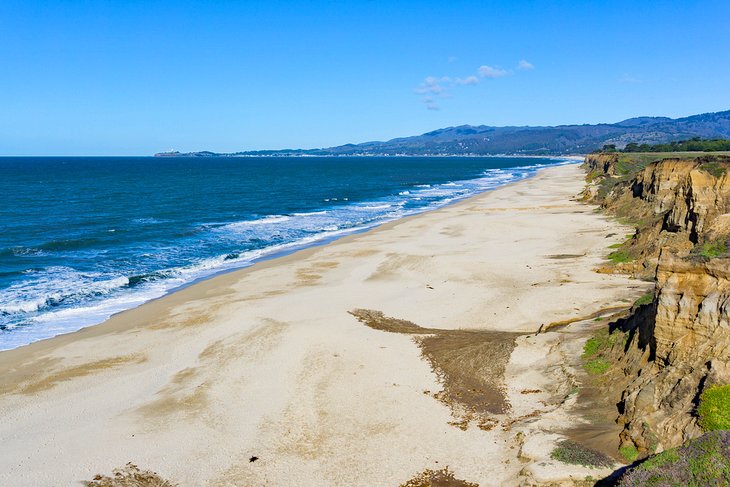 The charming coastal community of Half Moon Bay is on the San Mateo County Coast, approximately a 110-mile drive or 2.5 hours from Sacramento.
But the extended travel is worth it, especially if staying for a long weekend, thanks to the stunning coastline comprising this idyllic stretch of California.
Half Moon Bay State Beach makes up most of the photogenic shoreline.
The state beach features four miles of coastline divided between different beach segments, including Roosevelt Beach, Dunes Beach, Venice Beach, and Francis Beach.
Each area is worth ample exploration and connects to the scenic Coastside Trail. Sightseeing along here is one of the top things to do in Half Moon Bay.
8. Fort Funston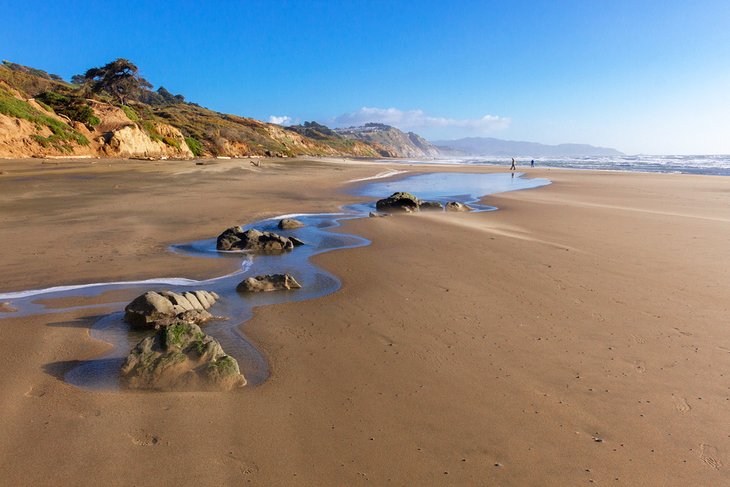 Fort Funston is the most southern beach on the Pacific Ocean within San Francisco.
Big, beautiful bluffs back-end the beach, some over 200 feet tall. Persistent gusty winds pair with these high vantage points to make Fort Funston a renowned hang-gliding destination.
The bluffs are also a popular hiking and horseback riding destination. Dog owners also frequent these trails with their canine companions.
It's always important to stay on the trail when exploring the bluffs above the beach, as areas are prone to erosion and steep drop-offs.
Traditional beach activities like sun tanning, swimming, and sandcastle building aren't as typical at Fort Funston Beach. It's a long descent from the parking area down to the beach, and the persistent winds can make laying out uncomfortable.
Those who make it to the beach typically enjoy beach walking and beach combing.
9. Paradise Beach, American River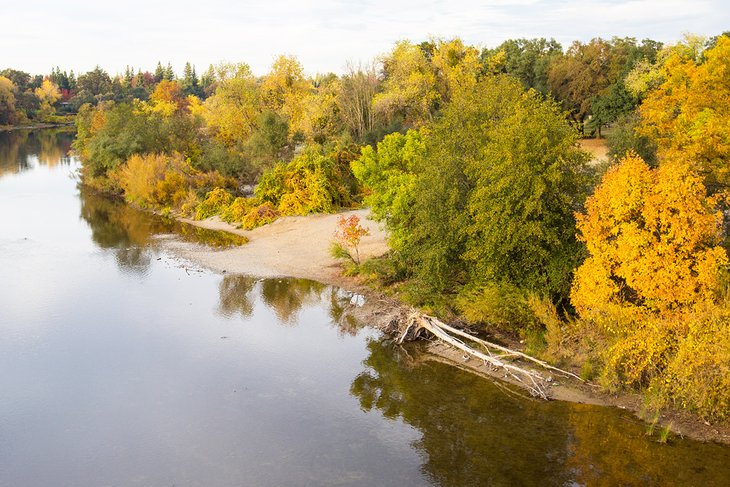 Paradise Beach is one of several units comprising American River Parkway Regional Park, which spans 23 miles and over 4,800 acres.
Paradise Beach is also one of the sandiest, as one of the only actual beaches along the river. Its sandy appeal comes from its location on an oxbow bend, creating a build-up of sand and relatively calm conditions for swimming.
Swimming is one of the most popular activities at the beach. However, no lifeguards are on duty, and a current is still present. All swimmers enter the water at their own risk.
A loaner station for children's life jackets is on-site throughout the summer. A scattering of picnic tables is also available for a meal outside. And the woodsy area alongside the river is fun to explore.
Paradise Beach is walk-in only, with nearby free parking available at Glen Hall Park. It's less than a quarter-mile walk to the river from Glen Hall Park along unofficial but easy trails to follow.
Glen Hall Park has several other amenities to go with a visit to Paradise Beach, including a public pool with lifeguards on duty.
10. Tiscornia Park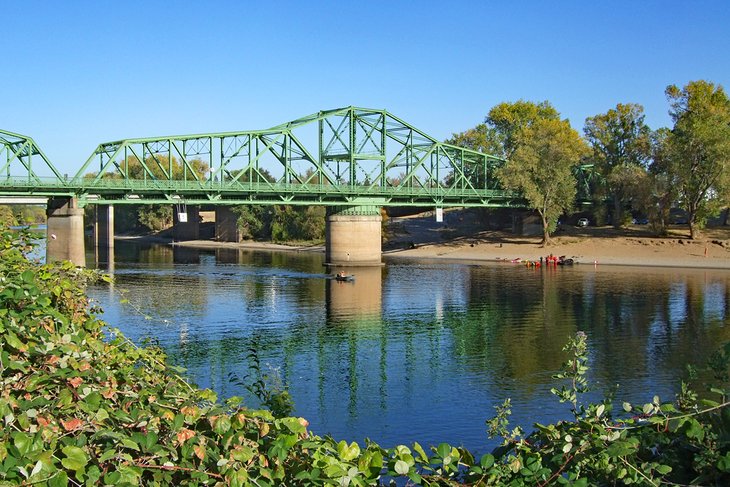 Tiscornia Park is a 13-acre, city-owned parcel of the larger Discovery Park, at the confluence of the American and Sacramento Rivers. It encompasses the iconic beachfront at the end of the American River, near the Jibboom Street Bridge.
It's not a large beach, and it does get busy on hot-weather weekends. Catch it on a weekday or earlier in the morning, though, and Tiscornia Park offers a peaceful place to get away.
Dangerous currents are present in the river, encouraging the use of a life vest. Still, the water provides an inviting way to cool off.
Limited parking is available next to the beach. Approximately 20 parking spots are right next to the sand, while a few extra spots are underneath the Jibboom Street Bridge. Tiscornia and the surrounding Discovery Park are prone to planned flooding when river levels are high.
11. Sand Cove Park
Sand Cove Park encompasses nearly 10 acres of parkland and beach on the Sacramento River, northwest of downtown. A less-than-300-foot walk from the parking lot leads to a moderate beach protruding into the river, with a thin shoreline extending from either side.
The beach is popular, but there's typically plenty of room to claim some space. The shaded spots are occupied the quickest, so bring a small canopy or beach umbrella for guaranteed shade. The parking lot has space for 50 vehicles.
Swimming does occur throughout the summer, but parents and children must be mindful of the current.
Fishing is also popular throughout the seasons, and Sand Cove has a reputation for monster salmon pulled from the water.
12. Sutter's Landing Beach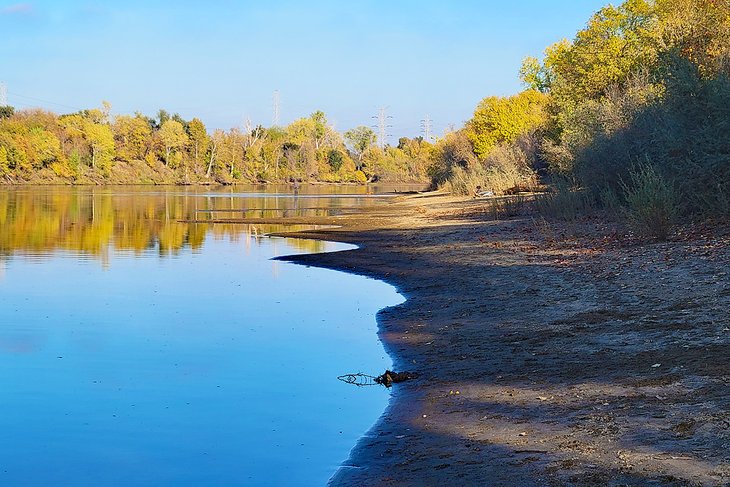 Sutter's Landing Regional Park encompasses over 166 acres on the south side of the American River. It's the site where John Sutter landed in 1839. Sutter would soon go on to erect Sutter's Fort, whose re-creation is a popular Sacramento attraction today.
The park's small slice of beach is sometimes overlooked among the many other amenities available. But, follow the path from the shaded parking structure past the bocce ball courts and beyond the popular 28th and B Skate Park, and the river isn't too far away. It is a short walk (less than 300 feet) down a dirt trail to reach the beach.
The beach is generally quiet thanks to its longer walk-in access. And, like any river beach, the currents pose a potential danger. Life vests are recommended for weaker swimmers.
The quiet nature of the area also makes it an excellent spot for bird watching.
Best Time to Go to the Beach in Sacramento, CA - Historical Climate Averages
Average minimum and maximum temperatures for Sacramento, CA in °C
J
F
M
A
M
J
J
A
S
O
N
D

13

5

17

7

19

8

23

10

28

12

32

14

34

16

34

16

32

15

26

12

18

8

13

4

PlanetWare.com
Average monthly precipitation totals for Sacramento, CA in mm.

106

96

80

30

15

5

1

1

9

25

66

70