12 Best Beaches in Bodega Bay, CA
The best beaches near Bodega Bay showcase the bountiful beauty of the Sonoma Coast in Northern California. Stunning beaches punctuate this dynamic shoreline alongside rocky bluffs, wildlife, and dangerous swimming conditions. Most of these sandy escapes are north of town and part of the 17-mile-long Sonoma Coast State Park.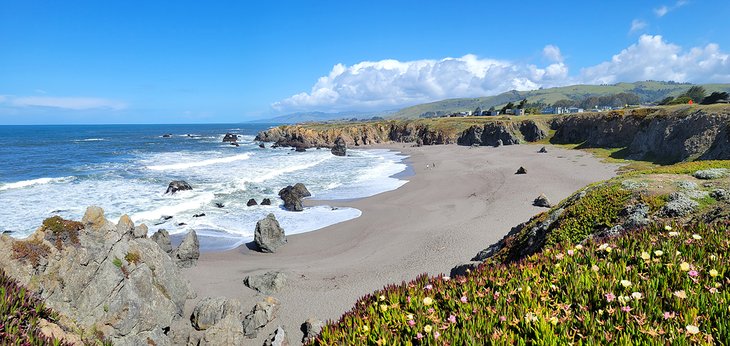 But it's not just Sonoma Coast State Park with a sandy appeal. Places in Bodega Bay like Doran Regional Park and Bodega Head also deliver shorelines to explore. These two in-city destinations are some of Bodega Bay's top things to see and do, which also include dune hiking trails and Alfred Hitchcock history, a la The Birds.
Swimming and wading are dangerous along the Sonoma Coast. Rip currents, cold water, and large surf have proved fatal in years past. But don't let the danger dissuade a visit. By keeping a safe distance from the shore, the Sonoma Coast offers some of the most idyllic beaches in the state.
Enjoy the best of coastal California with our list of the top beaches near Bodega Bay.
1. Doran Beach, Doran Regional Park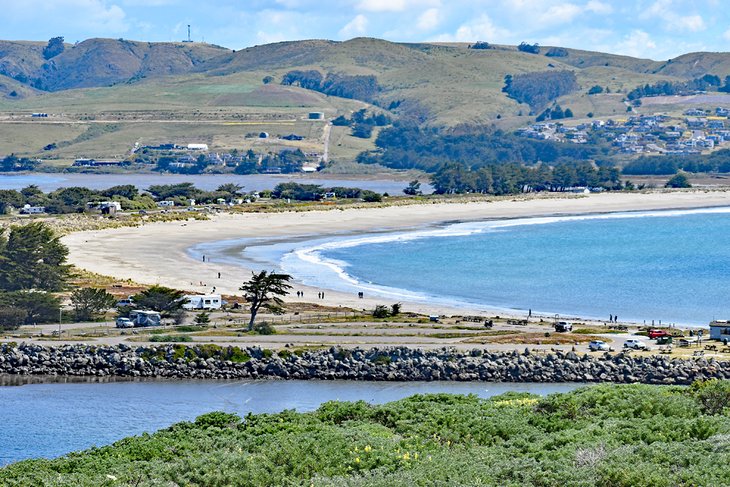 Doran Beach is the closest beach to Bodega Bay. It's within Doran Regional Park, which encompasses the long spit extending from the town's center, separating Bodega Harbor and the ocean. Doran Beach comprises the spit's entire oceanside, stretching for over two miles with sandy appeal.
The length of Doran Beach makes it great for long beach walks. There's also plenty of space to lay a towel down and enjoy the sunny weather. The beach is also popular with other activities, like kite-flying, sandcastle building, and Frisbee throwing.
Doran Regional Park has several other amenities outside its long and lengthy beach. It's a popular camping spot with over 120 campsites spread between five campgrounds. Campsites accommodate both tents and RVs, but no electric hookups are available.
Day-use picnic areas, hiking trails, and a boat launch into Bodega Harbor also attract visitors throughout the year. And for anyone interested in spotting some wildlife, the park lends access to the gravel Bird Walk Coastal Access Trail.
2. Campbell Cove Beach, Bodega Head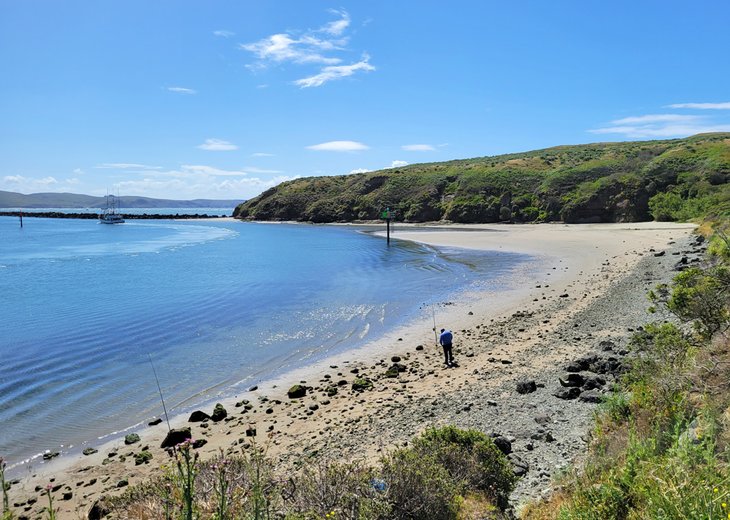 Campbell Cove is a flat beach on Bodega Head near the entrance of Bodega Harbor. It's accessible from town with a scenic drive on Westshore Road. The beach and parking area are at the hairpin turn in the road leading up to the top of Bodega Head.
The beach's flat nature makes it practically underwater come high tide. However, it really opens up during low tide and offers a lovely uncrowded venue for beachcombing and exploring. Picnic tables and a vault toilet are near the parking area.
Take some time to check out the unique pond on the opposite side of the parking area from the beach. A boardwalk trail leads to a viewpoint overlooking this unique freshwater pond, sometimes referred to as "The Hole in the Head." The water is often popular with several types of birds.
3. North Salmon Creek Beach & South Salmon Creek Beach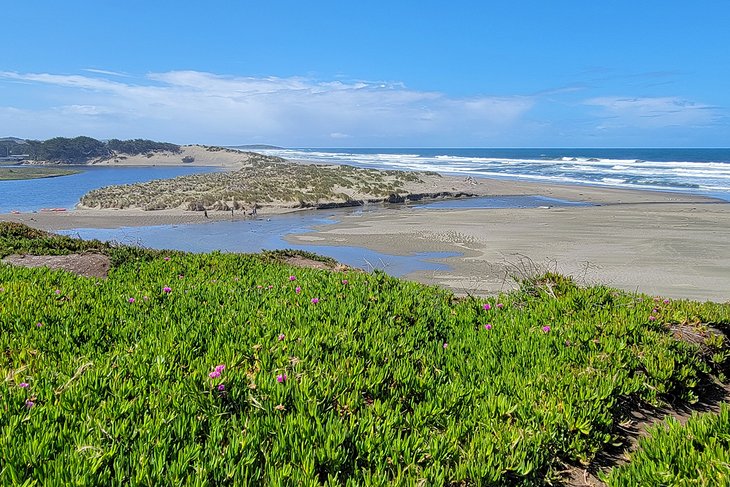 Two beach units sit on either side of Salmon Creek just north of Bodega Bay. Each has its own parking access, and both lead to a broad and rugged beach ripe with wildlife and other dynamic features. Salmon Creek is wadable during low tide to connect the two beaches.
South Salmon Creek Beach is accessible off Bean Avenue on the northside of town. This area lends quick access to the beach and the shifting sand spit separating the river and the ocean.
Alternatively, North Salmon Creek Beach is accessible from a parking area off Highway 1 or several subsequent pull-off areas.
The brackish lagoon formed by Salmon Creek offers a dynamic area to explore. It's often a haven for migratory birds, as well as bird-watchers. To the south, Salmon Creek Beach connects with the even more remote Bodega Dunes Beach for further adventures.
4. Wright's Beach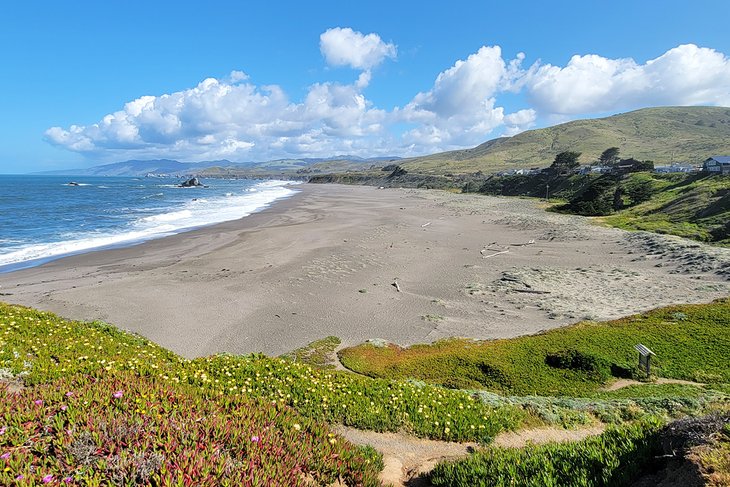 Wright's Beach is the largest sandy expanse between Bodega Bay and the Russian River to the north. It's within Sonoma Coast State Park, less than seven miles north of Bodega Bay. It's popular as a day-use destination and for coastal camping, with 27 sites close to the ocean.
The beach is popular for quintessential beach activities like walking, lounging, and flying a kite. The beach is also home to a picnic area, perfect for enjoying a meal outside. Swimming is not advised in the dangerous surf.
The campground at Wright's Beach is fairly primitive and very popular. Reservations are available six months in advance. The campground supports trailers up to 27 feet long, but no electric hookups are available. Flushing restrooms are present, but campers will want to fill up on drinking water before arriving.
Take some time to visit Duncan's Landing on the south side of Wright's Beach. Visitors drive right onto this promontory, also known as Death Rock, a name derived from the big waves that swept over the landing in the past. However, in calm conditions, Duncan's Landing has excellent coastal vantage points.
5. Portuguese Beach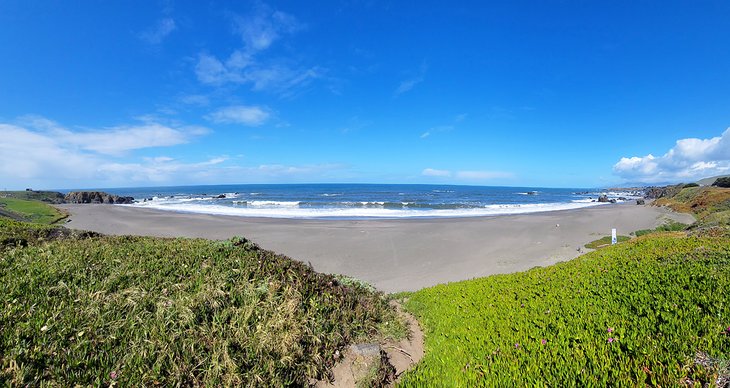 Portuguese Beach is a vast and flat sandy expanse, approximately halfway along Sonoma Coast State Park. It's a popular beach for its scenic landscape and easy access. It's a short walk from the Coast Highway to the sand with several pull-outs available. The largest parking area is on the beach's southern end, where vault toilets are also on-site.
Swimming and wading are dangerous at Portuguese Beach, but the area is popular for all types of sandy activities. It's one of the largest beaches in the area, so extended beach walking is also popular. But many just spread a towel out and enjoy the idyllic coastal atmosphere.
6. Schoolhouse Beach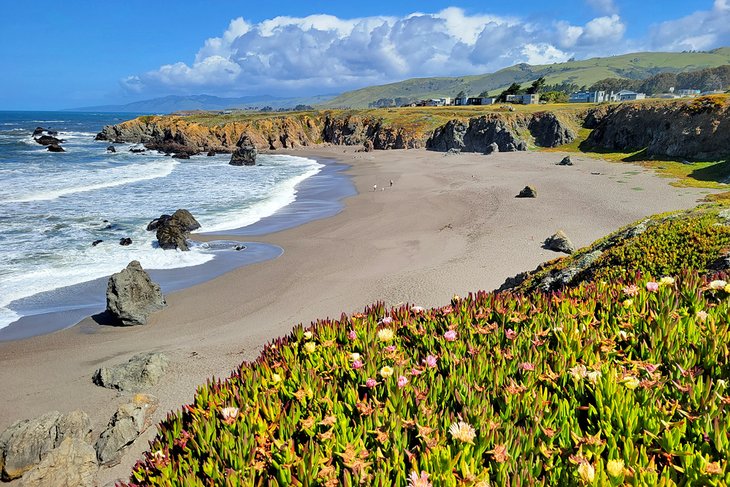 Schoolhouse Beach is just south of Portuguese Beach, near the center of Sonoma Coast State Park. It offers similar amenities, like expansive sand, postcard coastal landscapes, and easy access. It's not quite as long as Portuguese Beach, but it is wider, making it accessible at almost any tide level.
The beach and this general region of the state park are popular for rock fishing and shoreline fishing. Swimming and wading are dangerous, and anglers need to watch out for deadly sneaker waves that creep onto the shore.
The main parking area for Schoolhouse Beach also accesses Portuguese Beach to the north. It's a short walk down to the sand. Visitors can also access Schoolhouse Beach by walking from Carmet Beach to the south. However, the route navigates a rocky shoreline that's dangerous during high tide.
7. Shell Beach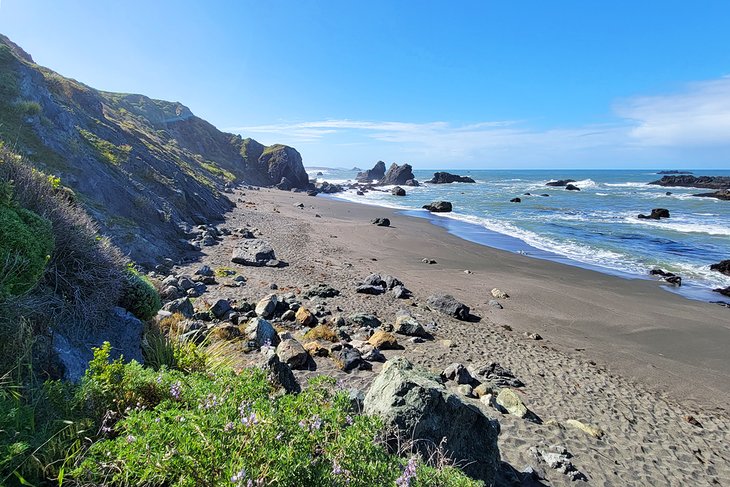 Shell Beach is approximately two miles south of the Russian River in Sonoma Coast State Park. It's accessible along the Coast Highway and is an eight-mile drive north from Bodega Bay. The beach is particularly popular for tide pool exploring, as several rocks punctuate the shoreline, revealing rich marine life when the tide is out.
It's a short downhill hike to the beach from the parking area. Parts of the trail are steep and can be slippery during wet conditions. Proper footwear is advised. Perhaps because of this approach, the beach stays relatively uncrowded. And the tall ocean wall and crashing waves add a sense of solitude to a visit.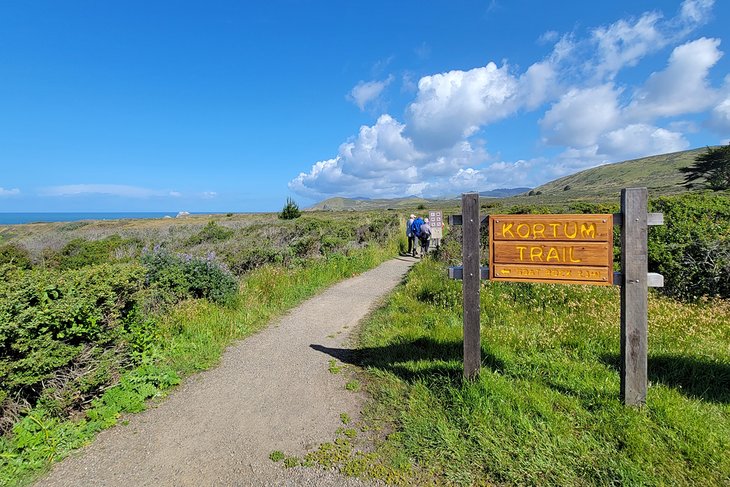 The parking area for Shell Beach is also a popular hop-on point for the coastal Kortum Trail. This seaside route spans the bluffs between Wright's Beach to the south and Blind Beach to the north, including passage right by Mammoth Rocks. A looped adventure on the Kortum Trail is approximately 4.5 miles long.
8. Arched Rock Beach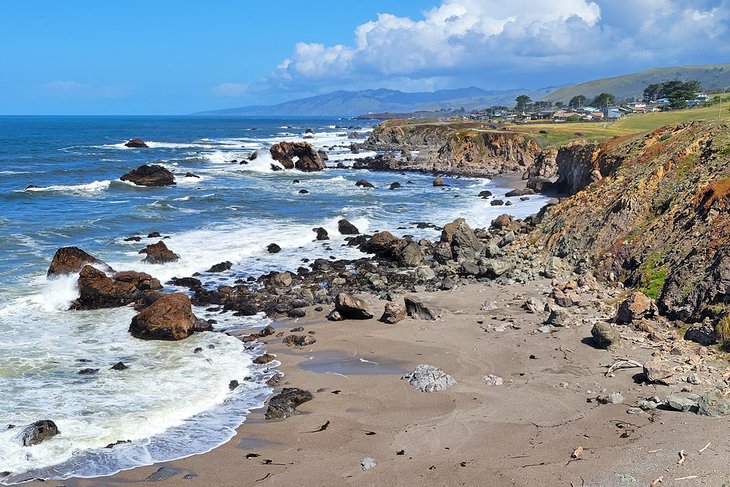 Arched Rock Beach offers a scenic vantage point approximately three miles north of Bodega Bay, within Sonoma Coast State Park. The beach is named after the stunning sea stack seen in the distance, with waves crashing through its eroded archway.
The actual Arched Rock is in front of the small Marshall Gulch Beach farther north along the coastline. However, it's harder to access Marshall Gulch, and the beach's orientation doesn't lend to the best view of the arch.
The arch is visible by the naked eye from the parking area at Arched Rock Beach, though a zoom lens or binoculars help get a better view. It's a bit of a rugged path down to the actual beach, which is especially challenging when wet.
9. Bodega Dunes Beach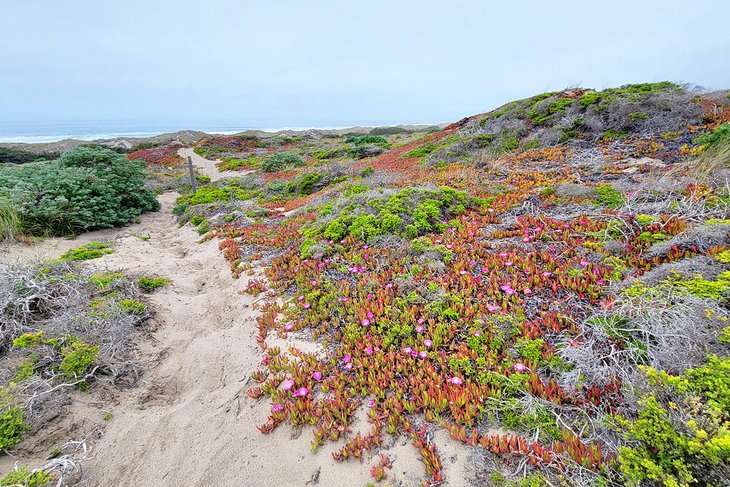 Bodega Dunes is at the southern end of Sonoma Coast State Park, at the northern edge of Bodega Bay. It's a vast and shifting area encompassed by the dunes, including a long stretch of solitary beach. This area is primarily popular for its dune hiking and horseback riding trails. It's also home to the state park's largest campground, with 99 sites available.
Several looped options comprise the dune's network of trails. It's a bit disorientating navigating the dunes, with only a scattering of signposts throughout the slowly shifting terrain. But the ocean is always within earshot, helping maintain orientation.
The campground caters to tents and RVs, though no electric hookups are available. All overnight guests have access to potable water and flushing restroom facilities with coin-operated showers. It's approximately a mile-long walk to the beach from the campground, or a similar length drive along Bodega Dunes Road.
10. Carmet Beach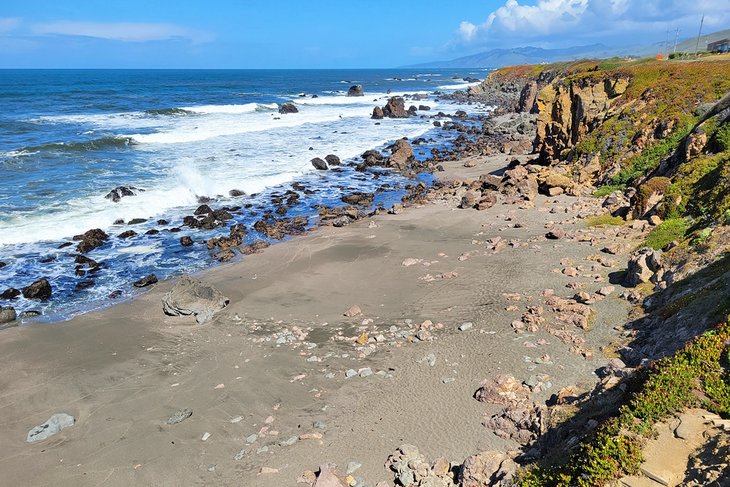 Carmet Beach is another popular fishing beach on the Sonoma County Coast north of Bodega Bay. The beach is just south of Schoolhouse Beach. It has a large parking area accessible off Highway 1 next to the small community of Carmet. From Bodega Bay, it's less than a 10-minute drive to this Carmet Beach parking area.
Carmet Beach extends north and south of its parking area, with short but steep trails down to the sand. Low tide is the best time to visit Carmet, as high tide potentially washes away much walking room. And much like the rest of the region, entering the water is ill-advised.
11. Goat Rock Beach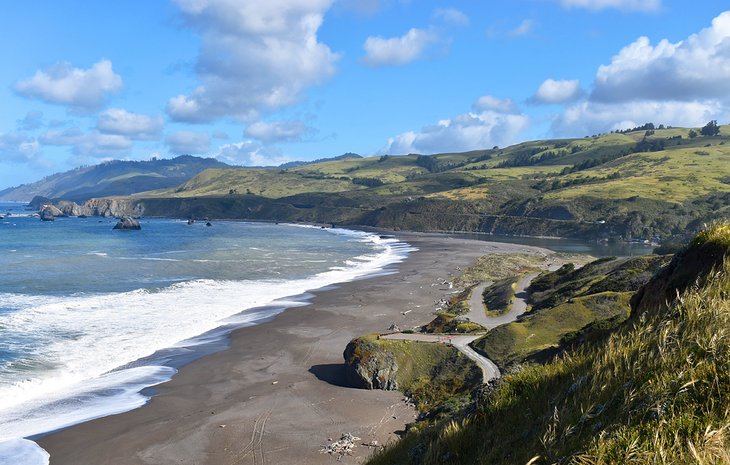 Goat Rock Beach forms next to the outlet of the Russian River at the northern end of Sonoma Coast State Park. Visitors from Bodega Bay reach this rugged beach with a scenic 10-mile drive ending on Goat Rock Road.
Goat Rock Beach is big and beautiful and dangerous for swimming. It's also home to a colony of harbor seals that usually hang out around the river mouth. Visitors must keep at least 50 yards away from these massive mammals, and no dogs are allowed on the beach.
Two parking areas off Goat Rock Road lend access to the sprawling sand. The largest is nearest the Russian River, while the alternative is right under Goat Rock itself. On the other side of Goat Rock is Blind Beach, where dogs are allowed to run free.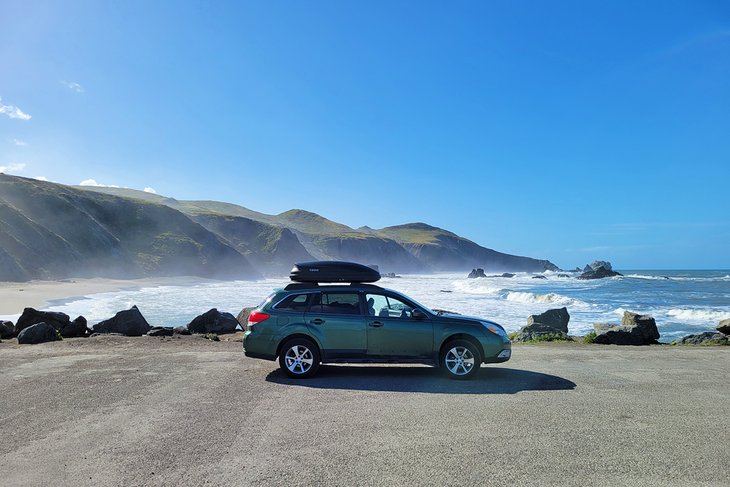 Goat Rock Beach is popular for beachcombing, soaking in the sun, and taking pictures. The whole day is easily spent in this part of Sonoma Coast State Park.
Take some extra time to make the short hike to the nearby Mammoth Rocks when visiting. Several parking spots line the beginning of Goat Rock Road, with short hiking trails leading to these standout boulders.
12. Blind Beach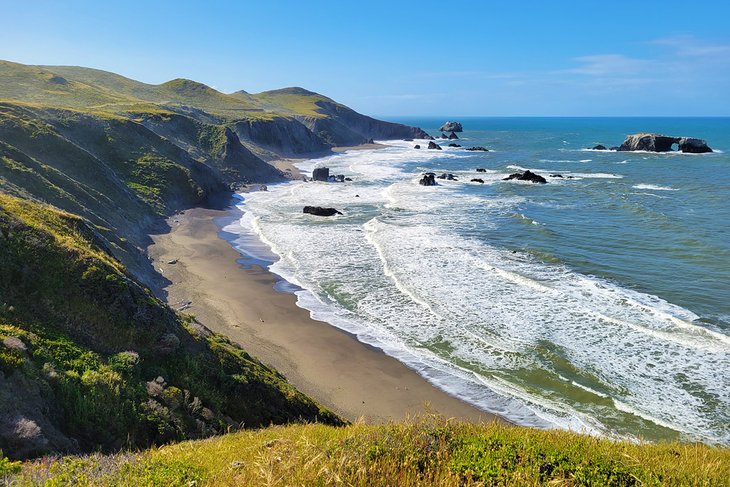 Blind Beach is a scenic and rugged beach south of Goat Rock in Sonoma Coast State Park. It's notable for its quiet atmosphere and dog-friendly nature. Like all beaches in this region, swimming is dangerous, so visitors are advised to avoid the water.
A few parking options lend access to Blind Beach, including a small lot atop Goat Rock Road with vault toilets nearby. It's a bit of a descent to the beach from the parking area, with potential poison ivy leading the way.
The better approach is driving down to Goat Rock Beach, veering left, and parking under Goat Rock itself. From here, it's a short walk to the sand.
Map of Beaches in Bodega Bay, CA
Bodega Bay, CA - Climate Chart
Average minimum and maximum temperatures for Bodega Bay, CA in °C
J
F
M
A
M
J
J
A
S
O
N
D

14

2

17

3

18

4

21

5

24

7

27

9

29

9

29

9

28

9

25

6

19

3

14

1

PlanetWare.com
Average monthly precipitation totals for Bodega Bay, CA in mm.

220

194

156

57

26

6

2

3

13

51

149

160