12 Best Things to Do in Bodega Bay, CA
Bodega Bay is in Sonoma County on the Northern California coast. It's a cozy hamlet with several charming vacation attributes. Coastal landscapes, seafood restaurants, and a quiet community come together for a refreshing getaway. And despite only being 50 miles north of San Francisco, Bodega Bay is a world away from any big-city bustle.
For pop culture and film fans, Bodega Bay may conjure Alfred Hitchcock's 1963 smash hit, The Birds. This cinema classic was both filmed and set in Bodega Bay. Iconic architecture in the film, like The Potter Schoolhouse, still stands today. But while Bodega Bay is a popular pit stop for migrating birds, don't expect any of the same avian anxiety while visiting.
The 16-mile Sonoma Coast State Park extends directly north of Bodega Bay. This breathtaking and world-famous stretch of coast is a top tourist attraction and often the reason behind many visits. Expect dangerous swimming conditions and jaw-dropping ocean beauty along the Sonoma Coast, alongside ample crowds on warm-weather weekends.
Enjoy your coastal getaway with our list of the best thing to do in Bodega Bay.
1. Bodega Head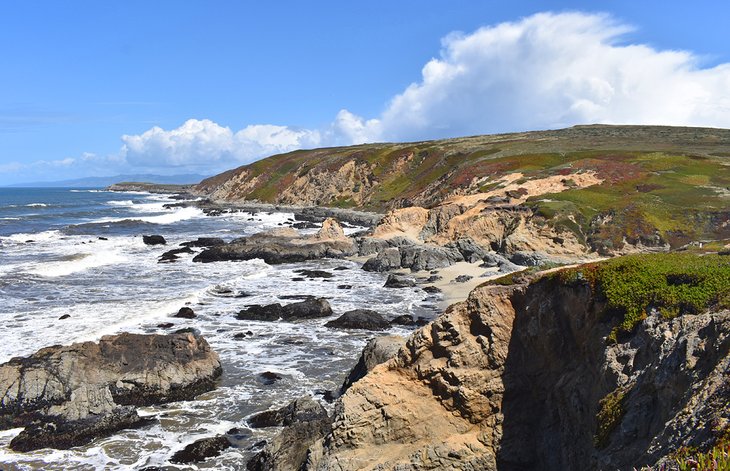 When visiting Bodega Bay, etch out some time to explore the rocky promontory extending into the ocean on the north side of town, known as Bodega Head. This four-mile-long and one-mile-wide peninsula offers several types of vacation experiences, from whale watching to fresh seafood restaurants.
The adventure begins on Westshore Road, where the route navigates next to Bodega Harbor. Along the way, places like Spud Point are popular pit stops for a fresh seafood lunch and water views. Westside Regional Park and Campground are also along the route, offering plenty of picnic space and places to park an RV.
The actual climb up Bodega Head begins near Campbell Cove Beach, where the road takes a hairpin turn and begins ascending. It's a short drive to the top from here, with a few different parking opportunities available. Most visitors veer right at the first fork in the road to a paved parking area cratered with potholes.

On the south end of the parking area, a large flat boulder serves as auditorium seating for whale watching. Between January and May, volunteers post up here and help guide visitors to whale spouts in the water. This parking area is also an excellent place to start the 1.7-mile Bodega Head Trail – offering the most comprehensive views of the coast.
2. Sonoma Coast State Park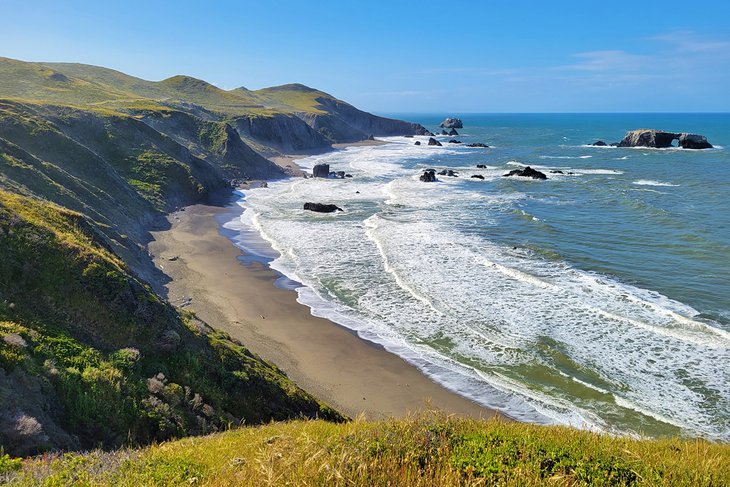 Sonoma Coast State Park spans approximately 16 miles north of Bodega Bay along the coast. It's home to many of the best beaches near Bodega Bay and arguably some of the most stunning ocean landscapes in the nation.
Dramatic rocky outcroppings separate the beaches along this stretch of the coast. Other defining characteristics include arched rocks, secluded coves, and harbor seal colonies throughout part of the year. And it's these postcard landscapes that draw significant tourist interest to the area, especially on the weekends.
Camping is available at a few different campgrounds in Sonoma Coast State Park. The Bodega Dunes Campground is the largest, with 99 sites accommodating tents and RVs. However, the 27 sites at Wright's Beach Campground are closest to the ocean.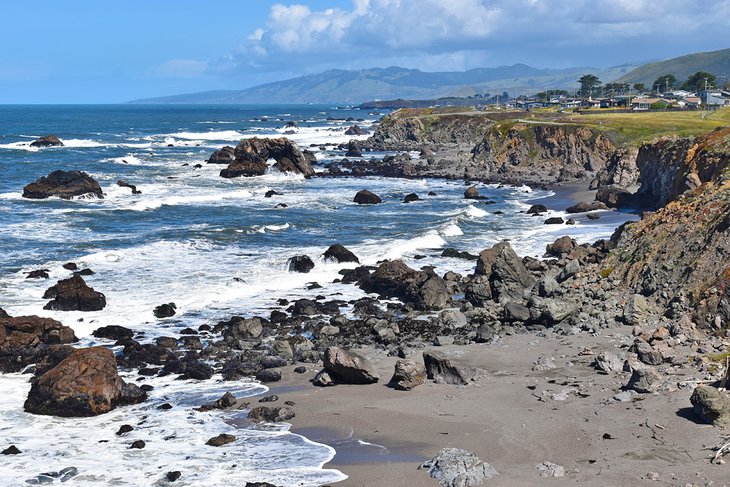 The weather is a bit fickle, with fog throughout the summer, often burning off by the afternoon. The surf is dangerous at all beaches along the Sonoma Coast. Swimming and wading are not advised.
3. Doran Regional Park and Doran Beach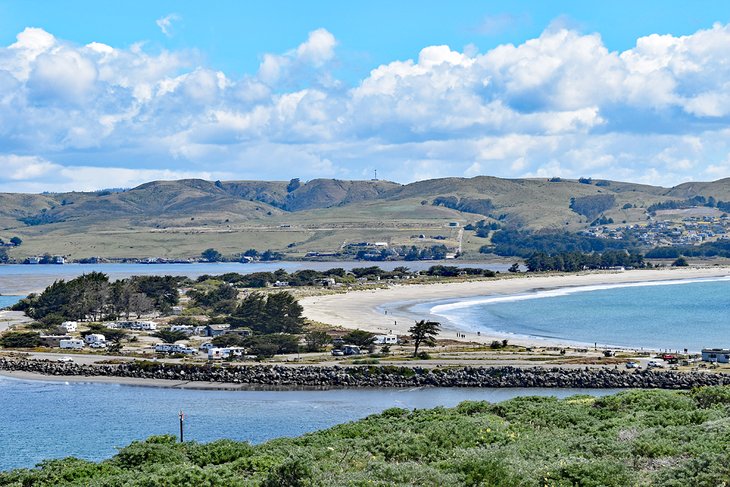 Doran Regional Park is a popular place to explore Bodega Bay and the ocean. It encompasses the spit extending from near the town's center, including over two miles of sandy shoreline. The park is also home to a popular campground and a variety of hiking trails, including connecting routes to the Bird Walk Coastal Access Trail.
Activities like suntanning, kite flying, and beach walking are everyday things to do at Doran Beach. Bird-watching is also popular, as the entire park is a common stopover on migratory journeys. And anglers also flock to the park thanks to amenities like boat launches, cleaning stations, and available shoreline casting.
Doran's campground has approximately 112 sites for tents and RVs, split into five campground areas. No electric hookups are available. Sites are available year-round and are reservable up to 12 months in advance. All overnight guests have access to potable water, flushing restrooms, and coin-operated showers.
There's a small fee for parking in Doran Regional Park. The park is open seven days a week.
4. Potter Schoolhouse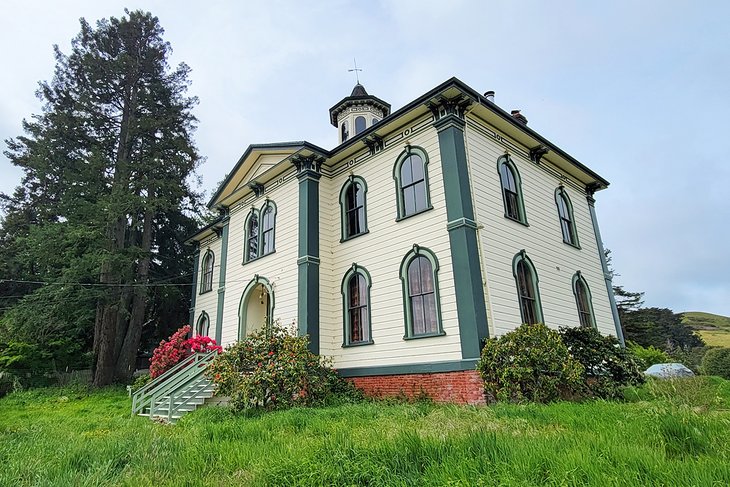 The Potter Schoolhouse played a prominent role in Alfred Hitchcock's 1963 movie, The Birds, set in Bodega Bay. Fans of the film recognize it as the Bodega Bay School. In the film, blackbirds congregate on the monkey bars outside before descending upon Tippi Hedren and the school children. Next door, Saint Teresa of Avila Church also appears in the film.
Unlike the film's depiction, the schoolhouse is approximately four miles inland from the coast, within the small community of Bodega. And upon making the scenic drive, the building is unmistakable to those familiar with the classic film.
The historic building, known as the Potter Schoolhouse, is a private home. Visitors are asked to respect the homeowner's privacy when visiting and taking photographs from behind the fence line. A historic landmark plaque on the fence details the school's near 150-year history.
5. The Children's Bell Tower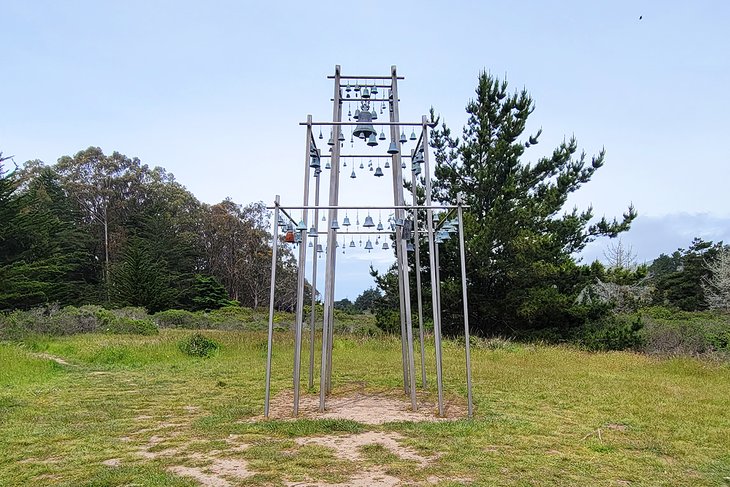 The Children's Bell Tower is a special memorial in Bodega Bay. It's dedicated to seven-year-old Nicholas Green, who was tragically killed in 1994 during a family trip to Italy. The Green family donated his organs to local Italians. This act effectively kickstarted a public awareness campaign that spread throughout much of the country.
Of the 140 bells adorning the three-tier memorial, many were donated and imported from Italy. This arrangement includes the significant centerpiece bell, blessed by the pope. Interpretive information is available at the memorial explaining this legacy. And special dampeners on the bells emit a mindful chime when the wind is up.
The Children's Bell Tower is easily accessible from Highway 101, from a driveway extending past the Bodega Bay Community Center. Parking is free. It's a quiet space with amenities available.
6. Find a Bite to Eat in Bodega Bay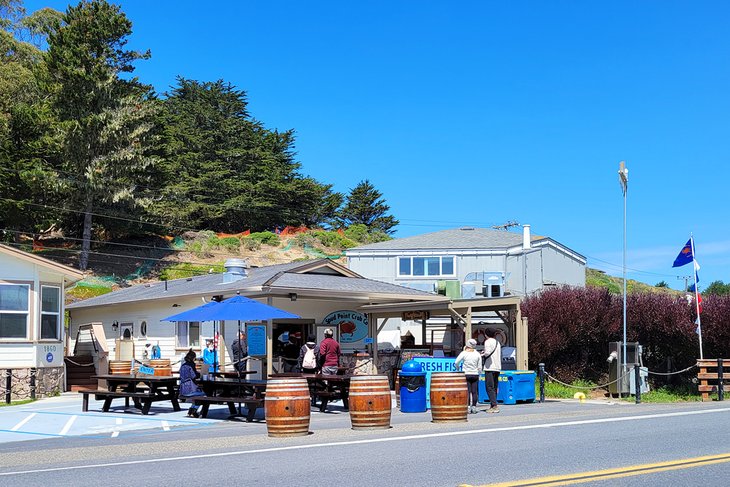 The speed limit on Highway 1 slows along its three-mile stretch passing through Bodega Bay along Bodega Harbor. This decreased speed helps navigate the winding road and lends a view of the town's splendid storefront offerings.
Local restaurants are a big roadside attraction in this area, especially seafood and fine-dining options. Places like Terrapin Creek and Drakes Fireside Lounge offer some of the finest dining and romantic experiences. However, the best seafood belongs to places like Fisherman's Cove on the other side of the harbor on Westshore Road.
Like Pelican Plaza Grocery and Deli, a few small grocery stores are also great places to visit for easy lunches, with prepared and made-to-order items like soups and sandwiches.
Alongside the dining, expect to find a few shopping gems throughout the community. The famous Candy & Kites is usually a mandatory pullover to inspect the store's sweets and treats.
7. Whale Watching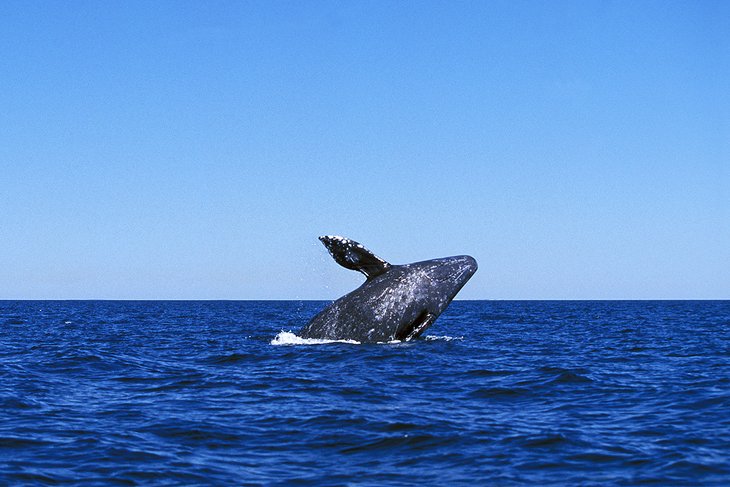 An enormous appeal of Bodega Bay is its many seaside vantage points. And that is especially true between January and May during peak whale migration. Blue and especially gray whales make several appearances throughout this season, and visitors spot these magnificent mammals both from land and sea.
The best place to go whale watching in Bodega Bay is Bodega Head. Visitors drive to the top of this significant promontory and enjoy the view. And between January and Mother's Day (typically the second Sunday in May), stationed volunteers assist with the spotting.
A guided whale tour is another option for spotting whales. Companies like Bodega Bay Sport Fishing Center and North Bay Charters are happy to facilitate these tours with almost guaranteed sightings. And as their names imply, many charter companies in Bodega Bay also offer custom fishing tours.
8. Sonoma Coast Visitor Center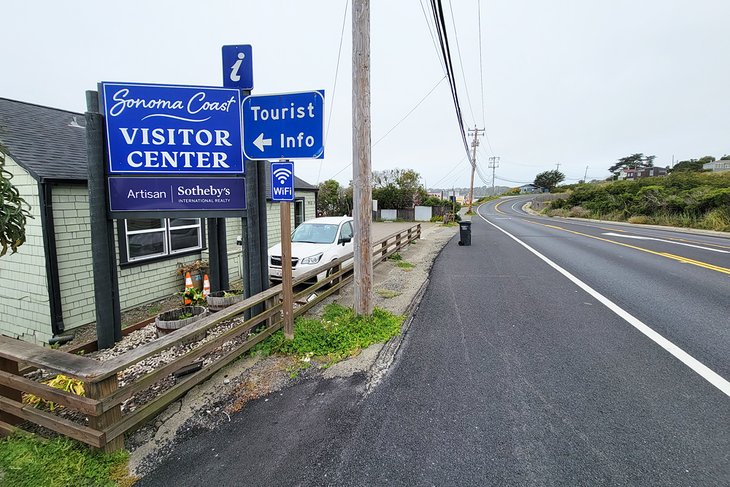 The Sonoma Coast Visitor Center makes an excellent first stop for those brand new to the area. It's open every day of the week and offers valuable face-to-face information about dining, things to do, and scenic destinations. And for those interested in Alfred Hitchcock, the visitor center is also happy to point out a few filming locations.
The visitor center is right off Highway 1, just north of The Tides Wharf & Restaurant. Parking is limited. Most visitors spend approximately a half-hour here.
9. Bird Walk Coastal Access Trail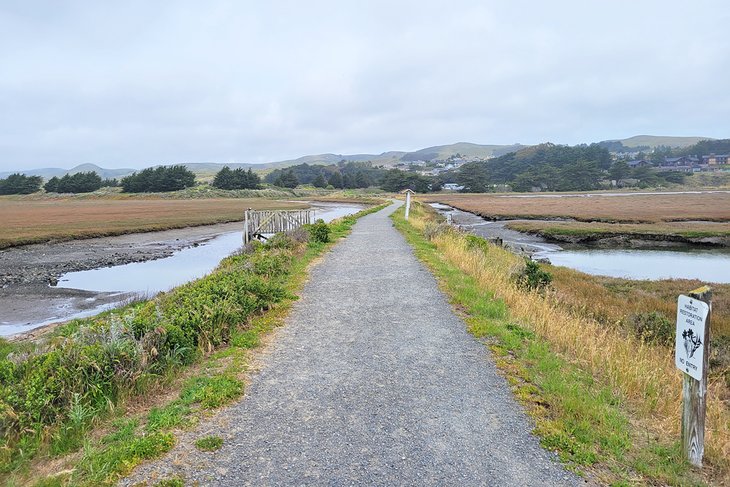 The Bird Walk Coast Access Trail is a flat path through a saltwater marsh on Bodega Harbor, just north of Doran Regional Park. The most common access point is off Highway 1 north of Doran Park Road. The trail also connects with Cheney Creek Trail to provide access to and from Doran Regional Park.
The entire looped trail is less than a one-and-a-quarter mile in length. The path is gravel and primarily flat, accommodating most wheelchair users. The trail tours past two freshwater ponds and marshlands with almost guaranteed avian sightings.
Additional hiking is available in Doran Regional Park, including the two-mile stretch of Doran Beach. Bathrooms and water are also available at Doran Regional Park. Leashed pets are welcome along the Bird Walk Coastal Access Trail.
10. Bodega Dunes Beach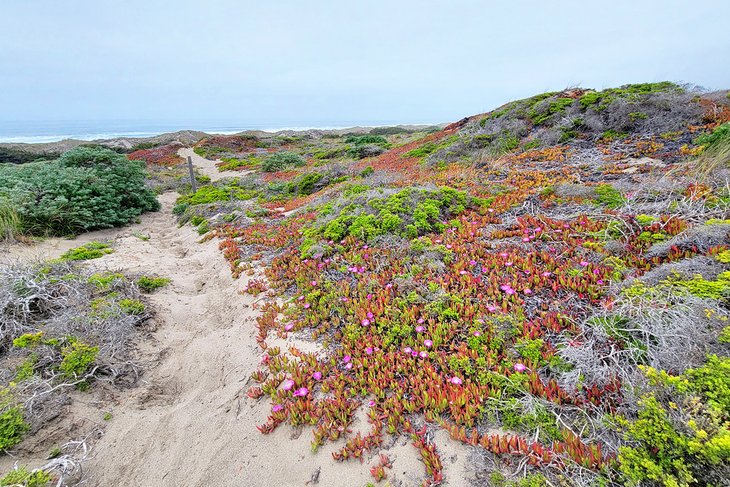 Bodega Dunes is a campground and large swath of shifting dunes at the southern end of Sonoma Coast State Park, right at the northern edge of town. It's a popular area for exploring, with dune hiking trails and a quiet beach. And the nearly 100 sites available make it a popular spot to spend the night for those not looking to stay at a hotel.
The campsites at Bodega Dunes cater to both tents and RVs, although no electric hookups are available. Each site has a picnic table, fire ring, and access to nearby flushing restrooms and coin-operated showers. Potable water is also available from several spigots throughout the campground.
A loose network of hiking trails navigates the shifting dunes with a scattering of signposts. Several of these trails are accessible for horseback riding. It helps to have a map or dependable smartphone for navigating the area. However, the ocean is close enough to use for orientation.
11. Mammoth Rocks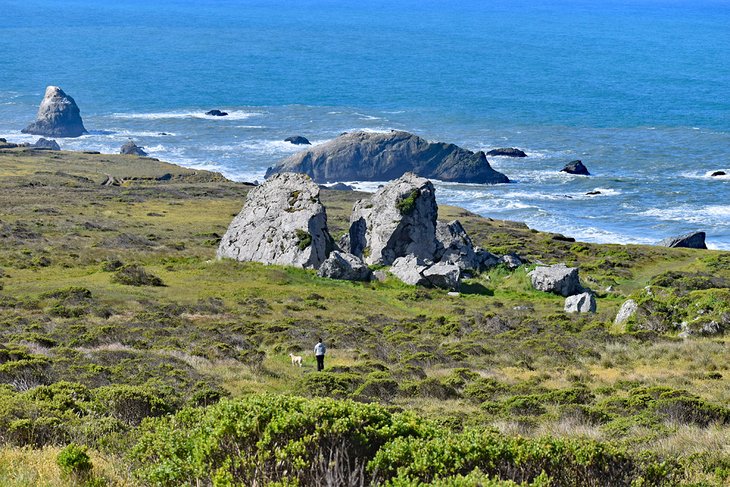 Mammoth Rocks, sometimes referred to as Sunset Boulders, are unique and standout features on the Sonoma Coast. They are on the northern end of the state park coastline, near the outlet of the Russian River and the small community of Jenner. Besides a fantastic coastal vantage point, these tall boulders display a unique natural history.
Mammoth Rocks derives its name from the magnificently tusked mammals that once rubbed up against them. The rocks have oddly smooth and shiny sections, where it's believed mammoths groomed themselves, much like modern elephants do today.
The hike to Mammoth Rocks is short but navigates downhill and back up again. A few different trails lead down to the boulders, all starting from parking pull-offs lining Goat Rock Road. It can be a bustling and popular area on the weekends.
12. Play 18 at The Links at Bodega Harbour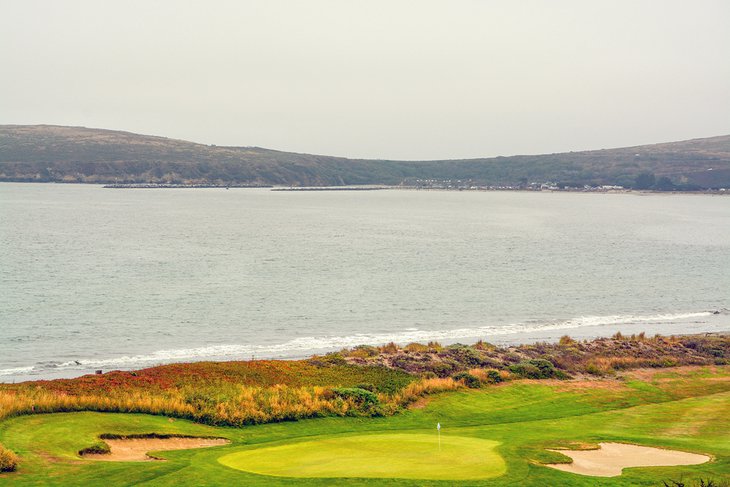 Head to The Links at Bodega Harbour for a fantastic golfing experience. This Scottish-style links course is open to the public and has incredible ocean views alongside well-manicured uplands. This scenic landscape combines with a high-caliber play for bucket-list rounds at an affordable rate.
As of 2022, the weekend rate for non-Sonoma County residents is $92. Advance tee times are recommended. Other services offered by the golf club include lessons, rentals, and on-site dining and refreshments. The Links at Bodega Harbour also have vacation homes on the golf course for those looking for a complete golfing getaway.
Map of Things to Do in Bodega Bay, CA
Bodega Bay, CA - Climate Chart
Average minimum and maximum temperatures for Bodega Bay, CA in °C
J
F
M
A
M
J
J
A
S
O
N
D

14

2

17

3

18

4

21

5

24

7

27

9

29

9

29

9

28

9

25

6

19

3

14

1

PlanetWare.com
Average monthly precipitation totals for Bodega Bay, CA in mm.

220

194

156

57

26

6

2

3

13

51

149

160