12 Top-Rated Things to Do in Petaluma, CA
California's Sonoma County is one of the most visited regions in the state. Just north of the Bay Area, about an hour's drive from San Francisco, the county begins, and one of your first entrées to Sonoma will be rural Petaluma.
Petaluma sits in a sweet spot in terms of California real estate. The Pacific Ocean is a 15-minute drive west, and the bustling energy of more populous Sonoma towns is a quick drive to the east. Petaluma itself is surrounded by rolling farmland and is centered around a historic downtown that is brimming with boutiques, antique stores, art galleries, and restaurants.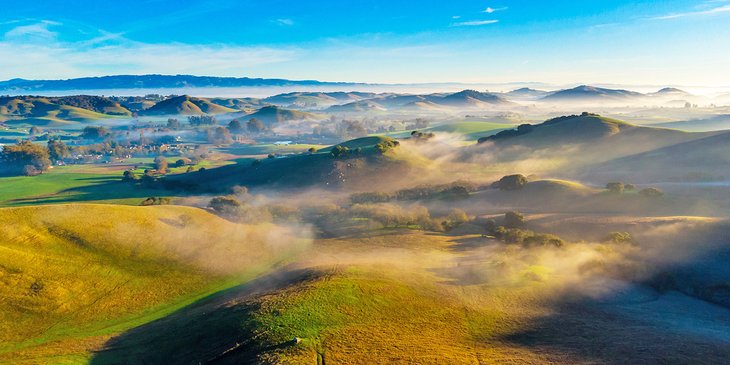 The city of Petaluma was chartered in 1858, making it one of the oldest cities in California. Its position on the Petaluma River made it a hub of activity for gold miners, and later ranchers and farmers. You can still see evidence of Petaluma's history when you tour the Victorian architecture downtown. In fact, the downtown of Petaluma is listed on the National Register of Historic Places.
Today it is the norm to see tourists stopping through Petaluma to sample the exquisite farm-to-table cuisine, browse the antique stores, walk its many parks, and absorb the laid-back lifestyle that has remained over the centuries.
Are you ready to discover the best attractions and things to do in Petaluma? Read on to discover more.
1. Taste Olive Oil at McEvoy Ranch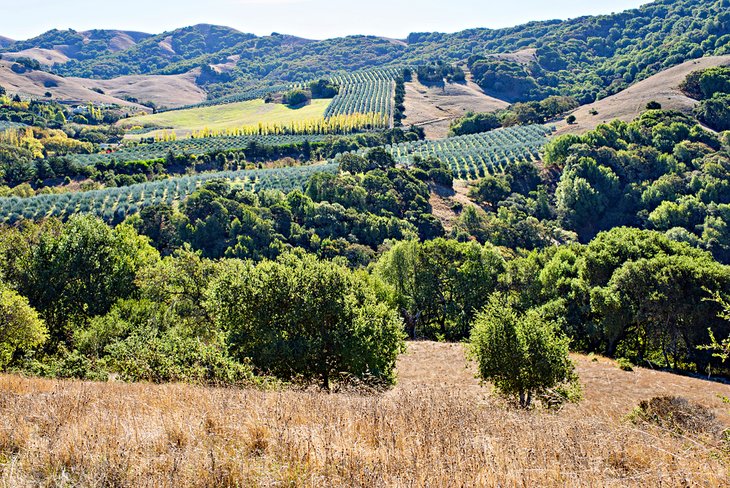 Petaluma's enviable location just north of the Bay Area, California means that it is at the doorstep of some of the best landscape and food in the country. Be completely mesmerized by this part of the country when you make a visit to the nearby McEvoy Ranch.
Established in 1990, McEvoy Ranch was founded because of a love of Tuscan olive oil. The ranch is a 550-acre organic farm known for its award-winning Extra Virgin olive oils and sustainable farming. The ranch grounds are spectacular, as well, with plenty of hiking trails, wildlife, and peaceful ponds.
Although it is a working ranch, visitors are encouraged to come by to experience this slice of Italian countryside right in Northern California. The estate is known for its olive oil tasting, from its Traditional Blend to lemon and basil olive oils. But visitors can also sign up for walking tours that give additional access to the hidden corners of McEvoy Ranch.
Address: 5935 Red Hill Road, Petaluma, California
Official site: https://www.mcevoyranch.com/
2. Shollenberger Park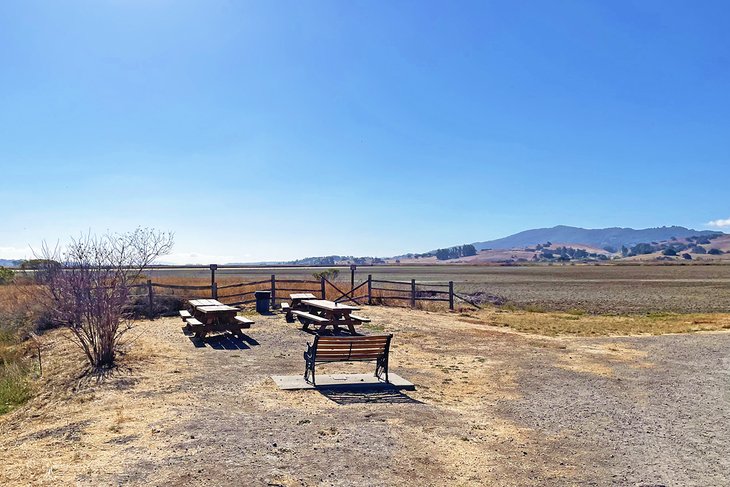 Petaluma may be a bustling small town, but it is surrounded by beautiful nature – particularly wetlands. Shollenberger Park contains a seasonal pond (a spot that collects rainwater in the wet season), surrounded by freshwater marsh. It happens to be one of the most beautiful natural spots in Petaluma, and a great spot for wildlife viewing.
Don't be alarmed when you pull up to the park. It sits behind an industrial area along the Petaluma River. But once you set foot into the park, the concrete and steel seems to melt away instantly.
The 165-acre park is known for its two-mile loop trail that is good for all skill levels. Along the way, keep your eyes peeled for the more than 225 species of birds that have been identified here.
Another three-mile web of trails goes around Ellis Creek at the northeast corner of the park. You can also walk along the trail system that runs along the Petaluma River.
Address: 1400 Cader Ln, Petaluma, California
3. Helen Putnam Regional Park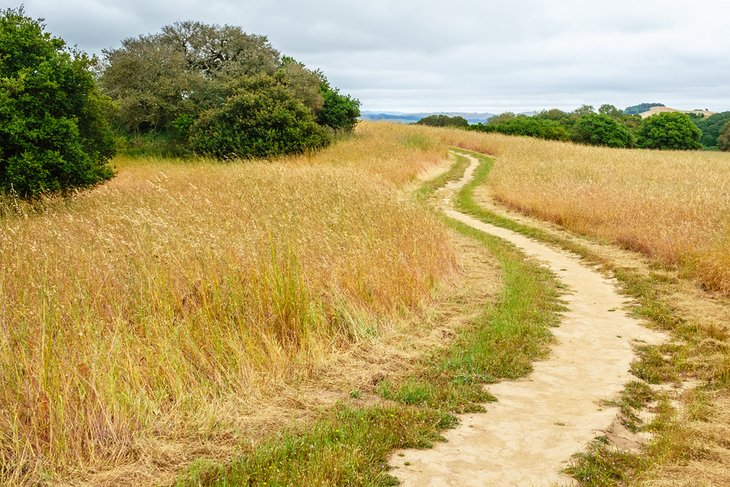 Southwest of downtown, Helen Putnam Regional Park features rolling, grassy hills; oak forests; and six miles of trails for exploring. The park spans 216 acres and is managed by the county parks department.
For those visiting the park, you will find ample trails for hiking, cycling, and horseback riding. A portion of the Bay Area Ridge Trail even cuts through it. From the ridge-top trails, visitors will have sweeping views of Sonoma County, as well as Petaluma.
Additionally the park has a fishing pond that is stocked with bluegill. Families will find a playground and a picnic area, as well.
Address: 411 Chileno Valley Road, Petaluma, California
4. Petaluma Adobe State Historic Park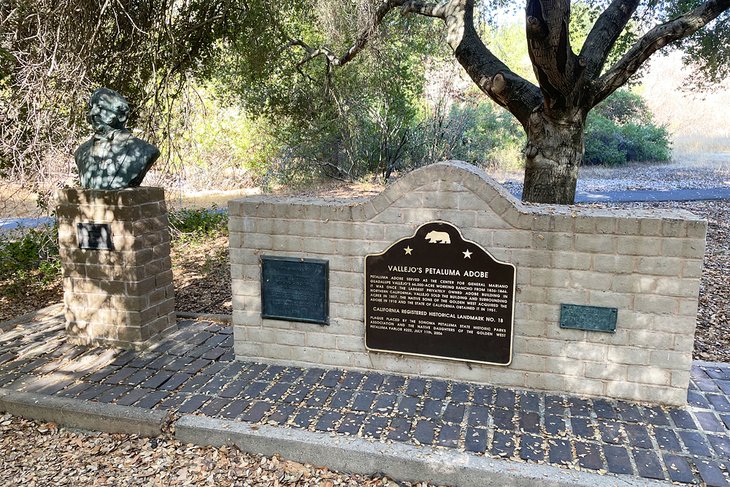 Nearly two centuries ago, the site that now holds Petaluma Adobe State Historic Park was the main residence of Rancho de Petaluma. This estate was owned by General Mariano Guadalupe Vallejo, who was one of the most influential men in California when it was still a part of Mexico.
Today the historic park is a trip back in time to explore one of the largest privately owned adobe buildings in the state. A visit includes tours of the rooms of the adobe, as well as a recreation of what life was like in the 1830s and 40s in California.
The 66,000-acre ranch was in operation from 1836 to 1846. Today the state owns just a portion of what was the original ranch, but what remains is a California State Historical Landmark, as well as a National Historic Landmark.
Address: 3325 Adobe Road, Petaluma, California
5. Shop the Antique Stores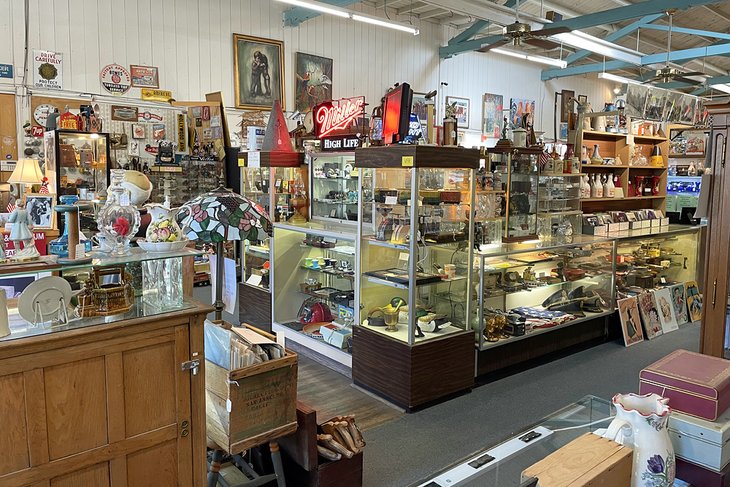 Sonoma County has quite the reputation for its antique stores, and you'll discover an abundance of them in Petaluma. Browsing the antiques selection downtown is certainly one of the best things to do in the area. Downtown proper is historic in its own right, and is the perfect place to visit first. Just look for the Victorian architecture.
Start at the Vintage Bank Antiques, which, as you can guess, was originally the local bank of Petaluma. Three floors are completely jam-packed with treasure from more than 30 dealers.
You'll also find Chelsea Antiques, which is known for its artwork, furniture, jewelry, and mementos, or The Thrifty Hippy, which has everything from original bellbottoms to vinyl.
For something truly unique, the Military Antiques & Museum offers a very specific type of selection. History lovers, especially those of military history, will find a veritable treasure trove of memorabilia, uniforms, firearms, and battlefield relics. A museum is on-site, as well, which is entirely free to explore.
6. Browse the Petaluma Library Museum
Speaking of museums, another way to get in touch with Petaluma's past is to visit the Petaluma Historical Library & Museum. Housed in the former library of Petaluma, the museum provides a home for exhibits dedicated to Petaluma farming and Native American Miwok history from the 1850s.
The library, originally called the Carnegie Library, was constructed in the early 20th century and has one of the most beautiful freestanding leaded glass domes in the state. This sets the stage for the historic and architectural grandeur of the rest of the museum.
Step past the entryway and discover the many rotating exhibits that can range from wardrobe and photography to regional history, local art, and more.
Address: 20 4th Street, Petaluma, California
Official site: https://www.petalumamuseum.com/
7. Wander the Petaluma Village Premium Outlets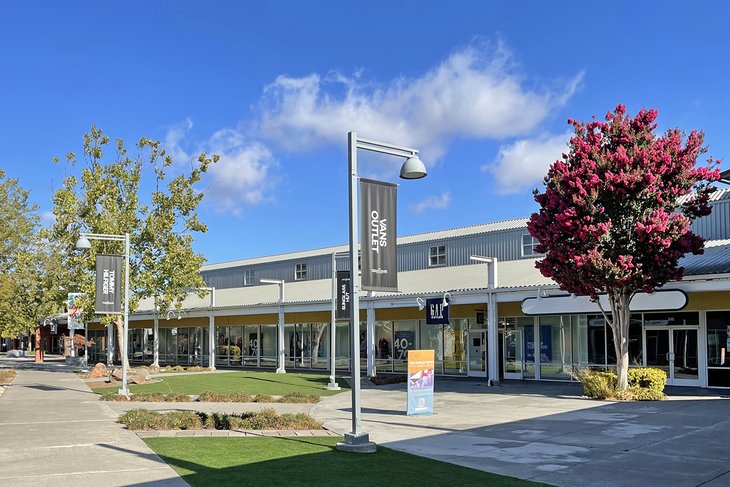 Petaluma has some fabulous shopping beyond antiques. Not only is downtown strewn with adorable boutiques selling small batch designs, but it also is home to an entire shopping complex of premium outlets.
The Petaluma Village Premium Outlets is an outdoor shopping paradise of high-end, brand-name stores selling recognizable labels at discounted prices. Stores like Adidas, Brooks Brothers Factory Store, Banana Republic, Coach, Kate Spade, Levi's, and many more are open for business selling all of the recognizable brands for less. In total, the outlet center has 60 stores, all within a short drive of downtown.
Address: 2200 Petaluma Blvd N, Petaluma, California
8. Forage at Green String Farm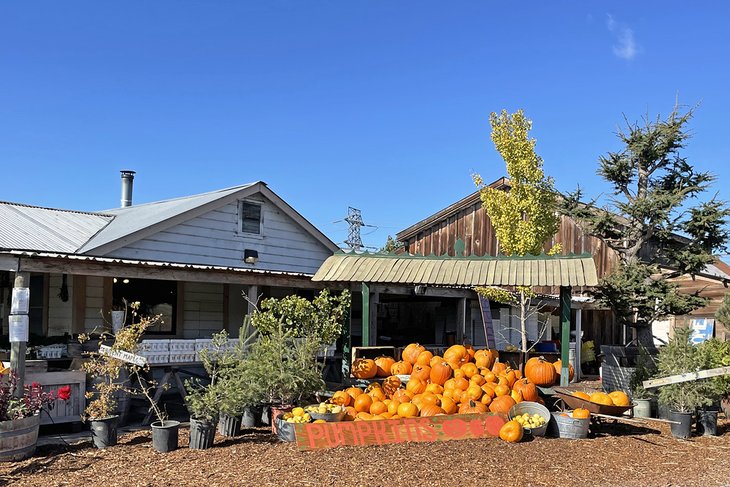 Petaluma, California, and Sonoma County in general, is all about promoting sustainability and local businesses. That's why Green String Farm is such a vital part of the community. The sustainable farm thrives on growing produce the natural way, and has become a beloved part of the Petaluma fabric.
Visitors to Petaluma can stop by the farm from Tuesday to Sunday to shop the crop. Picture wooden tables strewn with seasonal produce, like onions, kale, basil, squash, bok choy, honey, apples, eggs, beets, pumpkins, broccoli, almonds, and even goat cheese. The farm provides year-round staples, as well, like grass-fed beef, eggs, and T-shirts.
Every product is grown on the farm without pesticides or artificial chemicals. Owner Bobby Cannard has been sustainably farming for three decades and has even provided products to Alice Waters' restaurant in Berkeley.
Address: 3571 Old Adobe Road, Petaluma, California
Official site: https://www.greenstringfarm.com/
9. Discover the Petaluma Arts Center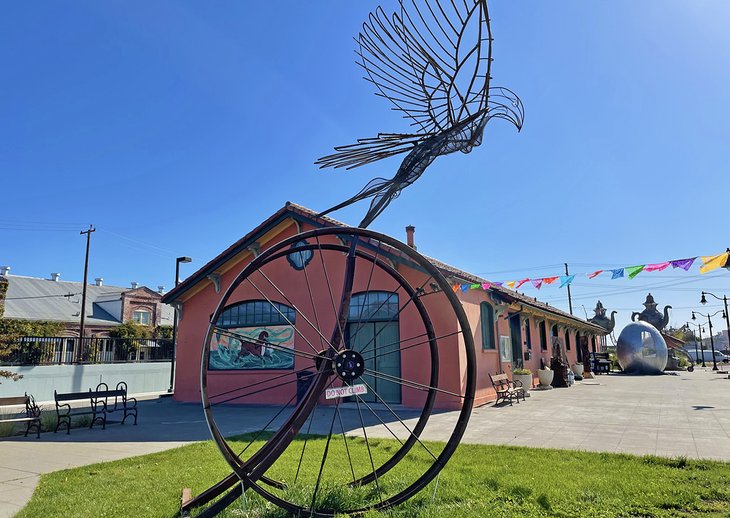 The local arts scene in Petaluma is, in a word, vibrant. This is obvious from the gorgeous collection of murals that can be hunted all over town like treasure. But the Petaluma Arts Center is a separate destination that was created as a place to promote, showcase, and celebrate local artists.
The center opened in 2008 within a 4,500-square-foot facility that was once the Railroad Depot Freight Building. It hosts a series of rotating exhibitions that have been curated from the works of local artists of Petaluma and California in general. Exhibits have included carvings, paintings, sculpture, photographs, and even historical objects.
Be sure to check the center's calendar of events to see when they are putting on special programming, like their unPACking art series.
Address: 230 Lakeville Street, Petaluma, California
Official site: https://petalumaartscenter.org/
10. Grab Lunch at The Block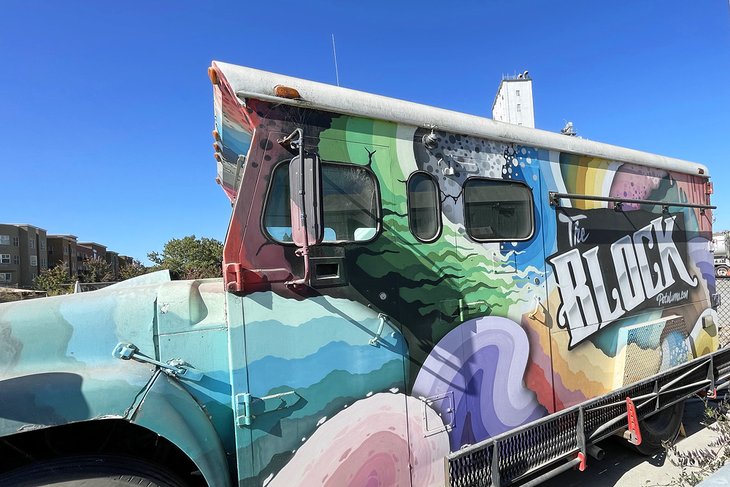 Sonoma County, and Petaluma in particular, has some noteworthy restaurants. But if you really want a taste of Petaluma, then a visit to The Block is a must. The Block Petaluma is a food park located not far from the Petaluma Arts Center. It features a lineup of local trucks that are always changing to provide a different culinary landscape every time you visit.
The food trucks are congregated around an outdoor patio that is peppered with fire pits, so even outdoor dining in chilly weather is made cozy and fun. The food park puts on weekly events, as well. If you are looking for one great meal, or one great meal experience, on your visit to Petaluma, The Block is the place to be.
Address: 20 Grey Street, Petaluma, California
Official site: https://www.theblockpetaluma.com/
11. Visit the Animals at the Sonoma County Wildlife Rescue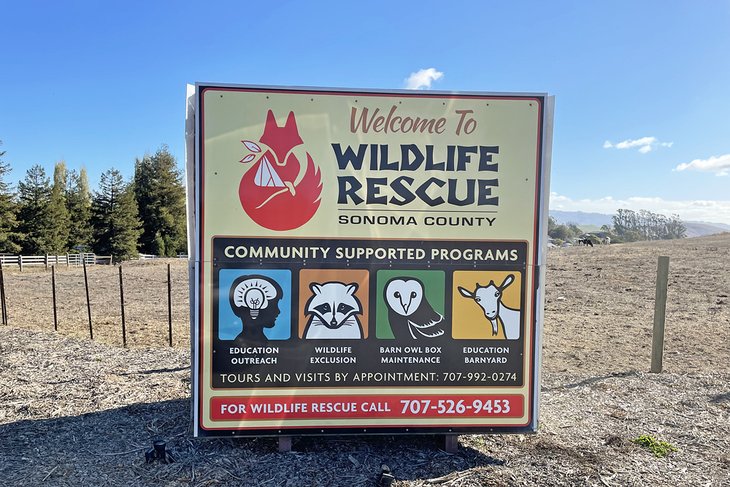 What started as a non-profit in 1981 has grown to become one of the largest organizations in Sonoma County. The Sonoma County Wildlife Rescue is a space dedicated to the rescue, rehabilitation, and release of animals that have been injured or orphaned in the wild.
Saving everything from hawks and owls to coyotes and raccoons, the center helps to rehabilitate more than 1,500 animals a year, and they work to release them back into the wild.
When visiting Petaluma, you can stop by the Wildlife Rescue for a tour or for one of their educational seminars. If you really want to take it to the next level, the center thrives on volunteer help. They even have a junior volunteer program for kids who are 13 and up.
Address: 403 Mecham Road, Petaluma, California
Official site: https://scwildliferescue.org/
12. View a Performance at Cinnabar Theater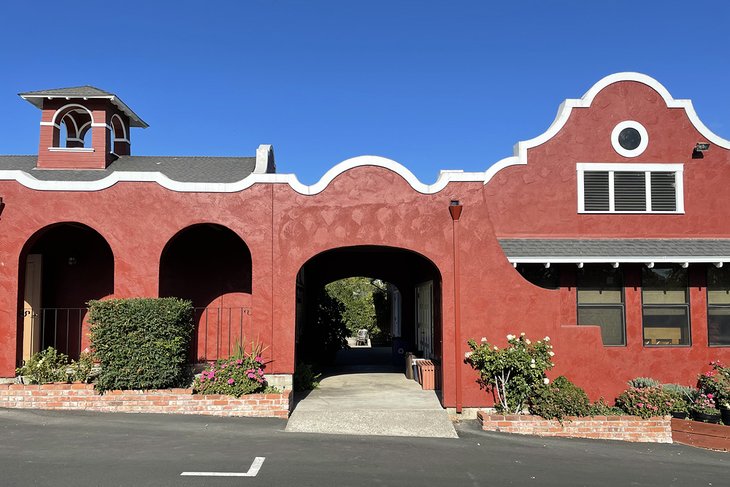 Culture is alive and well in Petaluma, and you can get a front row seat to it at the Cinnabar Theater. This jewel box theater, nearly 50 years in operation, puts on six shows a year, as well as three Young Repertory main stage shows. Performances include everything from musicals and comedy to cabaret and even opera.
The theater was opened by an opera singer and his wife in 1972 and invited artists to perform. By 1983, the theater expanded to include the Young Repertory Theater, which helps to provide training for youth in the performing arts.
Today it is a space for all forms of performing art, whether it's opera, musicals, comedy, and more. Chamber music, jazz, pop performances, and more can also be found on the annual calendar of events.
Address: 3333 Petaluma Blvd N, Petaluma, California
Official site: https://cinnabartheater.org/
Map of Things to Do in Petaluma, CA
Petaluma, CA - Climate Chart
Average minimum and maximum temperatures for Petaluma, CA in °C
J
F
M
A
M
J
J
A
S
O
N
D

14

4

17

5

18

6

21

7

23

8

26

10

28

11

28

11

28

11

25

9

19

6

14

3

PlanetWare.com
Average monthly precipitation totals for Petaluma, CA in mm.

137

135

98

36

16

4

1

2

7

35

89

97