10 Best Parks in Sacramento
Scenic parks dot the city of Sacramento, offering several ways to enjoy the city's sunny weather. With over 220 parklands and counting, Sacramento's open spaces range from pocket parks to interconnected regional parkways. And while each public space vies for attention, a few stand out as must-sees when visiting.
Signature city parks include McKinley Park and the 40-acre Capitol Park next to the State Capitol building. These acclaimed public spaces include a touch of history alongside beautifully landscaped grounds. Expect crowds of people at Sacramento's most popular parks, but also plenty of room to explore without interruption.
Regional parks are also a nearby favorite in Sacramento. The American River Parkway extends along the city's northside and namesake river. This regional park is a collection of over a dozen public spaces, including beaches, boat launches, and several picnic spots near the water. The 32-mile Jedediah Smith Memorial Trail connects the entire parkway and stretches to Folsom Lake.
Find some time to spend outside and explore with our list of the top parks in Sacramento.
1. William Land Park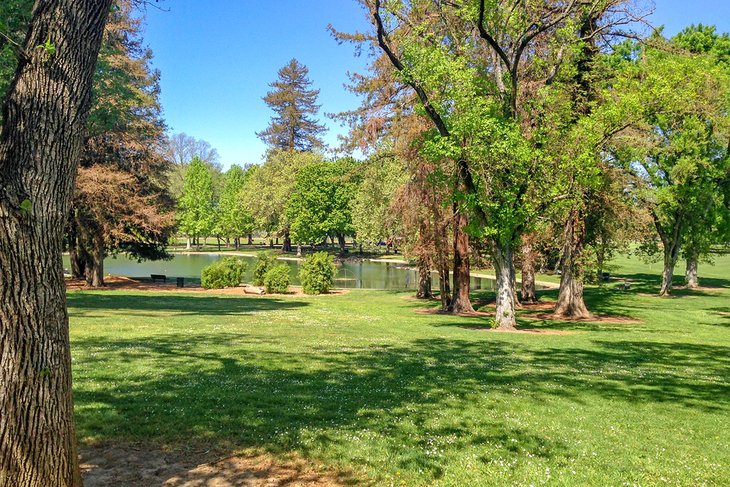 William Land Park is a signature public space of Sacramento, south of the central city. It encompasses over 200 acres and several of the city's top attractions. These must-sees include the Sacramento Zoo and the famous Fairytale Town. William Land is also home to the nine-hole William Land Golf Course, one of the oldest courses in the city.
And outside the established attractions, William Land Park is a pretty place to walk around. The park dates back to the 1920s and has only grown in scenic appeal since. Today, landscaped features like rock gardens, ponds with fountains, and manicured green space make the park a popular place to visit on any sunny day.
The park also caters to organized sports like basketball, softball, soccer, and other field activities. Another way to burn some energy is at the expansive Adventure Play Area with accessible playgrounds and interactive features.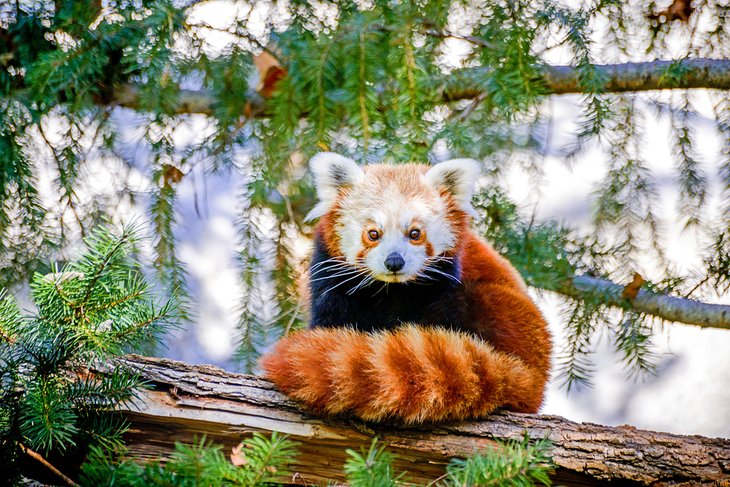 The Sacramento Zoo within William Land is almost as old as the park itself. Today, this non-profit, AZA-accredited zoo houses over 500 animals representing over 120 species. Mammals, birds, and reptiles all find a home at the zoo, including orangutans, emus, and European legless lizards. Special animal encounters are available daily.
2. Capitol Park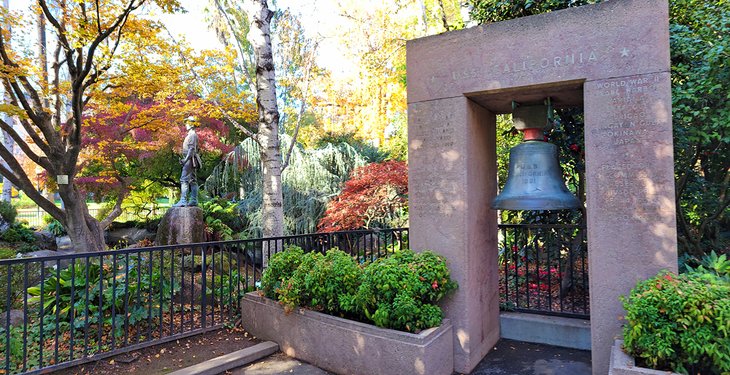 The working and restored downtown State Capitol is well worth a visit. It's a lively place as the center of state government and one of historical interest, dating back to 1860. This longstanding history is easy to encounter in the California State Capitol Museum within its storied walls.
But the real appeal of the Capitol Complex is the 40-acre Capitol Park next to the historic building. A luxurious garden space was part of the initial Capitol development in 1863. And today, over 150 years later, that dedication to outdoor space really paid off.
Capitol Park is simply stunning, with several tall gardens and monuments lining much of the area. Every inch of the park seems detailed and well-thought-out, including the spots of open green space dotting the landscaping. Palm trees border several of the walking paths throughout the park, reminding visitors they are in sunny California.
A few park attractions include a Victorian-style World Peace Rose Garden and a Native Plant Life Garden filled with cacti. Several eye-catching statues and monuments also stand out amid the blooming landscape. These memorials have interpretive plaques for quick tidbits of history.
Capitol Park makes a great addition to time spent exploring the inside of the State Capitol. The California State Capitol is open to the public on weekdays between 9am and 5pm. Plan for at least half the day to tour the State Capitol and surrounding Capitol Park.
3. McKinley Park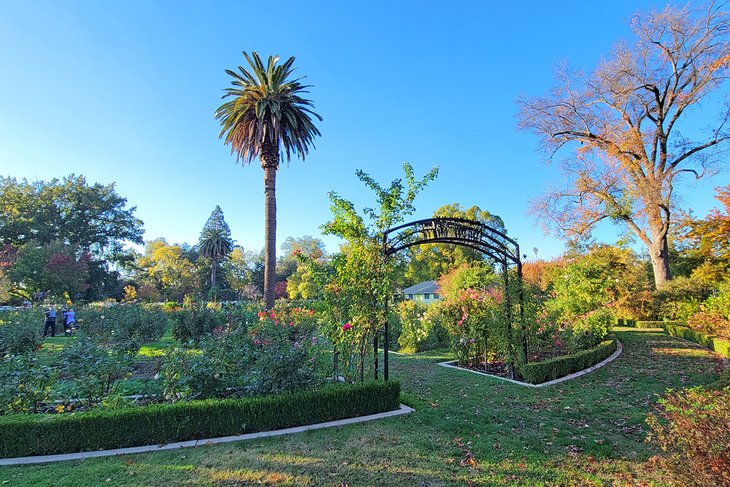 McKinley Park is a quintessential parkland of Sacramento. It encompasses over 30 acres on the northwest edge of East Sacramento and is always bustling with people enjoying the day. And while it's been one of the city's most popular parks for years, recent additions now offer even more reasons to visit.
McKinley Park dates back to the 1870s when it was initially named East Park. Today, historical attractions and modern conveniences dot all 30-plus acres. A few to note include a stunning Rose Garden and a teeming wildlife pond. Other community attractions include a public library, swimming and wading pool, and community center.
Several sports facilities also entice friendly competition at the park. Tennis and volleyball players have nets to hit over, and horseshoe throwers have several pits to choose between. Other park activities include softball, soccer, and any sport requiring a large field. And a popular running path also circles the entire park.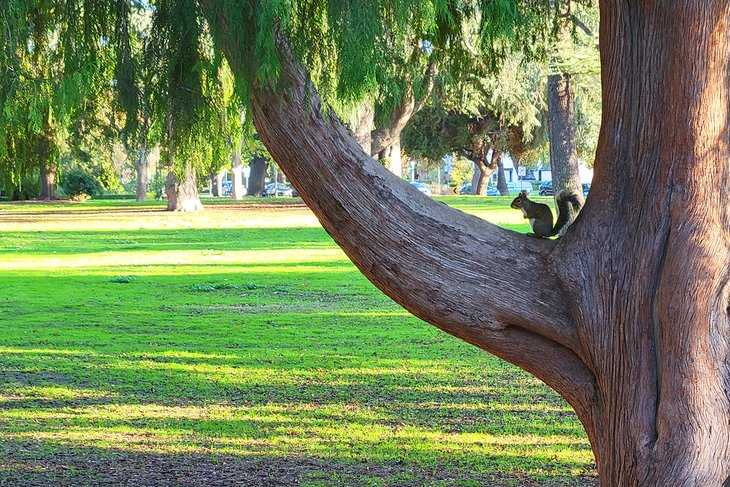 A major family attraction at McKinley is the expansive playground set. This recently constructed play space is massive and features rubberized padding for soft landings. Several interactive elements at the playground lend to a sensory experience. It's a popular place to visit for playdates throughout the week.
4. Sutter's Fort State Historic Park

A replica of German immigrant Johann Sutter's 1840s fort stands amid the hustle and bustle of Midtown. This adobe-stucco fortification in the middle of the city commemorates the earliest development of current-day Sacramento. It also offers an immersive experience to walk through with a small price of admission.
The sense of historical realism hits upon walking through the gated entry. Along the reconstructed exterior walls are rooms built to resemble their original mid-1800s appearance. These quarters include a barrel-making studio, bedrooms, and an armory lined with antique firearms. Park rangers situate themselves near some of the rooms and offer extra insight into life at the fort.
The State Historic Park also dives into Johann Sutter's history, including his coercion of local Nisenan peoples and Hawaiian laborers to construct the fort. The history also includes the arrival of gold miners by mid-century, who overran Sutter's land grant and overtook the fort's acreage.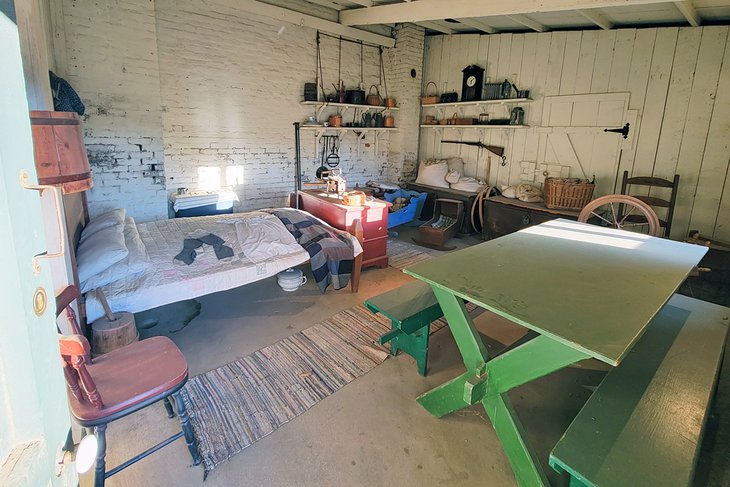 For those that grew up in the region, chances are Sutter's Fort was once a field trip destination. But for anyone visiting or interested in better insight as an adult, the Fort should rank high as a must-see. It's an excellent addition to time spent in the surrounding Midtown district, abuzz with local retail shops and restaurants.
Official site: https://www.parks.ca.gov/?page_id=485
5. Discovery Park, American River Parkway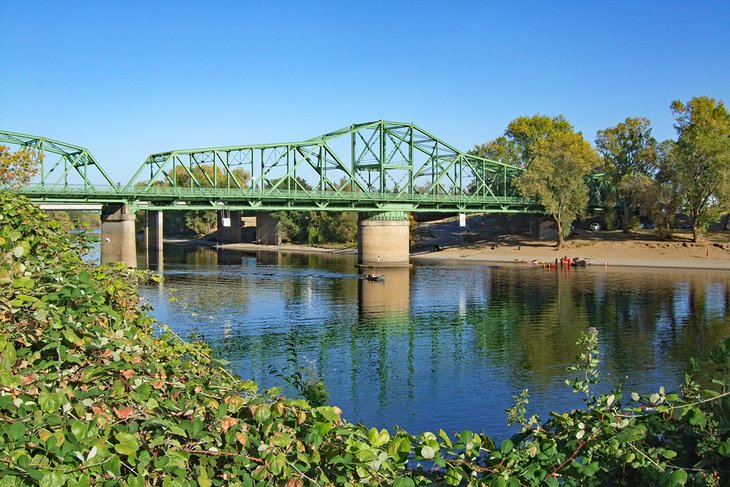 Discovery Park is at the confluence of the American and Sacramento Rivers, north of the downtown district. It's one of several parks that comprise the regional American River Parkway, and it's one of the largest, encompassing over 300 acres. This large land size lends to a variety of activities.
With access to both rivers, Discovery Park is one of the best boat launches in the region. Anglers and recreational boaters often crowd the six-lane boat ramp throughout the year. There's a small fee to launch a boat onto the water.
Discovery Park is also a common jumping-off point for the Jedediah Smith Memorial Trail. This popular pedestrian route begins in Discovery Park and heads east, following the American River and touring the rest of the Parkway. The trail spans 32 miles, ending at Folsom State Recreation Area and Folsom Lake.
Other popular outlets at Discovery Park include a beach area and plenty of picnic space. Softball fields are also available for walk-up play or reservation. And archers have dedicated space to flex their bows.
6. Southside Park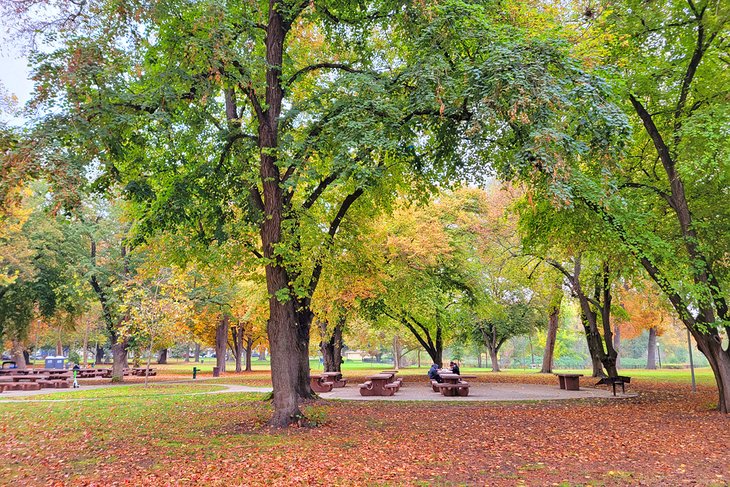 Southside Park encompasses 19 acres on the southside of downtown, near Interstate 80. It's a popular spot for families and park visitors, with several facilities and landscaped walking paths. The park's Universal Universe playground with sensory details and a solar system theme is among the most popular features.
Other amenities at Southside Park include a wading and swimming pool and a large amphitheater for community concerts. And the park's sports facilities, including tennis, pickleball, and basketball courts, are all lighted into the night. Several picnic tables are also available throughout the park.
An absolute pleasure of Southside Park is its surroundings. Alongside abundant green space and tall trees, the park also has an aerated pond often teeming with wildlife. These natural surroundings offer a nice escape from the city streets.
7. John C. Fremont Park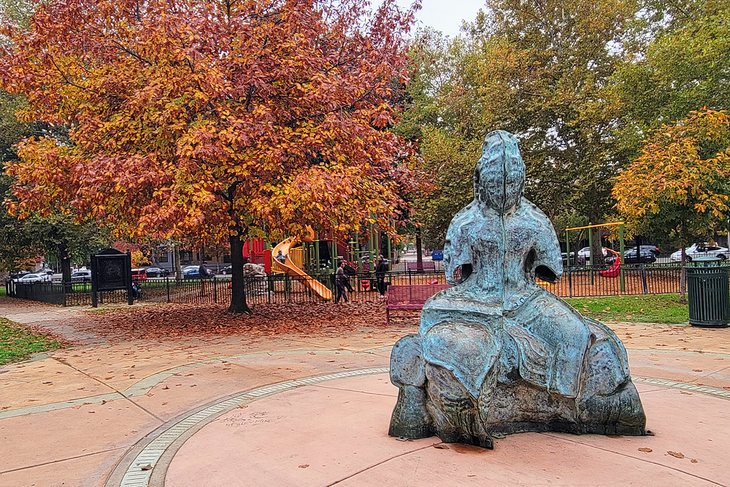 John C. Fremont Park, better known as Fremont Park, is near the city's center, a block southeast of the State Capitol. It's a small park but a popular place for several reasons. The bustling location adds to its appeal, and the park's few facilities make it an excellent place for a playdate or casual moment in the day.
The park's adventure playground is the most popular aspect for kids. This accessible space has several traditional and artificial obstacles to climb, swing, and play the day away. Surrounding the playground, the rest of the park comprises mainly lawn space under the shade of big trees. These different grassy knolls offer an excellent spot to lay a blanket down to enjoy a picnic.
8. McClatchy Park
McClatchy Park encompasses 15 acres in the Oak Park neighborhood, southeast of Midtown and Downtown. It's a vibrant space with lush landscaping and several park amenities. Much of the back half of the park is home to a popular 9-hole frisbee golf course.
Other organized sports facilities include tennis and basketball courts and baseball fields. McClatchy also has a popular outdoor Skate Park with an assortment of ramps and rails. Picnic tables surround these facilities in the park's southern half, and a nearby butterfly garden encourages extra wandering.
The park's Adventure Play Area and Tot Lot are McClatchy's primary appeal in children's eyes. This massive jungle gym reflects the park's amusement park history, with roller-coaster-themed playground equipment. An oversized popcorn container and ice-cream cone are among the popular items to climb around.
9. Ancil Hoffman Park, American River Parkway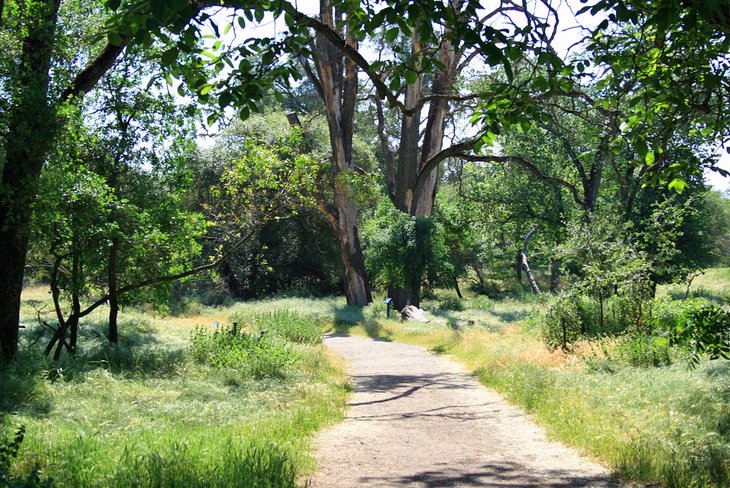 Ancil Hoffman is another popular park on the American River Parkway. It's approximately halfway between Sacramento and Folsom and encompasses nearly 400 acres. This acreage includes a long stretch of the American River with several access points. It's also home to a renowned Nature Center and a public golf course.
Ancil Hoffman has been home to the Effie Yeaw Nature Center for over 40 years. Today, this popular indoor and outdoor educational space hosts thousands of visitors each year. Wildlife also makes a typical appearance throughout the Nature Center's 100 acres of riparian habitat.
Ancil Hoffman Golf Course also draws a lot of attention. This 18-hole, par-72 course is a William Francis Bell design and a regional favorite. It's a public course, but tee times are recommended for play. The course also offers lessons and public leagues, including weekly divisions.
Ancil Hoffman is a popular pitstop on the 32-mile Jedediah Smith Memorial Trail. From Discovery Park, bicyclists reach Ancil Hoffman with a 16-mile ride. Plenty of parking is available for those wanting to set a shuttle.
10. Sutter's Landing Park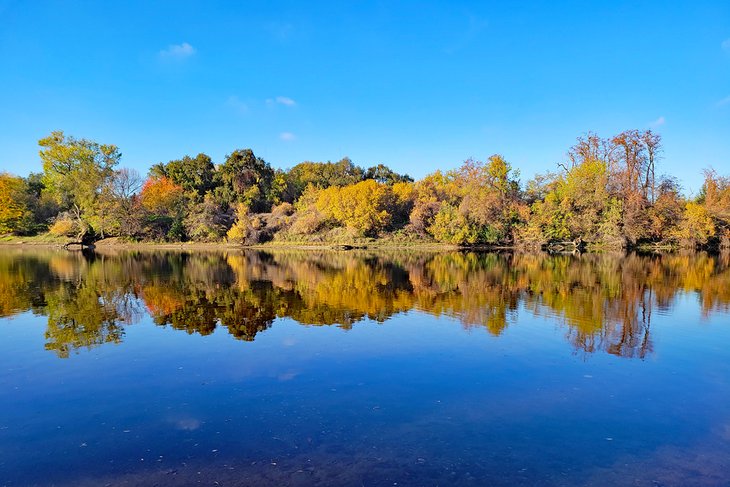 Sutter's Landing Park is north of Midtown, next to the American River. Captain John Sutter landed near these shores in 1839, shortly before erecting the nearby fort at the city's center. Today, the park has several facilities and access to the American River Parkway and the Jedediah Smith Memorial Trail.
A concrete pedestrian pathway navigates the 166 acres, leading to the river. Here, miles of trails span either side of the American River, making the park an excellent trailhead for longer adventures. An enormous shade structure over the parking area keeps cars cool during these longer excursions.
A few other popular amenities at the park include bocce ball and basketball courts and a 2.5-acre dog park. Sutter's Landing is also home to a massive indoor skate park with open walls. This skate park, also known as 28th & B Skate & Urban Art Park, hosts several community events, including skating clinics.