13 Top-Rated Campgrounds near Sacramento, CA
Campgrounds stretch in all directions from Sacramento. There's camping close to the city and several more options within a one- or two-hour drive. These nearby landscapes include the likes of Folsom Lake, the Sierra Nevada Mountains, and two national forests.
Other places to camp near Sacramento include Napa Valley and Lake Tahoe. And just like the different places to travel to, the type of camping also varies greatly within a two-hour radius of the city. There's lake camping, RV camping, and camping near California's first gold find, all within a short drive.
Reservations are recommended when available. Popular campsites in the region tend to book out fast during the long summer season. Camping amenities also differ, ranging from private hot shower stalls to only pit toilets at some camping spots near the capital city. Plan ahead and pack accordingly, and find your next spot to spend the night with our list of the best campgrounds near Sacramento.
1. Beals Point Campground, Folsom Lake Recreation Area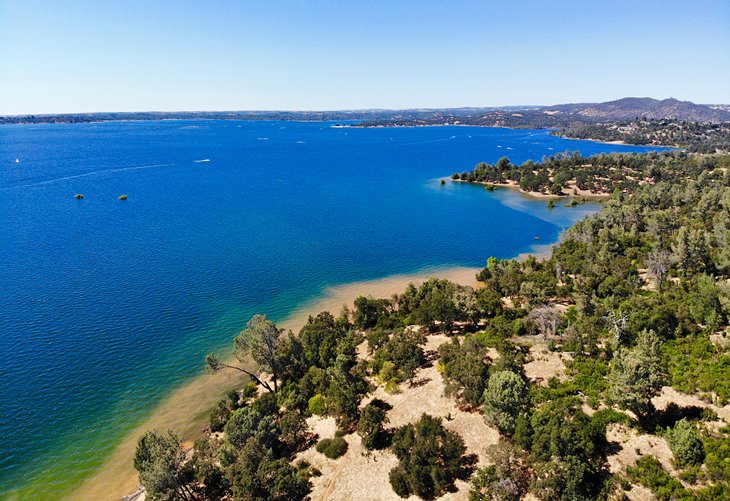 Beal's Point is one of three campgrounds within the massive Folsom Lake State Recreation Area. It's on the lake's western shore, near the Folsom Dam, and has 49 family sites with picnic tables and fire pits. Beal's Point also caters to RVs with an additional 20 full hookup sites available.
Alongside easy access to a day-use area that juts into the lake from the campground, the Beal's Point Campground also connects with the Jedediah Smith Memorial Trail along the American River Parkway. For those coming from Sacramento, it's just over a half-hour drive from the city or a 32-mile bike ride on the Jedediah Smith Memorial Trail.
All overnight guests at the campground have access to potable water and coin-operated showers, and reservations can be made ahead of time online or over the phone. It's the only campground open year-round at Folsom Lake. Reservations aren't needed in the winter.
South of Beal's Point on the adjacent and smaller reservoir within the recreation area, Lake Natoma, the Negro Bar Campground features group sites that accommodate large get-togethers.
2. Ice House Campground, Eldorado National Forest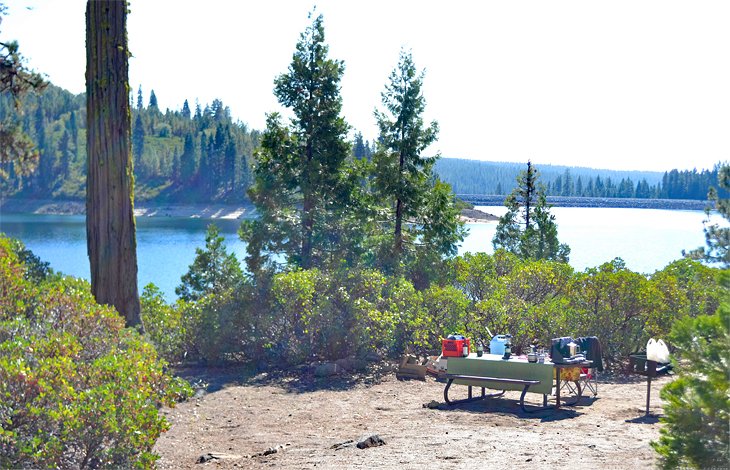 The Ice House Campground is a popular campground 80 miles northeast of Sacramento within Eldorado National Forest. It's on the banks of the scenic Ice House Reservoir and is great for activities like fishing, paddle sports, and swimming. And the ponderosa pine forest surrounding the campground is nothing but postcard perfect.
Ice House Campground accommodates tents and RVs with over 80 sites available. Potable water and pit toilets are available at the campground, and the neighboring Ice House Resort features a general store and café. The campground generally operates between Memorial Day and mid-October.
The national forest also operates the Northwind Campground and Strawberry Campground on the Ice House Reservoir, east of Ice House Campground. Both feature primitive campsites and less expensive camping rates. A scenic hiking trail connects all three campgrounds in the area.
3. Mineral Bar Campground, Auburn State Recreation Area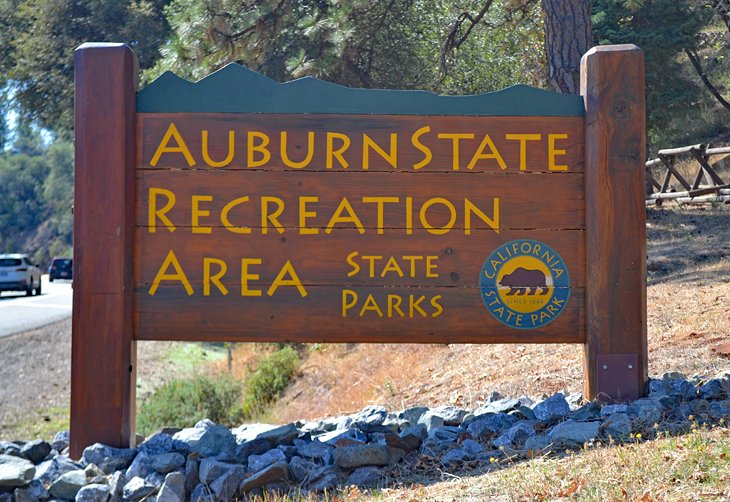 Auburn State Recreation Area encompasses incredible beauty surrounding the North and Middle Forks of the American River, accessible from Sacramento with an hour-long drive. Over 100 miles of hiking trails span this long, linear recreation area, as well as three campgrounds.
The most popular of Auburn's campgrounds, Mineral Bar Campground, features 18 sites available on a first-come, first-served basis. The narrow road leading to the Mineral Bar campground typically deters RVs and trailers from accessing the sites. All sites have picnic tables, fire pits, and pit toilets available. Visitors need to bring their own drinking water or filtration method.
Auburn State Recreation Area also features a campground only accessible by boat on Lake Clementine, where visitors find a boat launch, marina, and day-use swimming area. Auburn's third campground, the Ruck-a-Chucky Campground, features five popular sites also available on a first-come, first-served basis.
Official site: https://www.parks.ca.gov/?page_id=502
4. Sly Park Recreation Area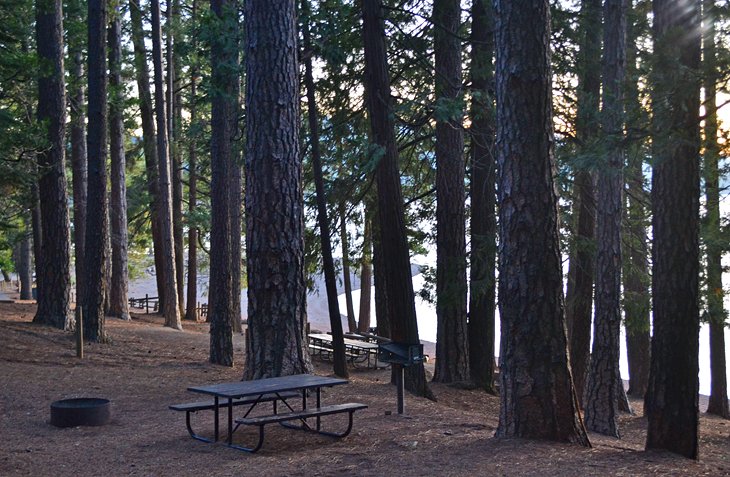 Sly Park Recreation Area is on the edge of the Eldorado National Forest, an hour's drive northeast of Sacramento. Owned and operated by the El Dorado Irrigation District, it has nearly 200 sites available.
The campground is centered around the scenic Jenkinson Lake, where activities like fishing, boating, and paddle sports are common. Other popular activities at Sly Park Recreation Area include hiking, barbecuing, and having bonfires in the designated fire pits.
The 190 campsites at Sly Park are spread out between 10 different campground areas. The campsites cater to tent campers and RVs up to 40 feet in length. Special sites at the recreation area include waterfront sites and a "Pine Cone Strip" area that books up fast for summer weekends.
5. Coloma Resort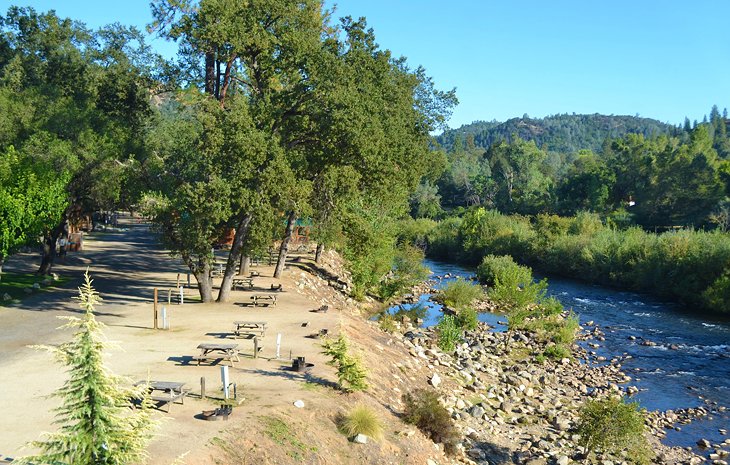 Coloma Resort provides luxury camping and upscale outdoor amenities next to the South Fork of the American River, under an hour from Sacramento. This private campground is near the Marshall Gold Discovery Site and features tent and RV camping. The resort also offers spacious cabins and a reservable country cottage.
Luxurious amenities at Coloma Resort include exclusive riverfront access, a swimming pool, and children's playgrounds, as well as a general store with all the necessary sundries. And the nearby Argonaut Cafe in Coloma offers farm-fresh entrees and a variety of espresso drinks.
Across the American River via a historic bridge, the Marshall Gold Discovery Site is the location of the first-ever gold found in California. This site spawned an entire movement of people and culture and has been historically preserved. It now features numerous interpretive exhibits and information about this monumental find.
Address: 6921 Mount Murphy Road, Coloma, California
Official site: https://colomaresort.com/
6. Rancho Seco Recreation Area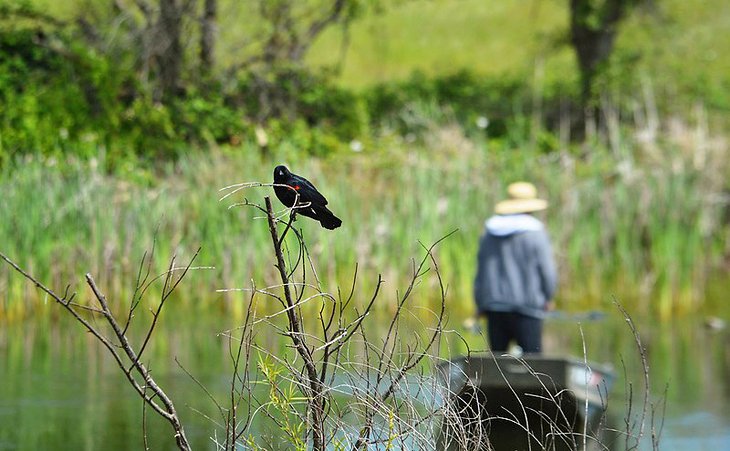 Rancho Seco Recreation Area is centered around the 160-acre Rancho Seco Lake, less than an hour southeast of Sacramento. It's popular for water activities like boating, fishing, and swimming. The recreation area offers boat rentals throughout the summer, and several hiking trails near the shore.
7. Peninsula Campground, Folsom Lake Recreation Area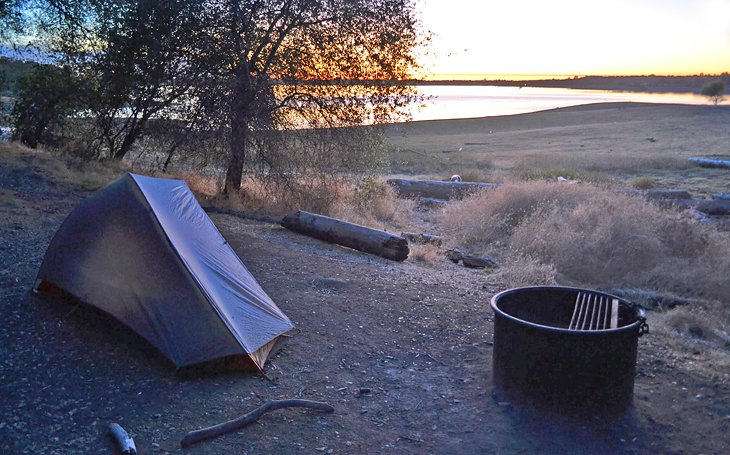 The Peninsula Campground is one of three campgrounds surrounding the Folsom Lake reservoir. It features 100 family-friendly campsites in a remote setting. The campground is just over an hour drive from Sacramento, including a curvy nine-mile road from the small community of Pilot Hill.
Another popular approach to the Peninsula Campground is boating across the lake and mooring on the shore. The campground accommodates trailers and motor homes, though no hook-ups are available. Many of the campsites are universally accessible, as are the shower and restroom facilities. Potable water is also available.
Two boat launches and an expansive day-use area are located near the campground, and campers can easily access the shore from their campsite. Depending on the water levels, campers also have a chance to explore the driftwood-laden beach and uncovered lake flats.
Even with plenty of sites available, it's not uncommon for the campground to fill up entirely on warm-weather weekends; reservations are available online.
Official site: https://www.parks.ca.gov/?page_id=500
8. Eagle Point Campground, Emerald Bay State Park South Lake Tahoe Campground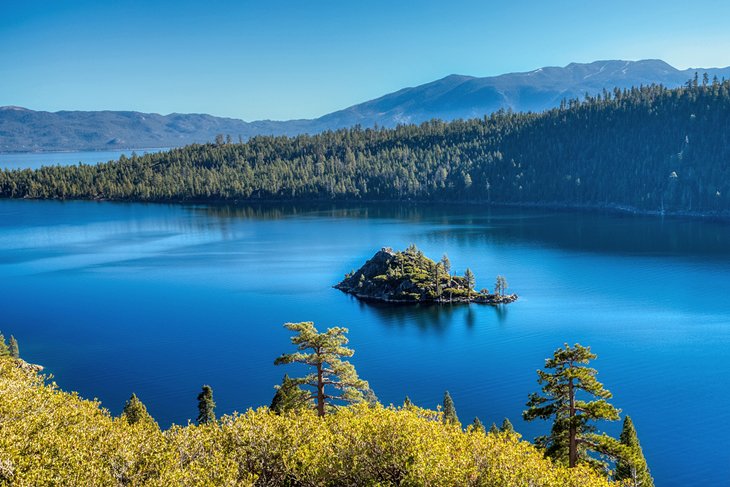 Lake Tahoe is a stunning body of water and a shimmering destination in the Sierra Nevada Mountains. It entices millions of visitors each year with sandy beaches, luxurious resorts, and crisp air at an elevation of over 6,200 feet. And this world-class vacation destination is less than a two-hour drive from Sacramento.
Numerous campgrounds surround the southeast side of the lake. One such campground, the Eagle Point Campground, is within one of the best state parks in California; Emerald Bay State Park. This stunning state park showcases the splendor of this Sierra Nevada hot spot.
Eagle Point Campground features nearly 100 sites able to accommodate tents and RVs. It also features access to a unique underwater preserve and shipwreck, fabulous hiking trails, as well as the historic Vikingsholm vacation home. All overnight users have access to flushing toilets and coin-operated showers.
9. Northwind Campground, Eldorado National Forest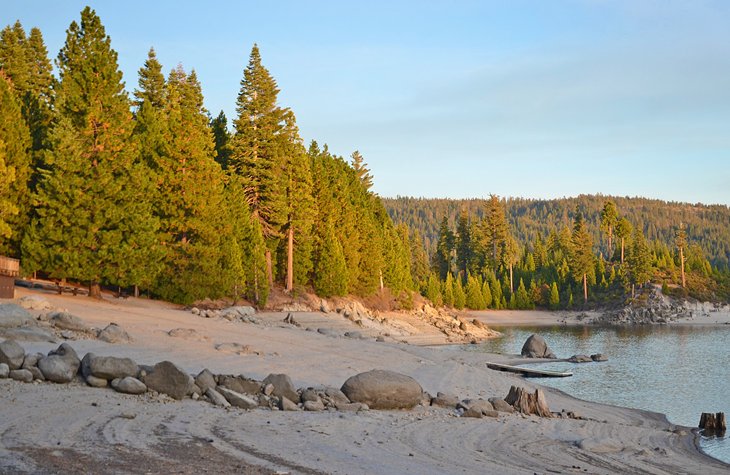 This primitive campground is on the Ice House Reservoir within the Eldorado National Forest and offers more affordable campsites than the neighboring Ice House Campground. Campers from Sacramento can reach Northwind Campground in 90 minutes by car, making this scenic spot great for casual or extended weekend camping,
The nine spacious sites at Northwind Campground lend to a feeling of solitude. They are available on a first-come, first-served basis and are sometimes completely full during weekends throughout the summer. Vault toilets are available, and visitors need to bring their own drinking water.
Official site: https://www.fs.usda.gov/recarea/eldorado/recarea/?recid=71022
10. Pleasure Cove Resort & Marina, Lake Berryessa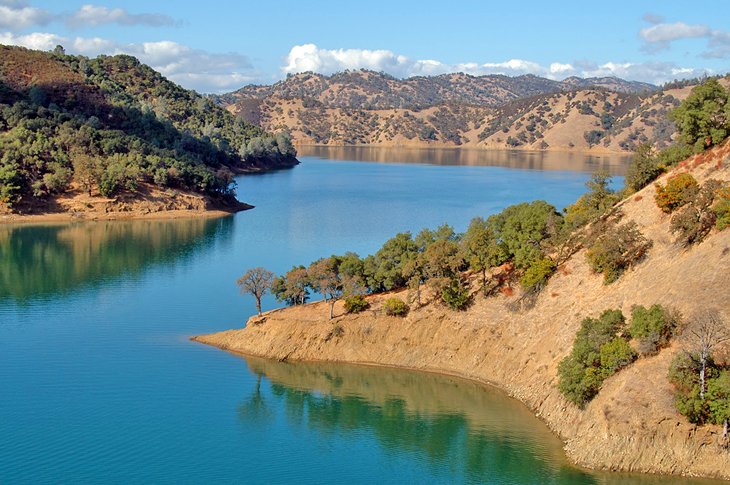 Lake Berryessa is the largest lake in Napa County and a very scenic place to spend the night. It's just over an hour's drive west of Sacramento, and numerous campgrounds and resorts line the shores of this massive reservoir, including the aptly named Pleasure Cove Resort & Marina.
Alongside over 90 tent camping sites and an additional 20 sites specifically for RVs, Pleasure Cove also features lakeside cabins and houseboats for rent. Reservations are available at this private campground and are recommended during the summer season.
Farther west along Lake Berryessa, the Steele Canyon Campground features 80 campsites that accommodate tents or RVs. Campsites at both Steele Canyon and Pleasure Cove feature picnic tables, fire rings, and access to potable water.
11. Cal Expo RV Park
Cal Expo RV Park is one of the closest places to park an RV near Sacramento's city center. It's in the Cal Expo neighborhood, west of downtown, home to the famous California State Fair. This location is home to several other events throughout the year.
Cal Expo RV Park is exclusively for RV camping and tents are not permitted. The park has 65 pull-through sites that all have full hookups, including free wireless internet. Other amenities at the campground include a laundry room, private hot showers, and a dog park.
The RV Park offers low daily, weekly, and monthly rates. Campers are only allowed to stay 30 days within a 60-day period. Reservations are recommended throughout the summer, especially during large events at Cal Expo, including the California State Fair.
12. Skyline Wilderness Park
In the Central California city of Napa, an hour drive from Sacramento, Skyline Wilderness Park is a popular place to park an RV. It has nearly 40 sites with full and partial hookups available. Skyline Wilderness Park also offers activities like disc golf, mountain biking, and hiking on over 25 miles of trails.
Tent camping is also available at Skyline Wilderness Park. All overnight users have access to shower facilities and flushing toilets.
Address: 2201 Imola Ave, Napa, California
Official site: https://skylinepark.org
13. Hampshire Rocks, Tahoe National Forest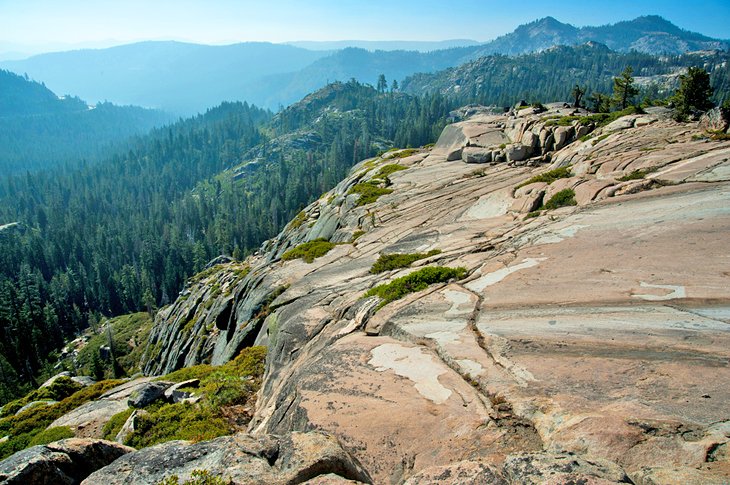 Tahoe National Forest provides a welcome respite from the heat and low elevations of Sacramento with a 70-mile drive northeast of the city. Numerous places to camp are spread throughout the 850,000-acre national forest, including many opportunities to primitive camp for free.
For developed camping opportunities and access to drinking water and vault toilets, the Hampshire Rocks Campground is a popular place to pitch a tent. It's easily accessible via Interstate 80 and adjacent to the swimmer-friendly South Yuba River. All 31 sites at Hampshire Rocks can be reserved ahead of time, and many are busy during summer weekends.
Alongside enjoying the banks of the South Yuba River, other popular activities at the campground include day hiking and backpacking on the nearby Pacific Crest Trail. Other Forest Service campgrounds like Woodchuck Campground and Indian Springs Campground are found within a 10-minute drive of Hampshire Rocks.
Address: 15924 CA-49, Camptonville, California
Official site: https://www.fs.usda.gov/recarea/tahoe/recarea/?recid=55504
More Related Articles on PlanetWare.com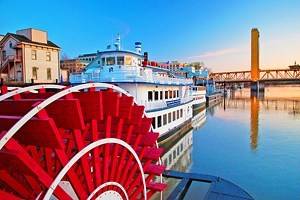 More to Explore in Sacramento: Alongside many great campgrounds, the city of Sacramento is near adventurous hiking trails that tour historic gold mines, scenic river canyons, and sparkling lakeshores. After exploring the natural beauty around Sacramento, you can visit the city's top-rated tourist attractions, including the State Capitol building, the California State Railroad Museum, and the Crocker Museum of Art. For a place to stay in Sacramento, our guide to the best hotels in Sacramento caters to every type of traveler.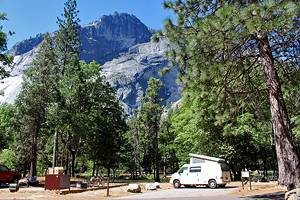 Camping in California: Enabling fully fledged Sierra Nevada Mountain adventures, the campgrounds at Yosemite National Park offer unlimited access to activities like hiking, rock climbing, and cross-country skiing. Another wonderfu place to spend a night under the stars is in the campgrounds at Sequoia National Park. For an overview of the camping and adventure options in California, our guide to the best state parks in California also features some of the best places to pitch a tent or park an RV.