12 Top-Rated Things to Do in Folsom, CA
History, hiking trails, and culture come together in Folsom, California, 25 miles northeast of the state capital of Sacramento. Folsom nestles into the Sierra Nevada foothills and is a gateway city for the alpine environment to its east. Numerous outdoor activities are right at the backdoor in Folsom Lake State Recreation Area. Created by the impoundment of the American River, this sprawling recreation space features two reservoirs and abundant scenic attractions.
Folsom is forever intertwined with the state prison within its borders, much in thanks to a legendary performance by Johnny Cash within the prison walls. Both legacies are easily experienced when visiting Folsom, and tourists can learn about the 140-year history of the prison at the Folsom State Prison Museum. The museum is accessible via the paved Johnny Cash Trail, which offers an art-filled pedestrian pathway that spans two scenic bridges.
The Gold Rush history of Folsom still glimmers in much of the city, particularly on Sutter Street and the surrounding Historic Downtown District. With storefronts reminiscent of old-time opera houses and hotels, the downtown district celebrates its rich history with several downtown events and performances at the Historic Folsom Amphitheater. Other popular attractions in Folsom include shopping opportunities, boat rentals, and animal interactions at the Folsom City Zoo Sanctuary.
Plan your visit with our list of the top things to do in Folsom.
Note: Some businesses may be temporarily closed due to recent global health and safety issues.
1. Folsom Lake State Recreation Area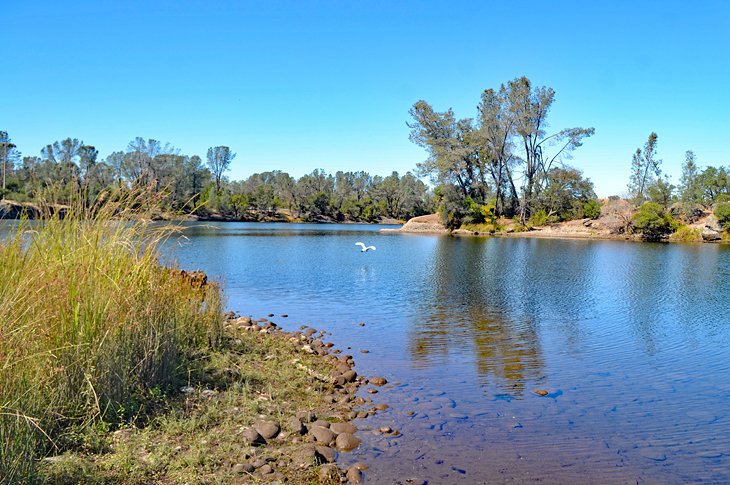 Folsom Lake is nestled into the Sierra Nevada foothills right outside Folsom's backdoor. Encompassing two reservoirs, Folsom Lake and Lake Natoma, both created by dams on the American River, the combined recreation area encompasses over 19,000 acres and numerous outdoor activities.
Popular things to do at Folsom Lake State Recreation Area include boating, fishing, hiking, and bicycling on the 32-mile Jedediah Smith Memorial Trail that connects to Sacramento.
On the western shores of Folsom Lake, Granite Bay and Beal's Point provide a popular day-use area with a swimming beach, as well as a campground with over 60 sites available.
Numerous entrances to the recreation area surround all sides of Folsom Lake and Lake Natoma, as well as visitor experiences like the Sacramento State Aquatic Center and the American River Water Education Center. Nearly 100 miles of multi-use trails span the park, including a portion of the historic Western States Trail.
Address: 7755 Folsom-Auburn Road, Folsom, California
Official site: https://www.parks.ca.gov/?page_id=500
2. Sutter Street, Folsom Historic District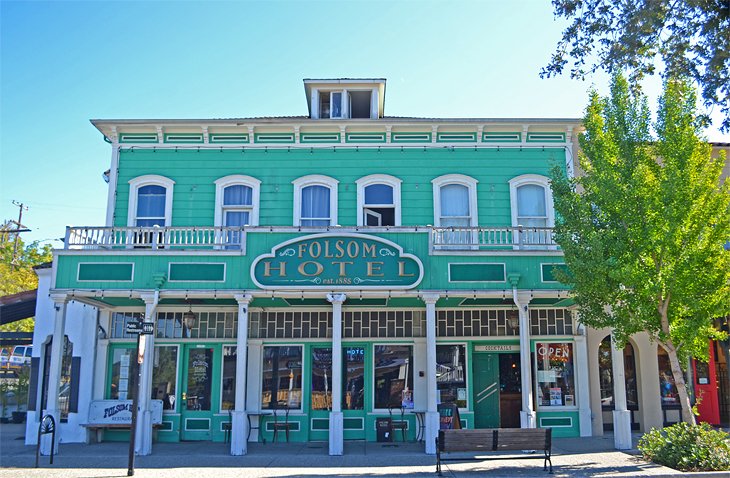 Regarded as the "Heart of Folsom," Sutter Street and the surrounding historic downtown district offer numerous things to do throughout the year. Lined with historic storefronts and buildings reminiscent of its 1850s origins, when gold prospectors and Pony Express riders roamed the streets, Sutter Street is now filled with many modern businesses, including restaurants, theaters, and shops. Alongside interpretive information on street corners, the Folsom History Museum on Sutter Street provides further insight into the history of the downtown area.
Visitors from Sacramento can experience Sutter Street by hopping on the Historic Folsom Light Rail, which departs from the capital city. Special events like craft fairs, car shows, and a Saturday farmers market occur on Sutter Street throughout the year. The downtown Historic Folsom Amphitheater also puts on numerous shows, including performances by the Folsom Lake Symphony, a summer Twilight Thursday Concert Series, and Movie Nights at the Amphitheater.
Official site: https://www.historicfolsom.org/
3. Folsom Prison Museum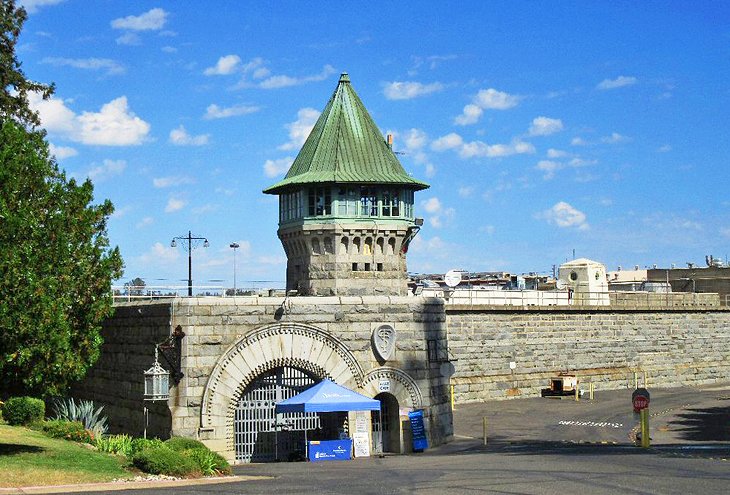 On the grounds of the active Folsom State Prison, the Folsom Prison Museum highlights the history encountered by correction officers who have worked at the prison since the 1880s. Exhibits at the Folsom Prison Museum include photographs, artifacts, and a macabre collection of contraband items and fatal accident accounts. Newspaper articles detailing various escape attempts also hang on the walls. An intricate Ferris wheel made from toothpicks by an inmate is one of the most popular exhibits at the museum.
Also known as the Big House Prison Museum, this non-profit institution contains four rooms packed with things to see, as well as outdoor exhibits and artifacts on the museum's grounds. Museum admission is two dollars per visitor, and it's easy to spend a couple of hours wandering between exhibits. Sharing a parking lot with visitors to Folsom State Prison adds to the overall experience of visiting the Folsom Prison Museum.
Address: 312 3rd Street, Represa, California
Official site: http://bighouseprisonmuseum.org/
4. Jedediah Smith Memorial Trail, American River Parkway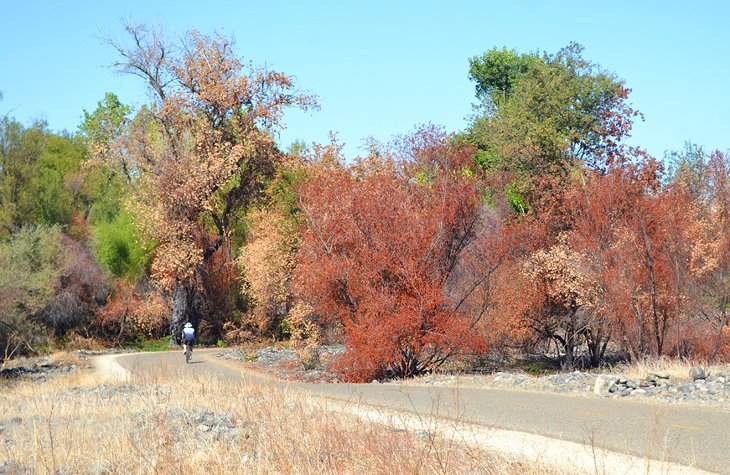 Stretching for 32 miles between Discovery Park in Sacramento and Beal's Point within Folsom Lake State Recreation Area, the Jedediah Smith Memorial Trail runs through the American River Parkway and offers a great way to explore the river corridor. The portion that follows the shores of Lake Natoma is arguably the most scenic section of the trail. Numerous dirt hiking trails stem from the paved pathway, with other related activities including picnicking, fishing, and wildlife photography.
Official site: https://regionalparks.saccounty.net/Parks/Pages/JedediahSmith.aspx
5. Johnny Cash Trail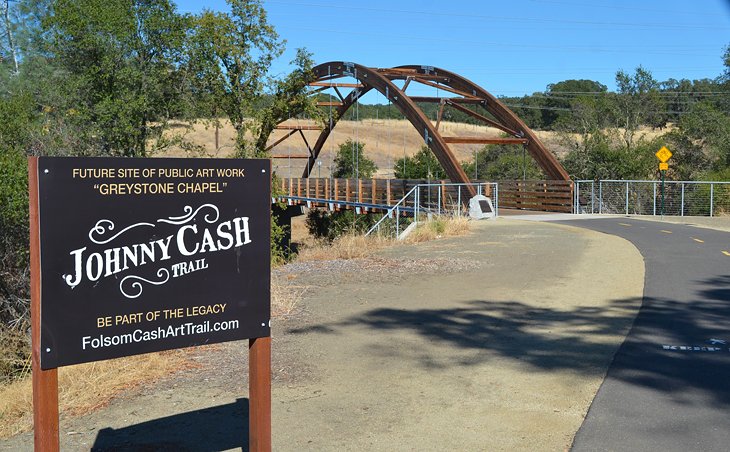 The Johnny Cash Trail is a paved bike and pedestrian path that connects the downtown Folsom Historic District and Folsom Lake. The trail spans 2.5 miles and traverses two incredibly scenic bridges, and plans include larger-than-life public art installations along the route.
Bordering the Folsom State Prison property, the trail also lends access to Folsom Prison Museum. From either end of the trail, users can access the Jedediah Smith Memorial Trail, which connects Folsom Lake to Sacramento.
Official site: https://folsomcasharttrail.com/
6. Granite Bay and Beal's Point

Part of Folsom Lake State Recreation Area, Granite Bay and Beal's Point are great places to enjoy the water. On the western shoreline, Granite Bay offers a day-use swimming beach with lifeguards on duty during the summer.
Granite Bay also has dedicated barbecue areas and large grassy spots for an array of summertime activities. The Snack Bar at Granite Bay offers non-motorized boat rentals throughout the summer season. Granite Bay also features a public boat ramp.
The neighboring Beal's Point offers one of two campgrounds on Folsom Lake and has over 60 sites available for tents and RVs. Both Granite Bay and Beal's Point lend easy access to the water, as well as the paved Jedediah Smith Memorial Parkway, which stretches from Folsom Lake to Discovery Park in Sacramento.
The other campground on Folsom Lake is located on the north shore, and the Peninsula Campground can be accessed via boat or a winding paved road from Pilot Hill.
Address: Beals Point, Granite Bay, California
Official site: https://www.parks.ca.gov/?page_id=10916
7. Folsom City Zoo Sanctuary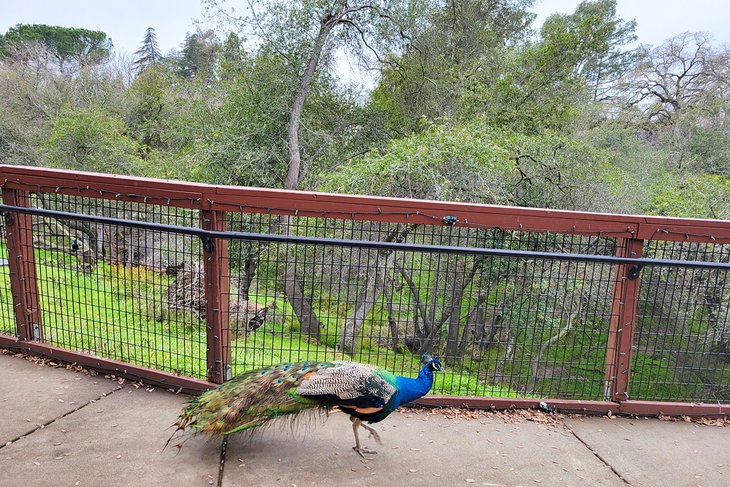 First began in 1963 by the adoption of a displaced bear cub, the Folsom Zoo, now the Folsom City Zoo Sanctuary, has since cared for non-releasable animals in a safe and attentive environment. Current residents at the zoo include bears, coyotes, and tigers, as well as smaller animals like macaws, squirrel monkeys, and prairie dogs. Available classes and programs at the Folsom City Zoo Sanctuary include Zookeeper Camps and docent-led tours with zoo staff.
The entire zoo is within Folsom City Lions Park, where other amenities include playground sculptures, baseball fields, and a butterfly grove. Lions Park and the Folsom City Zoo Sanctuary are also accessible via the Johnny Cash Trail. The Fisher's Beastro at the zoo offers simple lunchtime fares like corn dogs and nachos.
Address: 403 Stafford Street, Folsom, California
Official site: https://www.folsom.ca.us/parks/zoo_sanctuary/default.asp
8. Lake Natoma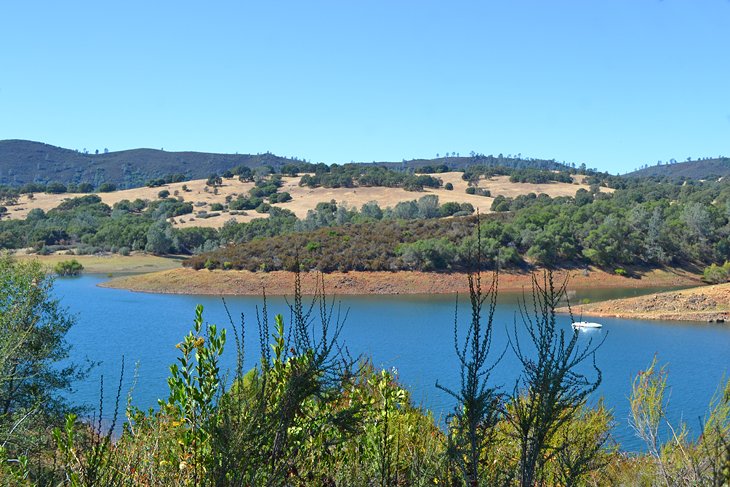 The second, smaller reservoir within Folsom Lake State Recreation Area, Lake Natoma was created by the construction of the Nimbus Dam on the American River. The Jedediah Smith Memorial Trail lines the eastern shore with great views of the water, and hiking trails can be found sprawling on both sides of the banks. The lake is popular with non-motorized watercraft, and the speed limit is five miles per hour.
Non-motorized boat rentals are offered at the Sacramento State Aquatic Center located near the Nimbus Dam. Alongside single and tandem kayak rentals, the Sac State Aquatic Center also has an inventory of bikes they rent to the public. The aquatic center is also a National Boating Instruction Safety Center and offers classes, camps, and programs to enhance boating safety and skills.
9. Folsom Powerhouse State Historic Park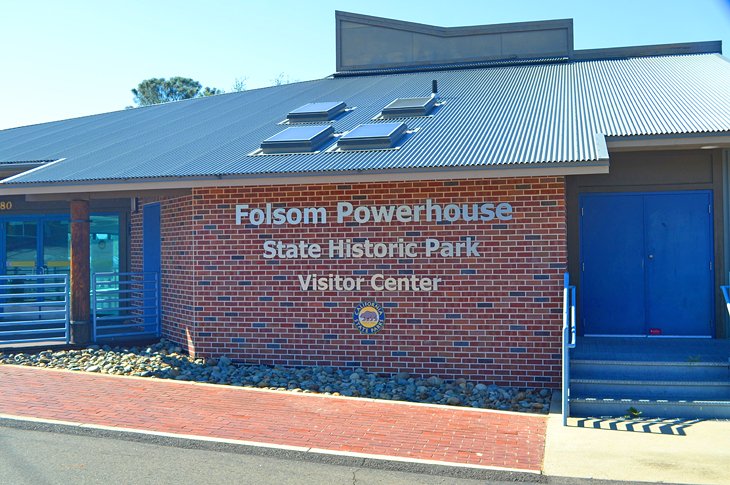 Constructed in 1895, the Folsom Powerhouse utilized the moving current of the American River to produce electricity for the growing city of Sacramento 22 miles downstream. Upon completion, the Folsom Powerhouse became one of the first hydroelectric facilities in the nation. It's now on the National Register of Historic Places, and visitors can tour much of the facility, which has been well preserved since its retirement in 1952.
Address: 9980 Greenback Lane, Folsom, California
Official site: https://www.parks.ca.gov/?page_id=501
10. Folsom Premium Outlets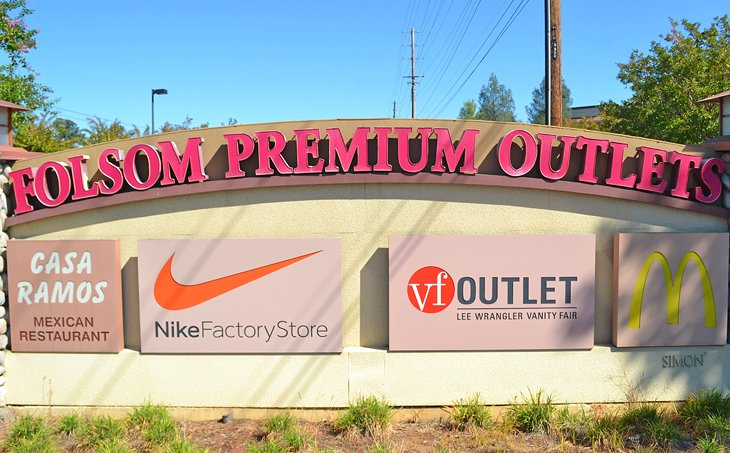 A central location for name brand attire and fashion brands, Folsom Premium Outlets is an outdoor shopping plaza with 80 stores. With brands ranging from Adidas to Zales, shoppers can find clothing, housewares, jewelry, and sporting equipment at the Folsom Premium Outlets, all with plenty of parking available. Shoppers from Sacramento can reach the Folsom Premium Outlets via the Historic Folsom Light Rail.
Address: 13000 Folsom Boulevard, Folsom, California
Official site: https://www.premiumoutlets.com/outlet/folsom
11. Harris Center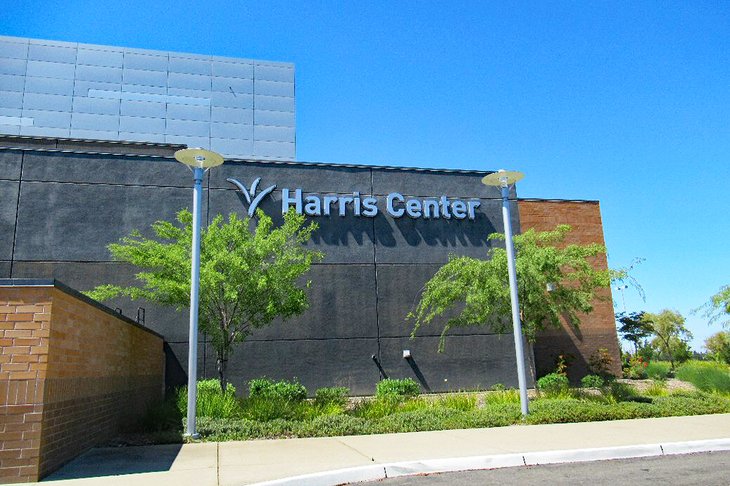 Initially conceived as an instruction center for students at Folsom Lake College, the Harris Center has evolved into a main stage for arts and culture in the region. Attracting local, regional, and national talent, the Harris Center features three stages and a beautiful mezzanine. New shows and performances come to the stages of this regional arts center throughout the year, and patrons can find an event calendar at the official website.
Address: 10 College Parkway, Folsom, California
Official site: https://www.harriscenter.net/
12. Seaquest Folsom
A popular thing to do for families in Folsom, Seaquest Folsom transports visitors to the depths of the ocean and beyond. Current animals on display at Seaquest Folsom include otters, sharks, stingrays, chameleons, sloths, and frogs. Seaquest Folsom offers special experiences, including behind-the-scenes tours, feeding stations, and special meet-and-greet encounters. Seaquest also tends to be a popular spot for children's birthday parties in Folsom.
Address: 430 Palladio Parkway #1801, Folsom, California
Official site: https://folsom.visitseaquest.com/
More Related Articles on PlanetWare.com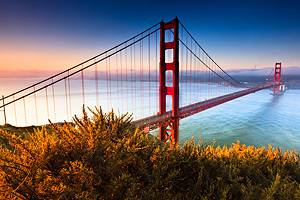 Other Places to Explore near Folsom: Offering unique cultural attractions, like a 19th-century state capitol building, the California State Railroad Museum, and the Crocker Museum of Art, the capital city of Sacramento is only a 30-minute drive from Folsom. To the east of Folsom within the Sierra Nevada Mountains, Lake Tahoe is a true outdoor getaway and a fun place to be. A two-hour drive from Folsom, the lively streets of San Francisco invite multiple days of exploring.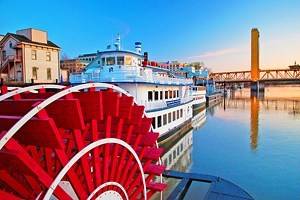 More to See in Sacramento: A short drive from Folsom, many of the best hiking trails near Sacramento are found in nearby areas like Auburn State Recreation Area and Folsom State Recreation Area. Likewise, the top-rated campgrounds near Sacramento also lend to beautiful tent and RV camping right out Folsom's backdoor. For those looking to stay in Sacramento, our guide to hotels in Sacramento cover every type of traveler.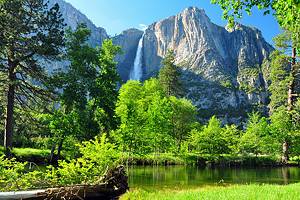 Exploring California: The state of California is as varied as its residents, and for a great place to start exploring all there is to see, our guide to the best places to visit in California previews the diversity of the state. A great way to experience California is through the many top-rated national parks within its borders, with mountains, ocean shores, and deserts to explore. For a small-town feel within a big state, the best small towns in California deliver on scenic attractions with fewer crowds.