11 Best Beaches on Lake Tahoe
We may earn a commission from affiliate links ()
From majestic snow-peaked mountains to crystal-clear freshwater creeks, Lake Tahoe is full of natural wonders. Among the highlights are an array of beaches tucked away along the lake's shoreline, hidden in between dense pine groves and rocky hillsides.
The soaring peaks of the Sierra Nevadas provide a stunning backdrop for Lake Tahoe's beaches. Most of the beaches afford breathtaking alpine views, and many have lovely picnic areas in shaded pine groves.
During summertime, sunbathing and water sports are the main draws of Lake Tahoe beaches. Other things to do include hiking and biking on paths overlooking the lake's scenic shores and camping in the campgrounds around the lake.
Water sports enthusiasts can find their bliss on the Lake Tahoe Water Trail. The 72-mile route provides 29 launching points for kayaking and paddleboarding. These launching points are located near many of the top beaches on Lake Tahoe on this list.
Note: Some businesses may be temporarily closed due to recent global health and safety issues.
1. Kings Beach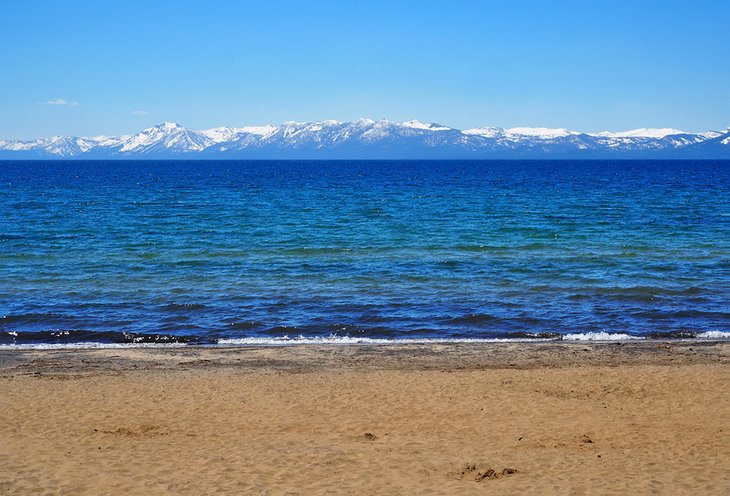 Vacationers make a beeline to Kings Beach during the summer months. It's a favorite destination for families and groups of friends, since there are enough recreational activities for something to appeal to everyone.
Kings Beach State Recreation Area offers opportunities for swimming, fishing, boating, paddleboarding, and windsurfing. There's also a half-court basketball court and a children's playground.
The beach itself is the highlight of the recreation area; its expansive sandy shoreline provides plenty of space to stretch out on beach towels or underneath a parasol. Consistently balmy summertime weather and a south-facing shoreline makes Kings Beach a great place for basking in the sun.
Nearby are many snack bars and casual restaurants that serve to-go meals. A picnic area is nestled under a shady grove of Jeffrey pine trees. The tables are available on a first-come, first-served basis.
The town of Kings Beach has a happening vacation vibe. A wide array of shops, restaurants, sidewalk vendors, and hotels cater to summertime visitors.
For upscale accommodations, the Kingswood Village Condominiums work well for families or small parties of friends. These well-equipped condominiums feature contemporary-style rustic chic decor, spacious modern kitchens, and cozy living rooms.
2. Lester Beach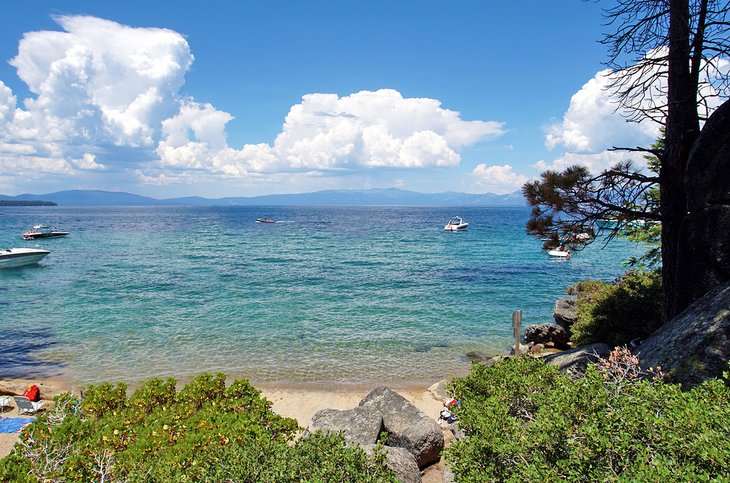 This serene lakeside spot at D.L. Bliss State Park is one of Lake Tahoe's most popular beaches. Visitors should keep in mind that the beach can get crowded early in the day (before noon). The parking lot is often full by 11am, after which point visitors no longer have access to the park.
The beach is located in a tranquil spot with amazing views. To get here requires a two-mile walk from the parking lot.
Visitors should keep in mind that the shore skirts a part of Lake Tahoe that has extremely deep waters known as the "Rubicon Wall" and there is no designated area for swimming. It is a good place for water sports, including paddleboarding, kayaking, and canoeing.
Lester Beach is well-equipped with facilities: public restrooms, showers, and picnic tables. There are also campsites and places to go fishing in the area.
3. Sand Harbor Beach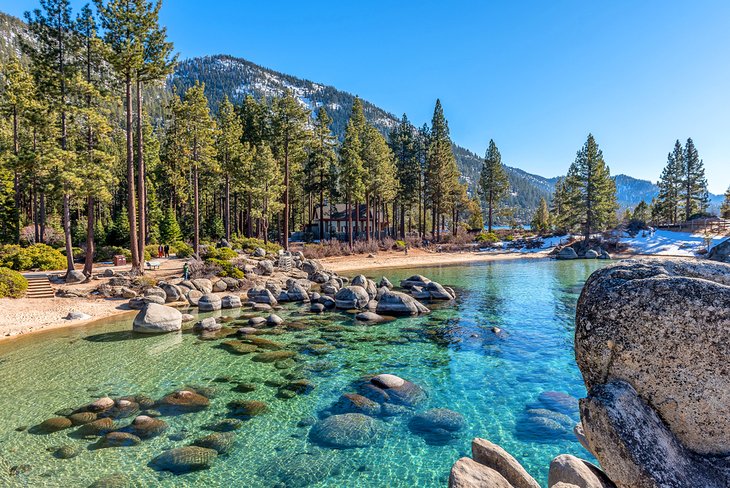 A half-mile expanse of sandy shoreline, the Main Beach of Sand Harbor State Park draws crowds of sunbathers on warm-weather days. Visitors can also enjoy a variety of outdoor activities, including swimming, paddleboarding, water skiing, boating, and volleyball.
Sand Harbor State Park is a 55-acre recreation area on the Nevada side of Lake Tahoe. From this location, views of the lake's eastern shoreline are spectacular.
Summertime vacationers appreciate the facilities of this beach: public restrooms, showers, paved walking paths, and a half-mile hiking trail to Memorial Point. The beach has a parking lot, but it fills up quickly during high season (Memorial Day through Labor Day) especially on weekends.
The park has a pleasant picnic area with barbecue pits and picnic tables in a grove of shady Jeffrey pine and cedar trees. Snack bars sell refreshments and quick bites to eat.
Water sports enthusiasts appreciate Sand Harbor's boat launch, which is open from May through September. Paddleboard, kayak, and Jet Ski rentals are available at the beach. Fishing sites are found nearby.
Sand Harbor State Park hosts the Lake Tahoe Shakespeare Festival in July and August. In an idyllic lakeside setting, Sand Harbor's outdoor theater provides a magical venue for performances held under the stars on balmy evenings. It's a memorable experience to watch entertaining scenes from the Bard's most famous plays, while admiring the refreshing lakeside scenery.
4. Vikingsholm Beach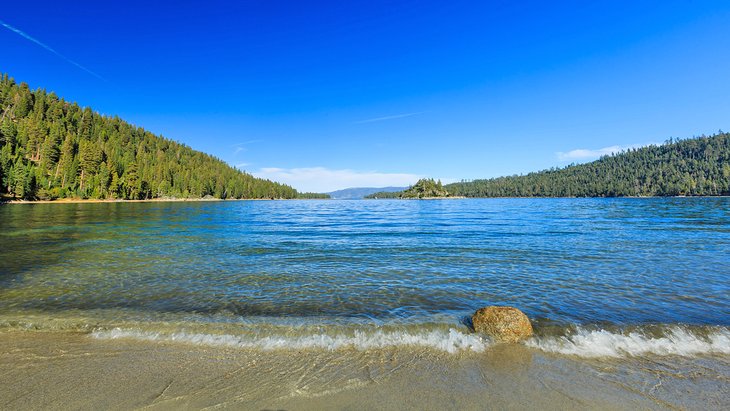 Nestled along the dazzling Emerald Bay of Lake Tahoe, Vikingsholm Beach overlooks a magnificent summer home built in 1929. Vikingsholm Castle is a superb example of Scandinavian architecture, and the home is open to the public for guided tours during the summertime (Memorial Day weekend through September).
Vikingsholm Beach is well designed for boating and swimming. Ramps allow for easily launching boats from the beach. Adding to the convenience, kayaks and paddleboard rentals are available. The beach also has an area (south of the pier) reserved entirely for swimming.
Public facilities at Vikingsholm Beach include restrooms and picnic tables. A parking lot for Vikingsholm Beach is located off Highway 89, which is a one-mile hike from the beach. The parking lot fills up early during high season.
Vikingsholm Beach is accessible by a steep trail from the parking lot. Visitors should keep in mind that it is a challenging downhill trek to the beach, as well as a rigorous uphill hike back to the parking lot. (The elevation gain of the trail is about 500 feet.) It is not recommended for people with mobility issues to visit this beach.
5. Pope Beach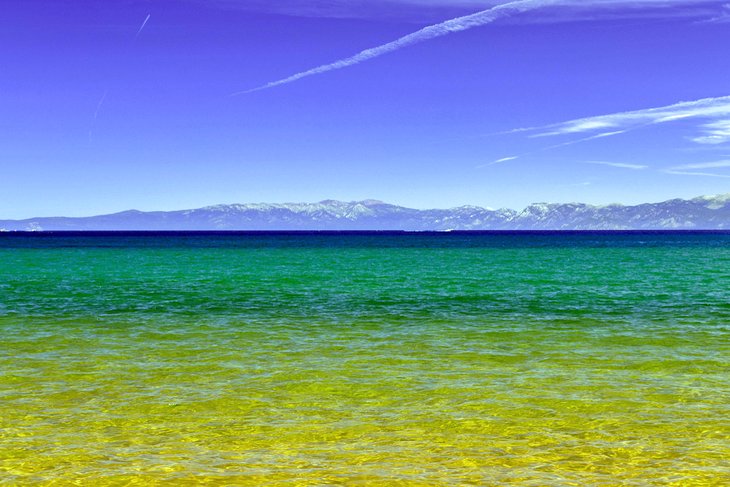 Near the city of South Lake Tahoe, this three-quarter-mile-long sandy beach bustles with activity during summertime. It's a favorite spot on Lake Tahoe's south shore for swimming, kayaking, and other water sports. Paddleboard and kayak rentals are available on the site.
The beach is hidden behind a grove of shady pine trees. From the beach and its picnic tables, visitors can enjoy amazing views of the lakeside scenery with the Sierra Nevada Mountains in the background. Casual bites to eat, snacks, and refreshments are available from the beach's concession stand.
Owned by the National Forest Service, Pope Beach features public restrooms and a parking lot. There is a day-use fee required to park in the lot, but otherwise it is free to visit the beach.
The beach is located near public transit stops and is also easy to reach by bicycle on the Pope Baldwin cycling path.
Pope Beach is open from Memorial Day weekend until mid-October.
6. Commons Beach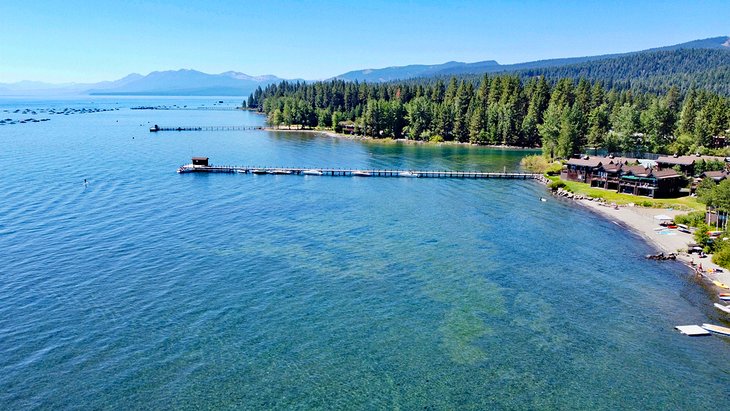 This family-friendly beach is one of the best places in Lake Tahoe for a lakeside picnic or barbecue. Commons Beach is a four-acre public park featuring plenty of picnic tables and barbecue pits, as well as a large barbecue site for big groups.
Commons beach has a small sandy shoreline that's ideal for sunbathing. Beneath the park's shady pine trees is a children's playground surrounded by lawns.
Highlights of visiting during summertime include free music concerts on Sunday afternoons and free movie screenings on Wednesday nights.
Right in Tahoe City's downtown area, Commons Beach is well designed for visitors. The site has public restrooms and is near many shops, as well as public transit stops.
Just a five-minute drive from Commons Beach is one of Lake Tahoe's most popular lodges, the Granlibakken Tahoe. This three-star resort hotel is set in a forested valley and boasts excellent amenities including a spa, yoga space, fitness center, tennis courts, and outdoor swimming pool. Accommodations range from single guest rooms to multi-bedroom townhouses, all decorated with alpine flair. The hotel has a casual restaurant with a pleasant tree-shaded patio.
7. Zephyr Cove Beach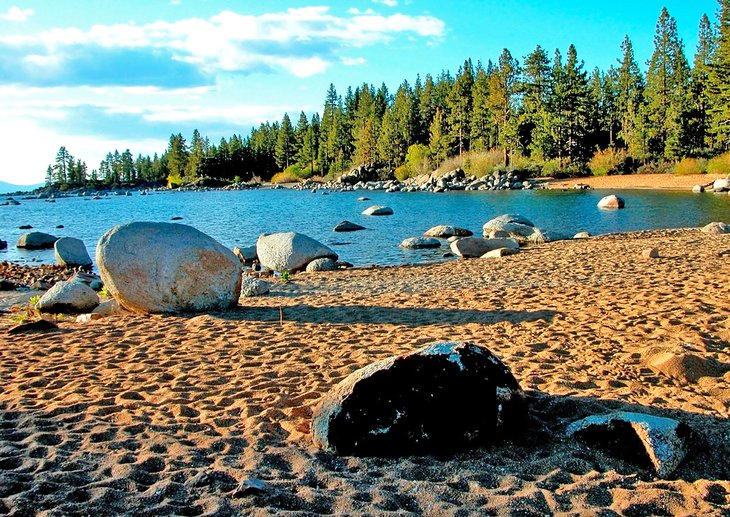 For those who prefer a quiet beach, the Zephyr Cove Beach is a good choice. The spacious sandy beach extends for one mile, offering plenty of space to relax and enjoy the natural scenery. Beach chairs and umbrellas are available for rent.
Zephyr Cove is a great place for swimming and other outdoor activities. Beach volleyball players can make use of courts, free of charge.
The marina at Zephyr Cove rents out water-ski boats and paddleboats. It's also the place to embark on parasail boat experiences and half-day or full-day sportfishing adventures.
The Zephyr Cove Resort is a special place in Lake Tahoe, and many families choose to come back here year after year. The resort has a charming historic lodge, as well as cozy lakeside cabins and chalets.
8. Crystal Bay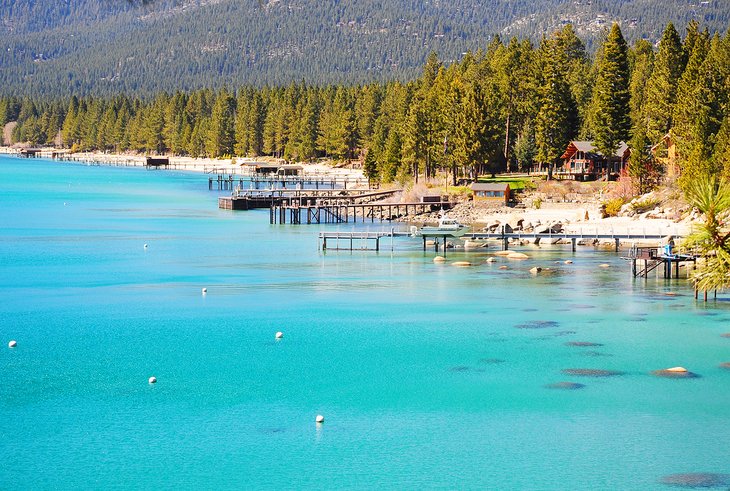 Crystal Bay's sparkling waters owe their gorgeous azure color to being located at the deepest point of Lake Tahoe. Just off the shoreline, the waters are more than 1,600 feet deep.
Snowcapped mountain peaks and pine tree groves frame Crystal Bay, giving it a sheltered feel. Adding to the distinctive landscape are granite boulders along the shoreline and strewn about the shallow end of the waters.
Crystal Bay is found on the Nevada side of Lake Tahoe near the community of Incline Village. This upscale town is brimming with great restaurants, enticing boutiques, and upscale hotels. Top-rated hotels at Incline Village include the four-star Hyatt Regency Lake Tahoe Resort and the Parkside Inn at Incline.
The area also has beautiful hiking and mountain biking trails.
9. Hidden Beach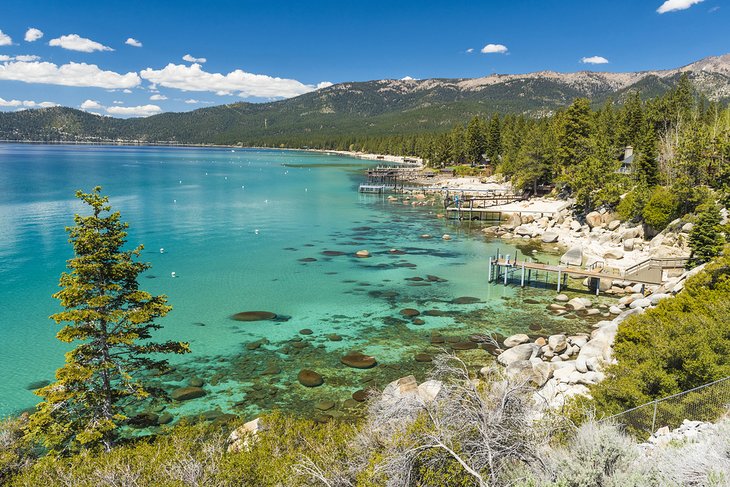 True to its name, Hidden Beach has the feel of a secluded nature spot even though it has certainly been discovered by tourists. Visitors should keep in mind that the beach can attracts crowds during holiday weekends and the summertime high season.
Hidden Beach is tucked away on a rocky shoreline featuring boulder-strewn alcoves and patches of sand. Mesmerizingly crystal-clear turquoise waters are what make this area of the Lake Tahoe shoreline special.
The area around Hidden Beach has scenic hiking trails. Facilities are limited, and parking is only available along the highway. Hidden Beach is considered a "pack it in" and "pack it out" zone.
Hidden Beach is located on the Nevada side of Lake Tahoe, just one mile from Incline Village.
10. Meeks Bay Beach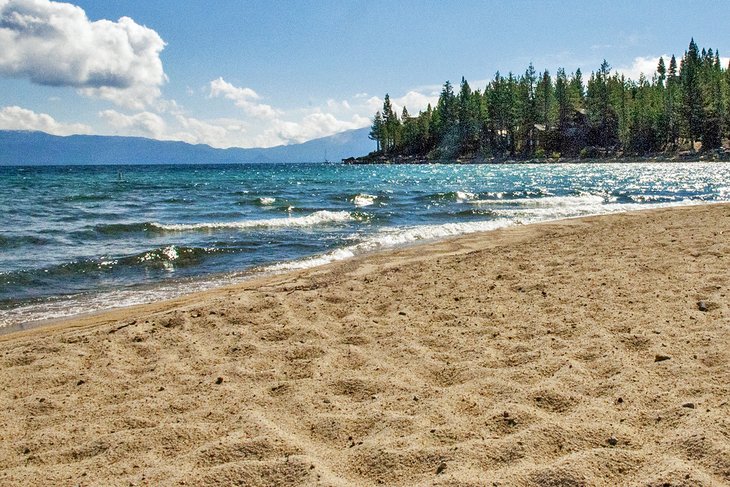 Protected as part of National Forest Service land, Meeks Bay Beach is prized for its expansive and pristine shoreline. This sandy beach is backed by a dense grove of pine trees.
Things to do at Meeks Bay Beach include swimming, boating, hiking, and cycling. It's also a great place for water sports such as windsurfing and kayaking.
Meeks Bay Beach is well designed for visitors, even though it is found in an unspoiled environment. Facilities include public restrooms, a parking lot (requires an entry fee for day use), and a picnic area.
A campground is located next to the beach. There are also fishing sites nearby.
11. Kiva Beach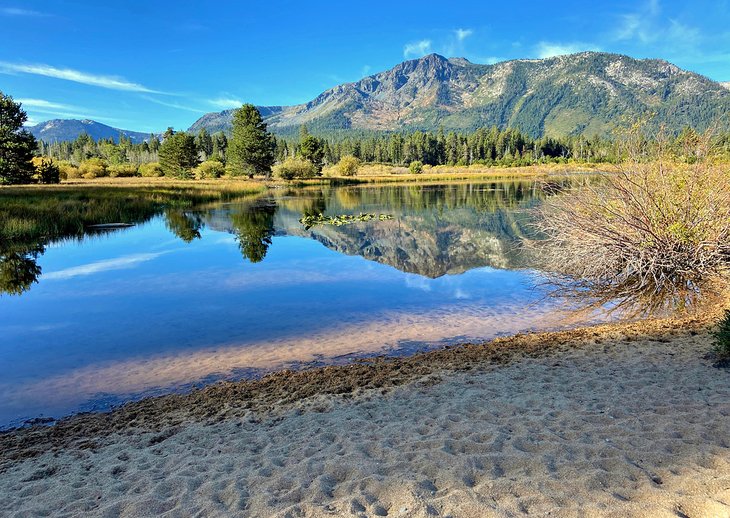 This small picturesque beach is found within the Tallac Historic Site on National Forest Service land. The narrow shoreline of sand and pebbles stretches for about 200 yards and is backed by a grove of pine trees.
An adjacent marsh zone is home to protected wildlife. A shoreline path leads to the Tallac Historic Site, and along the way are lovely lake views.
Kiva Beach has a parking lot (no fee) and a peaceful picnic area with tables overlooking the lake. Facilities are limited; the public restrooms are portable toilets.
The beach is open from Memorial Day weekend until the end of October.