10 Top-Rated Things to Do in Truckee, CA
Truckee, California, is a mountain town tucked into the Sierra Nevada Mountains northwest of Lake Tahoe. It's surrounded by the sprawling Tahoe National Forest, lending to year-round outdoor adventure. This outdoor appeal includes hiking, fishing, boating, skiing, and walking through history.
Donner Pass is immediately west of the city. This fateful mountain pass lured early California emigrants heading west looking to start new lives. Among the emigrants were the infamous Donner Party that spent the winter trapped here in 1846, and this wide valley, including the nearby natural Donner Lake, has a much longer history with the native Washone People of the region.
Donner Pass, including Donner Memorial State Park, is a must-see when visiting Truckee. And the same goes for the nearby Historic Downtown District. Here, the Old West feels more recent, with historic buildings lining the main drag. This downtown area is also the spot in Truckee to find several local eateries and boutiques.
Plan your next Sierra Nevada getaway with our list of the top things to do in Truckee, California.
1. Stroll through Historic Downtown Truckee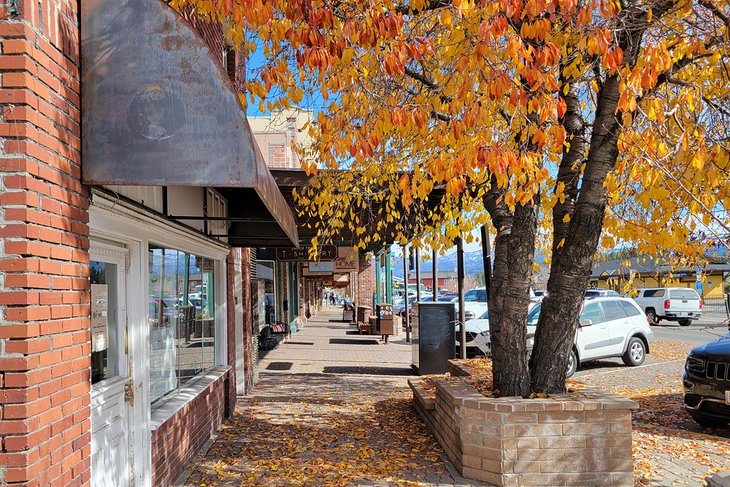 The Historic Downtown Truckee district parallels Interstate 80 east of Donner Pass and Donner Lake. Its roots date back to the 1860s, when Truckee became a railroad and lumber town connecting Reno and Sacramento. And while parts of the town burned down in the early years, much of Truckee's original charm remains.
Historic and Old West-inspired buildings line both sides of Donner Pass Road in downtown Truckee. These aesthetic buildings backdropped by mountains offer a scenic attraction and a fun place to stroll the day away.
Modern businesses inhibit these old storefronts, and the sidewalks bustle throughout the summer. Restaurants, clothing boutiques, and art galleries comprise much of the traffic in this part of town. Other specialty stores, like gear shops and espresso bars, are also prevalent.
Downtown is also the place to go for some of Truckee's biggest events. Truckee Thursdays are one gathering not to miss, occurring throughout the evening in the summer. This weekly festival closes the street down to vehicle traffic and features live music and outdoor vendors.
2. Explore the Outdoors at Donner Memorial State Park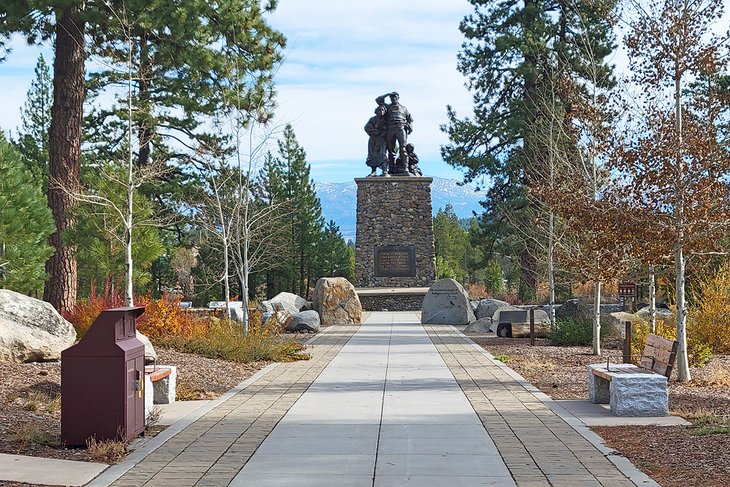 Donner Memorial State Park is the central outdoor tourist attraction in Truckee. It's on the east side of Donner Pass and Donner Lake, easily accessible from Interstate 80. The park sits at an elevation of 6,000 feet and offers a crisp breath of pine-scented air alongside gorgeous surroundings. It's also a site of significant historical and cultural value.
Emigrants in the 1840s frequented the area as they made their way to California in search of promised wealth and prosperity. The nearby Donner Pass was a significant checkpoint as a preferred route to cross the challenging Sierra Nevada Mountains. Perhaps the most famous account, the Donner Party, illustrates the challenges of crossing this high-alpine landscape.
The Washoe People resided in the region for thousands of years before covered wagons made their ruts through the countryside. Today, the state park details this long timeline at the Donner Memorial State Park Visitor Center. On the grounds outside, an interpretive trail leads to a historic cabin site and the striking Pioneer Monument, dedicated to the hundreds of emigrants that passed through the area.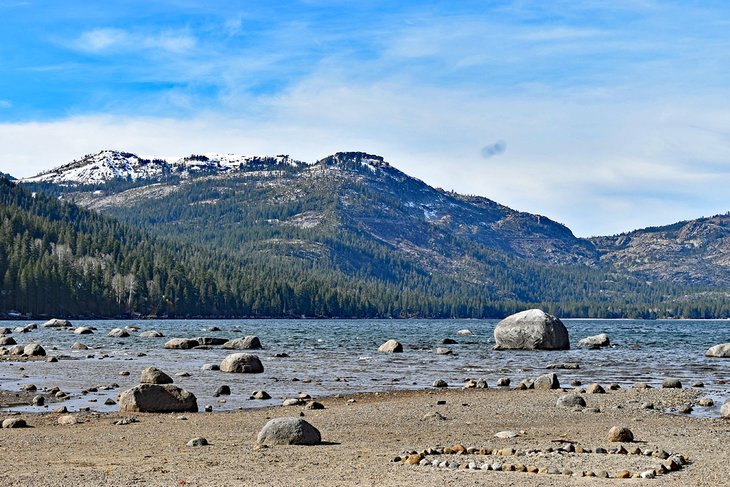 Recreation also runs rampant at the state park. Over eight miles of trails wind throughout the park's 16 acres, including a shoreline trail on Donner Lake. Several picnic tables are next to the lakeshore, offering an excellent spot for an outdoor lunch. The park also has over 150 campsites available between Memorial Day and Labor Day.
Official site: https://www.parks.ca.gov/?page_id=503
3. Ski and Snowboard near Truckee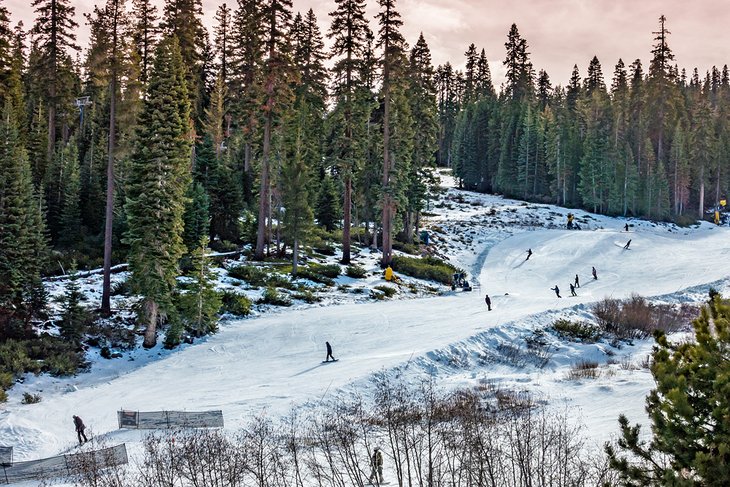 Skiing and snowboarding significantly add to Truckee's year-round appeal. It's a proper basecamp for winter adventures, with several lodging options and restaurants for après-ski enjoyment, and more importantly, several ski hills and resorts surround the city.
Northstar California isn't the closest ski resort, but it's considered the best in the area. And visitors from Truckee can reach the chairlifts with a less than eight-mile drive. At the resort, downhill enthusiasts have over 3,000 acres to explore, accessible by 20 lifts.
West of Truckee, toward Donner Pass, Sugar Bowl Resort and Boreal Mountain offer even closer ski runs. These two ski spots are directly off Interstate 80. Sugar Bowl encompasses over 1,600 acres and is a popular place to visit for locals in the region.
And north of Truckee, within a five-mile drive, Tahoe Donner Ski Resort offers some of the best family skiing in the region. It's a smaller resort with minimal elevation grades, making it an excellent spot for beginners or young children. Tahoe Donner is also home to a popular Cross Country Ski Center with over 100 kilometers of groomed trails.
Read More: Top-Rated Ski Resorts in Lake Tahoe
4. Trek on the Truckee River Legacy Trail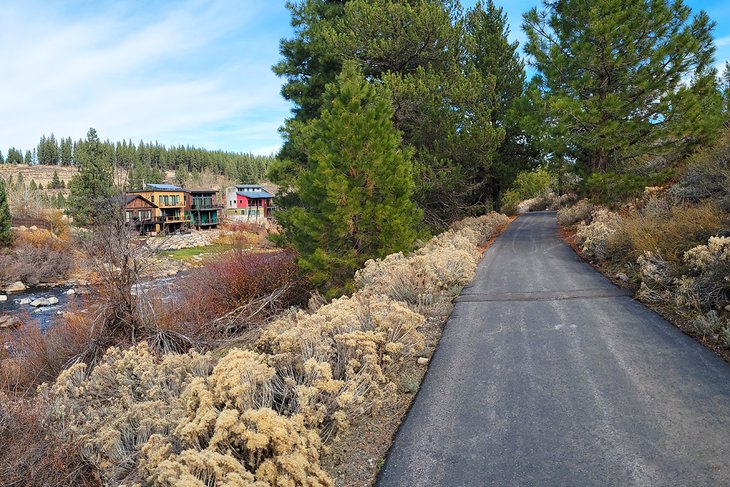 The Truckee River Legacy Trail is a popular pedestrian path next to the Truckee River. This paved route stretches approximately six miles from Truckee River Regional Park downriver to the Glendale neighborhood. And beautiful views of the Truckee River span the entire way.
Outside of significant winter storms, the Legacy Trail generally stays plowed throughout the winter. This snow-free status makes it one of the most popular paths to wander in colder weather. And throughout the year, expect to encounter runners, walkers, bicyclists, and stroller pushers.
Truckee River Regional Park, where the trail originates, is also worth exploring. It's home to an abundance of playground equipment and several sports facilities like tennis courts and ballfields. The park is also home to an amphitheater that hosts the annual Wednesday Summer Music Series.
5. Dive Deep into Donner Party History at Donner Memorial State Park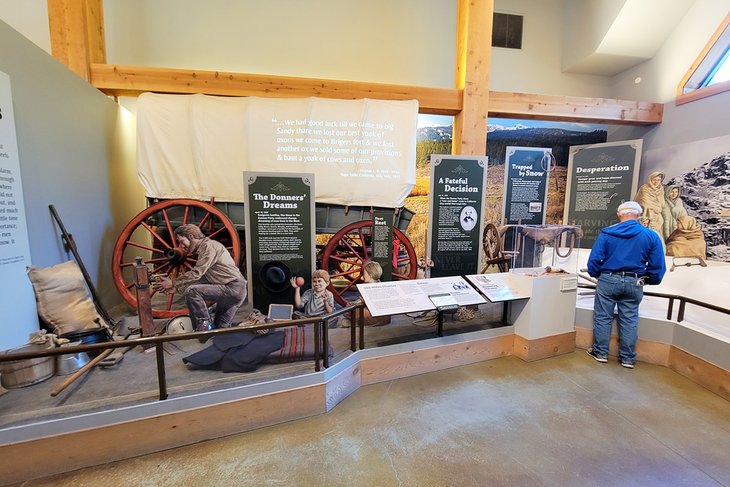 For a detailed look into the events that led to the Donner Party's fateful winter of 1846, head to the Donner Memorial State Park Visitor Center. This facility, also known as the Emigrant Trail Museum, has several large and fascinating displays that span the Donner Party timeline. These exhibits include historical photos and large illustrated cutouts.
The museum also highlights other significant cultural events in the region. Another notable topic is the native Washoe People that inhabited the lands for thousands of years. Other histories on display include early railroad construction and the advent of automobile travel on Donner Pass.
The visitor center is open every day of the year, excluding major holidays, and offers free admission. There is a small fee for parking within the park.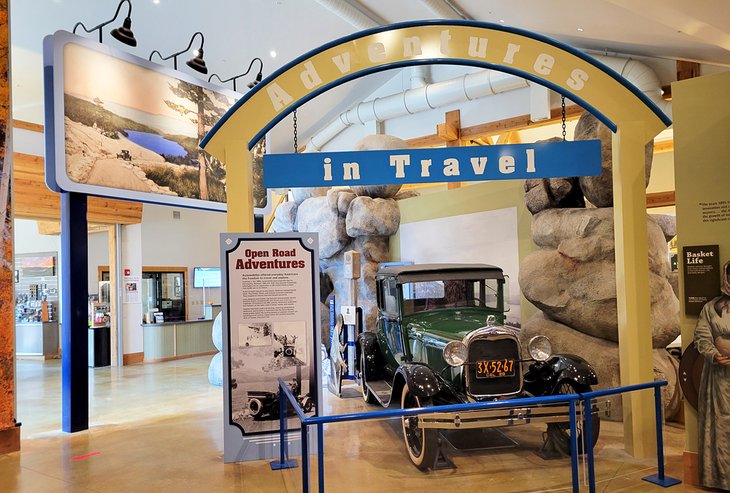 Donner Memorial State Park and the Emigrant Museum aren't the only spots to experience the region's history. Historic Downtown Truckee is just a few miles east, with old storefronts lining the street. In downtown, the Old Jail Museum and the Truckee Railroad Museum offer other exhibits to walk through.
6. Take a Dip in Donner Lake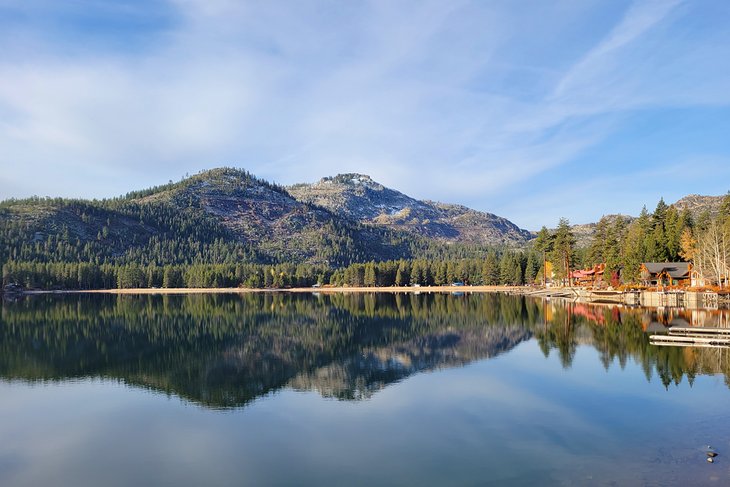 Donner Lake is the nearly three-mile-long natural lake between Donner Pass and downtown Truckee. It's a central point of activity, especially during the summer, when boating and fishing overtake the waters. The lake is also a popular spot for swimming during the midday heat.
The lake is accessible from both the east and west shores. On the eastern shores, Donner Memorial State Park offers camping and picnic areas close to the shore. And West End Beach Park is on the opposite bank, with lifeguards, boat rentals, and playground equipment. A scenic drive on the shoreline Donner Pass Road connects these two popular parks.
Donner Lake Watersports & Marina, on Donner Pass Road, is the first stop for those looking to rent ski boats and pontoon boats. The marina also has a fleet of non-motorized vessels, including hydro bikes and stand up paddleboards, and nearby, Donner Lake Village is a longstanding place to stay lakeside.
7. Drive Old Highway 40 over Donner Summit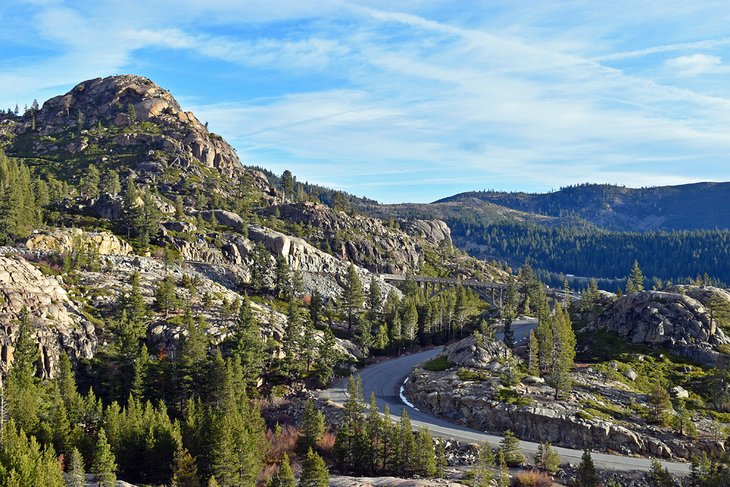 Highway 40, also known as Donner Pass Road, was one of the first paved automobile routes to cross the Sierra Nevada Mountains. It follows a route first trodden by travelers on the Emigrant Trail, who were following the worn footpaths of native cultures before them. Until Interstate 80 replaced this portion of the original Lincoln Highway in 1964, it was the main route over the pass.
Today, drivers can still divert off the interstate near Cisco and travel this scenic route that ends at Donner Lake. Several recreational and historic landmarks line this route, particularly towards its eastern terminus near the Donner Summit. Here, the landmark Donner Summit Bridge, also known as the Rainbow Bridge, dates back to the 1920s and offers an excellent vista point.
This area near the Donner Summit Bridge is also a hot spot for hiking. Several trails extend north and south from this historic highway, including the country-spanning Pacific Crest Trail. Two of the most popular hikes in the area include the trek to Castle Crag and the uphill route to Donner Peak, and for a unique walk through history, head for the Donner Pass Summit Tunnels.
8. Get Outside in Tahoe National Forest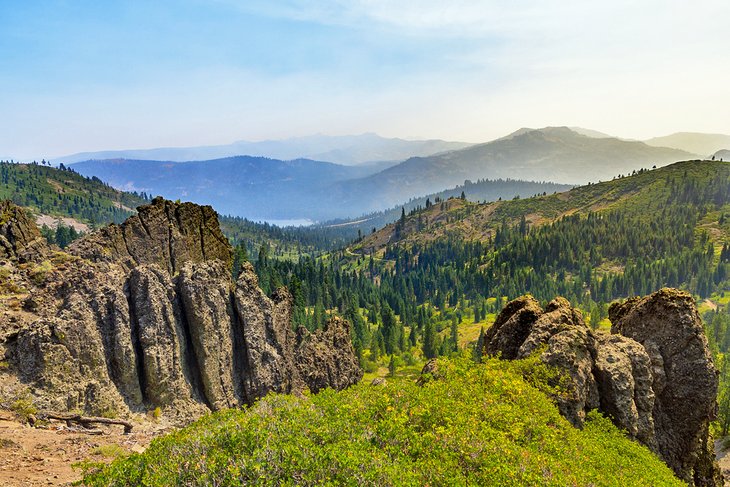 The expansive Tahoe National Forest surrounds all sides of Truckee. It encompasses more than 800,000 acres, offering unlimited opportunities to explore outside. Popular activities include camping, swimming, rock climbing, and skiing throughout the winter.
Hiking is perhaps the most prevalent activity in Tahoe National Forest. Hundreds of miles of trails cross throughout, offering easy day hikes and overnight endeavors. The country-spanning Pacific Crest Trail passes right by Truckee, crossing Interstate 80 at Donner Pass. A few other favorite trails to explore include the Paradise Lake Trail and the China Grove Trail.
Camping is also popular in Tahoe National Forest. Several designated campgrounds, like Granite Flat and Goose Meadow Campgrounds, offer picnic tables and fire pits. Primitive camping is also prevalent on the side of forest service roads.
Official site: https://www.fs.usda.gov/tahoe
9. Day Trip to Lake Tahoe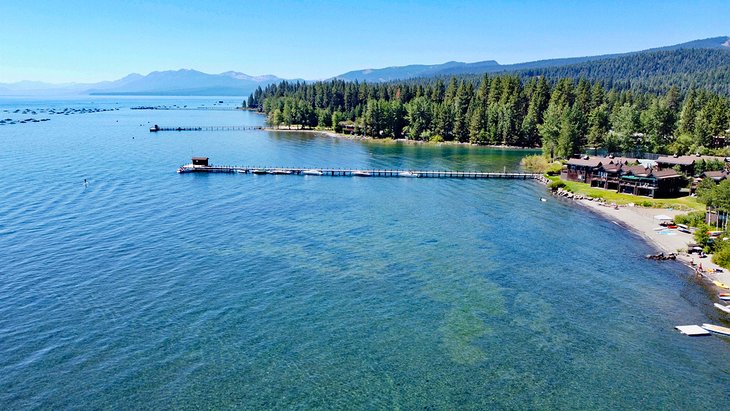 Truckee visitors can reach the north shore of Lake Tahoe with less than a 30-minute drive. Several beach areas and communities line this shore closest to Truckee, making for easy day trips, and while these northwest parks see crowds in the summer, they tend to be the quieter places to visit.
North Tahoe Regional Park and North Tahoe Beach are two of Truckee's closest public access points, accessible with a 12-mile drive. The regional park encompasses over 120 acres with several facilities, including playgrounds, hiking trails, and a seasonal off-leash dog park. The adjacent North Tahoe Beach has 39 parking spots and three popular high-quality volleyball nets.
Farther south on the northwest shore, Commons Beach is also a popular spot. Thanks to its sprawling shoreline and several picnic spots, it's one of Lake Tahoe's best beaches. Commons Beach is also home to several community events during the summer, including live music and movie screenings.
Read More: Top-Rated Attractions & Things to Do at Lake Tahoe
10. Day Trip to Reno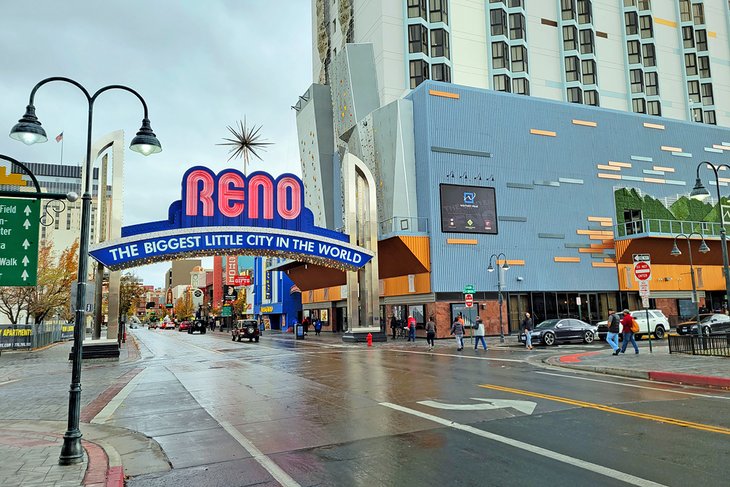 Nevada's "Biggest City in the World" is a quick 30-mile drive down the mountains from Truckee. The city boasts many things to do, often with fewer crowds than its glitzier cousin to the south, Las Vegas. But don't think Reno isn't a bustling spot, the city has increasingly become more popular for family-friendly vacations.
From automobile museums to wildlife sanctuaries, Reno offers several reasons for a day's visit. Other notable attractions include the Nevada Museum of Art and the National Bowling Stadium, and everyone enjoys taking a picture with the iconic Reno Arch on Virginia Street.
With a surplus of hotel rooms, Reno is also a viable base camp for the region. It's a quick drive into the mountains to reach Truckee and Tahoe National Forest. To the south, the state capital of Carson City is also a short drive away, and with entertainment options every night of the week, Reno offers plenty of places for dinner and a show after an adventurous day.
Map of Things to Do in Truckee, CA
Truckee, CA - Climate Chart
Average minimum and maximum temperatures for Truckee, CA in °C
J
F
M
A
M
J
J
A
S
O
N
D

4

-10

6

-8

7

-6

11

-4

16

-1

22

3

26

5

26

5

22

2

17

-2

8

-6

4

-9

PlanetWare.com
Average monthly precipitation totals for Truckee, CA in mm.

175

171

148

64

39

19

12

15

28

55

125

139