12 Best Day Trips from Sacramento
Several memorable day trips extend from Sacramento, the state capital of California. From mountain towns in Gold Country to not-so-distant beaches on the Pacific Ocean, a big appeal of Sacramento is its central location. And while some destinations require up to a two-hour drive, other scenic days trips are within bicycling distance.
The most challenging part of a day trip from Sacramento is wanting to spend more time. Nearby destinations like San Jose, Lake Tahoe, and Napa Valley deserve weekends, if not weeks' worth of travel. Luckily, all these top places to visit in California have plenty of places to stay.
Pack a bag for all types of adventures when departing Sacramento. Boating, downhill skiing, and farm touring comprise some of the many things to do within a short drive of the city. And always pack the sunscreen, because chances are in the sunny surrounding region, the weather will be nice.
Find your next adventure with our list of the best day trips from Sacramento.
1. Napa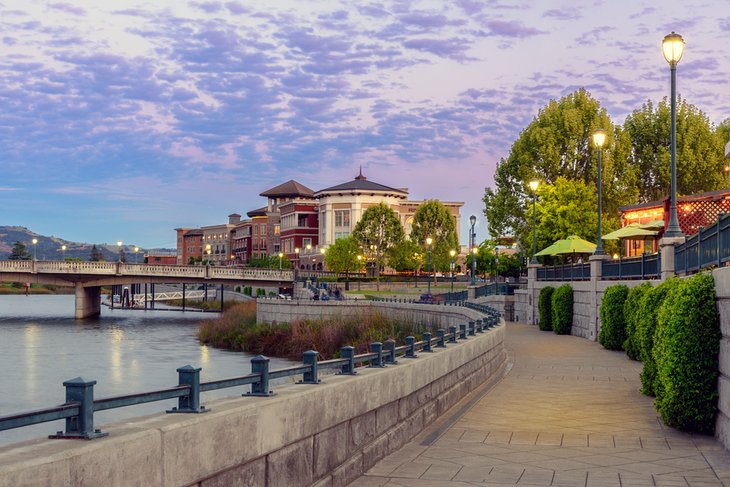 The agriculturally rich city of Napa is within a 70-mile drive of Sacramento. This proximity enables easy day trips to the famous Napa Valley, where several tourist attractions vie for attention. From fields upon fields of grapes to several locally sourced restaurants, a trip to Napa Valley often caters to the finer tastes in life.
Take some time to enjoy the charming downtown district of Napa. Here, several trendy restaurants and shopping opportunities line the street corners next to the Napa River. Oxbow Public Market is a visitor favorite and a spot to cover all appetites, with several vendors and open-space seating.
But it's not all about dining in Napa. Much of the experience of visiting is spending time outside in the nice weather. From state parks to sunset spots and favorite bike rides, the list of outdoor activities extends throughout the year.
2. Lake Tahoe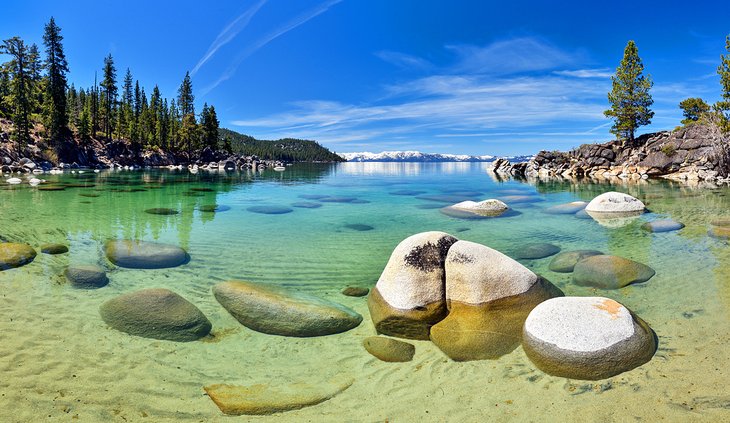 For those interested in dipping a toe in Lake Tahoe, the shoreline is approximately a 100-mile drive from Sacramento. Visitors can head either to the western shore and Tahoe City or South Lake Tahoe with a similar drive. And both offer several reasons for a visit.
South Lake Tahoe is home to several iconic hiking opportunities. Emerald Bay State Park, one of the top attractions at Lake Tahoe, is near the south shore with great views at the aptly named Inspiration Point. Nearby, the Eagle Point Campground offers a lovely place to extend the trip.
Tahoe City is accessible on the western shore with a bit longer drive. The route crosses the Sierra Mountains at Donner Pass near Truckee. Several ski resorts operate along this corridor during the winter. And Tahoe City is a destination itself, with scenic outlooks in every direction and a lovely collection of local restaurants.
Accommodation: Best Resorts in Lake Tahoe
3. Folsom Lake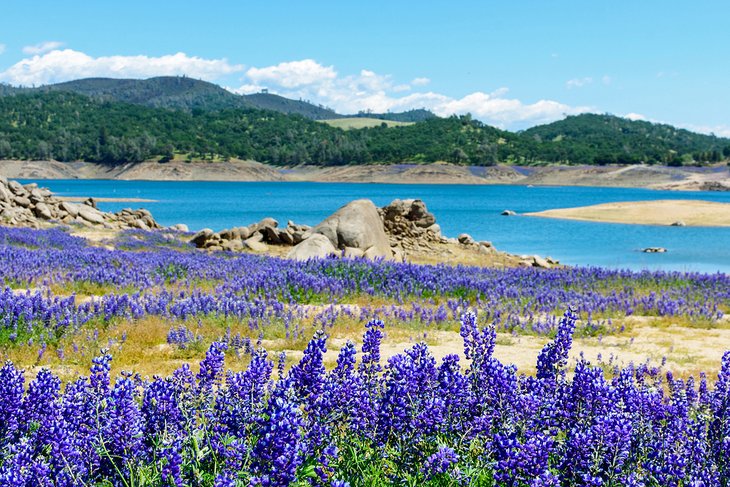 Folsom State Recreation Area is a quick 30-mile drive northeast of Sacramento. The recreation area encompasses over 19,000 acres surrounding Folsom Lake, offering a plethora of day activities. Among the favorite things to do are boating, fishing, hiking, and visiting the Folsom Dam.
A challenging but rewarding day trip to Folsom Lake involves not driving a car. The 32-mile Jedediah Smith Memorial Trail stretches from Discovery Park in Sacramento to the recreation area at Lake Natoma. This popular, paved multi-use path cruises the entire American River Parkway, offering several side trips along the way.
The adjacent city of Folsom is also worth a stop. The historic Sutter Street is a must-see when visiting, filled with Gold Rush-era storefronts. Sutter Street is also the place for local restaurants and shopping opportunities. Other top attractions in Folsom include hiking trails, outlet malls, and museums.
4. Truckee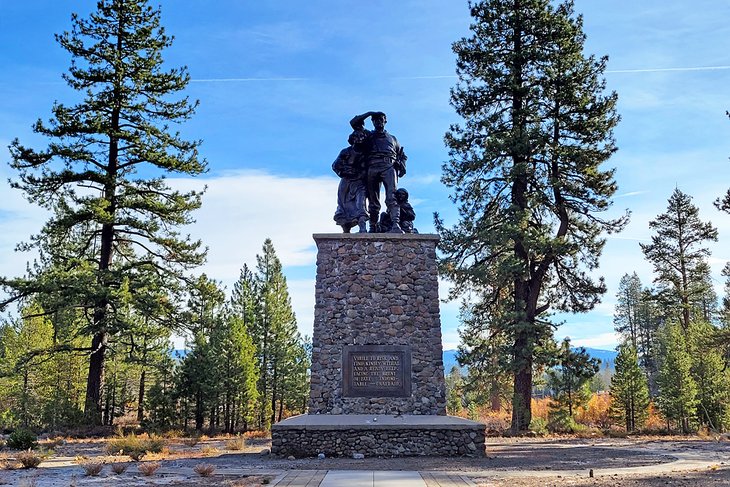 Truckee is a postcard-perfect mountain town on the east side of Donner Pass in the Sierra Nevada Mountains. You can reach Truckee with a 100-mile drive from Sacramento. This drive typically takes 90 minutes with good traffic conditions.
Truckee is the spot to explore the surrounding Tahoe National Forest. This abundant acreage surrounds all sides of Truckee, offering numerous activities throughout the year. During the summer, popular outlets include hiking, mountain biking, and fishing. All types of skiing dominate the winter months, such as downhill and cross-country.
Donner Memorial State Park offers a stand-alone reason to visit Truckee. The park encompasses 16 acres, including Donner Lake shoreline. It's also home to a visitor center and museum that details the area's historical significance. A good portion of the museum dives into the fateful Donner Party, who got stuck at the pass in 1846.
Read More: Top Things to Do in Truckee
5. Nevada City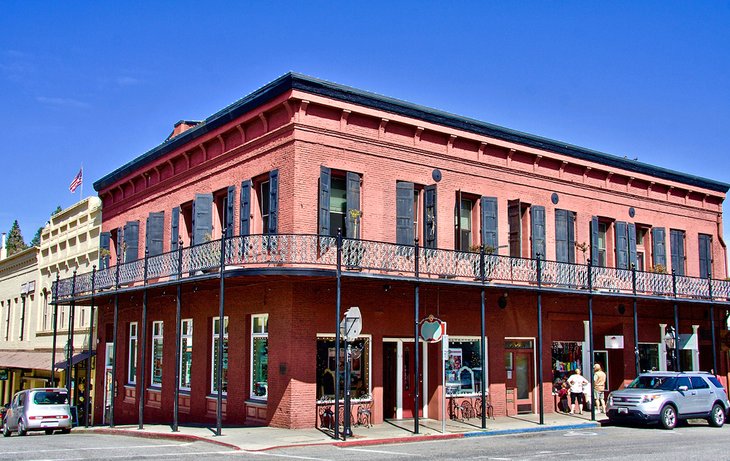 An hour's drive northeast of Sacramento is Nevada City, a postcard mountain town that sprouted during the mid-1800s California Gold Rush. Today, the Downtown Historic District dates back to the town's original settlement in 1849. Occupying these antique facades are several local businesses offering days' worth of fun.
A big part of any visit should be strolling around this historic downtown district guided by the senses. But this charming commercial corridor isn't the only way to connect with the gold boom legacy of the area. Other historical attractions include the Nevada County Narrow Gauge Railroad Museum and Empire Mine State Park.
Exploring the outdoors is also a big thing to do in Nevada City. Hiking and biking trails spiderweb the western Sierra Nevada foothills surrounding the town. Some of these trails are accessible right from downtown. Activities like boating, camping, fishing, and golfing are also popular.
6. San Francisco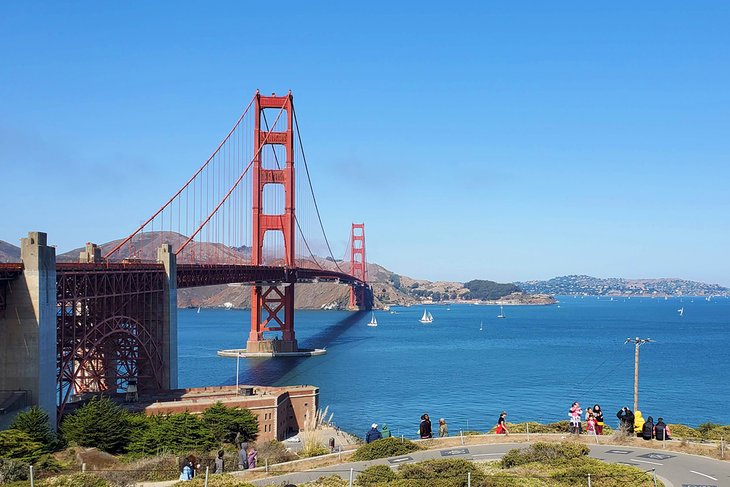 The scenic streets of San Francisco are approximately a two-hour drive from Sacramento. Depending on the route and time of day, the drive is about 90 minutes long. And for those without a vehicle, Amtrak offers an affordable two-hour trip. Other private bus routes offer similar fares.
While San Francisco can be done in a day, it deserves at least a long weekend to dent the sightseeing attractions. But between colorful neighborhoods, vibrant history, and the general buzz of one of America's most beautiful cities, any trip to San Francisco probably isn't long enough.
For those catching an early train and making the trip in a day, a recommended spot to head is the Golden Gate Bridge. This suspension bridge is an iconic city symbol for a reason, and simply gazing across its coastal expanse is worth the trip alone. However, be sure to take some time to explore the Golden Gate National Recreation Area on both sides of the bridge.
Other San Francisco attractions include Alcatraz Island, Muir Woods, and Chinatown. And for those open to extending their travels, several quality San Francisco hotels offer a stylish place to end the day.
7. San Jose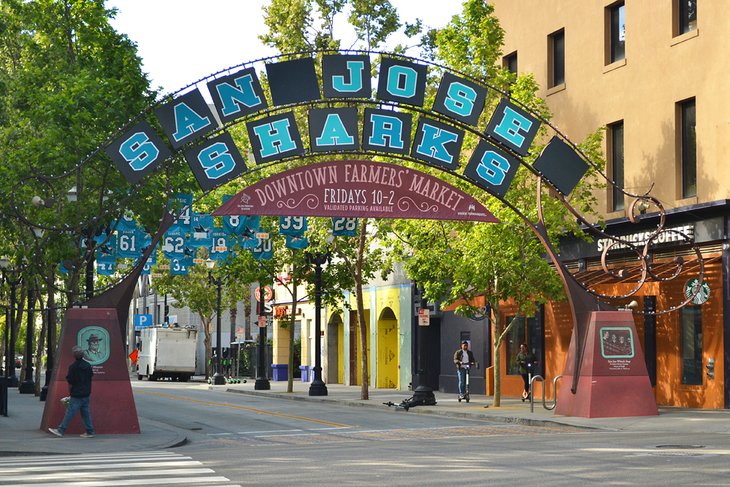 San Jose, California's third-largest city, is a two-hour drive from Sacramento with good driving conditions. As a major city in the San Francisco Bay area and hub for Silicon Valley, San Jose is an energetic place to visit with several community attractions.
Museum-lovers find an assortment of facilities in San Jose. The Tech Initiative and San Jose Museum of Art are close together in the downtown Plaza de Cesar Chavez. This plaza is also the place to visit for downtown concerts and lively people-watching. Other popular museums in Sacramento include the Children's Discovery Museum of San Jose and the Rosicrucian Egyptian Museum.
And San Jose has so much more to explore. Other top attractions and things to do include zoos, parks, and mystery homes. Be sure to etch out some time to stop by the Municipal Rose Garden. This blooming attraction has a colorful display nearly every day of the year, with more than 3,500 roses planted throughout. The Rose Garden is free to enjoy.
8. Bodega Bay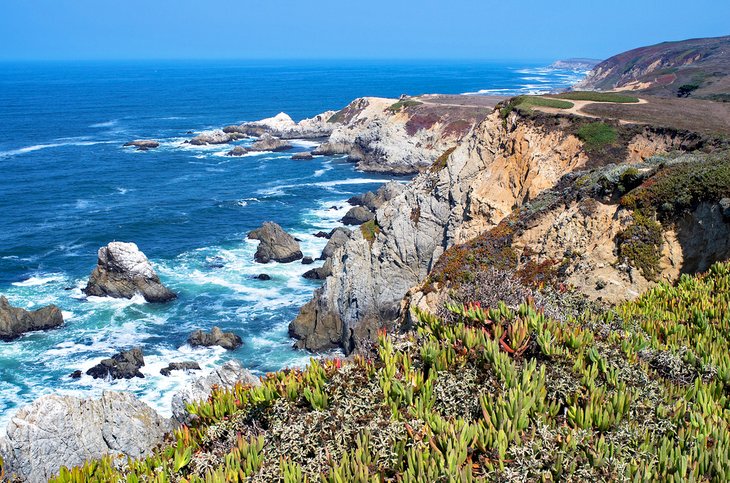 Approximately a two-hour drive from the capital city, Bodega Bay is one of the closest access points to the Pacific Ocean from Sacramento. And this coastal village offers quite the respite, with a much slower pace and distinct saltwater charm.
Cinephiles may recognize Bodega Bay as the setting for Alfred Hitchcock's 1963 classic, The Birds. And while the famous director captured the seaside splendor of this coastal getaway, his sense of terror is never present. The Sonoma Coast Visitors Center in Bodega Bay has information about local filming landmarks.
Fresh seafood, coastal hiking trails, and ocean activities define many a day trip to Bodega Bay. Several seaside hotels are also available for those looking to stay the long weekend.
9. Modesto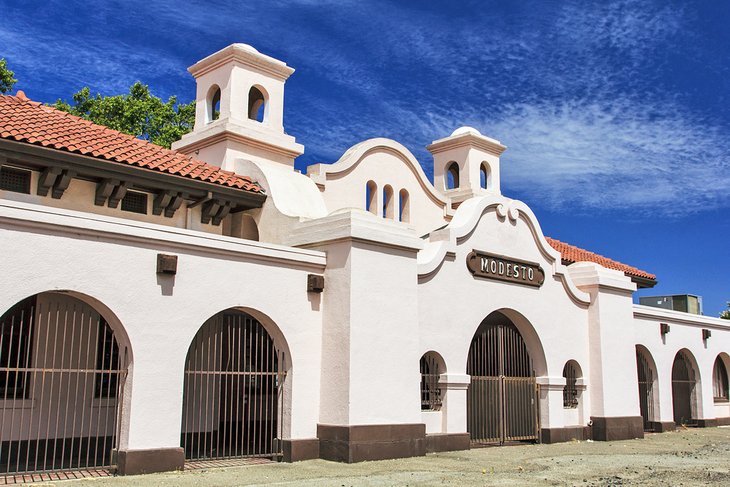 Modesto is a county seat in the San Joaquin Valley of Central California, approximately a 75-mile drive south of Sacramento. Commuters from the capital city reach Modesto with just over an hour of driving or a 90-minute train ride. Buses are also available.
Modesto offers several reasons to visit, including an agricultural appeal with attractions like the Modesto Certified Farmers Market. However, there's no better reason to visit than the annual Graffiti Summer celebration that takes place the entire month of June. This city-wide event celebrates hometown director George Lucas and one of his earliest movies.
The American Graffiti Festival & Car Show is a signature event presented by North Modesto Kiwanis Club. Expect antique automobiles, parades, and music from the 1950s and 60s during this celebrated street party. Over 1,000 classic cars cruise the main drag during this famous car show, drawing massive crowds from across the region.
10. Roseville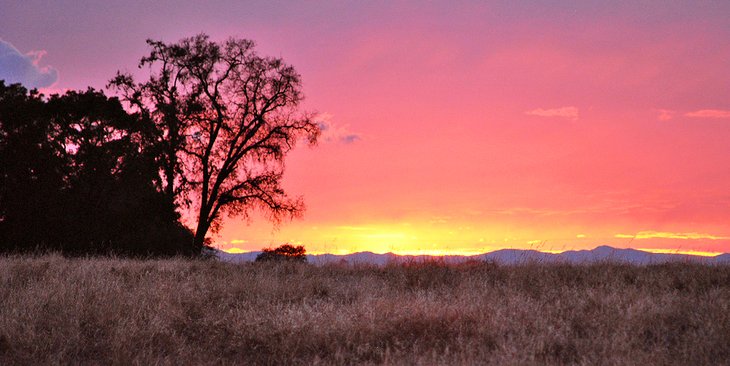 Roseville is part of the larger Sacramento metropolitan area, offering an easy day trip in less than a half-hour drive. The city has several unique attractions and things to do, including shopping, museums, and historic sites. Roseville is also popular for a day at the links with several public golf courses nearby.
Roseville enjoys similar sunny weather as Sacramento. Spring and fall tend to be the most desirable time to visit, before summer temperatures settle into the valley. And for those perfect shoulder-season days, the best place to enjoy a natural landscape is on the Miners Ravine Trail. This approximately seven-mile pedestrian path is a favorite for spending time outside.
One of the top reasons to visit Roseville, however, is Denio's Farmers Market & Swap Meet. This celebrated and homegrown market occurs every Saturday and Sunday throughout the year. A smaller outdoor market also occurs on Fridays. Expect a bit of everything at this festive market and swap meet.
11. Old Town Sacramento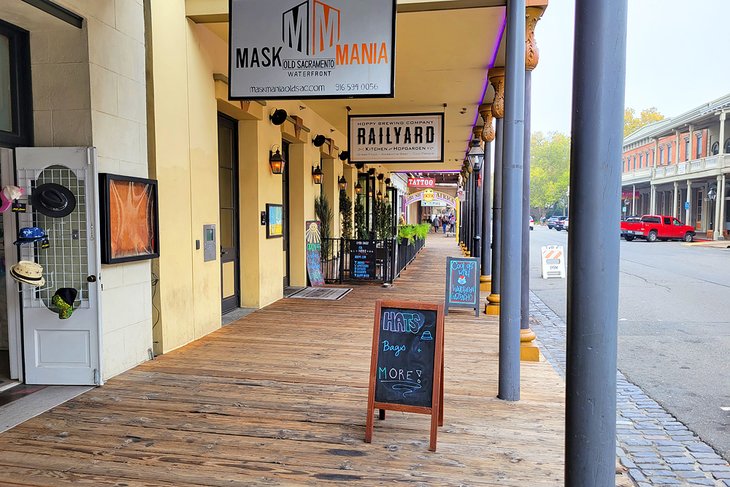 You don't need to leave the city for a fun day trip around Sacramento. Sacramento's Old Town is certainly worth an entire day, especially for first-time visitors. This historic part of town is next to the Sacramento River and dates back to the mid-1800s and the California Gold Rush. And today, much of the infrastructure remains the same in appearance.
Old Town State Historic Park encompasses a vast part of Old Town. Walking around today reveals modern restaurants and businesses within the reconstructed storefronts. Expect local fashion boutiques, unique eateries, and souvenir shops in this historic part of town.
One of the best museums in Sacramento, the renowned California State Railroad Museum is also in Old Town. This massive complex hosts a half-million visitors every year. Inside, a detailed look at Iron Horse history tells how railroads shaped the Golden State. Among the collection are over 20 locomotives and railcars, many of which can be toured.
12. Yosemite National Park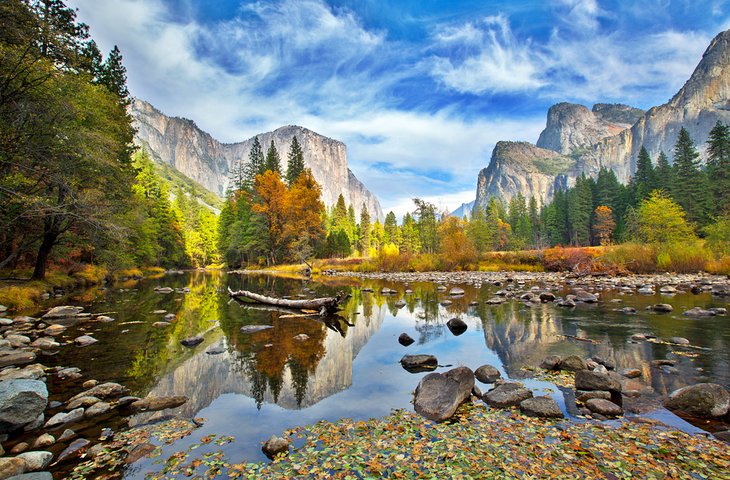 Yosemite National Park, one of California's best national parks, is a three-hour drive from Sacramento. This lengthy commute isn't ideal for day trips, but for those looking for a quick glimpse of some of the state's most supreme nature, it's doable.
Hetch Hetchy is the closest entrance to Sacramento, some 150 miles away. It's an excellent place to enter the park. Here, head up to the Hetch Hetchy Reservoir while passing several trailheads along the way.
Lookout Point is one recommended day-trip hike. It's a two-mile loop that begins near the entrance station and reveals an overlook of Hetch Hetchy Valley. The five-mile round trip to Wanapum Falls is also popular for those interested in hiking farther, beginning from the shoreline.
Read More: Top Things to Do in Yosemite National Park