12 Best National Parks in California
From the high peaks of the Sierra Nevada Mountains to the below-sea-level salt flats of Death Valley, national parks in California span a vast array of environments and things to do. Inspiring wanderlust across all generations, national parks in California like Redwood, Joshua Tree, and Yosemite warrant the millions of visitors they receive each year. With 28 national park units total, including national monuments and national recreation areas, the National Park Service in California offers adventures throughout the year.
National parks in California encapsulate the varied ecosystems found throughout the state, and no two offer the same opportunity to explore. Whether it's navigating sea caves at Channel Islands National Park or rock climbing at Pinnacles, California's national parks are primed for weekend visits, state-spanning road trips, and experiences of a lifetime. With winter sports in Lassen, spring blooms in Death Valley, or summer fun in the Santa Monica Mountains, any season is the best time of year to visit national parks across the state.
Plan your outdoor adventures with our list of the best national parks in California.
Note: Some businesses may be temporarily closed due to recent global health and safety issues.
1. Yosemite National Park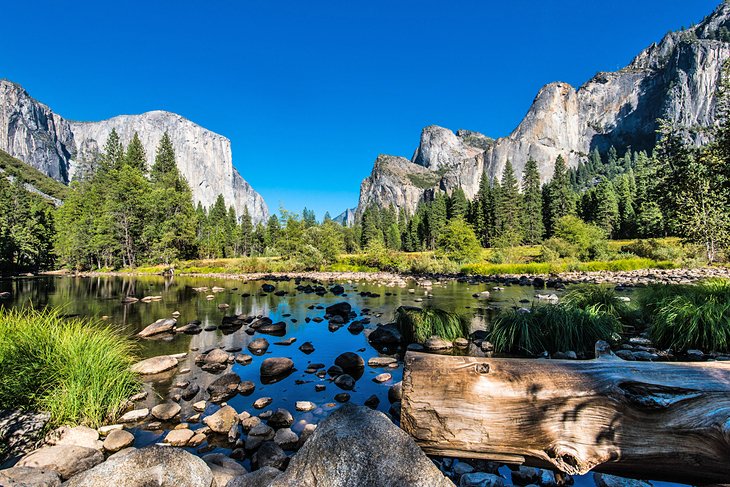 The crown jewel natural space of the state, Yosemite epitomizes the sheer natural beauty and charm of the Sierra Nevada Mountains in Central California. Beckoning famous photographers, naturalists, and rock climbers throughout its century-plus status as a national park, Yosemite today attracts over four million visitors from around the world each year. While many guests spend time seeing the outstanding sights of Yosemite Valley, there is plenty of space to find a personal experience within the 1,100-square miles of the park.
Monolithic granite peaks like El Capitan and Half Dome tower over the valley as some of the most iconic features of the park. Whether appreciating their vistas from places like Tunnel View or scoring a sought-after permit to hike to the top of Half Dome, these impressive rock features are often a cornerstone experience of visiting the park. Setting the stage for impressive acts of gravity, Yosemite is also home to moving features like the 2,425-foot Yosemite Falls.
Hiking, history, and wildlife viewing are other common aspects of any visit to Yosemite, and visitors can head to Tuolumne Meadows for a taste of it all. Following the lush banks of the Tuolumne River, hikers in Tuolumne cross paths with the country-spanning Pacific Crest Trail. Things to do in the Sierra Nevada Mountains span throughout the year. In summer, enjoy the hiking trails and campgrounds. In winter, you'll find fewer crowds and plenty of opportunity to ski, snowshoe, and enjoy the quiet surroundings.
2. Joshua Tree National Park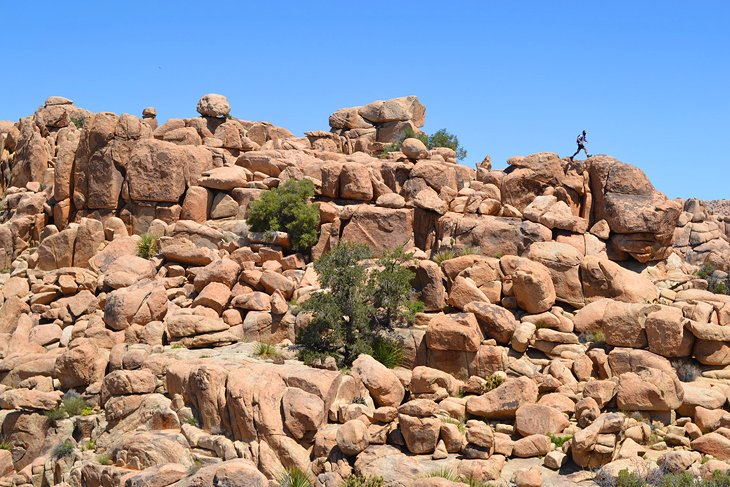 At the intersection of the Mojave and Colorado Deserts, Joshua Tree National Park encompasses a magical world of big boulders, stunning sunsets, and acres of the park's namesake flora. Numerous outlets for adventure exist in Joshua Tree, as well as campgrounds to spend the night. Jumbo Rocks Campground is popular with families and solo travelers, with over 120 sites lending access to massive rock outcroppings and special features like Skull Rock.
The park's busy season is between October and May, before and after summer temperatures keep tourists and the resident wildlife inactive during the day. A mecca of recreation and desert attractions, popular things to do at Joshua Tree include hiking, stargazing, and rock climbing on the park's 8,000-plus established climbing routes. Joshua Tree is also home to several spring-fed oases marked by palm trees, which are a great way to find some shade and cooler temperatures in the park.
Sunsets are truly stunning in Joshua Tree, and there's something about the way the light filters through the desert landscape that hooks people for life. Of equal stunning celestial attraction, the night sky in Joshua Tree absolutely beams with a brilliant starscape and big views of the Milky Way. Advanced camping reservations in Joshua Tree are highly recommended during the peak season, and the RoadRunner Shuttle operates throughout the park and includes free admission.
3. Redwood National and State Parks
A unique partnership between state and federal units, Redwood National and State Parks protect over 100,000 acres and some of the world's tallest living things. Alongside the 350-foot trees within its borders, Redwood National and State Parks also encompass fern-covered canyons, tranquil beaches, and an abundance of wildlife. Popular activities in these towering Northern California landscapes include hiking, scenic driving, and camping in the shadows of giants.
The three popular state parks that are co-managed by Redwood National Park include Jedediah Smith, Del Norte Coast, and Prairie Creek Redwoods State Parks. Any one of the five visitor centers located within the parks is a great place to start exploring, like the Thomas H. Kuchel Visitor Center for trail information, educational exhibits, and special ranger-led activities. Popular areas at Redwood National and State Parks include Fern Canyon, the Newton B. Drury Scenic Parkway, and the wildflower-infused Enderts Beach.
Official site: https://www.nps.gov/redw/index.htm
4. Death Valley National Park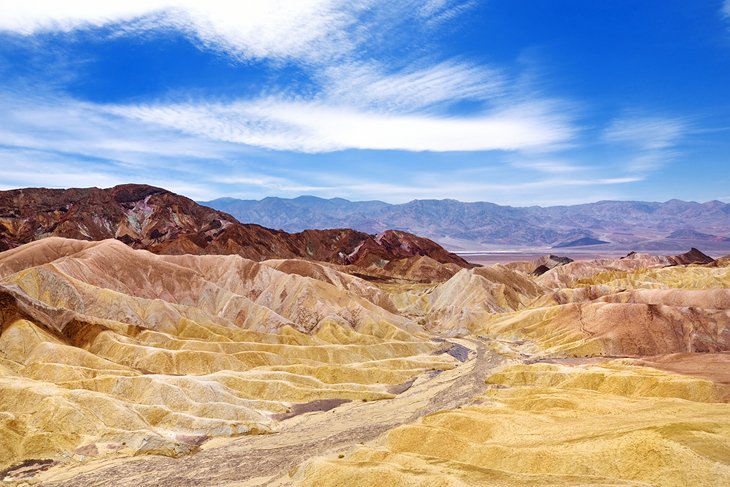 In a land of sand dunes, salt flats, and mysterious moving rocks, Death Valley National Park encompasses some of the largest environmental extremes found in the nation. Regularly reaching summer temperatures of 120 degrees Fahrenheit, Death Valley is home to some of the lowest elevations in the country. Filled with polygon salt formations, the Badwater Basin region at the park offers a unique opportunity to explore 280 feet below sea level.
Spring is the most popular season to visit Death Valley National Park, with the best chance of catching a wildflower superbloom in late March to early April. Other dynamic environments of the desert can be found throughout the park, including exploding salt crystals at the Devils Golf Course and mountain-sized sand dunes at Mesquite Flats. The base camp for many visits, the Furnace Creek area of the park has resources like a visitor center and numerous lodging options, including seasonal campgrounds.
5. Sequoia & Kings Canyon National Park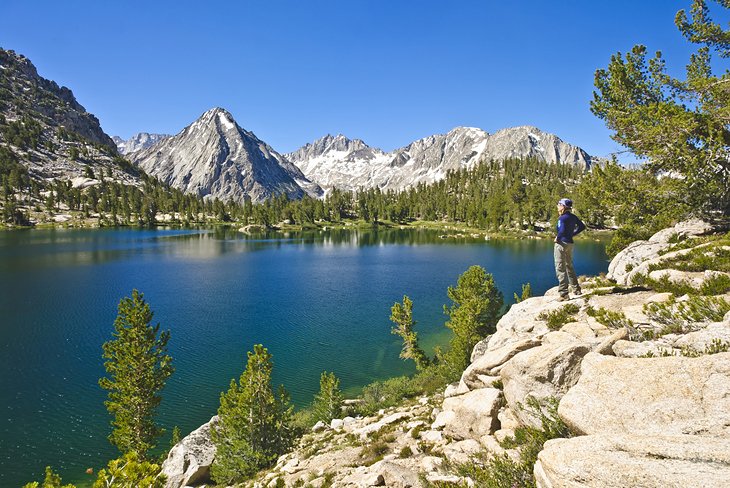 Home to big trees, deep canyons, and dramatic Sierra Mountain scenery, the adjoined Sequoia & Kings Canyon National Park rivals its more popular neighbor to the north, Yosemite National Park. The massive General Sherman tree within Sequoia National Park stands as the world's largest tree by volume, measuring over 36-feet in diameter at its base. Located within the Giant Forest region of the park, General Sherman is surrounded by numerous other sequoia groves.
Free park shuttles run between May and September throughout Sequoia, delivering the many annual visitors to popular places like the Lodgepole Campground, the Giant Forest, and Morro Rock—the park's signature vista hike. At over 6,700 feet tall, with a stunning view of the Great Western Divide, the bald granite dome of Morro Rock is accessible via a hiking trail and stone steps with a handrail at the top.
Backpacking into the vast wilderness of Kings Canyon is a popular way to experience the park, especially since most of the wild land is inaccessible to vehicles. Other popular activities include rock climbing, driving the Kings Canyon Scenic Byway, and exploring underground at marbled Crystal Cave. Common wildlife sightings at both parks include mule deer, black bears, and plenty of other tourists craning their neck up towards the canopies.
6. Pinnacles National Park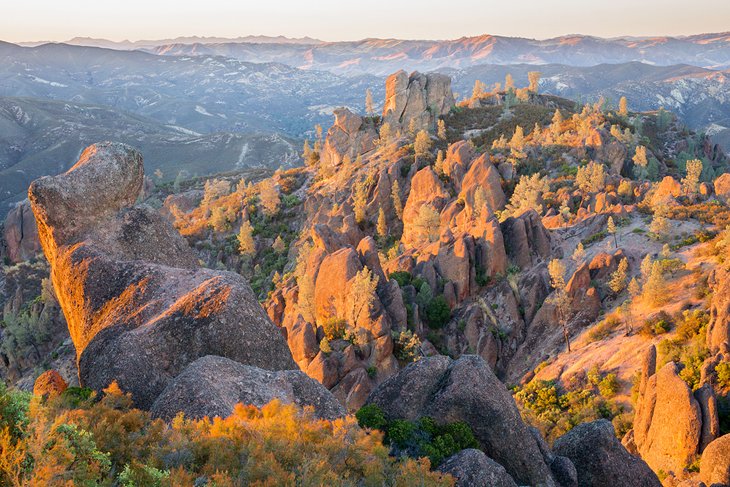 The state's newest national park, Pinnacles is located east of the Salinas Valley in Central California. Split between an east and west region not connected by a central road, this volcanic-formed playground is comprised of talus caves, towering spires, and plenty of outdoor things to do. Popular activities at Pinnacles National Park include rock climbing, camping, and hiking the many adventurous trails, including paths that meander through the talus caves of the park (flashlights recommended).
Official site: https://www.nps.gov/pinn/index.htm
7. Point Reyes National Seashore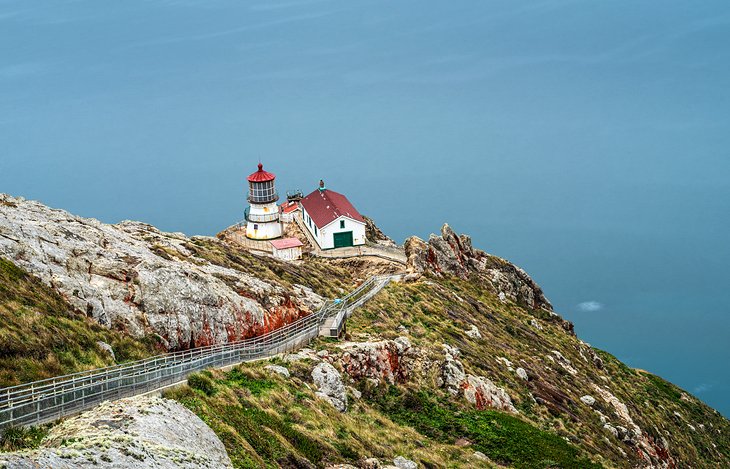 An hour north of San Francisco, Point Reyes is the only federally designated seashore on the West Coast. Over 150 miles of hiking trails span the estuaries, forests, and marshes of the national seashore, as well as the numerous wild beaches lined with stunning views of the Pacific Ocean. This coastline is popular for tourists and wildlife alike, and common animal sightings include elk, seals, and grey whales during annual migrations.
For a postcard-worthy place to visit, the Point Reyes Lighthouse serves as a beacon for tourists from around the world.
Official site: https://www.nps.gov/pore/index.htm
8. Lassen Volcanic National Park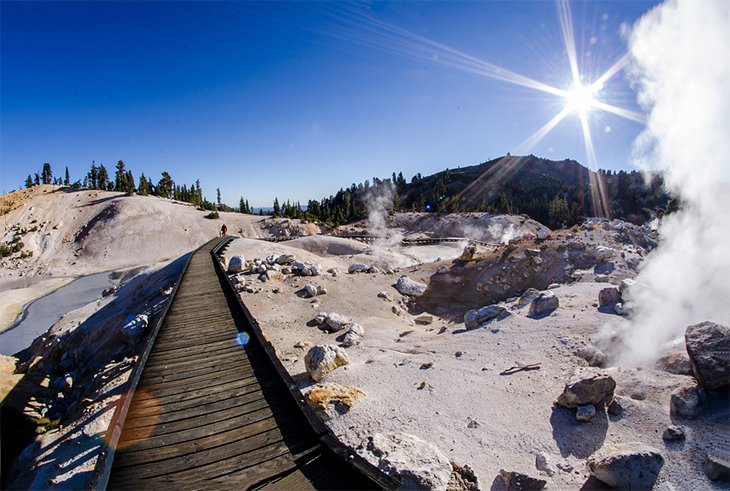 In the state's northeast corner, less than an hour from Redding, Lassen Volcanic National Park encompasses many unique hydrothermal areas still fuming to this day. Aptly named areas in the park like the Devils Kitchen and Bumpass Hell provide boardwalk trails and sensory immersion into a dynamic environment. Other popular things to do at Lassen Volcanic National Park include swimming in Manzanita Lake, climbing Lassen Peak, and staying the night at Drakesbad Guest Ranch.
Official site: https://www.nps.gov/lavo/index.htm
9. Golden Gate National Recreation Area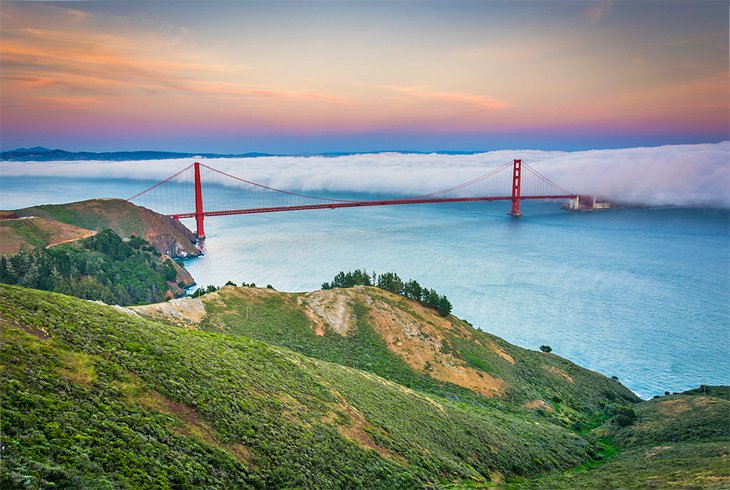 One of three designated National Recreation Areas in California, the urban-infused Golden Gate National Recreation Area spans both sides of the Golden Gate Bridge in San Francisco. Bordered to the north by Point Reyes National Seashore, this expansive public space is home to the iconic Muir Woods National Monument. Well regarded as one of the most dog-friendly national park units in California, Golden Gate National Recreation Area is very popular with pet owners.
Official site: https://www.nps.gov/goga/index.htm
10. Channel Islands National Park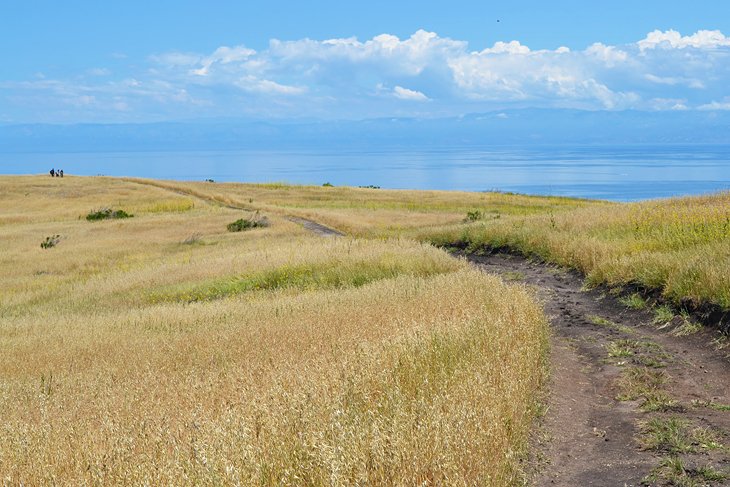 A chain of five islands off the Southern California coast, Channel Islands National Park provides a remote getaway from the hustle and bustle of the mainland. Only accessible via boat and sea plane, ferries from Oxnard and Ventura transport tourists to the islands on a regular basis. The largest of the five islands, Santa Cruz Island, is one of the most popular to visit, with common activities including hiking, kayaking, and camping at the Scorpion Ranch Campground.
This is a wild and remote environment with no services or amenities, and visitors need to bring everything they need for the day or night. The boat ride to any one of the five islands adds to the experience of visiting Channel Islands National Park, with common wildlife sightings including dolphins and whales. Other popular activities on all five islands include hiking, picnicking, and exploring the rugged shore in a sea kayak.
Official site: https://www.nps.gov/chis/index.htm
11. Santa Monica Mountains National Recreation Area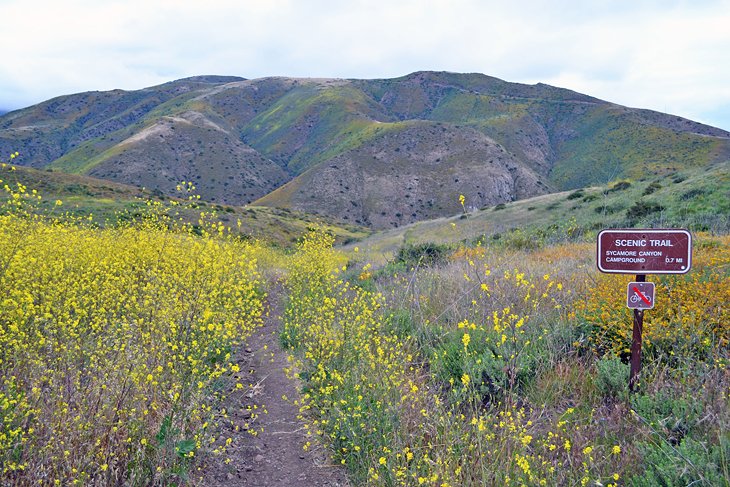 Backdropping the bustling streets of Los Angeles, Santa Monica Mountains National Recreation Area offers an easy escape into a wild environment. Popular activities in this ocean-bound public space include hiking and backpacking, tent camping, and RV parking, as well as surfing and other beach activities. Stretching from Santa Monica inland and up the coast to near Oxnard, special areas in the Santa Monica Mountains include Solstice Canyon, Point Mugu State Park, and the original Paramount Ranch.
Official site: https://www.nps.gov/samo/index.htm
12. Devils Postpile National Monument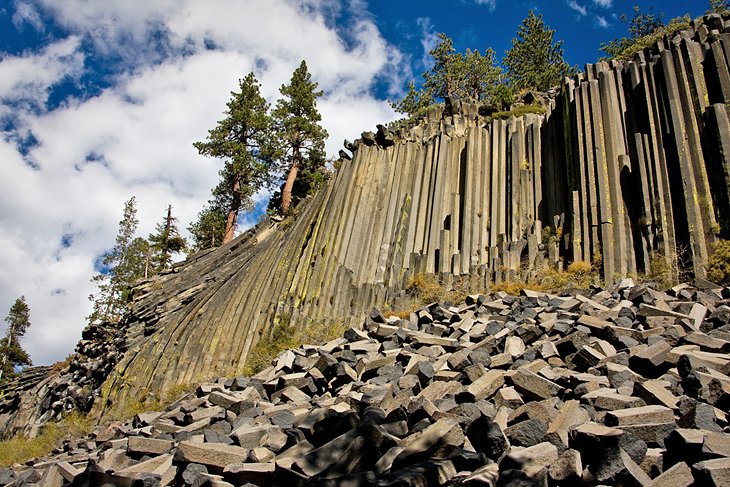 One of seven national monuments in California, Devils Postpile protects a rare natural phenomenon and a towering example of columnar basalt. Within the Sierra Nevada Mountains, the National Monument is surrounded by rich recreation activity, including the long-distance Pacific Crest National Scenic Trail. Covered in deep snow throughout the colder months, Devils Postpile National Monument is most accessible during the summer months.
Official site: https://www.nps.gov/depo/index.htm
More Related Articles on PlanetWare.com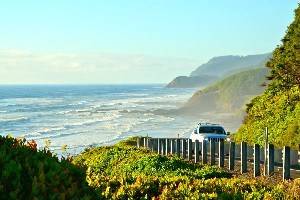 More Adventures in California: The best state parks in California deliver with even more scenic appeal and often less crowded conditions. To link together a number of the national parks and other stunning natural spaces in the state, many of the best West Coast road trips tour California and its many scenic features. For some much-deserved soaking time, the best hot springs in California deliver with soothing appeal.