16 Top-Rated Attractions & Things to Do in Ventura, CA
Ventura is a Central California coastal city sandwiched between the Pacific Ocean and the foothills of Los Padres National Forest. These outdoor environments and a generally sunny forecast lend to many ways to enjoy the city's numerous things to do. Surfing is always a popular option in Ventura, alongside shopping, sailing, and watching the sunset on the beach.
Other attractions in Ventura include museums, marina parks, and harbor villages. And San Buenaventura State Beach is a must-visit, featuring two miles of downtown shoreline and the 1,600-foot Ventura Pier. Tourists and residents alike tend to flock toward these postcard destinations, especially come sunset.
Ventura also boasts a long history, visible on the streets. It's officially the city of Buenaventura, home to the Mission San Buenaventura, dating back to 1782. The church and garden of the mission remain today, anchoring a fashionable downtown district with several shops and restaurants.
Plan your visit to this laid-back coastal town with our list of the top attractions and things to do in Ventura.
1. San Buenaventura State Beach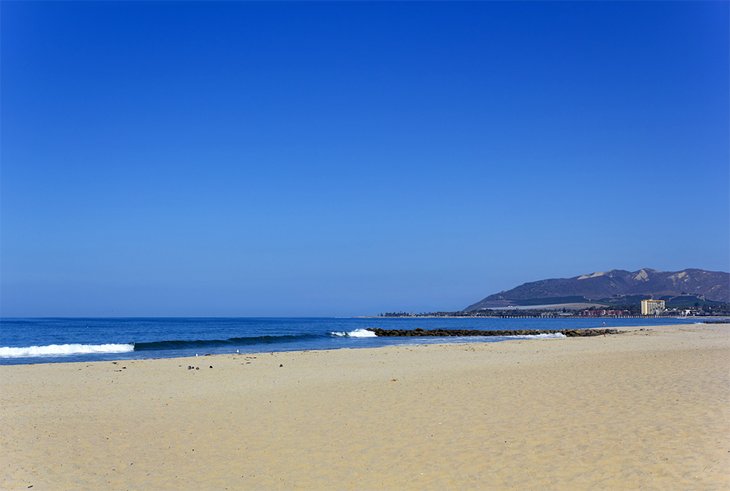 San Buenaventura State Beach stretches for two miles along the Ventura city coastline, spanning the distance between Marina Park and the Ventura Pier. This sprawling area delivers on the quintessential beach experience, with swimming, surfing, and exploring the sand dunes just a few favorite things to do. It's also popular for simply laying a towel down and enjoying the afternoon sun.
Certified lifeguards patrol the sand and surf, and near the park entrance gate, picnic tables and shade trees define a large grassy picnic area. The pier itself is a fun attraction to wander, stretching over 1,600 feet into the ocean. This historic pier is a popular spot for anglers and provides one of the best views of the not-so-distant Channel Islands.
And the Omar Rains Trail spans the entirety of the beach and extends to connect with other oceanside attractions of Ventura. North of the Ventura Pier, the bike trail widens into a promenade near the scenic Surfers Point at Seaside Park, where it's likely to see someone catching some waves. Extending farther north, the Coastal Trail takes cyclists as far as Emma Woods State Beach.
Address: 901 San Pedro Street, Ventura, California
Official site: http://www.parks.ca.gov/?page_id=600
2. Ventura Harbor Village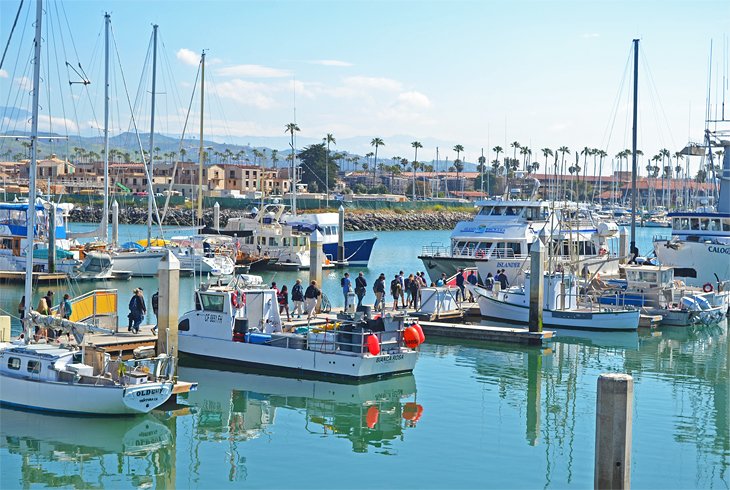 Ventura Harbor Village offers seaside attractions south of downtown, and many avenues to enjoy the ocean. It's a place to find ocean-inspired retail shops and family-friendly things to do including boat rentals, beach volleyball courts, and whale watching expeditions. It's also the place to go for fresh seafood, ranging from fried lunch baskets to upscale dinner entrees.
Harbor Village is also the departure point for exploring the nearby Channel Islands National Park. Passengers typically hop aboard a ferry from Island Packers to access the Channel Islands. For more information and detailed exhibits about the islands, head to the Robert J. Lagomarsino Visitor Center at the north end of the village.
Part of the experience of Harbor Village is simply walking around and enjoying the coastal atmosphere, including the array of boats moored in the harbor. Ventura Harbor Village is also pet-friendly, which is best exemplified every October during the annual pet costume contest.
Address: 1583 Spinnaker Drive, Ventura, California
Official site: https://www.venturaharborvillage.com/
3. Surfers Point at Seaside Park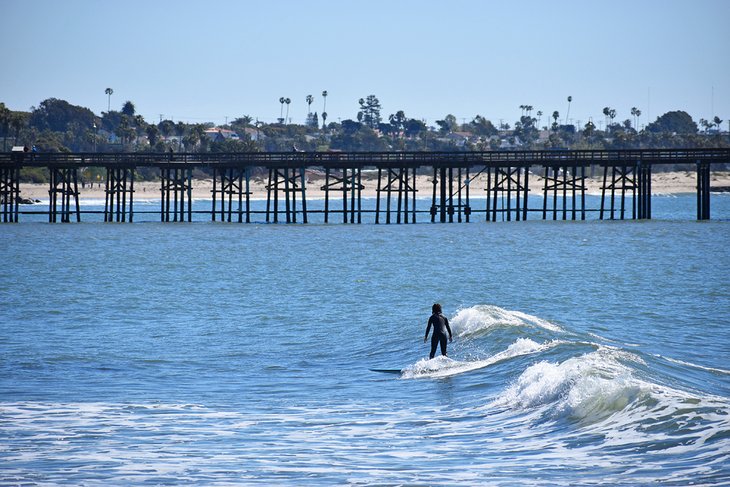 This iconic surfing destination is just north of the Ventura Pier and San Buenaventura State Beach. It's a south-facing point and a hot spot for surfing thanks to the long right-handed waves that carry surfers towards the Ventura Pier. Two large parking lots, accessible from Figueroa Street, often fill up at this popular surfing and sightseeing destination.
A beautiful palm-tree-lined promenade makes it way through Seaside Park next to the ocean. This scenic spot to stroll is popular for all ocean lovers and not just the surfers. It offers a pleasant place to enjoy the nice weather and lends easy access to San Buenaventura Beach to the south.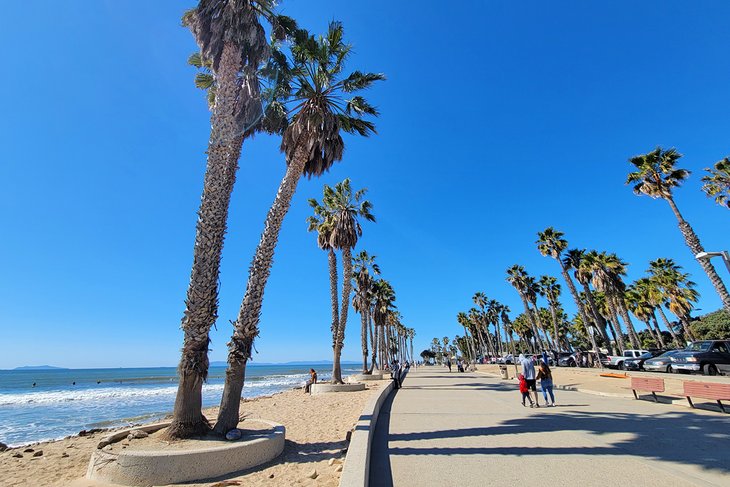 Birding is also popular at Seaside Park thanks to the lagoon formed by the nearby Ventura River terminating into the ocean. And on the opposite riverbanks of Surfers Point, Seaside Wilderness Park offers less developed coastal bluffs and hiking trails to explore.
Address: Shoreline Drive, Ventura, California
4. Ventura Pier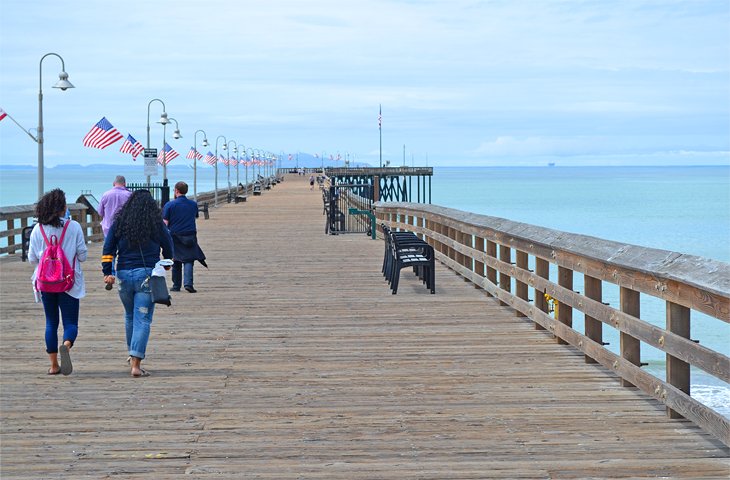 Originally constructed in 1872 and restored in 1993, the Ventura Pier is a landmark symbol of the city. It's a favorite place to visit for anglers, photographers, and sunset strollers who fan out across all 1,600 feet of the wooden boardwalk. Also on-site are restrooms, water fountains, benches, and food concessionaires.
Extending north from the Ventura Pier, the Ventura Promenade is a popular pedestrian route along the ocean. South of the Ventura Pier, the wide shoreline of San Buenaventura State Beach invites afternoons spent playing in the sand.
5. Mission San Buenaventura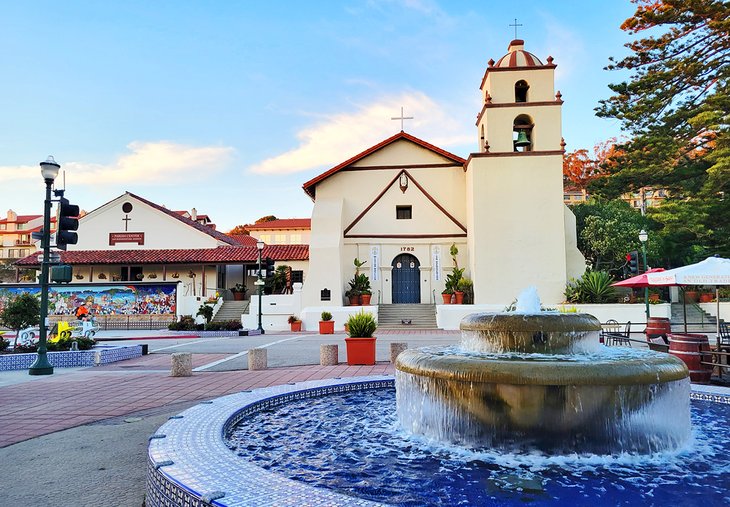 Dating back to 1782, the Mission San Buenaventura is the centerpiece attraction of Ventura's downtown historical park. The lengthy history of this Mission Church is on full display during self-guided tours of the mission, which include access to other architectural relics that remain in the area.
Prominent stops on the self-guided tour include the Garden and Grotto, Michelangelo's Pieta, and the Padre's Burial. And even without going inside, the aesthetic exterior catches the eye. Decorative fountains and running water adorn this outdoor plaza, inviting a moment to stop and appreciate this symbol of the city's history.
the Mission San Buenaventura also lends access to the charming and historic Downtown District lined with local shops and restaurants. Navigating throughout downtown Ventura is easy thanks to a free trolley system and free public parking lots. Downtown restaurants range from casual bites to romantic fine-dining establishments, and local retail windows feature everything from locally made homewares to the latest in fashion and design.
Address: 211 E Main Street, Ventura, California
Official site: https://www.sanbuenaventuramission.org/
6. Main Street, Downtown Ventura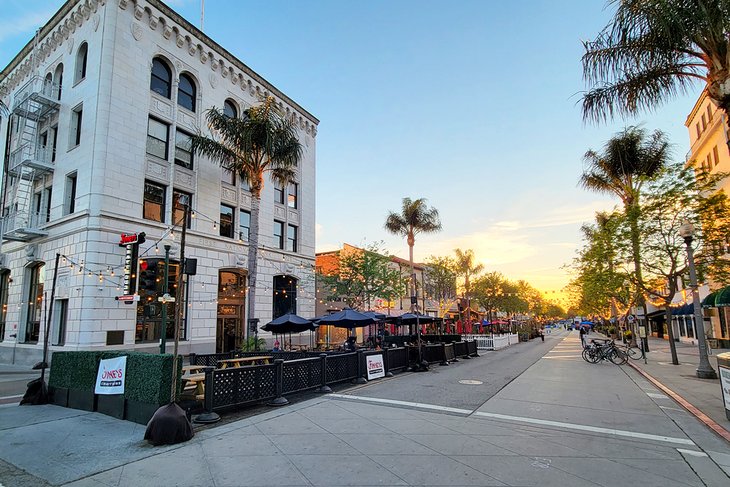 Downtown Ventura is a happening place with several local shopping and dining opportunities. The district is a few blocks from the ocean on the other side of the 101. Main Street is the main thoroughfare, running through the heart of the community, with storefronts extending for more than five city blocks.
The city recently adopted the popular Main Street Move program, which shut down much of Main Street to vehicle traffic. This enabled a pedestrian-friendly promenade to overtake the street, and restaurants to extend their patio seating.
7. Museum of Ventura County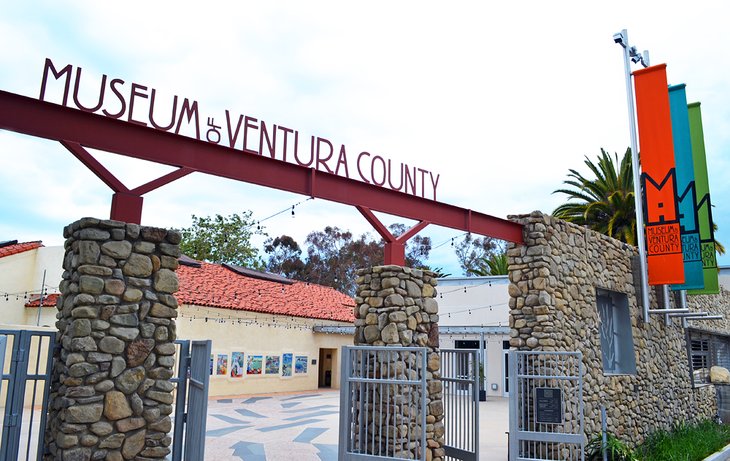 Near the Mission San Buenaventura, this non-profit museum details the people and events that shaped Ventura County into what it is today. It features rotating exhibits and over 30,000 pieces of artwork and artifacts routinely on display.
The permanent Chumash Gallery at the museum is dedicated to the original inhabitants of the region. Other exhibits include the Music of the Masters collection, celebrating the rich heritage behind the Ojai and Ventura Music Festivals.
The museum currently offers free admission and is open on the weekends. Expect to spend thirty minutes to an hour wandering the exhibits, if not longer. An on-site gift shop at the museum allows visitors to take a bit of history home with them.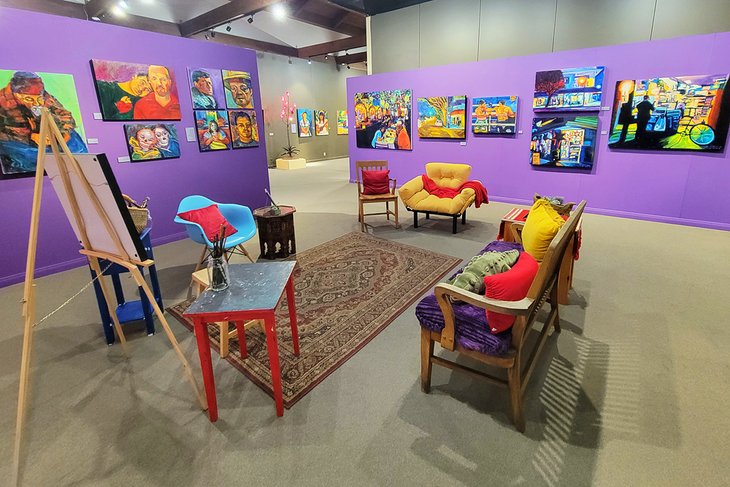 Across the street from the Museum of Ventura County, the Albinger Archaeological Museum uncovers other cultural artifacts.
Address: 100 E Main Street, Ventura, California
Official site: https://venturamuseum.org/
8. Ventura Botanical Gardens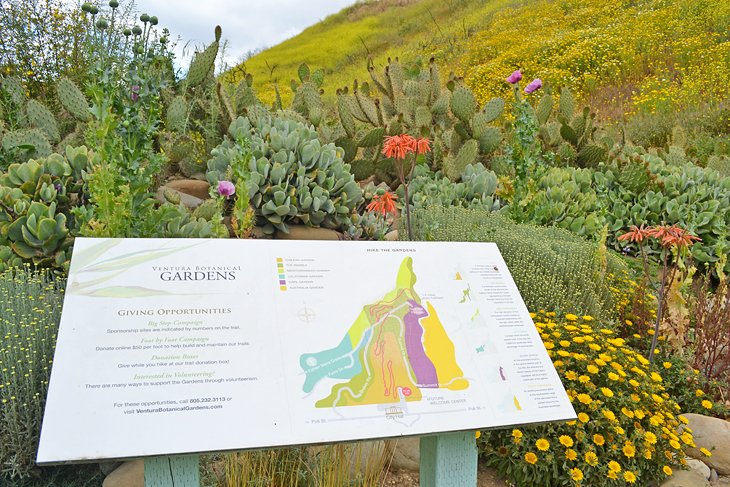 Behind the tourist-friendly and architecturally pleasing Ventura City Hall, the Ventura Botanical Gardens encompass an entire canyon of natural beauty. It's a great space for a leisurely stroll or afternoons spent photographing the flora.
In 2017, the devastating Thomas Fire wreaked havoc on this community space, which spanned over 105 acres. But much like many of the native plant species found at the botanical gardens, this city-owned institution has bounced back from the fire and grown once again into its former beauty.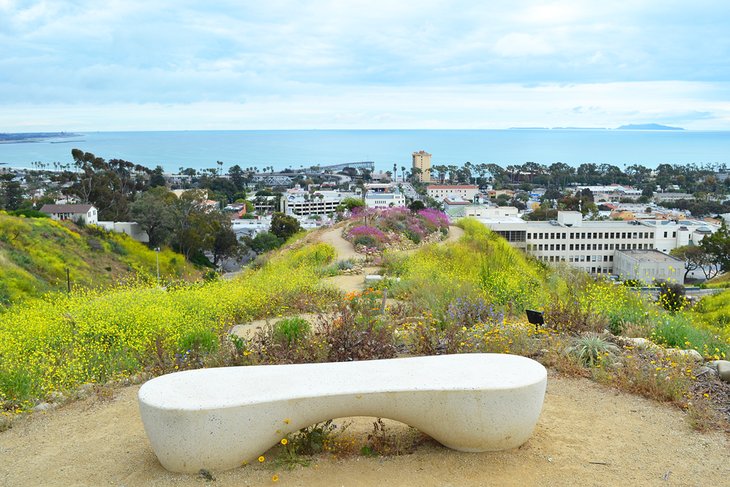 There is a lot to see and explore at the botanical gardens today, including a beautiful hiking trail that leads to a landscaped summit overlooking the ocean. The botanical gardens also cross into Grant Park, where the historic Serra Cross also overlooks the ocean.
Address: 567 South Poli Street, Ventura, California
Official site: http://www.venturabotanicalgardens.com/
9. Marina Park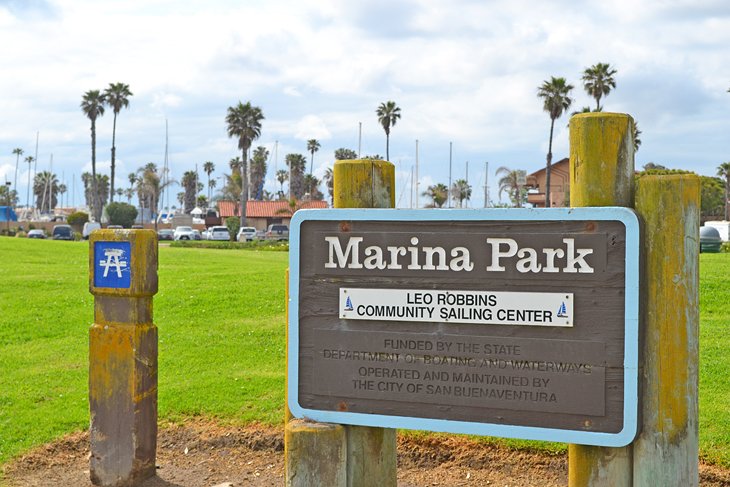 Marina Park is a sprawling oceanfront park opposite Ventura Harbor Village. It's a family-friendly spot and a great place to let the kids run free. The rock barrier protecting Ventura Harbor doesn't allow for water access at the park, but the bountiful green space with harbor views, fishing docks, and playgrounds fill the afternoon with fun things to do.
Sotter's Point within the park is accessed via a trail that leads out onto the jetty and is a great place to watch boats head out of Ventura Harbor and into the ocean. Other popular attractions at the park include a fishing dock, a large playable pirate ship, and several picnic facilities.
Address: Pierpont Boulevard, Ventura, California
10. Channels Islands National Park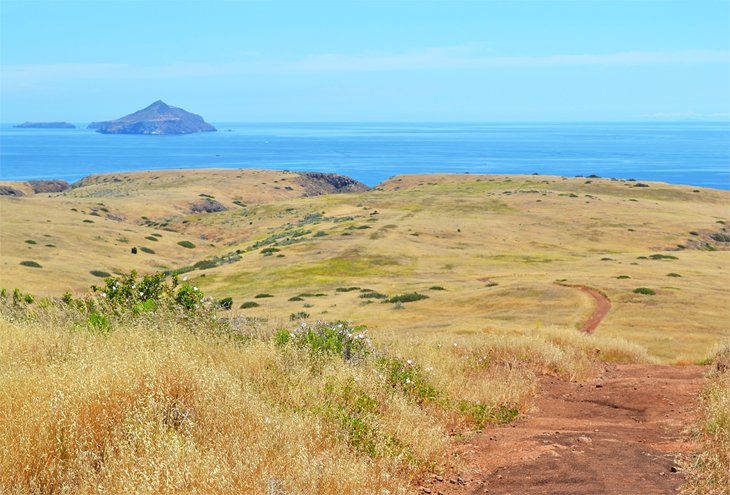 Channel Islands National Park comprises five wild islands off the coast of Central California, as well as the miles of surrounding ocean waters. These remote landscapes offer a true escape from the hustle and bustle of the mainland.
Visiting Channel Islands National Park is notably different than visiting other national parks in California. And because of their island status, different logistics apply for a day or weekend trip. From Ventura, the most common and most scenic approach includes hopping aboard an Island Packers ferry, which departs from Ventura Harbor Village.
The most frequent ferry rides visit Santa Cruz Island and Anacapa Island, where popular activities include hiking, camping, and photography. Inspiration Point on Anacapa Island is well regarded as one of the best views in the park.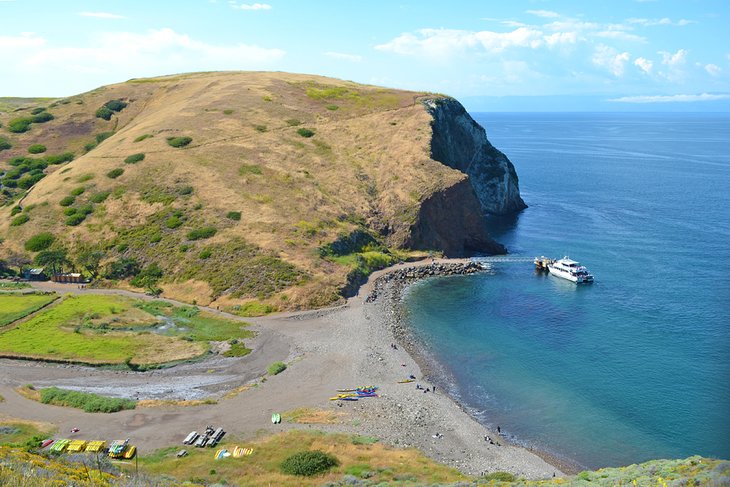 Santa Rosa, San Miguel, and Santa Barbara Islands, on the other hand, receive fewer ferry riders and provide an even wilder experience. No services exist on any of the five islands, meaning visitors need to be self-reliant and pack in drinking water and pack out trash.
More information about the Channel Islands can be discovered at the Robert J. Lagomarsino Visitor Center at the north end of Ventura Harbor Village. Other ways to enjoy the Channel Islands include sea kayaking through sea caves, snorkeling and diving through kelp forests, and spotting common wildlife, including dolphins, whales, and sea lions.
Official site: https://www.nps.gov/chis/index.htm
11. Lake Casitas Recreation Area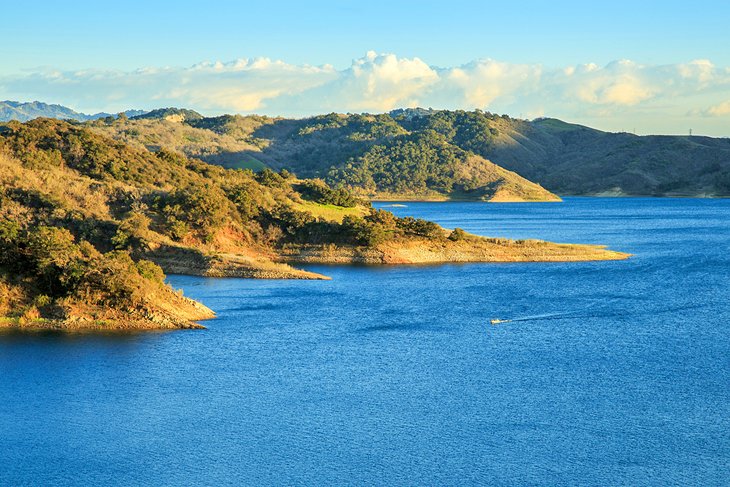 Lake Casitas Recreation Area is nestled in the foothills of the Los Padres National Forest and a twenty-minute drive from downtown Ventura. It's operated by the Casitas Municipal Water District and is a vital drinking water supply, so no swimming or body contact is allowed with the water.
The vast acreage of the recreation area is dotted with different campgrounds, with over 400 campsites total. These places to stay range from primitive tent spots to full hookup RV spaces. Coin-operated showers, flushing restrooms, and a camp store with basic supplies are available to all overnight guests.
An entire weekend is easily spent at Lake Casitas without leaving the recreation area. A challenging disc golf course navigates through the elevated scenery of Lake Casitas, and numerous picnic areas invite a fun meal outside. A network of bike trails also extends throughout the recreation area, and the main camp road is a safe cyclist path.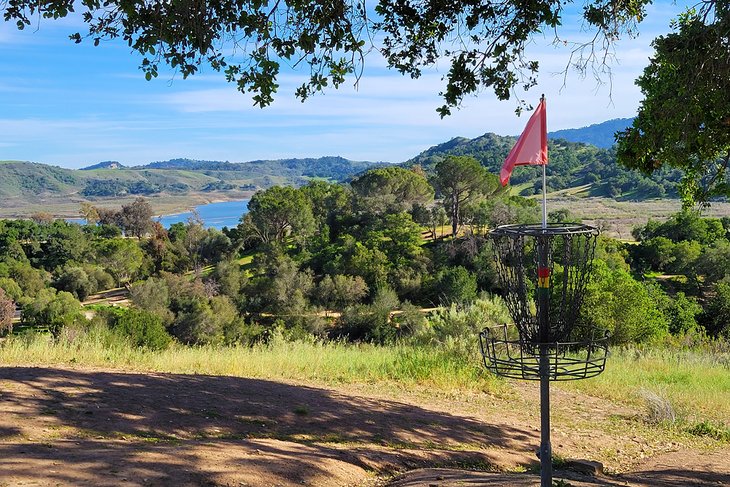 The Casitas Water Adventure within the recreation area features a lazy river, a multi-level water playground, and a dedicated water aerobics class time. This water park is a very popular place to cool off during summer weekends in Ventura.
Address: 11311 Santa Ana Road, Ventura, California
12. Oxnard Beach Park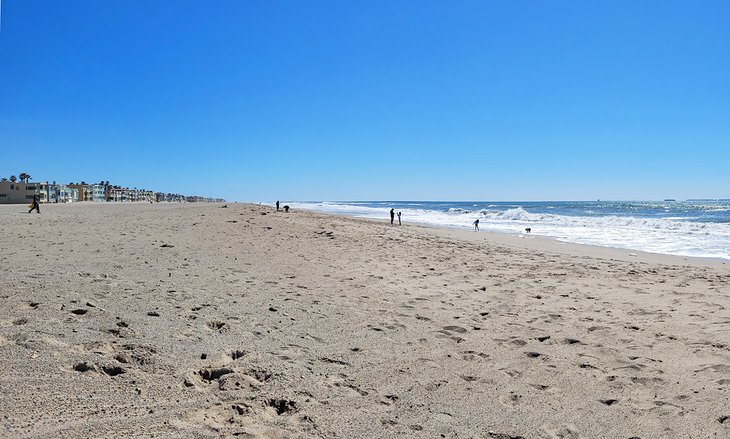 The neighboring city of Oxnard has a beautiful coast, comprising several beaches. Among the ones to check out is Oxnard Beach Park, approximately midway along this neighboring coastline. Alongside a broad and bountiful beach, palm trees line a lush green space punctuated by picnic tables.
It's less than a 10-mile drive from Ventura to Oxnard Beach Park, where plenty of parking is available. Other park features include free barbecue areas, jogging paths, playgrounds, and large group picnic facilities. And expect to hear the jingle of idling ice-cream trucks on the weekends.
Between the beach and the park are a large set of sand dunes. These are a popular venue for climbing up and tumbling down. There's plenty of room on the beach for group and solo activities, or to find personal space. A row of windswept concrete benches lines the backend of the sand, offering an excellent seat for the sunset.
13. Ventura River Parkway Trail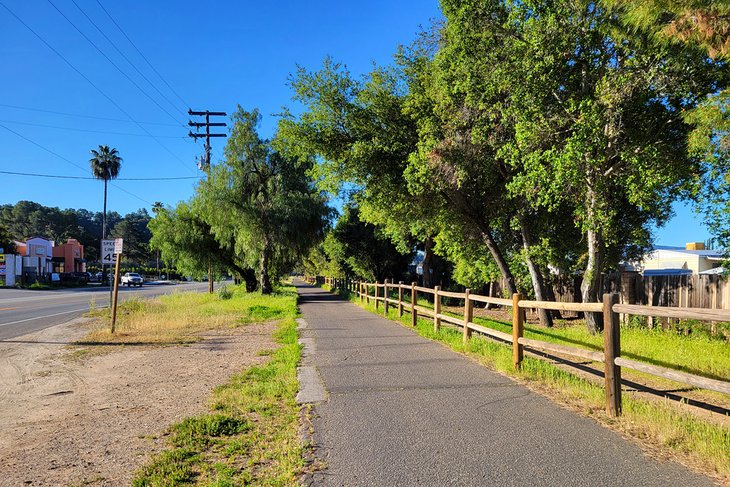 The Ventura River Parkway Trail is a designated National Recreation Trail (NRT) that spans from Ventura to Ojai along a continuous pedestrian path. The NRT combines two major trails, the Ventura River Trail and Ojai Valley Trail, for a combined 16.5 miles.
The Ventura River Parkway is a rail-to-trail conversion, so the grade never gets above one percent, and much of the route is paved. A lush riparian habitat defines much of the landscape, as do signs of civilization like roadways and industrial sites. Several cultural attractions also line the entire parkway, like art installations and engaging historical markers.
14. Emma Wood State Beach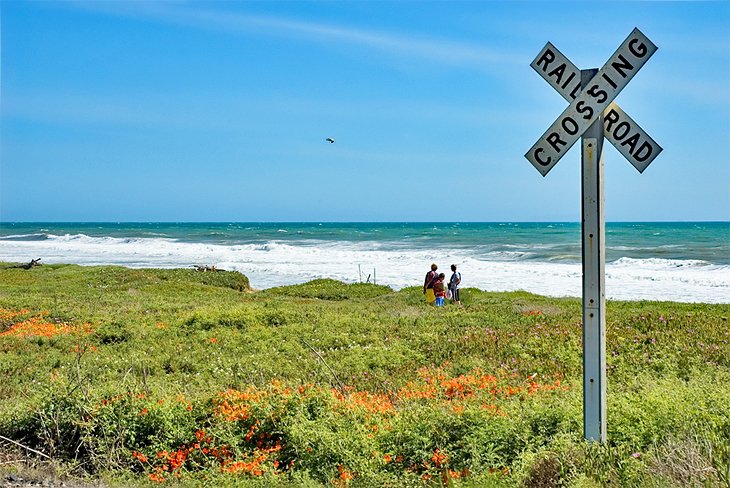 The long stretch of beach extends from the mouth of the Ventura River, north of downtown along the Pacific Coast Highway. It's a popular destination for ocean activities like surfing, swimming, and fishing. It's also well visited for land-based activities like bike rides, beachcombing, and catching a tan.
Visitors from Ventura can reach Emma Woods State Beach via the Omer Rains Coastal Bike Trail. It's just over a four-mile ride to Emma Woods State Beach on this paved bike trail from Ventura, with stunning views the entire way.
Camping is available throughout the summer at Emma Wood, at the north end of the state beach. Camping is exclusively reserved for self-contained camping vehicles, most commonly RVs, and no tent camping is allowed. There are no services at the campground, including no water and no restrooms.
Address: Pacific Coast Highway, Ventura, California
Official site: https://www.parks.ca.gov/?page_id=604
15. Serra Cross Park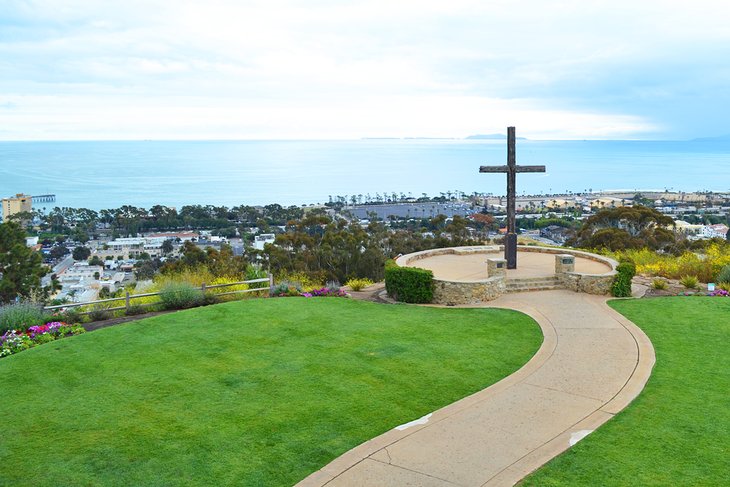 Grant Park encompasses over 100 acres above downtown Ventura and overlooks the ocean. It's also the historic site where, in 1782, a Spanish missionary, Father Junipero Serra, erected a large wooden cross after founding Mission San Buenaventura.
Serra Cross today is a reproduction of the original cross. And in 2017, it was narrowly spared by the Thomas Fire, which severely affected the area. The entire area, including the nearby Ventura Botanical Gardens, is bouncing back since the event.
Serra Cross affords one of the best views of Ventura. The Serra Cross Conservancy rents out this area for special events, mainly weddings.
16. Rubicon Theatre Company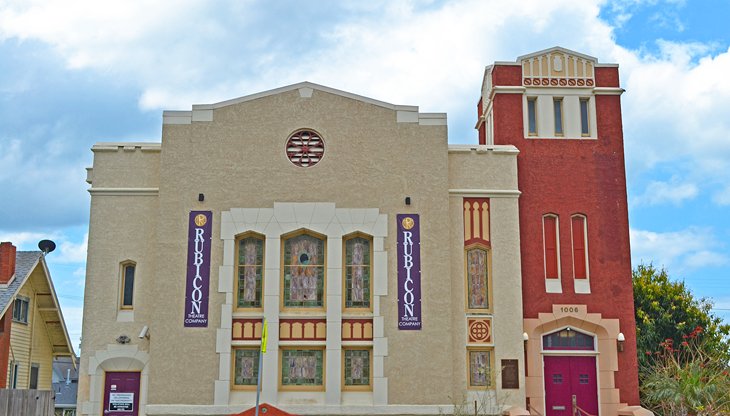 Within Ventura's cultural district east of downtown, Rubicon Theatre Company has produced thought-provoking performances and events for over 20 years. This professional theater company is a recipient of numerous awards and recognitions and attracts thousands of theatergoers every year.
While plays and theater performances are most prevalent on the Rubicon Theatre Company stage, this renowned venue also hosts special events, including live music performances and panel-led discussions.
Address: 1006 E Main Street, Ventura, California
Official site: https://www.rubicontheatre.org/
Map of Attractions & Things to Do in Ventura, CA
Ventura, CA - Climate Chart
Average minimum and maximum temperatures for Ventura, CA in °C
J
F
M
A
M
J
J
A
S
O
N
D

19

7

19

8

18

9

20

10

20

12

21

13

23

15

23

16

23

15

23

13

21

9

19

7

PlanetWare.com
Average monthly precipitation totals for Ventura, CA in mm.

87

99

77

18

5

1

1

2

9

9

35

54
More Related Articles on PlanetWare.com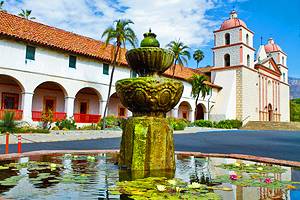 Other Southern California Coastal Cities: The sunny beaches and scenic landscapes of Santa Barbara are only a 30-minute drive from Ventura up the coast. Towards Los Angeles to the south, Santa Monica offers another iconic Southern California beach and pier, with an entertaining downtown district that stays up late into the night. Farther south on the Pacific Coast Highway, Huntington Beach, also known as Surf City U.S.A, is worth an extended visit or permanent relocation.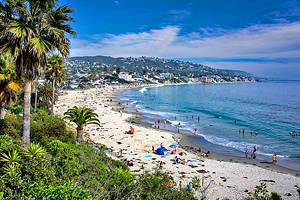 More to Explore in California: California is a rich and diverse state when it comes to attraction and appeal, with redwood forests, snow-capped mountains, biodiverse deserts, and a rugged coast. A good way to see it all is by embarking on a West Coast road trip throughout the state, connecting many of the best places to visit in California. Other scenic spots along these California road trips include many of the best beaches in California.