13 Best Beaches in Ventura, CA
Several scenic beaches line the Ventura County coastline. These beaches cater to every ocean activity, ranging from suntanning to surfing and enjoying the sunny weather. And these beaches are easily accessible from the Pacific Coast Highway, offering plenty of options within a half-hour drive of Ventura.
San Buenaventura State Beach is the primary coastline of Ventura, spanning two miles of downtown shoreline. Visitors to San Buenaventura have several options to spend the day, including walking the Ventura Pier or catching some waves at Surfers Point. Other amenities include volleyball nets, picnic facilities, and lifeguards on duty.
Be sure to extend the ocean adventures beyond San Buenaventura. The coast north and south of Ventura has several gems to explore, including the expansive shoreline of the neighboring city of Oxnard. Together, Ventura and Oxnard comprise the best beaches in Ventura County.
Enjoy your next Southern California coastal getaway with our list of the top beaches in Ventura.
1. San Buenaventura State Beach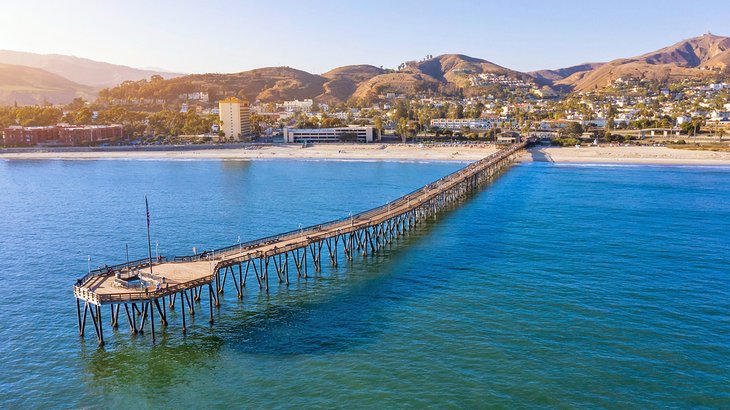 San Buenaventura State Beach encompasses about two miles of shoreline at the edge of Ventura. It's a popular beach for several reasons, including its proximity to town, and it's also home to several beach amenities, like volleyball nets, picnic areas, and lifeguards on duty throughout the year.
The Ventura Pier is at the north end of the beach, spanning 1,600 feet into the ocean. It's an excellent pier for those interested in fishing, and walking its length gives a fantastic view of the not-so-distant Channel Islands.
The Omer Rains Coastal Bike Trail runs right by the front of the pier, offering a pedestrian route in either direction. The bike trail heads south and navigates next to coastal dunes and toward the rest of San Buenaventura State Beach. This direction also leads to a large grassy picnic area and parking lots.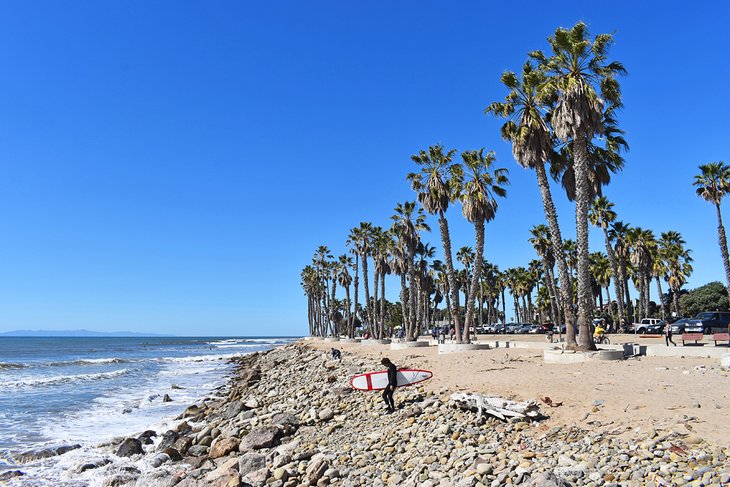 North of the Ventura Pier, the bike trail transforms into the wide and lively Ventura Promenade. This famous ocean path heads to Surfers Point, where several surfboards dot the water alongside abundant palm trees lining the route. Users can continue on the Omer Rains Bike Trail farther north, all the way to Emma Woods State Beach.
Official site: https://www.parks.ca.gov/?page_id=600
2. Oxnard Beach Park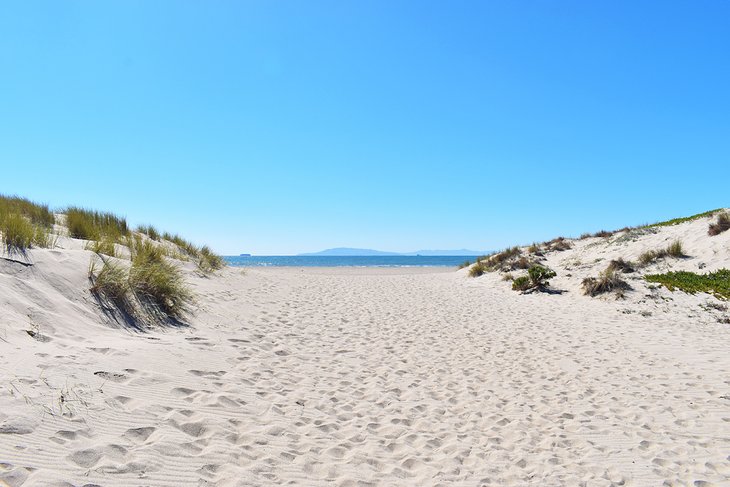 Oxnard Beach Park is a massive outdoor space next to the ocean on the Oxnard coastline, less than 10 miles south of Ventura. It's a big, beautiful open space with plenty of parking. Palm trees line a horseshoe-shaped trail that spans the entire park, dotted with picnic facilities and playgrounds.
The trail in Oxnard Beach Park leads to the dunes separating the grassy area and the beach. These dunes are a favorite for children to explore, and athletes looking for a challenging workout running up and down the sand.
The beach at Oxnard Beach Park is massive, making it easy to find personal space to spread out a towel. Across the ocean, a beautiful view of the Channel Islands greets beachgoers. Along this stretch of sand, popular things to do include kite flying, fishing, and body surfing, among many other beach activities.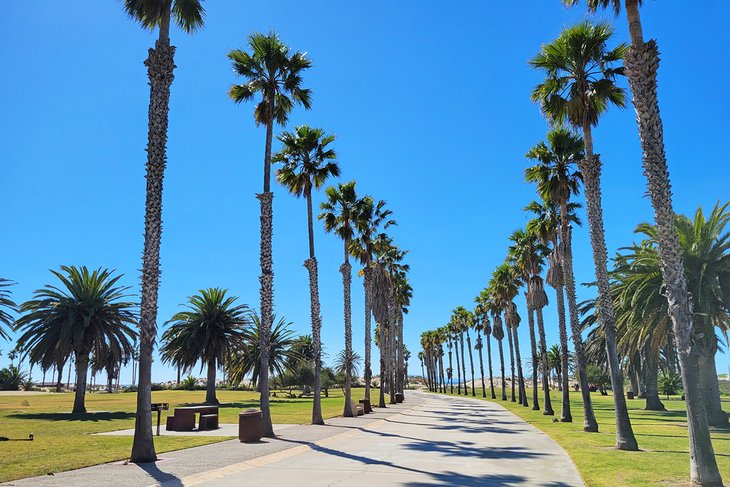 For those interested in a long beach walk, the Oxnard coast stretches for over six uninterrupted miles. Directly north of Oxnard Beach Park is Mandalay Beach, and Hollywood Beach is to the south.
Read More: Top-Rated Things to Do in Oxnard, CA
3. Rincon Point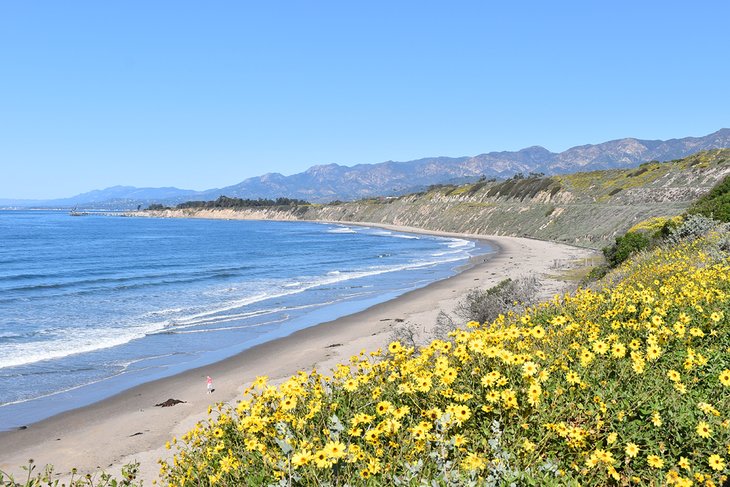 Rincon Point is a classic Central California surfing destination, approximately 14 miles north of the Ventura Pier. The right-hand break coming off the east side of the point is what draws wetsuit-clad surfers from across the world. This guaranteed good surf and paradisial conditions earn the beach its nickname, the Queen of the Coast.
Two parking lots await at Rincon Point after exiting the 101 at Bates Roads. Those looking to catch some waves, or capture some surfing photographs, should head left to the Rincon Point State Beach parking lot. Here, a short trail leads to the east side of Rincon Point, where a thin coastline frames some of the best surfing in California.
The opposite parking lot is for Rincon Beach County Park, which extends along the north side of Rincon Point. This beach is much broader and more welcoming for other activities outside of surfing. A long and graded concrete ramp connects the parking lot to the sand. If visitors head far enough north on this beach, they reach Carpinteria Bluffs Nature Preserve.
4. Emma Wood State Beach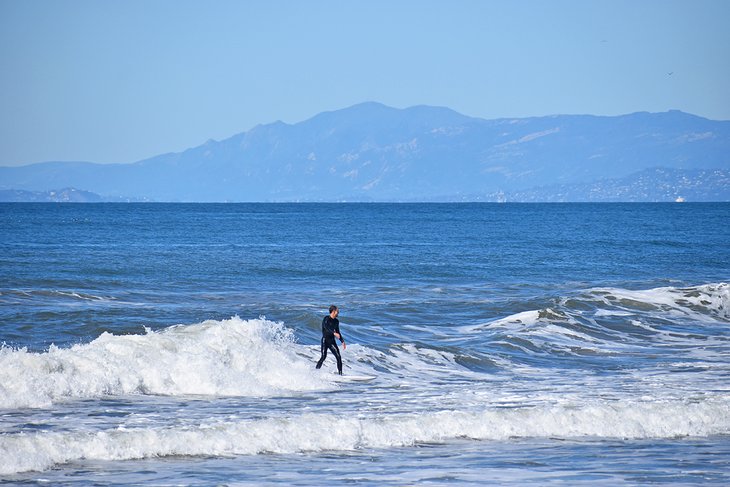 Emma Wood is a linear state park next to Highway 101 north of Ventura. Much of the state beach comprises a roadside RV campground next to the ocean. Only self-contained campers can make reservations, meaning those looking to pitch a tent should aim elsewhere.
The campground is popular for RVs, trailers, and camper vans. No water, restrooms, or electric hookups are available, and the maximum RV length is 40 feet due to tight turnaround spaces. A rock wall separates the sites from the ocean, where surfers often take advantage of the break.
A day-use area is at the south end of Emma Wood State Beach, near the mouth of the Ventura River. It has picnic areas and beach access, where much of the shoreline comprises large smooth rocks. This southern end of the beach is also home to a group campground and the beginning of the Emma Wood River Trail.
5. Harbor Cove Beach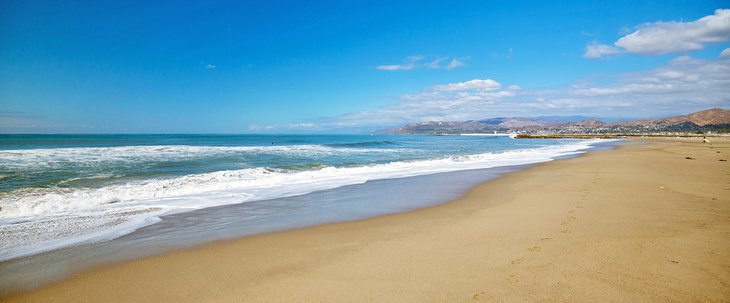 Harbor Cove Beach is at the end of the peninsula protruding into the Ventura Harbor. The rock jetties that protect the harbor also protect the beach, making Harbor Cove one of the safest places to swim. These safe swimming and paddling conditions lend to the beach's other nickname: Mother's Beach.
Visitors reach Harbor Cove Beach by driving to the end of Spinnaker Drive, past Ventura Harbor Village. Plenty of free parking is generally available. Other amenities at the beach include volleyball nets, restrooms, and showers, and lifeguards on duty from May through September.
Farther south on the peninsula, across from Harbor Village, Surfer's Knoll Beach is also a popular ocean playground. A consistent break brings surfers to this thin coastline, and it's also a popular beachcombing destination. Riptides are potentially dangerous at Surfer's Knoll, so swimming isn't advised.
6. Mondos Beach

Mondos is a compact beach between Faria Beach Park and Solimar Beach on the northern Ventura County coast. It's a small cove between rows of houses. It is popular for water activities like stand up paddleboarding and beginner surfing.
There's nothing but the ocean at Mondos Beach, with no amenities like restrooms or water. The parking is free along either side of the Pacific Coast Highway near Mondos Beach. Crowds tend to take advantage of this free and easy access to the ocean, especially on the weekends.
7. Hollywood Beach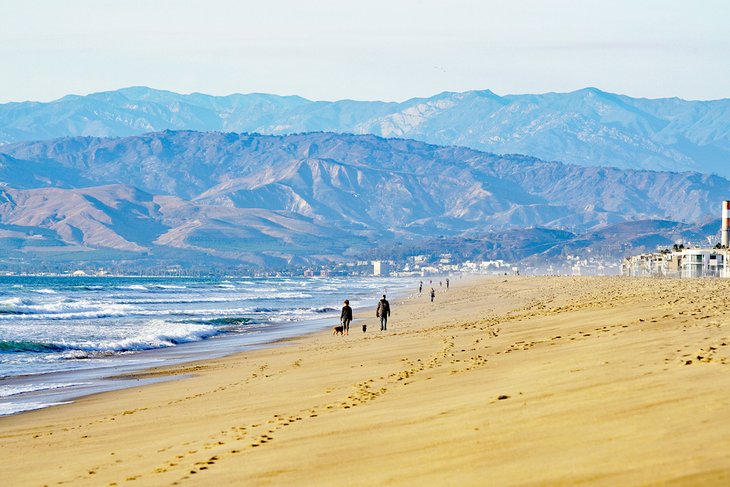 Hollywood Beach is on the peninsula between Channel Island Harbor and the ocean and is the stretch of sand directly south of Oxnard Beach Park. And while this area is popular, it's hard to overcrowd this mile-long and wide beach. Abundant street parking and access points line the adjacent Ocean Drive.
Hollywood Beach features free volleyball nets, restrooms, and lifeguards on duty between Memorial Day and Labor Day. Dogs are welcome on-leash at the beach before 9am and after 5pm. And no matter the activity, excellent views of the Channel Islands form the backdrop to any visit.
8. Mandalay Beach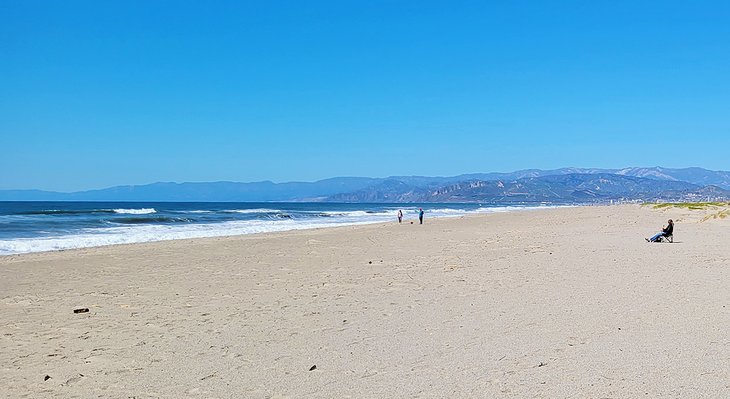 Mandalay State Beach is a long, undeveloped coastline near the Oxnard Shores neighborhood in Oxnard, south of Ventura. The beach has no restrooms, paths, lifeguards, or the usual amenities. Instead, it's a natural dune and wetland habitat often popular with birds.
A power generation plant rises behind the bluffs on the beach and is hard to miss. Otherwise, this untouched beach corridor offers the wildest coast closest to Ventura. The best place to access Mandalay Beach is west along 5th street from Harbor Boulevard, where several roadside parking spots are available.
9. Hobson and Faria Beach Parks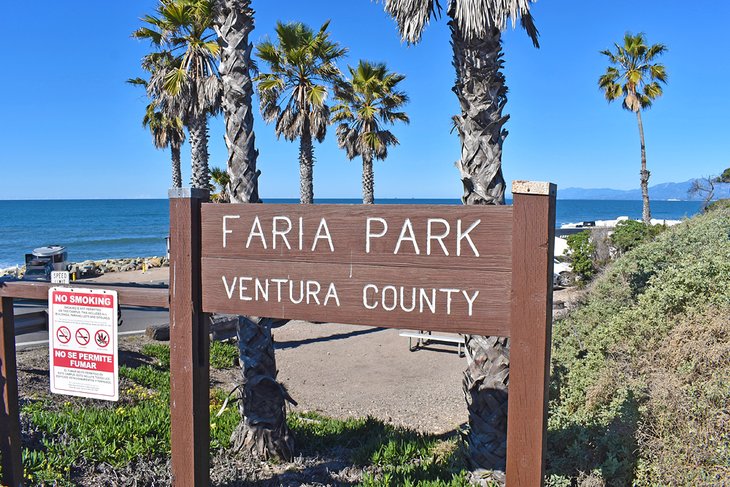 Hobson and Faria Beach Parks are county campgrounds on a thin coast between the Pacific Coast Highway and the ocean. They are approximately seven miles north of Ventura and operate on a first-come, first-served basis. Both sites cater to tents and camping vehicles, though RVs often occupy most spots.
The Rincon Point Parkway comprises the two-mile stretch between Hobson and Faria Beach Parks. The entire parkway is reserved for self-contained RVs, with spots next to the ocean. No restrooms, water, or electric hookups are available.
There's limited day-use parking at Hobson and Faria and along the Rincon Parkway. Some day-use spots are available at either beach park, and a few areas along the PCH allow temporary parking. Be sure to read street signs and avoid parking next to red curbs. The thin coastline here is only explorable during low tide.
10. Solimar Beach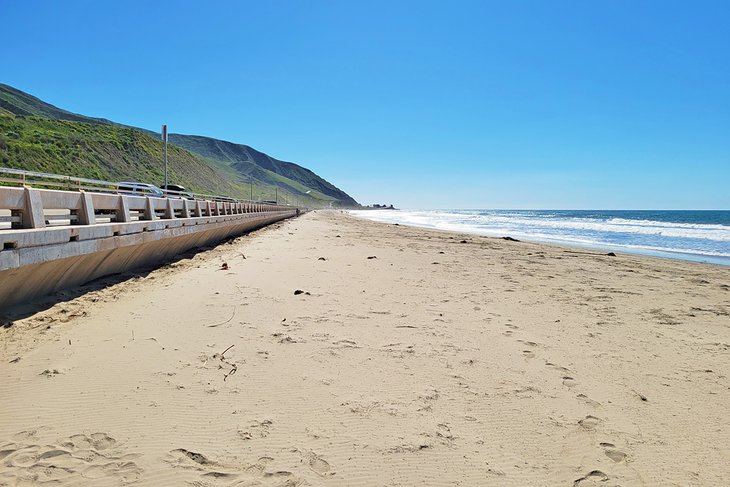 This long stretch of skinny beach is next to a group of luxury homes known as the Solimar Beach Colony. The beach is just north of Emma Woods State Beach and less than five miles north of Ventura. It's a relatively quiet beach, except for the noise of passing traffic on the adjacent Pacific Coast Highway, where it's easy to find a parking space.
No amenities like restrooms or lifeguard towers are at the beach. And there's barely enough sand to explore come high tide. Still, the coastline is pleasant and uncrowded, making for excellent beach walking come low tide. It's also a popular impromptu pitstop on the PCH and a place to bring a chair and sit in the sand right off the highway.
11. Mussel Shoals Beach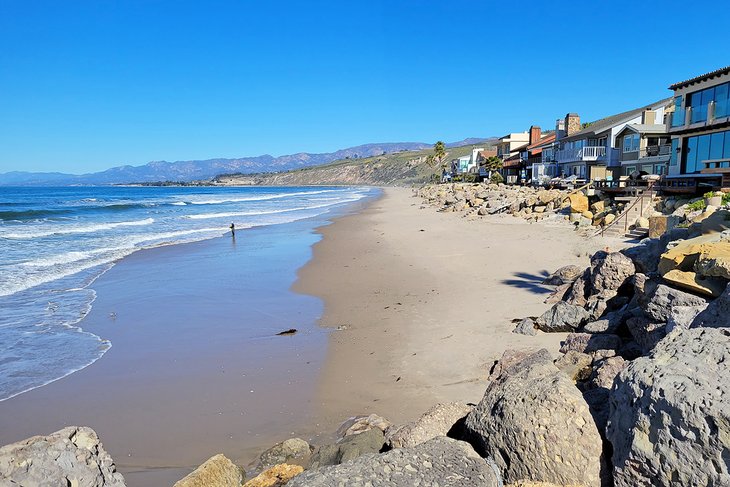 Mussel Shoals is a small beach community north along the Ventura County coast. The collection of about 50 homes and the adjacent Cliff House Inn On the Ocean is between the Ventura Highway (101) and the ocean. Near the community's center, the Richfield Pier extends to an oil platform disguised with palm trees.
There's very limited parking at Mussel Shoals, and non-residential visitors will want to pay attention to street signs to avoid a ticket or tow. Find a parking spot, though, and Mussel Shoals is worth visiting on either side of the pier.
To the south is a rocky coastline dubbed Little Rincon, which is worth a stop on a surfing tour. North is a thin, sandy beach best explored at low tide. This northern beach is a beautiful stretch for beach walking, where visitors can make footprints all the way to La Conchita Beach.
12. Beaches in Malibu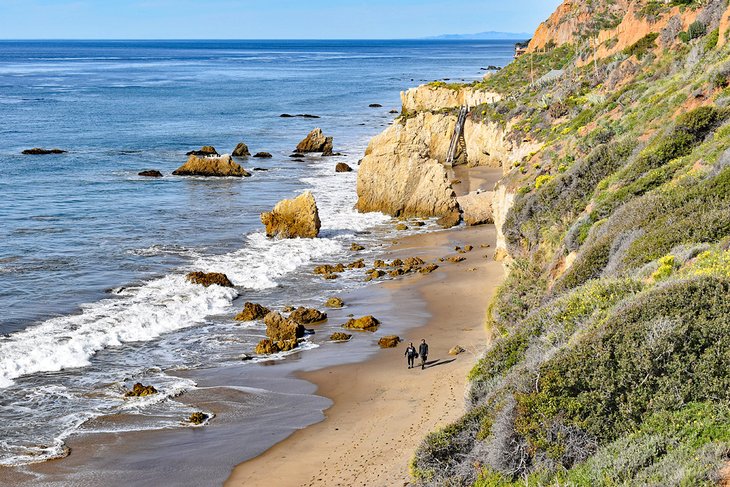 There's much more to see on the California coast beyond Ventura and Oxnard. And heading south, with less than an hour's drive, are the many beautiful beaches of Malibu. These beaches vary, from broad beaches perfect for volleyball tournaments to tucked-away gems with sea caves.
The closest beaches to Ventura are in Western Malibu, like Leo Carrillo State Beach and the beaches of Point Mugu State Park. A few other Malibu must-sees include Malibu Lagoon State Beach, including Surfrider Beach and the Malibu Pier, and Topanga Beach – closest to LA.
13. Beaches in Santa Barbara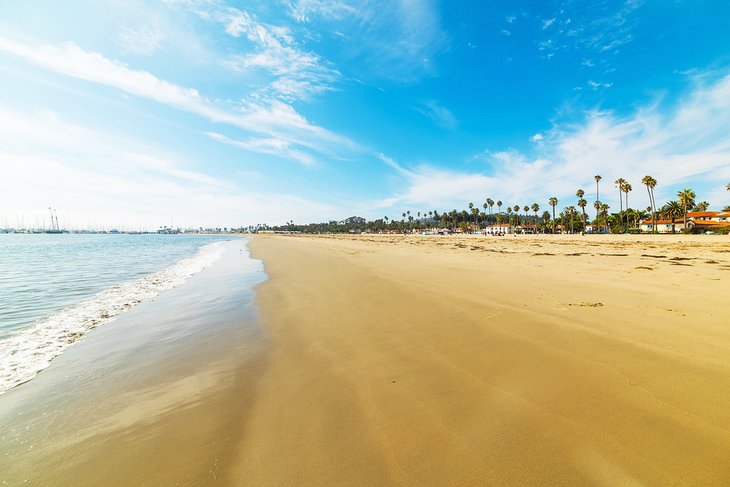 Santa Barbara is equally close to Ventura to the north as Malibu is to the south. And with the Santa Ynez Mountains backdropping much of the surf, Santa Barbara beaches offer another stunning stretch of the California coast.
Some of the most notable beaches line the downtown waterfront, like Leadbetter Beach, East Beach, and West Beach. These spots see a lot of traffic throughout the week and especially on the weekends. But with plenty of space to spread out, it generally never feels too crowded.
Other Santa Barbara gems include Butterfly Beach and Carpinteria Beach – closest to Ventura. Arroyo Burro Beach, also known as Hendry's Beach, is also a popular place to visit, especially for pet owners and dogs that like to run leash-free.
Map of Beaches in Ventura, CA
Ventura, CA - Climate Chart
Average minimum and maximum temperatures for Ventura, CA in °C
J
F
M
A
M
J
J
A
S
O
N
D

19

7

19

8

18

9

20

10

20

12

21

13

23

15

23

16

23

15

23

13

21

9

19

7

PlanetWare.com
Average monthly precipitation totals for Ventura, CA in mm.

87

99

77

18

5

1

1

2

9

9

35

54