12 Best Beaches in Santa Barbara, CA
Santa Barbara's sun-soaked beaches are among the best in California. Crowned by the rugged Santa Ynez Mountains, the south-facing shoreline offers eye-candy at every turn, and the Channel Islands just offshore protect the coast from the crush of heavy surf. Whatever you love to do by the sea, you'll find the perfect beach for it in Santa Barbara.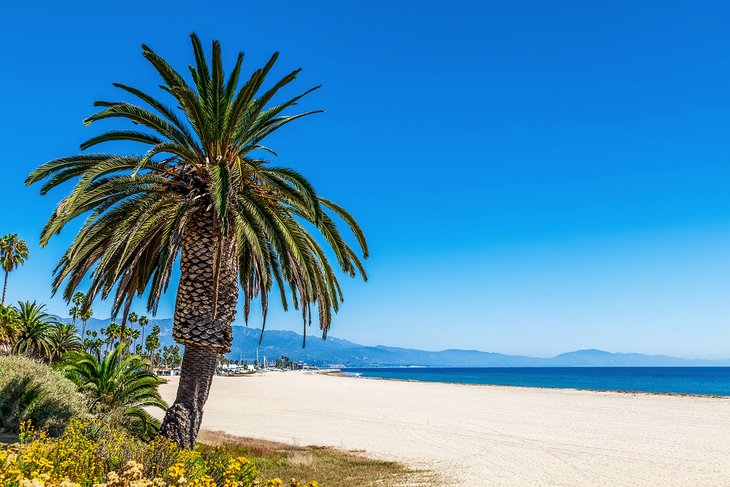 Surfing, swimming, and stand up paddleboading top the list of water sports. Hop in a kayak to look for dolphins, or cast a line for surf perch. Love to play beach volleyball? Santa Barbara is a hot spot for the sport, and you'll find permanent courts on many of the beaches. You can even look for whales while you bask on the palm-studded shores.
The most popular Santa Barbara beaches lie along the Santa Barbara Waterfront, close to top attractions, like Stearns Wharf and the Santa Barbara Harbor. These beaches include East Beach, West Beach, and Leadbetter Beach, all connected by the palm-lined Cabrillo Bike Path.
Santa Barbara beach weather is beautiful almost all year. That said, fog often cloaks the coast in May and June, especially during the morning, but it usually burns off by the afternoon. A word of advice: the beaches are home to natural tar deposits, so pack an old pair of flip flops, and bring some baby oil to clean your feet after a day in the sun.
Planning to bring your pooch? No problem! Santa Barbara County beaches welcome pets, as long as they are leashed, and a couple also allow off-leash pets in designated areas.
From the cute beach town of Carpinteria in the south to the cliff-backed coast of Goleta to the north, Santa Barbara County offers a perfect slice of sand and sea for everyone in the family. Find the top places to visit along this sun-drenched coast with our list of the best beaches in Santa Barbara.
1. Leadbetter Beach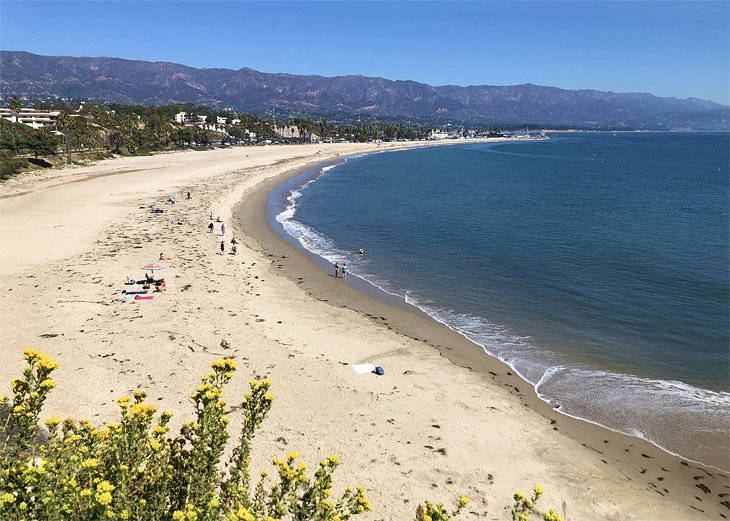 Leadbetter Beach is the most sheltered of all the beaches along Santa Barbara's prime downtown waterfront area. This curving slice of soft white sand sits between Shoreline Park and the harbor, close to tourist attractions, hotels, and restaurants. It's a great spot to get a feel for quintessential Santa Barbara: sun, sand, sea, and sporty locals jogging and strolling along the beachfront bike path.
It's also a short stroll from Santa Barbara City College, so you might find students here hanging out during lunchtime. Cliffs shelter the western end of the beach, where surfers bob when a swell picks up, but this is usually a better spot for beginners than experienced surfers.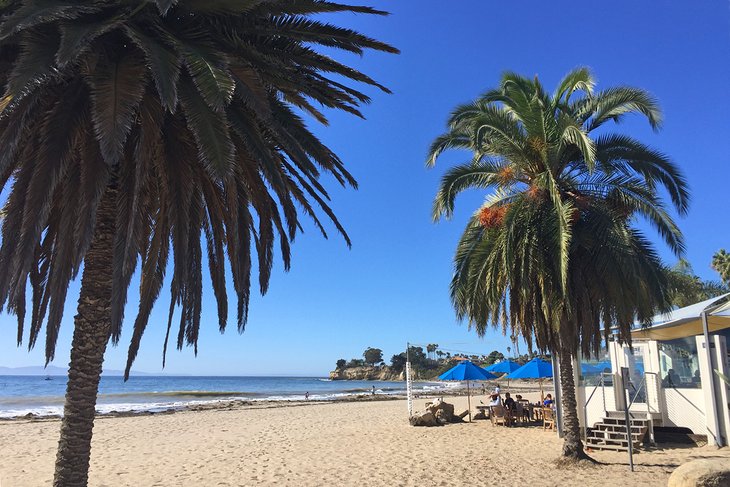 When your belly starts to rumble, feast on some tasty fish tacos at Shoreline Beach Cafe right on Leadbetter Beach. It's one of the few places in Santa Barbara where you can dine with your toes in the sand. Or you can enjoy a picnic on the lawn fringing the beach, where locals and their families gather on the weekends. Lifeguards patrol the beach during peak hours.
2. Miramar Beach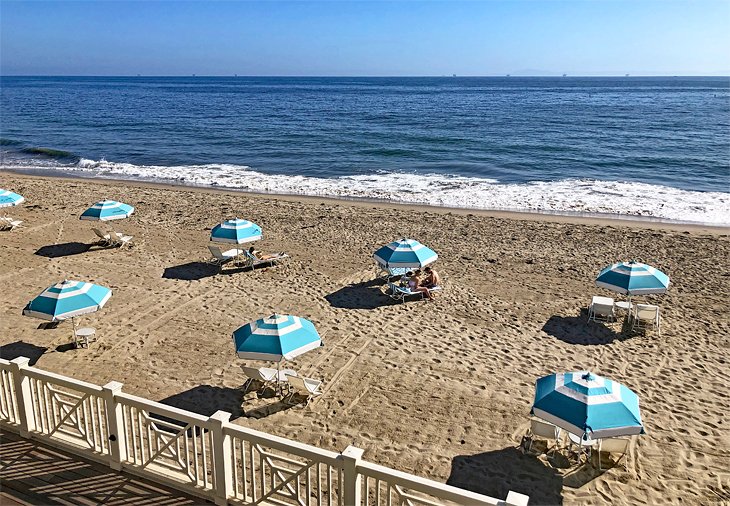 Overlooked by the sumptuous Rosewood Miramar Beach resort, this tucked-away stretch of golden sand offers something for every type of beach lover. Miramar borders an upscale residential neighborhood in Montecito, and cute beach houses huddle cheek to cheek along the shore here. At high tide, the water has been known to wash up under their balconies, but this slender strip of sand broadens out as you stroll east.
Surfing, swimming, and strolling are the top things to do, and you can bring your pooch, as long as it's leashed. The best time to visit is during low tide, when you can walk for miles to the east, past the impressive beachfront homes at Fernald Point, or walk west around the point to Hammonds Beach, a popular surfing spot. At high tide, you can take the picturesque Hammonds Meadow Trail, fringed with vibrant clouds of bougainvillea in shades of pink, purple, and gold.
Miramar Beach has no facilities, and parking spaces are limited, but you can park in the surrounding residential neighborhood. Better still, stay right on the beach. The oceanfront Rosewood Miramar Beach welcomes guests with an elegant beach-house feel, and everyone is welcome to dine at one of the resort's superb sea-view restaurants, including the Southern Italian-inspired Caruso's.
3. East Beach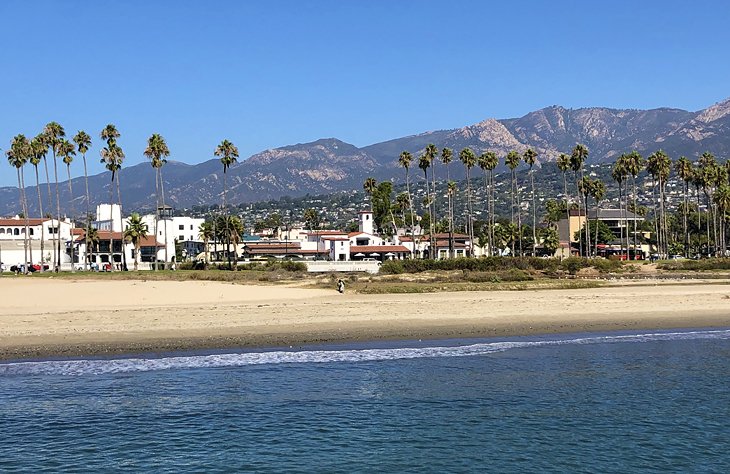 As its name suggests, this broad 1.6-mile stretch of shoreline stretches east from Stearns Wharf, and its prime location makes it a popular tourist beach. East Beach is also a favorite spot for volleyball – major tournaments are held here throughout the year.
East Beach is also the longest of the city beaches along Santa Barbara's main waterfront area, so you'll find plenty of room for sunbathing, too. You'll also find some of Santa Barbara's popular beach resorts and hotels just across the street.
Like Leadbetter and West Beach, East Beach sits along the Cabrillo Bike Path, so it's easy to access the beach on two wheels.
Every Sunday, locals and tourists browse the stalls at the popular art fair, held along the promenade. Kids also love the Skater's Point skate park on the waterfront here.
All kinds of water sports take place on East Beach. The calm waters are usually great for stand up paddleboarding and kayaking, and you can rent SUPs, kayaks, and boogie boards on the beach. Lifeguards patrol during peak times.
4. Arroyo Burro Beach County Park (Hendry's Beach)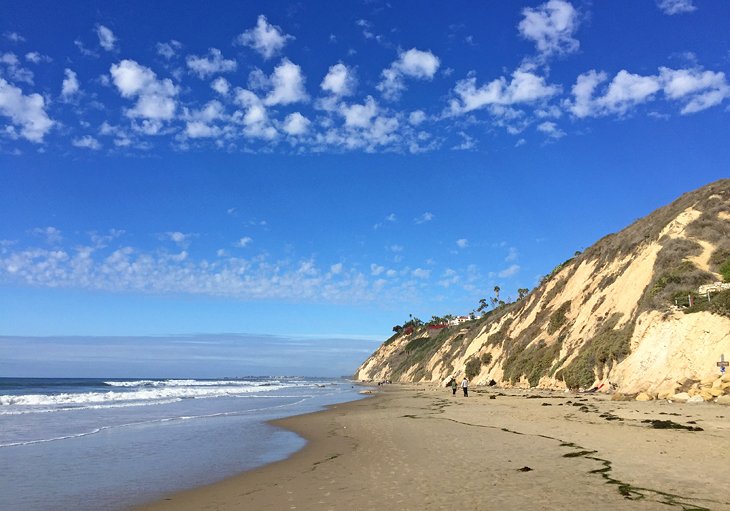 Arroyo Burro Beach, also known as "Hendry's Beach," is a local's favorite – especially with dog owners. It's one of the only Santa Barbara beaches where dogs are allowed off leash in a designated area. Head left if you have a pooch in tow that wants to run free. Head right, if you don't mind keeping your dog on leash – or if you don't want happy, sandy dogs romping around while you bask in the sun.
Dolphins, seals, and whales are frequently spotted from shore here, so keep an eye out while you're gazing out to sea.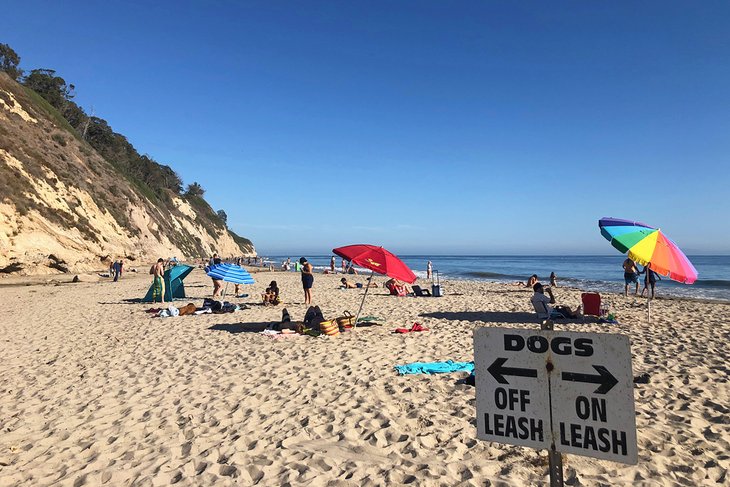 Hendry's Beach is also a great spot for surfers, as well as stand up paddleboarders. If you prefer to keep active on land, you can hike for miles here along the shore at low tide to Mesa Lane Beach, You can also follow a loop hike from the parking lot to the Douglas Family Preserve – it's one of the top hikes in Santa Barbara, especially if you love to stroll along the ocean and look for whales from the bluff tops.
Overlooking the beach, The Boathouse is one of the most popular Santa Barbara beach restaurants. Just follow the aroma of sizzling seafood mingling with the salty sea air.
5. West Beach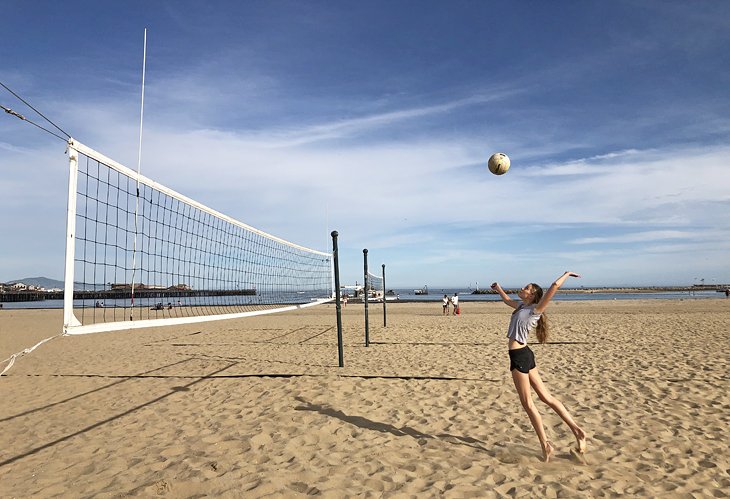 East Beach's smaller little sister is only a quarter of a mile long. But this petite pocket of sand is Santa Barbara's most touristy beach. As its name suggests, it extends west from the main waterfront tourist hub of Stearns Wharf, and the busiest section of the beachfront bike path skirts the sand.
You'll find a bit of everything here: water sports rentals, sand sculptures, bronzed bodies basking in the sun, and tourists snapping photos. Boating and beach volleyball are the top things to do here, and you can see sporty locals playing on the courts at any time of day.
With the harbor right nearby, you're more likely to see sailboats than swimmers in the water. But if you're looking for a safe spot to take a dip, Los Banos public pool and West Beach wading pool are steps from the sand. Kayaking and stand up paddleboarding are other popular things to do here, and Skater's Point skate park is a short stroll away.
When you want to take a break from the sun and sand, you'll find plenty of other attractions nearby. Stroll down Stearns Wharf to dine at one of the sea-view restaurants; browse the shops; or take the kids to the Santa Barbara Sea Center, one of the most popular things to do in Santa Barbara with kids.
Across the road are even more restaurants and popular hotels.
6. Butterfly Beach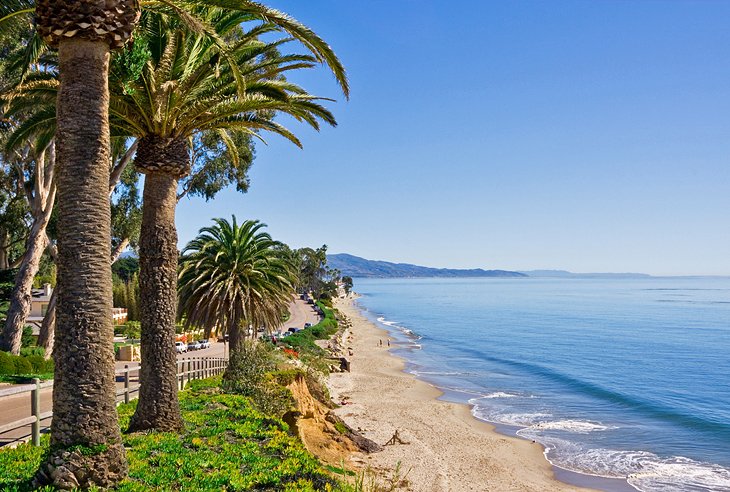 Petite and pretty, Butterfly Beach is a favorite beach in posh Montecito. It sits across the street from the Four Seasons Resort The Biltmore Santa Barbara, and although the hotel is currently closed, people-watching is still prime here. Keep an eye out for celebrities strolling along the bougainvillea-lined beachfront promenade.
At high tide, the shore almost disappears beneath the froth and fizz of the surf, but at low tide, this is a lovely spot to soak up some rays and walk your dog; you can also let your pooch run leash-free. Thanks to the gently sloping shore and typically calm waters, swimming is also popular. Butterfly Beach is also a romantic spot to watch the sunset.
When it's not too busy, you can usually find a parking spot along the street.
7. Carpinteria City Beach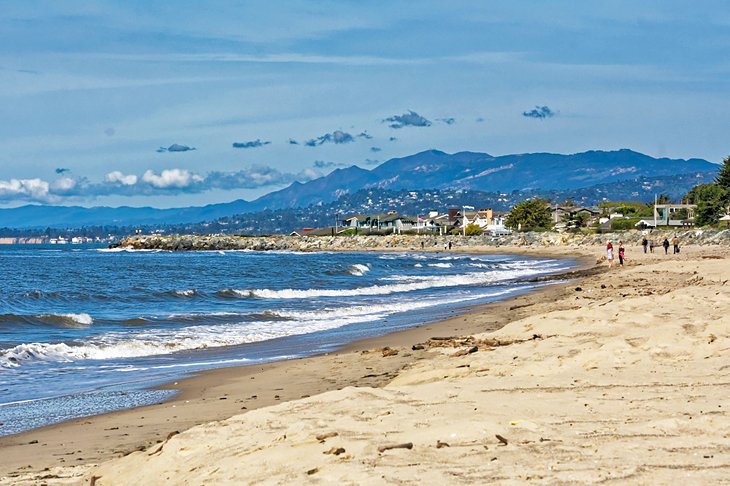 Dubbed "the world's safest beach," this broad swath of sand and sea, backed by beach homes and condos, is a fantastic beach for families. A protective offshore reef and the gentle slope here make it ideal for swimming and playing along the shore, and you'll find plenty of facilities, including restrooms, showers, and picnic tables.
This beach has a laid-back holiday atmosphere. You can play volleyball, build sandcastles, frolic in the gentle waves, and surf the swells. For a bite to eat, just stroll to snack shacks and cafés in the cute little beach town of Carpinteria, steps from the sand.
This is also a great beach for walking. From here, you can stroll all the way to the neighboring Carpinteria State Beach, where you'll find one of California's most popular campgrounds. Walk even farther southeast along the coast, and you'll end up at Rincon Point, with one of the world's most famous surf breaks.
Nature lovers will also find plenty to love here. The beach is a wonderful spot to watch the sunset, and behind the shore, you can explore nature trails through the Carpinteria Salt Marsh Nature Park. Bird-watching is excellent in this important wetland habitat.
Lifeguards patrol the beach during peak season, and you can rent kayaks and other beach equipment nearby.
8. Mesa Lane Beach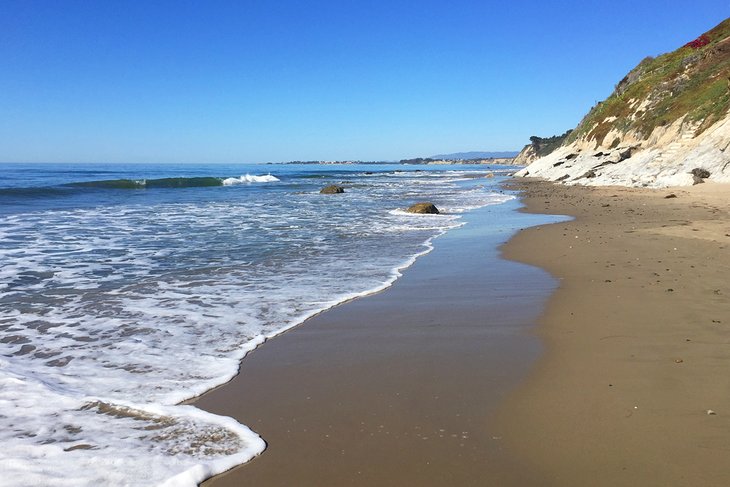 For those who pine for a sweep of sand and sea with a wild feel, locals' favorite Mesa Lane Beach is a perfect hideout. Just make sure you time your visit for low tide; at high tide, the shore all but disappears under the crashing surf.
Visiting this beach also requires a hike down and back up a steep flight of steps, making this a popular spot for a thigh-burning beach workout. It also has the added bonus of making this beach less crowded than other Santa Barbara beaches.
The beach lies at the end of a quiet residential street, where a bougainvillea-lined path and stairway leads down to the slim shoreline. Look for surfers carrying their boards down here when the swell picks up.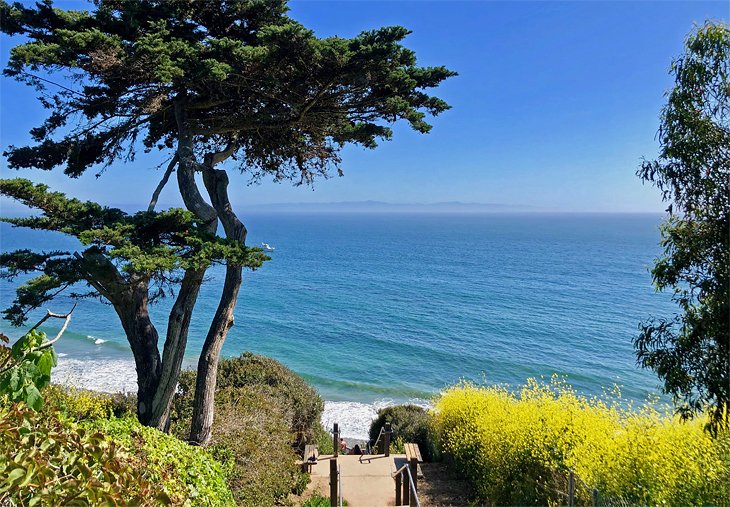 If you're looking for quiet beaches in Santa Barbara, this is the beach for you. Soaring sea cliffs provide great protection from the wind and make the beach feel secluded and more private than other stretches along Santa Barbara. But you won't find any amenities here, so make sure you plan accordingly.
At low tide, you can also hike here from Arroyo Burro Beach Park (Hendry's Beach) around the point.
9. Goleta Beach Park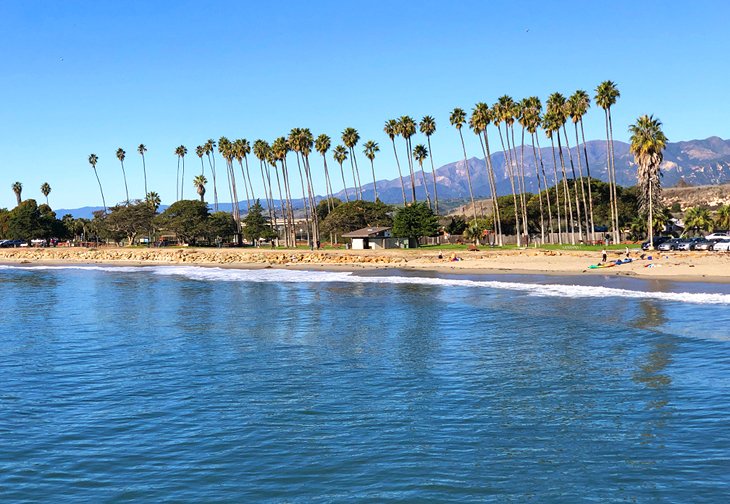 Goleta Beach Park lies about 15 minutes' drive from Santa Barbara, near the University of California Santa Barbara (UCSB). Its standout feature is its 1,500-foot pier, with beautiful views of the Pacific Coast. This is one of Santa Barbara's best kid-friendly beaches, with gentle waves and plenty of facilities, including a children's playground.
Fishing is a favorite thing to do at this county park – especially if you have kids who want to cast a line. You can also launch a boat here at designated times under the supervision of a ranger. The pier is also a romantic spot to watch the sunset.
The beach itself is pebbly and rocky in parts and backed by eroding sand banks, but it's a lovely spot for a stroll. Besides swimming, other popular water sports include stand up paddleboarding and kayaking, and you can rent equipment and organize lessons and tours at Paddle Sports Center.
Activities on land are also family friendly. You can bike all the way to Santa Barbara on the beachfront trails, bird-watch, or bump a volleyball on the courts. From here, you can also hike along blufftop trails to Campus Point Beach, fronting UCSB, which is a great spot for beginner surfers. The park is also popular for family picnics, with benches, barbecue grills, horseshoe pits, and large group areas that you can reserve.
Lifeguards patrol in season, and other handy amenities include restrooms and a popular beachfront restaurant with inspirational ocean views. Another bonus here is the abundant free parking.
10. Santa Claus Beach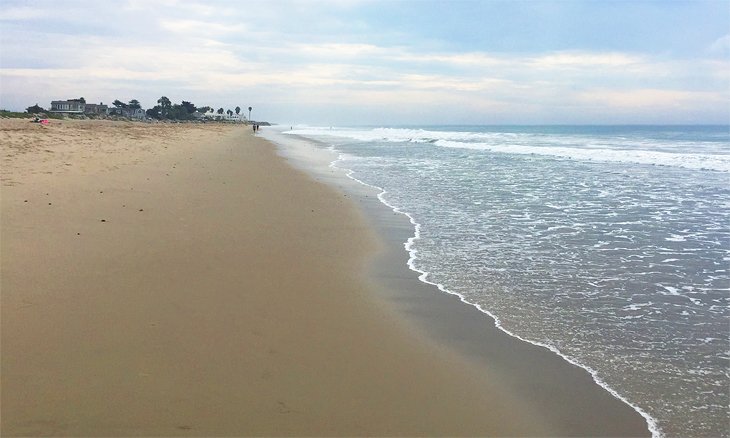 Backed by beautiful beach homes, this broad, soft-sand beach in Carpinteria is a local hot spot on summer weekends-especially for families. Dog owners will also be happy to know that their pooch is welcome, as long as it's on a leash.
All kinds of water sports are popular here, and the gentle swell is great for beginner surfers, boogie boarding, paddleboarding, and body surfing. You can stock up on gear at one of the rental shops and surf shops along Santa Claus Lane, which borders the beach.
When you feel like a bite to eat, head to Padaro Beach Grill, also on Santa Claus Lane, for tasty burgers and fish tacos in a garden setting. Kids love the sandpit packed with toys.
Access can be a little tricky. You can park along Santa Claus Lane, just off Highway 101, but you have to dart across the railway tracks to access the beach.
11. Loon Point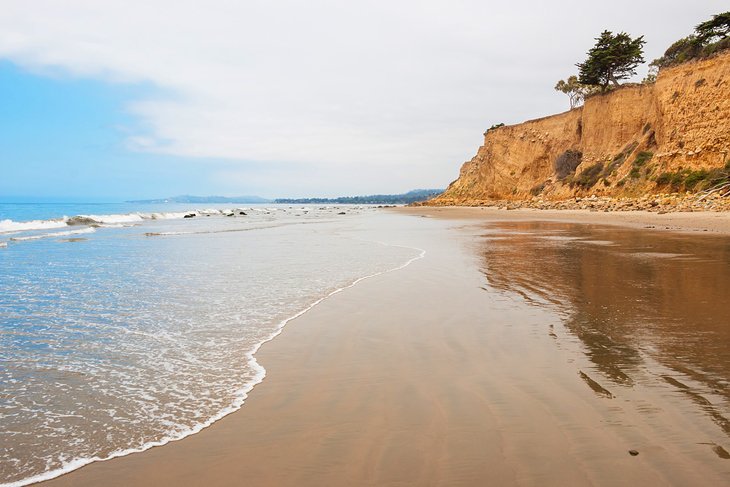 If you're looking for a less crowded beach with a secluded feel, Loon Point is an excellent choice. Protected by steep sea cliffs, this hidden gem feels tranquil and private, even though it's just off the freeway. You'll find more locals than tourists here, and on weekdays, you might even have this lovely beach to yourself. It's the perfect hideaway for couples.
Popular things to do include swimming, sunbathing, and beachcombing, and when the tide is low, you can potter around in the tide pools below the point. You can also walk north along the beach to Summerland Beach, below Lookout Park.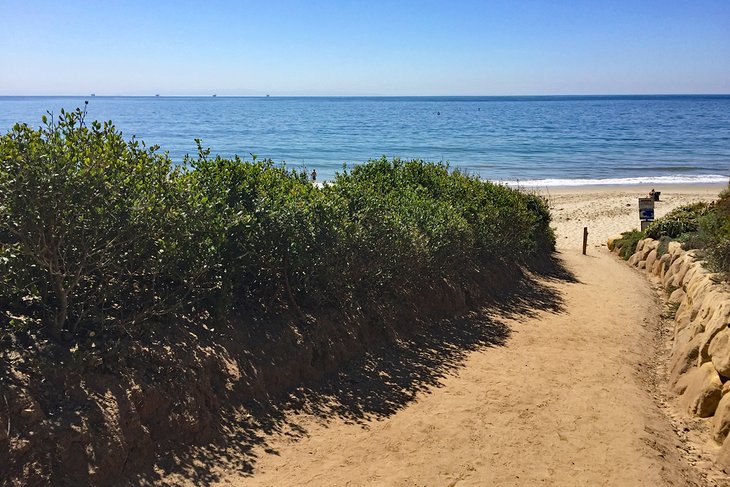 Loon Point is technically in Carpinteria, and you can access it from the west end of Padaro Lane and park your car in a designated lot. But note that you won't find any facilities on the beach, and it's a bit of a hike down to the beach along a trail that crosses the railway tracks, so make sure you come prepared and bring everything you need.
12. Summerland Beach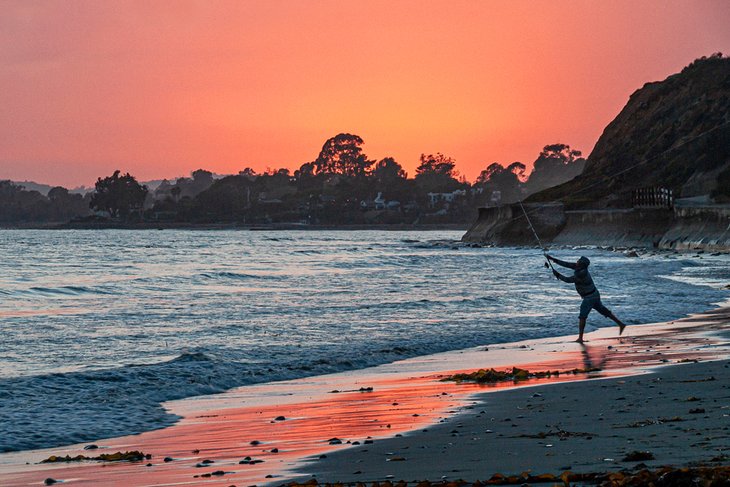 Ever dreamed of cantering along a California beach on horseback? At Summerland Beach, your dream can come true. Tucked beneath golden sea cliffs about six miles south of Santa Barbara, this secluded sweep of sand is one of the only beaches on the south coast where you can ride a horse. Los Padres Outfitters offers two-hour guided rides along the shore.
Water sports are varied here. You can paddle a kayak or SUP, or swim in the glassy breaks, and if you just feel like relaxing, spread out your towel and bask on the soft sand. This is also a beautiful beach for a stroll along the driftwood-scattered shore. Walk south from here, and you'll hit Loon Point, another locals' favorite beach. You can also bring your pooch, but they need to be kept on a leash.
Traveling with kids? Lookout Park right above the beach has a great little children's playground, plus it's a good spot for a picnic, with barbecue grills, volleyball courts, and picnic benches.
If you prefer to dine out, head to Summerland Beach Cafe. Just across the freeway, this popular dog-friendly café serves up a scrumptious breakfast, brunch, or lunch in a historic Victorian house.
Map of Beaches in Santa Barbara, CA
Santa Barbara, CA - Climate Chart
Average minimum and maximum temperatures for Santa Barbara, CA in °C
J
F
M
A
M
J
J
A
S
O
N
D

18

7

18

8

19

9

21

10

21

12

22

13

24

15

25

16

24

15

23

13

21

9

18

7

PlanetWare.com
Average monthly precipitation totals for Santa Barbara, CA in mm.

105

119

91

20

9

2

0

1

7

13

38

67
More Related Articles on PlanetWare.com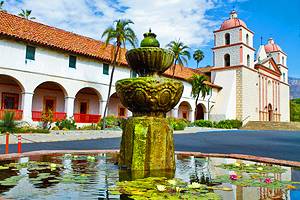 Sightseeing in Santa Barbara: Besides beautiful beaches, you'll find so many other rewarding things to see and do in Santa Barbara, from visiting the graceful Santa Barbara Mission to botanic gardens and whale watching. If you're traveling with children, see our list of the top things to do with kids in Santa Barbara. The Santa Barbara Zoo, Sea Center, and Santa Barbara Museum of Natural History are favorite kid-friendly places to visit. Looking for some fresh air and exercise? Check out our list of the Best Hiking Trails in Santa Barbara.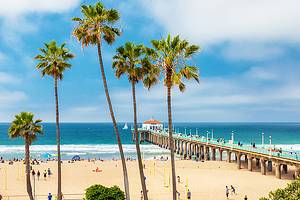 California Beaches: The Golden State is famous for its gorgeous beaches. Find the top spots for all types of water sports with our articles on the best beaches in California, from La Jolla to Laguna Beach, and the Top Beaches in the Los Angeles Area. Traveling north along the coast? You can surf at Santa Cruz, stroll along Stinson Beach, or bask in the sun at Bodega Dunes. Find out more with our article on the Top-Rated Beaches in Northern California.