9 Best Hikes in Redwood National and State Parks, CA
It is a mind-bending experience to hike in a forest of the tallest trees on Earth. Wandering through this almost prehistoric landscape of towering giants, enormous tree trunks, ferns, and lush vegetation, you may feel like you've walked onto a movie set. And, in fact, portions of The Lost World: Jurassic Park were filmed in Redwood National and State Parks.
It's also interesting to note that these modern-day giant redwoods, standing as high as 379 feet, are descendants of the same type of trees that dinosaurs walked among during the Jurassic Period.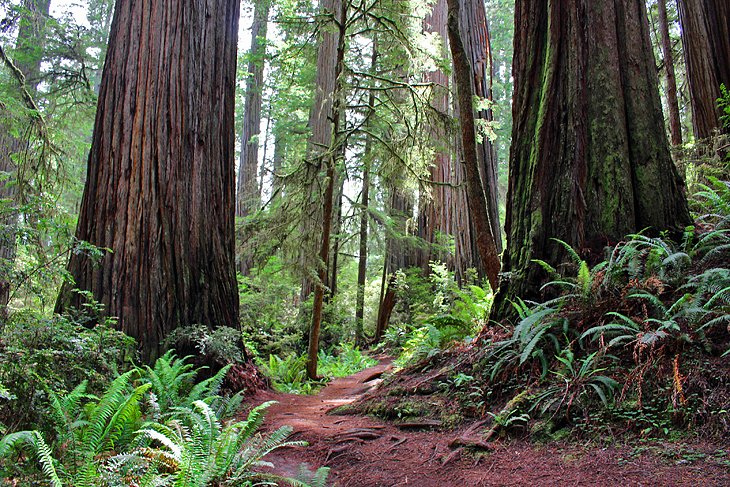 The hiking trails in the Redwood National and State Parks vary in length but are all generally quite easy, with very few technically difficult areas on most trails. Some trails have elevation gains, but they are mainly level underfoot, and fairly wide.
This is fortunate, since most of your time may well be spent looking skyward. When you are looking down, keep an eye out for brightly colored banana slugs and other interesting critters.
It's a good idea to pack clothes for just about any kind of weather. Owing to the location of the parks abutting the Pacific Ocean, it can be pouring rain one moment, completely sunny the next, and then foggy right after that.
Redwood National and State Parks consist of the jointly managed Redwood National Park, Prairie Creek Redwoods State Park, Del Norte Coast Redwoods State Park, and Jedediah Smith Redwoods State Park. They extend, in this order, from south to north along the coast.
1. James Irvine Trail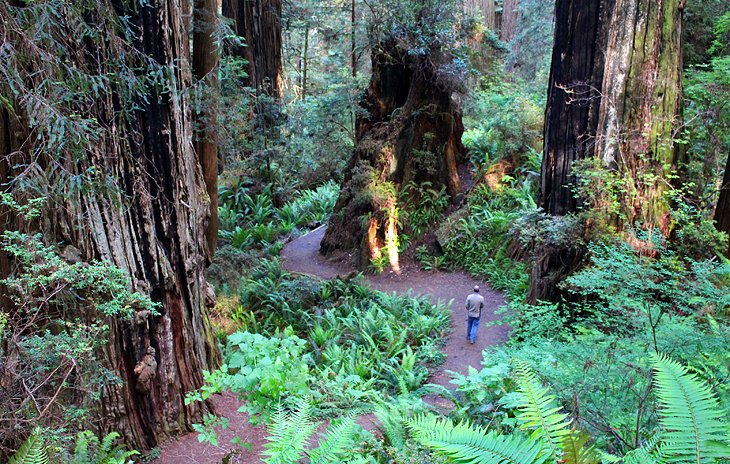 The best overall hike in the parks, and possibly the best redwoods hike in the world, is the James Irvine Trail in Prairie Creek Redwoods State Park. This trail runs along hillsides and ridges through an incredible display of old-growth redwoods.
Even if you don't have time to complete the entire 10-mile hike, it's worth walking in for a mile or two and returning along the same path, just to see the giant redwoods that cover the hillsides. From the trail, you can see the forest from different levels; looking up at them from below the base or across the valleys for a more elevated perspective.
It's well worth taking the time to hike the entire trail as it meanders through pure redwood forest and down to the ocean, where it connects with the Fern Canyon hike, and passes through a variety of vegetation types.
From Fern Canyon, you can turn around and hike back the way you came. The scenery will look like you are on a new trail as you travel in the opposite direction. If you are interested in a loop hike, you can follow the beach a little over a mile to the south and return on the Miners' Ridge Trail.
2. Cathedral Tree Trail Loop (Combine with Foothill or Prairie Creek Trails)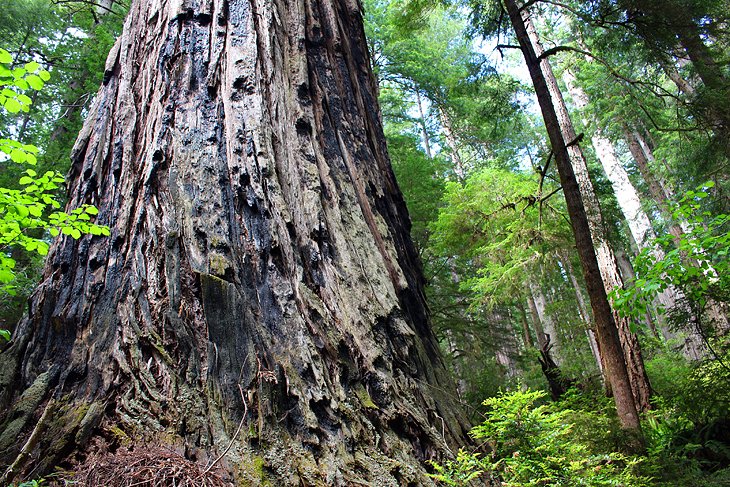 A shorter but still stunning hike is the Cathedral Trail in Prairie Creek Redwoods State Park. If you only have time for one short hike and want a spectacular look at old-growth redwoods, this is your best option.
Combined with either Foothill or Prairie Creek Trail, this is a 2.5-mile loop. This fern-lined trail has very little elevation gain as it meanders through absolutely enormous trees, including the main attraction, Big Tree. This 1,500-year-old giant stands 309 feet and has a diameter of 21.6 feet.
But, if it wasn't sign posted, it would be difficult to pick out which of the tree in this area is the biggest, as many of them are in the same age and height category. The occasional fallen tree, including a huge one on the Foothill Trail, gives an even truer sense of how big these trees really are.
You can access this hike from a couple of spots, but the most obvious place to start is either from the Big Tree trailhead, just north of the Prairie Creek Visitor Center, or from the visitor center. Starting from Big Tree, combine the loop with the Foothill Trail, but if you are starting from the visitor center, combine it with the Prairie Creek Trail.
3. Boy Scout Tree Trail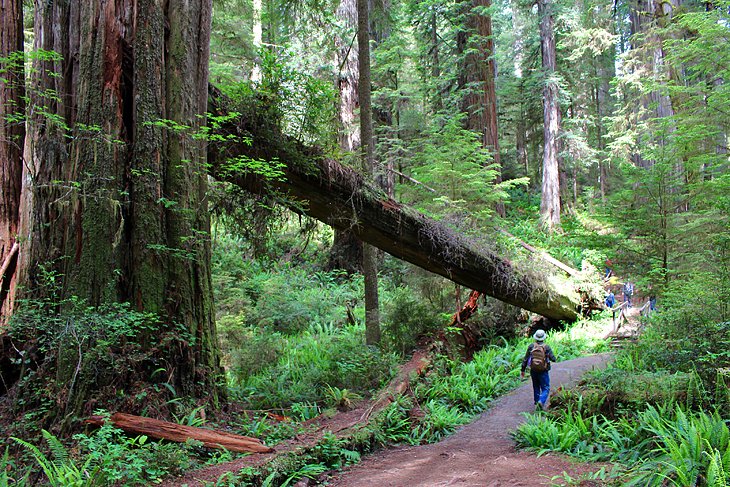 Located in Jedediah Smith Redwoods State Park, the Boy Scout Tree Trail is a 5.5-mile round-trip, out-and-back hike through pristine old-growth redwood forest.
Unlike Cathedral Tree Trail loop, which parallels the highway for portions of the hike, this trail runs deep into the woods, far from any traffic noise. The trail has elevation gain, but the hills offer a unique perspective and provide a closer look at the canopy in some areas. A partially suspended fallen tree near the start is a popular photo spot.
The largest concentration of the old redwoods is closest to the start of the hike. Huge trees at the end are more dispersed. Keep in mind, this trail is more about the journey than the destination, with a variety of different environments as you progress up a ridge and then down into a valley. Some sections are almost pure redwoods, other sections are mixed forest.
Near the far end of the trail is a spur that takes you to the actual Boy Scout Tree, a huge double tree, given its name by a local troop leader, who first discovered it.
If you are not up for the full hike, you can walk in as far as you like and turn back, and you will still be satisfied.
The trailhead is along Howland Hill Road, a dirt road that narrowly dodges its way around giant redwoods and is almost as interesting as the hike itself. A small roadside parking pullout area, which only accommodates about ten or twelve cars, is the location of the trailhead. Watch for other parked cars because the signposting is limited.
4. Tall Trees Grove Trail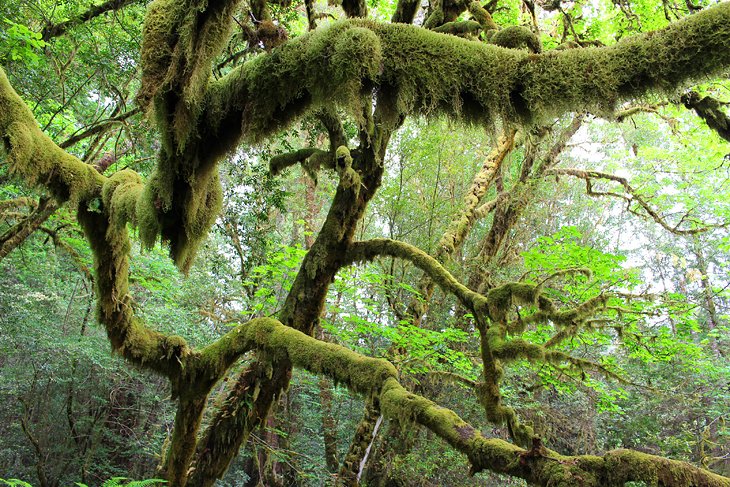 Located in Redwood National Park, at the south end of the park system, Tall Trees Grove Trail is a unique and relatively remote hike that showcases more than just redwoods. You'll hike through old-growth redwoods and a forest of huge, spidery-shaped maples with moss covered branches reaching out in all directions. Rhododendrons bloom here in the spring.
The trail begins high and descends for 1.5 miles, losing 800 feet of elevation. At the bottom, it winds for one mile through the grove of the aptly described tall trees, as well as furry maples, before returning along the same path.
This is a fun and entertaining hike, with fallen trees, a tunnel bridge, and holes in the base of the trees big enough to wander in. This is one of the less traveled hikes in the park, and you may even have the trail to yourself.
Before trying to find the trailhead, talk to park staff. The access road is gated, and you'll need to obtain the code from staff to open the gate. Once through the gate, you travel six miles down a dirt road to the parking area. It's much easier than it sounds, and park staff at the visitor center are happy to give you the code and offer directions.
5. Fern Canyon Trail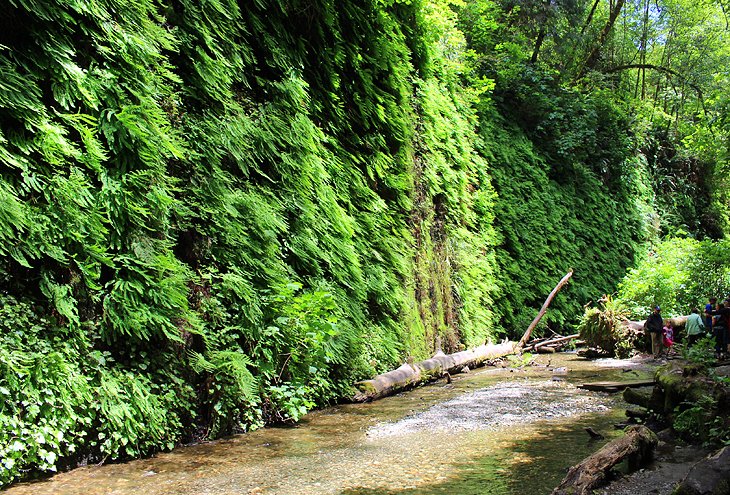 Fern Canyon Trail is short but interesting and different from any other trail in the park. Portions of The Lost World: Jurassic Park were filmed in Fern Canyon.
Unlike most of the hikes in Redwood National and State Parks, this one is not about redwoods. Ferns line the almost completely vertical canyon walls that hug a shallow stream. The canyon starts out wide and gradually narrows and curves as you walk upstream. Bring water shoes or waterproof hiking boots; you'll be walking up a stream, and although some bridges are installed each summer, chances are you'll still need to wade through water at some point.
Although this is less than a one-mile return hike, it is out of the way and requires a fair bit of time when you add in drive time. The hike is near the ocean, and the road to the trailhead is a dirt road, often in very poor condition, that runs up and over a ridge. Count on an absolute minimum of two hours if you plan to go out here.
The road also crosses two streams. Most cars will make it through; however, if the water is high, give some careful consideration on whether you want to risk it. If you have a car with lowered suspension, don't bother trying, you will definitely get stuck. The water in the stream crossings is higher in the spring and diminishes throughout the summer into the fall.
Don't even think about driving a large RV or towing a unit down this road. Although rigs up to 24 feet are allowed, you will literally destroy your rig. The corners are tight, the hills are steep, it's bumpy and very rough. Trailers are prohibited.
New for 2022, a permit system is being implemented. The hike and the Gold Bluffs area in general has seen a significant increase in visitors over the past two years leading to site degradation and traffic jams. Now, prior to your planned visit, you must go online and obtain a free permit. Only 90 permits are issued each day: 35 for the 8am to 12:59pm time frame and 35 for the 1pm onwards time frame. In addition to these 70 timed permits, 20 all-day passes are available.
If you are coming out here, you might want to plan to see the beach or have a picnic at the day use area along the oceanfront. Pets are not permitted in Fern Canyon.
6. Lady Bird Johnson Grove Hike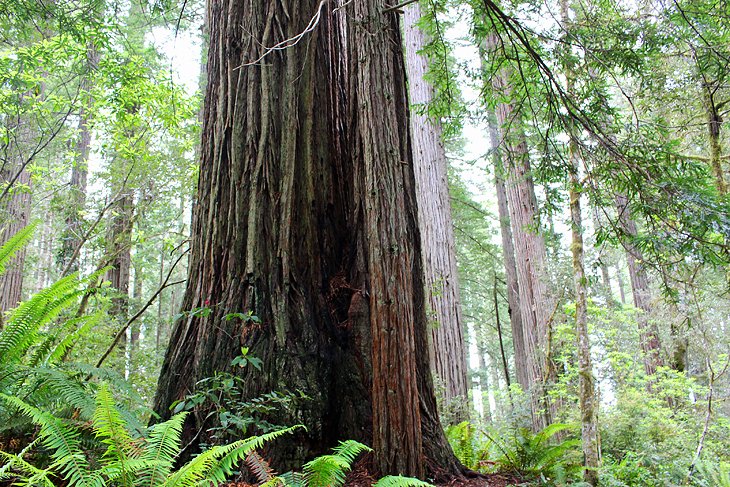 Located in Redwood National Park, this 1.4-mile trail is an easy hike over relatively flat terrain and offers no obstacles. This is perfect for families or anyone looking for a simple walk in the woods.
Trees are huge; rhododendrons, which bloom in May and early June, are sprinkled around the forest floor; and giant ferns cover the ground.
Many of the trees have natural caverns carved out at the base, creating little hide-aways that are always of interest to children. The ease of this hike makes it one of the most popular trails in the area.
This trail is higher than many of the other hikes and as a result, the forest is often shrouded in fog, creating a very serene atmosphere.
7. Damnation Creek Trail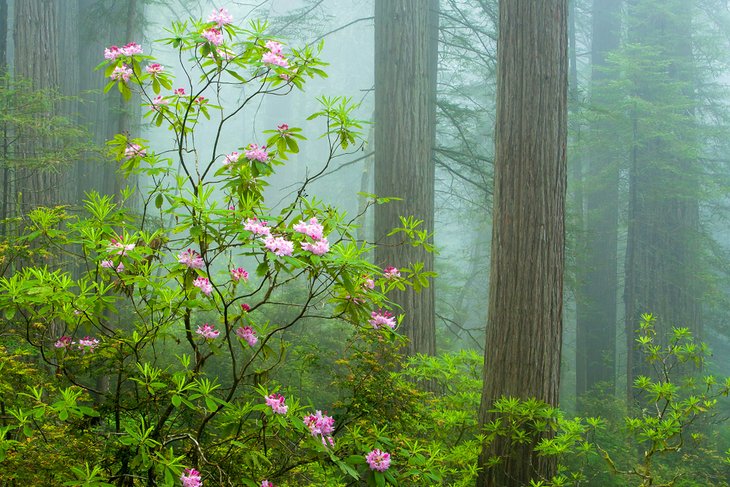 For a slightly different trail that focuses more on the understory plant life beneath these giant trees, consider the Damnation Creek Trail. This hike, in Redwood National Park, has its fair share of large trees, especially at the start, but the real stunning aspect of the trail is the rhododendrons along the way.
Each spring, the rhododendrons erupt in a bright pink display that contrasts strongly against the predominant dark green of the forest. On foggy days, this effect is magnified.
The trail is an out-and-back four-mile route that winds its way down to a narrow beach. The first 1.5 miles are redwoods, after that you'll be walking in primarily spruce trees.
Note that in 2015, a bridge failure near the end of the trail (1.7 miles in) cut off access to the beach. However, the rest of the trail remains open and is still well worth doing.
8. Coastal Trail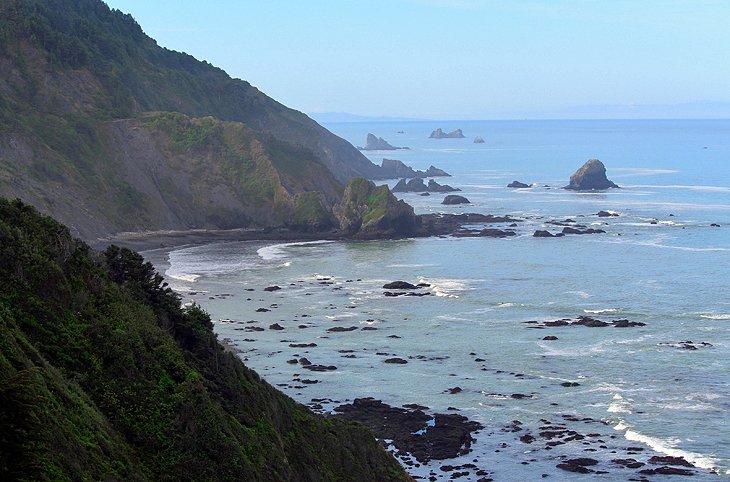 Portions of the California Coastal Trail (CCT) run through the Redwood Parks. Several access points allow for nice day hikes along the beaches and coastal terrain.
Most people come to the parks to see the redwoods, but if you simply want to enjoy the ocean views and coastal bluffs, this is a beautiful area for hiking. You can hike to secluded beaches and along rugged shorelines.
If you're interested in more than just a day hike, plan on spending a night or two at a backcountry campsite. Permits are required for backcountry camping.
Depending on the section you choose, day hikes range from about 3.5 to six miles in length, and most are considered difficult or strenuous, with steep sections as you descend to the beaches. The Crescent Beach section in Redwood National Park is an exception, with a flat, easy section, perfect for families.
9. Yurok Loop Trail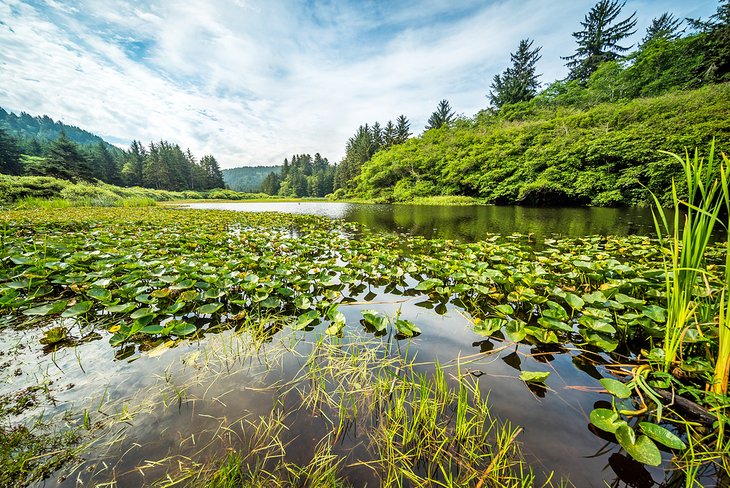 If the Coastal Trail detailed above is of interest, but the levels of exertion and difficulty seem a bit overwhelming, consider the Yurok Loop Trail. This easy and level trail runs for 1.25 miles and provides wonderful ocean views out over False Klamath Cove and Lagoon Creek.
It can be windy and wild here at times, and you may wonder how the scrubby coastal vegetation manages to survive. Offshore, look for an interesting assortment of sea stacks. If the light is right and the water rough, they make for spectacular photos.
Map of Hikes in Redwood National and State Parks, CA
Redwood National Park, CA - Climate Chart
Average minimum and maximum temperatures for Redwood National Park, CA in °C
J
F
M
A
M
J
J
A
S
O
N
D

13

3

13

4

14

4

15

6

17

7

18

9

19

11

19

11

19

9

18

7

14

5

13

3

PlanetWare.com
Average monthly precipitation totals for Redwood National Park, CA in mm.

311

285

279

150

94

43

9

19

51

133

296

340

Average monthly snowfall totals for Redwood National Park, CA in cm.

1

0

0

0

0

0

0

0

0

0

0

1
Average minimum and maximum temperatures for Redwood National Park, CA in °F
J
F
M
A
M
J
J
A
S
O
N
D

55

38

56

40

57

40

59

42

62

45

65

49

67

52

67

52

67

49

64

45

58

41

55

37

PlanetWare.com
Average monthly precipitation totals for Redwood National Park, CA in inches.

12

11

11

5.9

3.7

1.7

0.4

0.8

2.0

5.3

12

13

Average monthly snowfall totals for Redwood National Park, CA in inches.

0.5

0

0

0

0

0

0

0

0

0

0

0.3
More Outdoor Ideas for Your California Adventure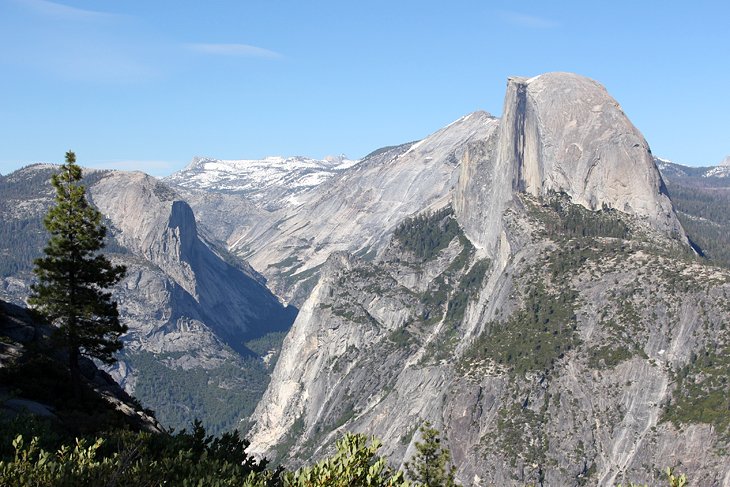 Hiking: If you are looking for more great hikes in northern California, consider hitting the trails in Yosemite National Park or exploring the best trails around Lake Tahoe. These are good options if you are visiting between spring and fall. For something a little more urban, try our guide to the best hikes near San Francisco.
Camping: Campers should not miss the opportunity to spend a night under the stars and towering Redwoods. Find the perfect spot with our article on the best campgrounds in Redwood National and State Parks. You'll also find incredible areas to base yourself in the campgrounds in Sequoia National Park and Kings Canyon National Park. Here, you can camp in the sequoias, along rushing rivers, or in the far reaches of the dramatic canyon. In summer, set your sights on camping around Lake Tahoe.