11 Top-Rated Things to Do in Klamath Falls, OR
Klamath Falls is a mid-sized city in Southern Oregon that's big on outdoor adventure. The town is on the state-spanning Volcanic Legacy Scenic Byway, halfway between Crater Lake and Lava Beds National Monument. About 60 miles southwest, Mount Shasta stands tall on the city's horizon.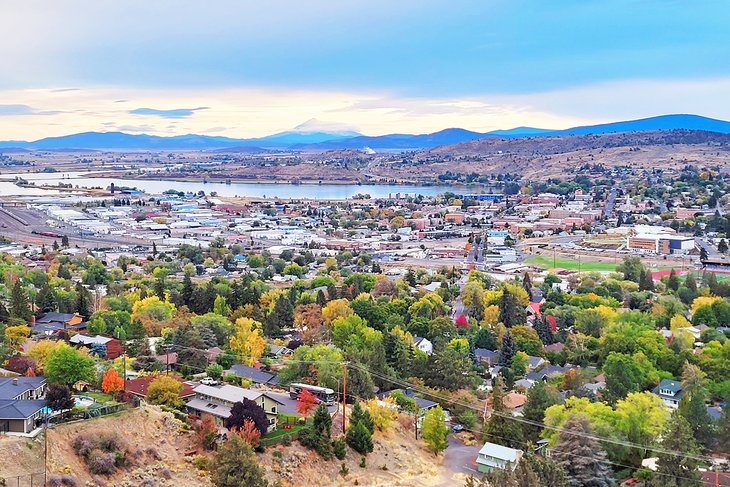 Outdoor recreation spans the calendar in Klamath Falls, in part thanks to the 300 days of sunshine the city receives each year. Popular activities include hiking, mountain biking, hunting, and fishing. The town is also a popular place to visit for birds and bird-watchers, as it sits beneath the Pacific Flyway.
Klamath Falls also has several in-city tourist attractions for times between adventures. Local shops and restaurants line the historic downtown district, offering a fresh taste of the Klamath Falls culture. History museums also inhabit this downtown corridor, including the flagship Klamath County Museum.
Enjoy your next Southern Oregon adventure with our list of top things to do in Klamath Falls.
1. Day Trip to Crater Lake National Park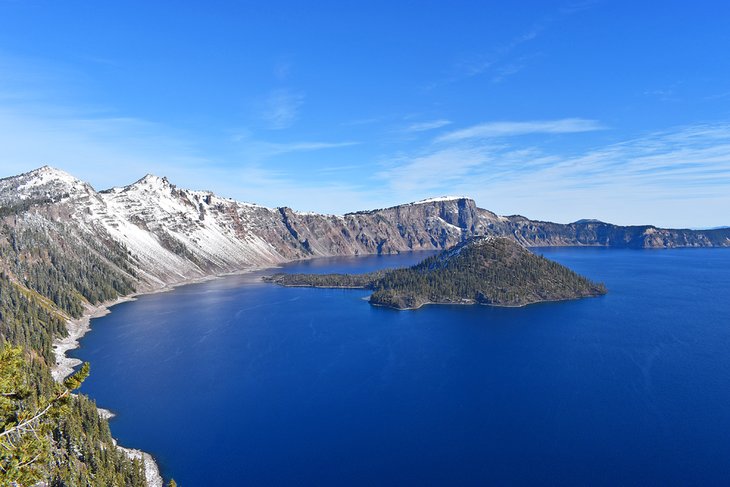 Crater Lake National Park is accessible from Klamath Falls with a 45-minute drive. At nearly 2,000 feet deep, this outstanding natural feature is the deepest lake in the United States. These depths add to its startling blue waters. And standing at the crater's rim, witnessing the dazzling landscape, is an experience everyone should have in a lifetime.
Rim Village is the spot to aim for on a visit. Here, parking spaces close to the rim enable easy views. This area is also home to the Rim Village Visitor Center, where more information about Crater Lake is available. Additional info includes the fact that Crater Lake is actually a caldera left behind after the eruption of Mount Mazama.
Visitors can drive around Crater Lake on the approximately 32-mile Rim Drive. Plenty of pitstops along the way make driving this route an all-day endeavor.
Crater Lake is an incredibly snowy place. The entire Rim Drive is only open seasonally, typically between late June and early October.
Official site: https://www.nps.gov/crla/index.htm
2. Spend the Day at Moore Park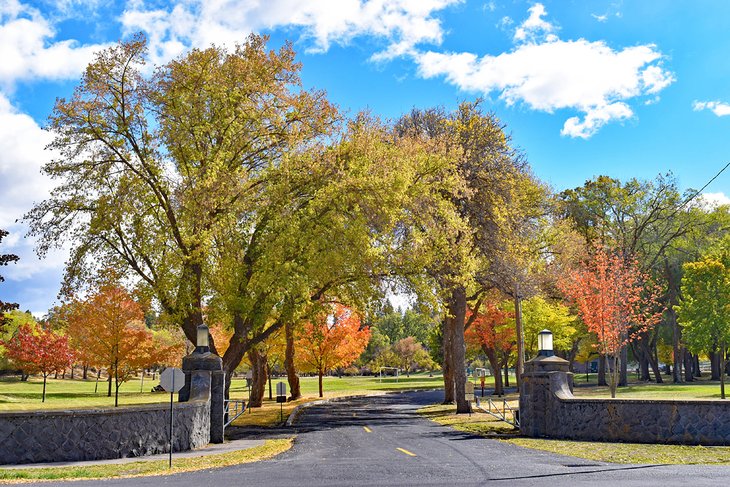 Moore Park is the crown jewel city park in Klamath Falls, located on the southern shore of Upper Klamath Lake. It encompasses nearly 500 acres, including an extensive multi-use trail system. It's the spot to go on sunny days, which occur about 300 days of the year.
Park amenities include playgrounds, picnic spots, and plenty of wide-open lawn space near the park's entrance. Moore Park is also home to a popular and challenging nine-hole disc golf course. Pickleball and tennis courts are also available.
The extensive network of trails on the park's south side is a big draw to the area. Hikers, bicyclists, and trail runners all make tracks here throughout the week. This network connects to the popular Link Trail, offering a pedestrian route to Moore Park from downtown.
Address: 740 Lakeshore Drive, Klamath Falls, Oregon
Official site: https://www.klamathfalls.city/Facilities/Facility/Details/Moore-Park-2
3. Find a Hiking Trail in Klamath Falls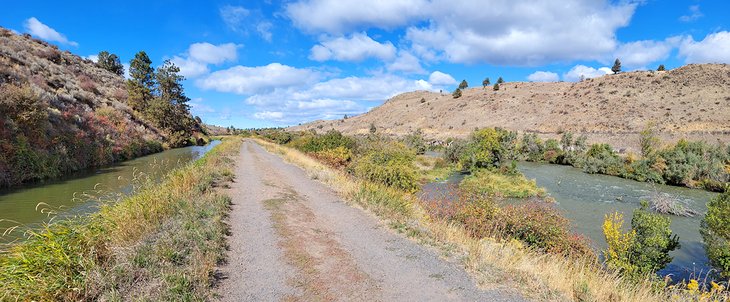 The wild and rugged region surrounding Klamath Falls has a surplus of hiking trails. But those looking for an in-town walk in nature don't have to travel far. Several accessible hiking trails line Klamath Falls, offering easy getaways without leaving town.
One of the most popular in-town trails to follow is the Link River Trail. This approximately 1.5-mile trail spans from downtown to Putnam's Point at the southern tip of Upper Klamath Lake. It parallels Moore Park much of the way. Expect to encounter wildlife in this riparian habitat, including pelicans, hawks, and bald eagles.
The OC and E Woods Line State Trail is another notable in-town route. This 109-mile rail-to-trail conversion begins in Klamath Falls near the southeast side of town. It's one of the longest rail-to-trail conversions in the state and the longest linear park in Oregon. The first 7.5 miles from Klamath Falls to Olene are paved, where the trail then continues as a dirt path.
4. Explore Klamath County Museums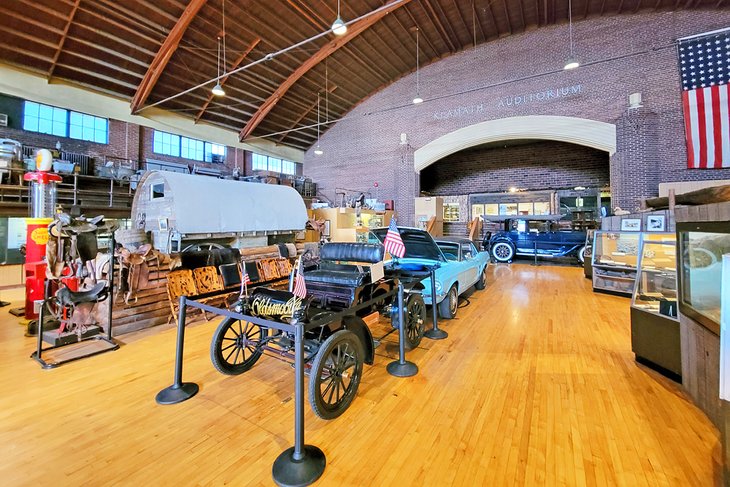 Klamath County operates three museums detailing the rich history of the Upper Klamath Basin. These three museums are the Klamath County Museum, the Baldwin Hotel Museum, and the Fort Klamath Museum.
The Klamath County Museum is the central repository, and serves as the region's main history museum. It's housed within a historic relic itself, the 1935 Klamath Armory and Auditorium, right at the edge of downtown.
The size of the Klamath County Museum and the details of its exhibits offer a quality visit. Take some time learning about native cultures, the modern timber industry, and Klamath County's involvement with World War II. Other notable topics include hometown heroes, one-room schoolhouses, and Klamath County railroads.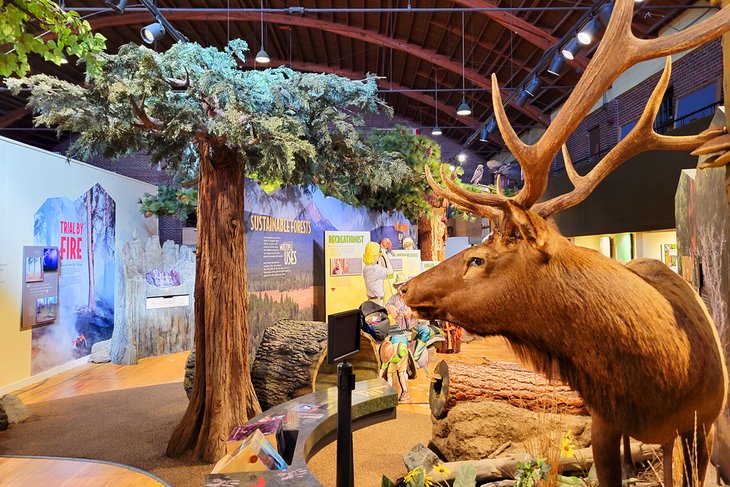 The Baldwin Hotel Museum is less than a mile from the Klamath County Museum. There, visitors tour 40 artifact-filled rooms within this once central downtown building. The Fort Klamath Museum is a 35-mile drive north from downtown, where the remnants of the 19th-century fort welcome visitors.
Official site: http://klamathcountymuseum.squarespace.com/
5. Stroll around Downtown Klamath Falls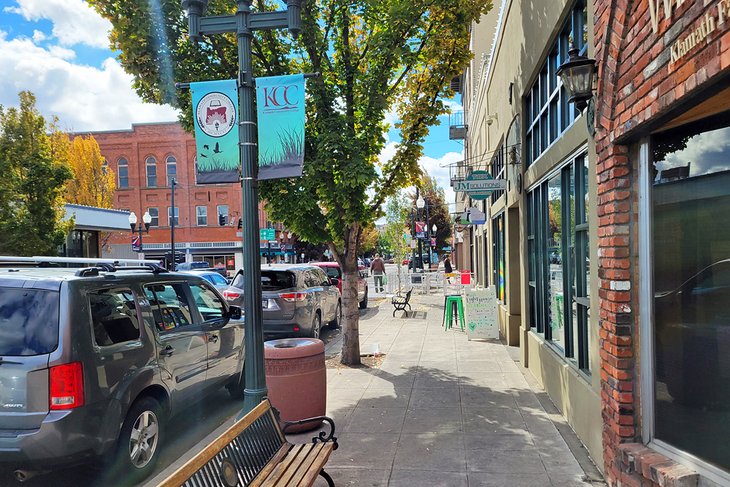 Take some time to explore historic Main Street when visiting Klamath Falls. Local shops and restaurants line this bustling center of town, adorned with landmark buildings and murals. And the charm on Main Street extends to its many side streets. It's a pleasant area to explore on foot, with several parking areas available.
Several items catch the eye while window shopping downtown. The downtown shopping selection is wide and varied, from beads to boutiques, home furnishings, and outdoor stores. Local restaurants, too, present a range of flavors, including popular places like Thai Orchard Cafe.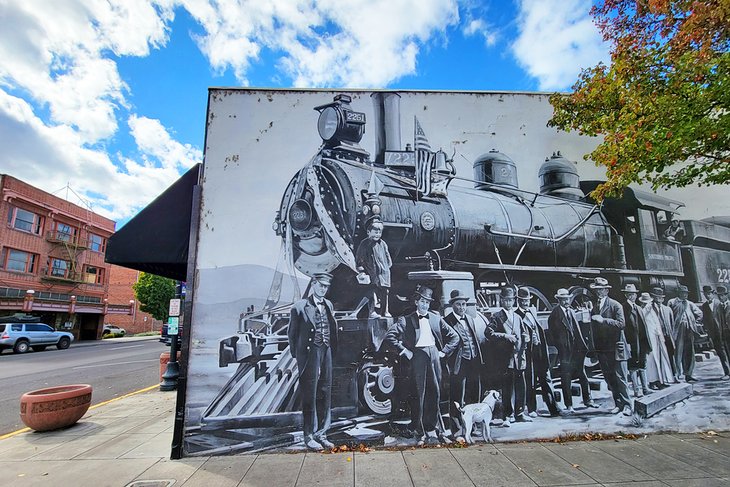 Downtown is also home to the Klamath Falls Farmers Market. This celebrated city event takes place on Saturdays between late May and late October. Fresh produce, locally made crafts, and hot food all have dedicated stall space at the market. The season concludes with the family fun Scarecrow Row celebrating Halloween.
6. Admire the Exhibits at The Favell Museum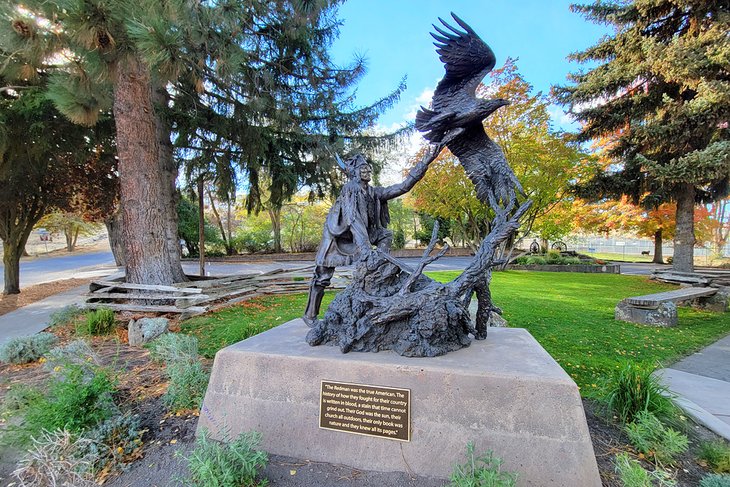 The Favell Museum is on the other side of the Klamath River from downtown. It showcases thousands of artifacts and Western art depicting native cultures of North and South America. In total, the museum has over 100,000 artifacts within its collection, some over 12,000 years old.
Plan to spend at least a couple of hours at the museum looking beyond the glass into the collection. A few items on display include arrowheads, beadwork, and pottery. The entire facility has a scholarly feel, with well-lit galleries and wall-to-wall exhibits.
The Favell Museum also houses and displays several pieces of contemporary Western art. Some recognizable signatures on the canvasses include Charles M. Russel and Frank McCarthy. These western painters help illustrate a blip of the history represented by the artifacts on display.
Address: 125 W Main Street, Klamath Falls, Oregon
Official site: https://favellmuseum.org/
7. Go Underground at Lava Beds National Monument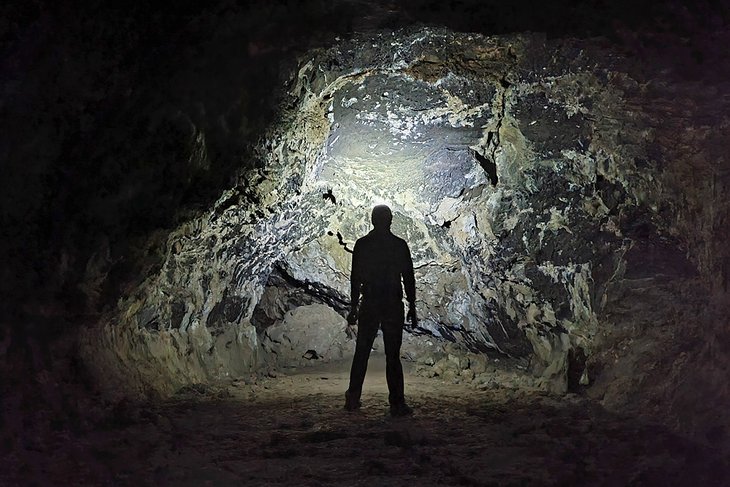 Lava Beds National Monument offers a scarred environment to explore, an hour's drive south of Klamath Falls. It's across the California border, and a fun stop on the Volcanic Legacy Scenic Byway. And with aptly named areas like the Devil's Homestead, it's an inspiring place to visit for volcanic buffs and the public alike.
A real appeal of Lava Beds is its many lava tubes to explore. Over 800 pipe-like caves are underground in the park, sculpted by coursing magma thousands of years ago. The park has developed over 20 caves for self-guided exploration, of which many are on Cave Loop Road.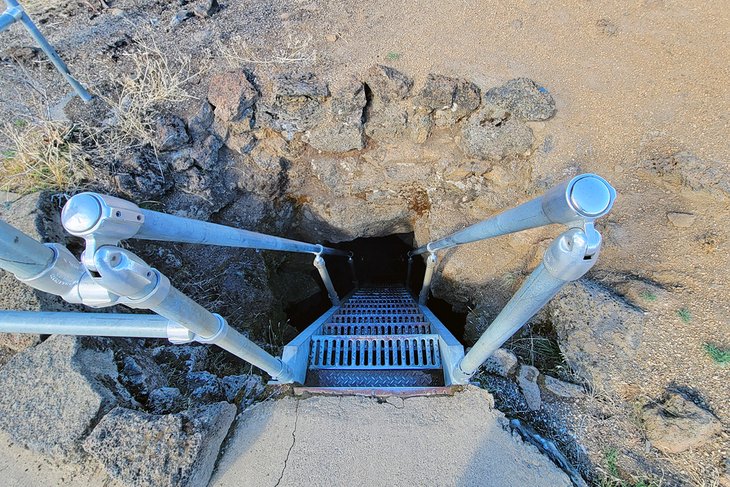 Visitors interested in adorning hard hats and headlamps need to head to the visitor center first. Caving at Lava Beds is a family-friendly affair. Self-guiding caving expeditions range from easy to more strenuous with tighter spaces. Be sure to bring along a helmet, three sources of light, and sturdy footwear.
8. Paddle the Upper Klamath Canoe Trail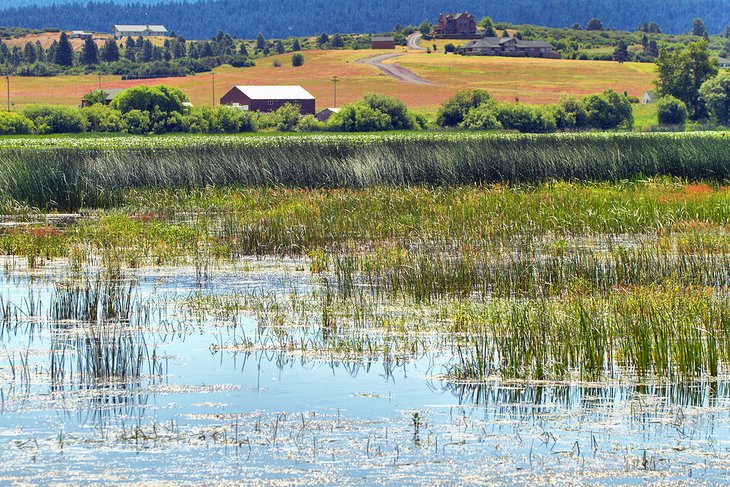 The Klamath River is a wildly popular river that begins at the outlet of Upper Klamath Lake. The river crosses into California and eventually meets the Pacific Ocean. Along the way and farther south of Klamath Falls, several sections of iconic whitewater beckon for guided rafting trips throughout the summer.
Several tributaries feed into Upper Klamath Lake, creating a massive freshwater marsh. Today, this marsh is protected as the Upper Klamath National Wildlife Refuge. And the only way to explore this diverse and thriving environment is via the 9.5-mile Upper Klamath Canoe Trail.
Paddlers typically begin the canoe trail at the Rocky Point Boat Launch, approximately a 30-minute drive from downtown. Alternatively, boaters access the water at Malone Springs day-use area. The nearby Rocky Point Resort is a good place to regather at the end of a trip or stay the night.
9. Enjoy the Shores of Lake Ewauna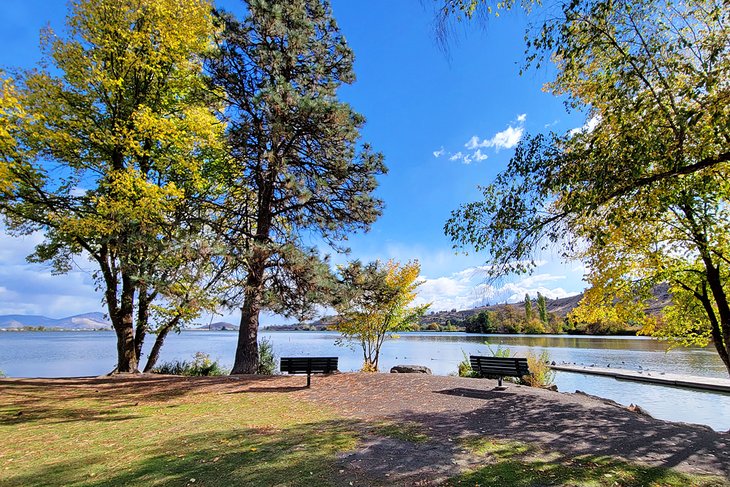 Lake Ewauna is the large reservoir on the south side of downtown. This big body of water offers a beautiful backdrop to the city, and shoreline trails to enjoy. It's also a haven for several species of birds on the Pacific Flyway, heading north or south across the region.
A good spot for a look at the lake is Veterans Memorial Park. Here, a large grassy area and shoreline trail invite a scenic stroll. And a nearby boat launch allows access to the water. While visiting, check out the Veterans Memorial itself, dedicated to past and present military members.
From Veterans Memorial Park, visitors can explore the diverse habitat on the Klamath Wingwatchers Lake Ewauna Nature Trail. This two-mile loop navigates along the western shore through wetlands and uplands. Bring some binoculars along, with common sightings including waterfowl, upland birds, and raptors.
10. Visit the Animal Ambassadors at Badger Run Wildlife Rehab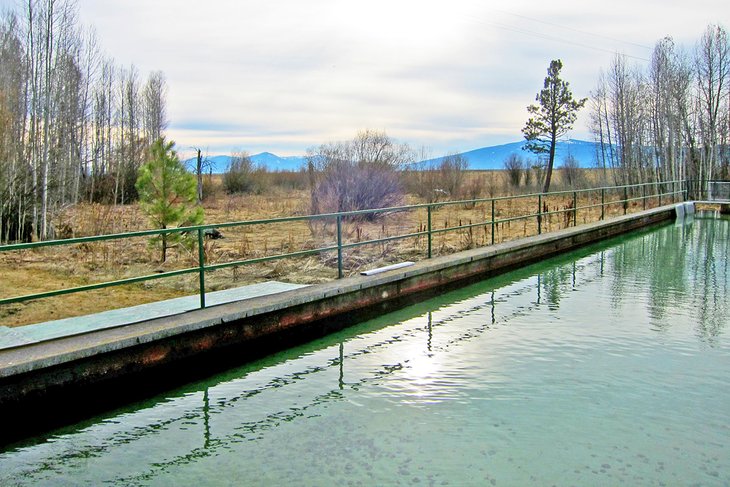 This non-profit wildlife rehab center is a 20-minute drive from downtown. It takes in orphaned or injured animals with the goal of returning them to the wild. Primarily, the rehab center focuses on birds of prey, including owls, eagles, and hawks.
Badger Run offers life-long care for animals that can't be released into the wild. These permanent residents are now Animal Ambassadors at the rehab center. Visitors can meet and observe these ambassadors with a docent-led tour. Wildfires in the area and extreme heatwaves have limited tour capacities in the past. Check updates before visiting.
For additional wildlife education, head to the Klamath Fish Hatchery. This fish incubator was built in 1929 and today produces over three million fish every year. The best time to visit is between May and October when there is the most fish activity. The hatchery has rainbow, cutthroat, brook, and brown trout.
11. Drive the Volcanic Legacy Scenic Byway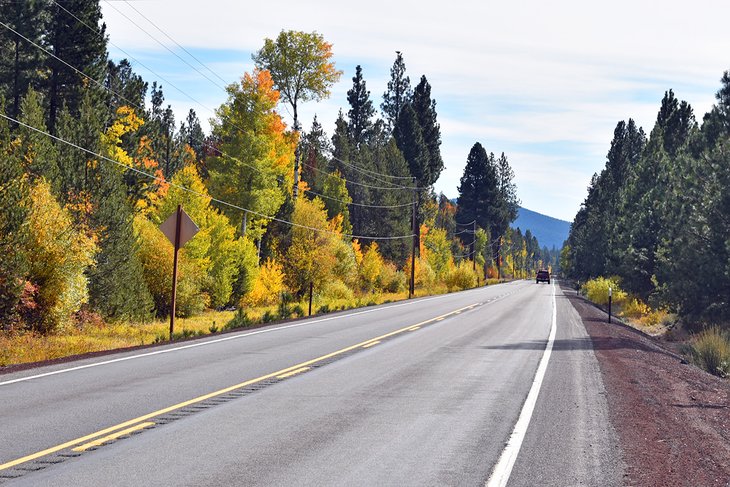 The 500-mile Volcanic Legacy Scenic Byway stretches from Crater Lake in Oregon down to Lassen National Park in California. This inspiring automobile route features several examples of the eruptive history of the region. A few other massive highlights along the way include Lava Beds National Monument and Mount Shasta.
The Scenic Byway navigates the west shore of Upper Klamath Lake and goes right through Klamath Falls. This accessibility makes Klamath Falls a common overnight stop when touring the byway. Lava Beds National Monument is an hour south of Klamath Falls, and Crater Lake is even closer to the north.
Plan at least a week for exploring all 500 miles of the Volcanic Legacy Scenic Byway. Many of the major stops warrant a day within themselves. Places like Crater Lake, Lava Beds, and Lassen have popular campgrounds catering to tents and RVs. The town of Mt. Shasta makes for a great next base camp when traveling south from Klamath Falls.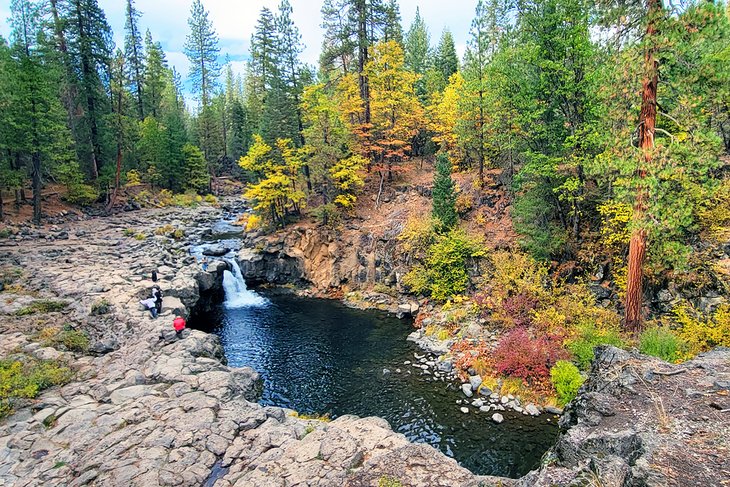 Waterfall enthusiasts have a lot to see on the Volcanic Legacy Scenic Byway. Burney Falls at McArthur-Burney Falls Memorial State Park is perhaps the crown jewel of these gravity displays. But other waterfalls in California, like Hedge Creek Falls and the McCloud River Falls, also warrant a side trip.
Map of Things to Do in Klamath Falls, OR
Klamath Falls, OR - Climate Chart
Average minimum and maximum temperatures for Klamath Falls, OR in °C
J
F
M
A
M
J
J
A
S
O
N
D

4

-6

8

-3

11

-2

15

0

20

4

25

8

30

11

29

10

25

7

18

2

8

-2

4

-6

PlanetWare.com
Average monthly precipitation totals for Klamath Falls, OR in mm.

52

36

39

24

28

18

9

13

15

22

50

51

Average monthly snowfall totals for Klamath Falls, OR in cm.

23

11

9

2

0

0

0

0

0

1

12

24
Average minimum and maximum temperatures for Klamath Falls, OR in °F
J
F
M
A
M
J
J
A
S
O
N
D

40

22

46

26

52

29

59

32

68

39

77

46

86

52

85

50

77

44

65

35

47

28

40

22

PlanetWare.com
Average monthly precipitation totals for Klamath Falls, OR in inches.

2.0

1.4

1.5

0.9

1.1

0.7

0.4

0.5

0.6

0.9

2.0

2.0

Average monthly snowfall totals for Klamath Falls, OR in inches.

9.1

4.4

3.7

0.9

0.1

0

0

0

0

0.5

4.7

9.6