11 Top-Rated Things to Do in Mt. Shasta, CA
Author Brad Lane spent six months in 2021/2022 traveling around California on assignment for PlanetWare.
Mount Shasta is a small city in northern California on the southwest flank of a magnificent mountain of the same name. The approximately 14,163-foot Mount Shasta is arguably the most gorgeous in the Cascade Range, rising to a snowcapped summit with sheer elevation. On clear days, this beacon of mountain majesty is visible from over 200 miles away.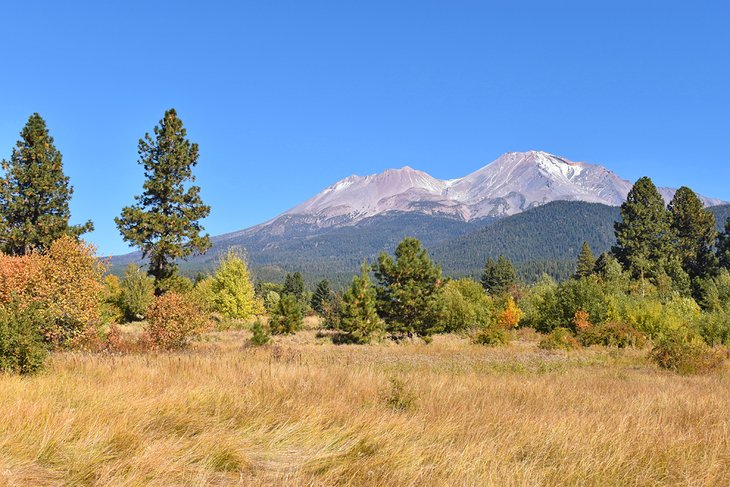 The mountain is the main attraction of Mt. Shasta city. From nearby hiking trails to breathtaking views, Shasta is omnipresent in almost every activity. This visual presence has attracted cultures to the mountain for thousands of years. And today, it's still a magnet for those inspired by nature and things to do outdoors.
Alongside adventure travelers, Mt. Shasta also attracts spiritual seekers. The mountain has long been a sacred place to visit and a spot of significant positive energy. And visitors travel far to find the mountain's sacred vortexes and spiritual sites. Several downtown businesses and friendly townsfolk help guide visitors on these spiritual endeavors.
And, Mount Shasta is only the centerpiece of world-class recreation in this region of Northern California. The state's largest national forest, Shasta-Trinity National Forest, surrounds the city. And within this 2.2-million-acre forest are nearby treasures like the Trinity Alps and rushing waterfalls.
Find your own positive vacation vortex with our list of the top things to do in Mount Shasta, California.
1. Explore Shasta-Trinity National Forest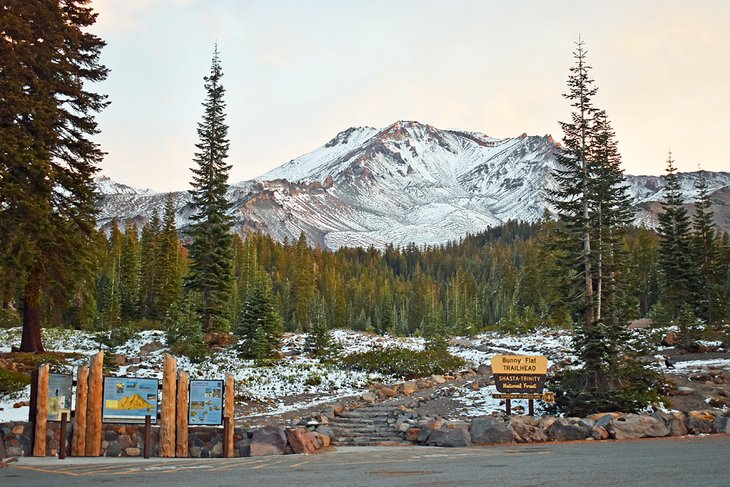 The outdoors is a major appeal of visiting Mount Shasta. California's largest national forest, Shasta-Trinity National Forest, surrounds the town, and with over 2.2 million acres, the forest is an outdoor playground for all types of adventures.
Everyday activities in Shasta-Trinity National Forest include camping, fishing, hiking, and waterfall viewing. And during the winter, the public land transforms into a hot spot for skiing, snowmobiling, and snowshoeing.
Visitors don't have to travel far from town to experience the lush landscape of Shasta-Trinity National Forest. The 14-mile Everitt Memorial Highway immediately enters the forest from the town's edge. Here, campgrounds and trailheads offer days of exploring on Shasta's southern flank.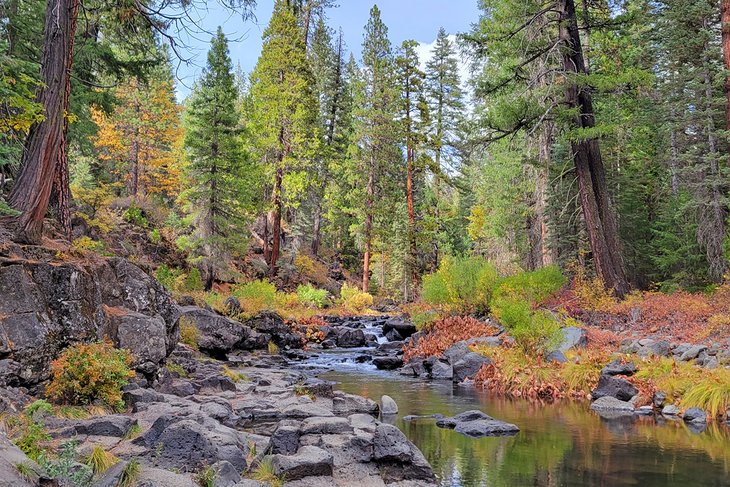 A few notable nearby hikes in Shasta-Trinity National Forest include Black Butte and Bunny Flat to Panther Meadows. Other memorable places to visit within a short drive include the Castle Crags Wilderness and the McCloud River recreation area.
Read More: Best National Parks in California
2. Circle Lake Siskiyou on the Lake Siskiyou Trail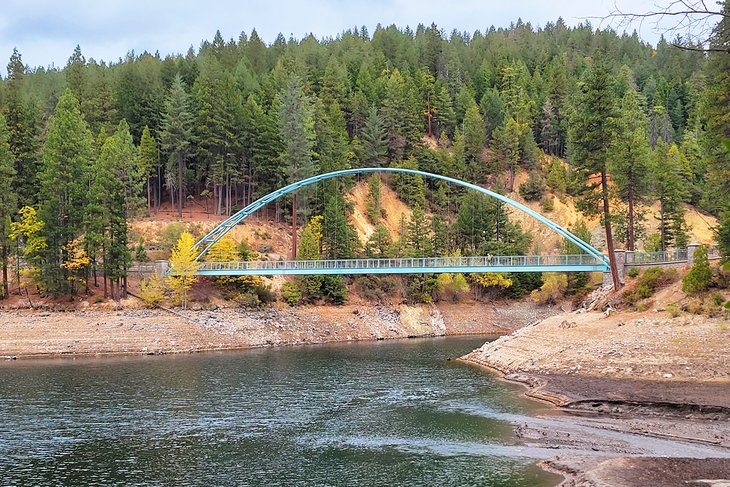 Lake Siskiyou, less than three miles southwest of downtown, is a vacation destination in itself. Tourist amenities line the lake, including several activities and places to stay. The lake is an increasingly popular spot in the summer and home to several longstanding family vacations.
The Lake Siskiyou Trail is a popular route to walk, run, or cycle. This seven-mile paved trail circles the lake, including a scenic crossing on the Wagon Creek pedestrian bridge. And the lake borders Shasta-Trinity National Forest, where several trailheads entice exploration. This selection of hiking trails includes the high-alpine Castle Lake, accessible with a seven-mile drive up and into the forest.
The lake is also next to the Mount Shasta Golf Course, part of Mount Shasta Resort. Overnight guests and the public make tee times at this beautifully backdropped golf course. Mount Shasta Resort also provides a comfortable place to stay, with rooms and chalets.
Read More: Best Hiking Trails near Mt. Shasta, CA
3. Discover the Headwaters at Mount Shasta City Park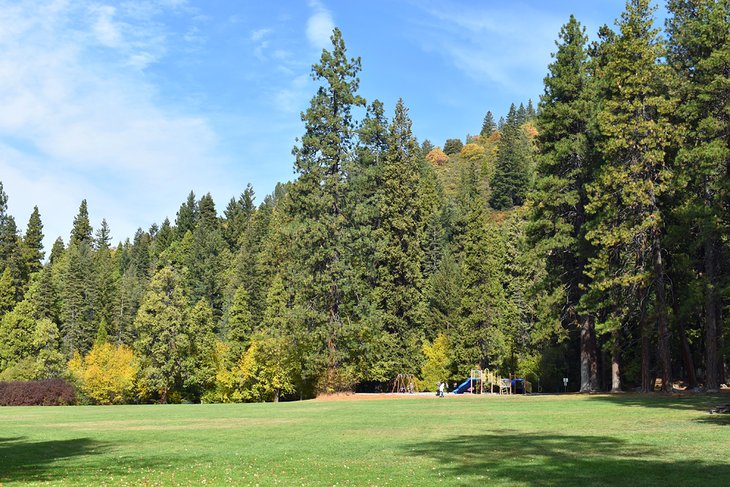 Mount Shasta City Park is a mile north of downtown and provides a beautiful public space to enjoy the day. Big Springs is one of the central features of the park, also known as the Headwaters of the Upper Sacramento River. Here, crystal-clear water that has traveled underground from Mount Shasta emerges into daylight. A paved viewing area allows a close inspection of the spring.
The park is a beautiful place to visit on a sunny day. A large, green grassy area offers room for all types of lawn activities, and a nearby playground is a popular spot for young kids. The park also has several picnic benches and reservable picnic shelters scattered about the lawn's edge.
Spring Hill is a popular trail nearby, across Mt. Shasta Boulevard from the park. This one-way trail climbs over 600 feet and a mile-and-a-half above Headwaters Spring. A stunning view of the town and the mountain await those who make this short climb to the summit.
Address: 1315 Nixon Road, Mt. Shasta, California
4. Stroll around Downtown Mt. Shasta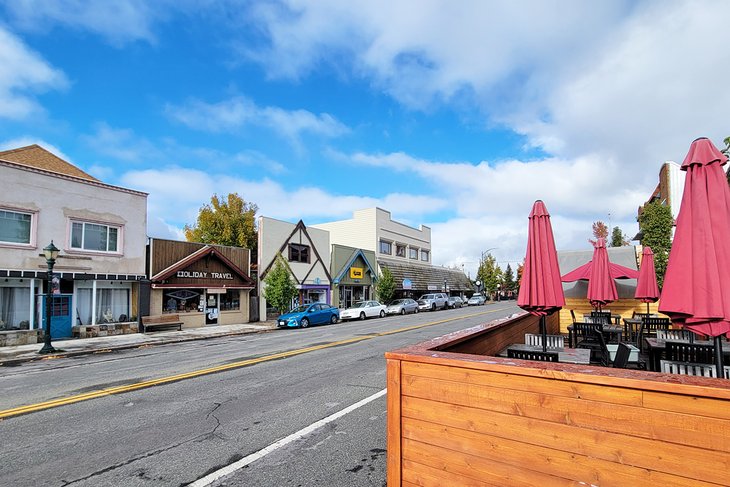 Budget some time off from adventures to explore downtown Mt. Shasta. Several local shops, restaurants, and galleries line this charming district, alongside gorgeous views of the mountain. This area is fun to explore on foot, with a few public parking lots where you can ditch the car.
Mt. Shasta Boulevard is the main drag to explore downtown. A few notable shops in this area include the Fifth Season outdoor store and Mei Drucker Art gallery. Downtown is also the place to go for metaphysical and spiritual supplies and guidance. Places like Soul Connections and Crystal Matrix Gallery offer many of these resources.
Downtown is also the place to go for a local bite to eat, and its restaurant selection covers every meal of the day. Burger fans can't miss Yaks Shak, and breakfast connoisseurs will want to visit the original Black Bear Diner near the interstate. Lily's Restaurant and Seven Suns Coffee & Cafe also have a few menus worth perusing.
5. Chase Waterfalls in Siskiyou County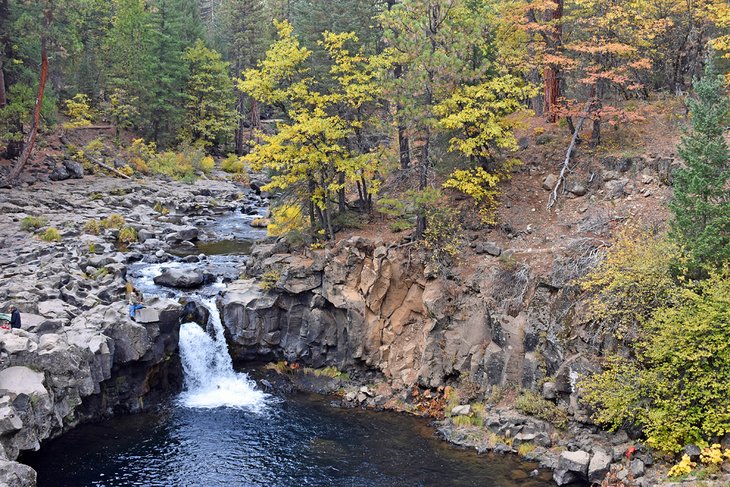 Several awesome displays of gravity are within a short drive of Mt. Shasta. These moving landscapes have come to define adventure in Siskiyou County and are popular attractions throughout the year. Some waterfalls require a short hike, while others have parking spaces nearby.
One of the first to check out near Mt. Shasta is Hedge Creek Falls. This stunning waterfall is south of town on Interstate 5, near Dunsmuir. It's a short walk from the parking area to the 30-foot waterfall streaming from a basalt cliff face. This ease of access and proximity to the interstate makes Hedge Creek a popular pitstop throughout the year.
For those willing to travel a bit farther, the Volcanic Legacy Scenic Byway encounters several other waterfalls. The McCloud River hosts a set of such waterfalls, approximately a 20-mile drive southeast of Mt. Shasta. And an hour away from town, at the end of the scenic byway, Burney Falls is often considered the crown jewel of waterfalls in northern California.
Read More: Best Waterfalls in California
6. Dive into History at the Mt. Shasta Sisson Museum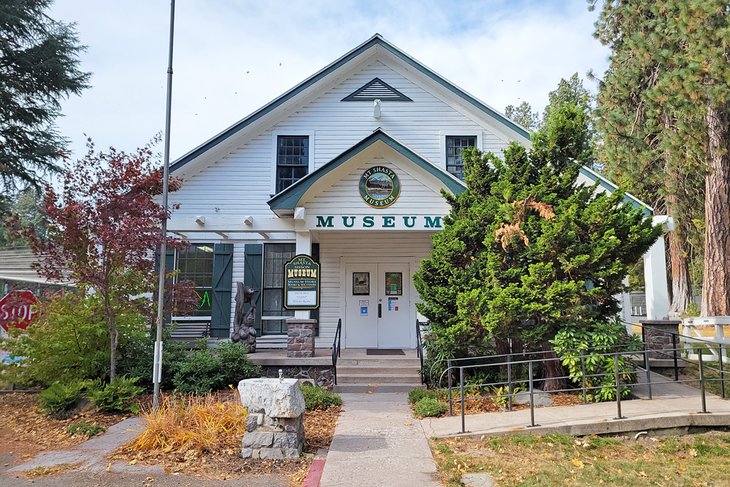 On the other side of Interstate 5 from downtown, the Mt. Shasta Sisson Museum offers an interesting insight into the region. This non-profit museum is next to the historic Mount Shasta Fish Hatchery, constructed in 1888. The museum itself is within old fish hatchery buildings.
The museum is much larger than it appears from the outside. And the many intricate and detailed exhibits within offer a quality visit. Just a few topics on display include native cultures of the region, the storied history of the town, and a special exhibit devoted to lenticular clouds.
Plan to spend approximately a couple of hours at the museum and grounds. The adjacent fish hatchery offers public tours during most summer seasons, and a nearby grassy space with picnic tables is an excellent spot for a meal outside. And down the road, the Elsa Rupp Nature Trail offers a short but serene walk through the woods.
Address: 1 N Old Stage Road, Mt. Shasta, California
7. Hike to the Top of Black Butte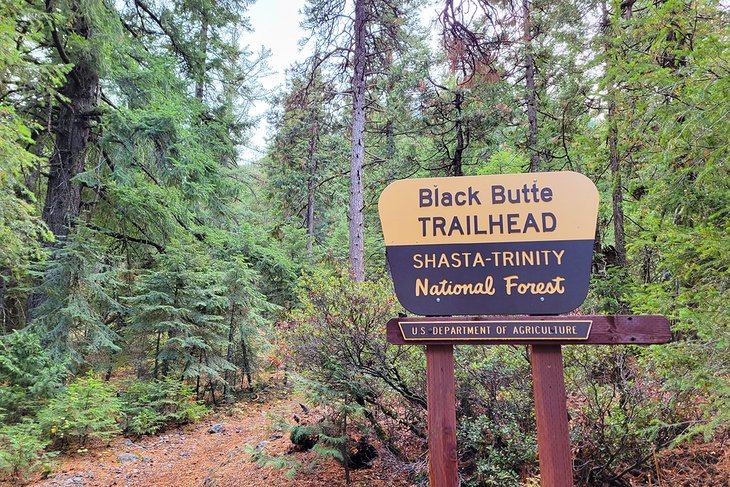 Black Butte is hard to miss when visiting Mt. Shasta. It's the prominent conical peak seen from most street corners in town. It's also a significant landmark to espy while driving along Interstate 5. And making it to the top of this rocky summit is one of the best hikes near Mt. Shasta and a challenging experience for strong hikers.
The trailhead for Black Butte is off the Everitt Memorial Highway on the east side of town. The route to the trailhead is primarily on dirt roads, with several turnoffs leading in wrong directions. A few signs point the way, but it helps to have a map or GPS to get to the trailhead.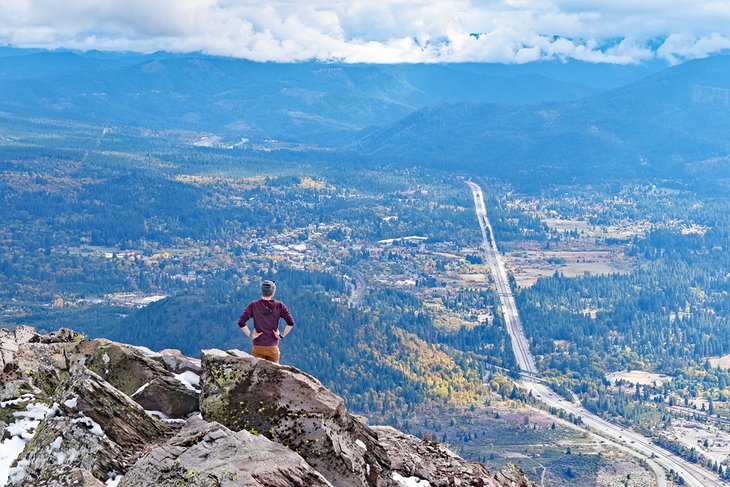 It's a five-mile round trip to reach the summit, and the route gains over 1,800 feet in less than three miles. And Black Butte itself has a rocky slab composition, making travel strenuous much of the way. But make it to the summit of this hearty hike, and stunning views of Mount Shasta and the Trinity Alps reward the uphill effort.
8. Spend Time at Shastice Park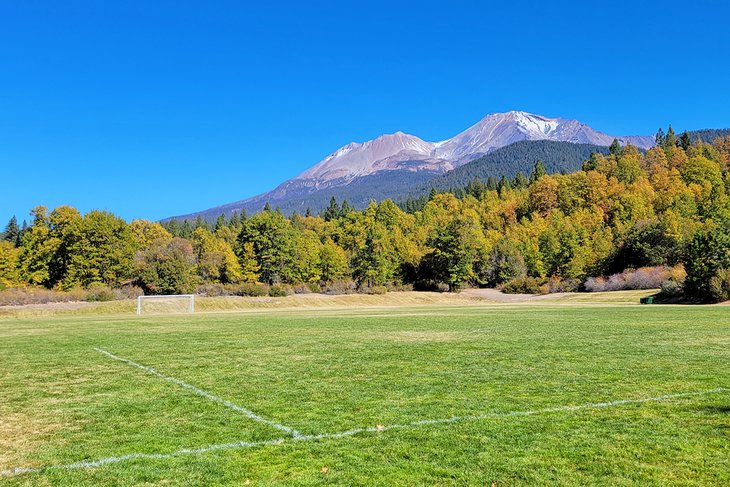 Shastice Park, on the northeast side of town, is a lovely city park backdropped by the mountain. A little less than half of its 38 acres are developed, with mowed lawns and community attractions. A few of its attractions include a skate park, an off-leash dog area, and several picnic spots.
Come winter, Shastice is home to the outdoor Siskiyou Ice Rink. The park also supports several intramural athletic leagues, with tennis courts, pickleball courts, and a lighted softball field. And if anything, Shastice is an excellent place to bring a book or packed lunch to enjoy the nearby mountain scene.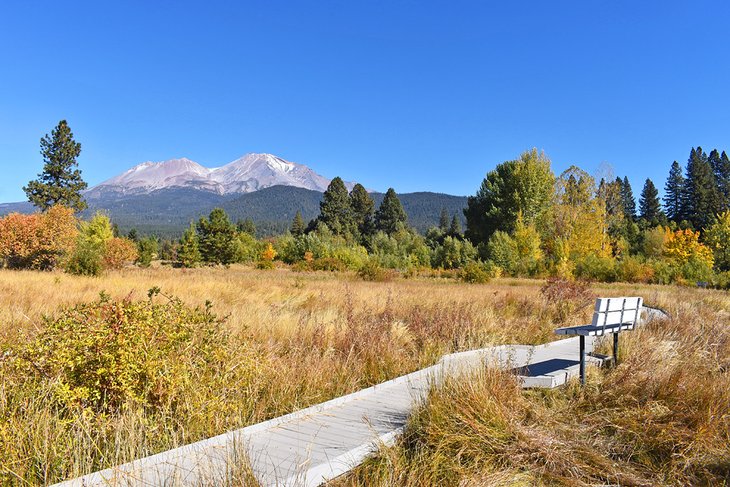 Another popular public spot to explore in Mt. Shasta is Sisson Meadow. This open grassland is behind the Mt. Shasta Library and Sisson Elementary School. It's a short stroll through this 7.5-acre meadow at the center of town, but it offers a peaceful respite nonetheless. The primary route follows a boardwalk trail lined with benches.
9. Camp at Castle Crags State Park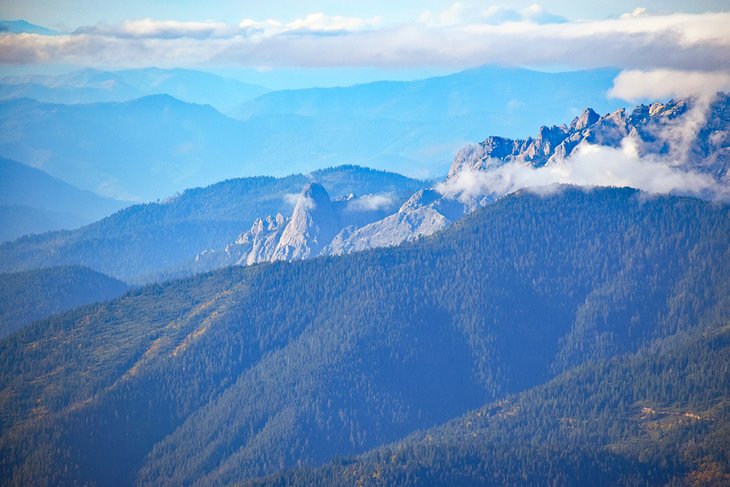 Twenty minutes south of Mt. Shasta, Castle Crags State Park borders the expansive Castle Crags Wilderness of Shasta-Trinity National Forest. And it offers an auditorium-like view of these massive namesake pinnacles. These 6,000-feet peaks form a stunning jagged crown that illustrates why Castle Crags is one of California's best state parks.
Alongside stunning views of Castle Crags, the state park offers several days of recreation. Over 28 miles of trails navigate the area, including the country-spanning Pacific Crest Trail. Vista Point is one popular trailhead with a view, and the Crags Trail offers an outlet to reach the remarkable Castle Dome.
The state park is also one of the best campgrounds near Mt. Shasta. Many of the 76 standard sites available are next to the Sacramento River that weaves through the park. This rushing river is also a lure for anglers from across the region. RV and tent campers all find sites at the state park.
10. Hit the Slopes at Mount Shasta Ski Park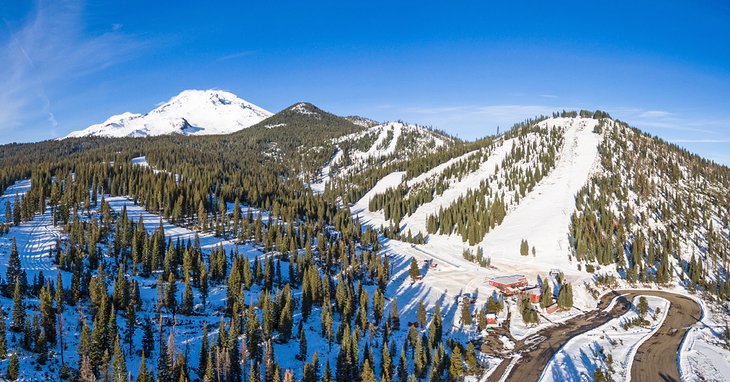 Come winter, residents and tourists head to the nearby Mount Shasta Ski Park, one of California's best ski resorts. The mountain is accessible with a 20-minute drive from downtown on State Route 89, also known as the Volcanic Legacy Scenic Byway. This ease of access makes Mt. Shasta a common basecamp for ski vacations.
Downhill enthusiasts have over 400 acres and 32 trails to explore at Mount Shasta Ski Park. A few easier routes are near the 5,500-foot base of the park. But many of the runs are better suited for intermediate and advanced skiers. The resort is also home to two terrain parks and night skiing on the weekends.
South of Mount Shasta Ski Park, the Mt. Shasta Nordic Center offers a different type of skiing appeal. This community-driven organization maintains 23.5 kilometers of groomed cross-country trails. They also provide a warming hut, snowshoe rentals, and various clinics and lessons.
11. Drive to Shasta State Historic Park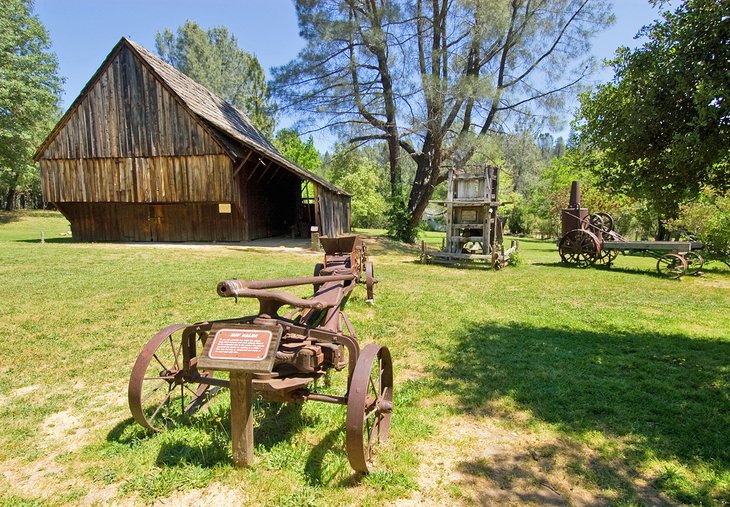 This ghost town historical park is approximately 70 miles south of Mt. Shasta. Shasta State Historic Park is directly west of Redding near Whiskeytown Recreation Area, and it's the site of "Shasta City," a once-bustling center of the region's gold-mining boom in the mid-1800s. It's free to walk around the sites and enjoy the history.
Today, crumbled brick buildings and collapsed roofs comprise the remnants of this prosperous era. Interpretive information at the park helps paint the picture of the "Queen City of the Northern Mines." And it's not all decay at the state historic park. Some buildings have been restored to their original appearances, like the Courthouse Museum and the Litsch General Store.
Read More: Best State Parks in California