10 Best Campgrounds near Mt. Shasta, CA
Camping is the best way to experience the grandeur and mysticism of Mount Shasta in Northern California. This towering mountain rises steeply on the horizon, standing as an adventure beacon for over 200 miles in every direction. And waking up within eyesight of this 14,000-plus-foot behemoth is an excellent start to the day.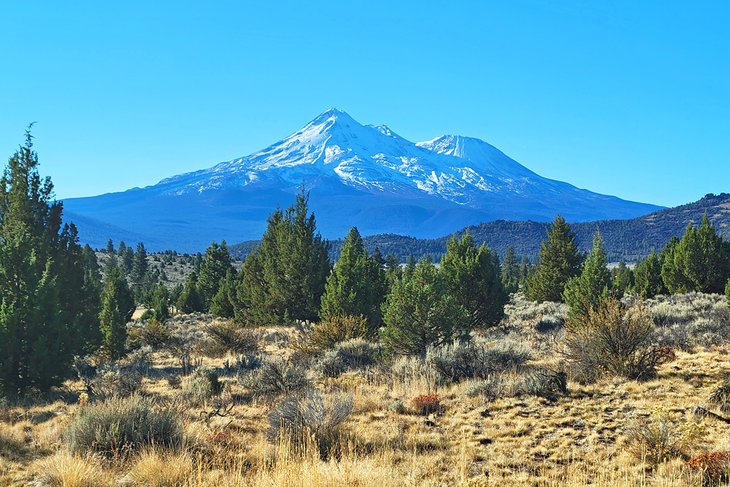 Nearly all the best campgrounds near Mount Shasta are within the 2.2-million-acre Shasta-Trinity National Forest surrounding the mountain. The closest campgrounds are off the Everitt Memorial Highway, originating from the City of Mount Shasta. This highway is also the main thoroughfare for adventure, stretching to the above treeline on the mountain's southern flanks.
Other adventurous campgrounds are within a short drive of the City of Mount Shasta, within the larger Siskiyou County. A few notable landscapes nearby include Castle Crags, the Trinity Alps, and the McCloud River. These areas boast similar state park and Forest Service campgrounds.
Many visitors also opt for primitive camping in the national forest. This type of free camping usually involves pulling off the side of a Forest Service road outside of a designated campground. The Mount Shasta Ranger Station has more information on primitive camping in the national forest.
Note that wildfires in the region have ravaged parts of Shasta-Trinity National Forest. Campgrounds were affected by this damage. Check the U.S. Forest Service website for any travel restrictions, and before you go, research your options with our list of the top campgrounds near Mt. Shasta.
1. McBride Springs Campground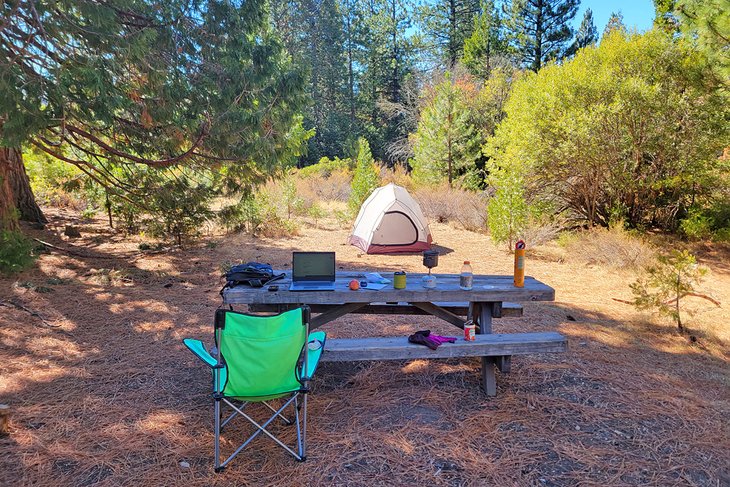 Everitt Memorial Highway is the main road leading to the slopes of Mount Shasta. This paved route begins at an elevation of 3,500 feet as a continuation of Lake Street from downtown Mt. Shasta. It quickly enters the forest outside of town and spans 12 miles to timberline at an elevation of over 8,000 feet.
Three developed Forest Service campgrounds line the Everitt Memorial Highway. McBride Springs is the closest to town, less than five miles from the downtown district. This proximity makes it a viable option for those looking to be near downtown without booking a hotel room.
Twelve sites are available, catering to both tents and small RVs, although no hookups are available. The sites are relatively spread out, though campers are always within eyesight of a neighbor. Well water from a hand pump has been available in the past, but the well has dried up in recent years, and visitors should bring their own potable water.
The favorable rate also makes this campground popular. It's only $10 to spend the night, with a seven-day stay limit. All 12 sites are available on a first-come, first-served basis.
2. Panther Meadows Walk-In Campground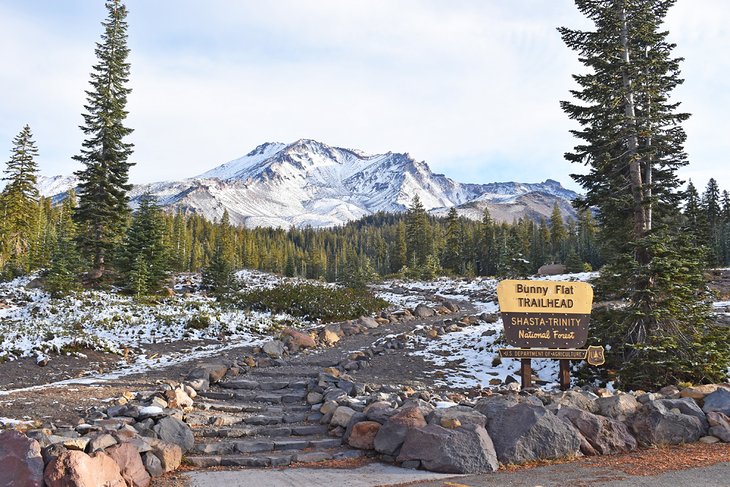 Panther Meadows is near the end of Everitt Memorial Highway at an elevation of 7,500 feet. It's the highest developed campground on Mount Shasta, with 10 walk-in sites available on a first-come, first-served basis. It's also one of the most popular campgrounds in the region. It has a three-day stay limit to ensure its shared popularity.
It's a short walk to the 10 developed campsites at Panther Meadows. Each site has a picnic table and fire ring. No potable water is available, but those with water filters can obtain drinkable water from a nearby creek. Expect cold nightly temperatures throughout the year at this high-elevation campground.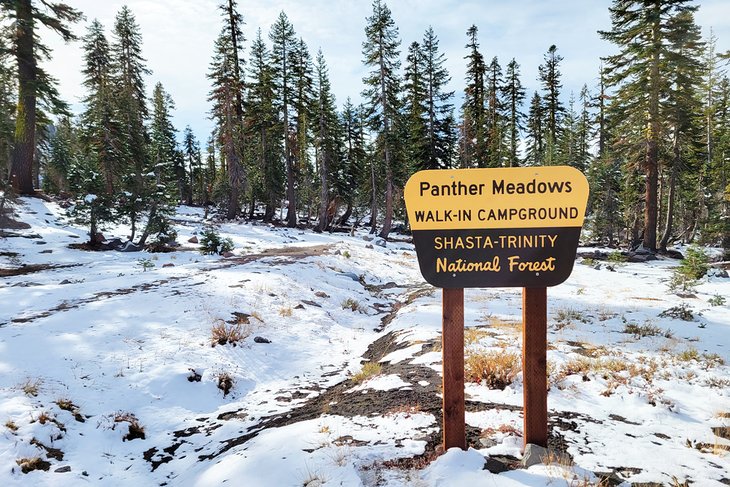 There's currently no fee to stay at Panther Meadows, and this adds to its popularity. The proximity to the mountain also makes this area excellent grounds for adventure. The trail to the top of Gray Butte starts from the campground and leads through a delicate meadow ecosystem, where hikers must stick to the trail.
3. Primitive Camping near Mount Shasta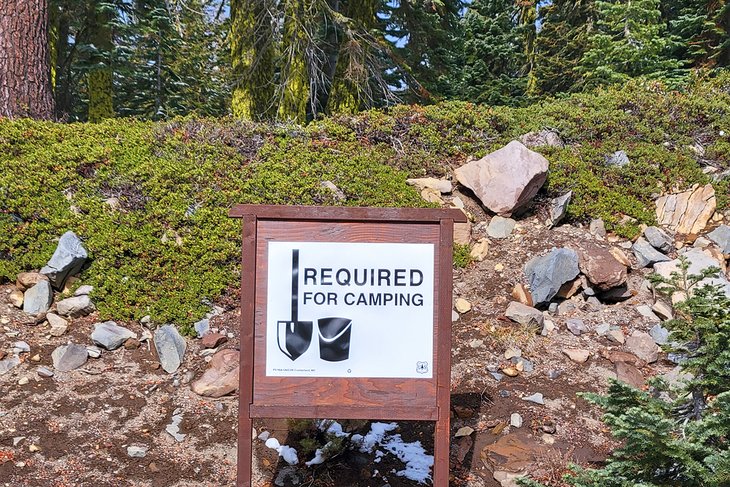 Primitive camping is perhaps the most popular option for camping near Mount Shasta. It's also known as dispersed camping and typically involves setting up camp in a national forest outside a developed campground. For Mount Shasta, that means camping along a dirt road somewhere within Shasta-Trinity National Forest.
One of the most common areas for primitive camping in Shasta-Trinity National Forest is the Everitt Memorial Highway. No dispersed camping is allowed within the first five miles of the road, but several options line the upper half of the route.
Bunny Flat and Sand Flat are two well-established spots for primitive camping on Everitt Memorial Highway. At Bunny Flat, visitors park and pitch a tent in the forest opposite the highway from the trailhead. It's a similar situation at Sand Flat, though a bit quieter, as it's a mile removed from the highway.
Primitive camping is free but typically has no amenities like potable water or restrooms. All overnight campers must dispose of their garbage and human waste appropriately. For dispersed camping at Bunny Flats, a vault toilet and garbage receptacle are available.
4. Castle Crags State Park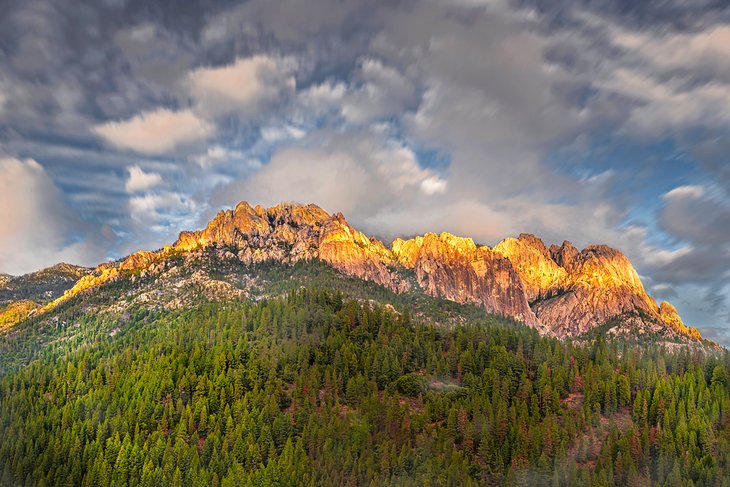 Castle Crags State Park, one of California's best state parks, is an easy 14-mile drive south of the City of Mount Shasta. It's a place of enormous beauty and a perfect frame for the namesake monoliths bordering the park. And the views of Castle Crags and the Trinity Alps are worth the travel alone.
Outside of admiring the landscape, the state park also has several recreational outlets. A few favorite adventures include picnicking and fishing, but most visit to explore hiking trails. Over 28 miles of trails wind throughout the park, including the country-spanning Pacific Crest Trail. One of the most popular routes, and one of the most challenging, is the Crags Trail, leading to Castle Dome.
Camping at the state park is the best way to catch sunrise and sunset at Castle Crags. The state park has 76 developed sites spread between a few different loops. The sites cater to tents and RVs, although no hookups are available. Flushing toilets, showers, and potable water are within a short walk of every site.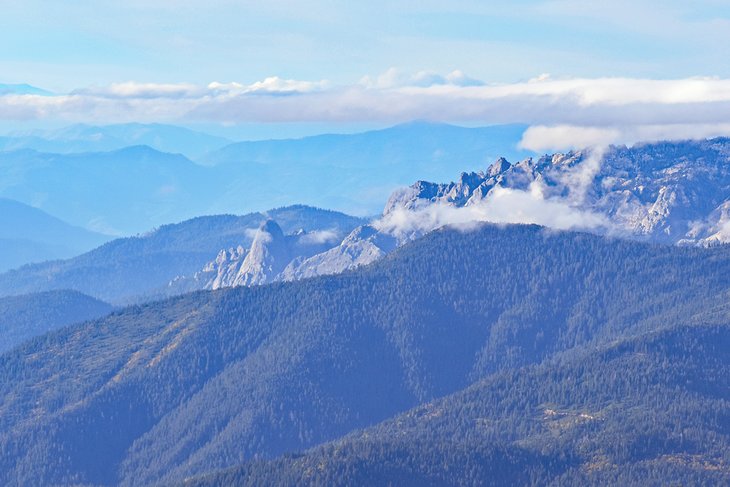 Most of the sites are opposite Interstate 5 from the Sacramento River. These sites are near the popular Vista Point parking area. About a dozen sites are available opposite the interstate, and these sites are quieter and highly coveted throughout the summer.
Official site: https://www.parks.ca.gov/?page_id=454
5. Fowlers Camp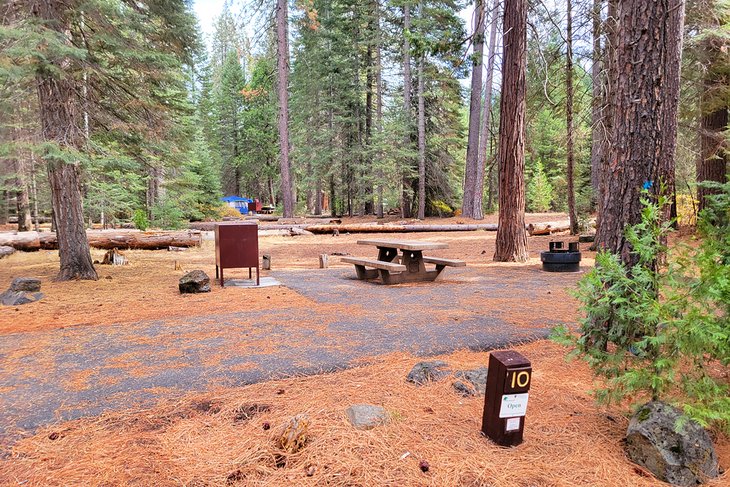 Mount Shasta is approximately halfway along the 500-mile Volcanic Legacy Scenic Byway. This awe-inducing automobile route spans from Crater Lake in Oregon to Lassen National Park in California. And Mount Shasta is arguably the byway's most prominent feature.
Following Highway 89 from Mount Shasta, the Volcanic Legacy Scenic Byway navigates next to the McCloud River. Here, less than 20 miles from the City of Mount Shasta, a set of three spectacular waterfalls draw a lot of attention. And Fowlers Campground offers a popular spot to set up camp nearby.
Fowlers Campground has 39 standard sites, catering to tents and mid-sized trailers or RVs. Vault toilets and potable water are available, alongside picnic tables and fire rings at each site. The sites are relatively spaced out, though none are entirely private. Throughout the summer, the campground is typically full every night of the season.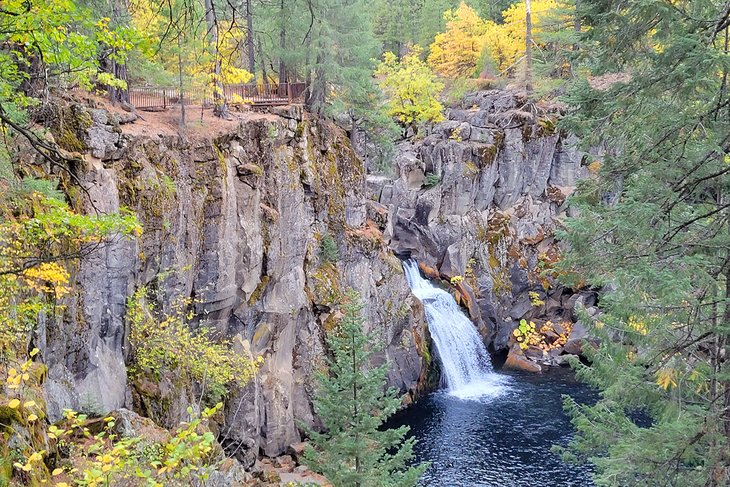 The real appeal of the campground is its proximity to the three waterfalls on the McCloud River. A paved trail departs from the campground's edge, leading to the rushing water. Lower Falls is downriver from the campground, and Middle and Upper Falls are upriver. It's roughly a three-mile round trip to see all three.
6. Cattle Camp Campground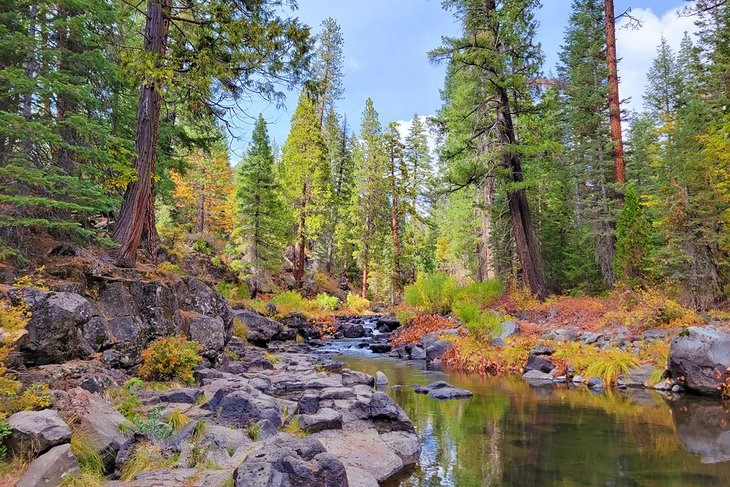 Cattle Camp Campground is an alternative to Fowlers Campground on Highway 89 near the Upper McCloud River. It's a first-come, first-served Forest Service campground with 27 sites available. These standard sites cater to tents and larger RVs, though no hookups are available. And like Fowler's Campground, the sites at Cattle Camp fill up fast during the summer.
Cattle Camp stands as its own destination to visit. It's a popular fishing spot, and tons of summer visitors come to splash around in the Cattle Camp swimming hole. This picture-perfect swimming spot sees big crowds in the summer but is worth the dip when driving the byway. The campground also lends access to the 15-mile McCloud River Trail.
7. Lake Siskiyou Camp Resort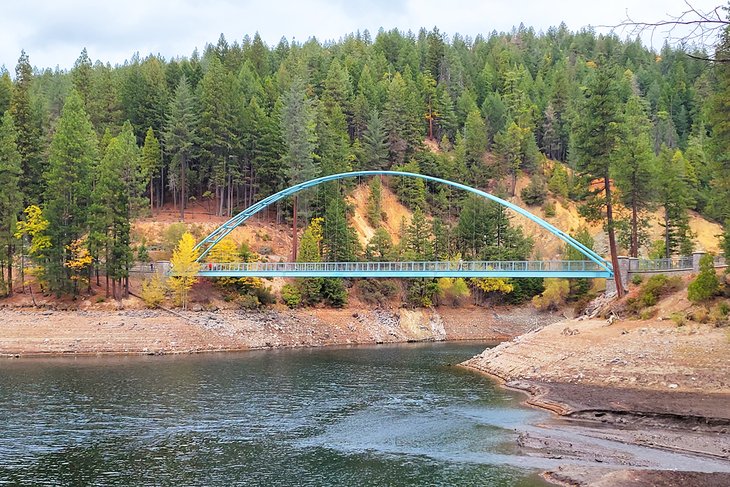 Lake Siskiyou Camp Resort is a popular place to pitch a tent on its namesake's southwest shore. This private facility offers several vacation amenities, including dining, a private beach, and boat rentals. The property also features an excellent view of Mount Shasta on the horizon, glimmering across the lake.
The camping at Lake Siskiyou Camp Resort includes primitive sites for tent camping, hookup sites for RVs, and large group sites for bigger get-togethers. All campsites come with a picnic table and fire ring, and access to flushing restrooms.
The Camp Resort also has a selection of cabins and houses. The smallest cabin has a studio layout and sleeps up to four adults. Both house rentals on the property are three-bedroom units, with ample outdoor space and enough beds to sleep eight.
Official site: https://lakesiskiyouresort.com/
8. Castle Lake Campground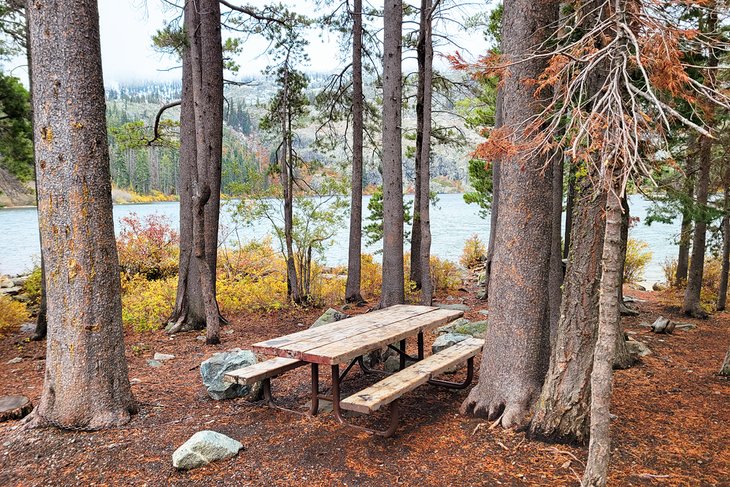 Castle Lake is a popular alpine lake in Siskiyou County, accessible by vehicle. It sits in a glacier-carved basin above Lake Siskiyou with a dramatic mountain background. Because of its drive-up access and its serene natural beauty, the lake is a popular spot to congregate in the summer.
The Castle Lake Campground has six sites available, about a quarter-mile from the lakeshore. Larger vehicles and trailers aren't recommended for these smaller sites, but tent campers find them cozy. Picnic tables, fire rings, and vault toilets are available, but campers must bring their own water.
There's no fee to occupy the sites, but there is a three-night limit. Other options nearby include primitive camping in the surrounding Shasta-Trinity National Forest. Part of the lake borders private property. Anyone looking for primitive camping near Heart Lake must abide by posted property lines.
9. Mount Shasta KOA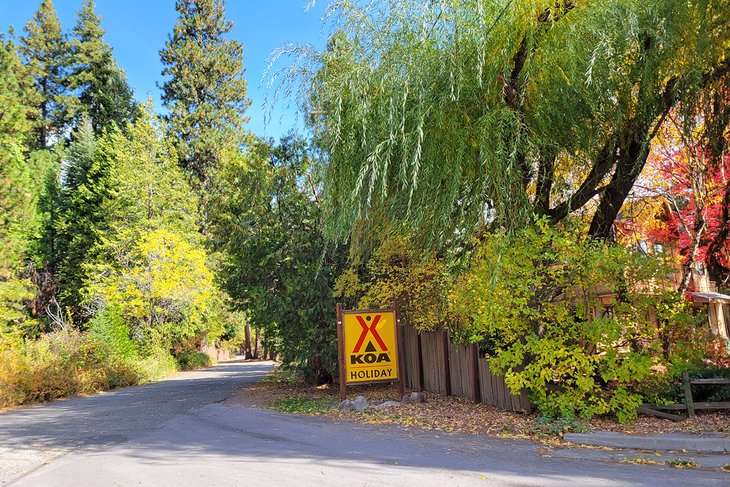 The Mount Shasta KOA is conveniently located a mile northeast of downtown, near Mount Shasta City Park. This KOA Holiday supports several types of camping with tent sites, full-hookup RV sites, and deluxe cottages.
A big appeal of Mount Shasta KOA is the facility's several amenities. Going beyond the ordinary campground, the KOA provides laundry resources, game rooms, and a large group campfire area. Other popular activities on the property include horseshoes, basketball, and shuffleboard.
The KOA is an excellent option for the biggest rigs, with some sites accommodating RVs up to 80 feet long. The campground also has a pet-friendly policy for dog owners.
Official site: https://koa.com/campgrounds/mount-shasta/
10. Red Fir Flat Group Campground
Red Fir Flat is the third developed Forest Service Campground on the Everitt Memorial Highway. It's between McBride Springs and Panther Meadows and is for groups of between nine and 35 people. It's a single site and must be reserved ahead of time.
While any group is welcome to reserve the site up to six months in advance, it's popular for meditation and wellness retreats. The site has a single vault toilet, picnic tables, and fire rings. No view of Mount Shasta is afforded from the campsite, but the Trinity Alps make a lovely appearance to the southwest.
No potable water is available at the group site. It's an affordable $12 per night to reserve the site, with a seven-day stay limit.
Map of Campgrounds near Mt. Shasta, CA