15 Top-Rated Things to Do in Fort Bragg, CA
Fort Bragg is on the Mendocino Coast and has grown from its industrial roots to become a tourist destination of Northern California. The area is so filled with ocean-side appeal and fun things to do, it's hard to believe that much of its rugged coastal landscape was once exclusively reserved for army bases and lumber operations.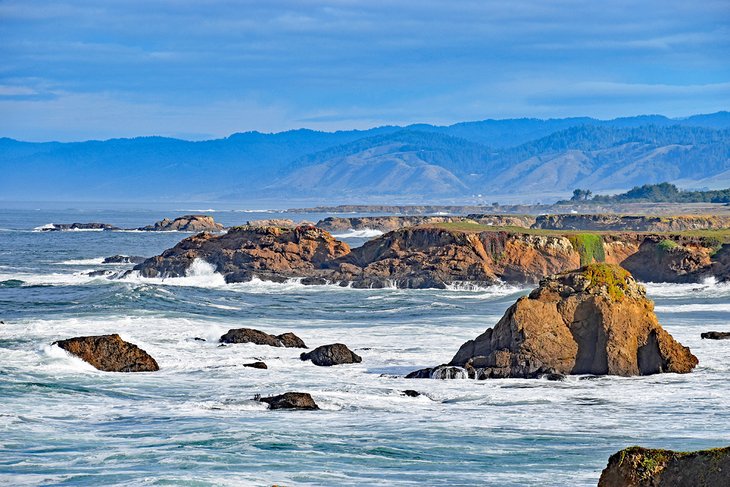 Places like Noyo Headlands Park, first open to the public in 2015, is a great example of the tourist magnets now revealed in Fort Bragg. Other public coastlines also draw a lot of attention, including the sprawling acreage of MacKerricher State Park. This stunning state park is home to Fort Bragg's Coastal Trail, which includes a paved route over a historic train trestle.
Other postcard images of Fort Bragg are on display at places like Pomo Bluffs Park and the Mendocino Coast Botanical Gardens. History is also readily on display throughout town, including the Fort Bragg Railroad, better known as The Skunk. This heritage line offers two routes through the estuaries and redwoods of the area, as well as insight into the history of the region.
Plan your sightseeing adventures in and around this California coastal town with our list of the top things to do in Fort Bragg.
1. MacKerricher State Park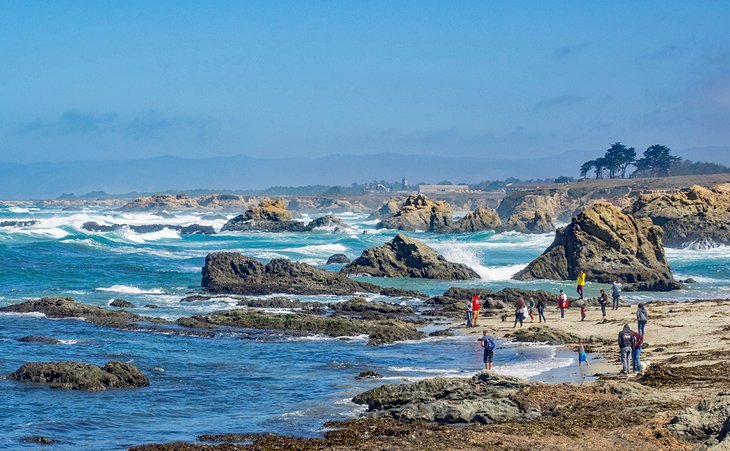 MacKerricher State Park offers an array of stunning things to do on the Mendocino Coast. It encompasses glass beaches, vibrant tide pools, and coastal trails spanning historic railroad trestles. It's just north of downtown and features activities throughout the year, like camping next to the ocean in the summer and spotting gray whales in the winter.
The park's visitor center is a good place to start when visiting MacKerricher. The visitor center is also the meeting location for weekend Whale Watching Walks led by a naturalist. Other wildlife sightings at MacKerricher include seals, foxes, and numerous species of birds, including great blue herons.
The Inglenook Fen-Ten Mile Dunes Natural Preserve runs the northern length of the park, providing a unique wetland and dune habitat that is fun to explore. The historic train trestle spanning Pudding Creek Beach denotes the southern park boundary, and a paved Coastal Trail spans the entire park, also known as Old Haul Road. This bicycle-friendly path is a top route to explore when visiting.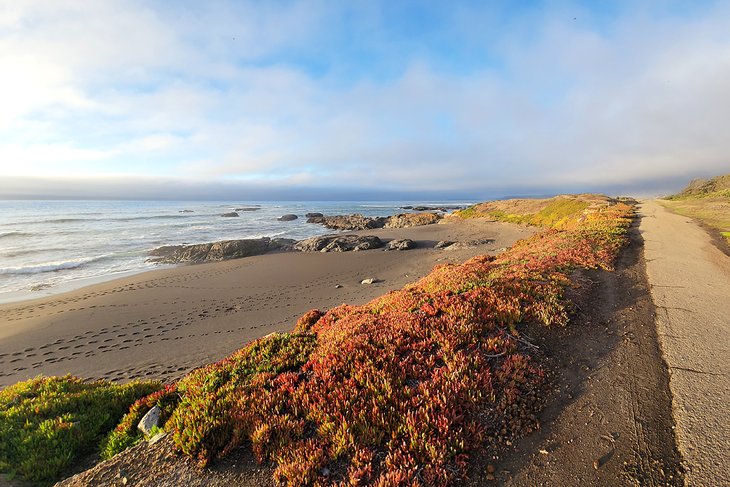 The campground at MacKerricher State Park includes 150 individual sites and two large group sites able to accommodate up to 40 people. It's a popular campground, and every overnight guest is only a short walk from the stunning Main Beach.
Address: 24100 Mackerricher Park Road, Fort Bragg, California
Official site: https://www.parks.ca.gov/?page_id=436
2. Mendocino Coast Botanical Gardens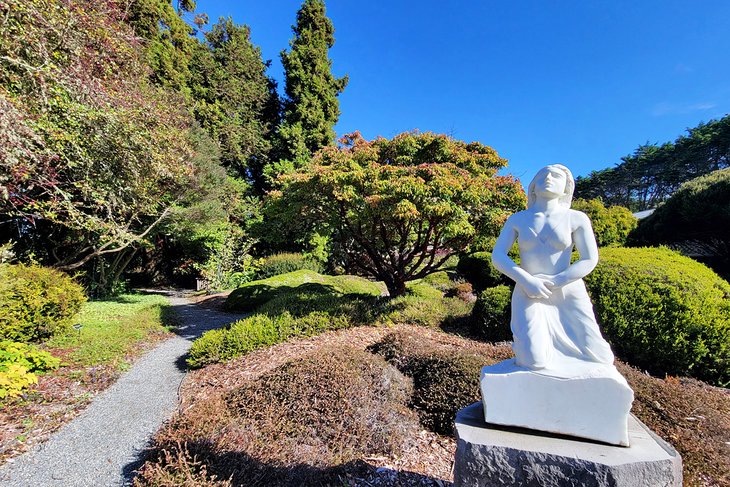 This non-profit garden space thrives in the mild Northern California climate of Fort Bragg. It's been in operation for over 50 years and hosts thousands of visitors each year. Today, the gardens most proudly display a dazzling collection of rhododendrons, some of which tower over the accessible trails.
Other gardens and aromatic areas at the facility include dahlias, fuchsias, magnolias, and succulents. The botanical gardens also reach down to the ocean, where a bluff hiking trail displays a different type of coastal beauty. Search out the Cliff House when visiting for a sheltered view of the ocean.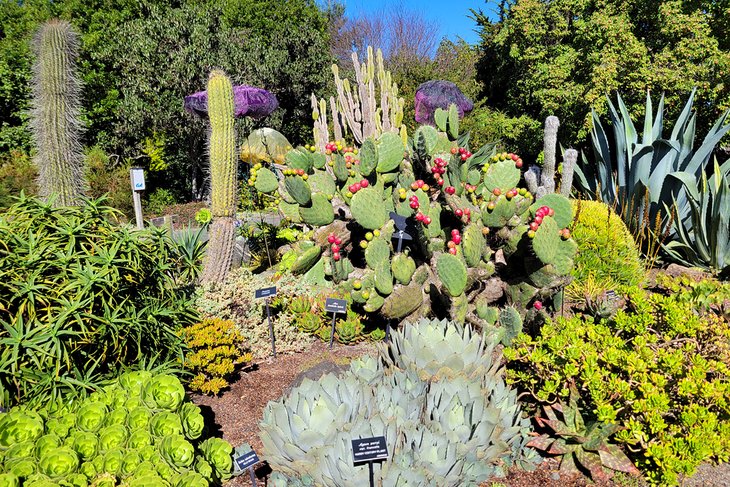 The on-site Rhody's Cafe offers fresh fare made from the nearby vegetable garden, with table seating overlooking a perennial garden. There's also an on-site gift shop and plant store for visitors to take home a bit of the botanical garden's beauty.
Numerous programs and events occur at the Mendocino Coast Botanical Gardens, including the annual Arts in the Garden featuring live music, food, and regional art. Another notable event is the annual Festival of Lights in December, featuring thousands of illuminated additions to the foliage.
Address: 18220 CA-1, Fort Bragg, California
Official site: https://www.gardenbythesea.org/
3. Noyo Headlands Park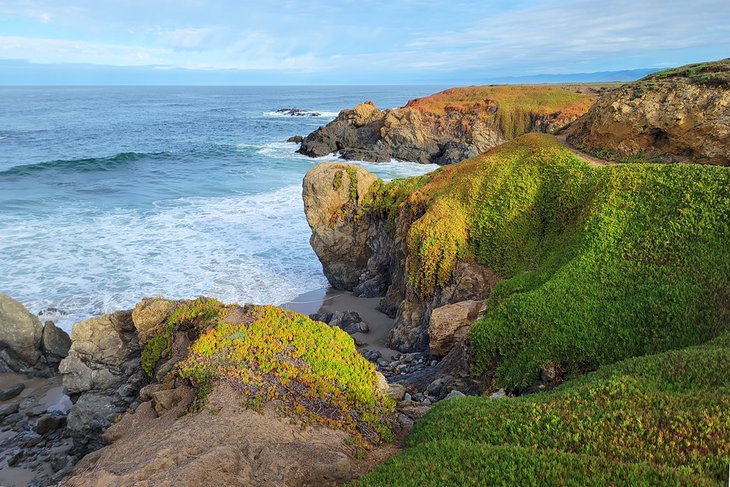 Noyo Headlands Park is a popular spot for things to do next to the ocean. It's a relatively new park in Fort Bragg and encompasses the bluffs along the edge of the city for over three miles. This sprawling public space is across Noyo Bay from Pomo Bluffs Park and features great views of the dramatic, rocky shoreline and crashing waves.
The stunning coastline and sunset-watching spots in Noyo Headlands Park were only recently opened to the public in 2015. Prior to that, the parkland was formerly private property belonging to a lumber mill. Today, several park benches and rest spots line the park and trail, providing a great place to watch gray whales migrate next to the shore in winter.
The Noyo Headlands Coastal Trail connects to the surrounding state and city parks for extended bike ride opportunities. On the northern end of the park, the neighboring MacKerricher State Park offers more coastal appeal with popular beaches, shifting sand dunes, and a Glass Beach.
4. Historic Downtown Fort Bragg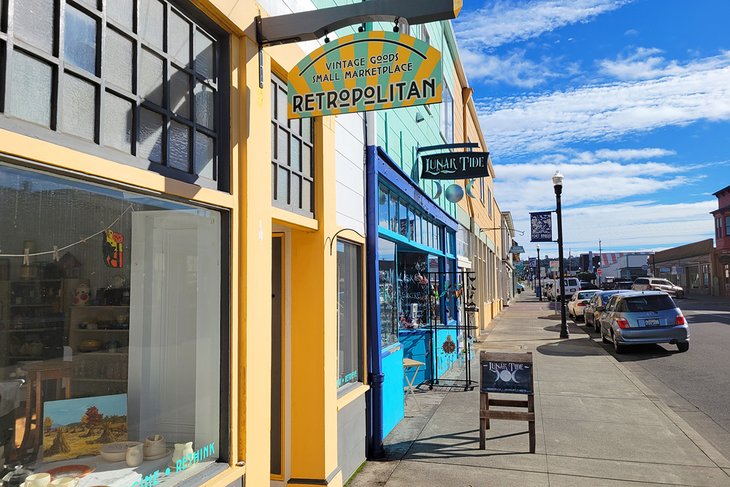 Historic Downtown Fort Bragg is hard to miss when visiting. The Shoreline Highway, Highway 1, turns into Main Street upon entering this historic part of town. Here, several modern restaurants and amusements occupy the antiquated storefronts, and with too much to see from a passing vehicle, it's a fun area to ditch the car and walk around.
The center of the downtown attractions is between Pine Street and Alder Street. Here, coffeeshops and bakeries offer to-go treats to bring to the beach. And restaurants like Eggheads, Mayan Fusion, and Piaci Pizzeria, are local favorites for other meals in the day.
This downtown district is also the central location for Fort Bragg museums. The Skunk Train Depot and the Skunk Model Train Museum are near the railroad tracks off Laurel Street. From the Depot, the Guest House Museum and Sea Glass Museum are both within a five-minute walk.
5. The Skunk Train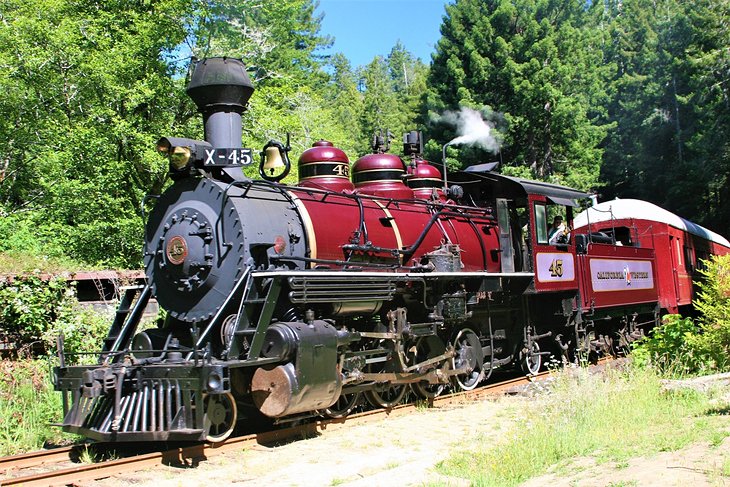 In late 19th century efforts to expand timber operations in Mendocino County, the Fort Bragg Railroad was created to transport workers and families to logging camps. It eventually evolved into the California Western Railroad and quickly earned the moniker "The Skunk" for its pungent fumes.
This iconic passenger rail line shaped the culture and community of a young Mendocino County. Passengers today can experience this history on two beautiful routes now offered by the heritage railroad.
Departing from Fort Bragg, the Wolf Tree Turn Route takes passengers through the redwood-lined Noyo River Canyon on a two-hour trip. The other scenic passenger line includes a route through the Pudding Creek Estuary on tracks laid in 1885.
Another fun activity offered by The Skunk Train is a two-person railbike through a lush forest. And near the depot, take some time to visit the adjacent Mendocino Coast Model Railroad and Historical Society.
Address: 299 East Commercial Street, Willits, California
Official site: https://www.skunktrain.com/
6. Fort Bragg Coastal Trail

For a fun, free thing to do seven days a week, the Fort Bragg Coastal Trail tours miles of Mendocino County coastline via a paved pedestrian path. Stretching from Pomo Bluffs on the south side of the city to the northern end of MacKerricher State Park, this continuous pathway and collection of coastal trails is popular with walkers, strollers, and cyclists.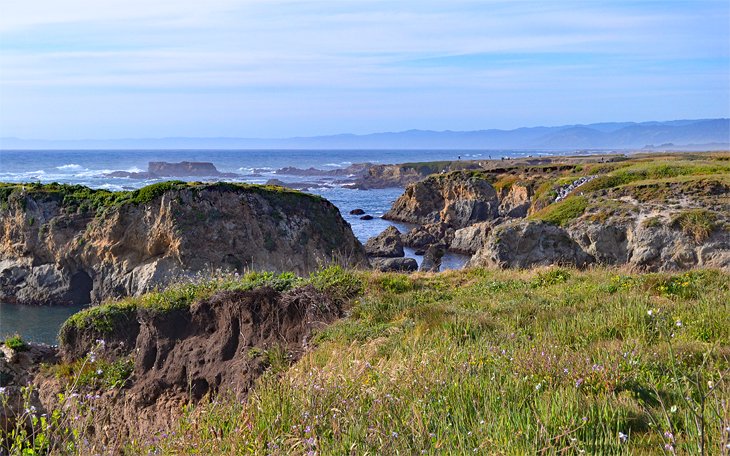 The Coastal Trail passes over the historic train trestle spanning Pudding Creek Beach. This signature area offers miles-long views in every direction. At the north end of MacKerricher State Park, the portion of the trail that once traveled through Ten-Mile Dune has been torn out for environmental reclamation.
7. Jug Handle State Natural Reserve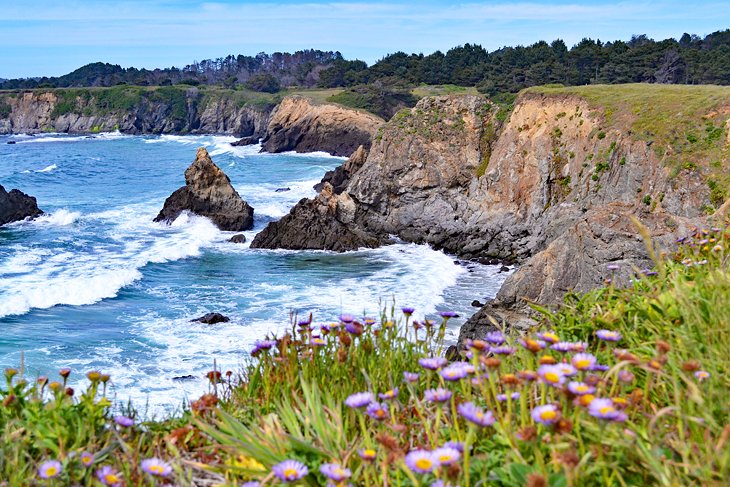 On the southern edge of Fort Bragg, five miles north of the village of Mendocino, this outstanding natural reserve offers a unique look into the geological timeline of the coast. Alongside this unique natural landscape, Jug Handle also delivers one of the best ocean vistas in Northern California.
The 2.5-mile Ecological Staircase Trail at Jug Handle navigates sea-cut terraces comprised of different forest systems, including a unique pygmy forest. This unique landscape is the longstanding result of shifting tectonic plates and fluctuating sea levels.
The Headland Trail at the park is also stunning and one of the best displays of the Mendocino coastline in the county. It includes the first seven stops on the Ecological Staircase Trail, where small Sitka spruce and grand firs grow sideways under the ocean wind. From here, the path navigates close to the cliff's edge for one postcard view after another.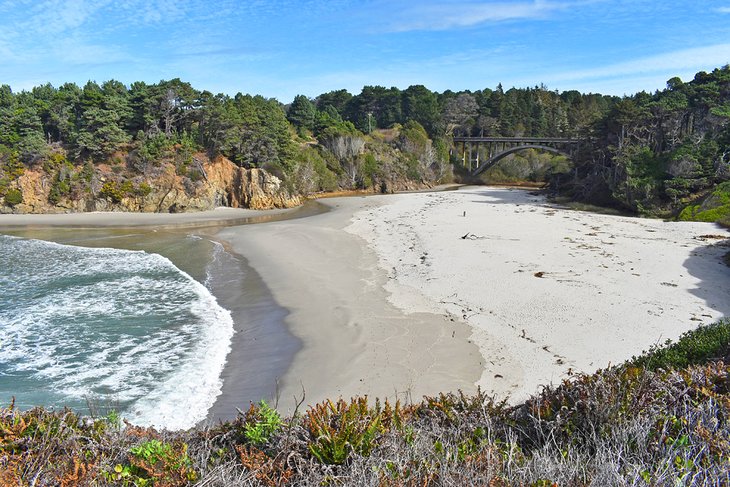 For those interested in reaching the sand and dipping their toes in the ocean, a short trail from the parking lot leads to a postcard beach. Camping and lodging can be found at the neighboring Jug Handle Creek Farm & Nature Center. Other nearby state parks, like Van Damme and Russian Gulch, also have camping opportunities.
Address: CA-1, Fort Bragg, California
Official site: https://www.parks.ca.gov/?page_id=441
8. Pudding Creek Beach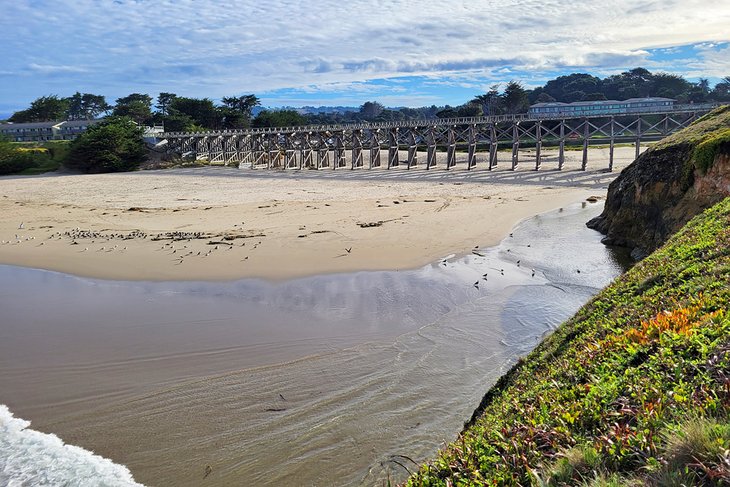 Pudding Creek Beach is a popular seaside destination that comprises the southern border of MacKerricher State Park. The sand itself is beneath the scenic Pudding Creek Train Trestle, now a multi-use path and part of the Fort Bragg Coastal Trail.
People visit the beach for activities like estuary exploring, sunbathing, and inspecting tide pools. It's a wide and sprawling beach back-ended by shifting sand dunes that change in size throughout the year. It's a popular place to visit for residents and tourists alike but is relatively quiet by California coastal standards, and it's easy to find a spot in the sand to call your own.
Official site: https://www.parks.ca.gov/?page_id=436
9. Guest House Museum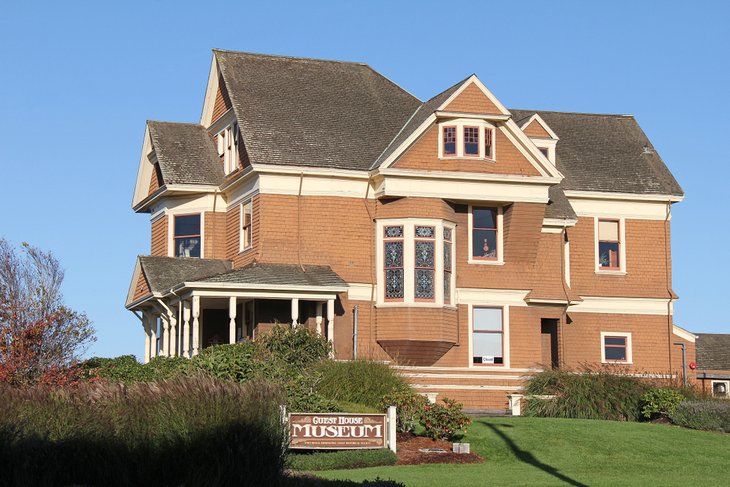 The Guest House Museum is a 19th-century home constructed from old-growth redwood lumber. It was first built to entertain the family and guests of the Fort Bragg Redwood Company. Today, it's the headquarters for the Fort Bragg - Mendocino Coast Historical Society.
The city eventually purchased this stunning home and has operated it as a museum ever since. Permanent exhibits within the Guest House relate to the lumber heydays of the Mendocino Coast, with numerous artifacts and preserved interiors on display.
Address: 343 North Main Street, Fort Bragg, California
10. Glass Beach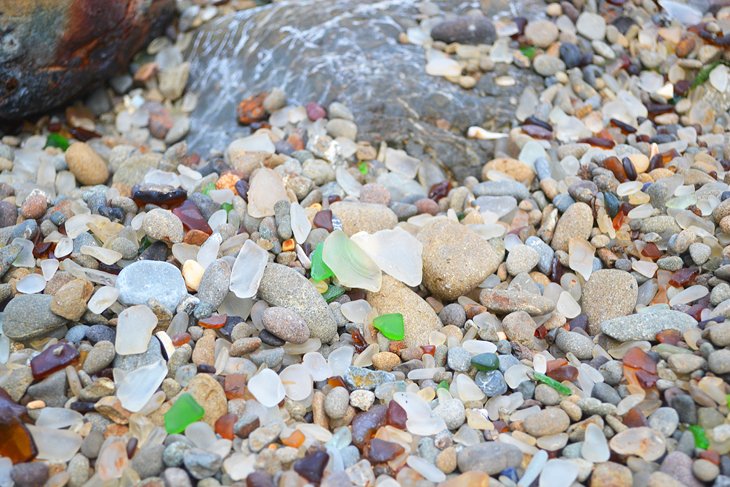 Glass Beach is a unique former dumpsite turned treasure trove. It's on the south end of MacKerricher State Park, most easily accessible from Noyo Headlands Park. Little shards of white, green, and brown glass, with completely smooth edges after years of tumbling in the ocean, fill the entire beach at this popular attraction.
While it's illegal to remove any sea glass from the area, that hasn't stopped buckets of sea glass from leaving the beach in the past. Today, it's a bit harder to spot pockets of smooth glass, making it feel even more like hidden treasure.
Within the city, the International Sea Glass Museum has over 3,000 pieces to also appreciate, including rare and unique varieties. The museum is open seven days a week.
Address: West Elm Street, Fort Bragg, California
11. Otis R. Johnson Wilderness Park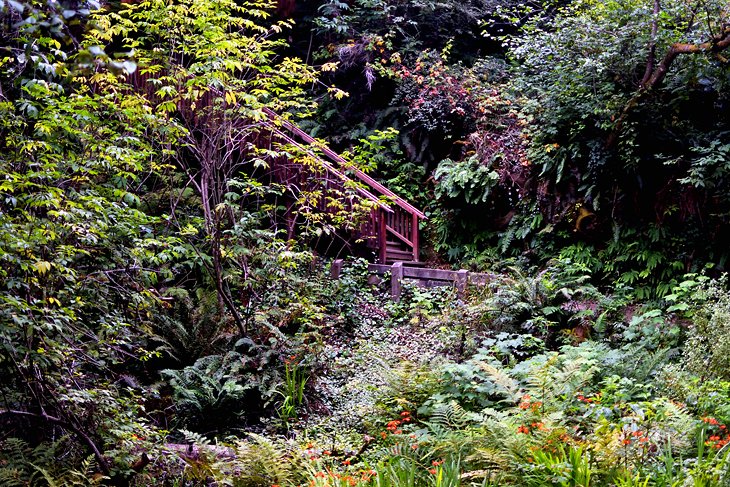 Named after the son of Charles Russel Johnson, known as the "Father" of Fort Bragg, this seven-acre wilderness park offers a quick escape from the city. Located a mile inland from the ocean, the main trail of the park navigates through varied, lush environments including a redwood forest.
Otis R. Johnson is a favorite place for locals and a hidden gem of Fort Bragg, and crowds are usually not an issue. This lack of other people makes the park a perfect spot for an easy afternoon hike or early morning surrounded by nature.
12. Pomo Bluffs Park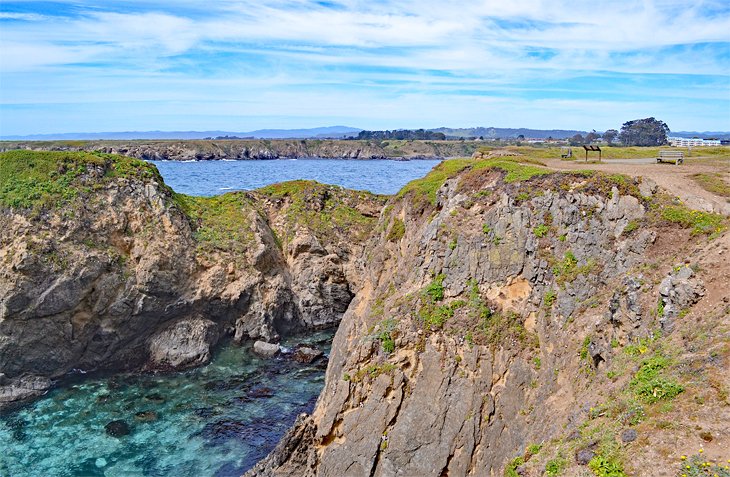 On the south bluffs of Noyo Bay, this city-owned space offers absolutely stunning views of the ocean. Interpretive information lines the area and a bluff trail leads to vantage points of the dynamic landscape below.
The park encompasses only 25 acres, but the views can entertain for hours. Across the bay and connected by the Fort Bragg Coastal Trail, the dramatic coastline continues up north into Noyo Headlands Park.
Address: Cliff Way, Fort Bragg, California
13. Jackson State Demonstration Forest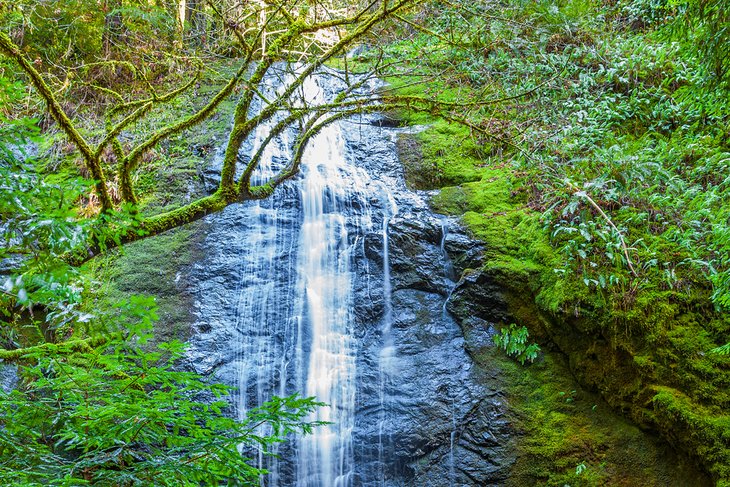 East of Fort Bragg and Mendocino on Highway 20, this Demonstration Forest is the largest state-owned forest in California. Serving the purpose of forest research, education, and recreation, Jackson State Demonstration Forest delivers with over 50,000 acres, including numerous second-growth redwood groves.
Mountain biking and hiking are both popular things to do within Jackson State Forest, as well as backpacking, car camping, and stargazing at night.
14. Westport-Union Landing State Beach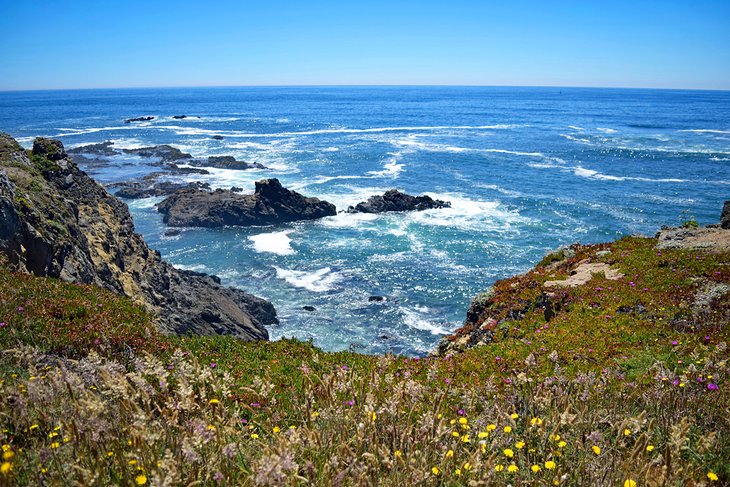 For a quieter beach to explore, and a potential spot to spend the night, head to Westport-Union Landing State Beach. This wide expanse of sand is 20 miles up the coast from Fort Bragg, accessible with an approximately 30-minute drive. And while it does see visitors throughout the year, it tends to be a less crowded beach than ones closer to town.
Westport-Union is also a popular place to visit for camping, with 86 campsites available. RVs and car campers all find spots at the campground, though no hookups are available. The sites sit on a bluff above the beach and are fairly exposed to the elements, including the occasional heavy winds. Bring strong tent stakes if pitching a tent at Westport-Union Landing State Beach.
15. The Redwood Highway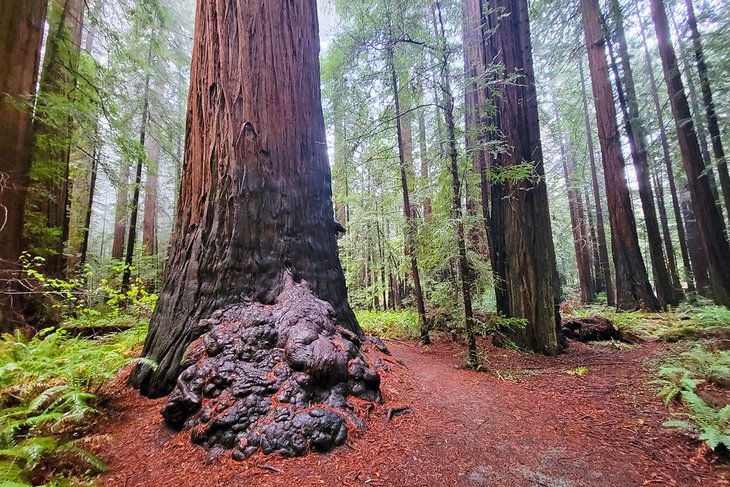 California's illustrious Redwood Highway, U.S. Route 101, is accessible from Fort Bragg with less than a 50-mile drive. Visitors looking for big trees can either head east through Jackson Demonstration State Forest or head north along the coast to the town of Leggett. Both routes navigate mountainous terrain and curvy roads.
Make the winding route, though, and tall worlds await. Big groves begin immediately upon accessing the 101, and the Avenue of the Giants begins 30 miles north of Leggett. This stunning 31-mile route parallels Highway 101 with a slower speed limit and closer roadside trees. This path is part of the massive Humboldt Redwoods State Park, encompassing over 5,300 acres.
Farther north along the highway, Redwood National and States Parks offer even more acreage to explore. This joint-management park encompasses four units, including Prairie Creek and Del Norte Coast Redwoods State Parks. Farther north, near Crescent City, Jedediah Smith Redwoods State Park is also home to a historic road, the Howland Hill Road.
Fort Bragg, CA - Climate Chart
Average minimum and maximum temperatures for Fort Bragg, CA in °C
J
F
M
A
M
J
J
A
S
O
N
D

13

5

14

6

14

6

16

6

17

7

18

9

19

10

19

10

19

9

18

8

15

6

13

4

PlanetWare.com
Average monthly precipitation totals for Fort Bragg, CA in mm.

186

172

165

73

40

11

4

9

19

65

138

161
More Related Articles on PlanetWare.com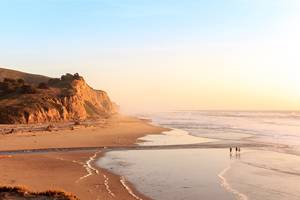 Northern California: Directly south of Fort Bragg, the friendly headland village of Mendocino features the heart and soul of the region. Farther north, the artistically inclined city of Eureka has unique attractions and things to do, including historic mansions and the artistic Kinetic Grand Championship. One of the most famous attractions in Northern California is Yosemite National Park, known for its dramtic scenery and great hiking trails. It has also long been a favorite camping destination.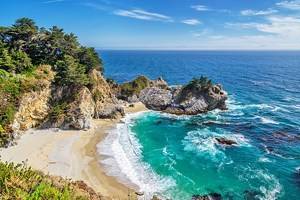 Central California Coast: If you enjoy the rugged shoreline and dramatic views of the Mendocino Coast, a similarly breathtaking view can be found at Big Sur in Central California. Adjacent to Big Sur, the city of Monterey attracts international attention with world-class attractions like the Monterey Bay Aquarium. For a romantic weekend getaway, the lavish Carmel-by-the-Sea offers plenty of charming seaside views and cottages.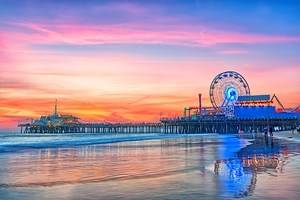 Southern California Coast: The Southern California coast is always bustling with activities and things to do. One of the top spots for Southern California attractions, Santa Monica features a stunning bluff-lined ocean and family-friendly pier close to Los Angeles. Farther south, Huntington Beach, also known as Surf City U.S.A., is especially fun to check out Tuesday nights for the weekly Surf City Nights. For extra scenic appeal and postcard images with every turn, Laguna Beach is known to attract ordinary and celebrity tourists alike.