12 Best Places to Visit in Oregon in Winter
Author Brad Lane lives in Portland and has traveled extensively through the state. Some of his favorite winter adventures are cross-country skiing in Mt. Hood National Forest and soaking in hot springs.
Oregon caters to all winter experiences. Whether skiing through fluffy snow or watching whales pass by a quiet coast, the state's generous landscapes provide several winter outlets. Other Oregon winter adventures include cross-country skiing around a caldera and rock climbing in a T-shirt.
Where to go in winter in Oregon depends on the desired type of getaway. For warm places to visit, southern cities like Medford only require a light jacket in winter. And, cities like Bend in Oregon's High Desert also experience moderate weather that appeals to seasonal snowbirds. Bend is also a favorite with snow hounds, with easy access to the wintry Cascade Mountains, including Mt. Bachelor.
Visiting Portland in winter is recommended for tourists wanting to experience the city's culture without so many crowds. Portland is also a gateway to the snowbound Mount Hood and its five different ski areas. The Columbia River Gorge north of the city also provides unique winter spectacles with frozen waterfalls.
Whether you are escaping winter or searching for it, Oregon delivers on fun things to do. Find your next seasonal interest with our list of the best places to visit in Oregon in winter.
1. Mount Hood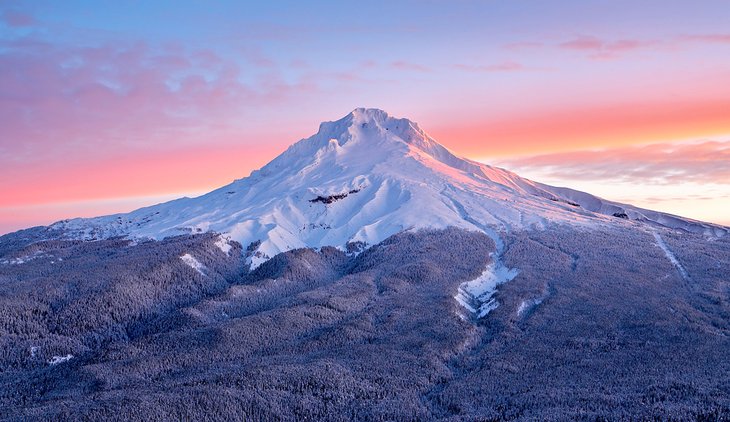 Mount Hood, the tallest mountain in Oregon, has a significant outdoor appeal throughout the year. While hiking and camping are some of the top things to do at Mount Hood in the summer, it's a mecca for snow sports come winter.
Mount Hood has five ski resorts and offers some of the best skiing in Oregon. Mount Hood Meadows is one of the largest ski resorts, with 11 chairlifts and over 2,000 acres of skiable terrain. Another one of the popular resorts on the mountain, Mt. Hood Skibowl, also features big terrain and over 30 runs illuminated for night skiing.
Also on Mount Hood is Timberline Lodge and Ski Area. This historic recreation area is the only resort in America to offer skiing twelve months of the year.
Alongside a year-round snowfield, this ski destination on Mount Hood is also home to the historic Timberline Lodge. This eye-catching 1938 lodge offers an ideal place to cozy up as the snow collects outside.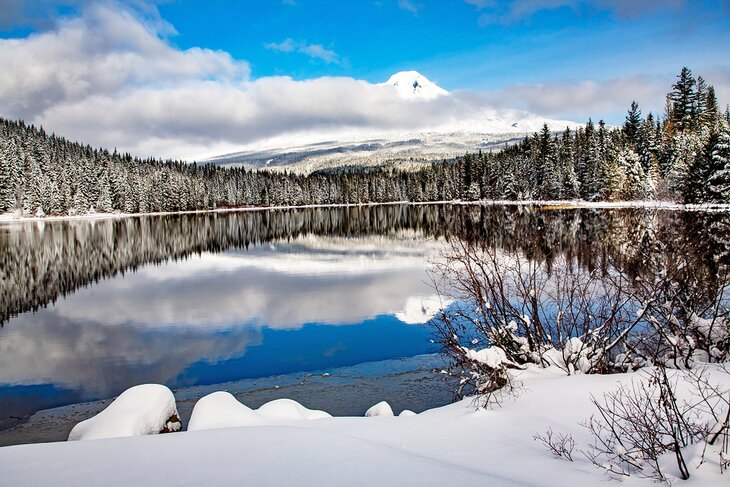 It's not all downhill pursuits that make Mount Hood a popular winter destination. Cross-country skiing and snowshoeing are available from several sno-parks surrounding the mountain.
Trillium Sno-Park is one such popular destination where groomed trails lead to a shimmering view of Trillium Lake. Other groomed trails around the mountain lead to backcountry cabins, frozen waterfalls, and stunning viewpoints.
2. Northern Oregon Coast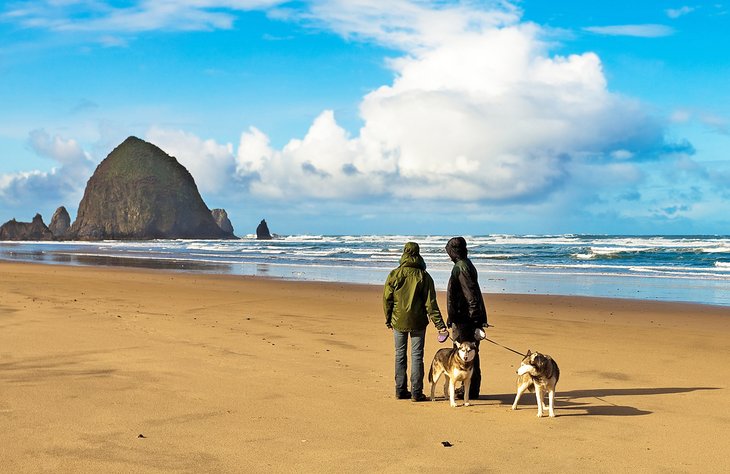 The winter may be the "off" season for the Oregon Coast, but that's more of a reason to visit for many. Alongside reduced rates on hotels and resorts, the Oregon Coast presents a wild side in winter that's fun to enjoy.
Storms along the Oregon Coast's beaches, and seasonal whale watching, are just a few coastal spectacles seen throughout the winter.
On the northwest corner of the coast, the seaside city of Astoria borders both the ocean and the Columbia River. This hot spot of cultural history and entertainment is a bit more mellow in the winter. However, several of Astoria's highlights like museums, restaurants, and a historic riverfront still provide inspiration on a rainy day.
Farther south and 90 minutes from Portland, the cities of Cannon Beach and Seaside also provide great winter destinations. These summer hot spots cool off during the winter and offer better hotel and resort rates. The lack of crowds also lends easier access to indoor attractions in downtown Seaside, like the Seaside Aquarium.
Accommodation: Top-Rated Beach Resorts on the Oregon Coast
3. Central and Southern Oregon Coast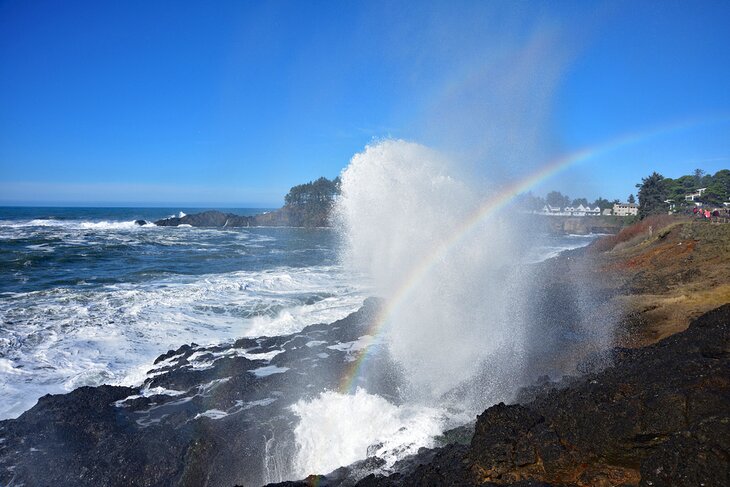 Towards Oregon's central coast, Depoe Bay is a popular winter locale for all sizes of mammals. This cozy coastal city is known as the Whale Watching Capital of the Oregon Coast and abuts an excellent vantage point overlooking the ocean.
Over 25,000 gray whales pass by the city from mid-December to mid-January. An official Whale Watch Week in late December celebrates this great migration.
Newport is just a few miles south of Depoe Bay and is also a coastal destination come winter. Newport is home to the fantastic Nye Beach that, even in winter, proves to be a popular spot to explore or watch storms roll in. The city is also home to several hotels and places to stay with more affordable rates throughout winter.
Farther south, other cities like Coos Bay, Florence, and Brookings each offer a unique slice of coastal getaway. And anywhere along the coast offers winter visitors a laid-back place to avoid snow and crowds of people. Try to snag a room with an ocean view for the best way to watch winter storms roll in.
While not every day encourages exploring outdoors on the coast, winter's calm days offer a quiet beach hiking experience.
4. Bend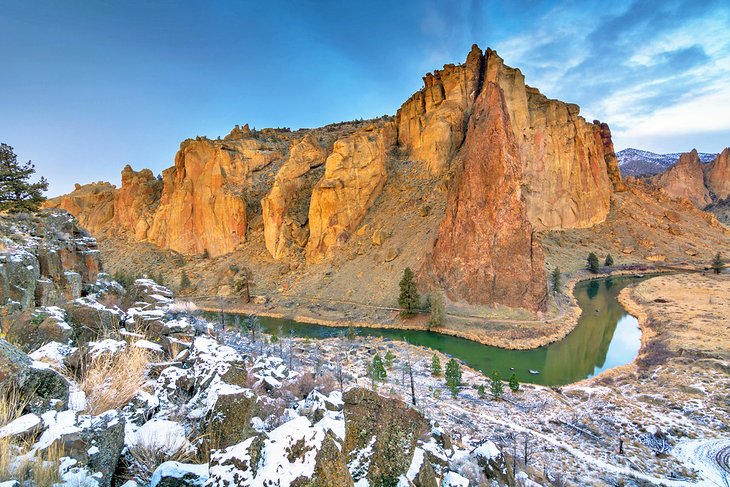 A Bend winter provides the best of both worlds. Located in Oregon's High Desert and near the eastern flanks of the Cascade Mountains, Bend makes it possible to snowboard and rock climb on the same Bend winter weekend. This duality of sunny weather and nearby snow adds to Bend's growing popularity as one of Oregon's best cities.
Skiers and snowboarders in Bend get their fix at the nearby Mt. Bachelor or Hoodoo Ski Area at Santiam Pass. Other snow sports near the city include cross-country skiing, snowshoeing, and dogsledding. Even more winter Bend adventures include ice-skating, tubing, and fat biking.
When it comes time to bask in the sun, Smith Rock State Park is 30 miles northeast of Bend. This high-desert landscape caters to rock climbing, with nearly 2,000 designated traditional and sport routes. Camping and hiking are also prevalent throughout the winter. The Misery Ridge Trail is a misnomer at the park and is one of Oregon's best hiking trails.
It's not just nature that attracts visitors to Bend throughout the winter. The community also comes alive this time of year. Downtown celebrations occur as always in Bend during winter. And the city's food scene pairs well with a tasty hot beverage of choice. For educational pursuits, Bend's High Desert Museum is worth a visit no matter the time of year.
Read More:
5. Crater Lake National Park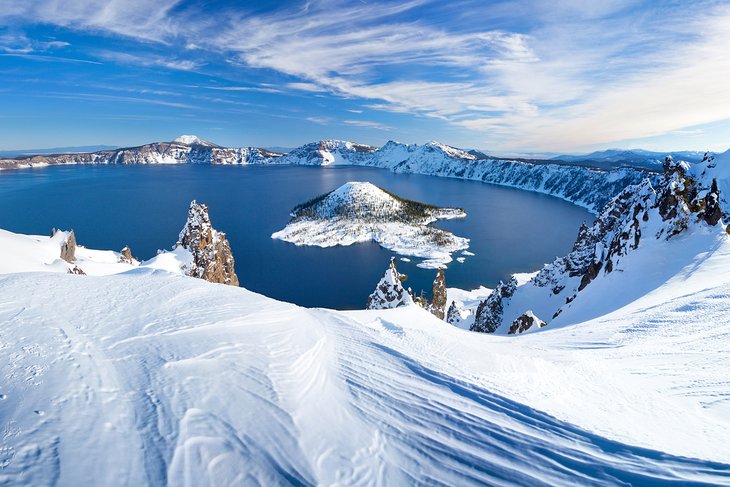 The caldera of Crater Lake in southern Oregon is stunning in winter. The contrast between the snow-frosted banks and the vivid blue water is simply unforgettable. And winter provides an excellent time to visit Crater Lake National Park, with fewer crowds to share the postcard image.
The park receives an average of 40 feet of snow each season. The south and west entrances to the park are open year-round and are plowed throughout the winter as needed. The north entrance of the park and much of Rim Drive remain unplowed and inaccessible to vehicles throughout winter.
The unplowed Rim Drive provides a unique experience for those willing to travel by foot atop the snow. The unplowed road remains open for cross-country skis or snowshoes to tour the rim. Winter travelers on Rim Drive can make an easy out-and-back day trip or pack the cold-weather camping gear for an overnight excursion.
6. Portland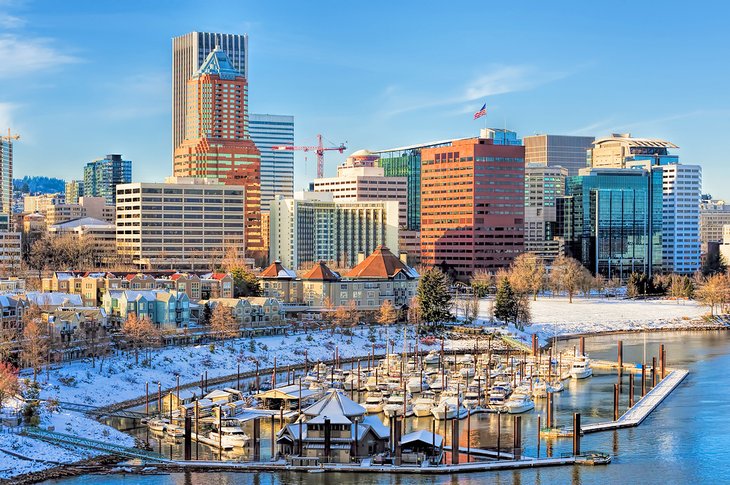 The creative culture of Portland doesn't go dormant in the winter. On the contrary, the city's pulse thrives in the rainy forecast and short days of the season. Portland's many cultures blossom come winter. These include, a vegan culinary scene, a cozy coffee shop culture, and a live music scene.
For bibliophiles and casual readers, Powell's City of Books, touted as the world's largest new and used bookstore, is a must-visit winter destination. It's an experience just perusing the many titles inside. This famous bookstore is just one of many top attractions in Portland to visit throughout the year.
The Portland Winter Light Festival occurs in February and offers illuminated attractions near the end of the season. This annual event showcases scores of lighted art installations and live street performances. The weekend-long event is family-friendly and free to enjoy.
Portland's plentiful natural spaces are also fun to visit in winter. While nothing is in bloom at the International Test Garden, the surrounding Washington Park still has plenty of natural appeal, with places like the Portland Japanese Garden.
When exploring Portland outside in winter, bring along a rain jacket, a warm layer, and shoes that can handle the occasional puddle.
7. Mt. Bachelor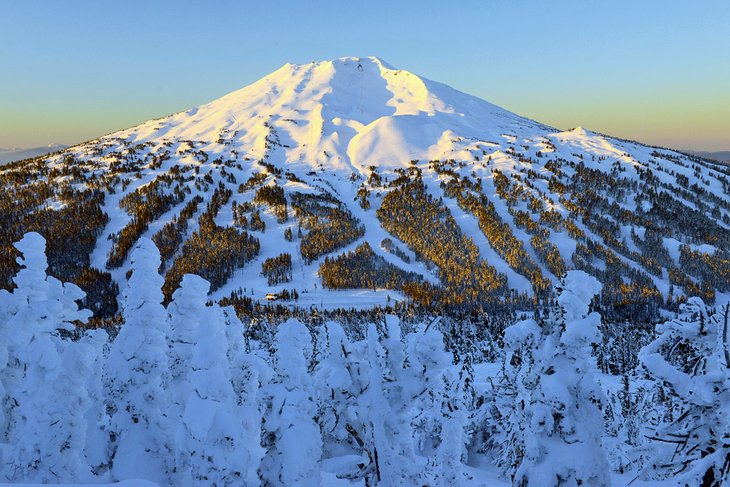 Mt. Bachelor provides one of Oregon's best ski and snowboard experiences.
The mountain is on the eastern flanks of Oregon's Central Cascade Mountains, and a dozen chairlifts at the resort provide access to over 4,000 acres of varied terrain. The resort also offers full-service amenities like slope side lessons, lodges, and dining.
What also makes Mt. Bachelor popular is its short commute to Bend. Residents and visitors of this thriving high-desert city can reach the slopes of Mt. Bachelor in less than a 30-mile drive.
Mt. Bachelor isn't the only notable ski resort in Oregon. Nearby and to the north, Hoodoo Ski Area provides a more local feel on Santiam Pass.
Farther south in the state, Mt. Ashland features winter slopes close to Medford. Up north, near Portland, Mount Hood has five distinct snow areas to explore all winter long.
8. Medford & Ashland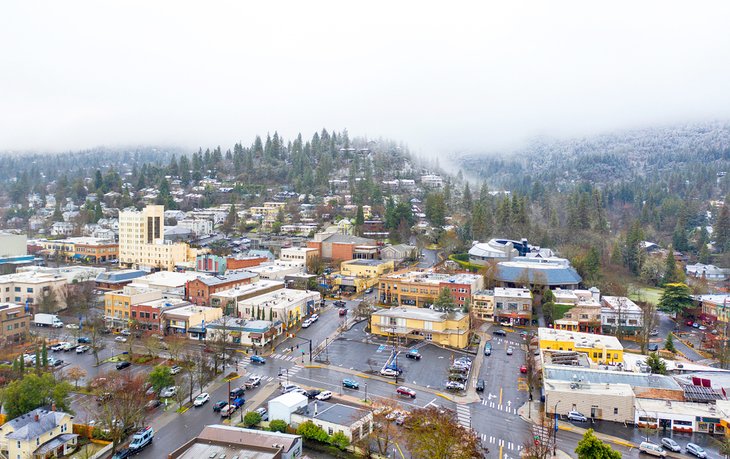 Medford and Ashland are two cultural capitals of Southern Oregon. These neighboring cities offer plenty in the way of seasonal entertainment on their downtown streets. But a real appeal to either town is their close access to stunning outdoor winter landscapes.
Medford and Ashland are both gateway communities to Crater Lake National Park to the north. The 90-minute drive up to Crater Lake from either city makes for a perfect day trip to the national park. And in-town comforts like resorts and lodges in Medford or Ashland offer a nice place to stay warm at night.
Another significant winter destination, Mt. Ashland Ski Area, is less than an hour's drive to the south. This mecca for downhill pursuits features over 40 runs and a free mountain shuttle from Ashland.
Alongside nearby outdoor attractions, both cities also have quaint downtown districts filled with restaurants and shopping. Other in-town interests in the winter include museums, theaters, and the Ashland Carnegie Public Library.
9. Wallowa Mountains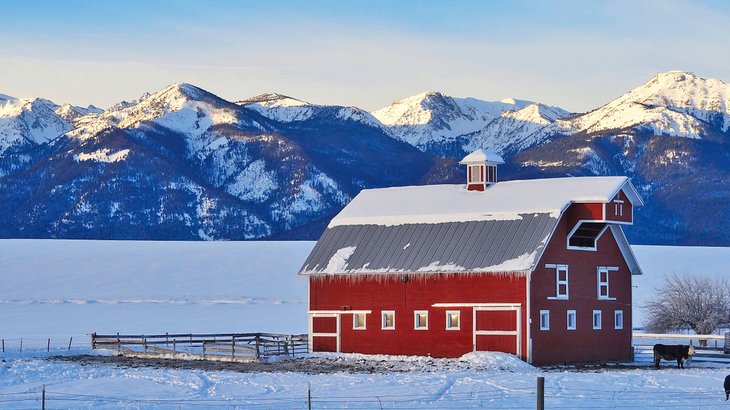 The Wallowa Mountains of northeast Oregon provide quite the panorama for a more rugged winter adventure. These inspiring peaks have received the nickname the "Alps of Oregon" for a reason. And come winter, these high mountains inspire the sound of music with outstanding beauty.
The Wallowa Mountains primarily comprise the Eagle Cap Wilderness within the Wallowa-Whitman National Forest. For those equipped with proper gear and experience, backcountry skiing in the Wallowas provides an unforgettable experience. Places like the Wallowa Alpine Huts add to that extraordinary feeling.
Other winter adventures in the Wallowas include cross-country skiing, snowshoeing, and snowmobiling. Both the Clear Creek and Catherine Summit Sno-Parks are popular places for all three activities. Hundreds of groomed and ungroomed trails branch throughout this wintry forest.
10. Columbia River Gorge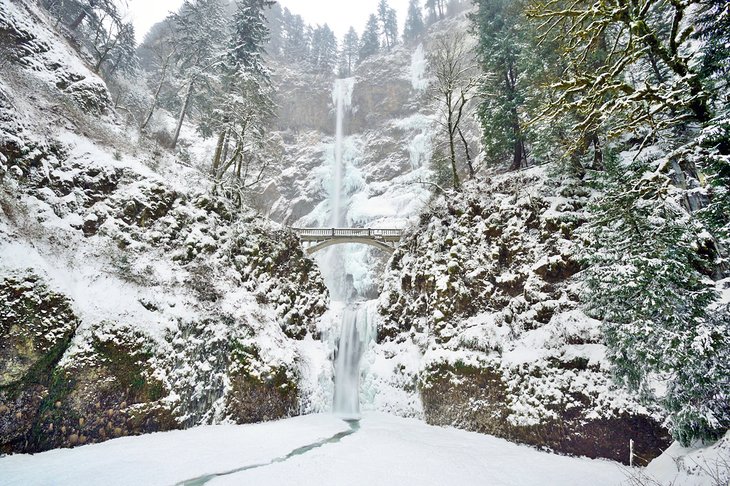 Approximately two million people visit the Columbia River Gorge in northern Oregon each year. Only a fraction of these visits occur in the winter, but the wonderful waterfalls, outstanding vistas, and historic roadways in the gorge don't disappear this time of year. The Columbia River Gorge offers an exciting winter retreat for those willing to brave colder temperatures.
Waterfalls are the main point of focus for many trips to the gorge. That's because this water-rich region is home to the densest concentration of Oregon's best waterfalls. Most falls, like the iconic Multnomah Falls, run throughout the winter months. Still, the landscape in winter is often surrounded by a pristine snowy white reminiscent of a fairy-tale setting.
A great base camp in the area is Hood River on the east side of the gorge. Here, you'll find plenty of things to do. Alongside ample coffee shops, restaurants, and boutique storefronts to stay warm, the town is also a gateway to the nearby Mount Hood.
11. Siskiyou Mountains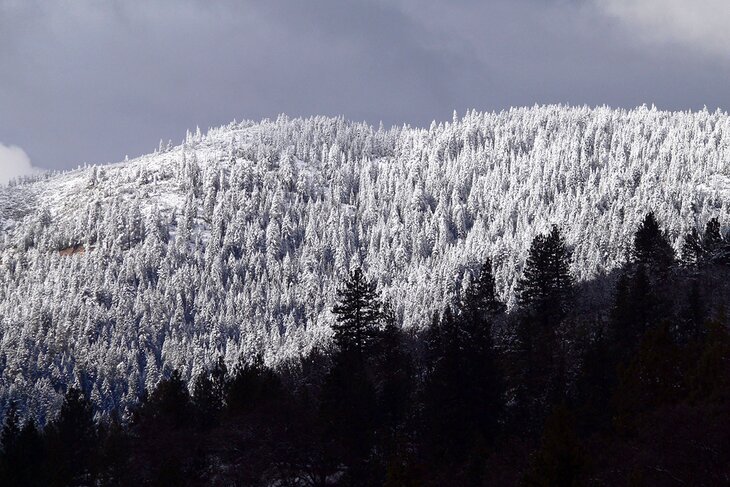 The Siskiyou Mountains of Southwest Oregon are an adventure playground throughout the year.
This high-vantage subrange of the Klamath Mountains stretches into northern California and contains some of the largest tracts of wilderness on the west coast. And, while traveling into its depths come winter is challenging, several sno-parks in the Siskiyou Mountains offer access to its wintry landscapes.
Ashland and Medford are two of the best base camps for exploring the Siskiyou Mountains in winter. With proper tires and traction, visitors from Ashland reach places like Buck Prairie Sno-Park or Big Elk Sno-Park with less than a 30-mile drive. These two sno-parks are excellent jumping-off points for cross-country skiing and snowmobiling excursions.
Mt. Ashland is the most-often-explored Siskiyou Mountain during the winter. It's the highest point of these ancient elevations and home to Mt. Ashland Ski Area. This relatively low-key resort has 40-plus runs close to the California border.
12. Hot Springs in Oregon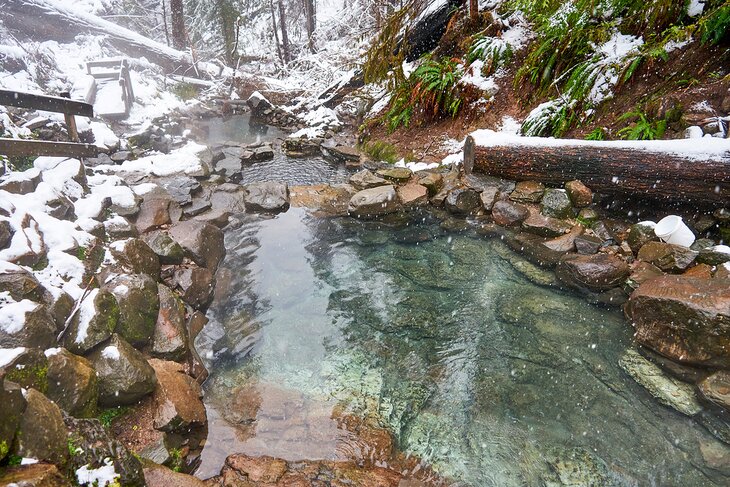 Cold weather complements the best hot springs in Oregon. Steam rises across the state, and some of the most popular pools host crowds of people throughout the spring, summer, and fall. These popular soaking spots offer seclusion amid snowbanks come winter.
The lack of winter crowds at natural hot springs in Oregon is thanks to the often challenging means of visiting. Popular hot springs like Umpqua and Bagby Hot Springs are deep in Oregon's national forests. Unplowed roads and a lack of cell reception make these hot springs inadvisable to visit after significant snow events.
And like Paulina Lake Hot Springs in the Newberry Volcanic Monument, users must travel overland by cross-country ski, snowshoe, or snowmobile to reach the hot water. For those looking for a natural hot spring in Oregon this winter, be sure to check local conditions before making the drive.
Oregon also has a few notable commercial hot springs facilities as an alternative to natural hot springs. Seventy miles from Bend, on the McKenzie River, Belknap Hot Springs is one such facility with a large pool and overnight lodging options. And 80 miles to the north, Breitenbush Hot Springs is a resort and conference center that also entices a winter visit.
Both resorts offer a hot springs experience without the hike. However, both resorts are also within snow-prone forests, where the weather can impact driving conditions. Contact the hot springs' authorities before visiting to discuss the best driving options.
Map of Places to Visit in Oregon in Winter