12 Top-Rated Hot Springs in Oregon
A variety of hot springs are scattered throughout the beautiful surroundings of Oregon, waiting to be enjoyed. From popular hot spots such as Umpqua Hot Springs to the more remote soaking pools found at Ritter, Oregon hot springs provide interested explorers plenty of places to visit. And these thermal attractions help define the outdoor allure of the Pacific Northwest.
The best soaking spot depends on the type of hot springs experience desired. Hot springs like the ones found at Hart Mountain National Elk Refuge provide more isolated settings and vibrant night skies, while popular options such as Bagby Hot Springs entertain larger crowds on the weekends.
Privately owned hot springs add other amenities to the mix. Places like Belknap or Breitenbush offer places to stay and scheduled events that encourage multi-day visits. Primitive hot springs like Bigelow Hot Springs, on the other hand, require no reservations (or clothing).
Hot springs across the country are delicate landscapes. It's imperative when visiting to stay on designated trails, minimize impact to the soaking areas, and pack out all trash. While hot springing in Oregon is a family-friendly experience, expect to make open-minded friends when visiting popular hot springs throughout summer and weekends.
Note that wildfires and other weather events affect hot springs across Oregon. Check the official websites for the latest conditions.
Find the top spots to soak your cares away with our list of the best hot springs in Oregon.
1. Umpqua Hot Spring, Umpqua National Forest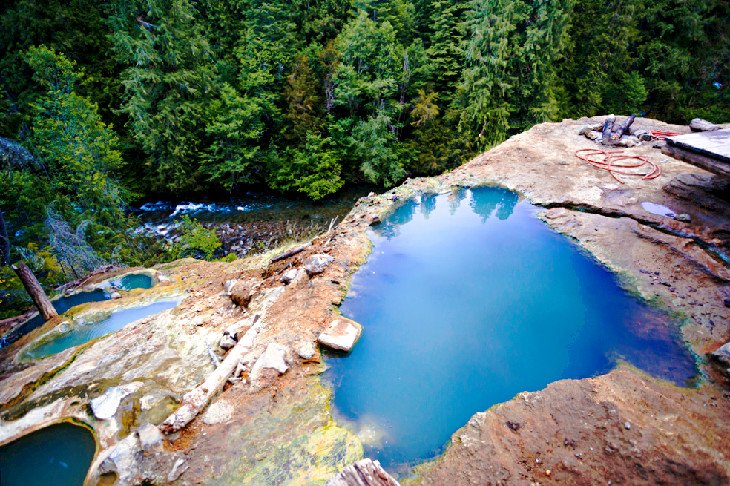 Umpqua is a popular set of hot springs in Umpqua National Forest that provides a picturesque soak throughout the year. It features three cascading soaking pools, each increasing in temperature as you make your way up from the river. The hot springs area also features a tub covered by a primitive wooden structure.
Clothing is optional at this day-use area, and a NW Forest Pass or equivalent hangtag is required to park at the trailhead. It's a short but steep quarter-mile trail from the parking area to reach the springs. A vault toilet is available at the trailhead, and all users need to pack out any trash they may accumulate.
Expect other visitors at the hot springs, particularly on the weekends. For those looking to spend a few days, the closest place to pitch a tent is the Toketee Campground, less than four miles away. The hot spring is near Crater Lake National Park and is accessible with limited driving on gravel roads. Take the roads slow in winter conditions.
2. Babgy Hot Springs, Mt. Hood National Forest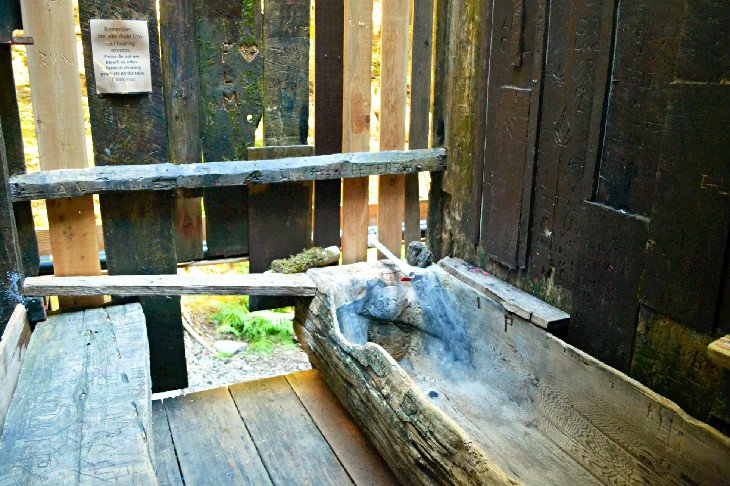 Bagby provides developed hot springs within a primitive setting. This popular spot to soak offers three distinct bathhouses featuring various soaking options, much in thanks to volunteer efforts and coordination with the U.S. Forest Service. Perhaps the most coveted are five private stalls at Bagby, including hand-carved cedar log tubs with hot water piped directly from the source.
Other soaking spots at Bagby include six-foot-round community tubs under hand-built awnings. This is a very popular place in the evenings and weekends, and patrons are encouraged to ration their soaking time when other people are waiting for the tubs.
It's a drive on gravel and forest roads to visit Bagby, and detailed directions and a map are a good idea. The 1.5-mile trail to reach the hot springs follows the banks of the scenic Collawash River. The hike is easily graded and a pleasant trek through a thriving forest.
The Bagby Hot Springs Campground is adjacent to the trailhead and offers options to spend the night, as camping is not allowed at the hot springs themselves. A $5 fee for hot spring use is collected at the trailhead by an attendant or deposited into a fee box.
The 2021 Bull Complex fire jeopardized the forest service roads leading to Bagby Hot Springs, and as of spring 2022, the facilities are closed to the public. Check the official Mt. Hood National Forest website for opening status.
3. Paulina Hot Springs, Newberry National Volcanic Monument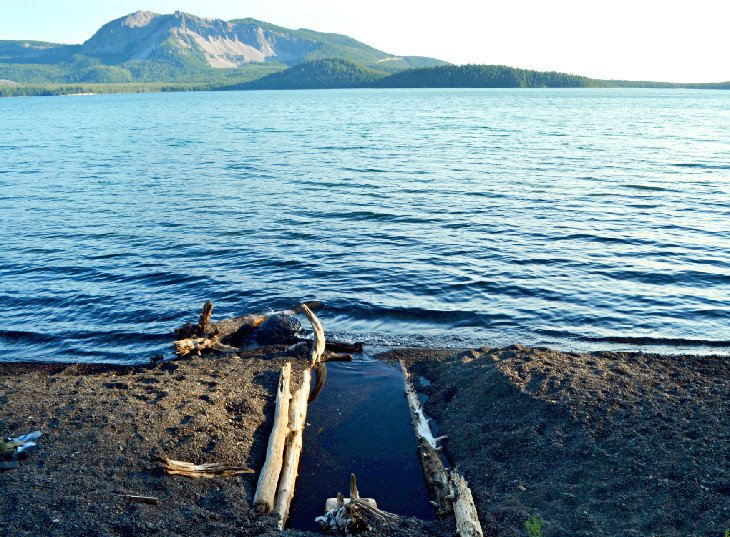 Paulina Hot Springs is a gorgeous lakeside soaking spot within Deschutes National Forest and Newberry National Volcanic Monument – one of the top attractions near Bend.
This unique hot spring is accessible with a two-mile hike on the shoreline of Paulina Lake. Part of the route navigates rocky outcroppings, providing great views of the landscape along the way. At the end of the route, visitors find small soaking spots dug out of the rocky shoreline after making the scenic trek.
Small waves from Paulina Lake cool off the hot water that seeps in from deep underground. Upon lying down in any of the hand-dug soaking spots on the shore, an eye-level look at the topography, including the prominent Paulina Peak, adds to the hot springs' relaxing nature.
The trailhead for Paulina Hot Springs is located at the end of one of the best campgrounds in Oregon, and overnight visitors to Little Crater Campground also enjoy easy access to the water. The hot springs remain moderately busy throughout the summer, but it's possible to get a solo soak on weekdays and early mornings.
Accommodation: Where to Stay in Bend
4. McCredie Hot Springs, Willamette National Forest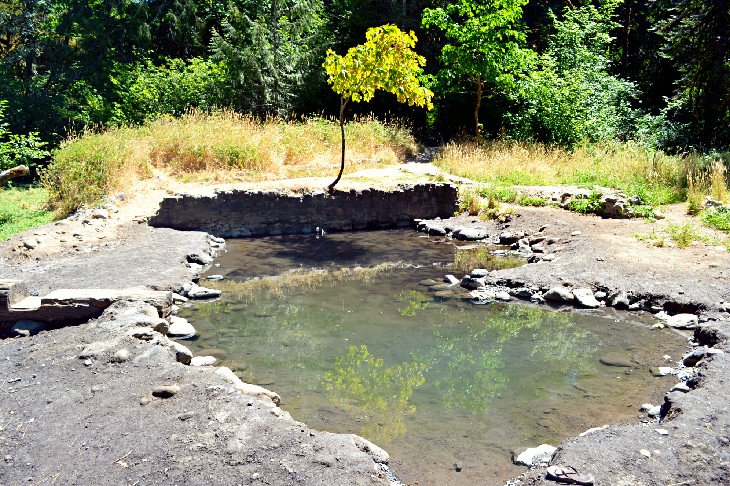 McCredie Hot Springs was once the site of an early 20th-century resort and is now a primitive roadside hot spring within Willamette National Forest. The springs span both sides of Salt Creek and provide a variety of soaking spots to enjoy. McCredie is an hour's drive from Eugene, and 12 miles from one of the largest and best waterfalls in Oregon, Salt Creek Falls.
These clothing-optional and day-use hot springs feature water temperatures as high as 130 degrees near the source (use caution when dipping in toes). A variety of soaking spots mix with the cold-running water nearby to provide comfortable temperatures to enjoy. It's fun to tour the pools, including cold-water dips in the adjacent Salt Creek.
The hot springs are moderately popular. The adjacent parking area features nine parking spots and one RV pullout. The parking area is generally fairly full, with only a few sites available. The weekends are the most common time for the springs to be full.
5. Hart Mountain Hot Springs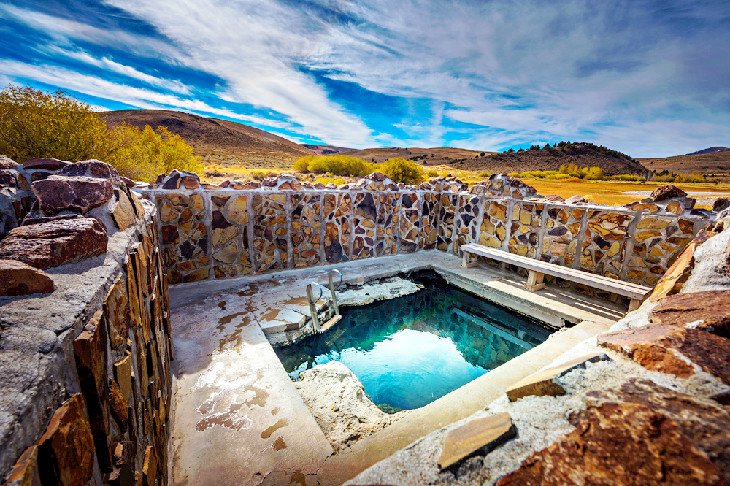 As part of the Hart Mountain National Antelope Refuge, operated by the U.S. Fish & Wildlife Service, Hart Mountain Hot Springs is found in a far remote area of southern Oregon. The main hot spring to visit features landscaped rocks, which make for a comfortable seat, and another small pool nearby offers views of the surrounding vast and open landscape.
The pools are moderate in size, fitting a group of four comfortably, though thanks to the remote location, these hot springs are much less busy. The remote landscape also offers a surreal starscape at night that pairs nicely with a soak.
Thirty primitive campsites are available at the Hot Springs Campground nearby. Day and overnight users will want to pack their own drinking water.
6. Belknap Hot Springs, Willamette National Forest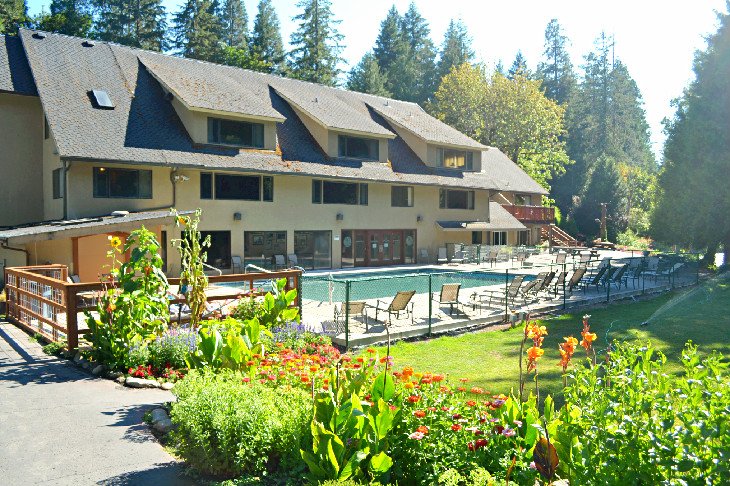 On the banks of the McKenzie River, an hour east of Eugene, Belknap embodies a complete hot springs vacation. This commercial facility features a lodge, campground, and impressive collection of gardens. Belknap also has two private hot spring mineral pools complete with decks and lounge chairs.
Overnight guests at Belknap have access to the upper and lower pools, and day-use visitors can utilize the lower pool with an hourly or all-day pass. Surrounding the pools, the natural beauty of the McKenzie River Valley and the well-kept gardens of Belknap combine for a scenic spot to soak.
Tent spaces, RV hookups, and cabins are all available for advance reservations. Belknap is open 365 days of the year. Icy conditions can make the drive challenging during winter. Be sure to check local conditions before making the drive.
Address: 59296 North Belknap Springs Road, McKenzie Bridge, Oregon
Official site: http://www.belknaphotsprings.com
7. Terwilliger Hot Springs, Willamette National Forest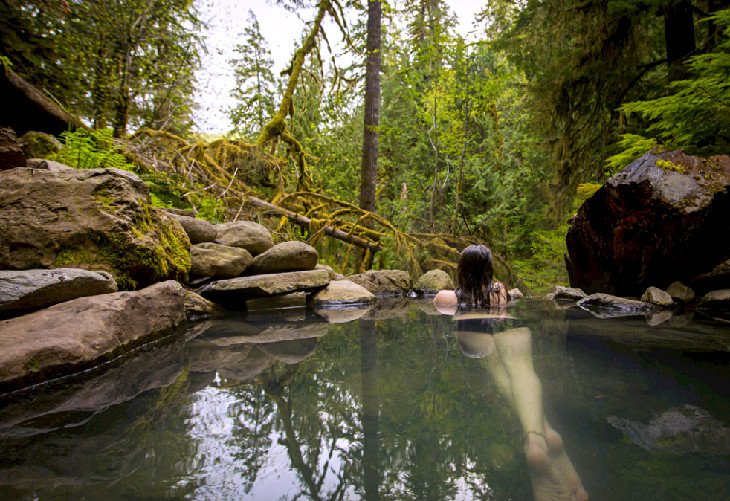 Near Bigelow and Belknap Hot Springs, Terwilliger Hot Springs is one of the most popular soaking spots in the Willamette National Forest. Commonly referred to as Cougar Hot Springs, a small cave at Terwilliger releases hot water towards the McKenzie River below, filling five natural basins along the way.
It's a quarter-mile trail to reach the pools, where you can often expect to find other people enjoying the water. Clothing is optional at this national forest hot spot, and a day-use fee is collected at the trailhead.
Due to wildfires and rockslides in recent years, access to Terwilliger Hot Springs has been compromised. To see current conditions, check out the official U.S. Forest Service webpage.
8. Breitenbush Hot Springs, Willamette National Forest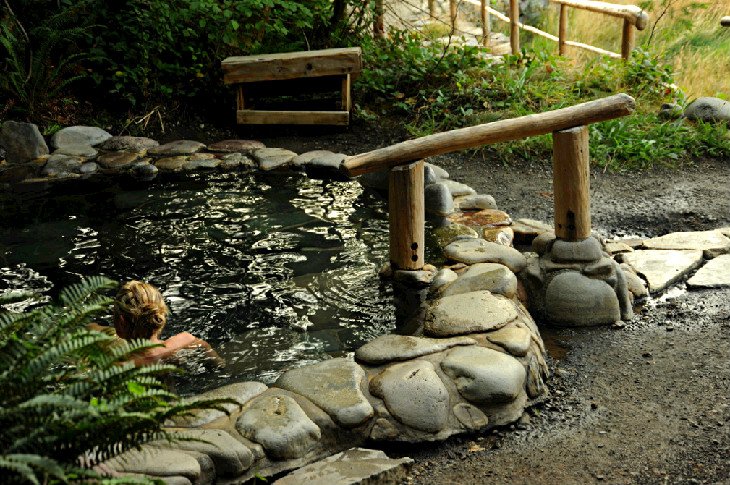 Breitenbush is a full-service retreat and conference center 70 miles east of Salem. The stunning hot springs at the resort are just part of the appeal of this remote wilderness sanctuary.
Three tubs at Breitenbush, furnished with smooth river rocks, ranging from warm to hot, provide great views of the surrounding forest meadows. One of the three tubs is specifically reserved for quiet soaking.
Breitenbush is open for day visits, overnight stays, and multi-day retreats. Other relaxing and refreshing services available include wellness programs, hiking trails, massage therapy, and organic fresh meals.
The devasting 2020 fires in Oregon severely impacted the facility. Nearly half of the structures at this iconic Oregon hot spring were destroyed. Quickly, community support spurred rebuilding efforts. Check out the Breitenbush website for updates before visiting.
9. Bigelow Hot Springs, Willamette National Forest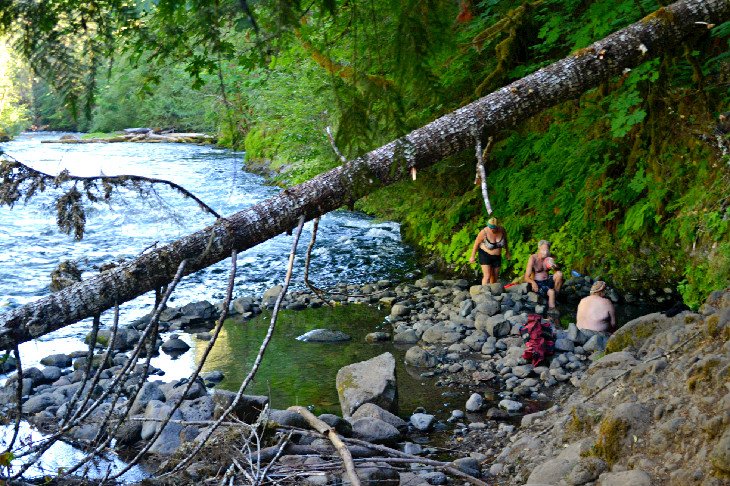 This roadside soaking destination is along the McKenzie River about sixty miles east of Eugene. It's also known as Deer Creek Hot Springs and its hot is contained within a human-made rock circle to provide a small soaking pool. Capacity at Bigelow is approximately three to four people.
The summer is a great time to visit, and though it's not one of the most popular hot springs in the immediate area, expect to share the pool with some other interested visitors. The hot springs are nearly visible from the forest service access road, and the hike to the warm water is manageable for most ability levels.
10. Ritter Hot Springs, Long Creek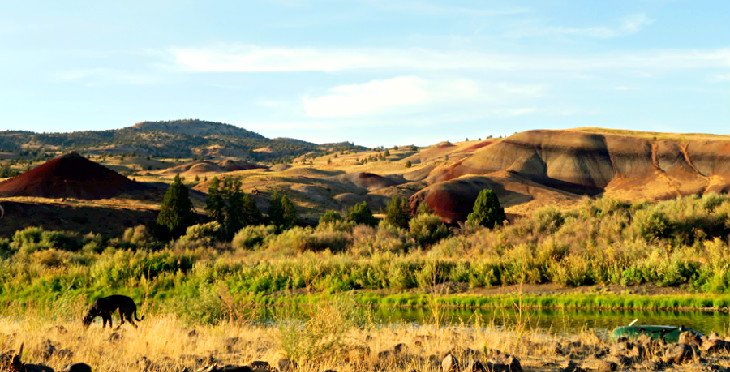 Ritter Hot Springs provides perhaps the most unique hot springs surroundings. It's nestled next to the Middle Fork of the John Day River, within a century-old ghost town in northeast Oregon. The hot springs themselves are in four partially enclosed concrete tubs, accessible with a day fee.
Spending the night in the adjacent historic hotel is an affordable option, with cabins and camping also available. The community that surrounds this privately-owned hot spring is welcoming, and a large swimming pool is also available for cooling off. A recommended amenity at this remote attraction is the outdoor shower, which streams hot water down your neck and shoulders.
11. Alvord Hot Springs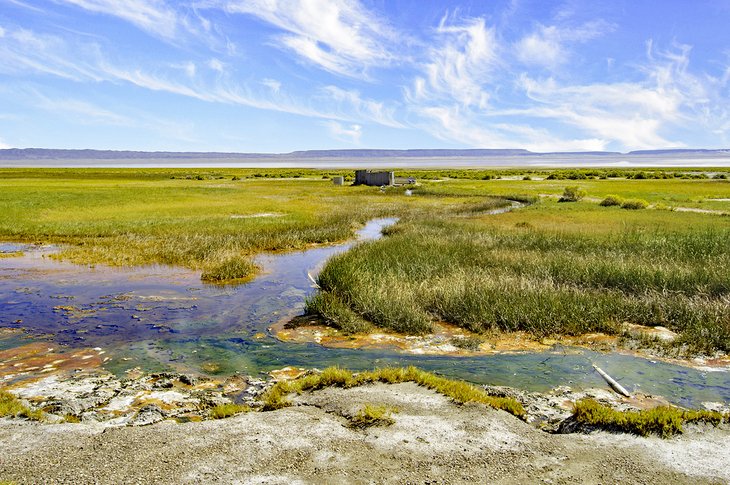 Alvord Hot Springs is a privately owned soaking destination in southeast Oregon. Two concrete pools hold the natural hot water at this family-owned operation, surrounded by stunning views of the Steens Mountains and Alvord desert.
Day-use and overnight passes are available at Alvord Hot Springs. Various overnight accommodations include campgrounds and heated cabins. On some busy weekends, the pools are only available for overnight visitors. The hot springs are also home to weekend events, including live music performances.
Alvord Hot Springs is in a relatively remote area of Oregon, although the Fields-Denio Road to access the springs is paved the entire way. Visitors coming from the north will want to fill up on gas in Burns. The springs have a few necessities for sale, including snacks and drinks.
Official site: https://alvordhotsprings.com/
12. Crane Hot Springs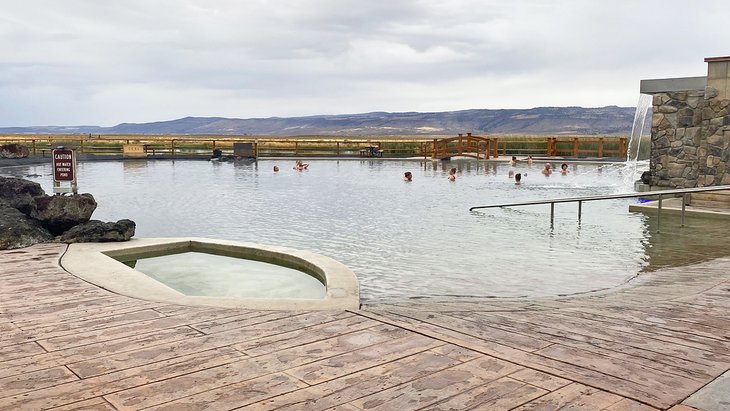 Crane Hot Springs, also known as Crystal Crane Hot Springs, is a casual hot spring resort in Southeast Oregon, approximately 25 miles east of Burns. The site features an expansive hot springs pond, which reaches a depth of over six feet at its center, as well as private soaking tubs.
Day passes are available at Crystal Crane, but the best experience comes from spending the night. The facility has several accommodations available, including unique teepee and cabin arrangements. The overnight facilities at Crane Hot Springs include private patios with barbecues and private soaking tubs.
Official site: https://www.cranehotsprings.com/
More Related Articles on PlanetWare.com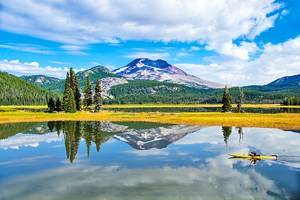 Other Outdoor Adventures in Oregon: While you are discovering some of the states's best hot springs, consider seeing some of Oregon's best lakes, often located nearby. Outdoor enthusiasts should also have a look at our articles on Oregon's top-rated hiking trails and weekend trips in Oregon.