8 Best Ski Resorts in Oregon, 2023
Oregon may not be on every skier's radar, but if you've never skied down the side of a dormant volcano, it may be time to give it a try. Ski resorts in this state receive an incredible amount of snow; most of them average around 35 feet a season. That's about six feet more than the resorts in the Vail corridor in Colorado. The ski season in the Cascade Mountains starts early and finishes late.
Owing to the geography of the state, the skiing is in four main areas: Mount Hood, Central, South, and Eastern Oregon. Access to the ski resorts is easy, three of the top mountains are within 1.5 hours of Portland, meaning you can fly into town in the morning and be shredding it in the afternoon.
Further afield from Portland, the area around Mount Bachelor is home to three additional resorts. The advantage of this area is that the nearby towns of Bend and Sisters make ideal places to stay with their cool vibe and extensive dining and accommodation options. Farther south, near the California border, Mount Ashland is just up the road from the fun and funky town of Ashland.
Plan your skiing or boarding trip with our list of the best ski resorts in Oregon.
1. Mount Bachelor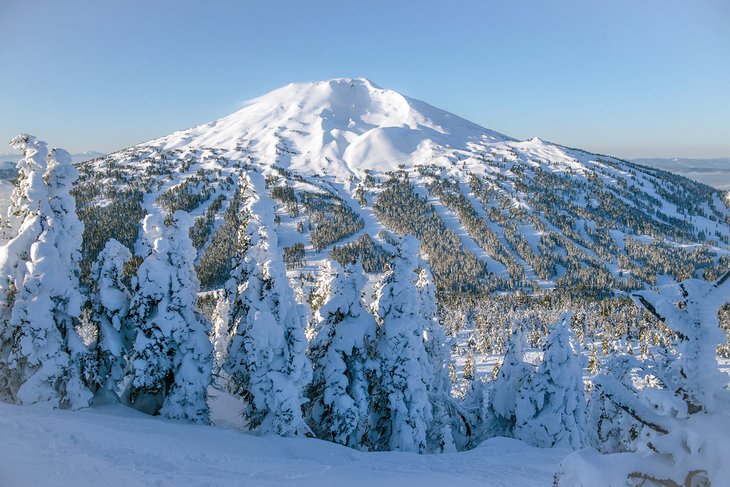 Mount Bachelor is Oregon's largest ski resort. Frequently the site of massive dumps of light, fluffy snow, this resort has become a pilgrimage site of sorts for skiers across the United States. Mount Bachelor is a dormant volcano, and its incredible height of 9,068 feet captures copious quantities of snow each season. Totals frequently top an incredible 38 feet.
With over 4,323 skiable acres, Mount Bachelor is the 6th largest ski resort in North America. That means lots of room to roam over its 101 named runs and 3,365 feet of vertical.
The mountain has 12 lifts, eight of which are high-speed quads, ensuring you will be back up to the top quickly. Although the ski resort is at a high elevation, it's not nearly as high as some of the comparable resorts in Colorado, so the effects of altitude are less burdensome.
Unlike many mountains where snowboarders and freestylers are set off on their own in one or two areas, at Mount Bachelor, they enjoy 12 specific areas on the mountain. Called Woodward Terrain Parks, they are geared towards specific levels of ability, and the focus is on learning.
For those who prefer cross-country skiing, the mountain has an extensive network of groomed trails. Not into skiing? Swing by the Snowblast tubing park with its 800-foot runs, just perfect for family fun.
It used to be that no accommodation is available at the ski resort but this has changed recently. Now, if you are an owner of a winterized RV, you can park your rig with other like-minded individuals in a special parking lot. Sites are both powered and unpowered, and need to be booked online in advance. Note that if your stay includes a Saturday night, the resort mandates a two-night minimum stay, and the maximum stay is seven days in a row or 14 days in a 30-day period.
For those looking for more comfortable accommodation, stay in either Sunriver, 20 miles southeast, or in Bend, 22 miles northeast. Bend is a much larger center, with more options for hotels and restaurants.
Official site: https://www.mtbachelor.com/
2. Timberline Lodge and Ski Area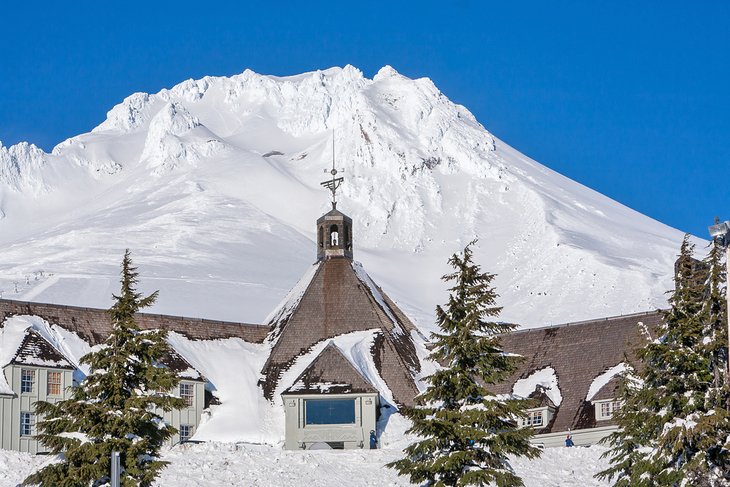 If you have ever wanted to ski in June or July or even in the fall, Timberline is the ski area for you. Set way up on the flanks of Mount Hood, this resort is open all year due to the large amount of snow it receives each year. With a cozy, historic lodge at the base and two friendly resident St. Bernard dogs, what's not to like?
Timberline has nine lifts, including five high-speed quad chairs servicing 41 named runs. The level of difficulty tilts toward beginners and intermediates, with 75 percent of the runs falling into these two categories. The vertical drop is an impressive 3,690 feet, the largest in the US Pacific Northwest.
Timberline has recently added Summit Ski Area to its ski area. The new area is known as Timberline Summit Pass. This addition increases the vertical drop from 3,690 to an impressive 4,450 feet, the largest in the United States.
To get a true thigh burner, take the Magic Mile chairlift up to the Palmer Lift, which will take you to the top of the lift serviced terrain on the mountain. From here, make your way down to Outer West to Coffel's Run to Kruser and onto Alpine all the way to the bottom. Put a notch in your skiing belt — you've just done a 4,000-foot vertical drop run in one shot.
Timberline was an early adopter of terrain parks, and today the mountain continues that momentum with some of the finest parks in the nation. You'll find some of the newest and innovative park features at Timberline.
Staying at Timberline Lodge is one of the great pleasures of skiing here. Although being first to the lifts to shred up the beautiful corduroy in the morning is certainly a bonus, a dinner at the Cascade Room and chilling out in your room, complete with a wood burning fireplace, might truly be the best parts of your stay.
Official site: https://www.timberlinelodge.com/
3. Mount Hood Meadows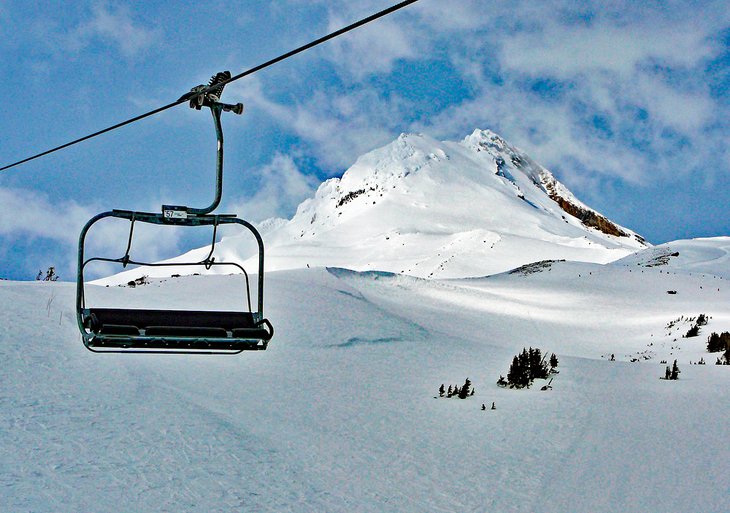 Mount Hood Meadows is the premier destination for those skiers that love long, intermediate cruisers. The resort is the largest of the resorts on Mount Hood, which results in a wide variety of terrain ranging from beginner runs right through to the steepest and gnarliest you can imagine.
The resort is also well known for snow as are all Mount Hood resorts. In the case of Mount Hood Meadows, they generally accumulate 35 feet of snow a season. This ensures that they open early so you can usually ski here prior to Christmas and enjoy great conditions.
All this great terrain and snow is serviced by 11 lifts, six of which are high-speed quad chairs. Over 2,100 acres of skiable terrain and a vertical drop of 2,777 feet is spread across 85 named runs.
Spring skiing at Mount Hood Meadows is some of the best around. The mountain is oriented east and south, so the sun warms the snow up early, and by the afternoon, you can blast through the bumps like they are big piles of mashed potatoes.
Snowboarders and freestylers will be able to accumulate almost endless laps at any one of the four terrain parks: The Zoo, Shipyard, Fireweed, and Forest Park. In addition to the parks, an 18-foot-high superpipe and a banked slalom course are available. As a bonus, Shipyard, Fireweed, the superpipe, and the banked slalom are lit up for night riding.
If your preference is cross-country skiing, you'll find a 15-kilometer tracked route winding its way through forest and meadow areas.
Places to stay near Mount Hood Meadows include the Cooper Spur Mountain Resort. You'll also find other hotels, services, and good dining options nearby.
Official site: https://www.skihood.com/
4. Mount Hood Skibowl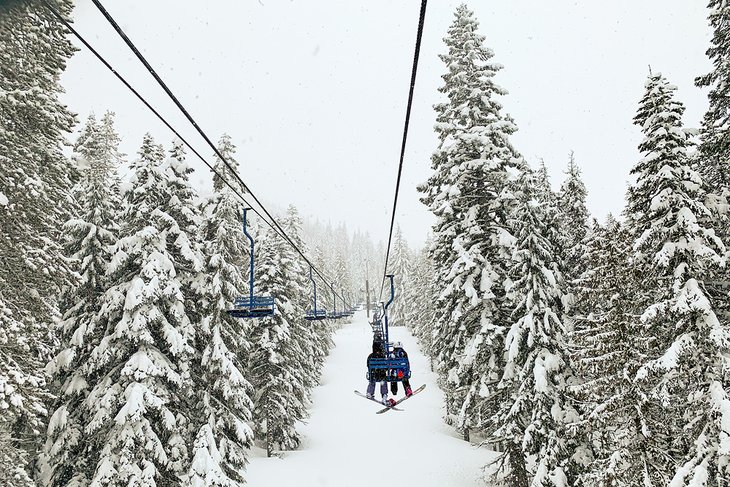 Under an hour's drive from Portland, Mount Hood Skibowl is an ideal resort to sneak away to either for an afternoon, an evening, or even a full day of skiing. Over half the runs are lit for night skiing, ideal for those winter days when the sun sets shortly after 4pm. Mount Hood Skibowl is the largest night skiing operation in the United States.
Four chairlifts and five surface lifts servicing 69 named runs are spread over 960 acres. The resort is lower than others located on Mount Hood but still receives an impressive 25 feet of snow. Two terrain parks have the latest features
This is a skier's mountain, with many of the runs at the advanced level, especially off the Upper Bowl Chair in the West Bowl area. However, runs off the Multopor Chair are more moderate and perfect for intermediate and beginner skiers.
Off the ski hill, you will find all kinds of family-friendly activities. One of the top attractions is the Kiddie Snow Tube and Frosty's Playground. Children, especially younger ones, will be enthralled with the chance to get a hug from the Snow Bunny. For older children and adults, a regular snow tubing hill is also available; at night it is lit up in funky colors.
Official site: https://www.skibowl.com/
5. Hoodoo Ski Area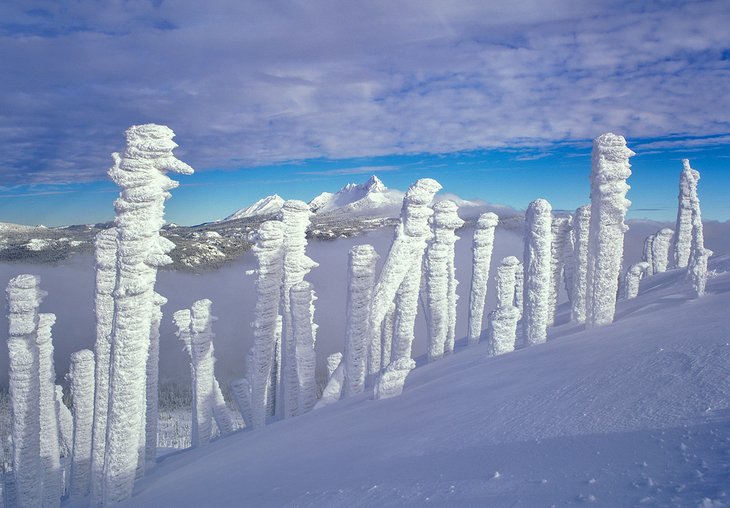 Oregon skiing is not just about skiing on dormant volcanoes, and Hoodoo Ski Area makes this abundantly clear. With season snowfalls north of 37 feet, this resort catches any snow that might fall on its way over the Santiam Pass. With a base elevation of 4,668 feet, the resort is lower than those on the volcanoes, which makes skiing a bit easier, as you won't need to battle the effects of thin air at the higher altitudes. That combined with generally warmer temperatures makes skiing here a real pleasure.
Hoodoo has 34 runs and five lifts to service the 800 acres of skiable terrain. The vertical drop is a respectable 1,034 feet, and with 23 runs lit for night skiing, you can rack up some impressive run totals. In fact, from Thursday through Saturday, you could conceivably ski for 12 hours each day.
For tubing enthusiasts, Hoodoo has the Autobahn Tubing Park, and for those into Nordic (cross-country) skiing, five tracked routes of varying difficulty are available.
You can find accommodation in nearby Sisters or a bit farther along in Bend. If you have an RV, serviced sites are available to rent on a daily or seasonal basis.
Official site: https://skihoodoo.com/
6. Willamette Pass Ski Area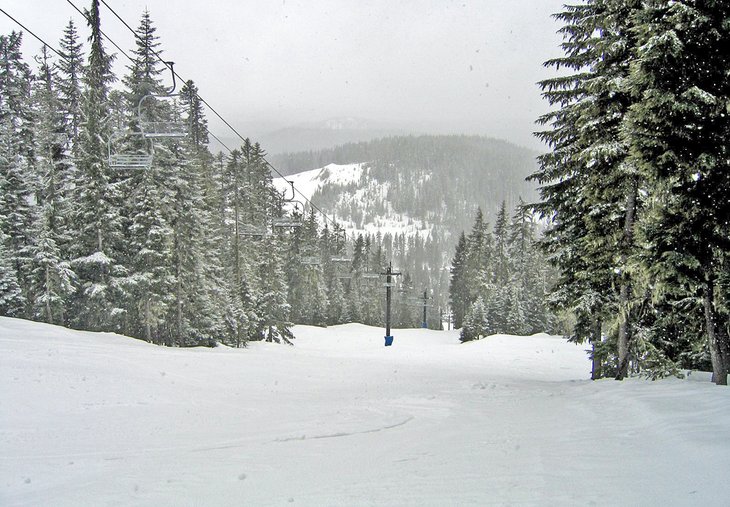 Operating in the same location for over 80 years is Willamette Pass Ski Area. It's located here for one reason: snow and lots of it. Each season, the mountain receives, on average, nearly 36 feet of white gold.
The mountain's 555 acres of skiable terrain is split into two areas: the Southface and the Northface. This is ideal from a skier's perspective because the Northface side of the mountain will retain more snow in its original form, as it will not be sun affected. The Southface is perfect for soaking up the sun and cruising down long intermediate runs.
Willamette Pass Ski Area has 29 named trails, and the 1,563 feet of vertical are serviced by a modern and efficient lift system that includes a six-passenger detachable chair and three triple chairs along with a Magic Carpet surface lift. The trails are broken out as follows: five beginner, 13 intermediate, and 11 advanced. The mountain has the distinction of having the steepest run in Oregon, called R.T.S., at a very scary 52 degrees.
In addition, you will find a terrain park with an assortment of rails, jibs, boxers, and decent-sized booters ideally created so you can stomp the landing. Cross-country skiers will find around 20 kilometers of tracked trails.
Places to stay near Willamette Pass Ski Area are in either Eugene, 75 minutes away, or in Bend, 90 minutes away.
Official site: http://www.willamettepass.com/
7. Mount Ashland Ski Area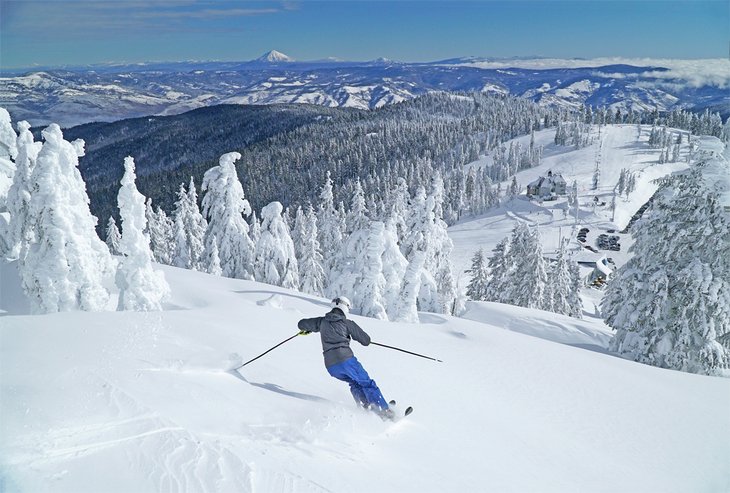 If you find yourself in the southern part of Oregon, be sure to swing by Mount Ashland Ski Area. Only a few minutes off Interstate 5 near the California border, this resort is a friendly community-owned mountain. Located at a relatively high elevation of 6,383 feet, the mountain catches a decent amount of snow each season, right around 22 feet.
The resort has five lifts and 44 named runs spread across 240 skiable acres. A vertical drop of 1,150 feet ensures lots of room to run, and the runs in the bowl area can be simply amazing on a snow day. Three terrain parks named, Blossom, Center Stage, and LLT have boxes, rails, and jumps to challenge even the best boarders and freestylers.
Mount Ashland is an excellent place to learn how to ski because the learner's area is separate from the rest of the mountain. This ensures that you won't have to worry about someone skiing quickly past you.
The resort has no accommodation at the base area, however places to stay nearby are in Ashland, a 20-minute drive away. As a bonus, the Mount Ashland shuttle leaves from town and is free.
Official site: https://www.mtashland.com/
8. Anthony Lakes Mountain Resort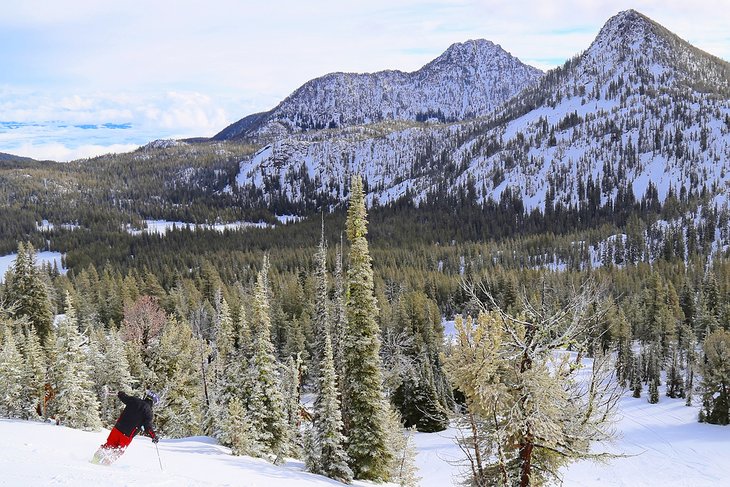 With a city address of North Powder, Anthony Lakes Mountain Resort can't help but pique the interest of most skiers. Proud to claim the title of Oregon's highest base area, Anthony Lakes Mountain Resort perches at an elevation of 7,100 feet. From here, the main chairlift takes you up another 900 feet where you'll be able to access 1,000 acres of alpine terrain.
It's up in this alpine playground where nearly 21 feet of snow fall each season, ensuring that the 21 named runs are always deeply covered with copious quantities of the precious white stuff that skiers crave. The runs here are a mix of beginner (20 percent), intermediate (38 percent), and advanced (42 percent), ensuring that there's something for everyone in your crew to enjoy.
In addition to all the skiing, Anthony Lakes Resort has the Broadway Terrain Park, chock-full of all kinds of obstacles, humps, and jumps. If you like your skiing on flat land instead of slopes, the resort also has an extensive network of cross-country (Nordic) ski trails available.
One thing to note, the resort is only open Thursday through Sunday, so if a big dump of snow happens Monday through Wednesday, the fresh pow will still be ready and waiting for you to set your own tracks.
Address: 47500 Anthony Lakes Hwy North Powder, Oregon
Official site: https://anthonylakes.com/
Map of Ski Resorts in Oregon