15 Top-Rated Campgrounds on the Oregon Coast
Great campgrounds line the Oregon coast up and down, punctuated by scenic ocean attractions and jaw-dropping viewpoints. Campgrounds on the coast cater to RV drivers, tent campers, and hikers or bicyclists arriving via muscle-powered transportation.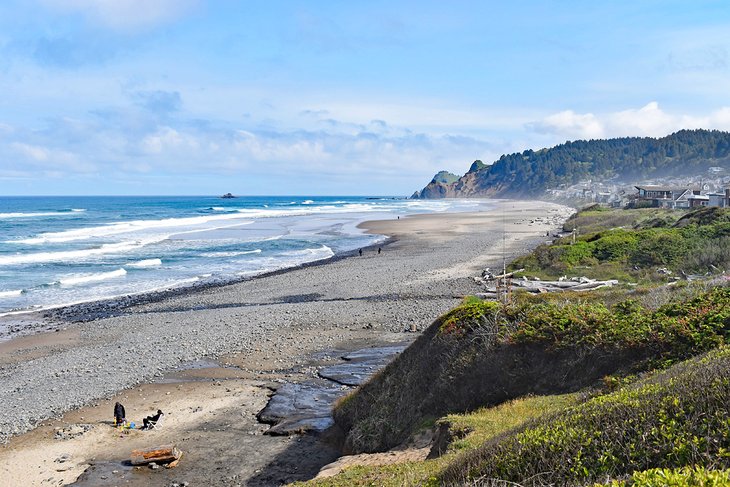 Oregon State Parks operates many of the best places to camp on the coast. And like Cape Lookout or Harris Beach, all state park campgrounds share similar characteristics, including hot showers, flushing toilets, and designated hiker/biker sites reserved for non-motorized travelers. For additional details and to make reservations, visit the Oregon State Parks website.
Other campgrounds on the coast fall under the jurisdiction of the U.S. Forest Service. These campgrounds are more primitive in nature and often include more secluded spots to enjoy the roar of crashing waves nearby. You can also make reservations in advance for Forest Service campgrounds.
Be sure to book any camping reservations ahead of time, particularly in the summer months, when the coastal weather is nothing short of postcard-perfect. Find a great place to camp next to the ocean with our list of the best campgrounds on the Oregon Coast.
1. Cape Lookout State Park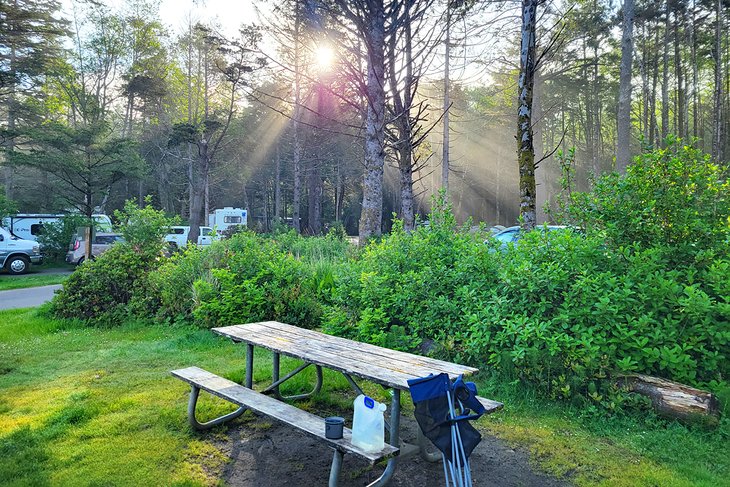 Cape Lookout is the northernmost cape of the Three Capes Scenic Route on the northern coast, and one of the top attractions of the Oregon Coast. It's a popular state park for camping, with more than 200 campsites within earshot of the ocean.
While most campsites at Cape Lookout cater to tent camping, more than 50 full hookup sites for RVs are also available. Cape Lookout also offers various pet-friendly yurts, deluxe cabins, and one of the best hiker/biker camps on the coast. Every overnight visitor has access to free hot showers, restroom facilities, and a stunning natural environment.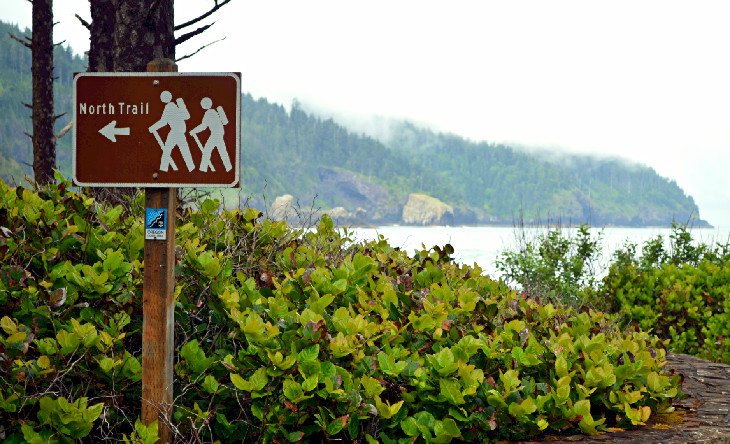 A network of hiking trails leads from the camping area to explore the forested cape environment, including routes to the top for a spectacular view. The campground is a short drive north of the main Cape Trail and is much closer to the Netarts Spit part of the park, which offers a long, sandy stretch of oceanfront to explore at leisure.
Address: 13000 Whiskey Creek Road, Tillamook, Oregon
2. Fort Stevens State Park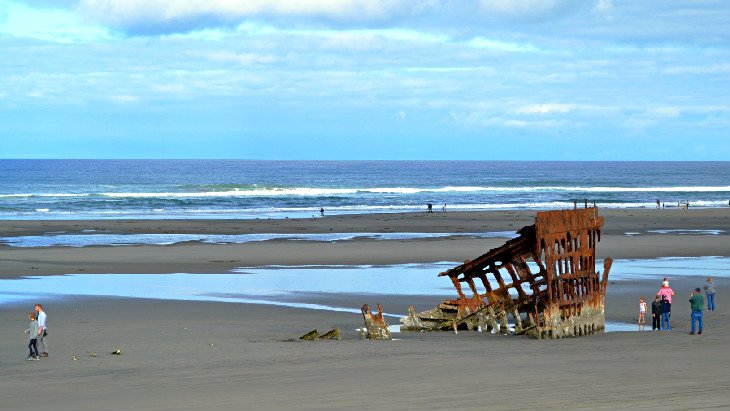 Fort Stevens State Park is on the far northwest tip of Oregon. It is a retired military space now converted into one of the largest campgrounds on the coast. This unique history, alongside an expansive sandy beach, makes Fort Stevens one of the most popular places to go camping in Oregon.
Even with more than 300 tent and 150 RV spaces available, advanced camping reservations are still recommended (especially in the summer). Shower houses, flushing toilets, and running water are within the two massive campground loops. The campground also features one of the most impressive amphitheaters in the country, which showcases educational movies throughout the week.
It's highly recommended to explore the site's military history during any stay. Facilities include barracks, batteries, and bunkers. The visitor center is a great place to start a self-guided history tour, where archival photographs paint a picture of the fort's military past.
The ocean access at Fort Stevens is also a main draw, and the ancient remains of the Peter Iredale shipwreck on the beach are a must-see sight. And unique to the rest of the coast, vehicles are allowed on parts of the beach at Fort Stevens.
Despite this vehicle traffic and its popularity for clamming, it's easy to find personal space on the wide beach, which stretches for nearly 20 miles to the south.
Address: 100 Peter Iredale Road, Hammond, Oregon
3. Harris Beach State Park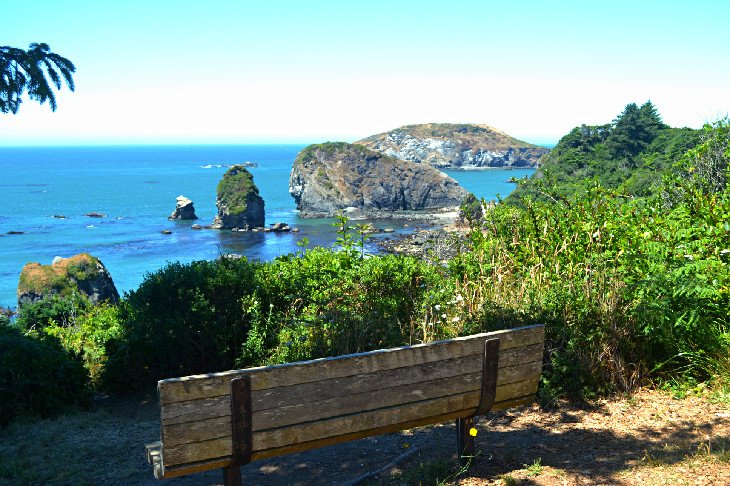 Harris Beach State Park accommodates hikers, bikers, car campers, and RV dwellers on the far southern end of the Oregon coast. The park has more than 150 campsites available. But the real appeal of this spacious campground comes from its immediate surroundings – including easy access to Samuel H. Boardman State Scenic Corridor just up the road.
Approximately 90 sites cater to RVs at Harris Beach, some with full hookups and some with just electric plug-ins. The state park also has approximately 60 tent sites. Every pull-up camp spot at Harris Beach State Park comes with a paved parking spot, picnic table, and fire ring, as well as nearby water, restrooms, and showers.
The campground is situated within the city limits of Brookings and next to the ocean. A paved pedestrian path within the campground accesses the beach and inspiring views. The same route connects to downtown Brookings and places like restaurants and grocery stores within a short walk.
4. South Beach State Park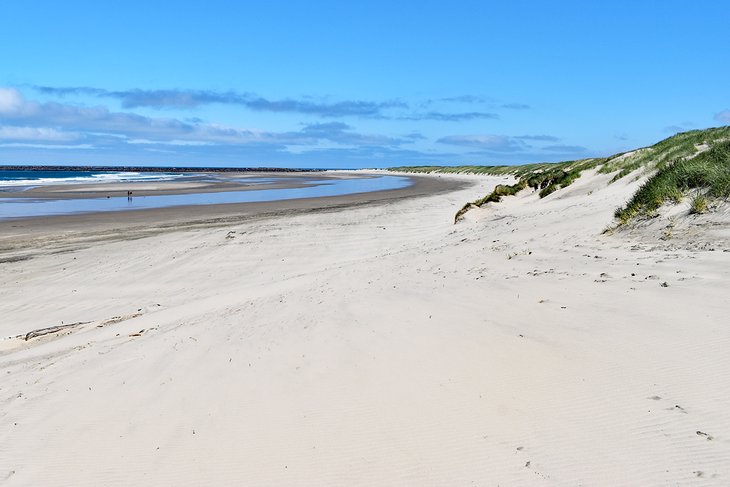 South Beach is a sprawling state park in Newport along the central Oregon coast. The park is immediately south of Yaquina Bay's South Jetty and stretches for over a mile down the coast. It has over 225 electric RV sites and 60 tent sites, making it one of the largest coastal campgrounds in Oregon.
Popular yurts are also in the campground, with 27 of these circular units available. Sites are reservable up to six months in advance. All overnight guests have access to potable water and free showers.
Other amenities at the campground include firewood for sale, playground equipment, and trash and recycling bins.
Several activities draw campers and day visitors to South Beach State Park. The paved South Jetty trail is a common thoroughfare for exploring, spanning much of the park. Other dirt and equestrian trails also navigate the park, many leading to the sprawling shoreline.
5. Nehalem Bay State Park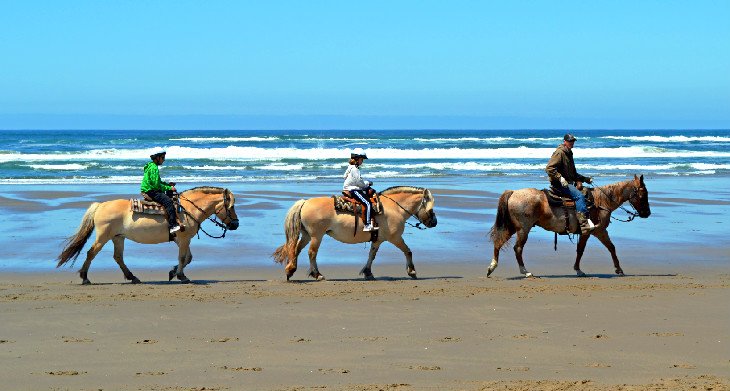 Less than a two-hour drive from all the big-city attractions in Portland, this state park is set upon a four-mile sand spit separating Nehalem Bay from the ocean. More than 260 electrical sites cater to RVs and tent campers. The state park also has 18 yurts available, half of which are pet-friendly.
Via a short, sandy trail, campers cross a dune to access the beach and ocean from the campground. Restrooms, running water, and showers are all included on-site. Camping reservations are recommended if not required in the summer season.
Just a couple of miles north of the campground, the small town of Manzanita is a great place to buy camping supplies, eat out for a meal, or catch some live music on the weekends.
Address: 34600 Gary Street, Nehalem, Oregon
6. Umpqua Lighthouse State Park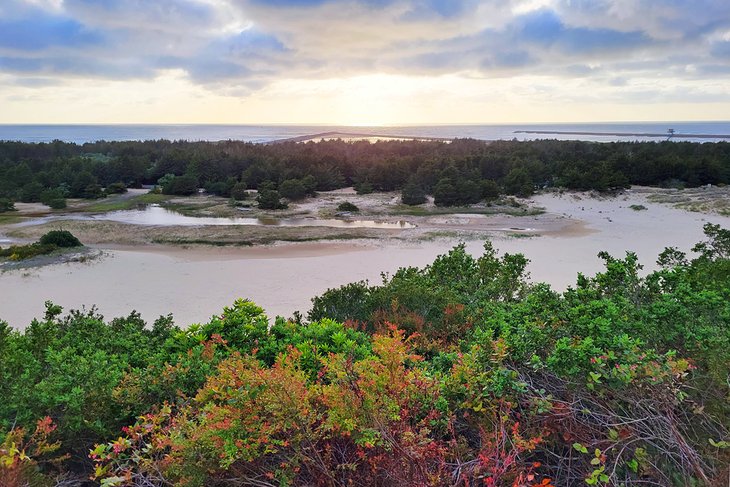 Umpqua Lighthouse State Park is one of the smaller state park campgrounds on the coast. It's approximately a mile south of Winchester Bay and near the center of the Oregon Dunes National Recreation Area.
The 12 full-hookup RV sites and 23 tent sites at Umpqua center around the freshwater Lake Marie. A scenic paved path circles the water and lends access to non-motorized boating, fishing, and swimming. Yurts, rustic log cabins, and a cozy hiker/biker camp are also available and all registered campers have access to hot showers and flushing toilets.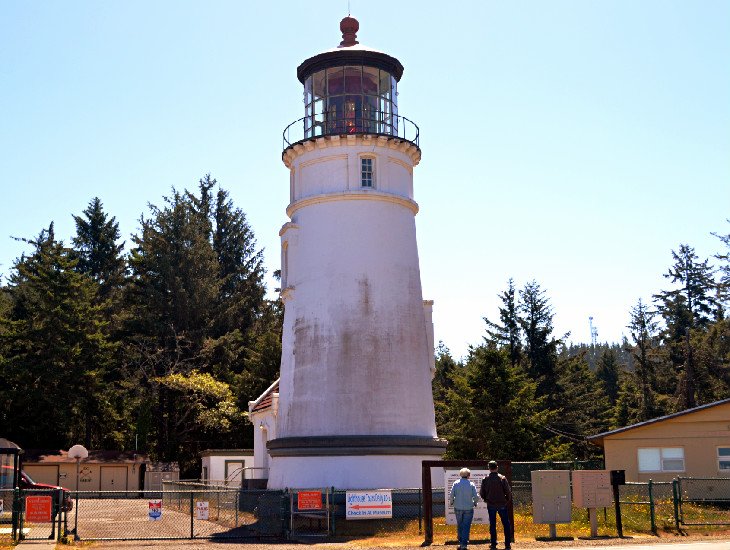 Near the lake's northwest end, the Umpqua River Lighthouse provides aesthetic appeal and elevated views of the distant ocean shore. This is a popular spot to watch for whale spouts in the water. Bring binoculars for a better view.
Location: Reedsport, Oregon
7. Beverly Beach State Park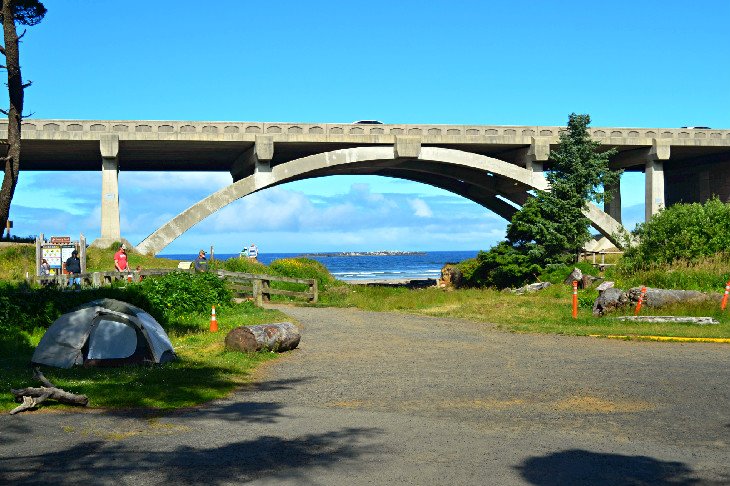 Beverly Beach State Park is on the east side of the 101, halfway between Depoe Bay and Newport, two of the top small towns on the Oregon Coast. The park provides easy beach access under a scenic bridge spanning Spencer Creek.
The Spencer Creek Bridge frames the campground's western loop, and all 250 campsites are distributed among massive shade-producing trees. Nearly half the campsites cater to tent camping, with the other half accommodating RVs, with full hookups and electric-only options.
The campground also has a secluded hiker/biker site that's perfect for those traveling the coast by foot or bicycle. Showers, running water, and flushing toilets are all available for guests of the campground.
Address: 198 Northeast 123rd Street, Newport, Oregon
8. Sunset Bay State Park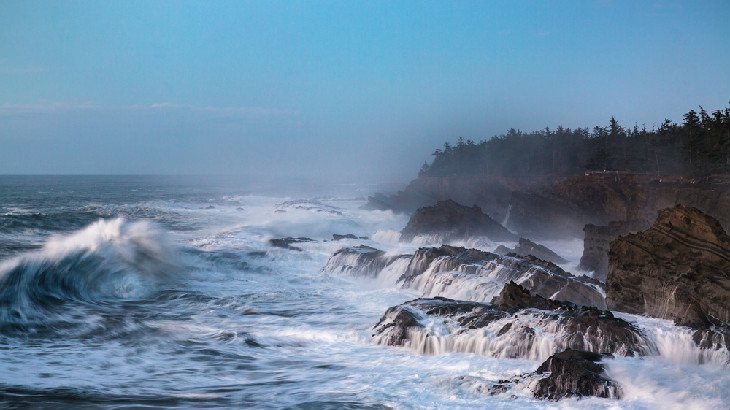 South of Coos Bay and the fishing village of Charleston, Sunset Bay State Park is tucked neatly in a bay created by sandstone sea cliffs, accessible via the Cape Arago Highway. The sheltered surroundings of Sunset Bay keep the waters nice and calm for water play and provide refuge from the sometimes breezy conditions on the coast.
The tucked-away campground at Sunset Bay features spaces for RVs, tent campers, hikers, and cyclists. Every site includes access to running water, showers, and flushing toilets. Every site also features easy access to the ocean, only a short walk away.
For neighboring adventures connected by hiking trails, both Shore Acres State Park and Cape Arago State Park are just a little farther south. Both these state parks offer other camping options and coast to explore.
Location: Coos Bay, Oregon
9. Carl G. Washburne Memorial State Park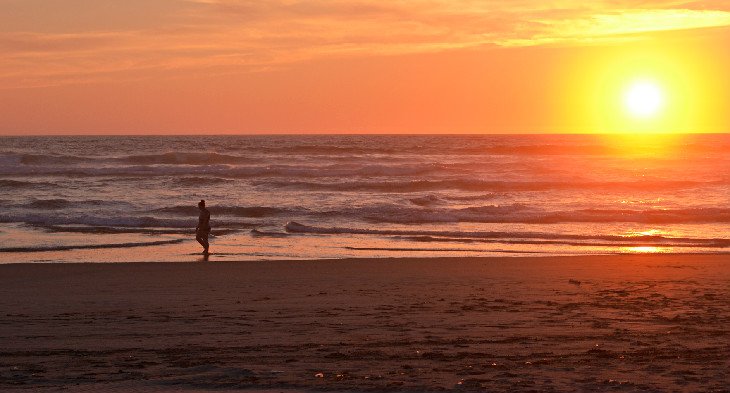 On the east side of the 101, between Yachats and Florence, this 1,000-acre state park has approximately 60 campsites available. Campsites at Washburne, like most state park campgrounds, are available on a six-month rolling basis.
Many sites cater to RVs, with full hookups available. Two reservable yurts are also available, as are hiker/biker sites. All overnight guests have access to flushing toilets, running water, and free hot showers.
The beach adjacent to Carl G. Washburne is a great place to explore or relax. Paved and unpaved hiking trails lead from the campground to the beach and various other wildlife-viewing areas.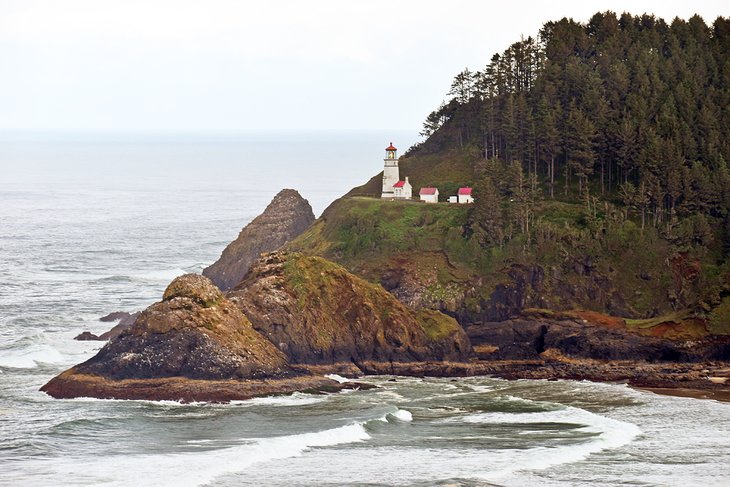 For those who want to make a great day trip from the campground, the Heceta Head Lighthouse is less than three miles to the south. Along the way, the Hobbit Trail is a favorite hiking trail that's popular for family hikes.
Location: Florence, Oregon
10. Humbug Mountain State Park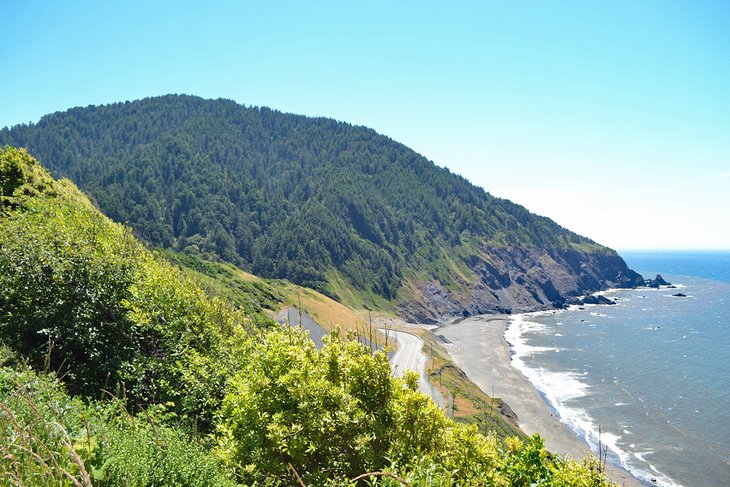 Humbug Mountain is a hard-to-miss promontory on the southern Oregon coast. The mountain rises 1,765 feet right from the ocean, approximately six miles south of Port Orford. And once the 101 starts navigating its northeastern flank, the road enters a lush wonderland of forested hills and the babbling Brush Creek.
Humbug has 39 electric sites and 56 tent sites. The campsites are relatively close together, but landscaped hedging and natural forestry give a nice sense of privacy. Most of the campsites are on the other side of Brush Creek from the 101, making the campground an easy pullover on a road trip. All guests have access to potable water and showers.
Hiking is one of the biggest draws to Humbug. And specifically, the 5.5-mile hike to the top of Humbug is a quintessential coastal hiking trail. It's a challenging hike, rewarded with miles-long south-facing views of the coast. Humbug also has a diverse selection of easier hikes, including a short hike to a secluded beach area.
11. Jessie M. Honeyman Memorial State Park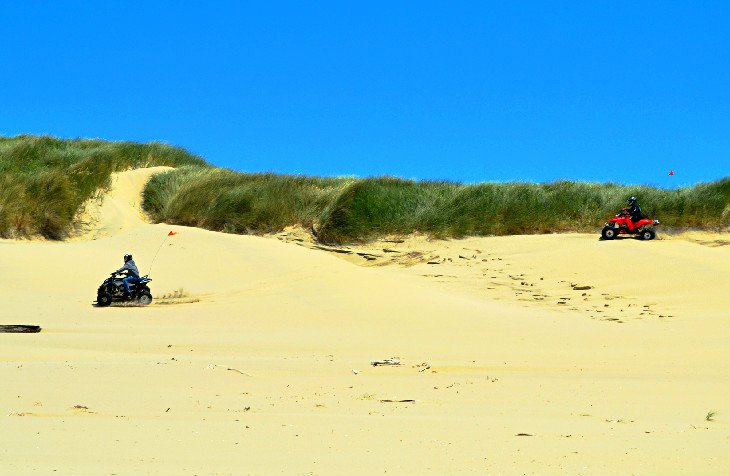 With more than 350 campsites available, Jessie M. Honeyman is one of the largest state park campgrounds on the Oregon Coast. The park caters to RV and tent camping and is surrounded by the Oregon Dunes National Recreation Area. Dune enthusiasts and off-highway vehicle (OHV) riders often fill the campground.
Three freshwater lakes are also within the state park, which are well used by swimmers, anglers, and anyone looking to cool off from the summer sun. No direct trails link Honeyman to the ocean, but outside of snowy-plover-restricted seasons (March to September), OHV riders can find their own route to the beach.
Running water and restrooms are available for all overnight users. The state park also provides ample parking and staging areas for OHV riders.
Location: Florence, Oregon
12. Wright's for Camping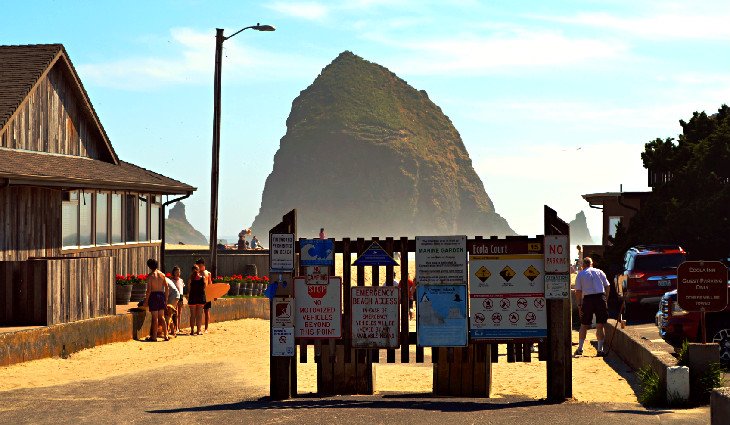 For a great, family-owned campground near Cannon Beach and Haystack Rock, Wright's for Camping has provided a picturesque place to pitch a tent since 1959. This popular campground is a car-and-tent campground only, with no RV spaces available. Small pull-behind campers are welcome. And with 22 spacious sites, Wright's offers a quiet environment within shaded surroundings.
One of the biggest appeals of this family-friendly and family-operated campground is its proximity and access to Cannon Beach. In less than a half-mile jaunt from the campground, guests enjoy one of the top beaches on the Oregon Coast, including the iconic views of the towering Haystack Rock.
Running water, free showers, and a coin-operated laundry are available for guests of the campground. The campground shuts down between October and May, so that the resident Cannon Beach elk herd can utilize the space.
Address: 334 Reservoir Road, Cannon Beach, Oregon
Official site: http://www.wrightsforcamping.com/
13. Rock Creek Campground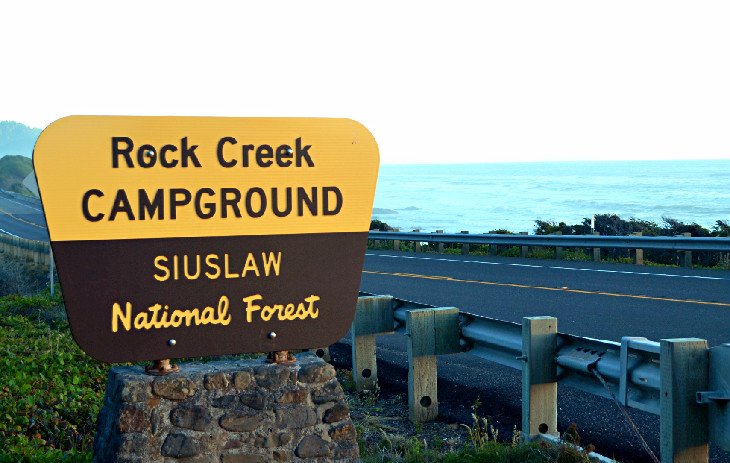 Operated by the National Forest Service within the Siuslaw National Forest of Central Oregon, Rock Creek Campground provides a well-shaded place to stay close to the ocean. The 14 sites at Rock Creek are reservable ahead of time. Vault toilets and potable water are located nearby.
A half-mile paved walking trail takes campers straight to the beach, and nearby forested trailheads invite exploration into the surrounding Rock Creek Wilderness. Fishing and birding are popular activities in the area. The long stretch of beach accessible from Rock Creek is particularly notable for its sunsets.
Eight miles to the north, Cape Perpetua delivers on one of the most stunning views found on the coast.
Address: 93825 US-101, Florence, Oregon
14. Tillicum Beach Campground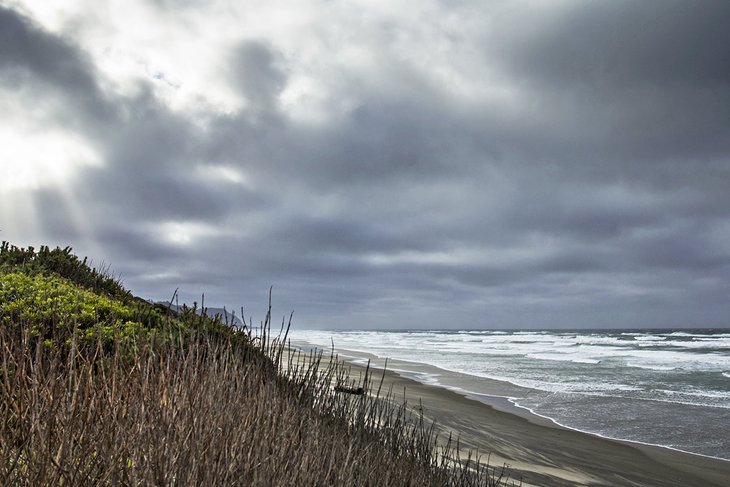 Tillicum Beach is a very popular campground on the central Oregon coast, approximately four miles north of Yachats. What makes it so popular is its beachfront location, with several of the sites just a few feet from the sand. The campground has 61 sites, a few of which have full hookups available.
The U.S. Forest Service operates Tillicum Beach Campground as part of Siuslaw National Forest. Reservations are highly recommended throughout the summer months and shoulder seasons and are available on a six-month rolling basis.
Alongside unbeatable beach access, overnight visitors are in proximity to flushing toilets and potable water. No showers are available. Each site has a picnic table and fire ring. Popular activities on the nearby beach include surfing, beachcombing, and watching for whale spouts in the water.
15. Tillamook Head Backpackers Camp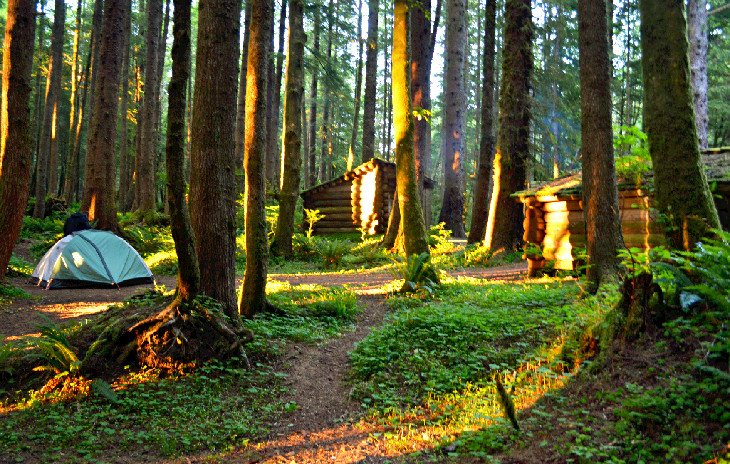 Free campgrounds on the Oregon coast are hard to come by. In part, that's what makes the backpacker's camp atop Tillamook Head within Ecola State Park special. The other factor that makes this free camping spot one of Oregon's best campgrounds is its stunning postcard environment.
Surrounded by towering, old-growth trees, which add a sense of wooded mysticism, the Tillamook Head backpackers camp consists of three Adirondack shelters and available tent space. Vault toilets and a large picnic pavilion are also at the top, as well as a food hang. Every overnight accommodation atop the head is available on a first-come, first-served basis.
Overcrowding is rarely an issue thanks to no water access and a challenging 4.5-mile hike up to the campground. The easiest access point for this hike-in campground comes from the neighboring city of Seaside to the north. As well as carrying water to the campground, hikers and overnight users also need to pack out all trash they accumulate.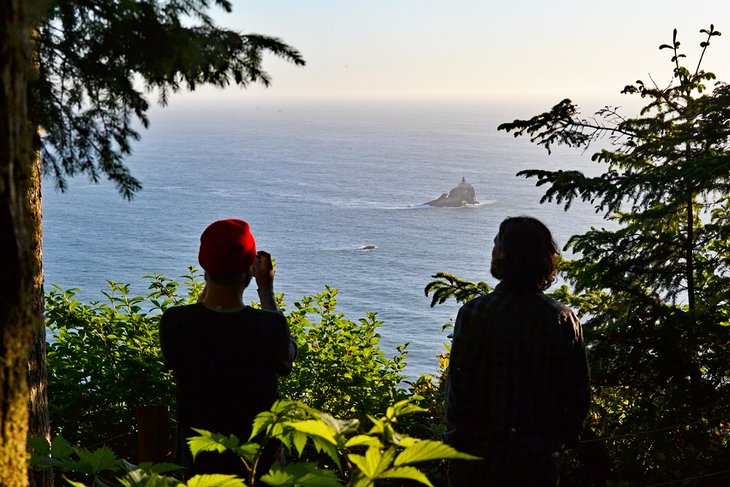 A short trail leads west from the campground to a magnificent view of the ocean. Here, the distant and decommissioned Tillamook Rock Lighthouse offers a beautiful silhouette against the setting sun. A large, communal firepit at the campground encourages campers to connect after the sun has gone down.
Map of Campgrounds on the Oregon Coast
More Related Articles on PlanetWare.com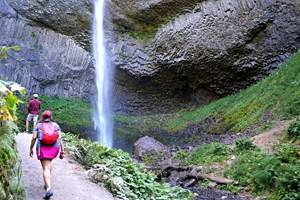 Camping and Hiking near Portland: The city of Portland is surrounded by amazing natural areas and outdoor attractions. Our Best Hiking Trails in Portland article is a great place to start planning an adventure, followed perhaps by an overnight stay at a great campground close to Portland. Experience the best of the Pacific Northwest on a day trip or weekend getaway from Portland.