12 Top-Rated Campgrounds near Portland
Alongside Portland's culture and entertainment comes the occasional need to get away from it all. Luckily, great campgrounds are only a short drive away, surrounded by sterling national forests, a dynamic coastline, and one of the most waterfall-laden corridors in the country. Chasing waterfalls, climbing crags, or finding inspiration as the sun sets over the ocean are popular activities in the abundant backyard of Portland's nearby campgrounds. Find the ideal place to pitch your tent with our list of the best campgrounds near Portland.
1. L.L. "Stub" Stewart State Park, Buxton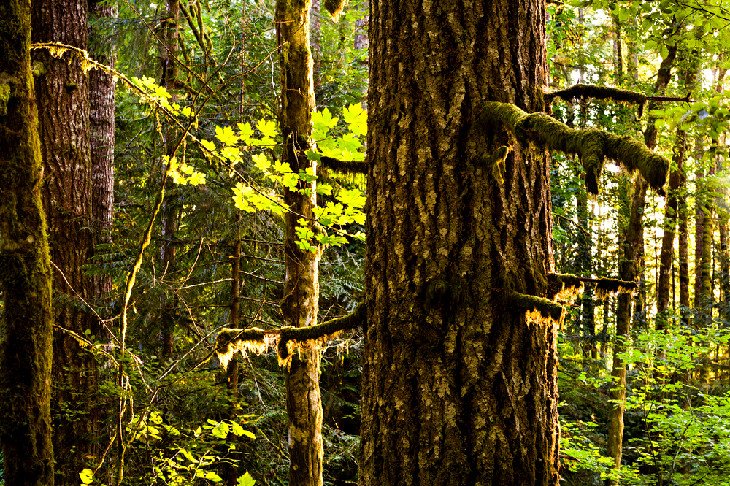 One of the newest campgrounds in the Oregon State Park system, L.L. "Stub" Stewart has been a popular place to pitch a tent since opening in 2007. About 35 miles northwest of Portland, Stub Stewart was constructed on former timber land and now encompasses over 1,600 acres of forested slopes, open hilltops, and multiple campgrounds. Recreational activities at L.L. Stub include hiking, mountain biking, and horse riding, with over 30 miles of trails to explore. An 18-hole disc golf course can also be found at L.L. Stub, and the park's Discovery Depot is a great place for interpretive information about the area.
L.L. Stub offers four camping areas and an additional Cabin Village. Both Dairy Creek West and Dairy Creek East cater to RV drivers with over 75 full-hookup spots between the two campground loops, and the hike-in Brooke Creek Camp provides a more primitive setting to pitch a tent, with 23 sites available. Stub Stewart is also well known for its Horse Camp featuring four-stall corrals. All overnight visitors at L.L. Stub have access to hot showers and flushing toilets.
2. Oxbow Regional Park, Gresham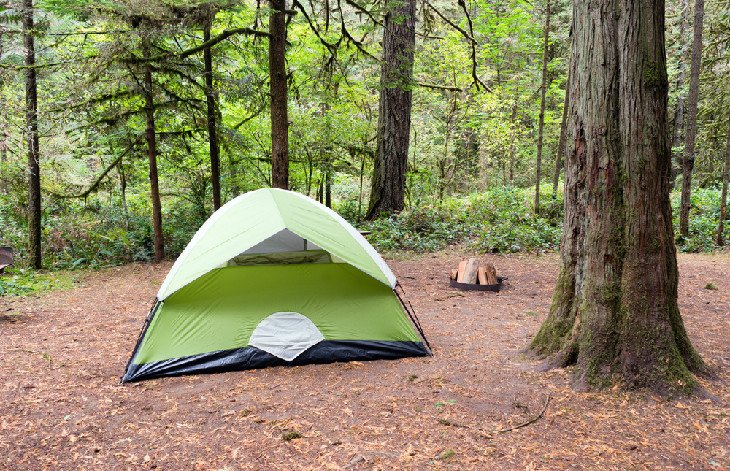 One of the closest campgrounds to Portland, Oxbow Regional Park offers 74 tent sites in a beautiful setting on the east side of Gresham. Close to the city limits, Oxbow is a popular tenting campground thanks to its prime location within the scenic Sandy River Gorge, where fishing, boating, and swimming are popular beneath the summer sun.
About 12 miles of hiking trails surrounding the Wild and Scenic Sandy River provide another popular recreation outlet. A favorite for families, cyclists, and anyone looking for an easy escape from the city, Oxbow is operated by Oregon Metro, and campsite reservations are accepted nine months in advance.
3. Silver Falls Campground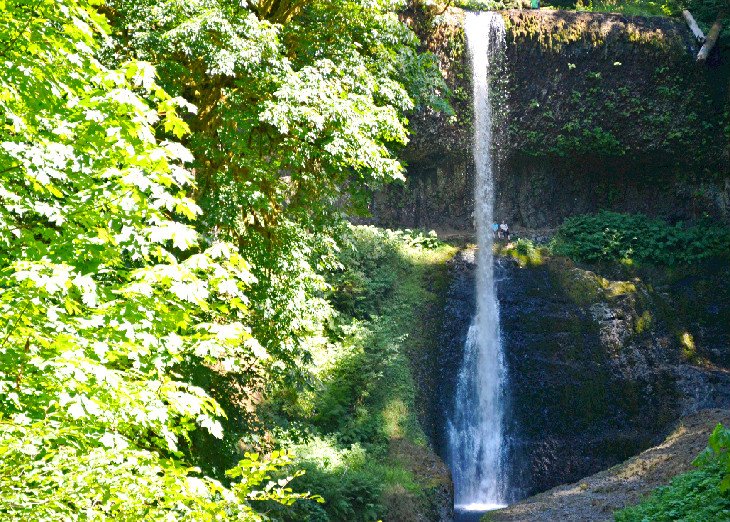 Fifty miles south of the city, Silver Falls State Park is a popular family camping destination. Over 90 campsites accommodate tents and RVs at the Silver Falls Campground, and alongside access to flushing toilets and hot showers, the campground is within walking distance to the South Falls day-use area and one of the best hiking trails in Oregon.
Beginning at the stunning 177-foot South Falls, the nationally designated Trail of Ten Falls is a variable 7.2-mile hiking loop featuring multiple waterfalls and family-friendly terrain. Group camps, horse camps, and cabins are also available for advance reservation at Silver Falls State Park.
4. Promontory Park, Estacada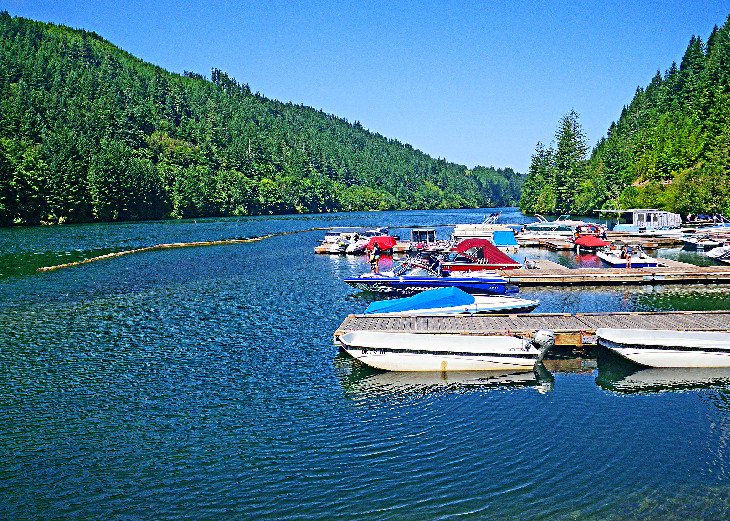 Near the North Fork Reservoir and Clackamas River, just over 35 miles southeast of Portland, Promontory Park is a very family-friendly campground. With enforced quiet times, Promontory Park has over 50 campsites to choose from, including a small collection of "yomes"— a combination of a yurt and dome with canvas walls.
Boating, fishing, and swimming are all popular in the nearby North Fork Reservoir and adjacent marina, and the Mount Hood National Forest is easily accessed with a short drive. A store at the campground provides overnight essentials including firewood, ice-cream, and s'mores kits.
5. Cape Lookout State Park, Tillamook
Editor's Pick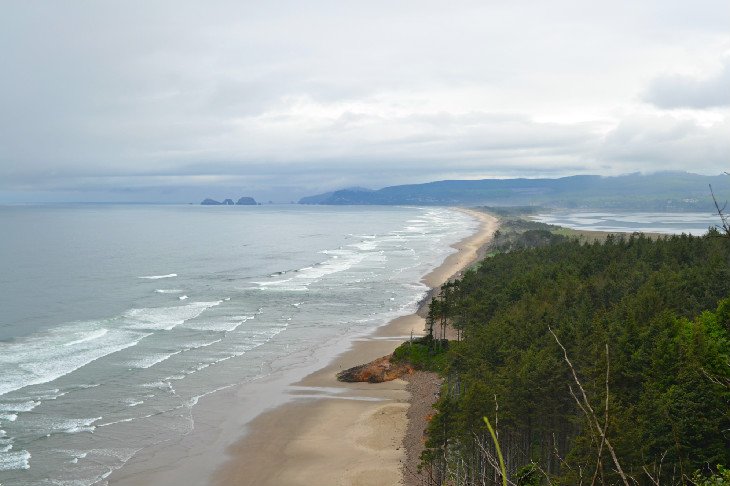 An easy escape to the Oregon Coast, Cape Lookout State Park is a great home base for exploring the ocean. Encompassed by a large swath of dense coastal foliage, Cape Lookout features over 200 campsites in this otherworldly environment, mostly catering to tent camping.
One of the best hiker/biker camps on the coast can also be found at Cape Lookout. Hiking from the campground in either direction, interested explorers can check out headland trails, easy beach access, and a serene experience on the Netarts Spit to the north. The park is roughly an 80-mile drive from Portland, and it's recommended to book a few nights.
6. Beacon Rock State Park, Stevenson, WA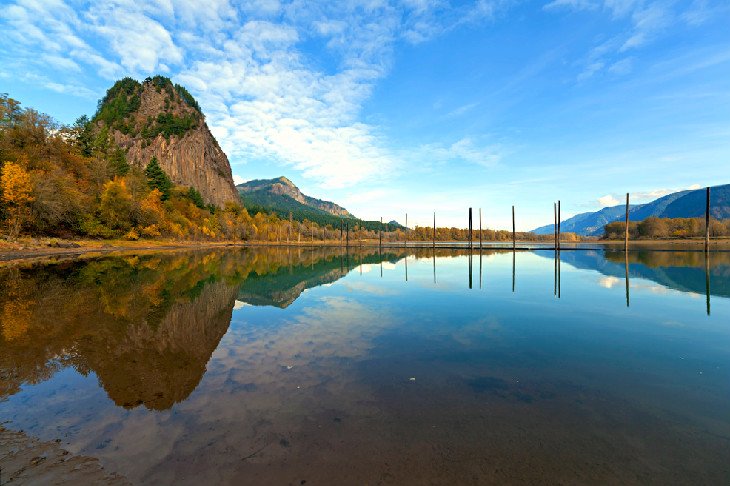 Across state lines on the Washington side of the Columbia River Gorge, Beacon Rock State Park has a long history of attracting visitors — it was once a campground for Lewis and Clark as they neared the coast. Beacon Rock itself is an 850-foot basalt column sticking straight out of the ground overlooking the Columbia River. The near 5,000-acre state park surrounding this unique geological feature is filled with abundant recreation opportunities, including a steep, switchbacking, one-mile trail to the top of the rock.
Other popular recreation outlets at Beacon Rock include 13 miles of multi-use trails, rock climbing routes on Beacon Rock's northwest flank, and a wide shoreline on the Columbia River. The main campground at Beacon Rock hosts 28 forested sites best suited for tent campers, with other overnight options including a small RV campground, two equestrian campgrounds, and a group campground that can accommodate up to 200 people. With proximity to both Portland and Vancouver, Beacon Rock is a popular place to play and stay come summer.
7. Trillium Lake, Government Camp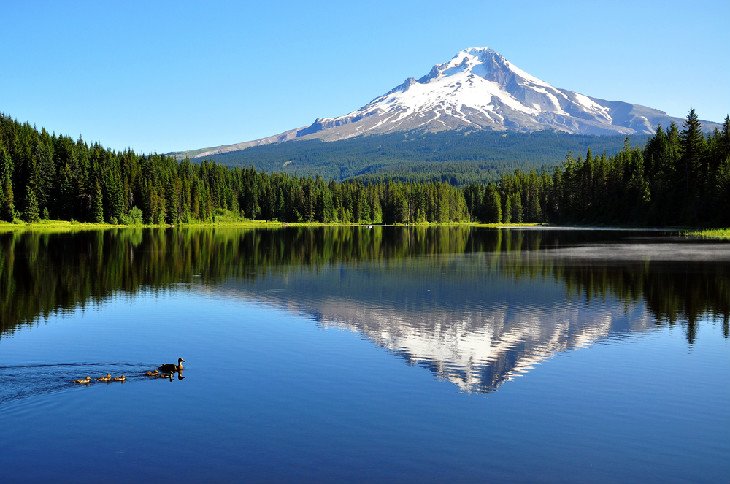 Visible from Portland on clear days, Mount Hood is the tallest mountain in Oregon and a defining adventure playground of the Pacific Northwest, surrounded by a namesake national forest. A plethora of campgrounds and primitive camping opportunities can be found on all sides of Mount Hood, including the sought-after Trillium Lake.
Just over an hour drive from Portland, and accessed via the historic town of Government Camp, Trillium Lake is a national forest campground with 60 campsites for tents and RVs. Because of Trillium Campground's shoreside status and the variety of recreation available, it's recommended to reserve a spot well ahead of time.
Two boat ramps at the campground entice non-motorized expeditions onto the adjacent 63-acre Trillium Lake, and an accessible fishing pier invites anyone to cast a line. Swimming is also popular at the lake, particularly in the heat of summer.
A two-mile boardwalk trail circles the water, offering views of the national forest in every direction. Plenty of hiking and biking trails navigate the forested surroundings, and just outside the campground, the historic Timberline Lodge can be reached within less than a ten-mile drive. This is a notable family-friendly campground in Oregon, and perhaps the biggest appeal of this popular place to pitch a tent is the outstanding views of Mount Hood that are often reflected in Trillium Lake.
8. Fort Stevens State Park, Astoria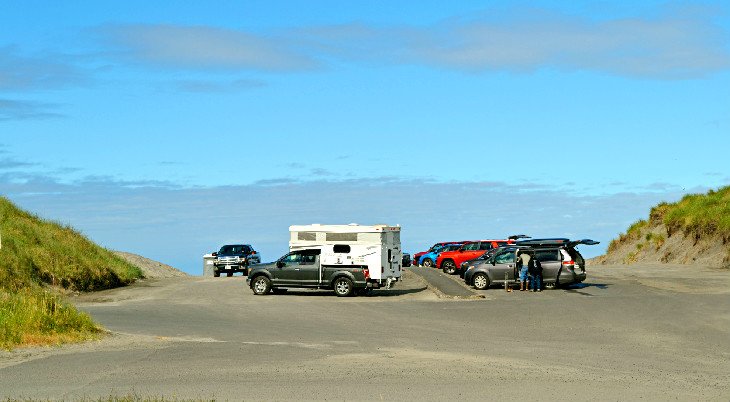 On the far northwest corner of the state and less than a two-hour drive from Portland, Fort Stevens State Park provides unparalleled access to the Oregon coast. The seaside city of Astoria is worth a visit on your Fort Stevens itinerary, and when it comes time to pitch a tent, the state park has nearly 500 campsites. The wide beach at Fort Stevens is a short drive from the campground, and vehicles can drive right onto the beach.
Clamming, kite-flying, and taking a picture with the historic Peter Iredale shipwreck are popular activities next to the ocean at Fort Stevens State Park. Other fun activities at this once-active military installation include freshwater lake swimming, horse riding, and touring the various concrete World War II artilleries that punctuate the park. Restroom facilities, including hot showers, can be found throughout all the major loops of the campground, and an impressive amphitheater showcases nature films and documentaries throughout the summer.
9. Ainsworth State Park, Cascade Locks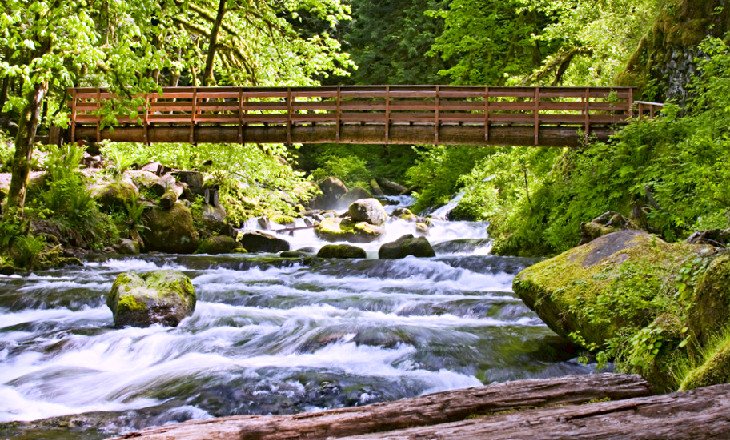 Accessed via the Historic Columbia River Highway, Ainsworth State Park is an easy 35-mile drive from Portland featuring a wide array of recreational activities to explore. Thanks to its location in the Columbia River Gorge, iconic waterfall hikes like Horsetail and Multnomah Falls are easy to visit, and other nearby attractions like the Oneonta Gorge provide ample hiking opportunities. The 40 campsites at Ainsworth accommodate either tents or RVs, and six walk-in campsites are available, as well as a designated hiker/biker site. The campground also features two running water restroom facilities, including hot showers.
10. Tillamook Head Backpackers Camp, Ecola State Park, Seaside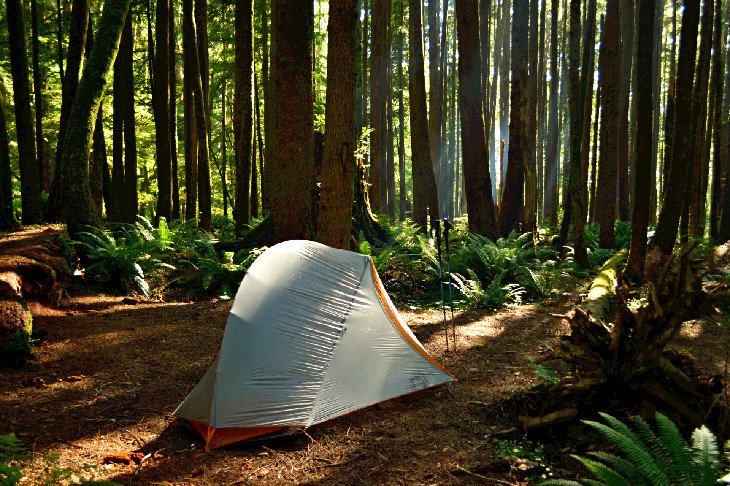 A free camping area on the Oregon coast, the backpackers camp atop Tillamook Head makes for a unique overnight experience. The recommended access point for this hike-in campground is on the north side of Tillamook Head in Seaside, a 90-minute drive from Portland. It's a four-mile, steady, uphill trek from the north trailhead to the designated camp zone, where three Adirondack shelters and available tent space accommodate an overnight experience. The uphill hike and no water access keeps this campground relatively uncrowded. Vault toilets near the shelters also help keep the area clean. A short spur trail leads from the shelters to an ocean overlook, where the decommissioned Tillamook Rock Lighthouse makes for a good focal point of the evening's setting sun.
11. Barton Park, Boring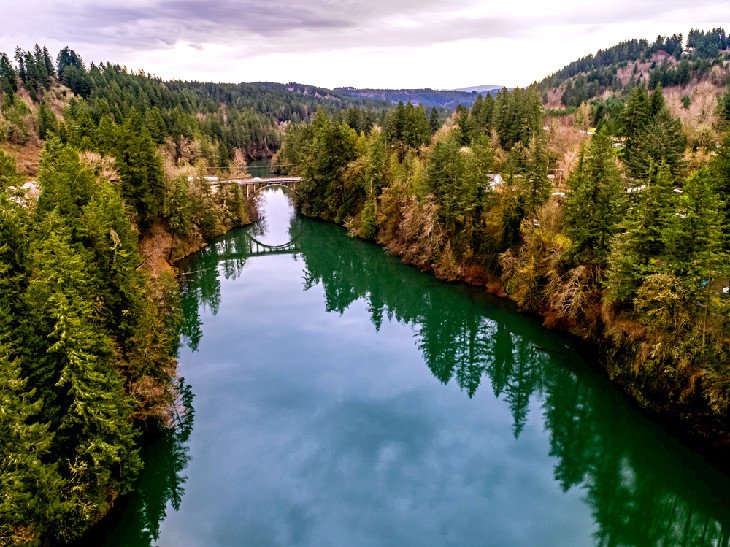 One of the three campgrounds operated by Clackamas County, Barton Park is perhaps the most popular. Adjacent to the Clackamas River, Barton Park offers popular recreational activities, including fishing, non-motorized boating, floating, and swimming. Other popular activities include horseshoes, hiking, and using one of six reservable picnic areas.
A 30-minute drive from Portland, Barton Park has over 100 campsites, and many accommodate full hook-up RVs. Hot showers are available for all registered guests. Other great campgrounds operated by Clackamas County include Feyrer Park and Metzler Park.
12. Memaloose State Park, Wasco County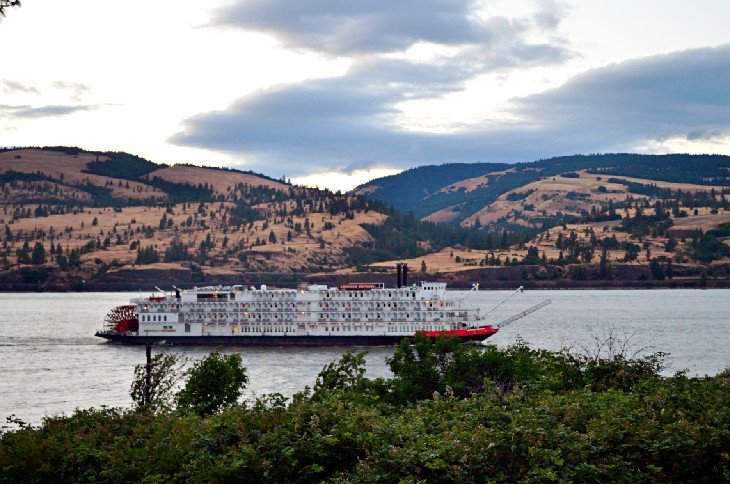 Overlooking the Columbia River, halfway between The Dalles and Hood River, Memaloose State Park is situated off Interstate 84 with over 100 sites available. Split between tent sites and full hook-up RV spaces, Memaloose is a scenic gateway to the surrounding Columbia River Gorge and less than a 90-minute drive from Portland. The campground provides no legal river access, but the views of the Columbia River can't be beat, especially when the sightseeing steamboats pass by against the current.
Hot showers, potable water, and flushing toilets are available to all overnight users, and the surrounding landscape of maples, willows, and cottonwoods provides shady surroundings.
Where to Stay near Portland after Camping
If camping near Portland is part of your larger vacation to the city, a wide range of hotels can accommodate your stay once you're ready to sleep on a bed. Mid-range hotels can be found throughout the heart of Portland, including the Downtown District, Pearl District, and Northwest neighborhoods, and many more affordable options can be found north of downtown near the Columbia River.
Mid-Range Hotels: In the heart of downtown Portland and well regarded as one of the most beautiful hotels around, the Kimpton Hotel Monaco Portland exudes the overall vibe of the city with a swank lobby and well-decorated rooms. Aside from its central location near Portland's many top attractions, the Kimpton Hotel also has a first-class restaurant attached to the building. Another decadent but affordable option in downtown Portland is The Duniway Portland, a Hilton Hotel a few blocks away. Featuring in-house celebrity chefs and close attention to detail when it comes to a comfortable stay, The Duniway is a boutique hotel, which delivers on a wonderful experience. In the Pearl District, the fashionable Mark Spencer Hotel is another boutique option, with European flair, exceptional service, and quiet accommodations in a bustling location.
Budget Hotels: On the northeast side of the city, near the Columbia River Gorge, the Nordic Inn & Suites is a popular hotel that won't break the bank. Featuring clean and comfortable facilities and memory foam pillows, this affordable hotel offers a good night's sleep. Close to the city and north of the Willamette River, the Viking Motel is another affordable option, which has been family-owned and -operated for over 50 years. Featuring a friendly and accommodating staff, the Viking Hotel is also conveniently located near many public transportation lines. In the University District at the city's center, the Econo Lodge City Center is the best affordable option in the thick of Portland's urban action. With comfortable beds and quiet rooms, the Econo Lodge is a great place to simply sleep between full days of exploring the city.
More Related Articles on PlanetWare.com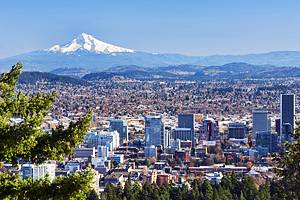 More to Explore in Portland: Alongside a great collection of campgrounds close to the city, Portland has many great hiking trails to explore within the city limits and plenty of interesting attractions to check out. For an extended excursion, our Top-Rated Day Trips and Weekend Getaways from Portland article provides ideas for more adventures around the city.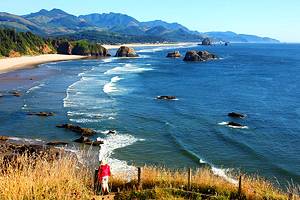 Adventures in Oregon: The state of Oregon is stacked with adventure and outdoor opportunities. From the state's best hiking trails to the best campgrounds in Oregon, to the scenic waterfalls, hot springs, and weekend trips, tourists and residents can find an endless list of things to do and places to see in Oregon. The best campgrounds on the Oregon coast lie conveniently close to some of the area's best beaches, and other areas, like the Mount Hood National Forest, also beckon adventurers.