10 Top Attractions & Things to Do in Mt. Hood National Forest, OR
Author Brad Lane lives in Portland and enjoys having Mount Hood National Forest at his backdoor.
Towering over northern Oregon and within eyesight of the streets of Portland, Mount Hood stands at 11,240 feet and is the highest mountain in the state. This dormant stratovolcano is home to ski resorts, summer recreation areas, and historic tourist attractions. It is also the centerpiece for the more than one million acres of Mt. Hood National Forest.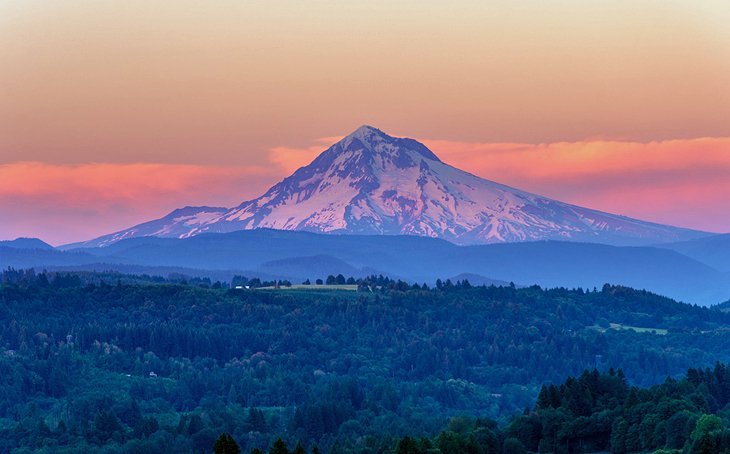 The main attractions of Mount Hood National Forest, including the Timberline Lodge and the Mount Hood Cultural Center, are accessible from downtown Portland by car in less than 90 minutes. Some of the hiking trails and other areas are a little farther.
Scenic charms in the national forest range from waterfalls, hot springs, and glaciers to varied wildlife and alpine wildflowers, making it one of the most popular places to visit in Oregon. In winter, snow draws crowds to the slopes. In summer, the evergreen landscape of Mount Hood National Forest offers activities that are a little more varied, including abundant hiking trails, climbing opportunities, and numerous campgrounds.
Plan your trip with our list of the top attractions and things to do in Mount Hood National Forest.
1. Mount Hood Scenic Loop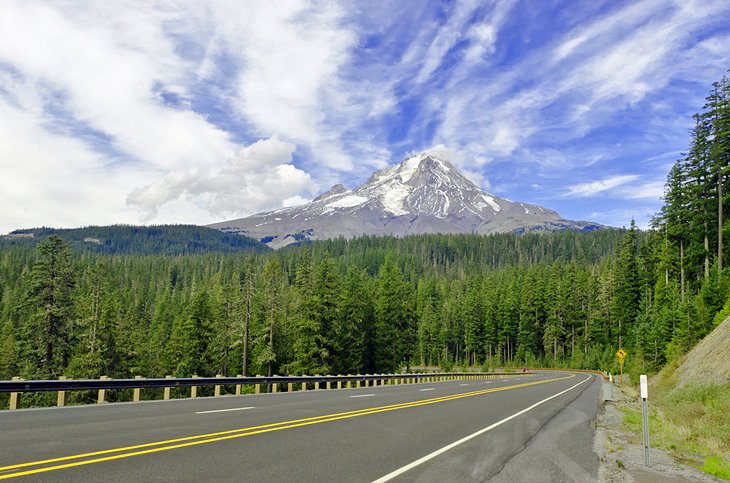 The Mount Hood Scenic Loop is a pretty river-and-mountains drive that takes in Portland, Hood River, and Mount Hood National Forest. The first stretch connects the state's largest city, Portland, with quiet villages and waterfalls along the Columbia River Gorge. Here, visitors can travel the Historic Columbia River Highway, stopping to admire some of the best waterfalls near Portland.
The Mount Hood Scenic Loop continues through the gorge to Hood River — one of Oregon's most charming small towns — worth a weekend trip on its own. At Hood River, the Scenic Loop takes a southerly turn on SR 35. The road heads toward the mountain, leading past agricultural land through the bountiful Hood River Valley.
SR 35 leads directly to the southeast flank of the mountain, passing by Mt. Hood Meadows ski resort. The route also passes by several trailheads and pull-offs. The loop completes itself at the base of the mountain by connecting with Hwy 26, also known as the Mount Hood Highway.
Mount Hood Highway (Hwy 26) leads straight back to Portland and passes a number of historical sites, small communities, and attractions, such as the Salmon River at Wildwood Recreation Site on its return to Portland.
The charming community of Government Camp is near the base of the mountain on Hwy 26 and features a quaint collection of ski shops, restaurants, and motor inns. Great views of Mount Hood line the entire route.
Read More: Top-Rated Attractions & Things to Do in Hood River, OR
2. Day Hikes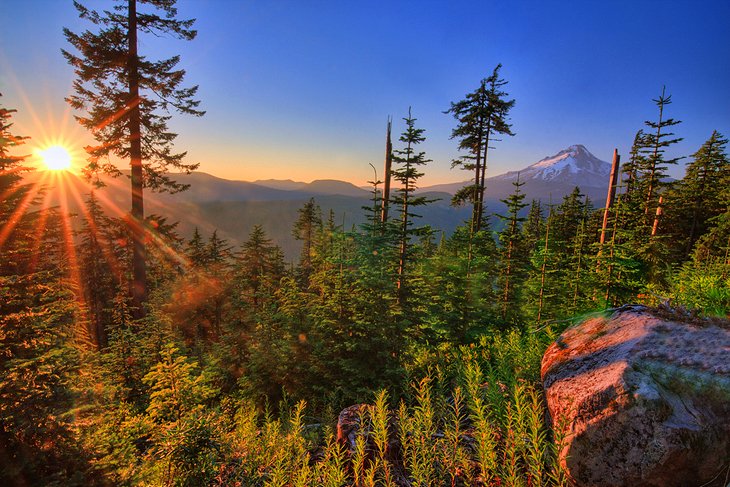 There are about a thousand miles of trails in the national forest area, but most visitors gravitate to some of the most accessible and scenic routes. Lake trails are particularly spectacular. The two-mile Trillium Lake loop trail circles the pretty alpine lake and delivers wonder-worthy views of Mount Hood across the water.
Mirror Lake trail also traverses two miles for views of the peak beyond a glacial cirque lake, while Lost Lake has a shoreline trail and national forest campground near old-growth forest. Other trails visit waterfalls, alpine meadows, and the Old Oregon Trail route.
A few other popular hiking trails in Mount Hood National Forest include the Zigzag Overlook Trail and the Old Salmon River Trail. The Old Salmon River Trail, in particular, is popular with families and features an approximately two-mile stretch along the water. Zigzag Canyon is more of an uphill endeavor as a four-mile hike with a view.
Read More: Top-Rated Hiking Trails in Oregon
3. Backpacking and Multi-Use Trails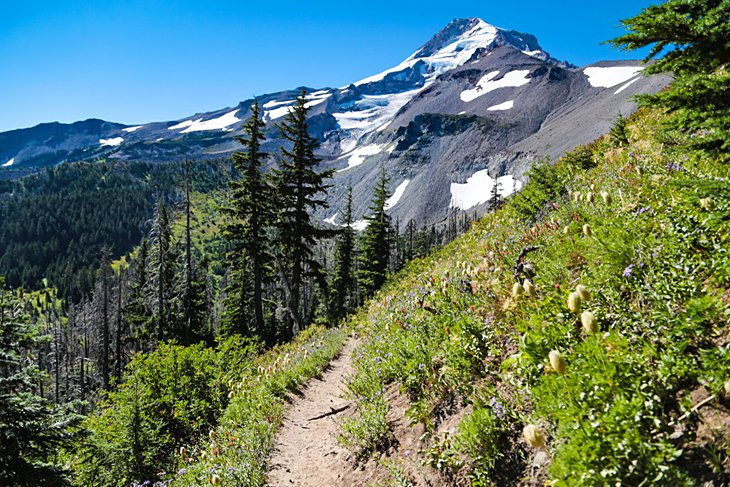 Mt. Hood National Forest provides a variety of wilderness experiences for overnight explorations and other forms of trail travel. Backpackers gravitate towards overnight trails like the Timberline Trail, which circumnavigates Mt. Hood, or the Pacific Crest Trail as it makes its way through the national forest.
Overnight travel in the Mount Hood National Forest requires a wilderness permit, and most trailheads are equipped with a self-issue station. Popular backpacking options also include out-and-back hikes on popular day hiking trails. A few popular places to visit, like Mirror Lake, may have camping restrictions.
For mountain biking, the fast-flying Timberline to Town Trail is always a favorite during spring, summer, and fall. Horse riders can also find their fill, as most trails in Mt. Hood National Forest are open to equestrian traffic, too. All forms of travel in the Mount Hood National Forest encounter potentially strong river crossings, and visitors should check trail conditions before making their trek.
Read More: Best Day Hikes on the Pacific Crest Trail
4. Timberline Lodge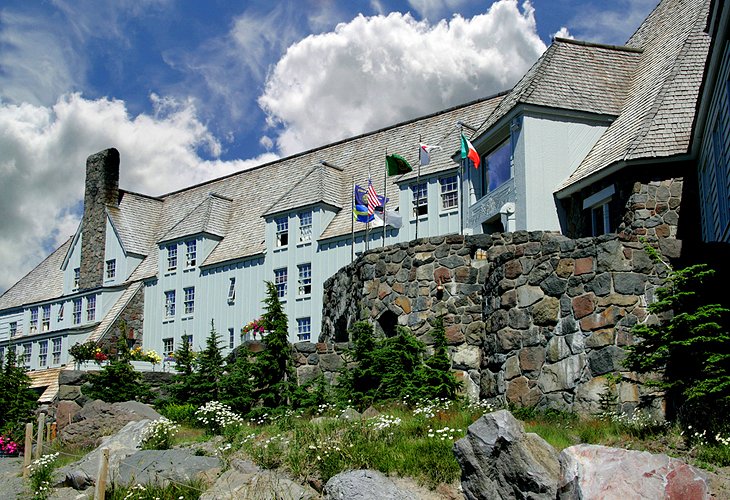 Constructed in 1937 and designated as a National Historic Landmark in 1977, the Timberline Lodge and Ski Area grew from depression-era beginnings into a prominent part of the national forest. Although the lodge has modern amenities, much of its décor and design has been preserved for the last 80 years, offering a step back in history with each visit and overnight stay.
Cinema fans will also find familiarity with the Timberline Lodge, as it was used as the exterior of the hotel in Stanley Kubrick's The Shining.
The Timberline Lodge is a hub of activity within Mt. Hood National Forest throughout the year. During the summer months, hikers can access both the Timberline Trail and Pacific Crest Trail from right out the backdoor.
During the winter, the Timberline Lodge and Ski Area operates seven lifts, including five quad express chairs, for access to mainly intermediate and beginner runs. It operates as a year-round ski facility thanks to the summer snow of the Palmer Snowfield.
Address: 27500 E Timberline Road, Government Camp, Oregon
5. Camping and Cabins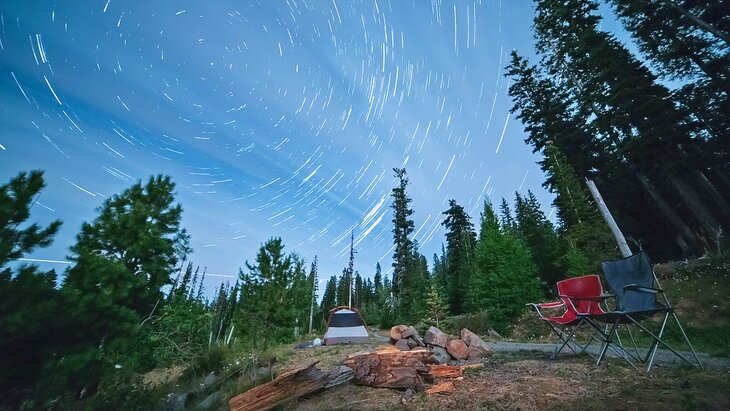 One of the best ways to enjoy the natural splendor of Mt. Hood National Forest is to spend the night within it. The Forest Service operates nearly 100 camping areas at Mt. Hood, complete with picnic tables, fire rings, and vault toilets. With plenty to choose from, campgrounds like Trillium Lake, Hoodview (Timothy Lake), and Still Creek are popular options that come with a view.
RVs are also accommodated in the many campgrounds within the forest. Primitive camping is also available near pullouts on Forest Service roads.
For those looking for other accommodation options, several Forest Service cabins are available throughout the different districts. This includes the unique Devil's Peak Lookout in the Zigzag Ranger District, a retired fire lookout available on a first-come, first-served basis.
6. Timothy Lake Recreation Area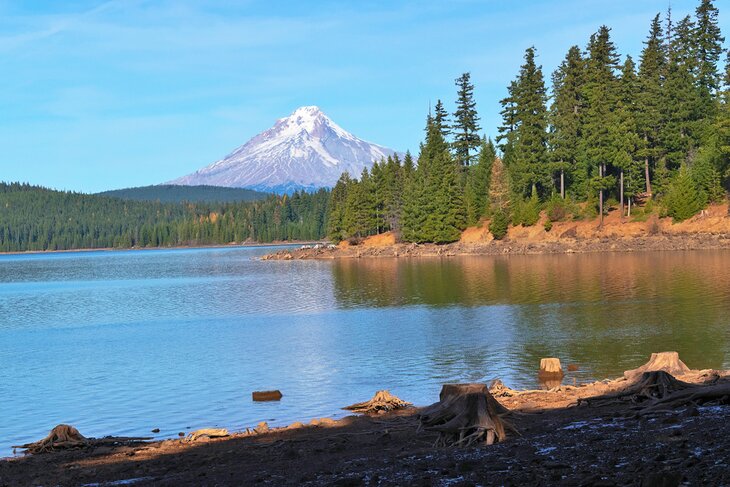 Timothy Lake is the largest body of water in Mount Hood National Forest and one of the best lakes in Oregon. It's less than 20 miles south of the mountain, and its waters reflect a beautiful view of Mount Hood. This view alone attracts crowds to Timothy Lake, as do the abundance of campsites and hiking trails.
Timothy Lake is actually a massive reservoir, covering more than 15,000 acres. The Forest Service co-operates the reservoir and recreation area with Portland General Electric. Over 200 campsites are available, spread throughout several campgrounds. These places to stay lend easy access to day activities like hiking, fishing, and boating on the water.
7. Mt. Hood Meadows Ski Resort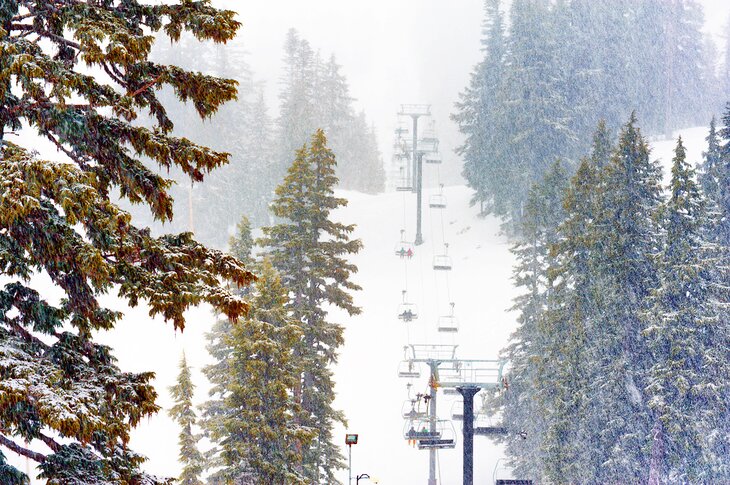 Mt. Hood Meadows offers a wide range of skiing and snowboarding terrain less than 90 minutes from downtown Portland. Most runs are intermediate or advanced and are accessible by 11 lifts (including five high-speed quads). Additional hike-to skiing is available on the Heather Canyon Super Bowl for those looking for more vertical than the highest lift-served elevation of 7,300 feet.
Concerts, clinics, and guided tours are offered at Mt. Hood Meadow throughout the season, and special Stay & Play packages are available with nearby hotels and lodging.
The mountain resort offers a free daily shuttle from Hood River and round-trip daily bus rides from Portland. Night skiing encompasses 140 acres at Mt. Hood Meadows and occurs every day between mid-December and early January.
Address: 14040 Hwy 35, Mt. Hood, Oregon
Read More: Best Ski Resorts in Oregon
8. Mt. Hood Skibowl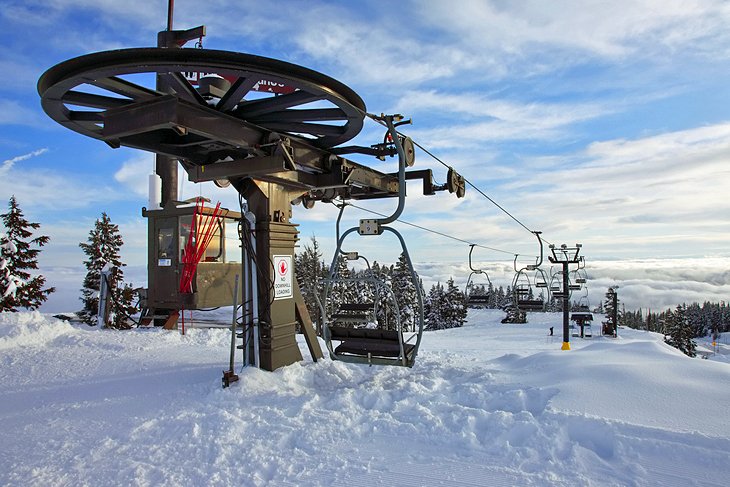 Mt. Hood Skibowl is another one of the local ski resorts on the mountain. It has a winter playground feel with four double chair lifts and five tows. The 65 runs are mainly intermediate and advanced, with a maximum vertical drop of 1,500 feet.
Mt. Hood Skibowl is well known for its night skiing throughout the season, with more than half of the routes flooded with light. The hill also caters to snowboarders with a terrain park.
Skibowl also features Cosmic Tubing, which is a combination of laser lights, loud music, and cruising with a tube. The Mountain Express, also known as The Mt. Hood Express, is a public transit line that delivers skiers to the slopes of Skibowl from the cities of Sandy, Government Camp, and Timberline.
Come summer, the mountain switches to adventure thrills like ziplining, mountain biking, and horseback riding.
Address: 87000 East Hwy 26, Government Camp, Oregon
Read More: Best Places to Visit in Oregon in Winter
9. More Mount Hood Skiing and Snow Sports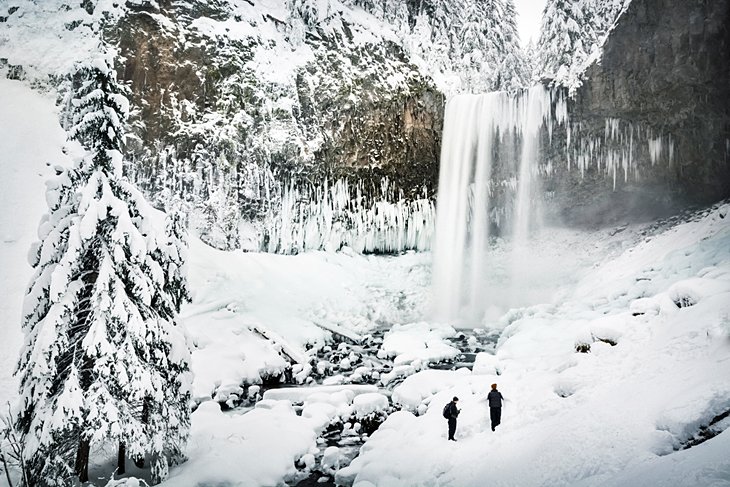 Other ski slopes and recreation areas serve an avid wintertime contingent. Summit Pass is a family-friendly hill that's significantly smaller and older than the other resorts, having been established in 1927. Also geared to kids, the compact Cooper Spur Mountain Resort has a small selection of runs plus tubing. It's located on the northern slopes of the mountain, off Route 35.
Cross-country skiing and snowshoeing are also popular in the national forest. Several groomed trails dot the forest and are accessible via designated "Sno-Parks" (areas that have been plowed for parking). Many of Mount Hood's Sno-Parks, like Trillium Sno-Park, often lead to a spiderwebbing network of ski, snowshoe, and snowmobile trails.
A Sno-Park permit is required to use the dedicated winter recreation areas. The Teacup winter trails are a popular place to visit in winter, maintained by Teacup Nordic. The Trillium Lake Loop is also popular to traverse in snow.
Summit Ski Area
Address: 90255 Government Camp Loop, Government Camp, Oregon
Cooper Spur Mountain
Address: 10755 Cooper Spur Road, Mt. Hood, Oregon
10. Mt. Hood Cultural Center and Museum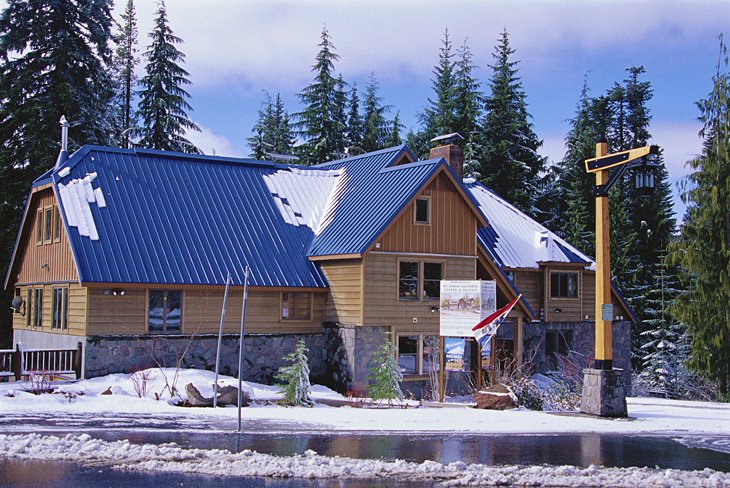 The Mt. Hood Cultural Center and Museum provides a good look into the mid-nineteenth-century history of the area alongside a great view of the mountain. It's located in the charming community of Government Camp, which serves as a common base camp for exploring the mountain.
Exhibits at the museum include earlier pioneers who explored Mt. Hood, the evolution of skiing on the mountain, and artifacts from its century-long status as a national forest. The spacious clubhouse and meeting room can be rented with advance reservations for those interested in hosting a group event.
Address: 88900 Government Camp Loop, Government Camp, Oregon
Take a Day Trip to Mount Hood from Portland
A convenient way to make sure you catch all the highlights of Mount Hood in one day is the Mount Hood Day Trip from Portland to Multnomah Falls and Hood River. Sit back and enjoy the breathtaking views along the Historic Columbia River Highway on this 8.5-hour, small-group tour. Visit beautiful waterfalls, the town of Hood River, Timberline Lodge, and the Columbia River Gorge. Hotel pickup and drop-off, transportation, and an expert guide are all included.
More Related Articles on PlanetWare.com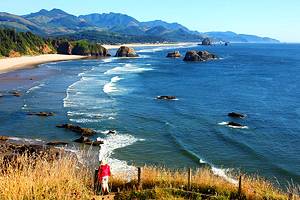 Exploring Oregon: Ranging from ancient calderas to spectacular waterfalls, the best attractions in Oregon span the entire state. For a little ocean appeal, the Oregon Coast offers beautiful beaches, forested headlands, and surreal sunsets. For the ultimate getaway in Oregon, our guide to weekend trips across the state will have you wanting to come back for more.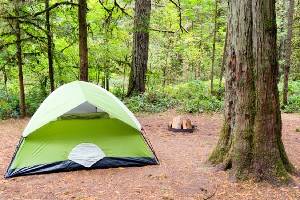 Dive Deep in Portland: Less than a 90-minute drive from Mount Hood, the nearby city of Portland is filled with cultural appeal. The outdoors are never far from Portland, and the best hiking trails in the Portland area cater to all types of adventure. For a place to pitch a tent near Portland, campgrounds in the area offer a natural escape not far from the city.