13 Top-Rated Attractions & Things to Do in Salem, OR
We may earn a commission from affiliate links ()
Salem, the state capital of Oregon, is at the heart of the Willamette Valley in the northern part of the state, less than an hour's drive south from Portland. It's a city that boasts many unique attractions, including a gilded Oregon Pioneer atop the State Capitol building overlooking the surrounding landscape.
Visiting public gardens, children's museums, and riverfront carousels are some of the many fun things to do in Salem. And enchanted theme parks, prestigious universities, and the Willamette Heritage Center provide even more places to visit. Several outdoor attractions offer free things to do in Salem, including leisurely commutes through natural areas like Minto-Brown Island Park, where the setting sun often touches down in a sea of color.
Romantic places and restaurants abound in the downtown district of Salem. This is where much of the fun is also found in the evenings, including weekly events at the historic Elsinore Theatre.
Plan your visit with our list of the top things to do in Salem, Oregon.
1. Riverfront City Park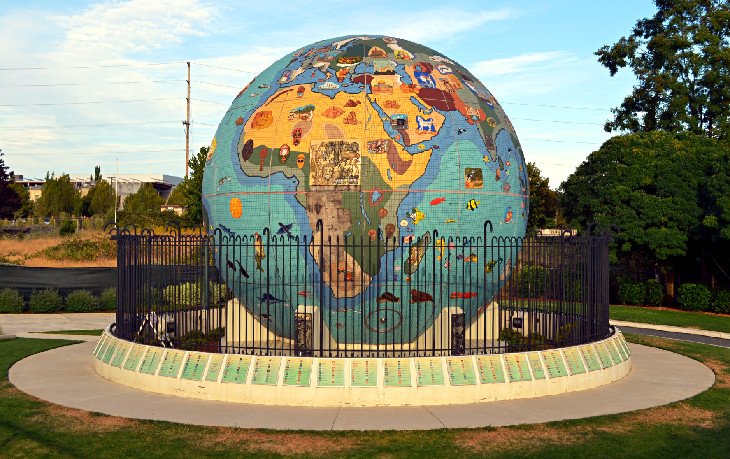 Formerly a mill and industrial site, Riverfront City Park is now a wonderful open space filled with hiking trails, playgrounds, boat docks, and a stunning view of the Willamette River. It's one of the most popular public spaces in Salem and is home to Salem's Riverfront Carousel. The park encompasses 26 acres and does well to connect the natural settings to the cityscape.
The Eco-Earth Globe sculpture is another eye-catching attraction of this popular downtown public space, near the aesthetically pleasing pedestrian bridge spanning the water to connect with Minto-Brown Island Park. This area of the park really shines come sunset.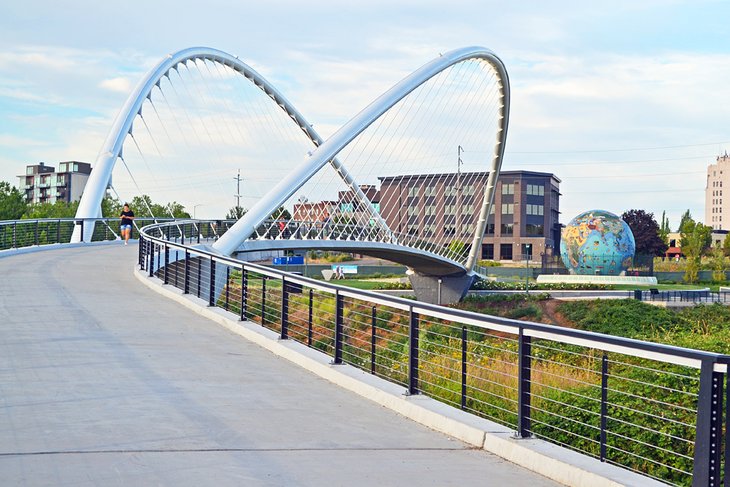 Riverfront City Park is home to some of Salem's largest festivities throughout the year, including an annual 4th of July celebration and a culturally expanding World Beat Festival.
Address: 200 Water Street Northeast, Salem, Oregon
2. Oregon State Capitol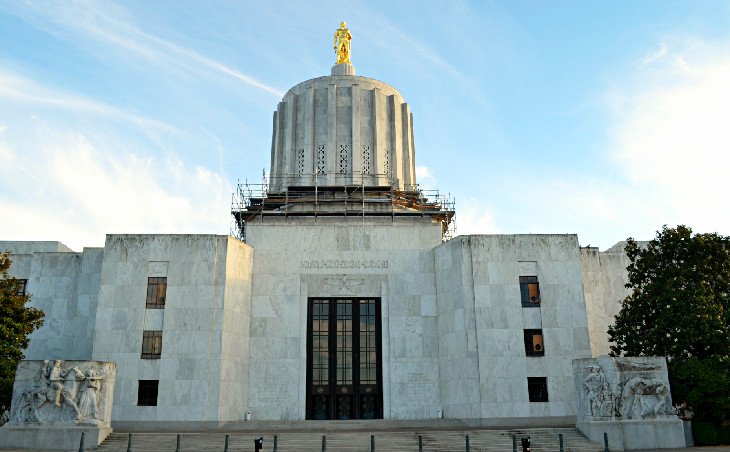 The Oregon State Capitol is an impressive architectural sight in Salem, constructed with shining white marble that catches the sun. But what really catches the eye about this Modernist Art Deco design is the gilded Oregon Pioneer perched at the top of the central tower. Surrounding the capital is the well-manicured Oregon State Capitol State Park, complete with statues and interpretive information. And while the grounds of the capitol are fun to explore, the true beauty can be discovered on a tour of the capitol building inside.
Citizens and interested tourists can take a self-guided tour of the capital during normal operating hours, and guided tours are available on weekdays between 10:30 am and 2:30 pm. Special points of interest include the Capitol Rotunda, the Senate history room, and the Governor's portrait hallway.
Information, history, and artifacts within the State Capitol paint a picture of Oregon's storied statehood, including works within the esteemed Capitol Art Collection. An additional "Tower Tour" is also available between July and September, which takes visitors up a long set of stairs to visit the Oregon Pioneer and share the view.
Address: 900 Court Street Northeast, Salem, Oregon
Official site: https://www.oregonlegislature.gov/capitolhistorygateway/Pages/default.aspx
3. Schreiner's Iris Gardens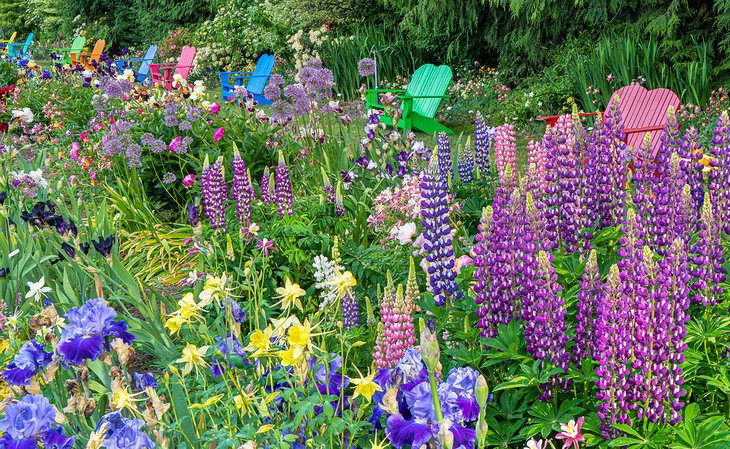 Approximately seven miles north of downtown, Schreiner's Iris Gardens are world renowned for their flowering displays. A generational love for irises has built this family business from the ground up into a popular retailer of live plants and seeds. One of the main community attractions of the gardens, however, comes every May during the blooming season.
Throughout the month of May, the 10-acre show garden at Schreiner's is open for the public to enjoy. For a small price of admission, the park-like gardens are open all day during their full bloom. During this colorful display, expect to see photographers and painters capturing the scene. It's also a popular destination to celebrate Mother's Day weekend.
Outside of the Bloom Season, Schreiner's maintains an extensive online catalog of seeds, live plants, and gardening supplies. 
4. Enchanted Forest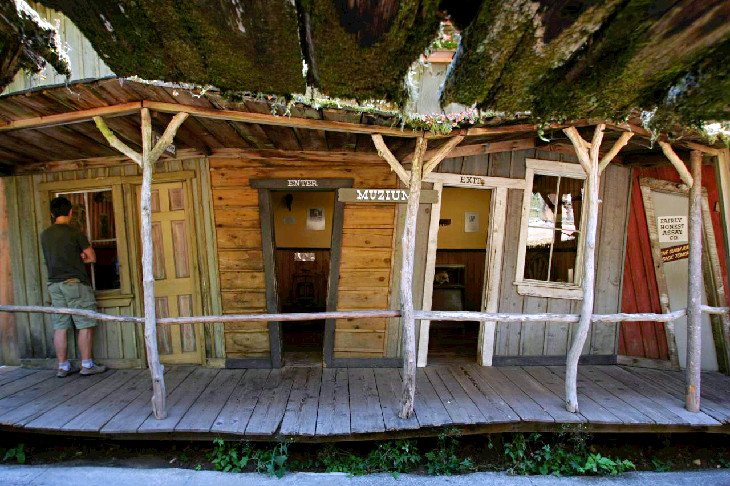 In the small city of Turner, a 20-minute drive from downtown Salem, Enchanted Forest combines the natural beauty of the Pacific Northwest with the craftsmanship of a fairy tale imagination. It's a family-orientated theme park that features fun-for-all-ages rides and explorable attractions, all backdropped by forested surroundings. A few of the special areas of the park include Storybook Lane, Fantasy Fountains, and Tofteville Western Town. The park also hosts regular comedy theater and live music performances.
A visit to Enchanted Forest can easily be an all-day endeavor, and various food options throughout the park can keep energy levels constant. Patrons are also welcomed to bring their own lunch.
For those visitors 40 inches or taller, the Big Timber Log Ride is a fun way to keep cool in the summer sun. Other rides include an Ice Mountain Bobsled Rollercoaster, Kiddy Bumper Boats, and a Tiny Tune Train.
Address: 8462 Enchanted Way Southeast, Turner, Oregon
Official site: http://www.enchantedforest.com/
5. Minto-Brown Island Park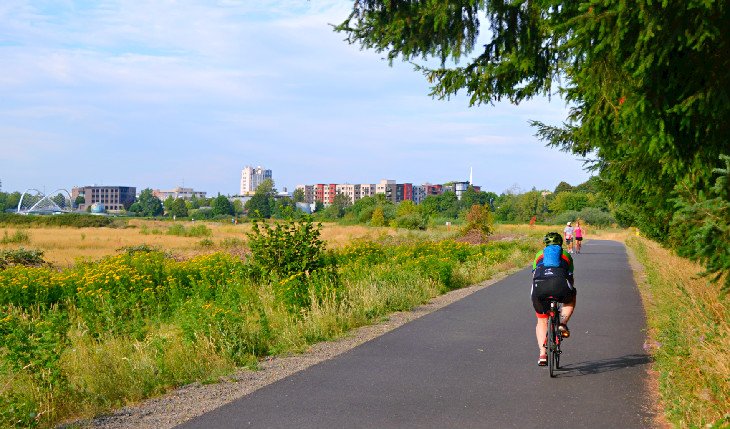 On the west side of the city and surrounded by the Willamette River waterway, Minto-Brown Island Park is the largest recreation space in Salem. It's comprised of a variety of environments, including wetlands, woodlands, and open prairie. Because of these varied landscapes, spotting wildlife at Minto-Brown is a common occurrence.
The best way to experience Minto-Brown is via the nearly 30 miles of trails and bike paths that wind throughout the park. On the northern end of Minto-Brown, a stunning pedestrian bridge connects to Riverfront City Park and the rest of the downtown district. Large picnic pavilions throughout the park are available to rent for large picnic get-togethers.
Address: 2200 Minto Island Road Southwest, Salem, Oregon
6. Gilbert House Children's Museum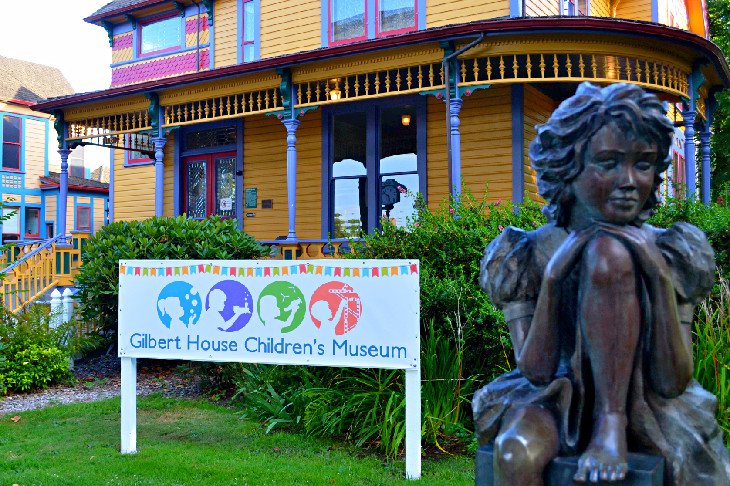 Adjacent to the north end of Riverfront City Park, this children's museum and play space is a true immersion into a creative world. This renowned children's museum is designed for kids aged two to 10 years old and features a wide array of interactive and educational exhibits and playscapes. Thanks to its fun energy, accompanying adults tend to enjoy their visit, too.
Different areas at the Children's Museum include a Discovery Campground; a build-your-own Fortopia; and an epic Outdoor Discovery Area featuring a giant, climbable Erector Set Tower. Special events at the museum include Summer Block Parties, Science Night for Adults, and various classes and workshops.
Address: 116 Marion Street Northeast, Salem, Oregon
Official site: https://acgilbert.org/
7. Elsinore Theatre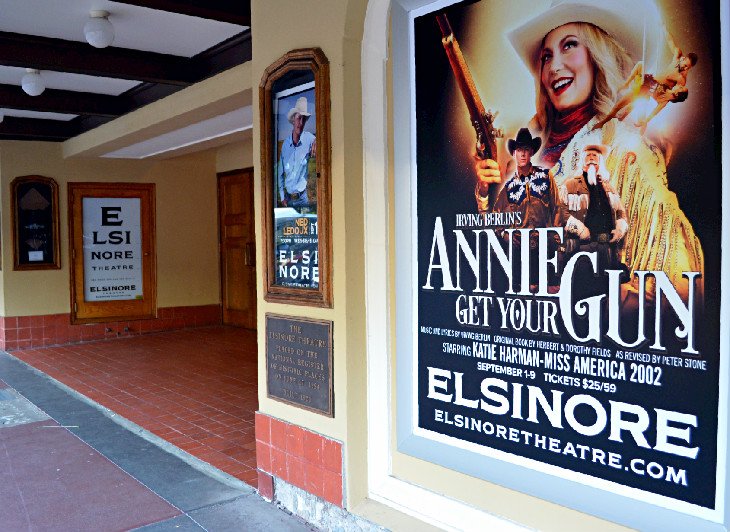 The Elsinore Theatre debuted as a vaudeville theater and silent movie house in 1926. Today, after an upgrade in technology and equipment for expanded performance options, the Elsinore Theatre has come full circle, displaying its former beauty once more.
Between its inception and status as a performance art center, the Elsinore saw the advent of talking movies, declining ticket sales in the Great Depression, and a narrow avoidance of the wrecking ball in the 1980s. Today, the Elsinore has been revamped into its original grandeur and attracts thousands of patrons each year with a year-round lineup of live music, theatrical productions, and classic cinema screenings.
Two blocks from the State Capitol and minutes away from a variety of restaurants and eateries, the Elsinore Theatre adds to a downtown experience. Dinner and a show at the Elsinore make for a romantic and fun date, and the surrounding area provides plenty of avenues for enjoyment at night. Whether it's fine dining or casual fare, the downtown district is filled with patio-strewn sidewalks and local cuisine that caters to all taste preferences.
Address: 170 High Street Southeast, Salem, Oregon
Official site: http://elsinoretheatre.com/
8. Deepwood Museum and Gardens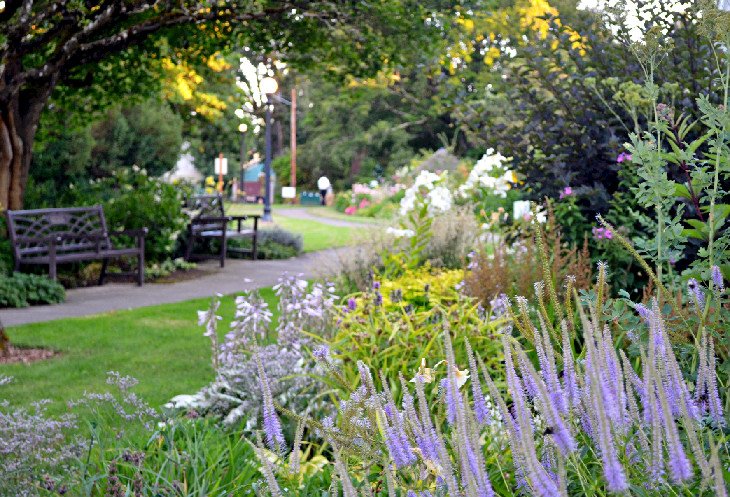 The historic Deepwood Estate and surrounding gardens have provided aesthetic appeal in Salem for more than 120 years. Serving a long legacy and many different residents, this Queen Anne-style Victorian home is now owned by the city and available for public visits and event rentals.
Guided tours of the home museum are available Wednesday through Saturday and include detailed information about the history and artifacts discovered along the way. Surrounding the estate, five acres of formal gardens provide quite the colorful scene for a stroll. Special events at the Deepwood Estate occur throughout the year, including Easter egg hunts, jazz festivals, and holiday open houses.
Address: 1116 Mission Street Southeast, Salem, Oregon
Official site: https://www.historicdeepwoodestate.org/
9. Salem's Riverfront Carousel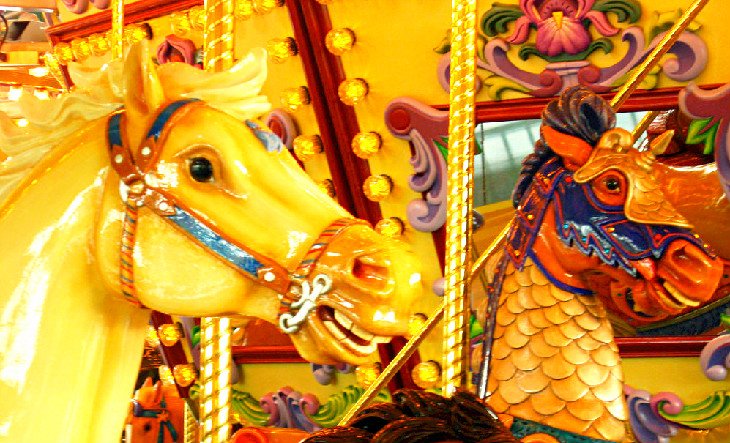 At the center of Riverfront City Park and open every day of the year, Salem's Riverfront Carousel inspires a little magic for everyone who visits. It's particularly popular with young families, but anyone can appreciate the fine craftsmanship of the 45 hand-carved seats.
Each ride is inexpensive at this non-profit amusement, and the main mission of the foundation behind the carousel is to bring the community closer together with a fun thing to do. The carousel is available to rent for large groups, and the Salem Riverfront Carousel organization hosts various adult-themed soirees throughout the year.
Address: 101 Front Street Northeast, Salem, Oregon
Official site: http://salemcarousel.wixsite.com/salemcarousel
10. Bush's Pasture Park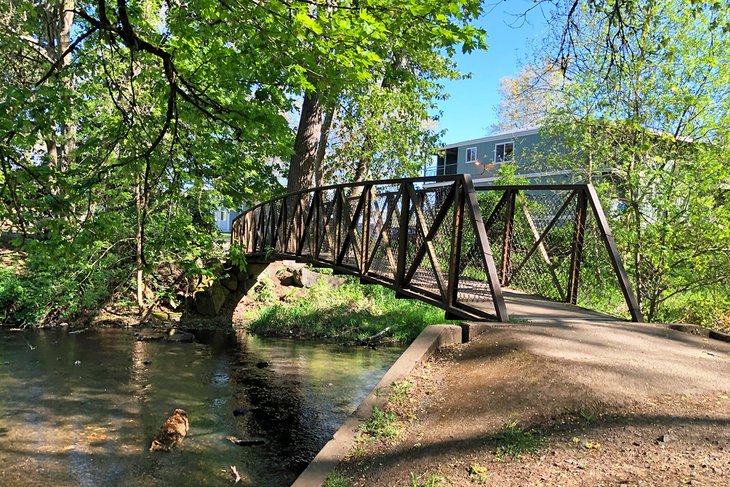 Bush's Pasture Park covers nearly 100 acres of wooded space at the heart of the city and is a popular spot for organized sporting events and unplanned afternoons in nature. Athletics within this urban natural space include four lighted tennis courts and a softball field with bleachers available for rent.
Numerous paved and unpaved hiking trails stretch throughout the park, connecting other fun areas, including the Crooked House Playground and the Rhododendron and Rose Gardens. The Bush House Museum within
Address: 890 Mission Street Southeast, Salem, Oregon
11. Willamette University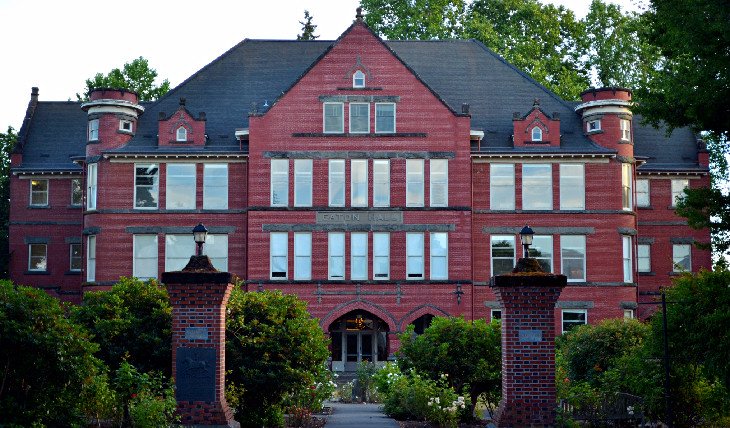 Across the street from the Oregon State Capitol, Willamette University was founded in 1842 as the first university established in the Western United States. This long-standing legacy rings from the campus of Willamette University, and the progressive coursework focuses on sustainability and civic engagement.
The university adds a collegiate appeal and vibrant student population to the community, and its campus benefits both students and residents alike. Willamette Bearcats athletic events are always fun to check out, and community institutions like the Hallie Ford Museum of Art add cultural appeal.
Address: 900 State Street, Salem, Oregon
Official site: http://willamette.edu/
12. Cascades Gateway Park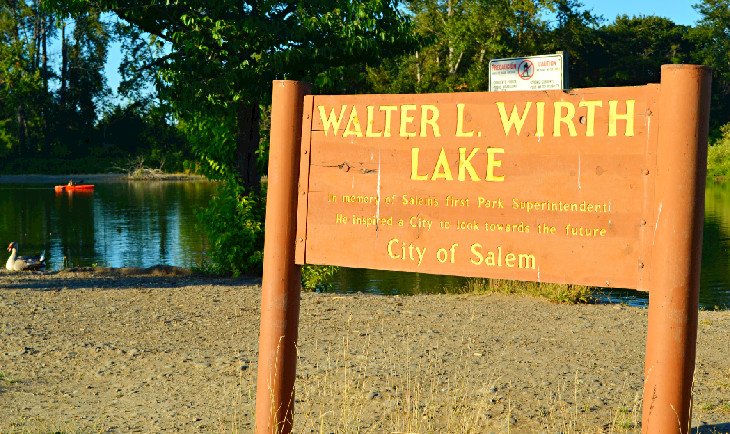 Cascades Gateway is a 100-acre park on the southeast side of the city and a great place to beat the summer heat or enjoy the changing seasons. The park features accessible hiking trails; an 18-hole disc golf course; and the inviting Walter L. Wirth Lake, which is great for fishing or paddle sports.
With all these recreational options, the parking lots at Cascades Gateway are rarely empty. Recently installed playground equipment is popular for children, and canine companions enjoy the off-leash, fenced-in dog area within the park. Shelters and picnic pavilions are also available to rent at Cascades Gateway Park, accommodating up to 160 people.
Address: 2100 Turner Road Southeast, Salem, Oregon
13. Willamette Heritage Center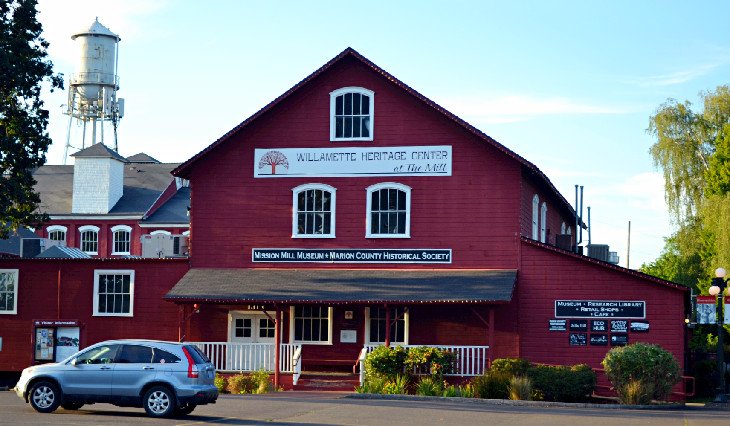 For a look into the history and current cultural vibe of Salem, the five-acre campus of the Willamette Heritage Center ties together the past and present with informative displays and unique exhibits. Fourteen historical sites at the Heritage Center display information relating to past generations who occupied the mid-Willamette Valley, including Oregon Trail travelers and early education pioneers.
The bright red Thomas Kay Woolen Mill is a centerpiece historic structure of the Heritage Center and houses many authentic pieces of 19th- and 20th-century machinery. Various local retailers can also be found at the Heritage Center, including shopping, dining, and specialty retail outlets.
Address: 1313 Mill Street Southeast, Salem, Oregon
Official site: https://www.willametteheritage.org/
Where to Stay in Salem for Sightseeing
A few of the more luxurious places can be found close to the central downtown district, though most hotels in Salem are located east of the city near the Interstate 5 corridor.
Mid-Range Hotels:
For a stay in central downtown, The Grand Hotel in

Salem

features amazing access to the city and fine furnishings. Besides underground parking and spacious rooms, guests at The Grand Hotel enjoy an attached restaurant, an indoor heated pool, and quick access to the Salem Convention Center.
East of downtown and near the interstate, Best Western Plus Mill Creek

Inn

is another great option that doesn't skimp on service. With quick access to Willamette University, the Best Western Plus provides spacious rooms, free breakfast, and an indoor pool and spa.
Near the Best Western, Hampton Inn & Suites

Salem

also has a great reputation for first-class service and larger rooms, perfect for extended stays or just a little more space.
Budget Hotels:
For more affordable options in Salem that don't sacrifice service and cleanliness for value, places like Best Western Pacific Highway

Inn

are a good bet. Located along the I-5 corridor northeast of the city, this Best Western receives high ratings thanks to its air-conditioned rooms, friendly front desk service, and its strategic location across the street from the Original Pancake House.
South of the city and near the Enchanted Forest, Phoenix Inn Suites,

Salem

is a large hotel complex with nearly 90 large suites available and a full breakfast bar with each night's stay.
Near the center of the city off Interstate 5, Comfort Inn &

Suites

is another reliable choice that provides plenty of space for affordable rates.
More Related Articles on PlanetWare.com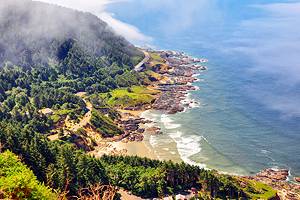 More Cities in Oregon: After you've explored Salem, it's only a short drive up to Portland, where you can experience the city's best hiking trails, campgrounds, and extraordinary weekend getaways. Home to the University of Oregon, Eugene is another exciting city to visit and stay awhile. Up and down the western part of the state, some of the best small towns on the Oregon coast, including Astoria, Seaside, and Newport – all beckon for multiple days of travel.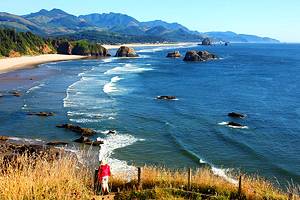 Exploring the Oregon Coast: The ever-changing tide of the Oregon coast is always fun to explore, and our Top-Rated Tourist Attractions and Things to Do on the Oregon Coast article can help you discover it all. For overnight accommodations during your coastal experience, our best campgrounds and top resorts on the Oregon Coast articles will have you sleeping to the sound of the ocean. For even more to explore, every single one of the best beaches on the Oregon coast delivers on a unique ocean experience.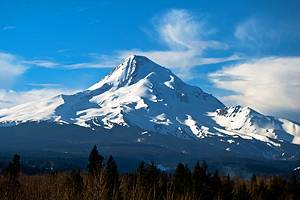 More Adventures in Oregon: Oregon is ripe for adventure, from the coast to magnificent national forests like Mount Hood National Forest near the beautiful town of Hood River. There are also enough campgrounds and hiking trails in Oregon to explore for a lifetime. One of the state's most well-know outdoor adventure destinations is Bend. Surrounded by volcanoes and lakes, this area is known for great mountain biking and awesome hiking trails. Once you think you've seen it all, the state delivers with even more in the form of amazing waterfalls and hot springs. For a few great ideas on how to spend your time exploring Oregon, be sure to check out our Best Weekend Trips in Oregon article.