11 Best Beaches near Newport, OR
Beaches in Newport, Oregon define coastal beauty on the state's Central Coast. Broad and accommodating beaches span Newport's coastline, punctuated by stunning natural landscapes. Scenic stops along Highway 101 lead to views of lighthouses and ominous-sounding rock features, like the Devils Punchbowl.
Nye Beach is the recommended first place to check out the ocean in Newport. This historic beachfront neighborhood is a few blocks off the 101 and even closer to the surf.
Nye Beach offers a healthy dose of culture alongside stunning beach views and plenty of places to spread out a towel. These few blocks are also home to several restaurants and shops lightly tinted with saltwater spray.
But you should expand your travels beyond Nye Beach on the Central Oregon Coast. Other oceanic highlights include Yaquina Head Outstanding Natural Area to the north and Brian Booth State Park to the south. Between these postcard destinations are miles of coastline waiting for your footprints in the sand.
Enjoy the surf and sights of the Central Oregon Coast with these top beaches near Newport.
1. Nye Beach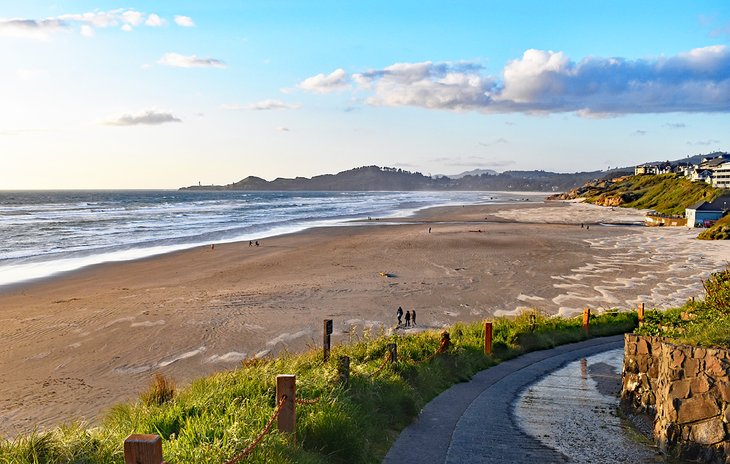 Nye Beach is one of the best beaches on the Oregon Coast. Although this historic resort destination is also brimming with shops, restaurants, and several art installations, the most potent tourist attraction of Nye Beach is the beach.
The coastline is wide and accommodating and caters to classic beach activities like sunbathing, swimming, and long beach walks. The most prominent beach access point is at the turnaround on NW Beach Drive. This access point also has a beautiful viewpoint, with benches to appreciate the idyllic coastal scene.
Several hotels and vacation rentals also line the historic Nye Beach neighborhood. These places to stay range from affordable bungalows to downright decadent oceanfront properties.
The sand and coastline stretch for miles on either side of Nye Beach, offering endless beach adventures. Agate Beach leads to Yaquina Head and several visitor opportunities to the north. And the sand continues south to the north jetty of Yaquina Bay, where photographers with a zoom lens capture beautiful photos of the Yaquina Bay Bridge.
2. Agate Beach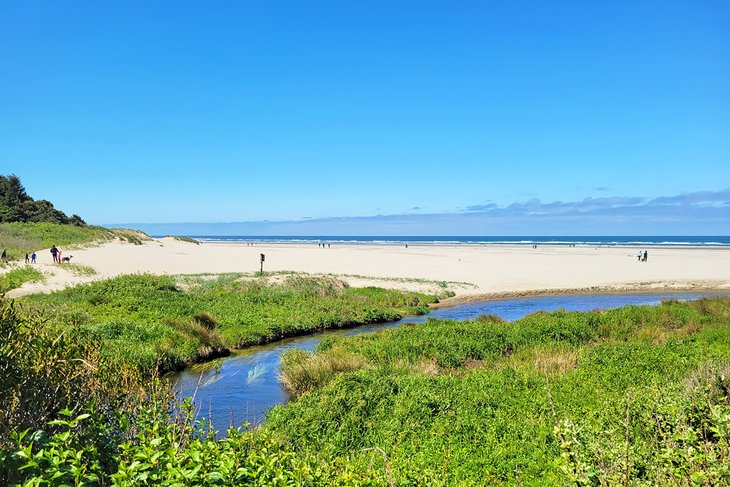 Agate Beach is the vast stretch of sand directly south of Yaquina Head. It's a popular beach for several reasons, including surfing, razor clamming, and lighthouse views. It's also wide enough to weather most winter storms, so there's plenty of room to lay out some towels and gather in groups.
Many visit Agate Beach by parking at the Agate Beach Wayside, located between the 101 and Oceanview Drive (the old 101). This big parking area leads to a tunnel that connects to the beach. More direct parking is available on Oceanview Drive, but it is limited and may require a road crossing.
There's also beach access at the north end of Agate Beach near Yaquina Head, where the best waves roll in. Parking is available at Ernest Bloch Place, with a trail leading to the beach off Gilbert Way.
3. South Beach State Park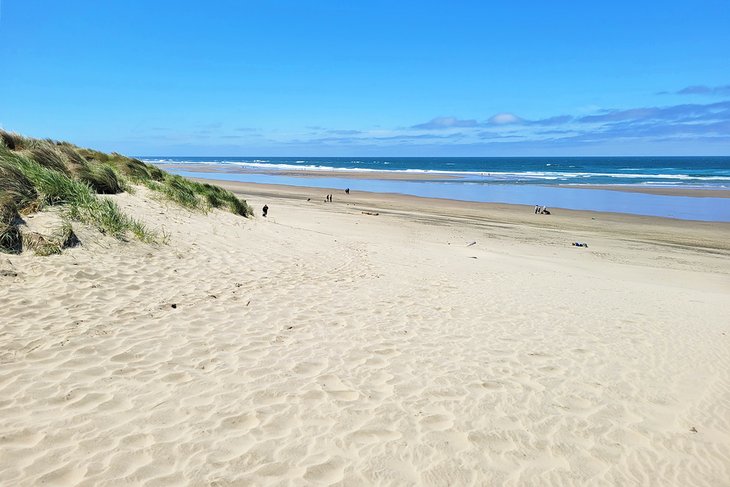 South Beach State Park begins just south of the Yaquina Bay South Jetty in Newport and spans miles down the coast. This popular beach and inland state park attract massive crowds when the weather is nice. This influx includes overnight travelers, sometimes reserving the state park's entire 290-plus campsites.
But don't let the crowds dissuade a visit. South Beach is as vast as it is popular, and it's easy to find a slice of coast to call your own. The beach is well-used for several activities, including fishing, crabbing, swimming, and suntanning. The beach is also excellent for long sandy walks.
The paved South Beach Jetty Trail navigates the inland acres of the state park. Other dirt trails tour the coastal landscape, popular with hikers and horseback riders. Many of these routes lead to the massive campground, leaving most overnight visitors with less than a mile hike to the beach.
4. Beverly Beach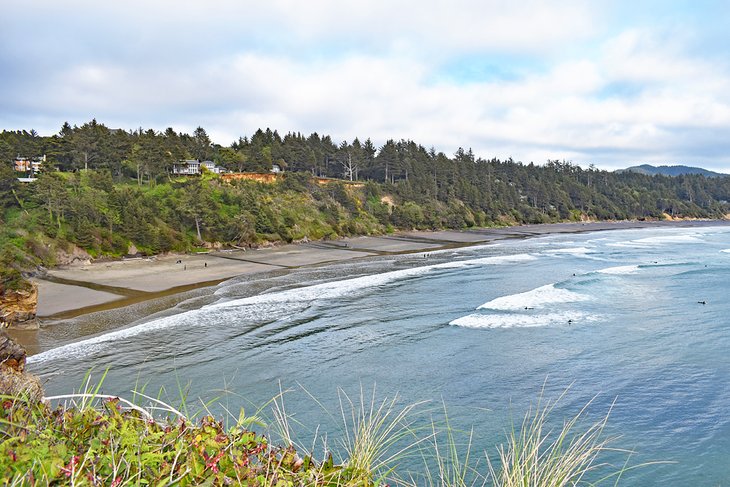 Approximately five miles of beach stretches between Yaquina Head and Otter Rock (the Devils Punchbowl) north of Newport. Beverly Beach comprises the northern half of this sand and more. And this popular place to visit caters to almost every coastal activity under the sun.
Everyday beach activities at Beverly include beachcombing, suntanning, and swimming. Surfing is also increasingly popular on the beach's north end near Otter Rock. And with five miles of shoreline, all part of the state-spanning Oregon Coast Trail, Beverly is an excellent place for long beach walks.
Beverly Beach State Park also has hundreds of campsites to spend the night, located inland from the middle of the beach. It has over 250 sites available. The sites range from tent-only to RV-accessible with full hookups. All sites are within earshot of the ocean.
The ocean is a short walk away for those staying at the campground. A scenic access point follows Spencer Creek under a bridge spanning the 101. This arched entryway to the sea is a terrific spot to catch the sunset when spending the night.
5. Moolack Beach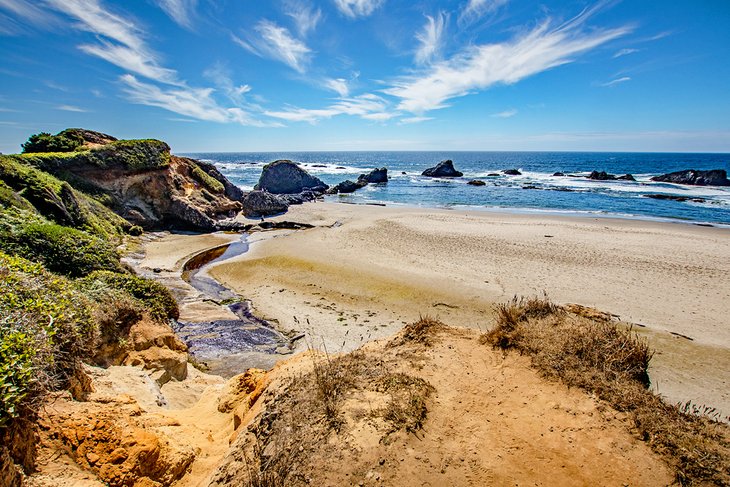 Moolack Beach is roughly the southern half of the five-mile beach between Yaquina Head and the Devils Punchbowl, north of Newport. Fewer access points and zero amenities like restrooms or running water lend to fewer crowds on this southern portion of the beach. This quiet nature is what makes the beach attractive to some.
A few exits from the 101 lend direct access to the beach. There's room for a few cars just north of Moolack Shores Inn. Alternatively, many visitors start from Beverly Beach State Park and walk south to Moolack Beach and back.
6. Otter Crest Beach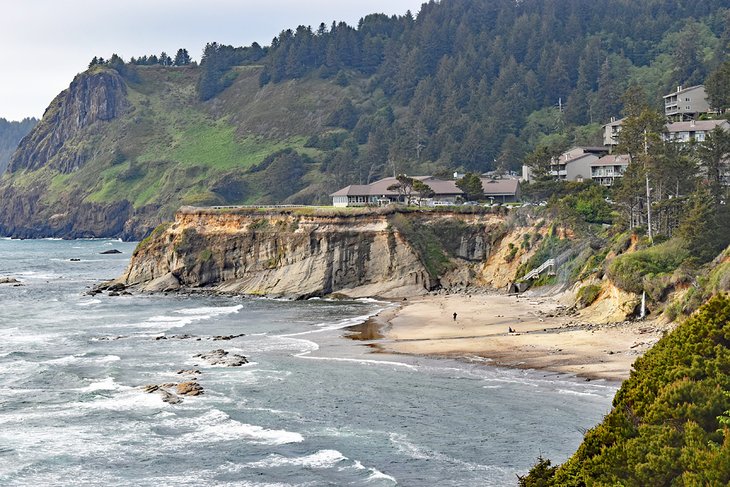 Otter Crest Beach is the small pocket beach immediately north of Devils Punchbowl. The beach isn't very big, but it packs in a lot of adventure. The area is rich with tide pools, sea caves, and several lovely spots to lay a towel down. These activities are contingent on the tide being out, as the beach sometimes disappears at high tide.
Otter Crest Beach also tends to be a quieter place to explore. The best way to access the beach is a short trail extending from C Avenue. It's not a long walk to the sand. Alternatively, a staircase on the beach's north end leads up to the property surrounding The Inn at Otter Crest.
Otter Crest Beach shouldn't be confused with Otter Crest State Scenic Viewpoint farther north along the coast. The beach is part of The Devils Punchbowl State Natural Area. Parking is limited to three different lots near the Punchbowl.
7. Ona Beach & Brian Booth State Park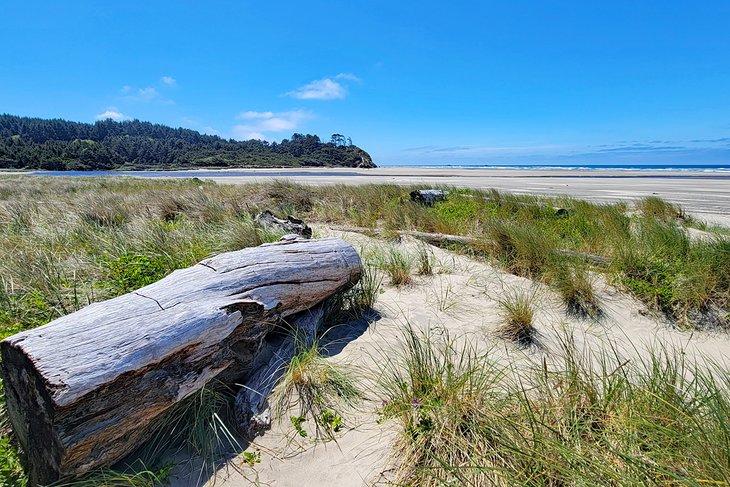 Brian Booth State Park is approximately 10 miles south of town on the 101, where Beaver Creek meets the ocean. That park comprises two different units: Ona Beach Day-Use Area straddles either side of Beaver Creek. The park also oversees Beaver Creek State Natural Area, offering inland adventures like hiking and paddling.
Two access points lead to Ona Beach. The first is a path from the paved parking area, leading past the picnic grounds, and to a bridge spanning Beaver Creek. This bridge lends access to the vast southern side of the beach, with miles of shoreline to explore.
Alternatively, there's a dirt parking lot north of the main paved parking area. It's denoted by a sign stating, "Entering Brian Booth State Park." There's limited parking here, but a ton of beach available within a short walking distance.
Take some time to explore the inland Beaver Creek State Natural Area. Several trails weave throughout this lush landscape, revealing all sorts of wildlife, especially birds. There's a boat launch off Beaver Creek Road near the 101, enabling paddlers to explore the dynamic Beaver Creek estuary.
8. Lost Creek State Recreation Area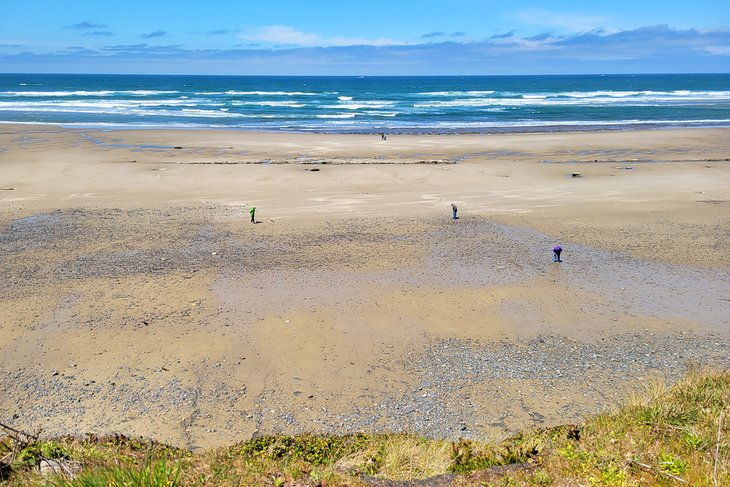 Lost Creek State Recreation Area is on Newport's southern city limits, approximately seven miles south of Nye Beach. The Recreation Area offers beach access along this vast expanse of shoreline that is otherwise hard to reach.
It's a short and moderately steep trail to the beach, where activities like beachcombing and suntanning are popular. The parking area only has room for approximately 20 vehicles, which may fill up on sunny weekends. Picnic areas and vault toilets are available.
9. Cobble Beach & Quarry Cove, Yaquina Head Outstanding Natural Area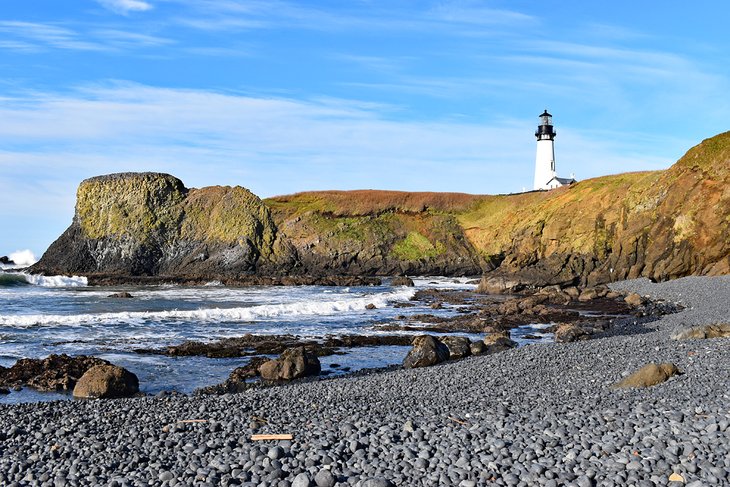 Yaquina Head is a significant stop when touring the Central Oregon Coast surrounding Newport. The Bureau of Land Management operates this Outstanding Natural Area, including the massive promontory and 93-foot lighthouse, beaming since 1873.
Yaquina Head is nothing but postcard views in all directions. Several vantage points on Yaquina Head lead to fantastic photos of the lighthouse, with glistening ocean backdrops. This photogenic quality is especially true as wildflowers overtake the scenery in the late spring and early summer.
One such vantage point comes from Cobble Beach, on Yaquina Head's southern shore. A paved trail from the lighthouse parking area leads down to this aptly named beach, with a shoreline made up of smoothed rocks big and small. While this rocky beach isn't popular for sun tanning and other sandy activities, the lighthouse views and unique shoreline tend to gather small crowds on most sunny days.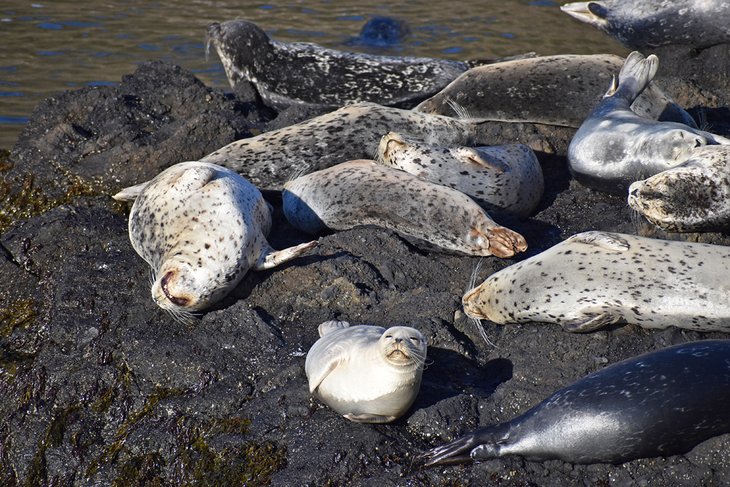 When visiting Yaquina Head, take the turn off Lighthouse Road near the entrance gates to explore Quarry Cove. This unique intertidal zone was once a rock quarry and is now a vast habitat for tide pool creatures and harbor seals. Try to plan a visit during low tide.
10. Don & Ann Davis Park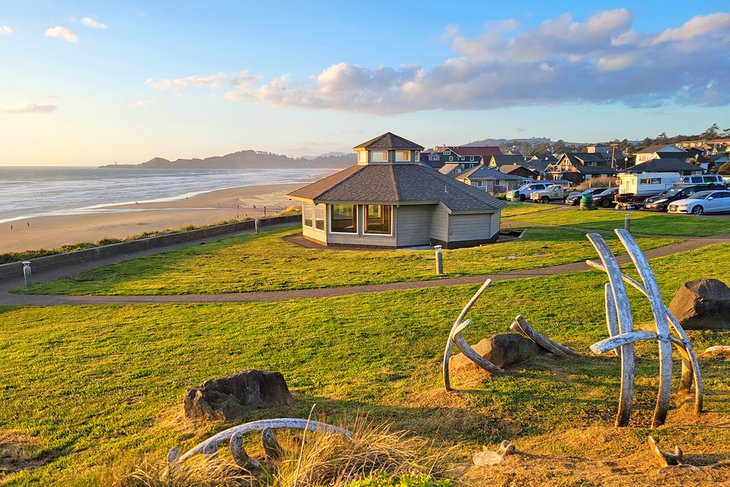 Don & Ann Davis Park is a stunning place to overlook the ocean in Newport, located in the historic Nye Beach district. This two-acre park has a commanding view of the coastline in both directions, including the Yaquina Head Lighthouse to the north. This panoramic ocean scene makes it a popular place to catch a smoldering sunset.
The vantage point at Don & Ann Davis Park also makes it a popular spot for whale watching throughout the year. Grey whales, harbor seals, and sea lions are common sightings from the park's gazebo overlooking the ocean. Bringing a pair of binoculars assists in getting the best view.
A long and moderately steep paved pathway leads down to the beach from Don & Ann Davis Park. Sitting benches line this route for cozy places to snuggle up to the view. Other park amenities include art sculptures, whale-watching information, and a unique set of whale bones.
11. Devils Punchbowl State Natural Area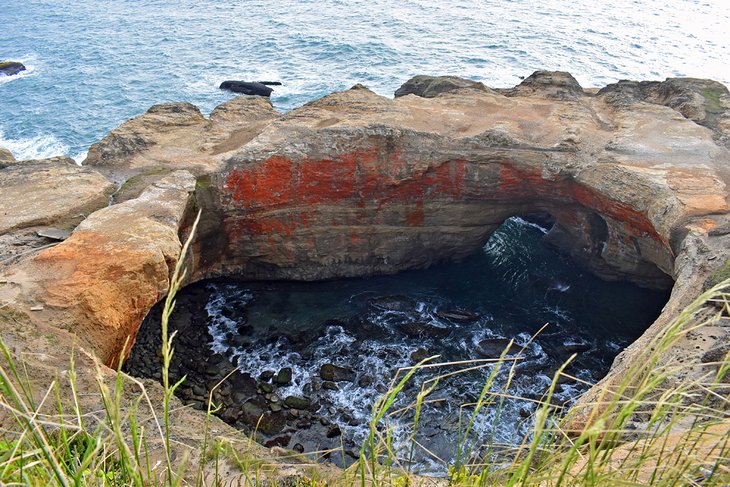 Devils Punchbowl isn't a beach, but it is one of the top things to see on the Oregon Coast, and is worth checking out when exploring this part of Oregon's Central Coast. This millions-year-old massive rock formation is less than 10 miles up the coast from Newport, making for an easy visit.
The Punchbowl is worth a snapshot any time of day. However, the best time to visit is during high tide or when winter storms surge into the collapsed sea cave. Prepare for wet and windy conditions when visiting in the winter.
The high vantage point above the ocean also makes the viewpoint popular for whale watching. And beaches surround both sides of the formation, with Beverly Beach to the south and Otter Crest Beach to the north. This section of Beverly Beach, next to the Devils Punchbowl, is a popular surf spot.
Visitors reach Devils Punchbowl by taking the Otter Crest Loop and pulling off on 1st Street. Parking is limited, and visitors are asked to respect posted private parking and only park in designated lots.
Map of Beaches near Newport, OR
Newport, OR - Climate Chart
Average minimum and maximum temperatures for Newport, OR in °C
J
F
M
A
M
J
J
A
S
O
N
D

11

4

12

4

13

4

14

5

16

7

17

9

18

11

19

11

18

9

16

7

13

6

11

4

PlanetWare.com
Average monthly precipitation totals for Newport, OR in mm.

260

221

197

124

94

69

26

26

61

130

271

289