22 Top-Rated Things to Do in California
We may earn a commission from affiliate links ()
Sunny days, a fun-loving culture, and endless things to do outdoors give the California lifestyle a special appeal. The Golden State is the place to enjoy life, whether dining on outdoor terraces or walking along the beach.
The state's spectacularly beautiful landscapes provide the backdrop for outdoor adventures. Exceptional natural beauty is found everywhere, from the redwood forests of Humboldt County in northern California to the sprawling sandy beaches near the border with Mexico. The choice of things to do depends on the region, and varies by city.
Sophisticated cities, like San Francisco and Los Angeles, offer world-class cultural attractions, while the laid-back small towns welcome visitors with friendly vibes.
From visiting museums and attending rock concerts, to sunbathing at the beach and skiing in the mountains, there is something for everyone in our list of the best things to do in California.
1. Visit Yosemite National Park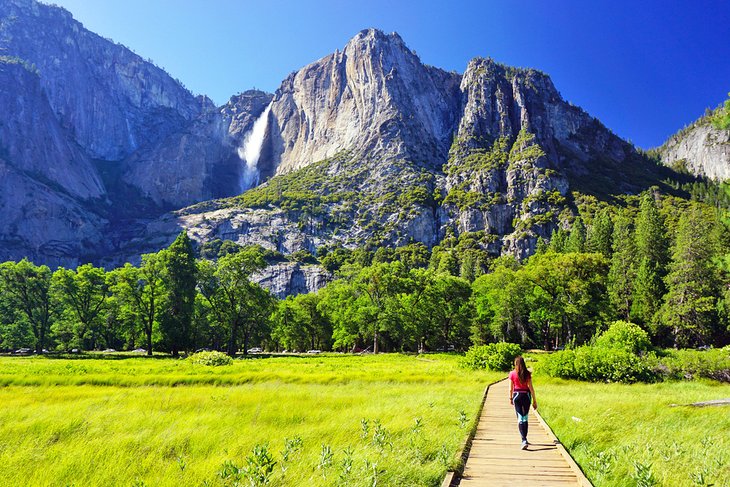 Sheer granite cliffs and magnificent waterfalls distinguish the landscape of the Yosemite Valley from almost anywhere else in the world. Yosemite Falls is the tallest waterfall in North America and is the most famous waterfall at Yosemite National Park.
Hiking the Yosemite Falls Trail is an invigorating experience not to be missed at Yosemite National Park. Ranking high on a list of Yosemite's top hikes, the trail takes you straight to one of Yosemite's most stunning sights.
The round-trip 7.2-mile hike involves a 2,700-foot elevation gain; however, you can simply hike up 1,000 feet to Columbia Rock for amazing views of Yosemite Falls.
More amazing waterfalls await on the Mist Trail, which follows along the Merced River and leads to the top of Vernal Fall via a steep stone staircase. The trail continues on to Nevada Fall, with more steep stairs along the way. The hike to Vernal Fall is 3 miles round-trip; the complete hike is 7 miles round-trip.
Not only is the Yosemite Valley famous for its iconic landscapes, but it is also a mecca for outdoor activities. Yosemite National Park offers opportunities for hiking, camping, fly-fishing, and world-class rock climbing.
Tips for Visitors: Reservations are required to drive into Yosemite National Park during peak hours (from 6am until 4pm) from mid-May through September.
2. Soak Up the Sun at Pacific Beach in San Diego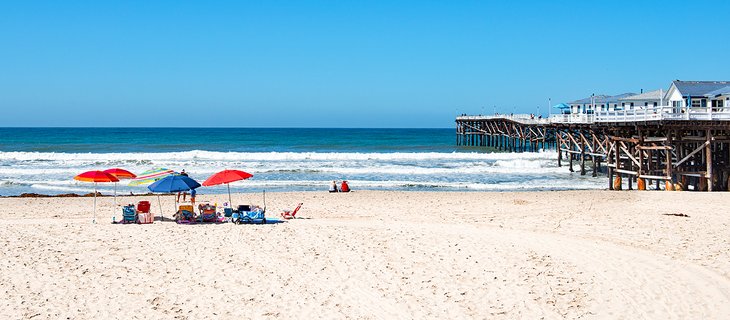 California boasts 1,000 miles of beaches along its coastline. Much of the shoreline features sublime sandy beaches in pristine environments.
Blessed with gorgeous coastal scenery and balmy weather almost year-round, San Diego is the ultimate SoCal destination for sun-drenched recreation and outdoor adventures. Sporting enthusiasts can choose from a wide variety of activities, from hiking on trails with ocean views to cycling on bayside paths and kayaking in sea caves.
Some of the best beaches in California are found in San Diego. Pacific Beach, just north of the downtown, is one of San Diego's top beaches. This wide stretch of sandy shoreline extends for about five miles and has excellent amenities including year-round lifeguard surveillance, public restrooms, and showers. Things to do include swimming, surfing, windsurfing, biking, and yoga.
3. Admire Masterpieces of Art in Los Angeles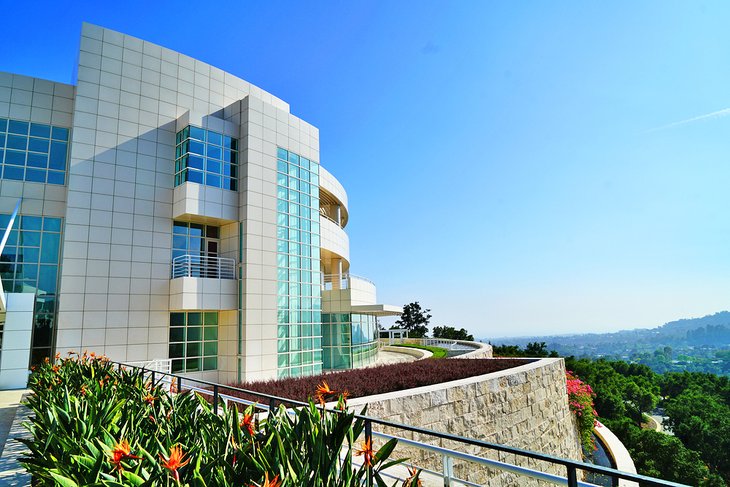 Los Angeles is home to some of the country's best art museums, a few of which rival the world-class museums of New York City.
The most prestigious museum in Los Angeles is The Getty Center, which contains an exceptional collection of European paintings, sculptures, and decorative arts. The museum complex is set on 110 acres of lovely manicured grounds in the Santa Monica Mountains, with sweeping views of the Los Angeles cityscape.
Another one of LA's highlights, the Los Angeles County Museum of Art (LACMA) has the largest art collection in the western United States, with over 100,000 items representing art from antiquity to the present. The LACMA has a noteworthy assortment of Latin American, Islamic, and Asian Art.
While visiting the City of Angels, be sure to check out another cultural attraction: the dining scene. The city brims with top-notch restaurants, from casual ethnic eateries to Michelin-starred dining establishments.
4. Take a Hike near the Heavens at Mount Shasta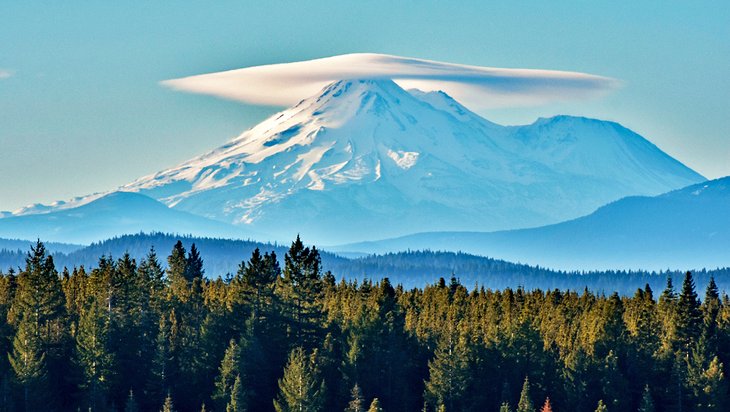 Majestic mountain scenery awaits at Mount Shasta, an awe-inspiring snowcapped peak that soars to 14,163 feet. The landscape is so sublime that it has an almost mythical quality.
5. Ride a Roller Coaster at the Santa Cruz Beach Boardwalk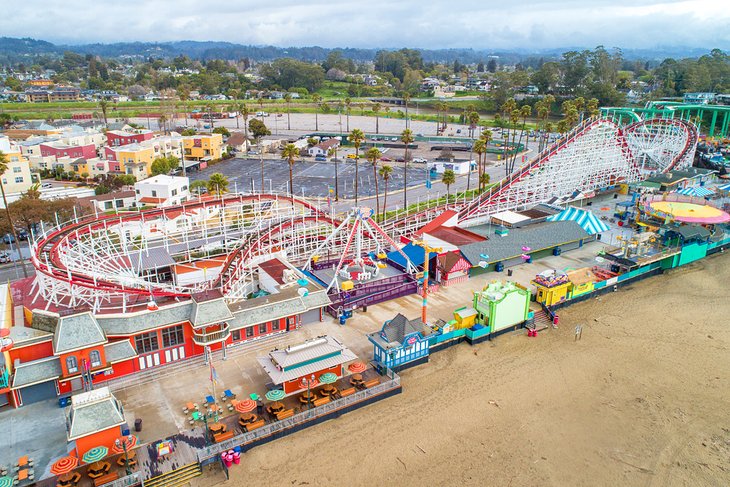 For fun in the sun, the Santa Cruz Beach Boardwalk has all the trappings of a classic seaside amusement park: an old-fashioned roller coaster (the Giant Dipper, listed as a National Historic Landmark), rides, games, fairground food, and a fabulous beachfront location. The Santa Cruz Beach Boardwalk fronts a sandy beach in a sheltered cove with gentle waves, ideal for families with kids.
While spending the day at the Santa Cruz Beach Boardwalk, visitors will have fun going on thrilling rides (or kiddie rides), playing arcade games, and indulging in treats such as corn dogs, ice cream sundaes, chocolate-dipped bananas, and cotton candy.
The Santa Cruz Beach Boardwalk ranks among the top tourist attractions in Santa Cruz, along with the city's sandy beaches, fishing pier, Surfing Museum, and whale-watching cruises.
6. Visit San Francisco's Legion of Honor Museum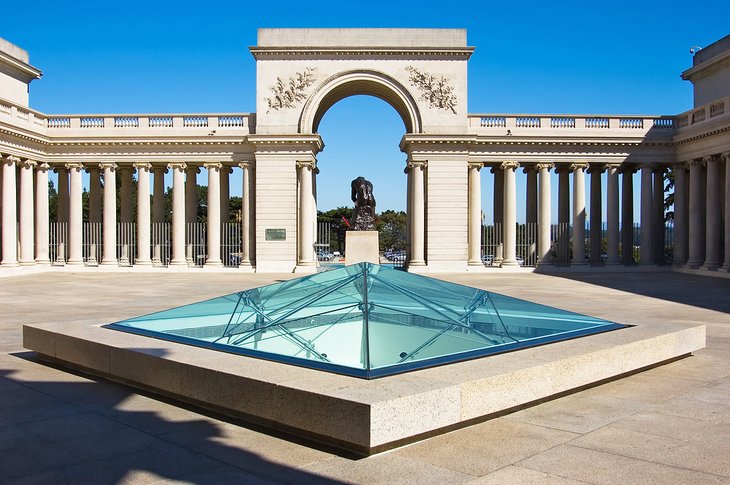 San Francisco delights art lovers with its interesting array of museums, from science collections like the Randall Museum (which has a Natural Sciences Lab) and the Exploratorium to cultural attractions like the Contemporary Jewish Museum (CJM) and the Museum of the African Diaspora (MoAD).
One of San Francisco's top attractions and its most prestigious museum, the Legion of Honor is found in a breathtaking natural setting. The museum presides over a wooded hillside on a headland with views of the Pacific Ocean and the Golden Gate Bridge. Modeled after the 18th-century Palais de la Légion d'Honneur in Paris, the building was constructed in the 1920s and exemplifies French Neoclassical style.
In addition to its splendid architecture, the museum has excellent collections of fine arts, decorative arts, and archaeology. Highlights include the masterpieces of French painting from the 18th and 19th centuries, as well as noteworthy works by the Old Masters such as El Greco, Georges de La Tour, Giovanni Battista Tiepolo, Peter Paul Rubens, and Thomas Gainsborough. Tourists also appreciate the museum's café with outdoor patio and gift shop.
7. Spend a Sunny Day in the Napa Valley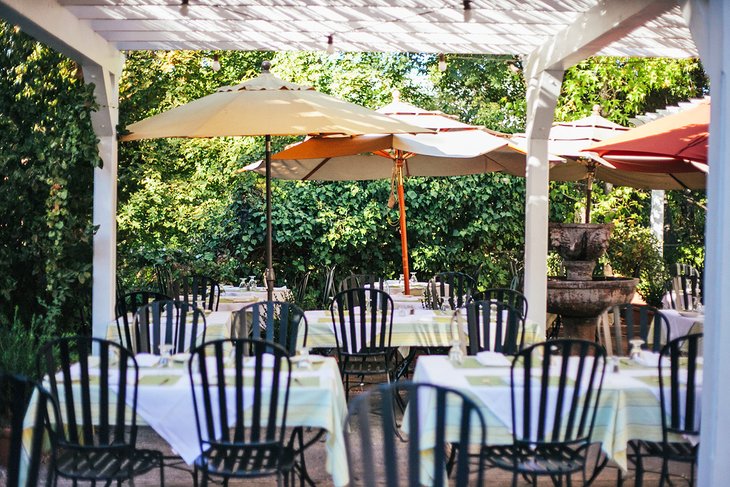 With its sun-drenched rolling hills, the Napa Valley recalls the landscape of Provence in the south of France. The warm weather of this northern California region make it a favorite day-trip destination from San Francisco, which is often cool and foggy during summertime.
The Napa Valley is famous for its dining scene. A wide selection of gastronomic restaurants appeals to gourmands or anyone who would like to sample the region's renowned seasonal cuisine. Many of the choices are fine-dining establishments, but visitors can also find casual eateries with great food.
Awarded three Michelin stars, The French Laundry is a special destination that requires booking reservations well in advance. Other acclaimed restaurants are Bouchon, a traditional French bistro, and The Restaurant at the Auberge du Soleil resort, which features splendid views of the Napa Valley from its outdoor dining terrace.
8. Watch Surfers at Huntington Beach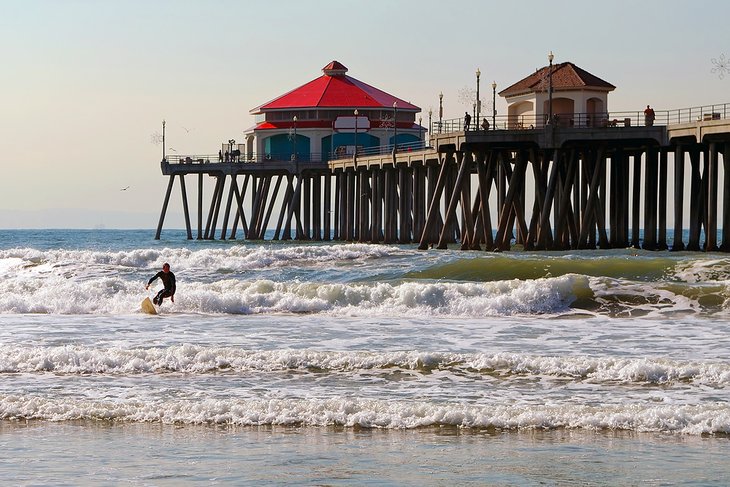 What better place to watch surfers ride the waves than in the town known as Surf City U.S.A.? Huntington City Beach in Southern California is legendary for its surfing culture. The U.S Open of Surfing takes place at Huntington City Beach every year in late July to early August.
More than ten miles of wide sandy shoreline front the western edge of the city. Beach lovers flock to this stretch of coastal paradise to sunbathe, play beach volleyball, fly kites, enjoy picnics, and admire the sunsets.
The Huntington Beach Pier stands at the center of the city's coastline. This impressive landmark extends for 1,800 feet and features benches where you can grab a seat to check out the expert surfers. The pier is also a popular spot for fishing.
9. Dine at Gourmet Restaurants in the San Francisco Bay Area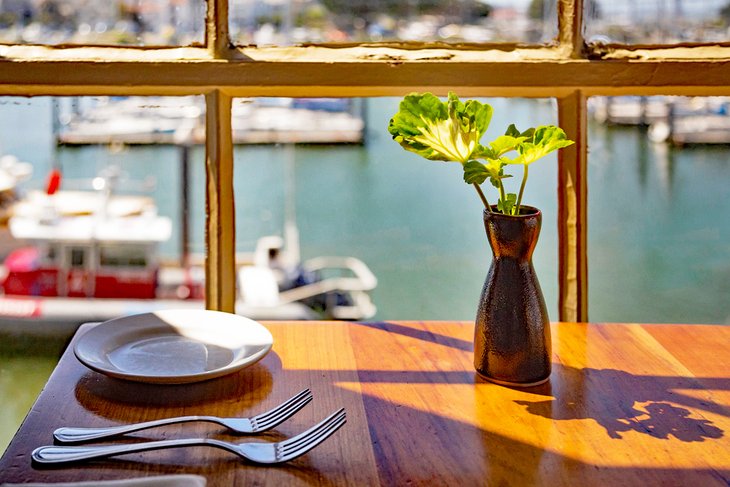 Foodie travelers should put California at the top of their must-visit destination list. The Golden State is a premier gourmet dining destination in the country.
With farmlands, dairies, and orchards covering much of the state, California produces fruits, vegetables, nuts, cheese, and other food products that supply grocery stores nationwide. Local chefs snap up the freshest and best ingredients for their restaurants, while farmers markets make available the best produce sold by local vendors.
One of the premier foodie destinations in California, the San Francisco Bay Area boasts an extraordinary choice of restaurants, from organic farm-to-table cuisine and ethnic street food to Michelin-starred restaurants. There are 31 restaurants in San Francisco (as well as a few more just outside the city) that have been awarded at least one of the coveted Michelin stars.
In San Francisco, tourists love sampling the fresh seafood at Pier 39 restaurants. Not only is the food delicious, but these restaurants feature a lively ambience and fabulous waterfront views.
Several of San Francisco's best fine-dining establishments with three Michelin stars are Quince, which serves upscale California cuisine; the innovative contemporary French restaurant, Atelier Crenn, helmed by a renowned female chef; and the contemporary Asian restaurant, Benu.
San Francisco restaurants with at least one Michelin star include Gary Danko, Sons & Daughters, Acquerello, Lazy Bear, Kin Khao, The Shota, Mourad, Mister Jiu's, Birdsong, Bar Crenn, SPQR, O' by Claude Le Tohic, Omakase, Niku Steakhouse, Californios, Saison, and Campton Place.
Other noteworthy restaurants are Rich Table (awarded one Michelin star), which specializes in California cuisine; The Slanted Door, an upscale Vietnamese restaurant; and a Mano, which offers handmade Italian pasta and other authentic Italian specialties.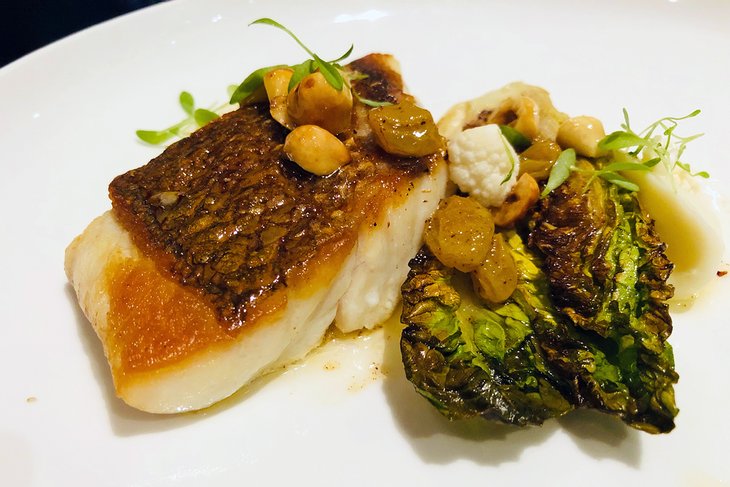 Set on the Embarcadero waterfront, the Michelin-starred Angler restaurant delights guests with sweeping views of the Bay Bridge, locally caught seafood, and seasonal farm-to-table cuisine. The chef works with fishermen, farmers, ranchers, and hunters, to source the highest quality and freshest ingredients possible.
For those who prefer vegetarian cuisine, the city has a wide selection of vegetarian and vegan restaurants.
Across the bay from San Francisco is another foodie town. The farm-to-table California cuisine movement began in Berkeley over 50 years ago with the opening of Alice Water's Chez Panisse bistro. Today this quaint, cozy restaurant still offers superb French-inspired cuisine.
The area around Chez Panisse, known as the Gourmet Ghetto neighborhood, is brimming with other excellent restaurants including Lo Coco's, a Sicilian restaurant & pizzeria, and Vanne Bistro at the Sens Hotel.
A short drive from the Gourmet Ghetto in Berkeley is the trendy Temescal neighborhood in Oakland, which has great restaurants such as Burma Superstar, an authentic Burmese restaurant, and Pizzaiolo, which serves Italian cuisine and wood-fired pizzas prepared from locally sourced ingredients.
10. Experience the Beach Life in Malibu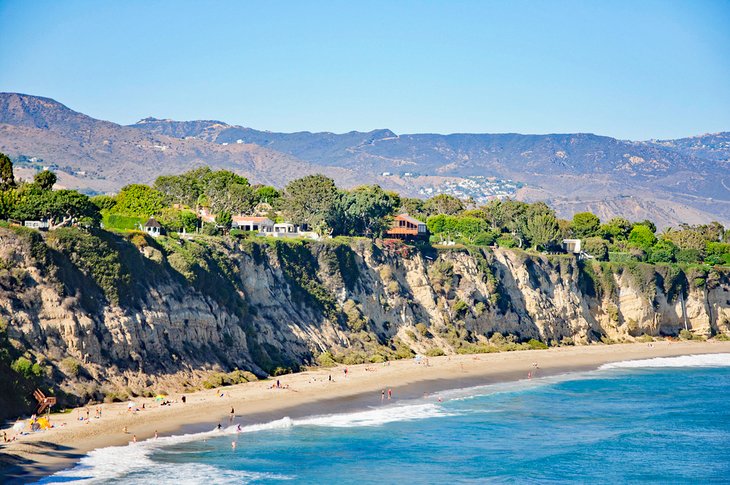 One of the top day trips from Los Angeles, Malibu epitomizes California beach culture. The area is prized for its pristine sandy beaches, where sun worshippers soak up the rays. Outdoor sports enthusiasts play beach volleyball, while nature lovers take walks to admire the crashing ocean waves.
Some of the most popular Malibu beaches include Zuma Beach, an amenities-packed two-mile stretch of fine-white-sand shoreline that's an ideal place to stretch out on a beach towel or lounge chair; Malibu Lagoon State Beach, where the Malibu Pier and Malibu Farm Restaurant are located; and Big Dume Beach, a wide crescent of golden sand in a cove backed by rugged ocean bluffs.
11. Hit the Ski Slopes at Lake Tahoe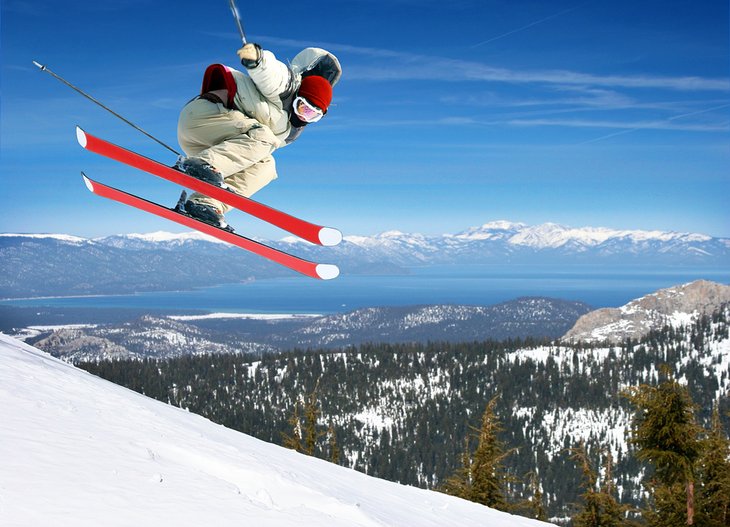 Winter is one of the best times to visit California if you enjoy downhill skiing and snowboarding. The state is home to some of the best ski resorts in the United States, including Palisades Tahoe and Alpine Meadows in Lake Tahoe.
12. Feel the Grooves at Coachella Valley Music and Arts Festival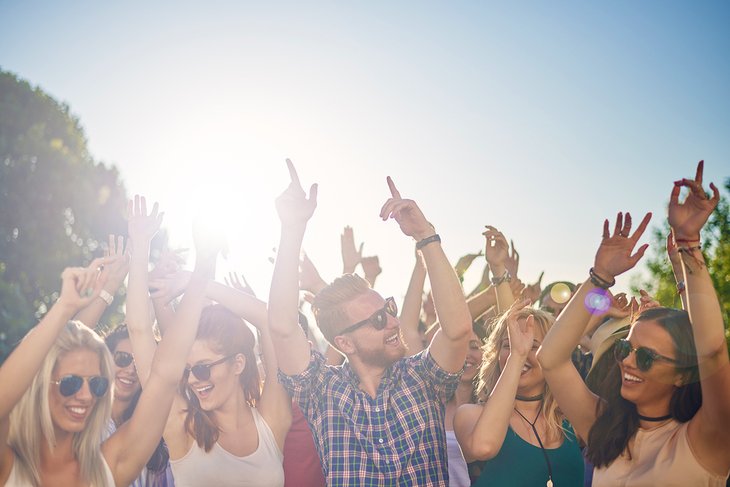 Music lovers come from far and wide to attend some of California's most popular festivals. High-caliber performances and a fun-loving social atmosphere makes these festivals worth a detour.
The Coachella Valley Music and Arts Festival is one of the most famous and exciting festivals with hugely popular concerts that draw jam-packed crowds. The lineup features some of the biggest names in current rock, pop, hip hop, and electronic music. Legendary performers like Beyoncé, Madonna, Paul McCartney, Björk, Daft Punk, and Amy Winehouse have performed at Coachella.
Held in the Coachella Valley about a 30-minute drive from Palm Springs, the Coachella Valley Music & Art Festival takes place over two weekends in April and sells out ahead of time.
Besides amazing music concerts, the festival is known for its lively atmosphere as well as the food & drinks. The festival offers outdoor dining options catered by top-notch restaurants.
13. Indulge in Spa Treatments at a Santa Barbara Resort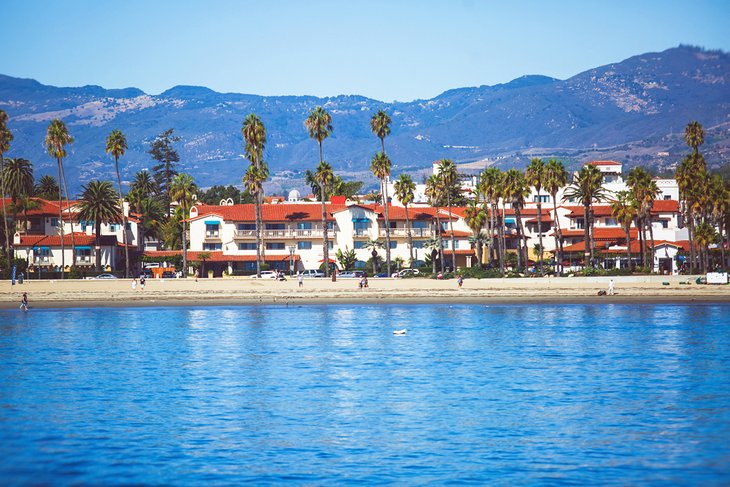 Pamper yourself with a spa vacation in Santa Barbara, a glamorous seaside town with laid-back vibes.
Known for its recreational activities and cultural attractions, Santa Barbara features a beautiful crescent of sandy coastline tucked behind the Santa Ynez Mountains, and is sometimes called "The American Riviera" because of its fancy beachfront resorts and restaurants.
Thanks to its peaceful natural environment, Santa Barbara is one of the best places to visit in California for a spa retreat. The selection ranges from facilities at five-star resort hotels to specialty boutique spas.
For a slice of heavenly serenity, escape to San Ysidro Ranch in the foothills above Montecito (six miles from Santa Barbara). This secluded hideaway offers romantic bungalow cottages, each with its own private entrance and blossoming garden frequented by hummingbirds and honeybees. The property's full-service spa is set in a grove of oak trees with a shaded outdoor terrace. Guests may choose from a variety of spa treatments, such as facials, haircuts and hair styling, aromatherapy, and massages.
Other luxurious spas include the boutique spa at El Encanto, a five-star resort hotel that dates to the 1920s; Float Luxury Spa that offers facials, massages, and beauty treatments; the Sense Spa, which has a Forbes Five-Star rating, at the Rosewood Miramar Beach resort in Montecito; and the spa at The Ritz-Carlton Bacara, Santa Barbara.
After relaxing at a spa, end your day on a high note with a gourmet meal at one of Santa Barbara's chic restaurants. Top restaurants in Santa Barbara include bouchon, which offers French-inspired cuisine prepared from fresh local ingredients; The Palace Grill, a happening restaurant that serves the finest New Orleans (Cajun Creole) cuisine; and Los Agaves, an award-winning family-owned Mexican restaurant.
14. Wander through an Ancient Forest at Redwood National and State Parks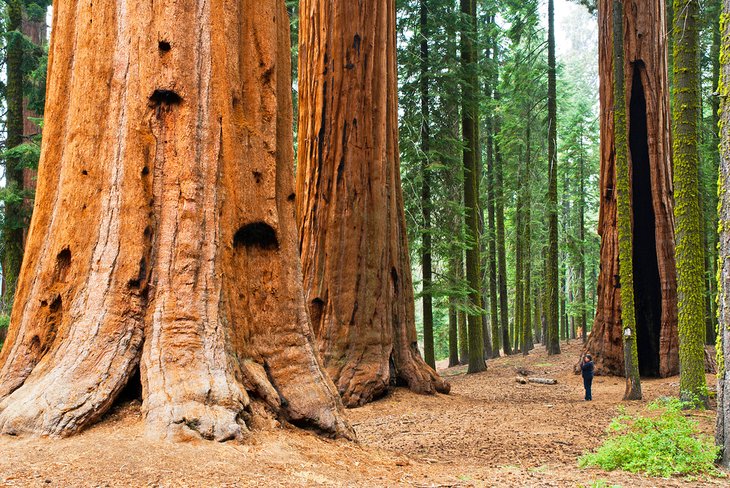 California's ancient redwood forests awe visitors with their stately natural splendor. These primeval forests are home to old-growth coastal redwood trees (Sequoia sempervirens), the tallest trees in the world, which soar to impressive heights. Some of the oldest coastal redwood trees reach 375 feet in height (the equivalent of a 35-story building).
The North Coast region (which extends from Fort Bragg in California to Josephine County in Oregon) is the only place in the world that sustains ancient redwood forests, although what remains is only a fraction of the original old-growth forests (destroyed by logging since 1849). Along a few hundred miles of coastline, the cool, damp ocean air and rich, complex soils provide just the right conditions for the redwood trees.
Redwood forests have thrived in this environment for 160 million years; that's the Jurassic era when dinosaurs roamed the shady groves. Some of the oldest trees you'll see in forests today have been alive for 2,000 years (since the Roman Empire era), and many of the trees are 600 years old.
California's Redwood National and State Parks (Redwood National Park, Prairie Creek Redwoods State Park, Del Norte Coast Redwoods State Park, and Jedediah Smith Redwoods State Park) are found within the northernmost corner of California, in the rugged and unspoiled Humboldt County (Eureka is the main town), along the coastal stretch that extends north of Trinidad to Crescent City near the Oregon border.
Together these four parks cover 16,442 hectares of old-growth redwood forests, which have been designated as a UNESCO World Heritage Site, as well as an International Biosphere Reserve.
A network of hiking trails winds through the Redwood National and State Parks, which were created to protect the region's old-growth coastal redwood forests. The James Irvine Trail is one of the best hikes in California's Redwood National and State Parks.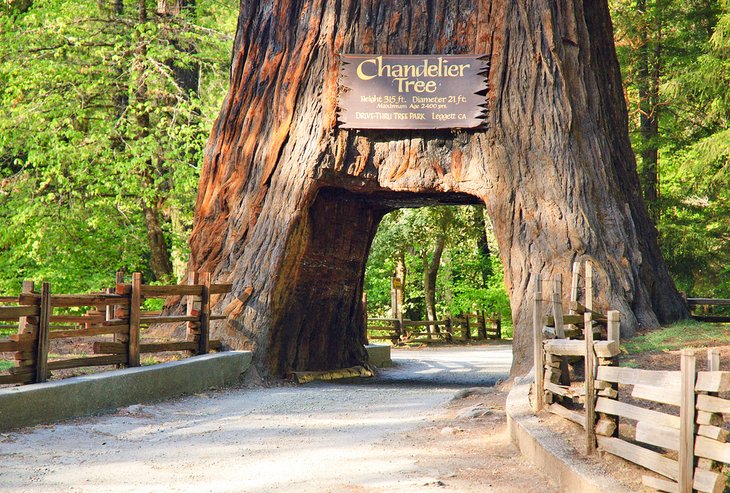 There are also pockets of old-growth redwood forests in other areas of northern California. The redwood forests of Marin County or Mendocino County would be a good choice, if you do not want to make the long drive up to Humboldt Country.
The most easily accessible ancient redwood forest in California is Muir Woods National Monument. This popular tourist destination is one of the best day trips from San Francisco (a short drive form San Francisco), but gets overwhelmed with visitors. You must make a parking or shuttle bus reservation in advance. Organized tours are recommended.
Whichever old-growth forest you visit, prepare to be blown away by the otherworldly beauty. Wander through the dense shady canopies, with sunlight barely filtering in through the towering redwood trees.
The lush, tranquil scenery includes leafy ferns, moss-covered river banks, and a wide variety of wild mushrooms. Trails follow alongside babbling brooks and crystal-clear freshwater streams, adding to the peaceful experience.
15. Hike or Rock Climbing in Joshua Tree National Park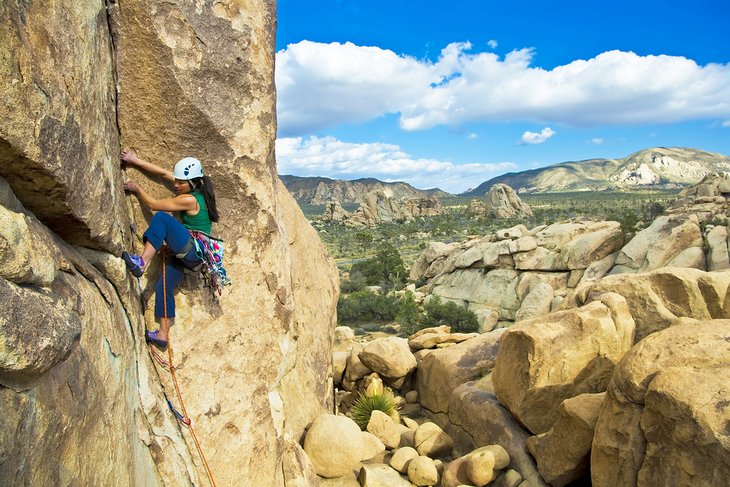 Thrill-seeking, adventure-loving outdoor enthusiasts will find plenty of activities to choose from in California. For those who enjoy camping, hiking, and rock climbing, Joshua Tree National Park is a popular place to visit.
The park has short and long hiking trails to appeal to all abilities. This is a wonderful way to get out into the desert and soak up the scenery. Several campgrounds in Joshua Tree NP offer beautiful spaces to set up and enjoy a night under the stars.
16. Meditate at a Retreat Center in Marin County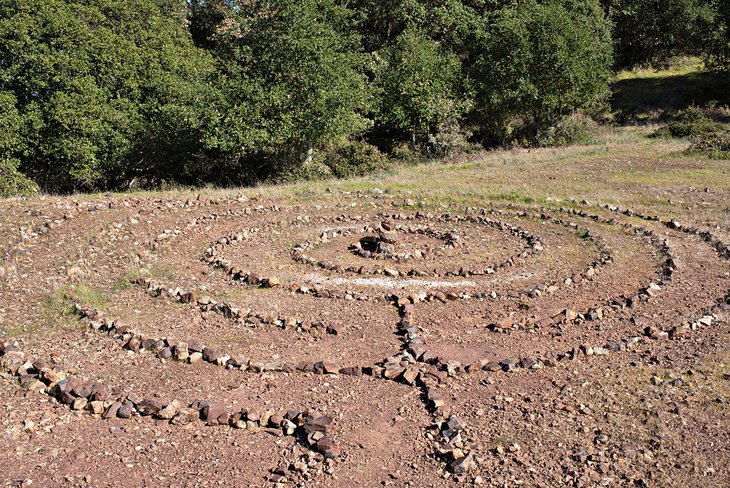 Yoga was introduced to California in 1937, when the Indian yogi Swami Paramahansa Yogananda created a hermitage in Encinitas (San Diego County) in Southern California. Later, the hippie movement of the 1960s increased the general interest in practicing yoga.
Today, yoga is part of California's popular culture. Classes and retreats are designed to offer physical, as well as health and spiritual, benefits. Tourists who choose to attend a yoga or meditation retreat will be rewarding with a rejuvenating experience. Most of California's yoga and meditation retreat centers are found in picturesque surroundings.
Green Gulch Farm Zen Center is set on 115 acres in Marin County (about an hour's drive north of San Francisco), nestled in an idyllic valley just a short walk from the Pacific Ocean. A short trail leads from the center, through a wooded grove to the beautiful Muir Beach. Green Gulch has a traditional Japanese guesthouse, a retreat center, and an eight-acre organic farm.
17. Visit a Small Organic Farm in Sonoma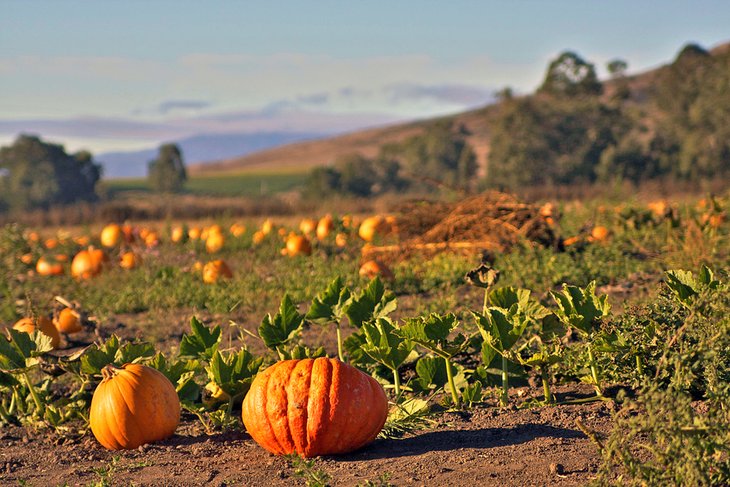 California is on the forefront of organic farming and produces almost half the organic food products in the country (including nearly 70 percent of the nation's organic vegetables). Organic farming has a mission of enhancing biodiversity and restoring ecological harmony, along with supplying consumers with pesticide-free fruits, vegetables, nuts, and other food commodities.
An awareness about organic food products is part of California culture. The majority (90 percent) of California households regularly purchase organic food products, and many people frequently shop at local farmers markets.
Tourists enjoy visiting Sonoma County in Northern California, a picturesque rural area with many small organic farms. With its rolling hills, dense oak groves, and freshwater streams, Sonoma is one of the most beautiful places to visit in California.
Sonoma County Farm Trails lists farms that are open to the public. Happy Apples Farm in Healdsburg has a picnic area and a farm stand that sells apples from its organic orchard. Lavender Bee Farm grows fields of organic lavender plants and sells soap, bouquets, lavender blossom honey, and lavender oil at its farm boutique.
McEvoy Ranch, a family-owned organic olive-tree estate, produces extra-virgin olive oil made in the Tuscan style and also has workshops and tours available by reservation. Bivalve Dairy in Petaluma is an organic farm that welcomes the public for guided tours.
18. Commune with Nature in Big Sur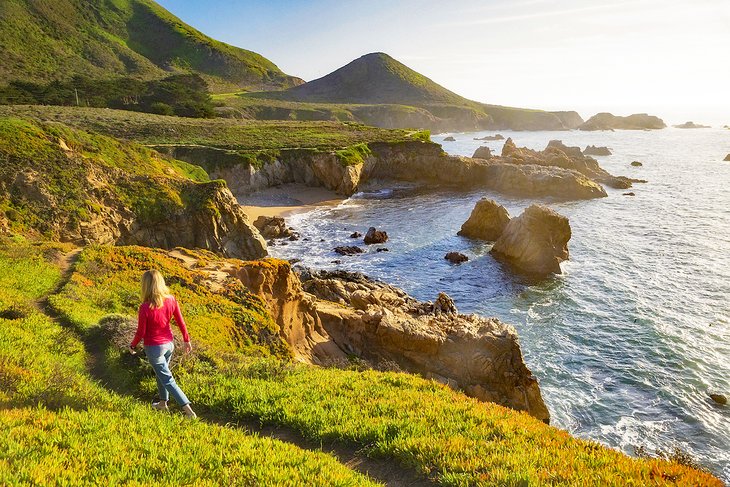 With its awe-inspiring coastal scenery, Big Sur has welcomed spiritual seekers for decades. The Tassajara Zen Mountain Center is set in the remote Los Padres National Forest just outside Big Sur. The center welcomes guests for day visits and overnight stays in the spring and summer.
Set on a hillside on the Big Sur coastline, the Esalen holistic educational center offers astounding ocean views and interesting workshops.
Not to be missed are the dramatic coastal stretches featuring oceanfront mountains and rocky headlands as well as hidden coves that tame the mighty Pacific waters. One of Big Sur's most beautiful sights, Sand Dollar Beach dazzles with its unspoiled natural scenery, a swatch of fine white-sand shoreline backed by an ocean bluff.
For an easy yet thrilling jaunt along the coastline, add the McWay Waterfall Trail in Big Sur to your list. This short trail (only 0.6-mile round-trip) takes you to the most frequently photographed site in Big Sur, the 80-foot McWay Waterfall, which drops from a sheer cliff into a small sandy cove.
19. Enjoy a Relaxing Farm Stay in Paso Robles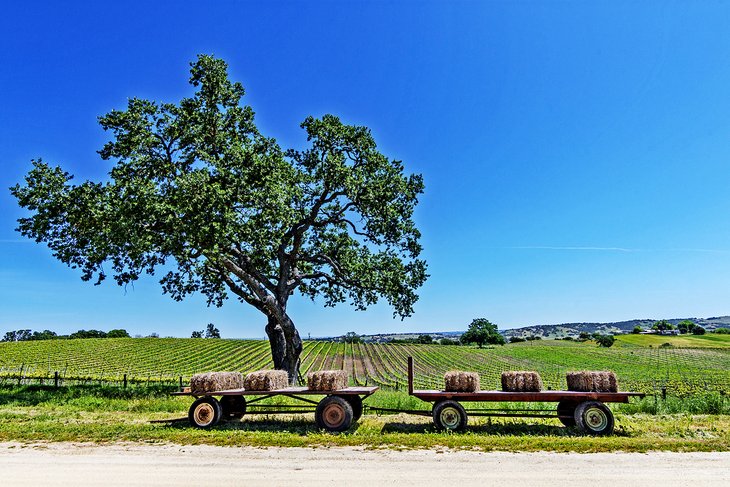 Many small organic farms are scattered throughout the Paso Robles region of Central California. Focused on sustainable farming, Windrose Farm in Paso Robles supplies local farm-to-table restaurants and farmers markets, and also hosts farm stays, tours, and seasonal dinners.
20. Camp in the Desert at Lake Perris Recreation Area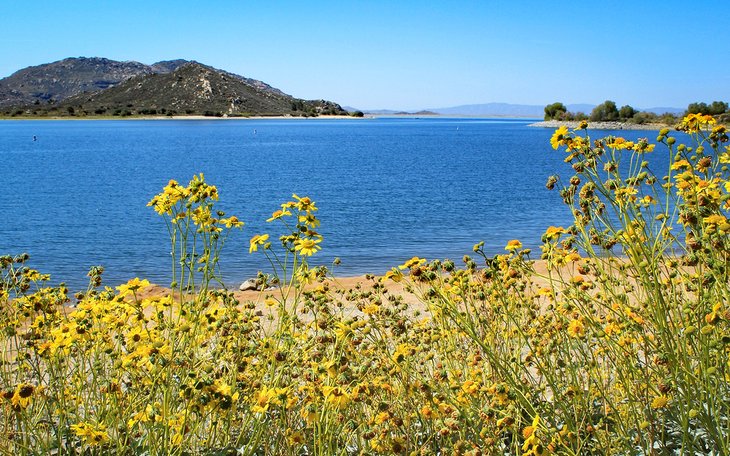 The serene mountain-enclosed desert environment of Lake Perris in southern California has a mystical quality, and its star-filled skies provide the perfect backdrop for a camping getaway. The shrubby desert environment blooms with wildflowers during the wet season, and during the springtime attracts hummingbirds as well as other migratory birds.
Besides its opportunities for camping and outdoor recreation (such as swimming, boating, hiking, fishing, cycling, and rock climbing), Lake Perris is the venue for the Desert Daze festival that takes place over several days in October and November.
21. Explore Nature Sites and Gardens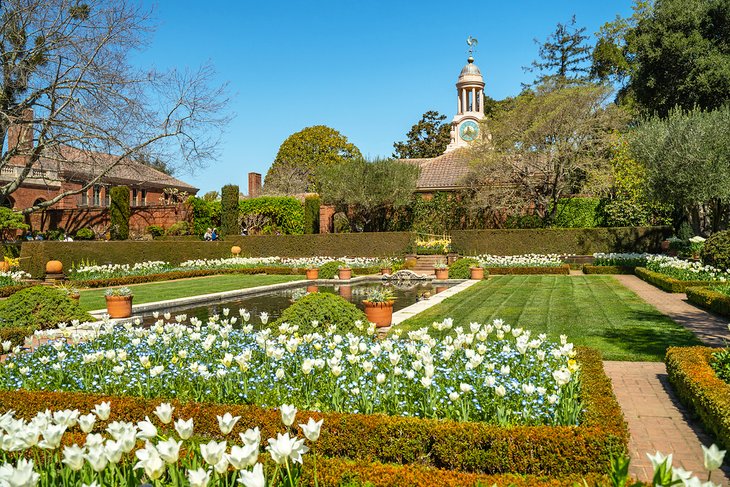 The suburbs of San Francisco extend for about 40 miles south of the city, which represents the Peninsula region of the Bay Area. Although the Peninsula is dotted with little towns, the region has many open-space preserves and regional parks in the forested rolling hills.
A serene coastal mountain environment awaits nature lovers at Huddart Park in Woodside, 35 miles south of San Francisco (approximately a 45-minute drive). This regional park encompasses over 900 acres of second-growth redwood forest, grassy meadows, chaparral-covered hillsides, and canyons traversed by seasonal creeks (during winter and springtime). Visitors love the picnic areas with barbecue pits, hiking trails, horseback riding trails, and the children's playground.
Less than 30 miles south of San Francisco, the Filoli estate would seem more at home in England or France. The estate's 16-acre English Renaissance-style garden draws many visitors in springtime when thousands of tulips bloom, and in summer when the Rose Garden is at the peak of its beauty.
Open year-round, the estate is gorgeous in every season, thanks to its bucolic setting in a sheltered valley below the Santa Cruz Mountains. Filoli is a National Trust Historic Site.
Garden enthusiasts can continue their tour several miles farther south in Los Altos at the Hakone Estate and Gardens, listed on the National Register of Historic Places. In 1918, Isabel Stine created Hakone Gardens based on inspiration from the historic gardens of Japan. She had recently sailed to Japan for a tour of Japanese garden estates.
Hakone Gardens exemplify the Japanese ideal of cultivating nature, which has been part of the Buddhist tradition for centuries. The estate includes hillside gardens, walking paths, waterfalls, koi ponds, and a Zen Garden.
About an hour drive south of San Francisco, Hidden Villa in the Los Altos Hills invites the public to discover its organic farm and lovely pastoral grounds. Nestled in the beautiful rolling hills of the Santa Cruz Mountains, Hidden Villa also has eight miles of hiking trails and picnic areas and hosts special events.
22. Escape to Rural Serenity in the Ojai Valley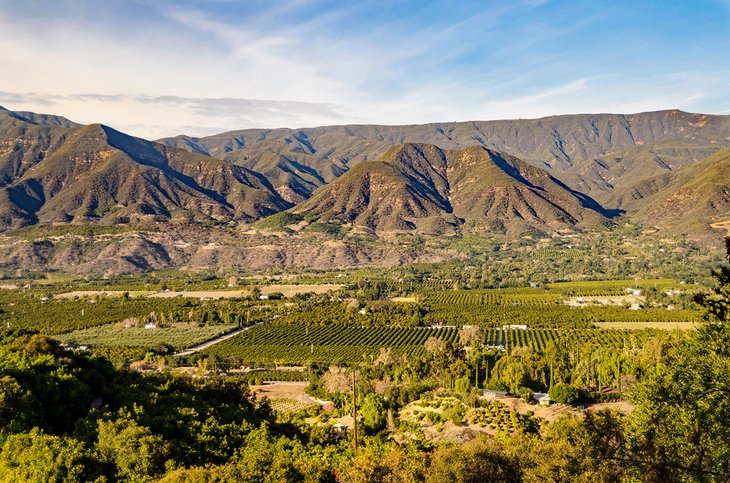 The picturesque Ojai Valley spreads out for about 10 miles between the soaring Topa Topa Mountains, a range which runs on an east-west axis. Thanks to its unique geography in southern California (a 90-minute drive from Los Angeles), the sunsets feature breathtaking rosy-toned hues. The few minutes at evenfall, when the colors seem to glow, are known as the "Pink Moment" (a tourist attraction in itself).
For decades, this peaceful valley has attracted organic farmers and hippies, who have been drawn by the area's special energy. The Chumash Indians settled the land of the Ojai Valley about 10,000 years ago and regarded the valley as a sacred place.
The tranquil natural setting also appeals to visitors in search of relaxation and rejuvenation. Top things to do in Ojai include visiting the area's hot springs, meditation centers, and resorts that focus on wellness.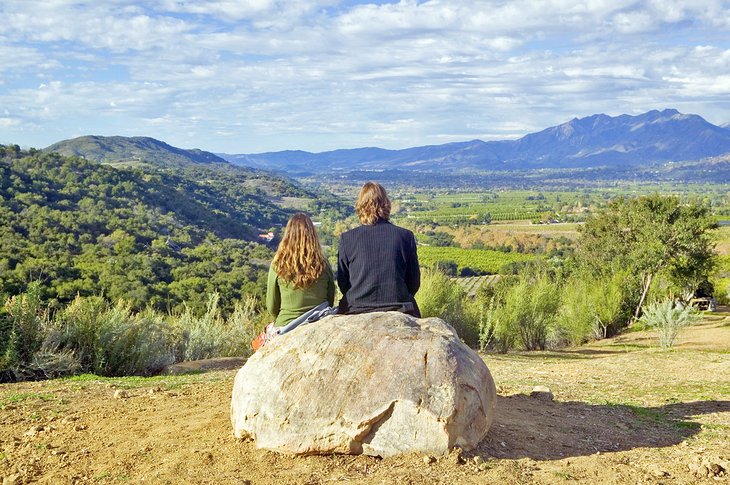 In the Ojai Valley (90 miles north of Los Angeles and 35 miles from Santa Barbara), Meditation Mount is beautifully situated on a sheltered hillside with spectacular views. The center includes a Meditation Room, Chi Room, and The International Garden of Peace for walking meditation. The center's wilderness setting provides a sense of sacredness and tranquility, to inspire meditation practice. Visitors must preregister for a visitation time; there are no overnight stays.