14 Top-Rated Beaches in San Diego, CA
Travel writer Freddy Sherman is based in Los Angeles but frequently spends weekends in San Diego. His favorite San Diego beach is Pacific Beach for its casual vibe and great cheap eats.
San Diego combines what may be the country's best weather with mile after mile of beautiful coastline. The city rarely sees rain, and average temperatures are usually over 70 degrees Fahrenheit (21 degrees Celsius). Any time is a good time to visit San Diego.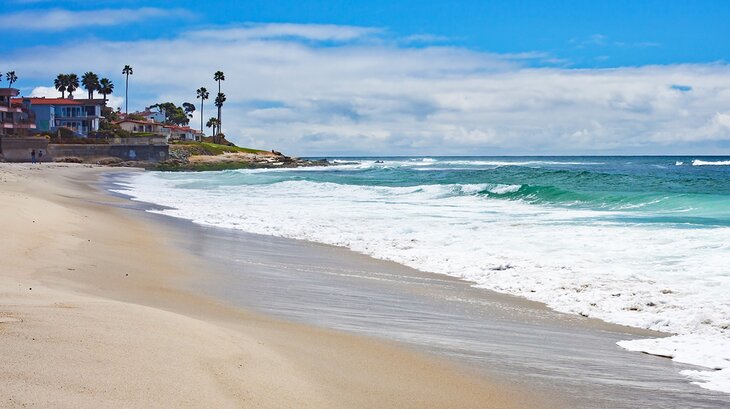 The area has both wide, flat public beaches, easily accessible and convenient even for a brief visit, and secluded, untouched cove beaches, reachable only on foot via a winding path down from the cliffs. San Diego has beaches within its city limits, and there are beaches in the various towns and cities both north and south of the downtown area.
The city is home to Mission Bay Park, the largest aquatic park in the country. Just in Mission Bay Park, you'll find 27 miles of coastline and 19 miles of beach with eight different areas designated as swimming areas. You can also launch and rent boats to explore the park on the water.
Surfers gravitate towards beach cities with great surf breaks like Encinitas, Leucadia, and San Clemente, while sun worshippers and families may prefer places like Oceanside, La Jolla, or Pacific Beach.
Many of the beachfront areas are connected by the city's 28-mile-long beachfront boardwalk/bike path, and in many places, that path, called The Strand, is fronted by hotels, homes, shops, and restaurants.
San Diego's beaches are very dog friendly. They're allowed on the beach, on a leash, after 6pm, from April 1 to October 31; or after 4pm, from November 1 to March 31. And dogs can run free on Ocean Beach's Dog Beach and the dog beach on Mission Bay's Fiesta Island.
Get your flip-flops, boogie board, and sunblock ready, and head to the beach with our list of the best beaches in the San Diego area.
1. Pacific Beach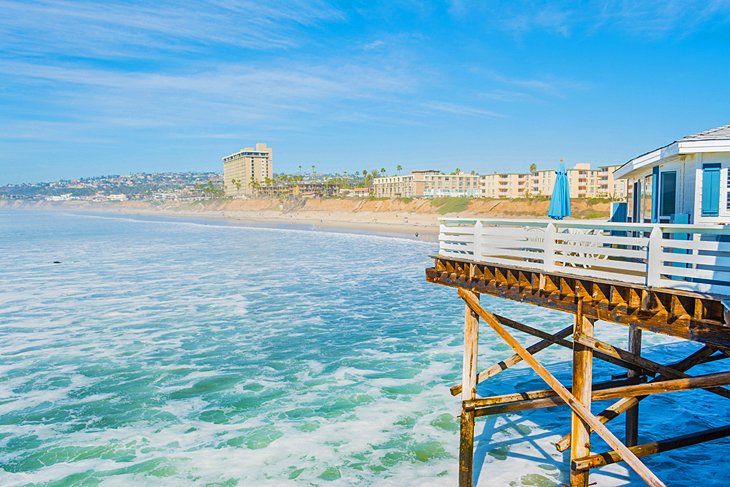 Pacific Beach, the city, and its main public beach offers the archetypal Southern California beach town experience. There's a wide, smooth lifeguard-patrolled beach that goes on for miles. Most of the beach is fluffy white sand, with only a small part covered by the waves most of the day. The beach is flat but slopes down right near the waterline.
Pacific Beach also has a beachfront boardwalk (The Strand) filled with little stores, cafés, and even accommodations right across from the sand. The neighborhood, which is within the San Diego city limits, is great for those who love to be active outside. There's a dedicated bike path and fun on-beach activities like surf schools and yoga.
The Surfer Beach Hotel is right on the Strand in the heart of PB (as locals call it), with most of its rooms facing the ocean. The hotel is home to World Famous Pacific Beach, one of the area's best restaurants. Pacific Beach has a more active nightlife than some of its neighbors, with live music venues and other evening options.
South of Belmont Park, Pacific Beach becomes Mission Beach. This has the same wide, flat beach and beachfront boardwalk, but it's lined mainly with homes rather than hotels and restaurants. It's a bit quieter and sometimes more family-friendly than lively Pacific Beach.
2. Del Mar City Beach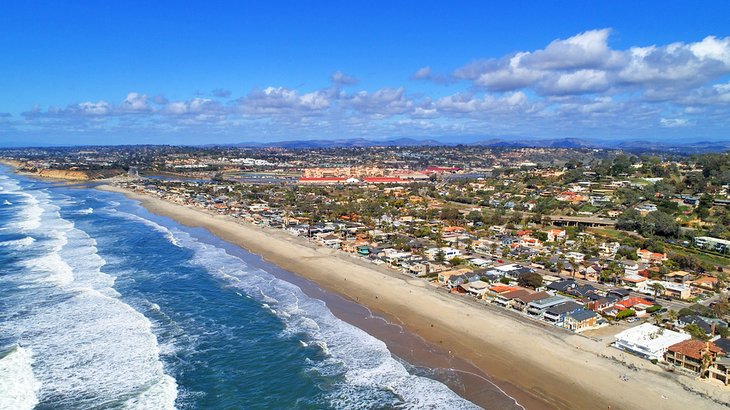 Del Mar may be best known for its famous horse racing track, but it's also a beautiful little seaside community with some great beaches.
Del Mar City Beach is more than two miles long, wide and clean, with multiple lifeguard towers. There are two parks across the street from the beach: Powerhouse Park and Seagrove Park; both are great places to picnic before or after your beach outing. The adjacent beach, North Beach, is dog-friendly. Dogs can be off-leash between 29th Street and the border with Solana Beach.
3. La Jolla Shores
A few minutes from Pacific Beach, La Jolla Shores is one of the most picturesque beaches in all of San Diego. The mile-long, gently curving beach is protected from large waves, so it's a great place for wading and frolicking in the surf.
Lifeguards are on duty, and it's also known for having the most gentle surf in San Diego, so it's very kid-friendly and great for families. Showers and facilities are available.
Divers and snorkelers will love exploring the San Diego La Jolla Underwater Park Ecological Reserve, which is right next to La Jolla Shores. This is an enormous park, all located underneath the water. It's 6,000 acres of ocean bottom and tidelands all to be explored with a snorkel or scuba gear. The park has four distinct habitats to discover: a rocky reef, a kelp forest, sand flats, and a submarine canyon.
After your day at the beach, the little seaside town of La Jolla offers upscale shopping and dining. If you want to laugh, Hollywood's world-famous Comedy Store comedy club has a second location here.
4. Swami's Beach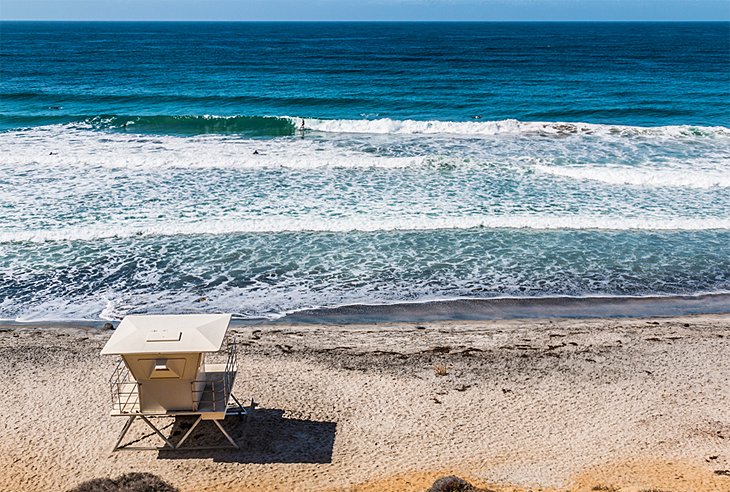 Located in the town of Encinitas, just north of San Diego, this beach is one of the area's best surf breaks. Non-surfers will love the cool vibe and watching all the surfers catch waves. It's an excellent place to watch surfing because the breaks are a few hundred yards off the beach, and some surfers are able to ride the waves for a long time.
It's a typical cove beach, with limited access and high cliffs on both sides. There is a parking lot at the top of the bluffs, and you have to walk down a steep, dirt path to access the beach. Some good advice for any San Diego beach: be sure never to leave valuables in the car when parking at beach lots, as theft is a problem.
Surfers love Swami's Beach because the waves break to the right of the point of land that sticks out into the ocean. There are also beach and reef surf breaks here; the area is especially crowded with surfers during big winter swells. Swami's has lifeguards on duty, but there are no facilities or food.
5. Playa Pacifica on Mission Bay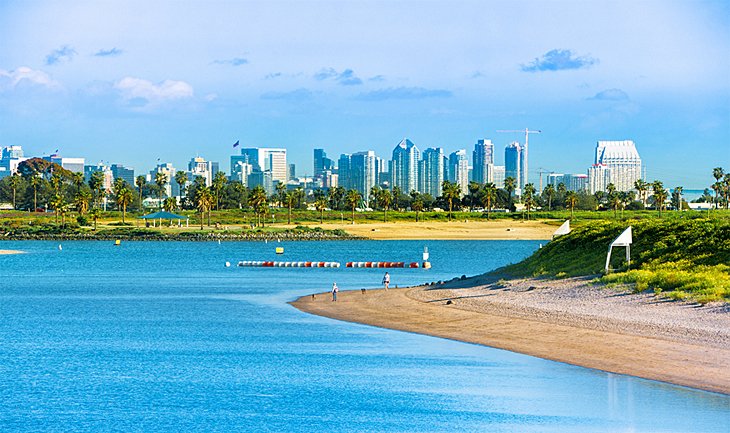 Mission Bay is the bay and marina area, located between Old Town San Diego and Pacific Beach. The Playa Pacifica is the wide strip of beach on the bay, not the ocean. It's between the old visitor's center building (shaped like a giant shell) and San Diego Mission Bay Resort on East Mission Bay Drive. The on-the-sand resort is a great place to stay for families, it has its own semi-private beach, as well as a little marina with boat and water sports rentals.
Aside from the very clean beach, there's a covered picnic area, basketball courts, and fire pits. For kids, there's a tot lot, which is a dog-free, barefoot playground area. The beach isn't wide, but it's well-groomed and cared for, and the sand is very clean and soft. Because the beach is protected and on the bay, not the ocean, there really is no surf or riptides, and it's safer for swimming and wading.
Mission Bay's calm, protected water is popular with paddleboarders, sea kayakers, small sailboats, and rowers, so there's always something interesting to look at while you relax on the sand.
6. Cardiff State Beach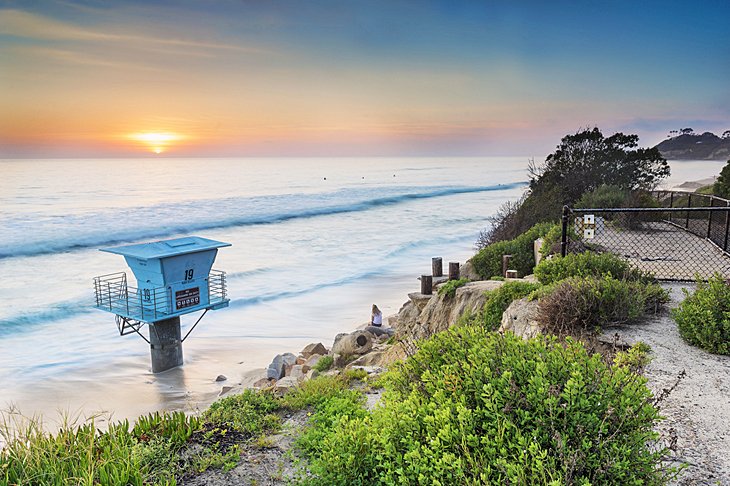 Located a mile south of the town of Cardiff on Old Highway 101, Cardiff State Beach is a gently sloping beach popular with surfers, swimmers, and other beachgoers. The beach, which is also a state park, has lifeguards and two large paid parking areas. There are also restrooms and showers.
Swimmers especially like Cardiff State Beach because currents keep the water here warmer than some of the area's other beaches. The currents and riptides are also not too extreme.
Take a hint from the locals and grab a breakfast burrito for breakfast with the surfers at Pipes Cafe in Cardiff before hitting the waves.
If you want to camp, right next to Cardiff State Beach is San Elijo State Beach, which has an official campground.
7. Coronado Beach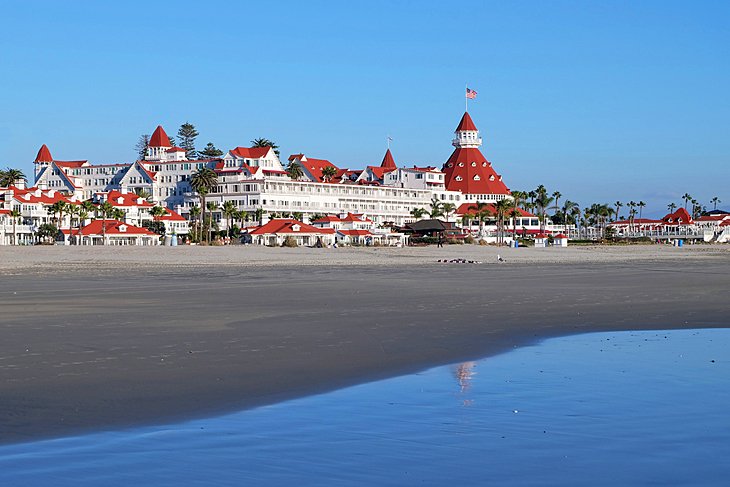 Coronado Beach is on Coronado Island, located in San Diego Bay. It's best known as the location of the iconic Hotel del Coronado, located right on the beach. The Victorian hotel and the beach were the setting for the iconic Marilyn Monroe film Some Like it Hot. The hotel, now a Curio Collection by Hilton property, is a large beachfront resort and more like its own little city. The authentically Victorian (first built in 1888) resort, which recently underwent a total renovation, is a very cool way to experience California's history.
Coronado Beach is the mile-and-a-half-long, super-wide beach area directly in front of the hotel. The beach is very flat, so it's great for skimboarding. The bay is somewhat protected from the open ocean, so the waves are small, and it's a good place for wading and swimming. Your eyes aren't playing tricks on you, this beach is very shiny due to the high mica content in the sand. It makes it very Instagram-friendly, as it looks great in photographs.
Lifeguards are on duty during the day (most state or city beaches with lifeguards have them on duty from 9am to dusk) and there are both bathrooms and showers available. Parking is free on Ocean Boulevard, which runs along the beach.
8. San Onofre Surf Beach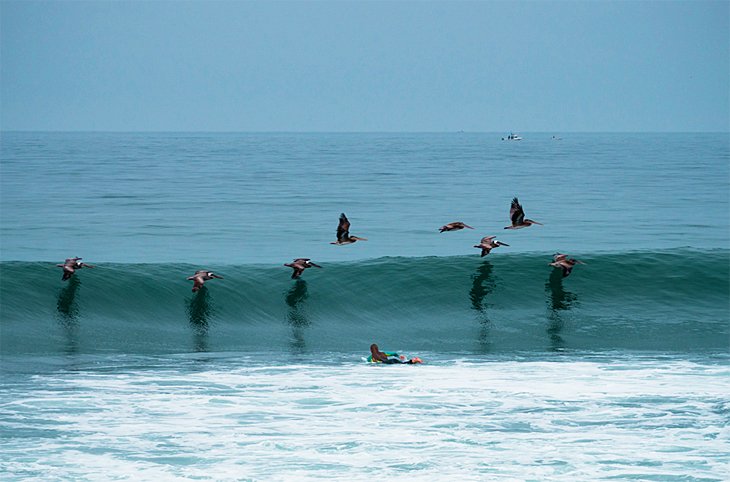 Made famous in the iconic Beach Boys song Surfin' USA, San Onofre Surf Beach is all about surfing and a whole lot more. Of course, you can surf here, but you can also fish, bike, kayak, bird-watch, or just relax.
San Onofre Surf Beach is one part of San Onofre State Beach, which is one of California's top five most-visited state parks. The surf breaks here range from easy beginner stuff to Trestles (named for the railroad trestles at the site), considered the best surfing spot in the continental U.S.
It's a large area — the beach is three and a half miles long. There's a long nature trail that connects to the San Onofre Bluffs, the beautiful cliffs that tower over the beach. Year-round camping is available here.
San Onofre is north of San Diego, about three miles south of San Clemente. When you're done watching the surfers, dolphins, whales, and sea lions can often be spotted swimming just offshore.
9. Scripps Beach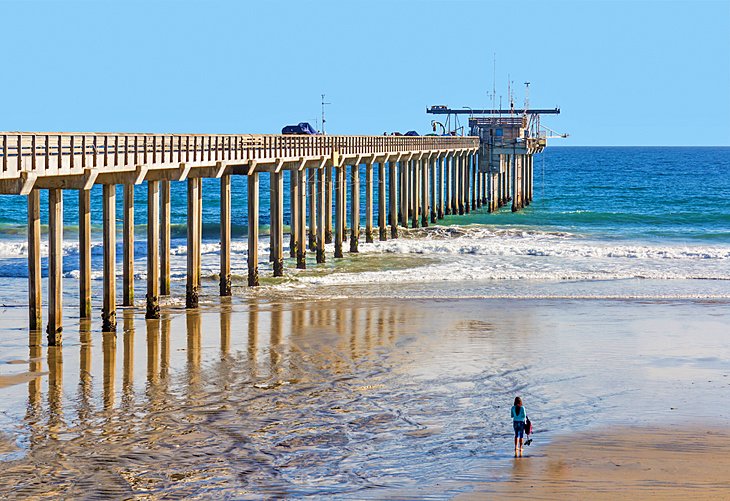 Located on either side of Scripps Pier (which is not open to the public) the Scripps Beach area is a beautiful, wide, sandy space with powdery white sand. It's directly below the Birch Aquarium at UC San Diego Scripps Institution of Oceanology, which is a fascinating, must-see attraction in the area. The beach is a perfect place to relax after a day of sightseeing and exploring the aquarium.
Scripps Beach is near La Jolla Shores, but much less crowded. You can park at La Jolla Shores, as it's a pleasant five-minute walk. The area is popular for kayaking, and there are rentals available.
Take some time to visit the nearby Torrey Pines Gliderport, a cliff-top mini airport for paragliders and hang gliders. It's beautiful to watch them take off by running towards the cliff and then floating and rising on the air currents. Tandem rides are available with skilled pilots.
10. Voltaire Street Beach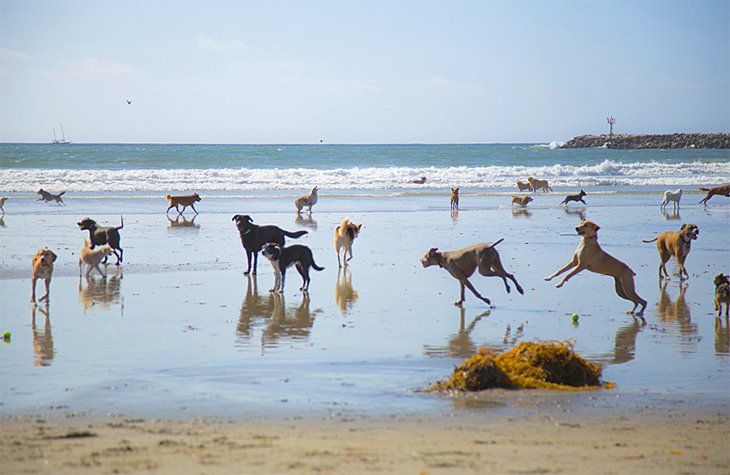 Located in the Ocean Beach neighborhood of San Diego, Voltaire Street Beach is an oceanfront destination that combines a great beach with fun things to do. Voltaire Street, before it dead-ends into the beach parking lot, is lined with cool local shops and restaurants.
At the beach, there's a grassy picnic area and basic facilities. All of the beaches in Ocean Beach are less crowded than those in neighboring Mission Beach or Pacific Beach. At one end of Ocean Beach is the famous, original Dog Beach. This remains one of the few leash-optional public beaches in California, and it's a fun place to visit, with or without a dog.
11. Beacon's Beach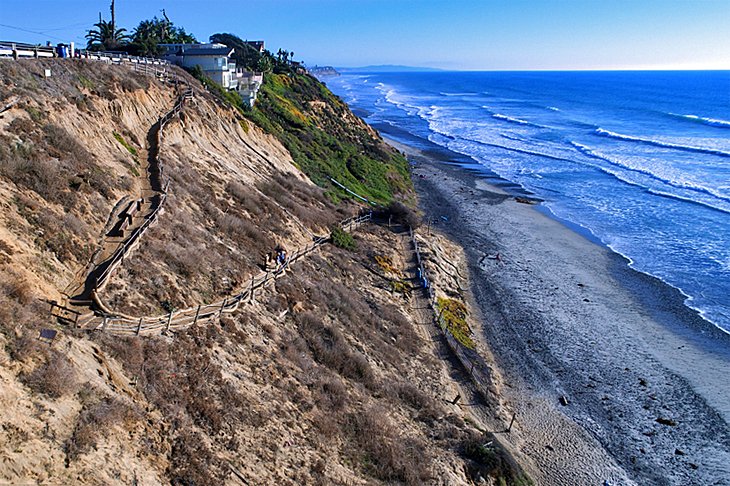 Beacon's Beach is part of Leucadia State Beach in Encinitas. The raw, unspoiled beach is surrounded by high bluffs, with a neighborhood of homes and condos on top. Like many beaches in the area, you park at the top of the bluffs and walk down to the beach via a winding trail. It's a popular surf break and sunbathing spot, so weekend parking can be hard to find in the small lot.
Visitors are rewarded with a very pure experience – it's just beach and ocean. This beach has coarse sand with a lot of rocky areas. During low tide, you can explore the marine life in the many tide pools. This is not a good beach for families — there are no lifeguards and no restrooms.
12. Breakwater Way Beach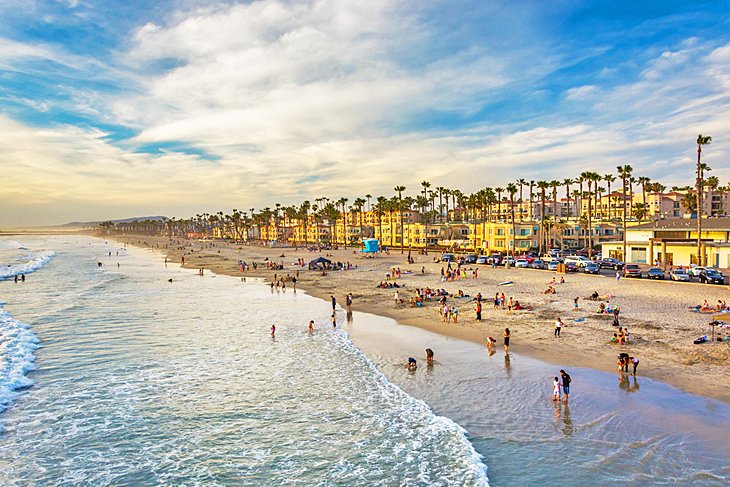 The Breakwater Way Beach, named for the breakwater or rock jetty that creates the Oceanside harbor, is a great place to enjoy the sun. Because the area is more residential, the beach is quieter than some of Oceanside's other public beaches.
This city beach has lifeguards and also basic facilities (bathrooms and outdoor showers). There are also barbecues and picnic tables. The beach is popular for volleyball - there are a bunch of volleyball courts. Breakwater Way Beach is next to the Strand, the small street and bike path that runs to Oceanside Pier.
13. Imperial Beach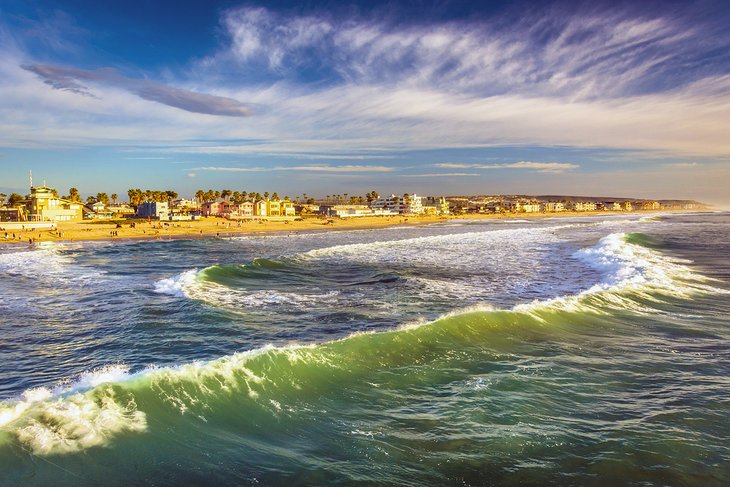 There are few beaches in the world where you can (almost) cross an international border. Imperial Beach, south of San Diego, runs right up to the US/Mexico border. International Friendship Park and the surrounding Border Field State Park include the physical border between the two countries.
Imperial Beach has excellent waves, and it's a popular surf spot. The area on the other side of the beach is a wetlands area called the Tijuana Estuary. There is a free visitor center in downtown Imperial Beach, which explains the large salt marsh wildlife preserve and its ecological importance. The city is home to an outdoor surfboard museum, and the beachfront boardwalk is peppered with art installations as part of the Imperial Beach Coastal Art Walk.
14. Torrey Pines State Beach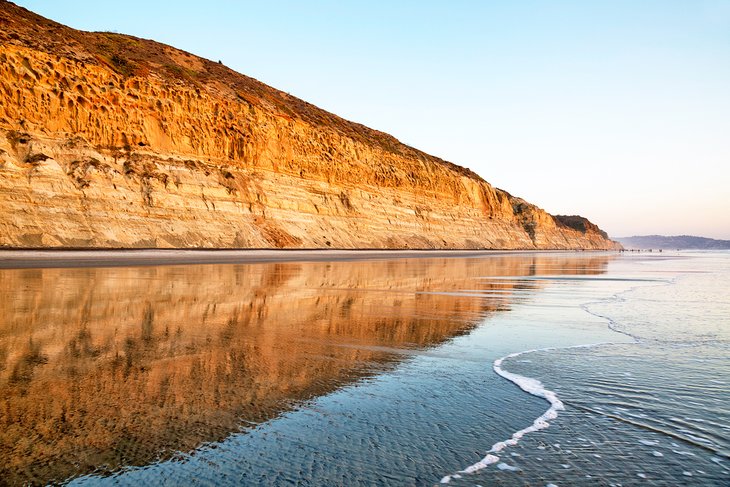 Torrey Pines State Beach is part of the massive Torrey Pines State Nature Reserve, a 2,000-acre area of raw wilderness in La Jolla, within the city limits of San Diego. The beach is very wide, and it's almost five miles long. People come to surf, swim, and fish or just to take a stroll on the beautiful beach. There are basic services (restrooms and outdoor showers) along with a large picnic area.
The beach itself is raw and unspoiled. It's bordered by very high cliffs, and there are unique rock formations on the beach and in the water. Flat Rock is a famous rock formation that at low tide is like a platform you can stand on to watch the churning sea.
Map of Beaches in San Diego, CA